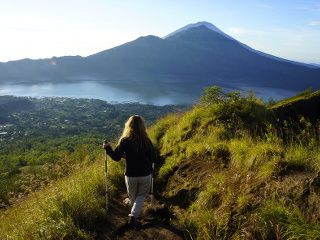 On the roads again I want to tell you!
The memory of our buttock pain from our scooter rides in Laos having faded and our desire to perfect our careers as road kamikazes having returned; we decided to rent a scooter and discover North Bali for a few days and this in complete freedom. On the agenda? Not so many kilometres, but many temples, rice fields and a superb Mount Batur trekking at night to watch the sunrise from the summit!
The scooter: the best way to visit Bali on a low budget
As you were told in our last article, Ubud is a touristy city, and taxi prices are simply nuts! We looked a little bit to see if the bus could do it, and we quickly came to the conclusion that either we would find ourselves in a "tourist" bus from which it would be impossible to get off where we wanted, or else take a taxi driver, but then it would have turned out to be waaaay to expensive.
Scooter rental in Bali
For 50'000 rupees a day, the scooter was the ideal solution!
In Bali the liter of gasoline is sold around 7000 rupees, so no bad surprises on this side either!
In all, in 4 days we did nearly 180km and spent 200'000 rupees on rentals and 64000 rupees on petrol, thus a total of less than 16€!
Since we made a loop, we left most of our stuff at our guesthouse in Ubud. Thus, we decided to leave with both of us on one scooter!
There are no small savings I tell you (and besides I admit that I was just too afraid to drive on my own)…
Indonesian roads and Bali traffic
So certainly taking the road together on a scooter is economical, but it also allows scared girls like me not to have to take the wheel, or the handlebars instead! Compared to Laos, Balinese roads are absolutely PERFECT!
Certainly, there are a few potholes; you have to be careful of dogs and cows on the roadsides, but overall the roads are in excellent condition! Where it gets a lot more kamikaze is the traffic! Bali being richer than Laos, there are even more cars and scooters! You have to be 100% on the lookout all the time! And of course not to simplify anything, in Indonesia they drive on the left. 🙂
The danger of the road in Bali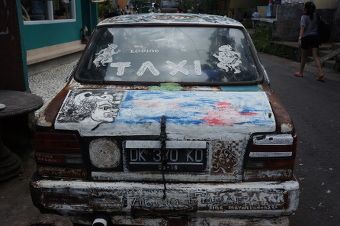 To be honest we have not had any problems with other scooters or "local" cars, the real danger came from the cars that carry tourists! They drive like crazy, overtake where there is no visibility, and for them scooters are VERY clearly a small species which is much lower in the "road hierarchy". Basically, if a big SUV comes straight at you in the wrong way because it's overtaking another car, then you better move your ass on the other side!
But I can reassure you, Benoit managed the driving like a boss! And I, except for some nice frights and a few long minutes in the dense traffic around Ubud where I preferred to close my eyes, everything went well! 😉
A short detour: the temples of Taman Ayun and Ulun Danu
Before we attacked the crazy traffic, we spotted a few temples on the way that we wanted to stop at… In the end we are far (or even very far) from having found them all, but let us reassure ourselves we have nevertheless visited some of them…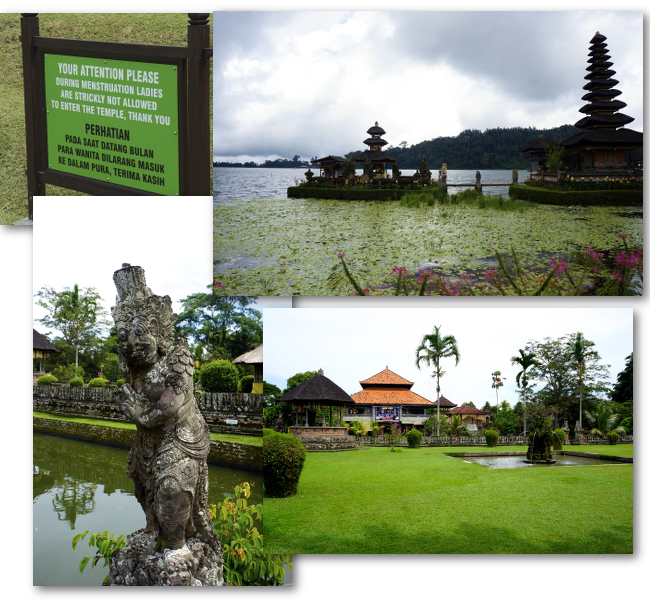 The temple of Taman Ayun
Taman Ayun was our first stop when we left Ubud. After 30 minutes of driving and the first big fears passed, we arrived in front of this huge complex. Many tourists arrived here by minibus or with private cars.
What did we think of this temple? If you pass by anyway, then a stop may be worth it. But I wouldn't recommend renting a driver "expressly for that…". The temple is certainly pretty, but it is not incredible either.
Ulun Danu, Bali's most famous temple
A little further on the road we got to the most famous temple in Bali: Ulun Danu.
The picture of this small temple perched on a plot of land in the heart of a high-altitude lake is absolutely everywhere in Ubud! All agencies sell this temple as "the excursion of the century".
So honestly the temple is cute huh, but driving 5 hours (round trip) to see it??? I'm not sure it's worth it… There are really a lot of people, especially Chinese and their ultra high-tech "selfie-stick" weapons!
The temple, we do not hide it from you, has disappointed us a little bit by its size. I dont' know… we imagined it bigger…. At first glance I would say that it must have been 5 or 6 meters high… But don't think we've become temple jaded, eh, on the way we've just crossed many temples that are "completely unknown" and which, we think, had just as much charm, or even much more! In short our advice to see beautiful temples: take a scooter and stop along the way to admire small temples!
Atres Villa: a small oasis of happiness in the heart of the rice fields
In Kuta Lombok we had made friends with a couple from Marseille, Arnaud and Marion. They were coming from Bali, and so we took the opportunity to ask them for their good advice, and Munduk was one of them, and especially the Atres Villa.
So it's funny because once we got there we realized that there were almost essentially only french speaking guests in this hotel! Besides, the manager is starting to master Molière's language quite well!)
Apparently it is the reference point for Francophones, but according to the owner it is not cited in any guidebook, it would only be due to word of mouth….
But frankly, when you see the place, you understand better why!
The hotel is located a few kilometers from the village of Munduk, in the heart of the rice fields! The rooms are well cared for and the pool is just heavenly!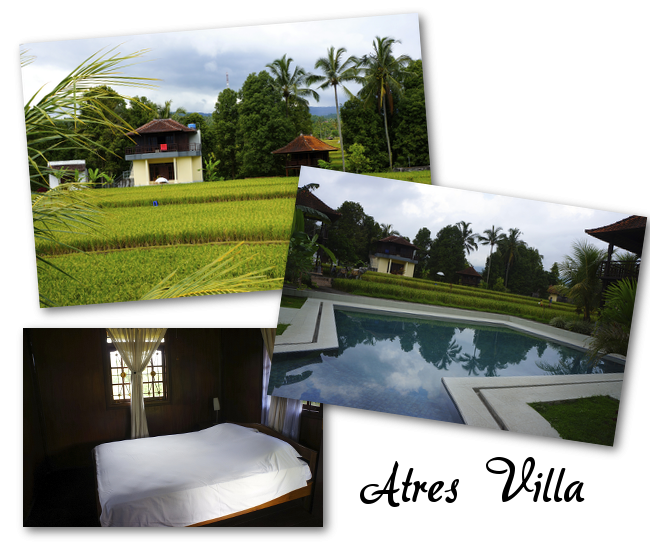 Atres Villa, information and activities
The price of the double room was 300'000 rupees (20€), which in theory is well above our budget… But for this price we had breakfast and dinner included, so our expenses were more or less limited to that during the day. In the end we even saved money by staying there (compared to the budget we had set for Indonesia)!
Important Information:
We stayed at the Atres Villa back in 2014. Now prices seem to have significantly increased. A double room now coses 550'000 rupees (even 650'000 in high season) and it no longer includes dinner. Thus, I am pretty sure we would no longer stay there now…
On the second morning of our stay, the owner suggested that we take a walk in the rice fields with a young girl from the hotel. So it was in the company of Erawati, a young schoolgirl who earned her pocket money by helping with the kitchens at Atres Villa that we set off!
A walk that will have led us to the heart of the rice fields, to the discovery of the coffee plantations but also to a beautiful waterfall!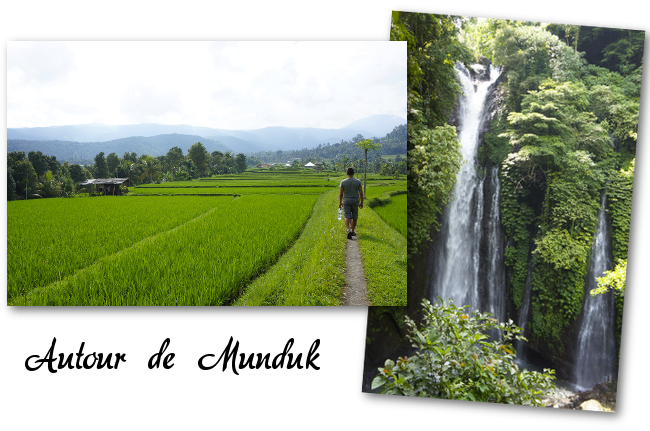 I think that Atres Villa is our most "beautiful hotel" since the beginning of the trip, and we admit ,we would have stayed a little more! But here we are, as the end of our Indonesian stay approached, we decided to get back on the road to reach Mount Batur via the northern coast of Bali.
Mount Batur: Here we come
It was after a long and challenging journey on a scooter that we started the last climb, and not the least! To reach the foot of Mount Batur you first have to climb about 1200m of altitude difference! It doesn't sound like much said that way, but believe me that being two people on a rotten 125cc scooter, this is already a hell of a challenge in itself!

As soon as we arrived in the village, we already came accross a man who was smiling far too much to be honest…. Of course he had a guesthouse to offer us, as well as lots of good advice for climbing the volcano. We were pretty sure he was going to scam us at some point, we still gave it a tray and followed him.
He took us to a guesthouse that was pretty basic, but cheap! And since we were planning to get up at 3am the next day to see the sunrise, the obvious lack of charm of the place did frankly not matter so much!
The "closed" guide office scam – Mount Batur Trekking
Then our new friend with a colgate smile came back to try to offer us his tour to climb the volcano.
His offer? 60$ per person for a guide and a breakfast at the summit… Knowing that the average Indonesian salary is about 80$ per month, we might as well explain that it's a exagerated to pay 120$ for 3 hours of trekking! We had made some preliminary researches, and knew that it was possible to have a private guide for about 350'000 rupees, or about 22€ for a group of up to 4 people.
So we told this to our new friend, and suddenly the price dropped to $40 per person…. Then he invented a very crazy story to explain that it was certainly possible to have a $30 guide for 2 people in normal times but that "exceptionally" the next day all the guides had a kind of meetin… Yeah yeah sure….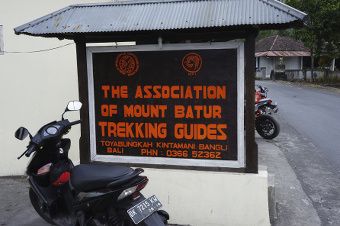 We thanked our nice buddy (and we had a hard time getting rid of him), and we went looking for the guide centre.
Less than 200m to go and BINGO, we found it! Of course, once there, the official price was 350'000 rupees (for 2 people), and no: no special meeting for the guides the next day! Well, yes, a meeting at the summit, like every morning!
Sunrise on Mount Batur
3am in the morning, eyes still glued tightly together and our headlamp on the forehead; we set off for the guides centre. There, our guide of the day was already waiting for us with a big smile and full of enery!
In theory the climb should have taken us between 2h and 2h15, but that was without counting on our amazing guide! We were not aware of it, but apparently we had to tick an option "morning jogging" when booking the tour; our guide left almost running to conquer the summit. It was fun, because as we climbed we overtook all the other groups, and each time our guide congratulated us on being "soooooo fit"! Hahahaha who would have thought that one day someone would compliment me on that! 😀
Getting at the top of Mount Batur for sunrise
Anyway, we reached the summit first after not even 1h30 of effort! The night was still very dark, and soaked with sweat because of the effort we started to freeze… Well yes, at 1711m, it is cold when the sun is not out yet!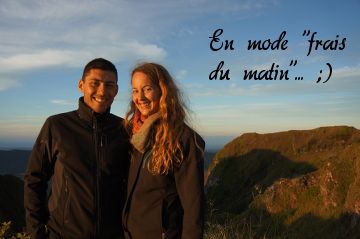 So it was armed with our little coffee that we quietly waited until the other trekkers reached the summit and the sun appeared… At 5:15 am the sky began to turn colour and we were able to begin to observe the magnificent spectacle that was taking shape before our amazed eyes… The view of the lake, with the ocean as a backdrop, was just amazing!
For Benoit it was already the second volcano in Indonesia, but for me it was a my first (but not the last…) And unlike Rinjiani and its difficult ascent, Mount Batur offers an excellent effort-reward ratio! In a little less than 2 hours of effort we already get an amazing view and a still active volcano under our feet. It's exhilarating! 🙂
Infos
Scooter rental in Ubud: 50'000 rupees per day
Other Villa, Munduk: 300'000 rupees per double room, breakfast and evening meal included
Stroll in the rice fields with a young person from the hotel: Free, but tip welcome for the young person. We had given 100,000 rupees for nearly 4 hours of walking.
Mount Batur
Trekking Mount Batur Price: 350'000 roupees for a group of up to 4 people.
If you do not wish to go on an organized tour, it is recommended that you stay directly in Toya Bungkah village, so that you can walk directly in the morning without having to arrange transportation. For trekking, I would say that it is possible to do it without a day guide, but honestly at night it is complicated because there are no precise maps, and many paths leading to different points of view…. Moreover, it is "officially" forbidden, so you may have some trouble with the guides on the way!
But as I told you, the Batur only marks the beginning of our sunrises in Indonesia, and we promise to come back soon with our next article this time dedicated to the ascent of Kawa Ijen! See you soon!