Before we set off on our round the world trip again and discover more about Ecuador, we made one last short excursion from Quito.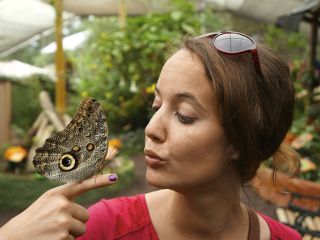 One Sunday, decided to go discover the famous little village of Mindo!
Located only 2 hours by bus from Quito, it is certainly a guaranteed change of scenery, and the least we can say is that we have not regretted this little tour… well…. actually our only regret was maybe that if we'd had known we would have planned a longer stay there!
Mindo: small oasis only 2 hours from Quito
Imagine yourself, you are in Quito, a city that is certainly magnificent, but in the middle of the greyness and exhaust fumes released by the buses… And in just 2h30 by bus you find yourself propelled into the heart of a tropical forest!
Mindo is small, super cute and has really kept a crazy charm despite the fact that many foreign tourists but also Ecuadorians come to spend the weekend there.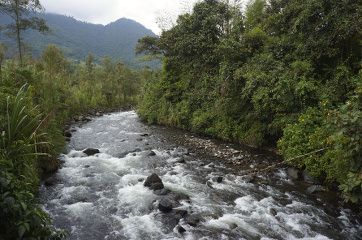 The region is best known for hosting one of the greatest diversity of birds in Ecuador, and it is no surprise that many enthusiasts gather here to discover the fauna in the tropical forest!
We are not really bird specialists (that's the least you can sac) and did not come to Mindo for that initially, but frankly it is still pretty much impressive to see as many hummingbirds during a walk in Mindo as you could see pigeons in a European city!
Otherwise, regarding a "Mindo map", we hadn't found anything online before we left. Thus, we just took a small picture of the village's presentation panel… 😉 But be warned, their map is not really to the scale … The waterfalls are much further away than the butterflies! I'll let you guess who got tricked on that one when we decided to leave on foot for everything haha 🙂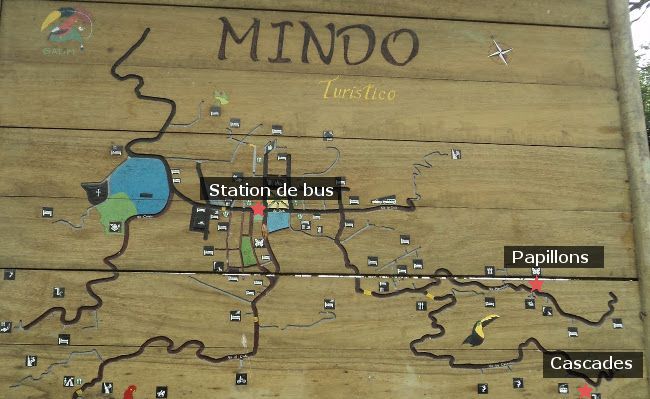 Butterflies in Mindo
Mindo is known for bird watching, but not only!!!!! Mindo also has more than 25 species of butterflies, each more impressive than the next! And of course many places have recognized this good opportunity, and they have started to operate "butterfly farms". There are many of them, but the most famous and apparently the most beautiful is "Mariposario".
Located 2.5km from the village of Mindo, it is easily accessible in less than 30 minutes on foor. I'm not usually an absolute fan of these "animal demonstration" places for tourists, but in that particular case I must admit that Mariposario has done a nice job! The place is absolutely beautiful!
But I think that images speak more than words…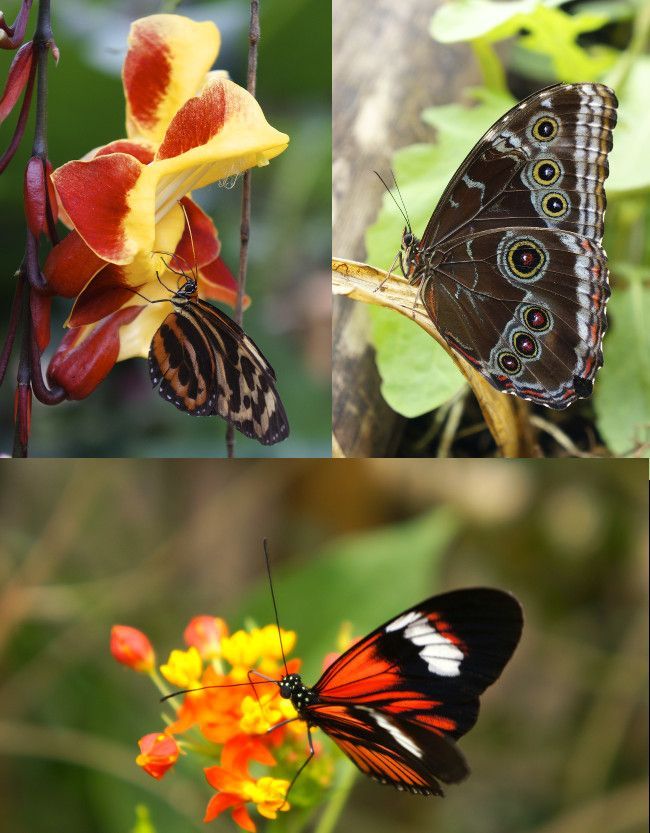 In many places there are small plates with bananas, and if you put some on your fingers then the butterflies come to eat delicately in your hands. It is really a unique opportunity to be able to observe these magnificent animals as closely as possible!
See butterflies hatch
Another particularity of the place is what they call the nursery; every day they select the cocoons ready to hatch and place them on a wooden support. And if you stay in front long enough, you have every chance of seeing a butterfly come out of its cocoon live!
In 10 minutes we had the chance to attend this absolutely incredible show twice! By the way, did you know that in the cocoons there is a kind of amiothic liquid? We didn't! In short, we left from there a little less stupid, but above all completely amazed!
Useful Info:
Price: 7,5$ per person. The price includes a short guided tour with explanations of the butterfly's life cycle (in English or Spanish), followed by access to the butterfly greenhouse itself.
To get there you have 2 options:
By car: a taxi will cost you about $3 to get there, or $6 round trip.
On foot: It's really simple! After exiting the bus continue straight ahead for about 500m, then turn right (follow the signs for the waterfall route). Cross a first small bridge and continue for about 500m. At one point the road separates, a concrete bridge goes towards the waterfalls on your right. To go to the butterflies, turn left. Then it's straight on for about 1km! 30 minutes chrono from the bus station!
The waterfall route in Mindo
What is called the waterfall route should actually be called the waterfall trail! Located 7km from the village of Mindo, we start the adventure with a "special" crossing of the valley…
Crossing and Adrenaline
When I say special, it's a roundabout way of telling you that I really thought we were going to die!
To give you an idea:
1) Take a cable (until here everything sounds normal)
2) hang a kind of cart on it. In fact, to be completely honest, it looked like a supermarket shopping cart! 3) Make yourself comfortable (or not) in this "shopping cart".
Where it gets interesting, is that the whole thing is masterfully managed by a guy who sits on a stool and drives a van engine!
Yes, that's it: a good old car engine that take a supermarket cart across a valley hanging on a cable!
In other words, this miracle of modern technology is called a Tarabita, and it will cost you $5 to go back and forth. (A really cheap price for lots of adrenaline if you ask me….)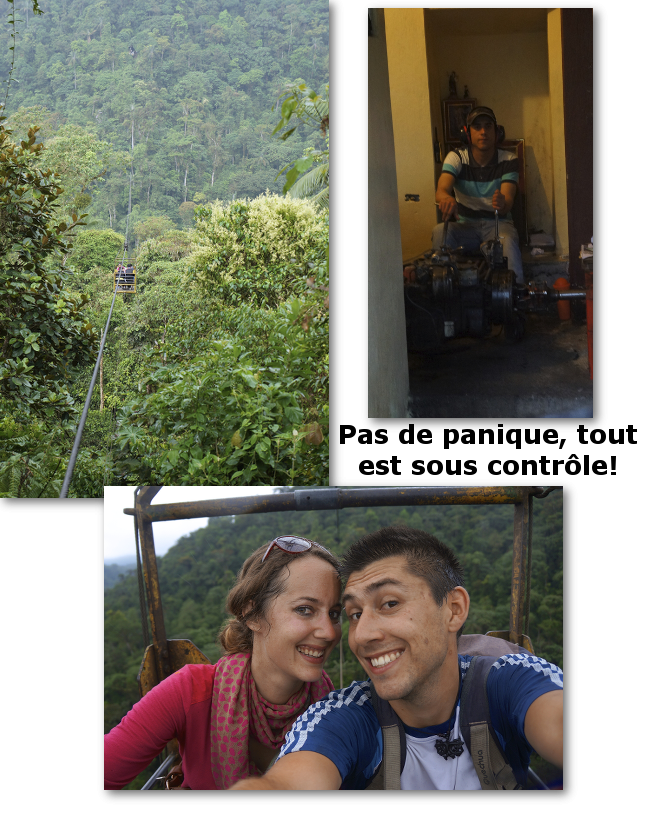 The good news is that the Ecuadorian do-it-yourself project has held up well, and it is without any problems that we have arrived on the other side.
On the other side there are several small paths that lead to different waterfalls in the valley. We didn't have much time, and in a little less than 2 hours we could only fo 2 trails, but the waterfalls were magnificent! We really recommend that you take a little more time than us, because we would have really liked to discover more!
To get to the waterfalls in Mindo:
Again several options are available to you:
An organized tour. Of course the simplest option but also the most expensive, in other words: not for us!
Get there on foot: 7km of climb from the village of Mindo, it is largely feasible we grant you, but that day we really didn't have enough time, unfortunately…
taxi: 8$ to have you dropped off at the waterfalls. For the return trip you can either set an appointment with your driver to pick you up at a certain time (same price usually for the way back). Or you can just take one of the many vans that communte between thw waterfalls and Mindo . (between $3 and $5 per trip depending on your bargaining skills)
The Chiva: This is the name given to a large truck that has been converted into a bus. A little like the ones we met in Banos, but with less disco music and the streap-tease bar.
It is the cheapest way to get there: $1/person.
There is only one Chiva who goes back and forth, so it leaves roughly once an hour from Mindo's central street and once from the waterfalls.
Mindo For thrill-seekers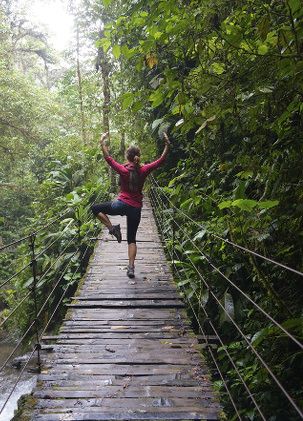 A little like Baños, which we had already told you about in our article on the Ecuadorian adventure sports capital, Mindo has become a small paradise for thrill seekers over the years. Canyoning, rafting, mountain biking, a complete network of zip lines, nothing is missing!
After that, if like me you are a coward, then I guarantee you that just the little " basket " that allows you to reach the waterfalls is already more than enough to make you scared!
But for the others, know that in Mindo there are plenty of agencies to choose from! You will have no trouble finding what you need on the spot.
Hotel in Mindo

As you were told at the beginning of the article, we came to Mindo only for the day. But when we left, we were clearly a little disappointed not to have planned 2 days here. If you have time, it is clearly recommended that you spend at least one night there, the setting and activities are largely top-notch enough to stay for a while. :)Hotel level we will have difficulty giving you a lot of advice because we didn't stay there. We had only heard a lot of good from the
Cinnamon House
from other travelers. But then, as everywhere, there are plenty of options for all budgets.
How to get to Mindo
From Quito there are many travel agencies that offer day trips to Mindo. You will find most of these agencies in the Mariscal district.

But honestly, it is very simple, and above all much cheaper to get there on your own!
All buses to Mindo leave from Ofelia station. The station located north of Quito. You can reach the station by taking the Metrobus (blue line) to the terminus.
The journey from Quito to Mindo takes about 2h-2h30 and costs 3.1$ per person.
Buses leave Quito every weekday at 8am, 9am and 10am.
On weekends the buses leave at 7:40, 8:20 or 9:20.
Getting back to Quito the buses leave Mindo at 3pm and 5pm. On Saturday and Sunday, buses run at 3pm, 4pm and 5pm.
Tip: the bus back to Quito from 5pm is the most popular… We advise you to buy your return ticket directly when you arrive in Mindo in the morning, this will ensure you have a spot on the bus..
Waht did we think about Mindo?
That's it, you know everything about Mindo in one day! We only spent one day there, but honestly we think a short weekend would be more appropriate to discover all that Mindo has to offer. According to us the resemblance with Banos is quite great, especially for everything related to the practice of extreme sports and waterfalls, but in our opinion Mindo has much more charm!
So when are you coming to discover Mindo's butterflies?
Note: This article contains affiliate links to partner sites. By using our links, you do not pay anything extra but we'll earn a small commission. Thanks for your support.