After learning some bits of Cambodian cuisine in Phnom Penh, we headed to southern Cambodia. The south is renowned for its natural beauty with its parks and paradise beaches.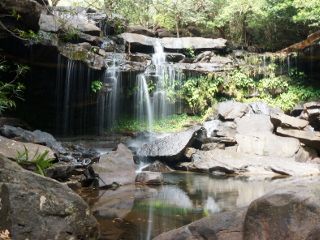 We were thus very impatient to discover the Cardamom Mountains, Kampot Pepper or the desert island of Koh Kong.
Southwest Cambodia and the Koh Kong area
After a new journey that has dragged on (8h instead of 5-6h, it tends to become a habit ;-)), we finally arrive in the small town of Koh Kong, very close to the Thai border. So we might as well warn you right away, don't expect a pretty little coastal town. You won't find any pretty beaches or small, friendly bars there, but it's a must if you want to venture into the mangroves, the Cardamom mountains or the pristine island of Koh Kong.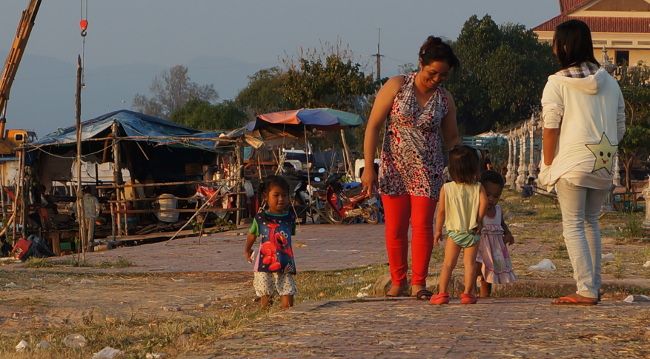 After some research, we opt for Paddy's little Guesthouse, which offers very simple (but cheap) rooms (about 6€ for 2 people). The guesthouse organizes outings to all the destinations mentioned above. But if there is one thing that marked us more, it's probably Paddy's incrdible kindness.
He takes in children from the streets and tries to teach them English and the job of guide. He hopes that his small business will then be taken over by all these children so that they can get by in life. These are the main reasons that pushed us to stay at his place despite the very basic comfort of the rooms and the slightly "too relaxed" atmosphere that prevails there.
Note: This guesthouse is clearly one of the cheapest in the area (and probably one of the cheapest on our trip). In 2013, the double room with bathroom was sold $5, unless I'm mistaken, it's worth $7 today (for 2 people). Price level is unbeatable. After, this hostel is clearly one of the most "borderline" in terms of comfort that we have done as well. Don't expect a crazy standing for this accommodation… it's cheap, the manager is nice and… that's all!
Day on the island of Koh Kong and walks in the mangroves
So we decide for a smooth start with a beach-snorkling excursion on the island of Koh-kong followed by a short walk in the mangroves. It is barely 8:00 am when we board our small boat with a German couple and our two cooks / captains. After 2 hours of a pleasant journey, we finally arrive on one of the most beautiful beaches on the island.
Paradise Island in Cambodia: probably the most amazing beach in Cambodia
For our greatest pleasure, we will be alone to enjoy this paradisiacal place all day long. I let you imagine! While we were busy tanning, snorkeling or kayaking in this dream setting, our two guides of the day prepared a fish barbecue which was simply amazing. We just felt incredibly privileged to be able to feast on our own in the shade of the palm trees.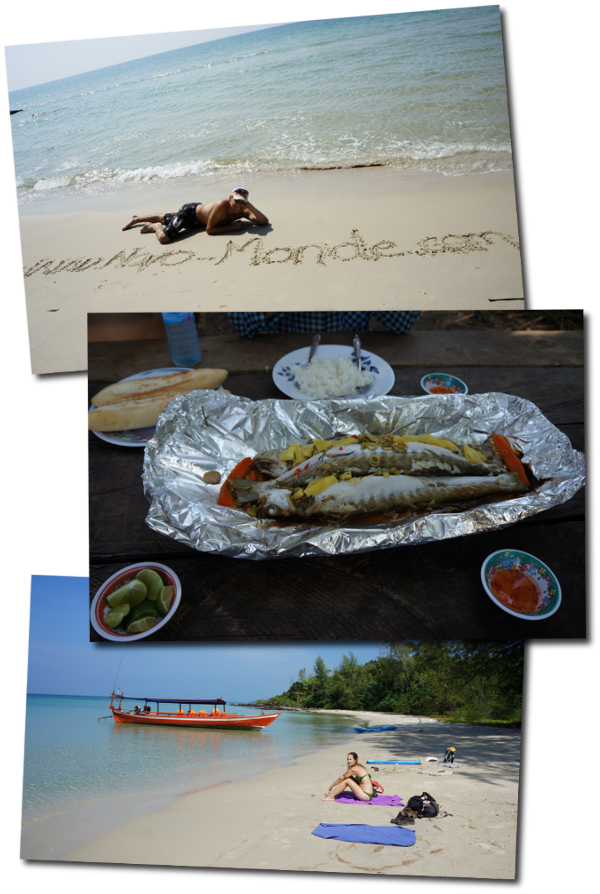 Return by boat through the mangroves
After a few too short hours (we could stay about 5 hours on the island), we take the boat back to the mangroves. Our boat drops us at the entrance of a path on stilts of about 1km which crosses the famous mangroves.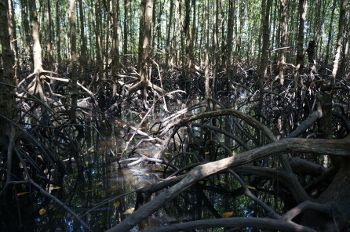 It is impressive and interesting to be able to walk around in this tangle of trees that are rooted in the water. At the end of the route, we were able to climb a tower from the top of which we had a breathtaking view of the mangroves and mountains of Cardamom. In the end, although the excursion was not cheap ($23 per person), we spent a wonderful day and we recommend that you make an excursion to the paradise island of Koh Kong before it is exploited (it now belongs to a Casino 🙁 ).
Jungle trekking in the Cardamom Mountains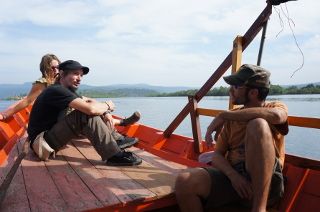 The next day, I decided to go alone on an excursion in the jungle that covers the Cardamom mountains (Fabienne didn't want to rub shoulders with the bugs that are there 😉 ). So I left again early in the morning accompanied by two young guides trained by Paddy and 3 other travellers. After an hour's boat trip through the mangroves, we are dropped off at the foot of the Cardamom Mountains.
Then we sink into the thick jungle that covers the mountains (note that from a Swiss perspective, they are rather hills ;-))… We climb for a good two hours at a good pace under the guidance of our two friends.
It should be noted that they were in flip-flops while we were all equipped with good trekking shoes… Yet it was us who had trouble following their pace.) The forest is magnificent and full of streams and small waterfalls. We finally reach a waterfall that left me totaly speechless.
A dream swim in a waterfall
In front of me, I had a splendid view of the mangroves and the ocean and behind me was a succession of basins and waterfalls in which we could swim. It may be stupid, but I had always dreamed of taking a shower under a natural waterfall and swimming in such an environment (I saw too much advertising for shower gel when I was younger ;-)).
And to make this moment even more perfect, our two little guides cooked us a delicious vegetable chicken in papillotes… These few hours spent in this area of paradise will remain forever etched in my memory. That's the kind of moments we travel for!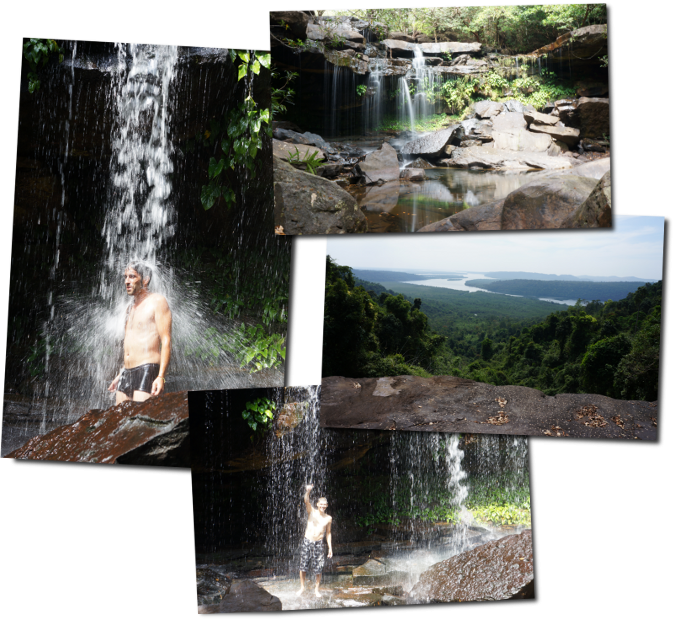 After the meal, we unfortunately already had to turn back towards our boat because at the end of the afternoon, the tide goes out and it is possible to get stuck in the mangroves… But you will have understood, I loved this day in the jungle and I highly recommend Paddy's expedition if you are in the area!
Southeast Cambodia and the Kampot and Kep region
After these few days of nature around Koh-Kong, we took the road again towards Kampot, a small town famous for its pepper that goes perfectly with seafood. After another full day of transport (to travel 200 km… the roads in Cambodia are much worse than in Thailand or Vietnam), we finally reach our destination. This former French colonial city is a pleasant destination for a few days.
There is a wide choice of guesthouses for all budgets (it is still recommended to go to the riverside a little outside the city) and it is easy to rent a scooter to explore the surrounding countryside. You can visit the pepper plentations, the salt fields, several caves and the Bokor mountain. Obviously, there is not much to do or see either, but if you arrive from Siem Reap or Phnom Pehn, you will probably find more peace and quiet and a little more affordable prices.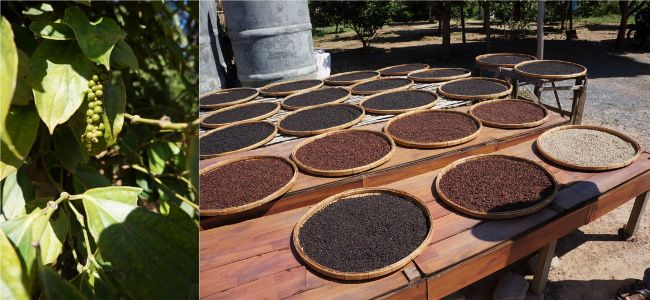 The city of Kep
30 km further east is the small coastal town of Kep where we had planned to spend Christmas. It still took us 5 hours to cover the 30 km from Kep to Kampot (we should have walked there ;-)). So Kep is basically a succession of quite expensive hotels spread over a dozen km along the ocean (there are still one or two low-cost alternatives). We had a rather mixed feeling about this place….
Although it was the high season, half the hotels were empty! There is also not an incredible number of things to do, there is no beach (so why are there so many hotels????) and prices are unrealistically high for Cambodia.
South of Cambodia: our thoughts
We still enjoyed walking in the natural park behind the city (the view of the sunset rock is splendid at the end of the afternoon), making an excursion on the rabbit island (with hindsight, we should have even spent a few days on this pretty little island) and especially eating crab at Kimly restaurant around the crab market. Kimly's restaurant is THE thing to do in Kep! You absolutely must eat the crab with Kampot pepper… it's just divine! We had quite a feast on Christmas Eve 😉 (and the day before we even found some cheese… we were mega happy!!!!!).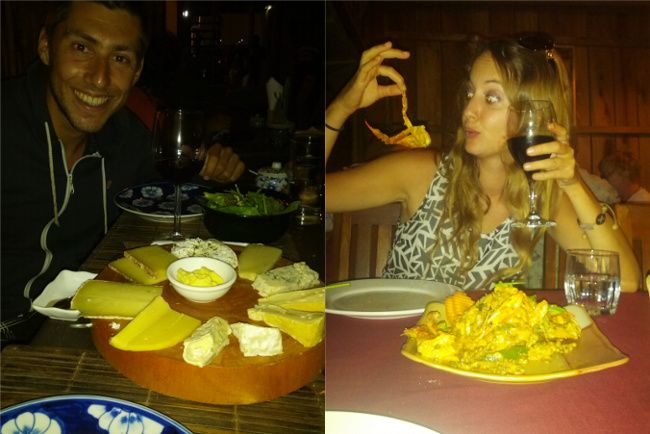 Finally, if you want to visit southern Cambodia, you are advised to go trekking in the Cardamom Mountains (there is even an interesting ecotourism project in Chi Phat for those who are interested) and play Robinson Crusoe on Koh Kong Island. But if you have time, stop by the Kampot pepper plantations and stop for a crab at Kimly in Kep.
And have you ever been through southern Cambodia?
Note: This article contains affiliate links to partner sites. By using our link to make a reservation, you naturally pay nothing more, but we will receive a small commission. Thank you for your support.