Since we decided to insert custom google maps on our travel blog, many of you have contacted us to know how we've done this… I was thinking about the best way to explain it in a tutorial, but in the end I figured out it would even be easier if I could develop a free wordpress plugin you could use on your own blog to show your posts on awesome customizable google maps !
The first version of the plugin was developed while we were traveling around the world. At that time, I was still a junior developer and I did many mistakes. But since that time, I kept on receiving e-mails asking me about the plugin and how to add custom google maps featuring blog posts or pages. So in October 2017, I decided to completely re-code the plugin from scratch to create a version that would be good enough to be hosted on wordpress.org. And one and a half months later, here it is! The brand new version of Novo-Map is MUCH better than before and available on the wordpress plugin directory.
Adding some google maps with all our articles displayed at one glimpse (you can see an example on our hiking page or our Switzerland page) significantly rose the time our readers spent on the website, allowing them to find the most relevant articles for them within a couple of seconds !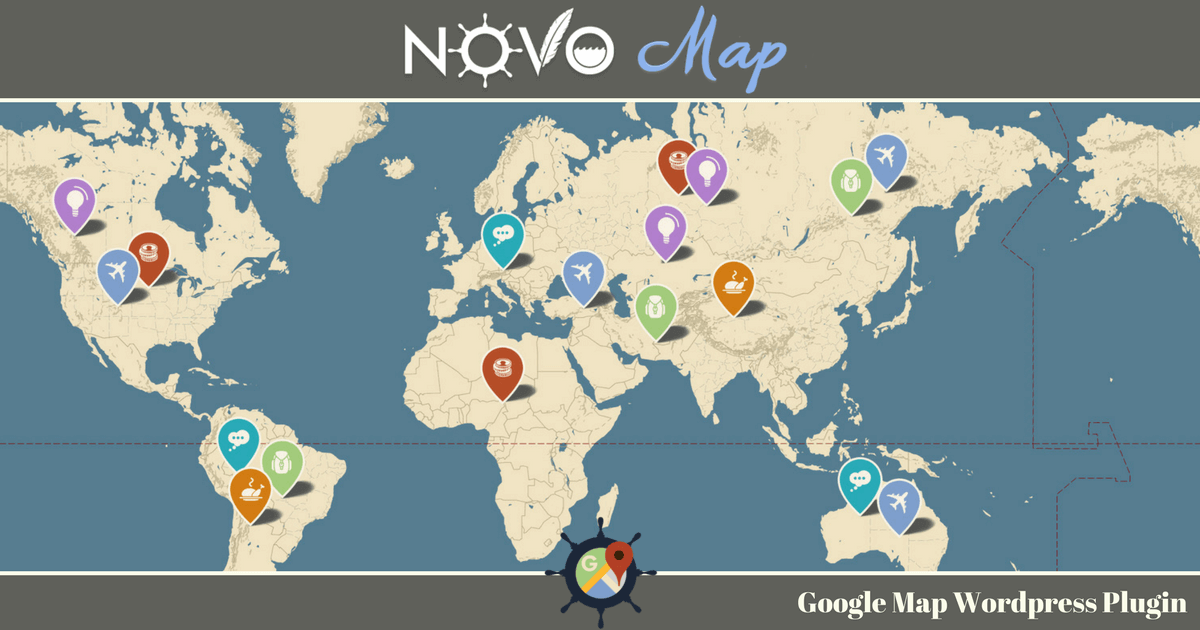 Insert a fully customizable google map to show your blog posts
The idea was pretty simple : create a plugin which would allow everyone to implement custom google maps on their blog in order to show their geo-located articles (or pages) in one glimpse. The map design needed to be flexible in order for you to integrate it in a nice way into the design of your blog.
The new version main features are the following :
Insert an unlimited number of google maps (even several maps per page) anywhere on your site using widgets or shortcodes !
Use your own designs and images as markers. Stop using the ugly default pins to create truly unique maps !
Fully customize the way your map looks like. Color, style, label of countries and cities ? Everything is up to you using tools like Snazzy maps!
You can customize the content of the infoboxes with your own pictures, texts and titles.
Option to cluster the pins which are close to each other
Filter the articles or pages displayed on a map per category or tag
Possibility to add a pin showing your current position.
You can easily control default zoom and center, add some map control menus and much more…
For more informations about the plugin, you can have a look at our user guide or check some examples displaying the main features of the plugin.
Download the plugin
Honestly, create this new version of the plugin was a LOT of work! But as we like the open source philosophy of wordpress and we also use some nice free plugins from other developers, we have decided to keep Novo-Map free to download. This was we hope to give our contribution to the wordpress community and maintain it's accessibility.
But if you like the novo-map plugin and enjoy the functionality it brings to your website, we would really appreciate if you could donate some money to help us maintain and improve it. Donate some money to plugin developers is very important as it encourages free plugin development, keeps the wordpress community open and helps it grow.
donate for the novo-map plugin
You can also give us 5 little stars and let us a review on the wordpress review page of the plugin. This is a very simple attention that will show us your support and help us share the novo-map plugin on the web.
To install the novo-map plugin, just search from your wordpress plugins menu or directly download it from the wordpress plugin directory.
Future developments and feedbacks

Maybe some of you noticed that the infoboxes we have on our website do not look exactly like the ones in the plugin demo. The reason is very simple, we use an upgraded version of the plugin with custom infoboxes. As I was saying earlier, I sincerely believe that the main functionalities of a plugin should remain free (In our case, novo-map will always allow you to display your posts or pages on 100% custom google maps without limits).
On the other hand, more specific and time demanding (in terms of development) functionalities will be available in a future paid version. Even if I truly like the open source wordpress spirit, I can't go on with the plugin development only counting on community donation (unfortunately). In this future version, I plan to integrate functionalities like :
A bigger choice of quality markers directly available in the plugin.
Allow to chose between different infoboxes styles and allow more control over their properties.
The creation of lines between pins to create itineraries.
Add several markers per article to enable the creation of article maps (for example a map with the places visited in an article).
…
If you have some ideas of improvement, remarks or you discovered a bug, I invite you to open a ticket in the support of the plugin on wordpress.org. This way, I will have all the informations at the same spot which will greatly help me to maintain and further develop the plugin. Thanks in advance for all you suggestions!