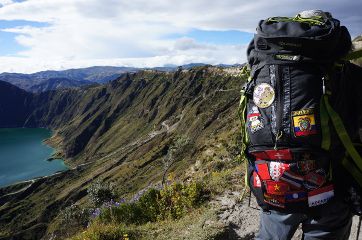 I (Benoit) wanted to talk about our ethics as bloggers for a long time (even if I dare to believe that it shines through in our articles) but had never taken the time to put words on my convictions. Then in the past few days, several articles have drawn my attention about the subject but what really "kicked my ass" was this email from Diane, a reader of out blog, received on January 5.
"Hello Fabienne and Benoît,
First of all, I wish you a very happy 2017 filled with travel, health, happiness and success.
Last night I had a long discussion with my friend about "professional" travel blogs. It is important to know that he is someone who likes to debate and question things, which results in interesting exchanges.
I showed him the blog run by a girl who after 4 years of travel can now make a living out of it. Things are very transparent if someone (person or company) wants to work with her there is a "work with me" section. That's where it gets complicated. When she films the Qatar business class because she was invited or did a review on a hotel in the Philippines in which she was also invited, where is the credibility? How can we still rely on her opinion if she comes on demand (and probably not as a secret customer)? I can't see her saying that the place was bad.
So I went to see your blog in more detail and what you were up to about it. Yes, I think your blog is so great that I wanted to show my friend that not all bloggers are "bought" as he says. And then I saw your partnership section. I would like to know your opinion on the subject and if you would be open to visiting a hotel that has invited you, reviewing the hotel at their request and publishing it on your blog?
I hope you won't find my question inappropriate. I am increasingly aware that business models are changing and that more and more of you are "nomads". As far as I'm concerned, all the blogs I visited helped me prepare my trips and I didn't see anything wrong with them until last night's discussion that made me see things differently. I would still like to believe that what I read is objective and not subjective.
I wish you a very good day
Diane "
When we received this message, we looked at each other with Fabienne and said "This is it, this is the beginning of the end of travel blogs" because in general, this kind of mail only represents the tip of the iceberg and is a big sign that many people are asking themselves questions about the credibility and sincerity of travel bloggers (2 qualities that are supposed to be among our strong points).
Then, on further reflection, we finally thought that maybe it wasn't so bad… Well yes, it also proves that Internet users are not fooled and that they also know how to make the difference in this jungle of information that is the Internet! (and that's great news!)
So in this article, I will try to answer Diane as best I can, what is our way of seeing things on novo-monde. I have to say that Fabienne and I have been thinking a lot about these issues since we set up our own business because we had a lot of trouble dealing with the issue of money in blogging.
I would also like to point out that I don't judge anybody here. This is our way of seeing things and we try to put it into practice on our blog. It is the responsibility of each blogger to set his or her own limits in order to be in line with his or her principles… and it is also the responsibility of Internet users to search and follow blogs they consider trustworthy.
To better understand our current point of view, let's go back a little bit:
The end of our world tour, the beginning of the solicitations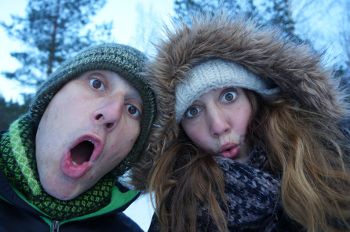 December 2014, it is gently the end of our 18-month journey around the world… To our surprise, we have just won the golden blog awards and were invited to Finland for 10 days to participate at NBE Finland, a program for "digital influencers" as they say…
To be honest, at this moment we are in heaven! We can't believe what's happening to us, to discover Finland for 10 days, to meet other bloggers from all over the world, all thanks to novo-monde and our readers… Ethical and moral concerns do not even come to mind, we naively enjoy this trip, without asking ourselves questions, by telling our experiences on our blog as we had always done!
Then it was by meeting all these big american bloggers, some of whom make a good living out of their blog, that we started to ask ourselves the famous question:
But couldn't we also make a living from our blog?
So, as explained in this article, we returned to Switzerland with a lot of questions about our future.
Back in Switzerland, incompatible blogging and work
3 days after our return home, Fabienne finds a full time job in Zurich and it takes me barely 2 more weeks to find a 70% developer job in the same company (no need to tell you how I got the job… we perverted the boss at an apero 🙂 ).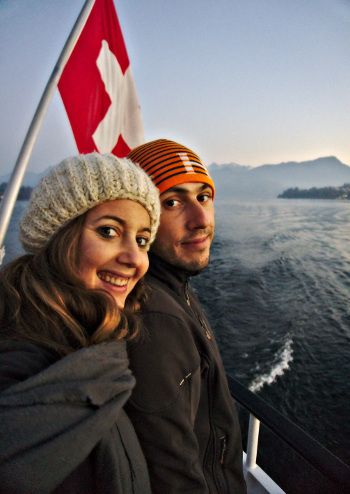 We quickly realize that it is not easy to blog while working and we go from 1-2 articles per week to 1-2 articles per month… aouch!
However, our blog always reaches more and more people… Despite our return to "real life" we still take as much pleasure in sharing our adventures in Switzerland… We are receiving more and more emails from people who are planning round the world trips or who are wondering about some of the destinations we have visited… and we are starting to have serious time issues to answer all of them ! (even if we have always made it a point of honour to reply to emails and comments from readers)
At the same time, we are also receiving more and more requests for partnerships, most of them completely uninteresting but also some rather attractive ones such as all-expenses-paid travel proposals to rather nice places (blogtrips). The idea is often the same, in exchange for free stay and/or remuneration, tourist offices (or other agencies) are looking for visibility on social networks and content on our blog (or for their website).
As a result, our dilemma in 2015 and early 2016, which will have animated many of our evenings (sometimes around a bottle of wine 🙂 ) was as follows:
Is it possible to make a living of our blog without betraying our principles and the trust of our readers?
Because we are well aware of this, what makes the strength of our blog is actually all of you, our readers. And with hindsight, when we reread your emails or comments, if we have succeeded in touching you or inspiring you, it is above all because of the simplicity and good vibes with which we share our adventures (which remains our greatest pride to this day). Through novo-monde, we have showed you a lot of ourselves. And it's something that comes out every time we meet some of you (in Chiang Mai or elsewhere), you have the impression that you know us, a little like good friends who would give good advice! And that's good because as one of our friend says…
There should be people behind a blog, if you don't feel it, it's not a blog
Well, I lost track of what I wanted to say. Let's get back to our dilemma! the problem remained intact… By continuing to work in Switzerland, we would no longer have had enough time to work on the blog (or at least not as much as we would have liked to do it properly)… and he might have died slowly! But at the same time, by leaving our jobs, how to earn a living while keeping the soul of our blog… without which it would lose all its purpose.
Other bloggers have had to face this problem, yet it is up to each of them to find the solutions that suit them, in accordance with their principles… These questions will have occupied a lot of our evenings after our return and we are still debating them now, but I think that after a lot of discussions and some unsuccessful tests, we are approaching a line of conduct that suits us and that goes in this direction:
Our preliminary line of conduct: Competences and Honesty
So to answer Diane's question and be completely transparent with you, since 2015, we have already given in to the temptations and participated in some "blogtrips" (3 or 4 times) as they are called in the jargon with good and bad experiences from which we have drawn the following conclusions:
Even if the thematic of this blogtrip seems to fit our blog, group trips with other bloggers, a more or less predefined program where we visit a lot of things in a relatively short time, we won't do that again! Each time we came out frustrated because we were too quick, because we missed this or that and so on… We got used to to organizing everything ourselves, to travel slowly, to walk a lot, to pay attention to our expenses and I am sure you travel that way too. As a result, in the future, we will only accept a project if we can travel alone, choose our program, our accommodations and our means of transportation. And even if these conditions will certainly eliminate the 99.9% of trips we are offered, we don't feel like sharing this on our blog if we don't have 100% freedom in our choices.
On the other hand, we loved working with tourism boards on projects where we were selling something other than visibility. For example, during this hike in the Val d'Hérens, we sold some of our photos with which the tourist office redesigned its brochures. We have also recently started to create websites from A to Z, by visiting our customers for a few days, by taking the photos ourselves in order to create a more personal website that looks like them. One of our priorities in the future is clearly to focus more on our skills and to use the blog as a real showcase where we would keep 100% freedom. It is by following this logic that we have completely redesigned our site, so that it reflects as well as possible the state of our current knowledge in web development, photos and so on.
So it goes without saying Diane that we will never accept to write an article about a hotel, we do not do sponsored articles and even less exchanges of links or visibility. We have always kept 100% freedom in the writing of our articles and we will only mention a hotel if we really appreciated it and we think it is a good deal (same as during our trip around the world…).
Our blog is above all our little space of freedom and we are the only masters of the content that is there. We share our travels, our best tips but also our feelings and little thoughts of the moment. We put a lot of information, a lot of positive, sometimes a little negative (but not too often… there is already enough in the newspapers) and especially a good dose of good mood.
Diane, you say you'd like to believe that what you're reading is objective and not subjective. Yet on our blog you will only find subjectivity… our subjectivity! You will find our sincere opinion on destinations we have visited in our own way (most often on our own with a small budget), our very personal opinion on certain travel issues, advice and good tips that come from the way we travel…
But yet, I'm sure that's what you're looking for when you read our blog: Our opinion… because you trust us!
And if there is one thing we can promise you with Fabienne, it is that our opinion, our honesty is not for sale and that we will not betray your trust. As bloggers, your trust as a reader is the most important thing we value. And we will never betray it for a business class trip or a week in the Bahamas in a 5-star hotel!
I like to think that we have readers who resemble us… and the least we can say is that for the moment we have not been disappointed by those of you we met in Chiang Mai and before. We spent memorable evenings with real travel enthusiasts. We feel really privileged to have you as readers and we can promise you that without you, we would have stopped blogging a long time ago!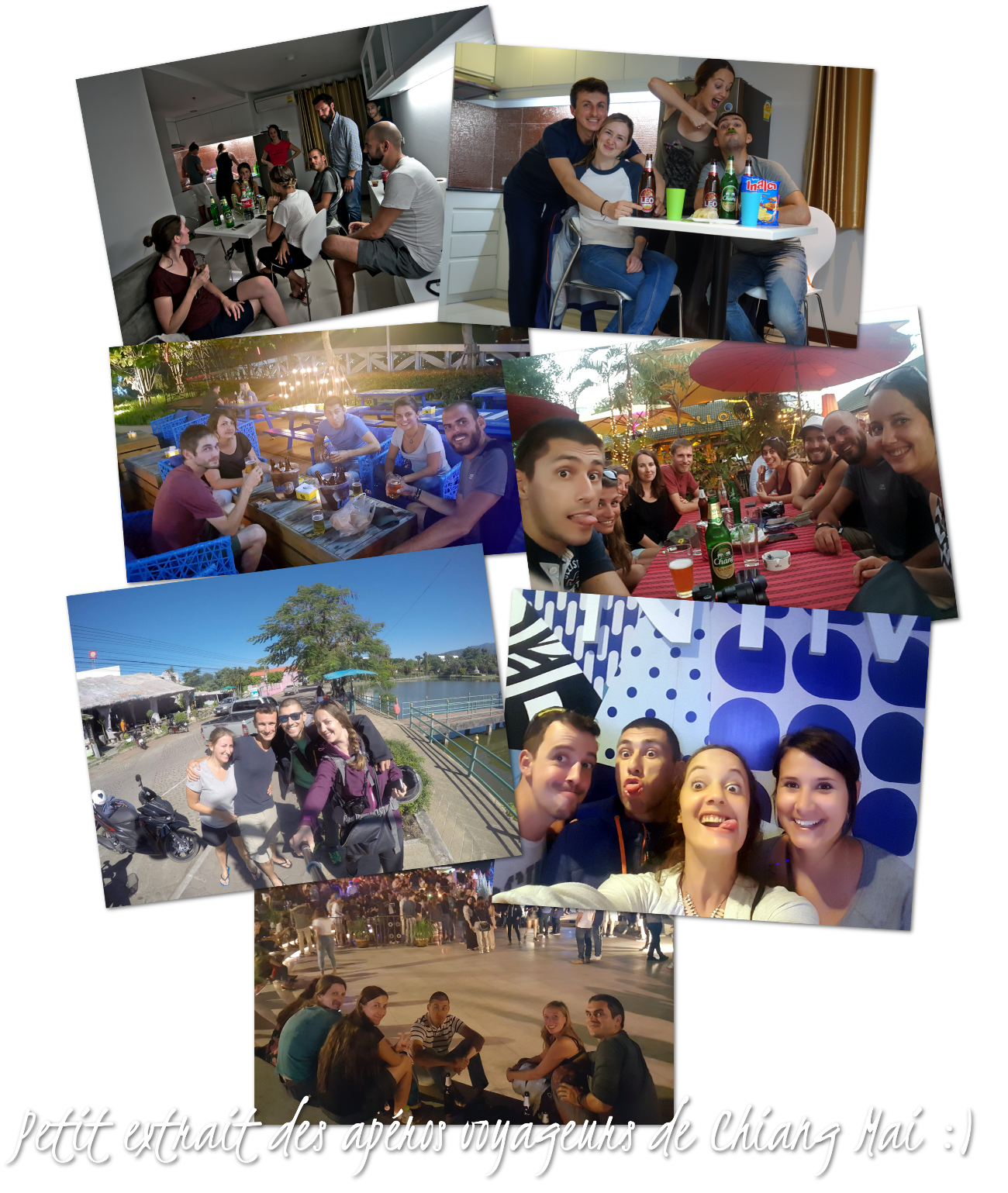 But then, how do we make a living out of it???
Not very well yet :)…. This is the main reason why we decided to move to Chiang Mai: to reduce our fixed costs and to have the opportunity to work on projects that are important to us without financial pressure.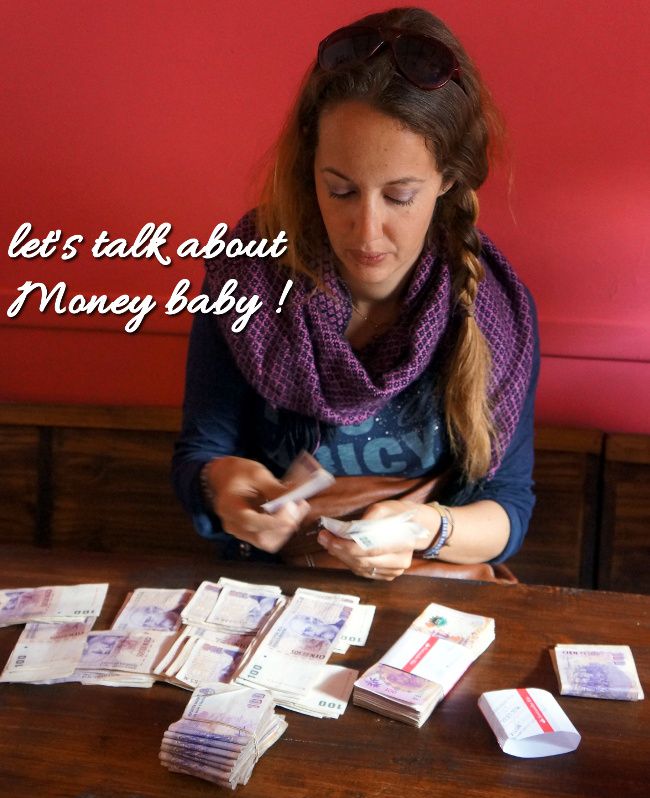 But since this article is 100% transparent and we really have nothing to hide from you, here are our main sources of income:
affiliate marketing: affi…what??? If you are not familiar with the world of blogging, you probably have never heard this word 🙂 . Basically, if you come across a link like this one (we also have a few other links with a different style) on our site, it's an affiliate link. This means that if you click on it and then buy a product on the site to which you have been redirected (for example Amazon), we will receive a small commission on your purchase (and you will obviously not pay a cent more). You will find this kind of link on our chapter dedicated to the essential equipment for a round the world trip or on our article dedicated to the best travel insurance for backpackers.
We only do honest affiliate marketing, i.e. we only recommend items that we consider useful and of high quality. In the case of travel insurance, we only compare the most suitable policies for long-term travellers, trying to be as objective as possible about their respective advantages and disadvantages. In addition, we always mention in the article if there are any affiliate links.
Our experience with affiliation has been very positive so far. We regularly receive emails from readers telling us that they have clicked on a particular affiliate link to thank us for the information found on our site. In addition, affiliate marketing allows us to keep complete freedom over the content of our site and the way we travel. That's why it's the way we prefer to earn money with our blog. Affiliate marketing represents between 40 and 50% of our income.
Website development: As I said earlier, this is one of the things we have started to do since we started working for ourselves. Edit 2018: we even have a professional website now 😉 ), but we have a lot of ideas we'd like to implement and we're looking forward to working on them in the coming months! The web development also has the advantage of giving us a lot of freedom in the sense that most of the work can be done from anywhere. Currently, this also represents between 40 and 50% of our income.
Others: we also made some money from selling photos but it doesn't represent much.
Obviously, this distribution can completely change in the coming months / years (we certainly have 1 or 2 little surprises in store for you 😉 ), but this is the current state of things at the beginning of 2017.
So here it is Diane… finally I thank you for asking us this question. We had been thinking about all these things with Fabienne for a long time and it became necessary to share them with you. I think it is the responsibility of each blogger to be transparent on this ethical matters so that readers have all the cards in their hands and know what to expect.
As far as we are concerned, even though we probably accepted 1 or 2 partnerships that we should have refused after returning from our round the world trip, I believe that we have learned from our mistakes and that we are following a path that is appropriate for us. It is now up to us to continue on this way, to act as much as possible in accordance with our values, without compromise (even if I imagine we will do 1 or 2mistakes again along the way 🙂 ).
Novo-Monde: Our future projects
So what can you expect to find on novo-monde in the coming months/years? Well, independent travel, hiking, useful information, inspiration, our best tips and surely many other surprises, always shared without fuss, in simplicity and good mood :)… you will probably always find 1 or 2 affiliate links but still no stories of our holidays at the Hilton or our business flight with Qatar ;).
Ohh and I will add one last word to all of you dear readers to thank you for your comments, e-mails, or other messages you have left us since our return from our trip (and even before). I sincerely believe that it is also thanks to all these exchanges with you that we are here today in Chiang Mai, discussing with you our ethics as bloggers and working on all these projects. Thanks to you, we have challenged ourselves, we have evolved and we hope to return the favor by continuing to inspire you and help you travel!