Climb to an altitude of more than 6000m (20'000 ft) and simply admire the view from above!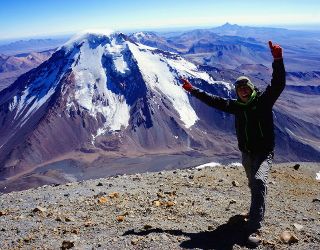 Probably one of the things that was most important to me on this round the world trip…. Why exactly? I don't know… probably a mixture of my Valaisan blood ;-), the physical challenge of climbing above 6000 meters and the incredible view you must have from so high.
But do we really have to have a reason to make a dream like this come true? I don't think so. You just have to be determined to make it happen, a bit like a project of a trip around the world in the end….
As a result, as we were in Sajama National Park, surrounded by these three gigantic volcanoes, Sajama (6548m) and the twins Parinacota (6348m) and Pomerape (6282m). It was just too tempting! Admiring these giants all day long, I couldn't resist. The opportunity was simply too good not to try to climb one of them!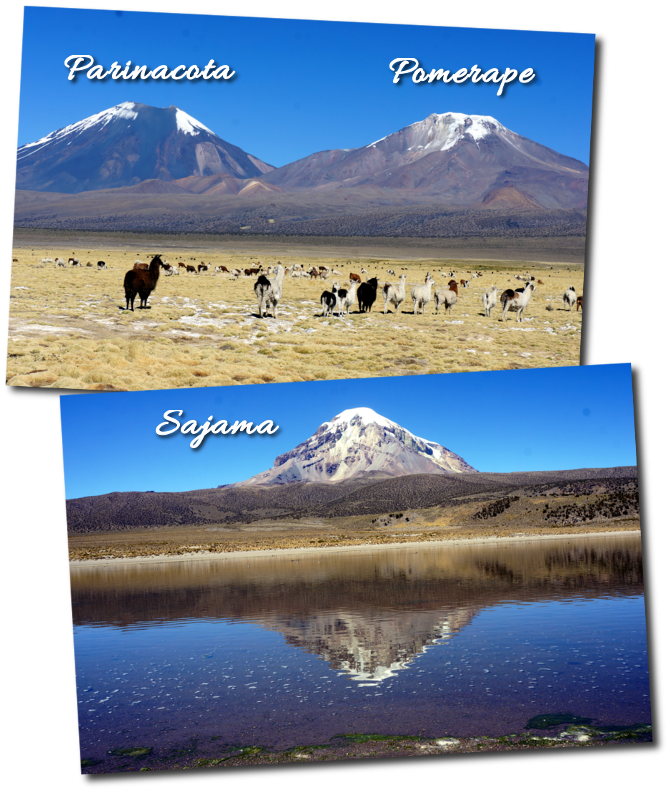 Finding a guide and equipment in Sajama… mission impossible?
Well, it's nice to want to climb more than 6000 meters, but you can't improvise! Unfortunately, did not come to Sajama, on the border between Bolivia and Chile, knowing we would be willing tt climbing a volcano. Basically, it means that I didn't have the equipment (crampons, harness, ice axe…) to do something technical.
So I started looking for a guide and equipment in the village of Sajama (which has only 250 inhabitants). But I will quickly realize the obvious: I can eventually find a local guide in the village but there is absolutely no equipment. So what can we do?
Parinacota: a non-technical 6000m volcano to climb
I might have been able to contact an agency in La Paz by phone to try to organize something but by talking to the most serious guide in the village (I will give you his contact details below), I learn that during this time of year (winter – spring which corresponds to the dry season in Bolivia => little snow), the Parinacota volcano can be climbed without any equipment. Jackpot! That's exactly what I need!
With my experience on the Cotopaxi, I know perfectly well that altitude and weather are already a major challenge. No need to complicate my life with a technically difficult climb. For my first 6000, the Parinacota volcano is exactly what I need!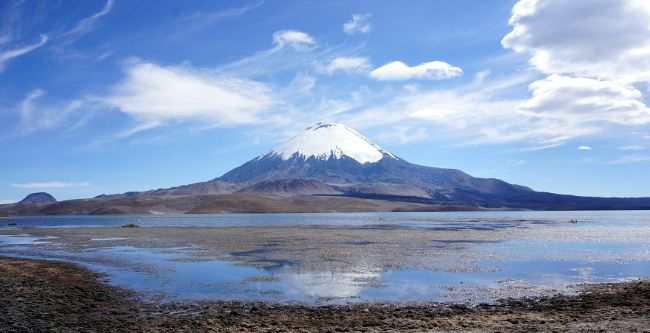 Infos
Guides in Sajama : The best guide in the village is Mario Perez and also runs a small Hospedaje in Sajama (the only orange house in the village, just next to the school). He has 15 years of experience, has climbed more than 100 times the Parinacota, 50 times the Sajama and the Pomerape. He has his own 4×4 and I highly recommend him. He is very professional and very friendly. I loved doing this ascent with him! To contact him, here are his phone numbers: 73727956 and 74017189. Frankly, if you also have your gear and want to climb the Sajama, contact him! It will cost you much less than from La Paz and you will provide a decent pay to competent local guide (agencies in Bolivia pay their guides a misery).
The Parinacota volcano : The Parinacota does not represent any technical difficulty. The slope does not reach more than 40 degrees and you can climb all at once from the high camp (5100m) which is reachable by 4×4.
But don't underestimate the altitude! Climbing to over 6300 meters (20'000 ft) is not easy anyway and if bad weather gets involved, it can become hell. Mario told me that less than 40% of people reached the top.
Find other travellers to reduce the bill
I'm already more advanced. I found a competent guide to climb Parinacota. But in terms of budget, Mario asks me for 450 bolivianos a day for his services plus 800 bolivianos for transportation to the high camp and back. As I think I will climb in 1 day, it would cost me 1250 bolivianos (143€) for the private climbing. When you think about it, it's not expensive but it still hurts a little during a long trip. As a result, I'm looking for adventure companions, which would greatly reduce costs.
I do a little tour of the few hospedaje in Sajama and I meet 3 Belgian girls who are directly interested in the adventure. However, I notice right away that they have no experience in high mountains and that they do not really realize what they are about to accomplish.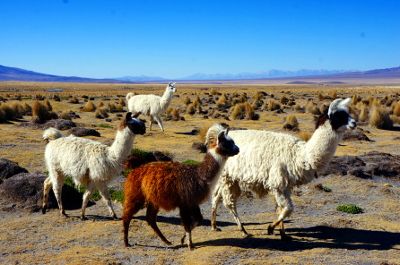 I warn them about the altitude but reassure them anyway by explaining that we will climb with 2 guides for the 4 of us, and that if they feel bad, they can always go down with one guide while the others can continue with the other (this was also valid for me because we are never sure how we will react to such altitudes). As a result, the price was 1700 bolivianos for the group, which is less than 50€ per person… there are not many places in the world where you can climb to 6000m at this price. ;-).
My fake Belgian friends….
So we agree and make an appointment that same evening at the guide's to settle the final details. We plan to leave at 2am and start climbing around 3:30am from the high camp. This is what was planned.
At the time of the appointment, only one of the girls shows up to tell us that they finally give up coming! The guide and I were totally pissed off. They couldn't have thought about it before?
With such a short notice, it was impossible to find other people for the same night! So Mario asked me to leave just the two of them for 1000 bolivianos. (115€)
I accept his proposal because I have a good feeling with him but I have trouble not getting carried away against the 3 Belgians!
The ascent of the Parinacota volcano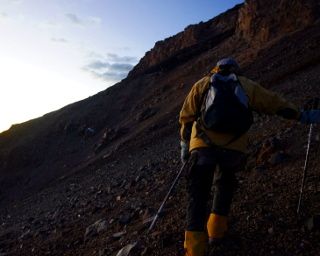 We finally planned to leave at 3am with the 4×4. As a result, I go to bed early but I have a little trouble getting to sleep. I am fully aware that climbing to 6300m is not without risks and I go over some worst-case scenarios in my head without being able to think of anything else. Fabienne is not quiet either…. But being aware of the risks is a very good thing after all! I know I have to listen to my body and not be stubborn if I feel bad. It is 2:45 am when I promise Fabienne not to exceed my limits and to turn around if necessary…. After a "I love you", I leave the room to join Mario.
The 4×4 engine is already running and Mario welcomes me to his kitchen with a nice hot cup of coffee! It is still quite cold at this time of the day (between -5 and -10). I also take this opportunity to eat more than I need…. It's just that I remember that on the Cotopaxi, I didn't really have my stomach in place and I had a lot of trouble eating. So I prefer to recharge my batteries before the effort this time!
On our way to the Parinacota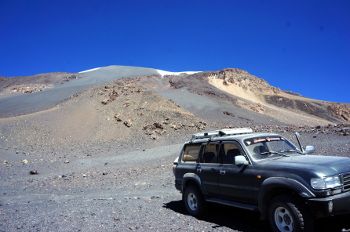 During the hour and a half of travel that separates us from the high camp, I have time to talk a little with Mario. He explains to me, why he prefers to stay in Sajama and work on his own as a local guide. He tells me how the travel agencies in La Paz pay the guides a miserable salary and keep most of the money for them.
He also told me, that he would like to be able to do all levels of mountain guide training but that these modules cost several thousand dollars and that he cannot afford it…. As a result, he prefers to invest his money to expand his little Hospedaje and is satisfied with the basic module of working as a "traditional" mountain guide.
Getting to the high camp on Parinacota
It is 4:30 am when we reach the high camp. It is quite cold (maybe -15 degrees) but the weather is perfect! The sky is completely clear (we don't even need to use the headlamp) and there is hardly any wind. Phew! That's one less difficulty… I can concentrate on the altitude now. As I feel good, we are going at a good pace…. But I know I wouldn't be able to keep up the pace until the top. But I have a good feeling with this guide and I feel like I'm on a good day.
We first climb on a rather easy terrain between the two volcanoes to the pass then we turn left to start a Zig Zag climb on Parinacota. The track is quite well marked and I have no trouble following Mario at the moment. After a good 2 hours at this pace, we take a long break to admire the sun rising over the Sajama and Pomerape volcanoes. What a view!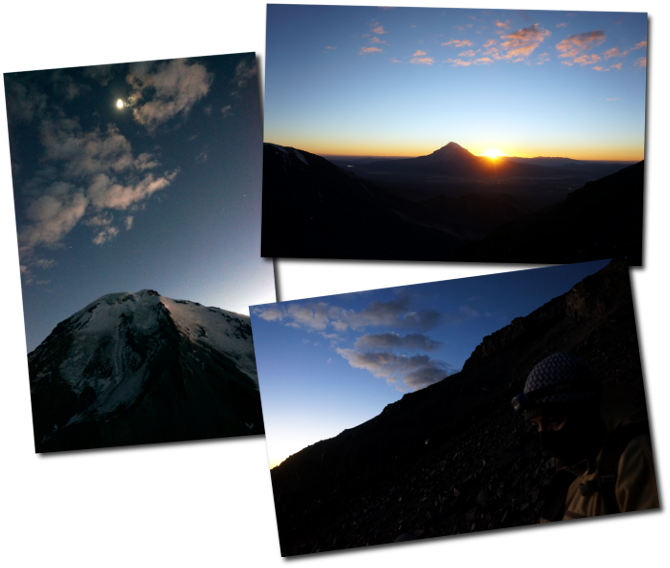 The last 500 meters to get to Parincota are the hardest
As I said, from June to September is the dry season in Bolivia and there was no snow until about 5800m above sea level. As a result, we climbed the first 700 meters of altitude difference in just over 2 hours. But it's after that the story gets complicated.
We start walking between small irregular and windblown ice mounds (because there can be a lot of wind on this volcano, I was very lucky that day). And the higher we go up, the more these little ice peaks become denser, which significantly slows down our progress… or rather my progress ;-)… because for Mario, this ascent is a bit like his little morning routine (not quite that, but not far from it)!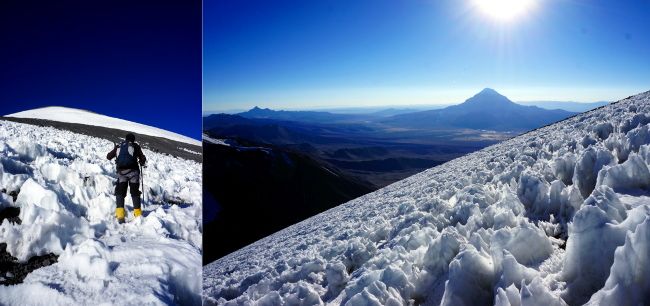 Even if the air is starting to get scarce, I feel pretty good when we pass the symbolic 6000m bar. In addition, I have the summit in my sights to motivate myself! I really feel like I'm going to make it. So we continue to make our way between ice and rock. I don't have a headache but I'm running out of energy in my legs. (I had already felt this on the Cotopaxi, that basically just the lack of oxygen…
I'm significantly reducing the pace but we're almost there! And finally, after 5 hours of effort, we reach the top of the Parinacota volcano. I'm at 6348m! I am so happy and proud to have succeeded… It is difficult to describe these emotions. I realized a dream that was really close to my heart! I just enjoy these moments and the incredible view I have of the crater and the surrounding area. Magic!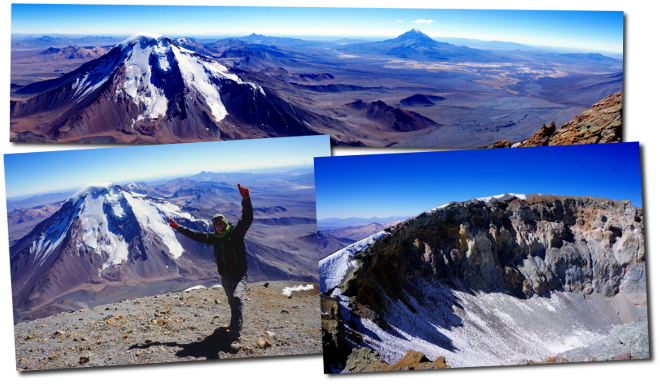 Go up in 5 hours and down in… 40 minutes 😉
After enjoying about 20 minutes and recovering some energy, it's time to get back down! Even if the weather is bright, it is cold at the top and the wind rises gently.
So for the descent, it is much less complicated than for the ascent. In fact we are heading towards a portion of the volcano where there is no snow, only volcanic gravel. The plan is simple, we go straight down!
You should have seen the guide come down… he was running down! But as the ground is soft, we sink into this gravel, which totally absorbs shocks. So no worries, we can almost run down. (I even think that with old skis it could have been fun ;-)) ). So, while it took us 5 hours to get up, we found ourselves in front of the 4×4 in just 40 minutes ;-)! Funny, isn't it?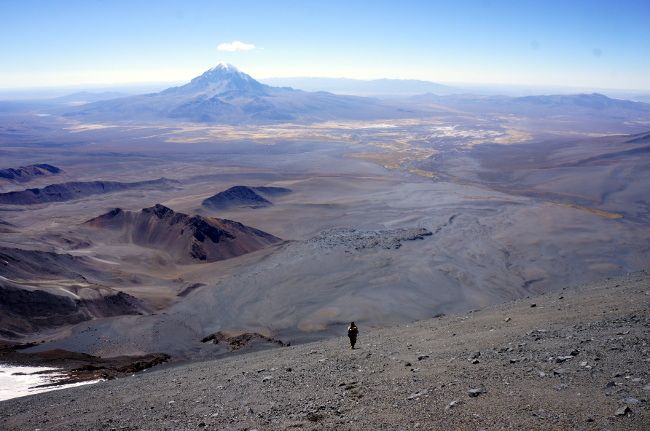 So I finally realized one of the dreams that was closest to my heart. I climbed to an altitude of over 6,000 meters! But don't think it's just a coincidence. I was well acclimatised (I hadn't gone below 3-4000m in 1 month), I had an excellent guide and the weather played in my favour!
It's just that I would like to point out that even if you are very motivated to do the same, the conditions may not be right and it may not be your day. It is a matter of accepting it and knowing how to turn back before a preventable accident occurs.
And you, have you ever dreamed of climbing to more than 6000 meters????