Preparing a round the world trip or simply a long-term trip is not necessarily an easy task!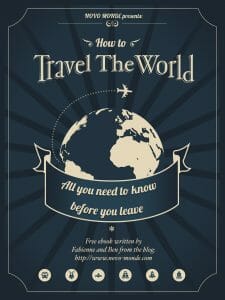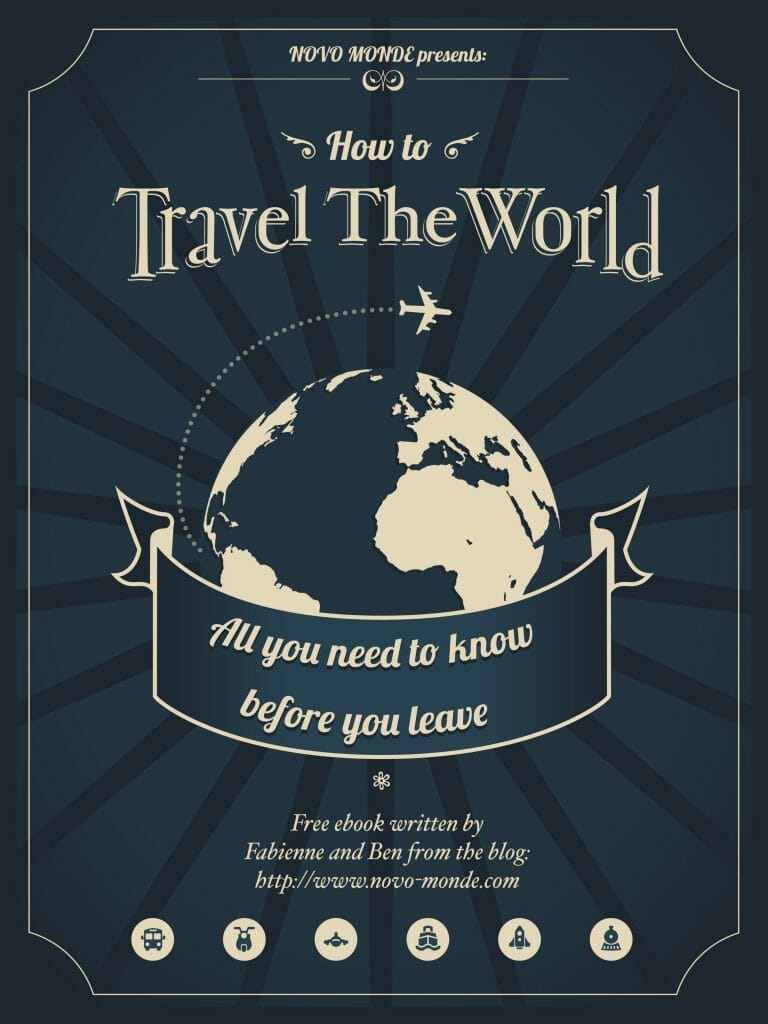 It can even be a little scary at first!
But we reassure you right away, everyone goes through this fear. We were the first to be super worried before leaving for round the world trip!
You probably have a lot of questions like that:
Do I have enough money to leave like that? How much does it cost to travel around the world?
All this paperwork, vaccines, insurance, buying equipment… where to start? It's a little discouraging
Is it really a good decision???? I still like my job… is this going to impact my career?
With my apartment, all my stuff, my furniture… this all seems a bit complicated!
South America??? Is it not a bit dangerous to go there ???

and so many more…

But where we can help you is that most of these questions, we have already asked them ourselves before we left for our incredible 18 month adventure! We spent a lot of time on travel blogs and forums (and we still do) in order to collect as many information as possible.
And with the experience of this first long-term trip (and the others that followed;)), we can now share with you what we might have done differently, what equipment we think is essential, what tips were the most useful to us, etc… We wrote more than 100 blog posts talking about round the world trip on our blog (first in french and now in English), here are some that might help you take the right decision:
So, you want to embark on a round-the-world adventure? Follow the guide!
Our free ebook in PDF format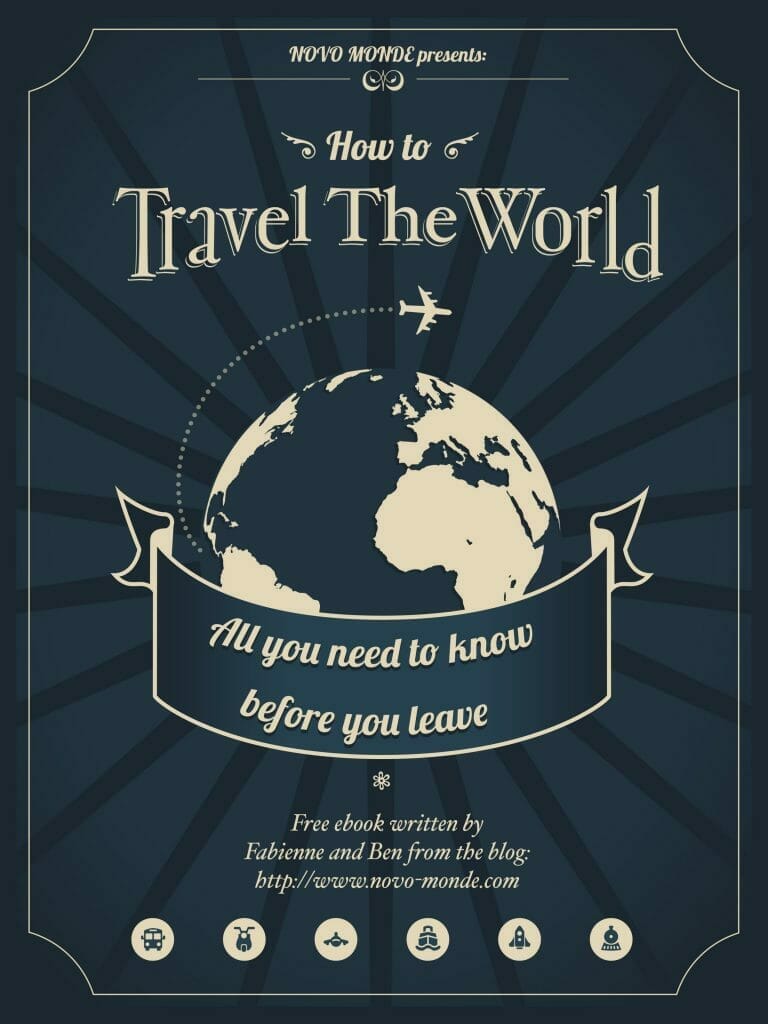 You are currently on the online version of our ebook. Below you can discover the full content of our online guide (chapter 1 is just below).
But if you prefer, our guide is also available in PDF format. You can read it on your computer, smartphone or tablet (or even print it out if you want). To get the ebook, just subscribe to our newsletter at the end of the page. To go directly to the registration form clic here.
A little sneak peek in the ebook:
If you like what we do, do not hesitate to come follow us as well on our social media channels. On Facebook we tend to post mainly in French (our mother tongue) but on Instagram you'll be able to see where we are right now as well as our latest pictures. Our Instagram account

Thanks a lot!
Ditch everything and leave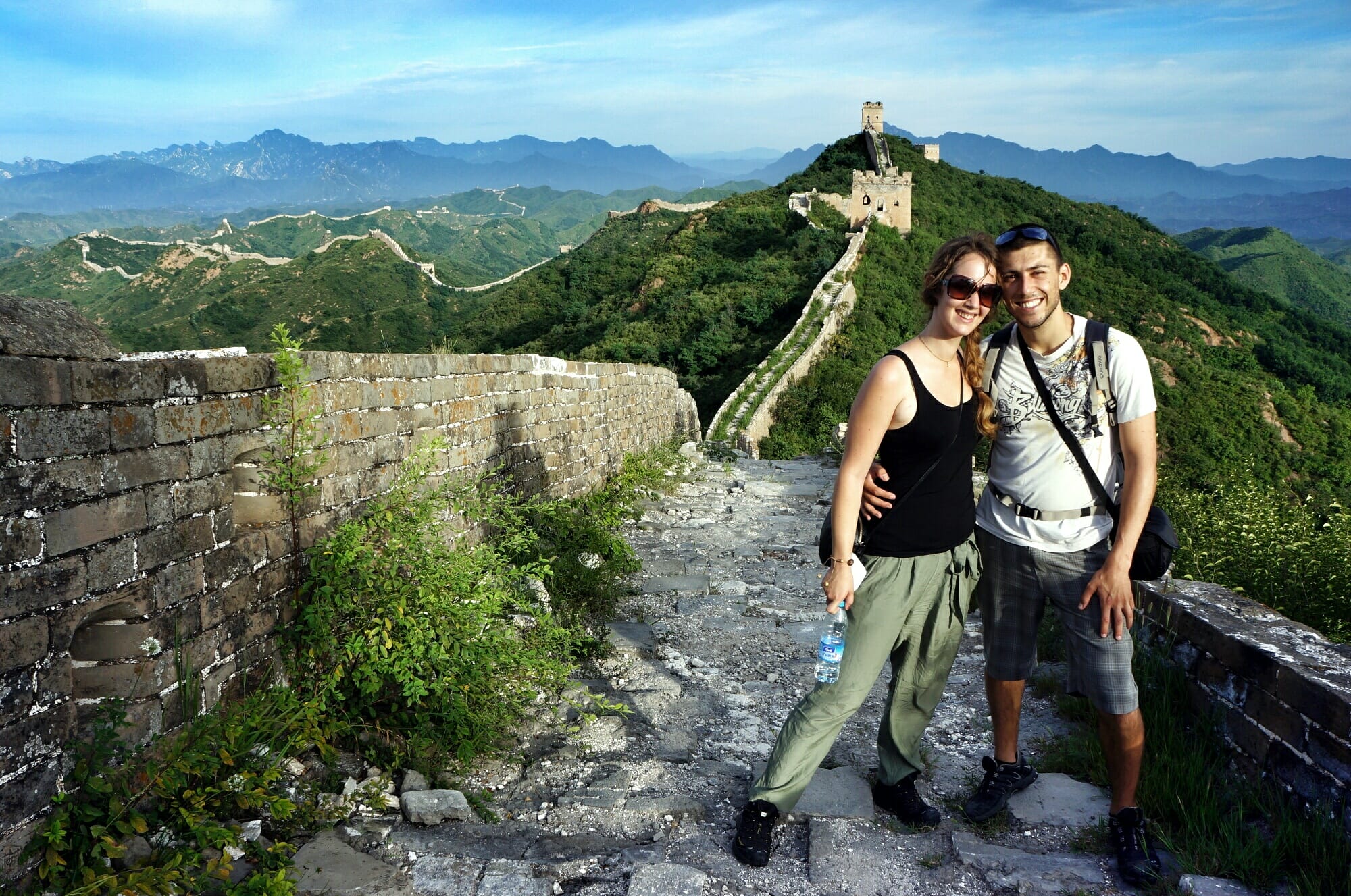 Chapter 1 : Table of contents
Dare to embark on the adventure
There are many reasons to go on a long trip, and something tells me that if you read these lines it's because the idea doesn't scare you off…;)
In fact, for having exchanged a lot with friends, I would say that I see 2 categories of people who don't do it:
The first are those who simply do not want to (not quite sure these people exist… but I believe they do): they may be a little afraid of the unknown, they do not want to leave the daily comfort (work, good salary, apartment etc…), or they simply prefer not to leave their relatives for such a long period. I am not criticizing these people at all, on the contrary I obviously respect their choice… But this is not our case!
The second category is the the most common one (we were cleary part of it too): people dreaming of leaving everything to live an extraordinary adventure but who do not dare to take the first steps.
Sometimes you just have to get started
It is generally much easier to find reasons not to go travel around the world or to postpone the departure date than to really make the decision to leave. We think about work, the apartment, the friends, and believe that now may not be the right time and that one day, the perfect time will come.
Believe me, the right time won't come by accident, you have to force fate a little bit!
And once the decision is made, the machine will be launched! You will see that the most difficult part is to stop believing that your trip is just a wild dram, instead make it a FIXED PLAN.
In 6 months, in 1 year, in 10 years, it doesn't matter, but don't give up on the goal you have set for yourself!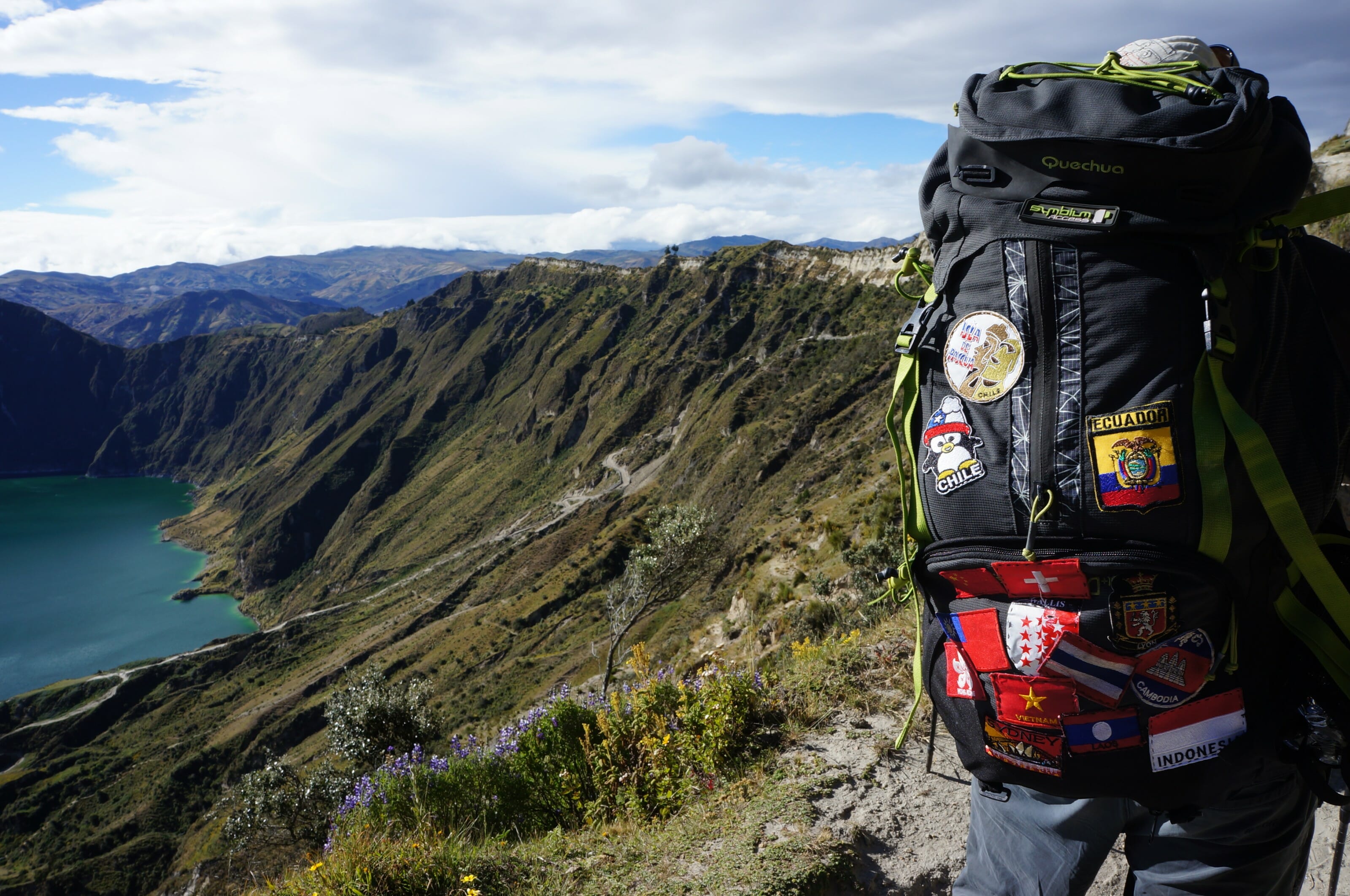 Why are we going on a world tour exactly?
I can name hundreds of reasons, but once again if you have arrived on our blog in search of information to go around the world, then you must not be a difficult person to convince… For us, travel is a wonderful thing and it is one of the best schools of life for us!
What traveling inspires us:
Experience an extraordinary adventure
Dare to go out of your comfort zone and do things that are out of the ordinary. Learn to understand what surrounds us and respect our beautiful planet
Gain self-confidence and trust in others, make encounters that will change your life and your way of thinking
Instead of quoting 57 other reasons to go on a round the world trip, I recommend you to read the experience of other backpackers that took the plunge and went on such an amazing adventure..
If you are still hesitating, you can also watch this video where we share 10 years of travel in 10 minutes:

And if we still haven't been able to convince you, why don't you watch our friends les coflocs's documentary "Génération Tour du Monde"? We guarantee you that after watching it you will only want to do one thing: Pack your things and go on a round the world trip 😉 (subtitles available in english)

And if for some reason you're not 100% convinced yet, watch this video from Fabien Carré, a reader of the blog (who is also a talented video maker) who went on a round the world trip with his girlfriend between 2017 and 2018… a pure pleasure for the eyes!
Stop making excuses for yourself
For those of us who would like to travel but don't, it's because we often find reasons not to do so or to postpone it. Certainly there are constraints of daily life that are specific to everyone, but in my opinion it is really important to ask the right questions and especially to relativize and have the right state of mind…
So if you are healthy and the dream of discovering the world has been haunting you for some time, read the following and try to lay on paper all the reasons that would prevent you from leaving… and try to find some solutions. One problem at the time…

For each problem its own solution. Sometimes, changing one's state of mind is already enough to start seeing a potential solution!
Work: Quitting or sabbatical leave?
Job related questions are often a crucial point that pushes many people to postpone a long-term travel project. The fear of losing a year's experience on the resume, not knowing if we will find a job we like when we return, the fear of asking our boss for a sabbatical leave… etc.
To be honest, this is a question we asked ourselves a lot. With Ben, we had finished our studies and we were both in our "first real job", at the beginning of our "career" if you can call it that. But honestly, we were also both convinced that this trip would bring us a real plus in our lives.
A round the world trip is not necessarily a hole in your Resume
A round the world trip can not be added to your resume as a professional experience, but it is undoubtedly something that has a value that goes far beyond. During a long trip you have LOTS of free time! It's up to you to make the most out of it! Learn new skills during your trip as we did with this blog for example… You can learn languages (we did 2 months of Spanish courses in Quito in the middle of our world tour for example), train yourself on something you like along the way. The possibilities are endless and you will have all the time in the world to get started 😉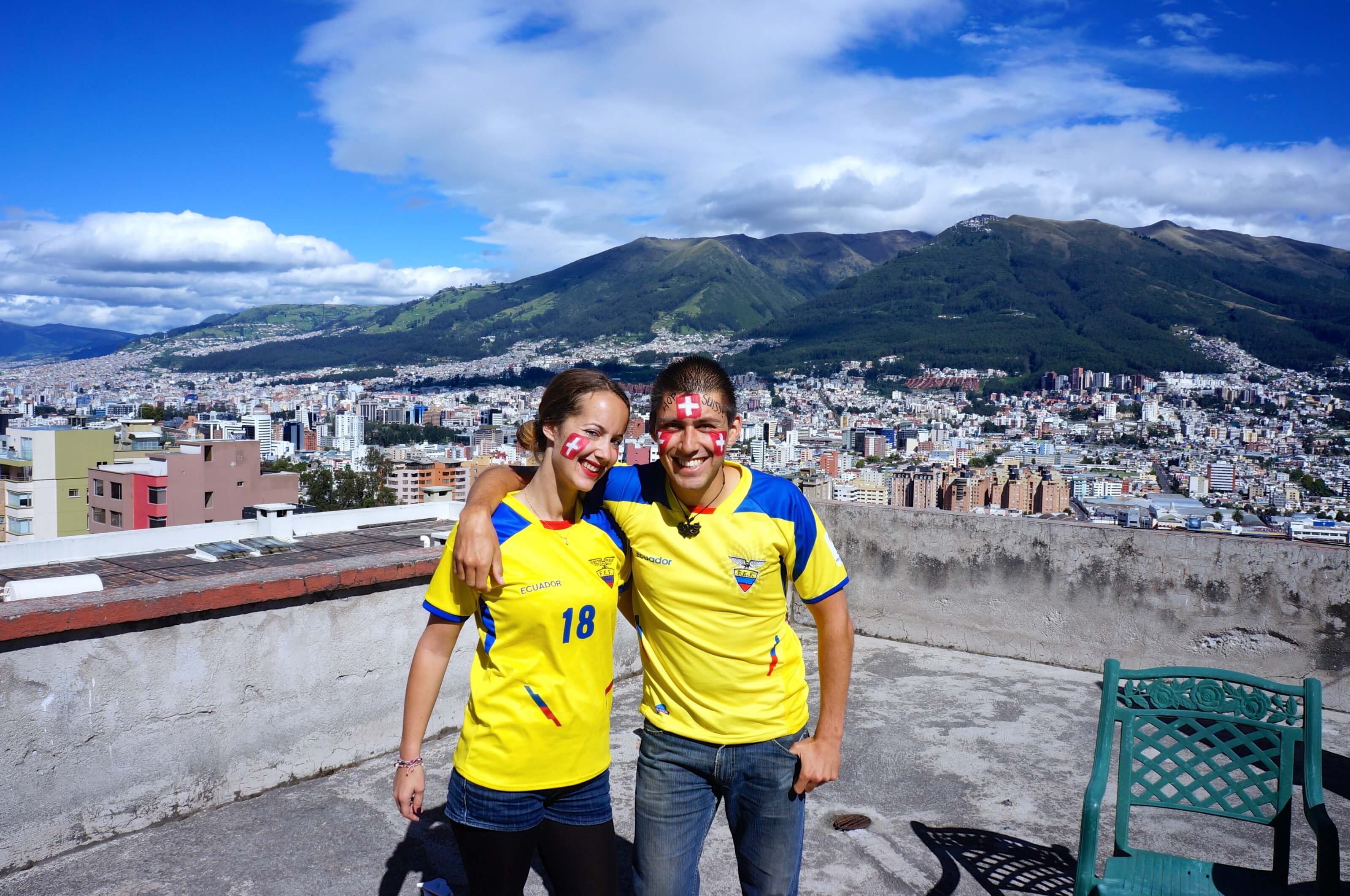 For us, the question of sabbatical leave did not arise because we had not been employed for long enough in our companies, but we are not actually any more unfortunate. Resignation has the significant advantage of leaving doors open: whether to extend your trip or to find a new professional path when you return… who knows!
And I remember that we thought that at worst, we would find work in a store or restaurant (or other) anyway until we could find something better. It is not a tragedy to do a more "bread and butter" job after such an adventure if you have a little trouble finding your "dream" job.
Update after returning from our trip

Honestly before our departure we expected to struggle a little bit to justify our round the world trip on our resume…. But in the end, everything went perfectly well to find a job. We had started the first steps while we were still on the way (updating resumes, applications, first interviews via skype). Once back home Fabienne had found a job less than 3 weeks after hitting Swiss soil and Ben followed not far behind.We're not going to tell you that this is the norm for everyone, but for us the round-the-world trip was clearly seen as a plus. Both in terms of professional soft skills. During my first interview for example I walked into my future boss's office and on the big screen behind him was our blog "Novo-monde".
Yep… It's very strange to see yourself on a giant screen in trekking pants, with your hair going crazy while you're sitting there dressed in a suit with perfect hair trying to look serious! And then my boss looks at me and his first sentence was: "Wow, you have to tell me a little more about this trip!" 🙂
Believe me, when you come back from such a journey you won't want to work for someone who finds the concept of travel uninterestign… So there's no need to hide it! Use what you have learned! FI was applying in a start-up that develops softwares and I was able to highlight my knowledge acquired in the field of web developement and programming, languages but also the ability to adapt quickly, manage the unexpected and live H24 with a developer (ok that's a bonus, but for a tech company it counts! :D)
Second Update 😉
After 1.5 years in this company in Zurich, we resigned again to become self-employed and be able to work on the roads. If you want to know more about why and how we became digital nomads, you can read
this article
.
And if you love your job so much that the idea of leaving it doesn't sound like an option, you can always ask for a sabbatical.
The apartment or house
When you go on a long trip, the housing question can be a delicate one.
For us the situation was pretty easy. We were renting an apartment in Vienna, Austria. Not knowing if we wanted to return to Austria or Switzerland after our trip, we decided to terminate the lease. We sold our few pieces of furniture. Without too much effort, we managed to pack our entire life in a couple boxes that we stored in our parents' basement.
Of course, our situation may not be the norm, but be aware that there are many alternatives.

If you are a homeowner you can rent your house or apartment in your absence: this will allow you to cover the running costs during your absence and also ensure you a small income for the duration of the trip.
You can rent your apartment/house furnished or if you prefer not to leave your furniture to strangers you can consider storing your belongings in a storage facility for the duration of your trip.
If you are a tenant you can consider subletting your apartment. To do this, you will simply have to meet two conditions:
Have the written agreement of your landlord
Do not sublet your apartment at a price higher than the one you pay to your landlord, or if you sublet it with the furniture you can slightly increase the rent but this must remain reasonable. It is best to discuss this directly with your landlord!
Family and Friends
So this is a fake excuse, the real friends will still be there when you get back!
We went to live 2 years in Zurich, then 2 years in Vienna, 18 months on the roads and then we settled again in Zurich (250km from "home") and now we have become nomads… yet our families and friends are still there! With the current means of communication such as whatsapp, skype, e-mails, blogs, and of course traditional letters and postcards you will have no trouble keeping all your friendships intact during your trip, and in addition you will have plenty to tell them when you return! ! 😉
Then there are situations that can be a little more difficult to manage when you are on the other side of the world (death of a loved one, a friend going through dark times, etc…). But it's part of life unfortunately. And does the possibility of this happening justify not going around the world? I don't think so… And then, you'll also make a lot of new friends on the road;)
Children
For this point we are probably not in the best position to talk about it, because we don't have children. It is obvious that the organization is a little different when you decide to take the road with little ones, but it is by far not impossible; many have done it before you, and for children it is necessarily a unique experience that they will keep with them all their lives!
Pets
Probably the most delicate point for me when I started planning our trip around the world. I had had a little furry friend in my life for over 7 years (and by furry friend I do not mean Ben ). It's name was Pepsi. 🙂 A little black pug, who snored more than a drunk guy, could eat continuously and loved to lounge on the couch with his mummy… I don't hide it from you, the tears were flowing the day I had to leave her, but what reassured me was that we found a GOLDEN family to take care of her while we were away.
Unfortunately I didn't get to see her again because in our absence she developed a very severe stomach cancer which forced us to let her go within hours.This was a really hard thing to handle for me while on the roads… When I got the phone call, we only had a couple hours to decide what to do. She was suffering a lot, and it would have been ridiculously selfish to make her wait a couple days until I could have been with her to say goodbye. But I also know that she was very well cared for, the loving family she was with took care of her until the last moment.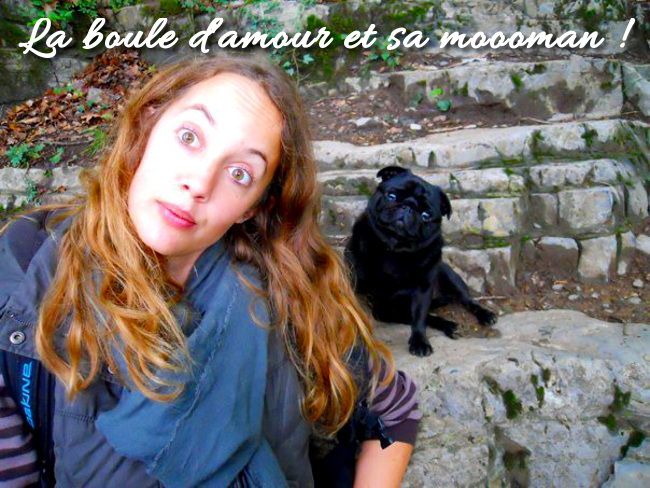 My advice: Take the time to plan the stay of your pet in time. Look for the best home, ideally with your family or close friends, or better said: with people you trust. When you leave, prepare yourself for the possibility that something may happen in your absence… This is the worst case scenario, but as it has been the case for me. Choose the people who take care of them wisely, making sure they are able to take responsibility for an animal.
Money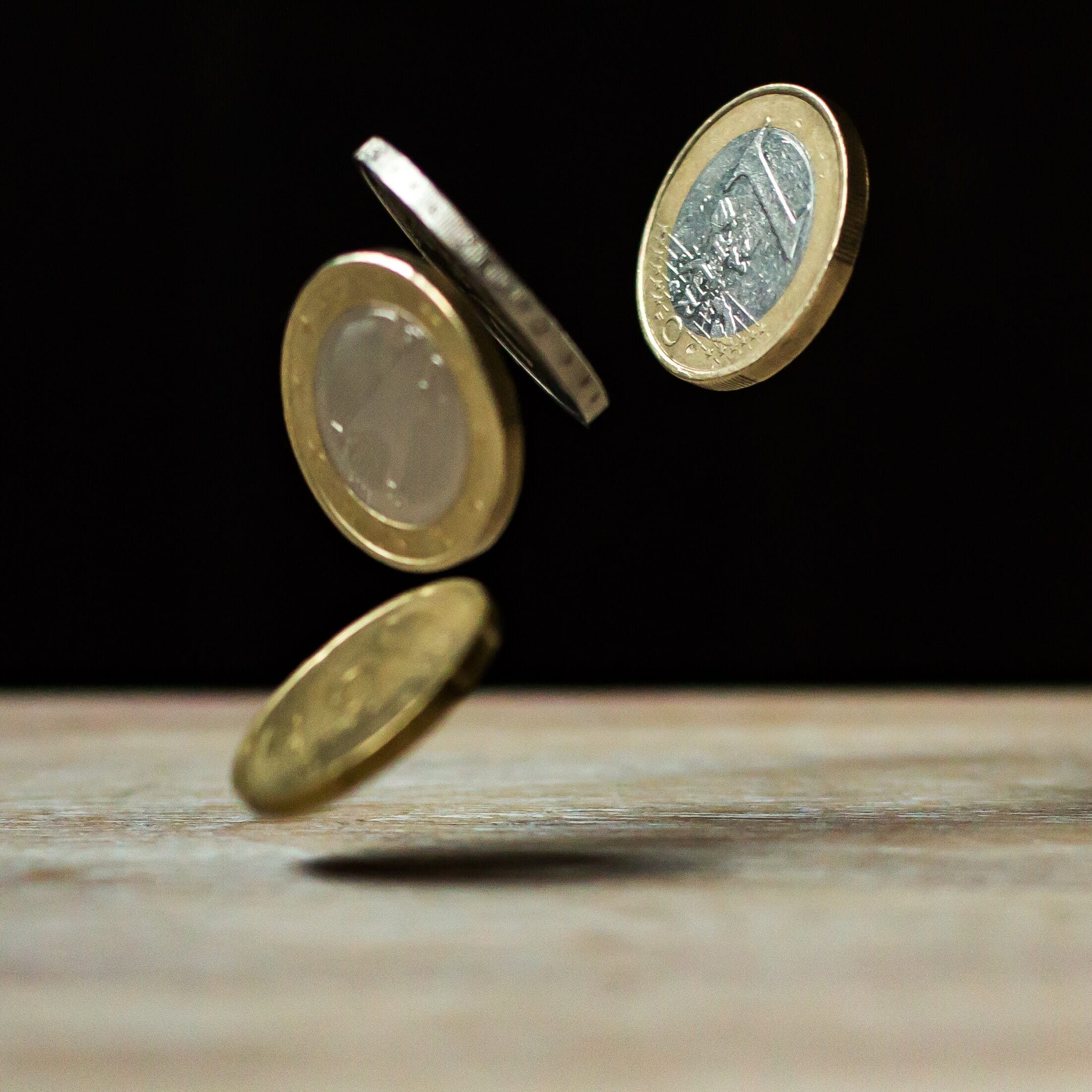 As is so often the case, money is a bit in the center of most concerns. The most important thing when planning a long-term trip is to budget well in advance and consider all potential spending points to avoid unpleasant surprises along the way. Once you have determined the amount you need, you can start developing a plan to save….
We also devote a full chapter to the round-the-world budget a little later in this guide (don't worry, we'll tell you everything you need to know ;)).
But know it, a trip around the world will cost you much less than a "regular" year of living in your home country, the only difference is that you may have to manage without income… Even though… There are many professions that allow you to work remotely, so think about it! (But we will come back to this later in this guide!)
Maybe instead of leaving for a year without income, you could decide to leave for a longer period of time by working part-time online? Or maybe you'd rather make your trip slightly shorter and enjoy every single minute of it? The answer to this question is 100% up to you!

Going alone or with several people?
When planning your trip, one of the big questions is whether you prefer to go alone or accompanied. For us the question didn't really come up because we both dreamed of going on this trip, so the day we realized that it was feasible on the budget side, we didn't really look any further;)…
But all personalities are different!
For example, I know that Ben would most probably have gone around the world alone if we hadn't met, while I would have tended to go with a friend (at least for part of the trip).
The significant advantage of going alone is that you are 100% free, you are not accountable to anyone, and you do exactly what you want when you want!
And let's face it, travelling alone does not mean being alone on the roads!
If you are open to meeting new people then you may not be alone very often ;). You will meet many travellers on your way with whom you may want to go a long way!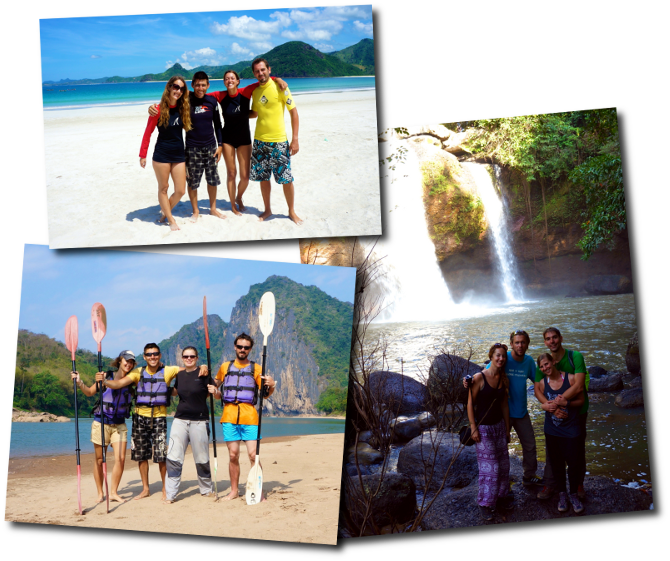 But for me there are also disadvantages to leaving alone (you're probably gonna tell me it's better this way since we decided to leave as a couple).
Travelling alone also means not having a shoulder to rest on when you have a bad day, that person who will hold your hand when you are in bed on the other side of the world with a damn virus, or just someone with whom you can share all those incredible moments you've experienced! And furthermore, sharing these memories just doesn't have a price once we get back to "normal life"…
Travelling together, it is not always easy either. You must carefully choose the person with whom you decide to embark on the adventure!
Whether as a couple or with friends, you have to be sure that you will be able to tolerate each other for 1 year, 24/7 (or almost)… I have to admit, if I think about my best friends, there are not many with whom I would see myself going on a trip like this one!
With Ben I wasn't worried, we're a good team, we support each other, we laugh a lot and we're both people who make compromises quite easily… 18 months on the roads together, and everything went perfectly well for us. But after 12 years spent side by side I think we're starting to get to know each other's little flaws and we've learned to "manage the beast"! 😉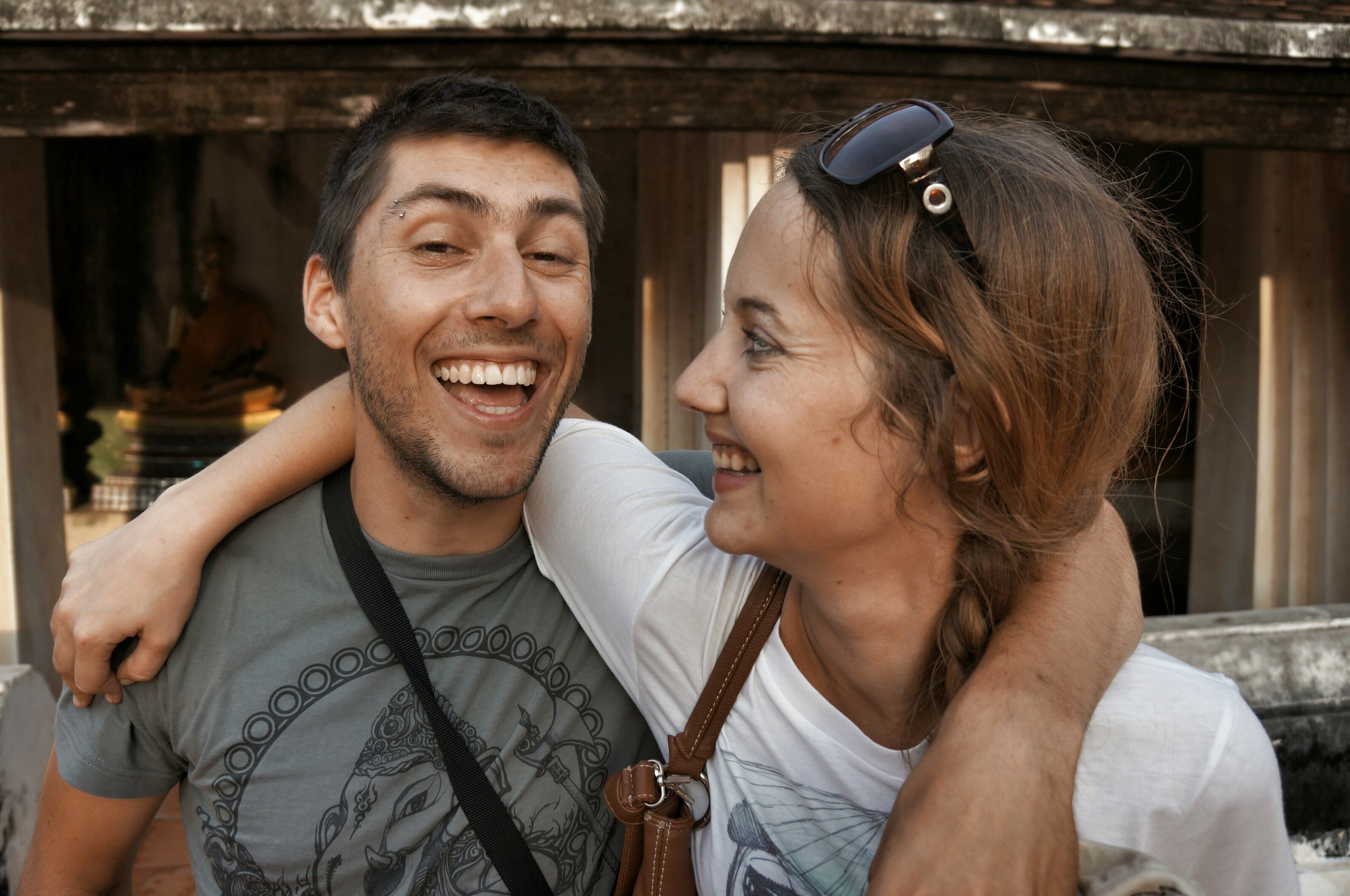 I have only one thing to say to you, no matter if you go alone, with your soul mate, your hamster, your mother-in-law or the mailman: Go and enjoy!
Download our free pdf E-book!
Subscribe to our Newsletter and get a free E-book with more than 100 pages to help you prepare your trip around the world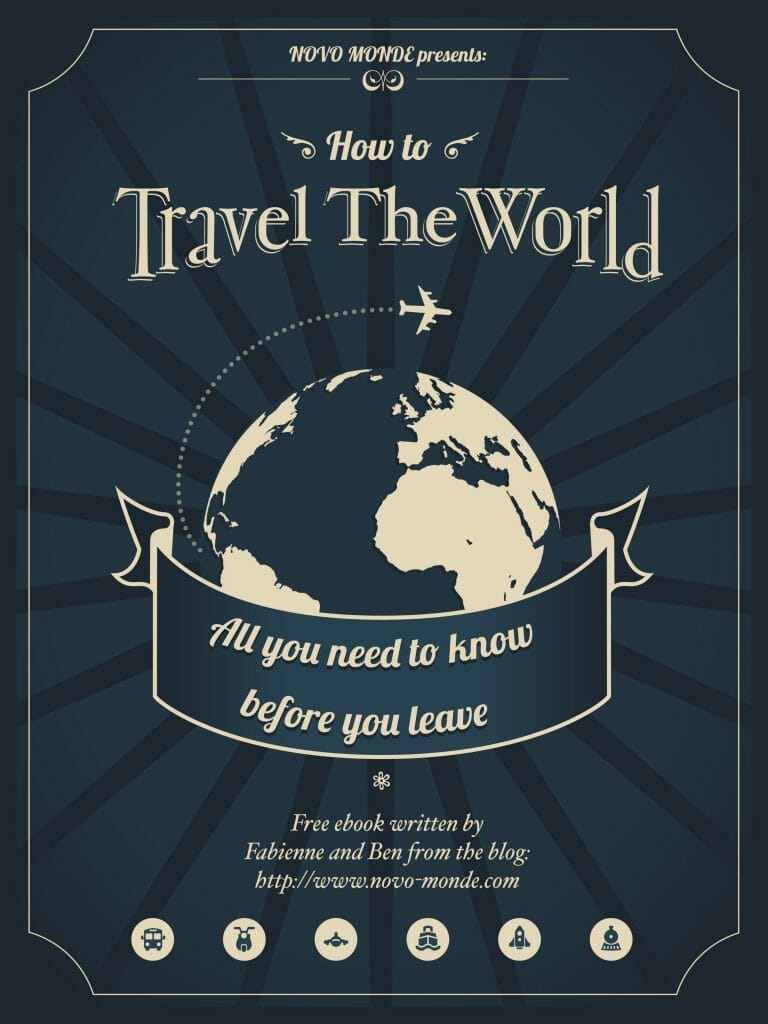 Save our eBook on Pinterest