After our 9 days of trekking to Machu Picchu, we had an appointment in Bolivia, more precisely in La Paz. It was also the time of the Reunion with my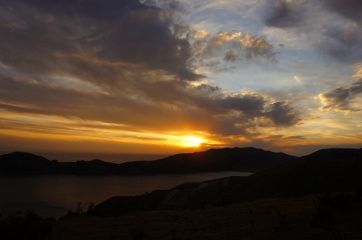 parents (it is Benoit who is writing this…). Our objective was to visit Bolivia starting with a short trip to the Titicaca lake.
After more than a year of travel, the reunion with the family is always something great. We were really looking forward to this moment!
Especially since before the round the world trip, we had worked for 2 years in Vienna so we hadn't seen them a lot in the last 3 years.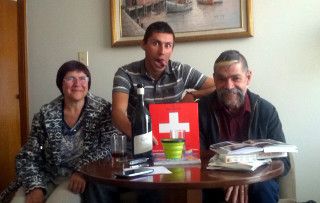 After the red wine aperitif – Bagnes cheese – dried meat brought back by my parents from Switzerland we stayed a few days in La Paz to acclimatize. (Believe me, cheese feels good after more than a year!))
Acclimatization in La Paz is important. The city is located at almost 4000m of altitude (13'100 ft) and my parents arrived almost from the sea level. I might as well tell you that the shock was hard! After a few days, we decided to go and discover Lake Titicaca and its famous Isla del Sol (Sun Island).
It must be said that we had heard a lot about the sunsets and the breathtaking view of Cordillera Real that we can have from this small island. Arguments that immediately convinced my parents ;).
Go to the Isla del Sol from La Paz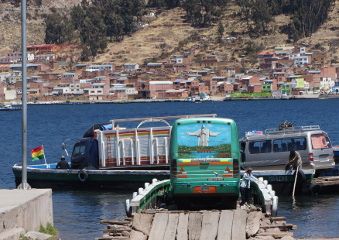 So to reach the Isla del Sol from La Paz, there are no 36 solutions. You must first take a bus to the village of Copacabana (not the beach…). To do this, nothing very complicated, just go to the "terminal del cemeterio" in the morning. Then take a large bus (20 Bolivianos) or a minibus (20-30 Bolivianos) that goes directly to Copacabana. (Approximately 4 hours of travel time). The route is really beautiful and the road is paved all along.
There is just a funny little passage where the bus crosses a piece of lake on a motorized wooden boat. For passengers, you have to get off the bus and take a small boat. It's a little more reassuring than the boat used for the bus ;-). Price of the crossing: 2 Bolivanos per person.
From Copacabana, you can take boats that go directly south (2 hours) or north (2h30) of the Isla del Sol. They leave twice a day at 8:30 am and 1 pm and cost 20 Bolivianos for the south and 25 Bolivianos for the north.
The port of Copacabana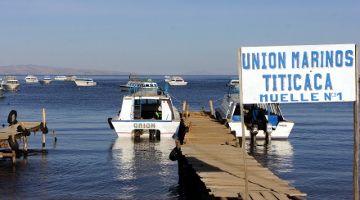 So Copacabana is a pretty little port village (6000 inhabitants) located just 2 hours from the island of the sun. Some people do not even spend a night there and only see its charming little port.
However, we found that spending an afternoon to discover a little bit of the surroundings was well worth it. The main street of the village has nothing in particular to offer; Bars, restaurants, small shops and hotels follow one another without much interest.
In the centre of the village, there is a huge church. This seemed a little big for such a small village (it was suspicious). It is simply that it shelters a virgin very appreciated by pilgrims and that it is therefore necessary to have space to welcome them.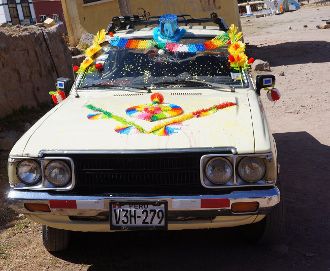 Another curiosity that you will not fail to notice if you pass in front of the church are the cars decorated with multicoloured garlands, hats and flowers. Ehhhh no, it's not carnival all year round in Copacabana!
It's just that people from the region come to this church to have their cars blessed by this famous virgin! They say this blessing would be more effective than a full insurance coverage ;-).
So, once your new car is decorated, you have to make some prayers to the virgin, sprinkle it with alcohol and you are good for 10 years without accidents. 🙂
Stroll in Copacabana
From the port, you can also go around the hill overlooking the village along the lake. A nice 1-2 hour walk that will take you out of Copacabana and allow you enjoy the view of the lake. And if you have the courage, don't miss the sunset from the top of the hill.
It's really worth it. On our side, we had a great terrace on the roof of our hotel (hostal Sonia which was pretty goog value for money!). Thus, we enjoyed this wonderful moment quietly from there.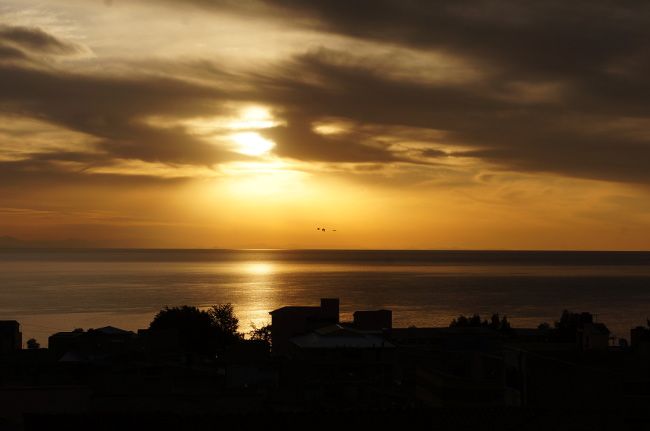 Isla del sol: how to visit it
There are several villages on the island and you will easily find accommodation and food in each of them. There are still more choices in the southern village. Even if in our opinion, the village of the north with its magnificent small beach and its calm has quite some assets as well.
As we told you above, we had chosen to spend a night in Copacabana in order to be able to take the 8:30 am boat. But why be stressed and take the boat in the morning when there is one in the early afternoon? Simply because there is a nice walk from north to south of the island, passing through the peaks. (There is also a path that goes along the coast but we wanted the view from above).
So, since we had left most of our stuff in La Paz, we just took the boat towards the northern port, the idea being to walk to the southern village to spend the night there. And what a great idea we had!
The landscapes along the trail are just splendid with the many eucalyptus trees and the Cordillera real in the background! There are also some Inca ruins on the trail but nothing incredible in my humble opinion. (Maybe we're a little jaded after the Choquequirao and Machu Picchu). Allow 3-4 hours to walk from north to south quietly with snack/photo breaks ;-).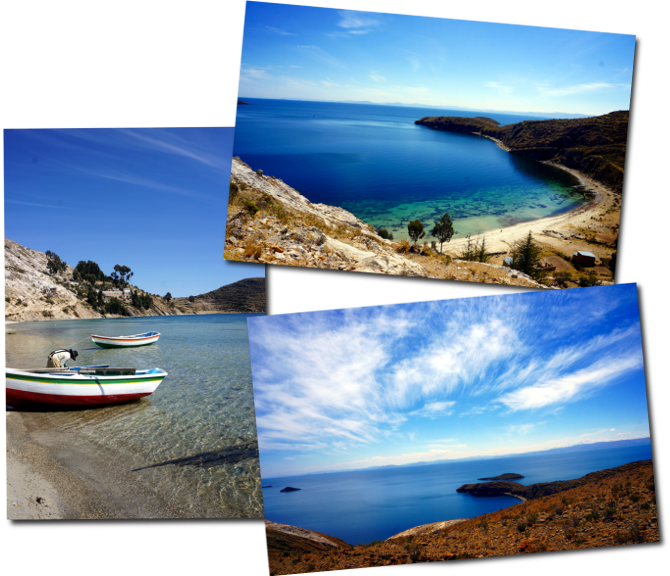 Fees to be paid for walking….
A little negative point though! We were asked to pay a "trail fee" at 3 different occasions!!!!! Once it was 10 bolivanos, then 15 bolivanos and finally 5 bolivanos. In itself the amount is not huge. But it's just the concept of having to pay 3 times to walk on a 8km-long path that irritates me a little bit!
If at least the 3 so-called communities would have agreed to make a unique fee for the Isla del Sol, it would maybe have less felt like being scamed 3 times by kids… But let's forget about this part, shall we?
Sleeping on Isla del Sol: our tips
Once you get to the southern village, we have only one piece of advice to give you (actually 2). Sleep at the Hotel Puerta del Sol (30 bolivanos /pers with shared bathroom) for the incredible view at sunset. Then go to the Las Velas restaurant, which is just next door.
So Las Velas is undoubtedly our best restaurant in South America at the moment.
Well, you have to have time to go there! Between the time we ordered and the time we were served, almost 2 hours passed. But it was well worth it, everything is made fresh and on wood fire! The chef's "trout in papillote" with these seasonal vegetables was divine!
Nothing super fancy but it was just amazing! 😉
In short, not to be missed under any circumstances. However, we don't have any pictures because it was a candlelit evening without electricity.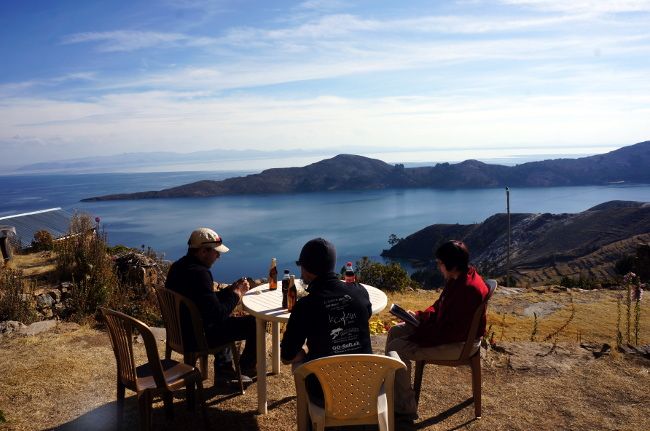 Stay several days on Isla del Sol
Well, you can obviously spend several days on this pretty little island.
It is also possible to camp anywhere, among other things. Just to enjoy the small beaches for cheap and get a tan (be careful, at 4000m the sun is strong and the temperature of the lake is only at 9° Celsius 😉 ).
But on our side, since we only had 2 weeks to spend with my parents, we decided to take the boat back the next day to return to La Paz. Then we headed to the small town of Uyuni and its famous salt desert! A moment we've been waiting for since the preparation of our world tour.
NB: Please note that this article contains affiliate links to partner sites. If you buy a product on one of their sites you will not pay more but we will receive a small commission. This will help us to keep this site alive. Thank you! 🙂