This article was originally written by Chris, who lives in Cambodia and blogs about Siem Reap. We are looking forward to travel soon to his new homeland on our upcoming round the world trip.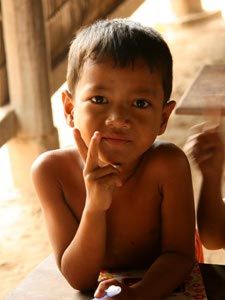 We let him speak….
Edit 2019:We have updated this article to include more of our personal perspective. We visited Cambodia during our round the world trip (2013 – 2015). Our additions and comments for each item are in italics.
You are still hesitating to choose your next holiday destination, and Cambodia is one of the selected countries? Let yourself be convinced by reading this article in which I will explain the seven reasons that will make your trip to the country unforgettable.
1. People in Cambodia
Meeting these warm people is THE reason that will make your trip to Cambodia memorable. Despite all the tragedies experienced during these decades of war, these people have remained incomparably kind.
Smiling, tolerant and helpful, they are also fundamentally honest! Even if the prices inflate a little at the sight of the tourist, they tend to become affordable again after a bit of bargaining and a funny and friendly "Tlay na" (translated as "Very expensive!!" in Khmer). Throughout your journey you will go from friendly contacts to friendly contacts, from smiles to smiles.
For us, the experience has been more mixed. As we explained in our final article about Cambodia, we had some problems with the scams. We were relatively tired when we arrived in the country and it probably didn't help. Nevertheless, it is in Cambodia that we have most often been confronted with somewhat delicate situations in negotiating terms. Of course, there are golden people everywhere and Cambodia is no exception to the rule, but let us just say that, for us, it will not have been as simple as we expected.
2. The Angkor Wat temples
A breathtaking, magical and majestic place, including Angkor Wat, the largest religious building in the world and undoubtedly one of the highlights of your trip. These temples were mainly built between the 9th and 13th centuries and are mostly located in the archaeological park around Siem Reap town.
You will have to pay a daily admission fee ($20 for a day, $40 for a three-day pass, and $60 for a seven-day pass). You cannot come to Cambodia and miss these remnants of the ancient Khmer civilization, a must.
Update 2019
The rates for the Angkor temples were modified in February 2017. Here are the new rates in effect:
A day $37 instead of $20
3 days $62 instead of $40
One week $72 instead of $60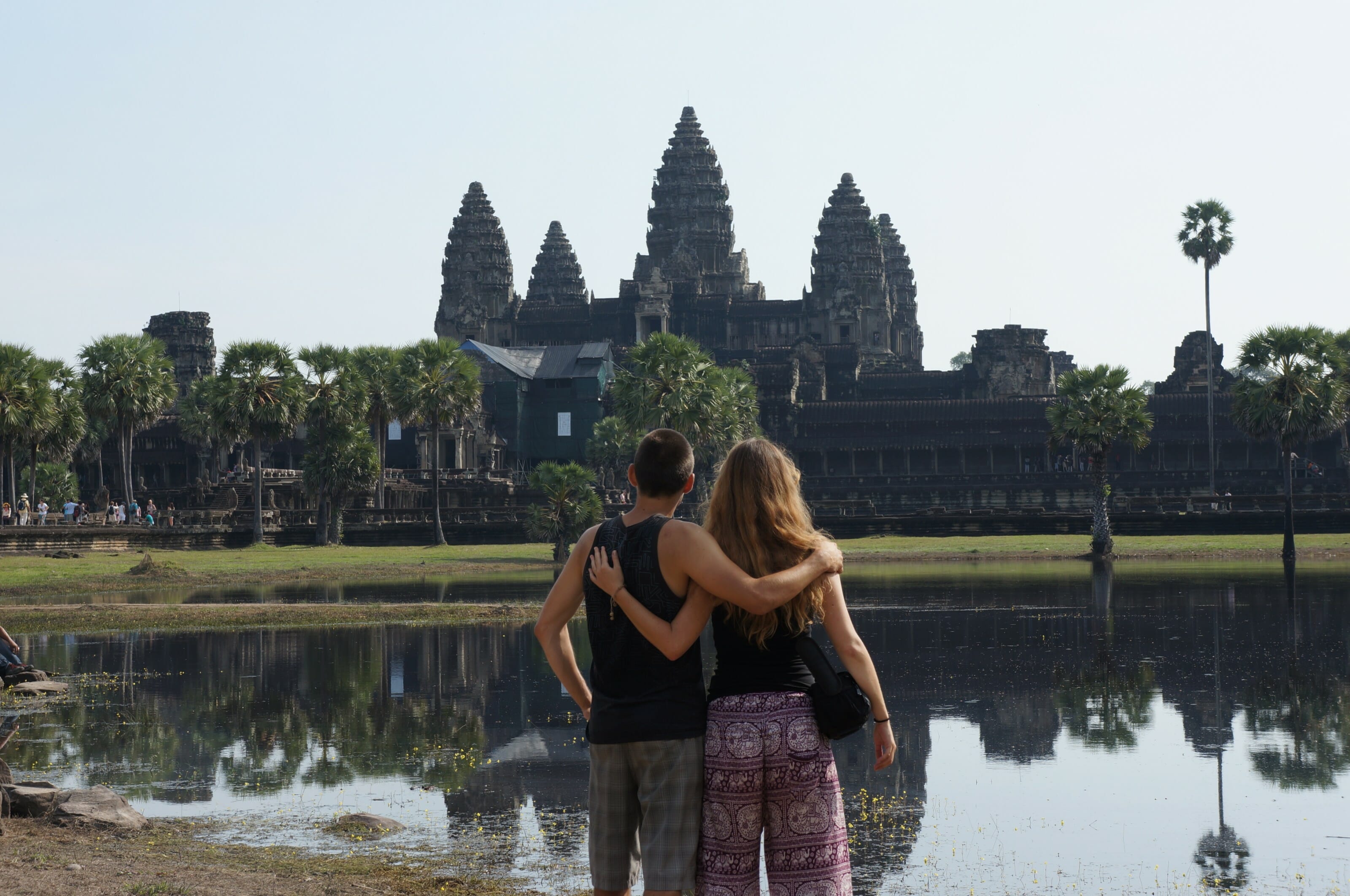 Whoa! Whoa! Whoa! Angkor is a tourist destination, it's a bit of a mess, but my God, it's sooo beautiful! For us it is and it remains one of the most impressive sites we have ever seen in our lives! Read our article on our visit to Angkor by bike.
3. The delicious cambodian food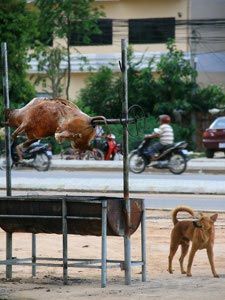 Many people consider Cambodia's cuisine to be a pale copy of Thai cuisine, known around the world for its strength and flavours. It is true that there are similarities, but the art of the Khmer table is finer in taste, less spicy for us poor Westerners, which allows us to discover its extraordinary flavours.
Beef Lok Lak, fish Amok, various Curry and many other delicacies will delight you at each of your meals. Street food will also be one of your culinary pleasures, and you will be offered all kinds of strange things that the bravest will make it a point to test like crickets or other roasted tarantulas. Cooking classes have become very popular over the years, and being affordable, they are a good way to learn the little secrets of local chefs while having fun and having a good time.
No doubt about it, in Cambodia food is amazing! The cuisine is divine. In Cambodia we did a cooking class in Phnom Phen and it remains a great memory. See our article.
If you want to book a cooking class in Siem Reap you can check it out here.
4. Travel budget in Cambodia
Indeed, Cambodia is one of the cheapest countries in Asia. A tasty meal in a small street restaurant will cost you between $1 and $3 depending on the dish you choose. A basic but comfortable room with a fan will be charged less than $10 in high season and less than $15 if you prefer air conditioning. For less than $15 you will also find a bus ticket that will take you wherever you want in the country or even to one of the main destinations in neighbouring countries. An experienced traveller can easily get by with a budget of $20 a day with a minimum of care.
See our detailed travel budget
5. The total change of scenery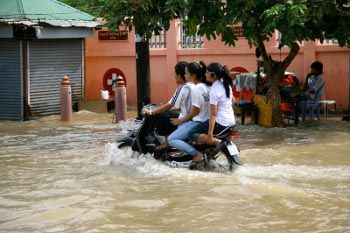 Often, during a trip, we find similarities with our country of origin, the architecture of a building, a given landscape, a precise moment in a special context that makes us think, "Ah ! Hold on it would seem…". Not much chance of that happening in Cambodia. The unusual images and scenes will naturally fill your photo album and give you a feeling of exoticism and daily wonder.
6. Nightlife in Cambodia
The country is known for its magical landscapes, its magnificent historical sites, but much less for its lively life after sunset. Cambodians like to get together in the evening for a drink and a good meal. So you will have no trouble finding nice places to go out.
In fact, you will have difficulty getting home at a reasonable time because the temptations are so great and the evenings are intoxicating. Ambience bars, cafés and bistros, various shows and live bands, Beer Garden (which is the Khmer's favourite place to relax over a glass of beer), karaoke and other night clubs make up the crazy Cambodian evenings that will often take you to the end of the night.
I must admit that we haven't really tested this side much. I don't know…. After our long days of visiting we were not particularly motivated to go out until the end of the night. 😉 In short, it's impossible for us to check this point, but we're going to trust Chris!
7. And again… the people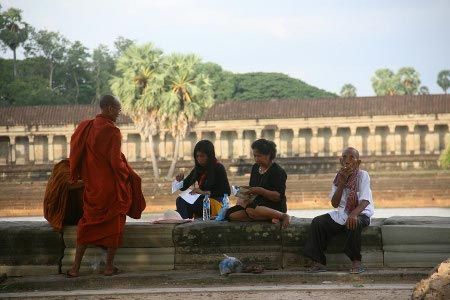 I repeat myself, I know, but it is really what will strike you most throughout your travels, all those unforgettable encounters and spontaneous smiles with these adorable people.
I have tried to give you the seven good reasons that will make you love Cambodia! But this list is endless and everyone will find their own reason in their journey, because this country is really fantastic. Like any fantastic country it changes (unfortunately) very quickly due to the regular increase in the number of tourists, almost three million in 2011, but rest assured, there will always be reasons why you will like it….

Note: This article contains affiliate links. By using our links to make a purchase you obviously pay nothing more, but on the other hand we will receive a small commission. Of course, we only recommend products and services that we also use and appreciate. Thank you for your support:)