After spending 1 month in Cambodia, we were really looking forward to changing our minds and continuing our journey towards Vietnam.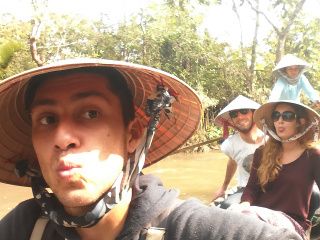 There are obviously magical places to discover in Cambodia (and this is what we will keep with the sincere smiles of young Cambodians) but the incessant solicitations of sellers, the barely concealed sex tourism and the daily scam attempts have finally made us tired and suspicious. Read more about our impressions about Cambodia here.
And you know, there's nothing worse than becoming suspicious when you travel because you start believing everyone is aganst you, you can't trust people anymore and in the end, you enjoy it less!
Crossing the border between Cambodia and Vietnam: Getting to Saigon
After our eventful entry into Cambodia by Poipet, we were a little afraid of crossing the Vietnam border. We crossed the border at Ha Tien (20 km east of Kep) and yet everything went smoothly. Please note that you will still need to present your international vaccination certificate, otherwise you will be asked to pay an additional $1 to take your temperature ;-)… But well, nothing too bad!
From Ha Tien, we then took a night bus to Saigon (or Ho Chi Minh… as you wish) where we had an appointment with a Swiss friend. We arrived at 4 am but it was nice because we had the possibility to stay in the bus until around 7 am…
So if you do the same: don't panic and stay quiet in your bunks ;-). We left the bus station still a little asleep and there, the slap!… thousands of motorcycles, scooters and other two-wheeled vehicles are fighting a fierce battle in the street right in front of us. Even Bangkok seemed peaceful next to this happy mess ;-).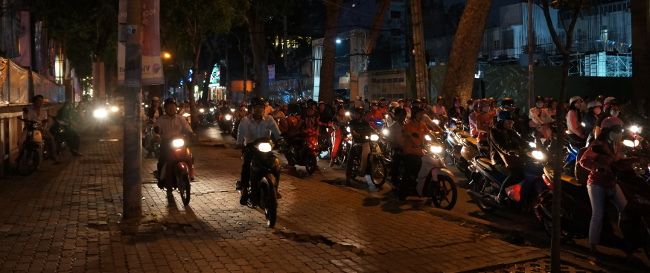 First Vietnamese taxi driver
So we decide to play "safe" for once and take a taxi to reach our hotel even if it means getting ripped off a nth time (since we had no idea of the usual price to get to the city centre)! A motorcycle taxi kindly offered to take us but we politely refuse since we were both carrying our big backpacks… So he takes us to his friend's house, the taxi driver, who offers to take us for 180'000 dong!
Bahhh 7-8 dollars is a cheap price to pay for a taxi….
We therefore accept his proposal. Arrived at destination, the meter displayed 183'000 dongs but the taxidriver asked us for 180'000 as agreed…. Fabienne and I are both quite in shock! We were easy targets that morning and no one tried to take advantage of it… it gave us a good first impression of Vietnam right away (even though we knew we weren't going to be so lucky all the time ;-)).
Quick visit to Ho Chi Minh
Since our friend doesn't have a year to travel (who can have such a long vacation????? 😉 ), we weren't going to spend a week in Saigon either. We therefore confined ourselves to visiting the city centre with a few markets, some shopping, the main buildings (we liked the old post office) and especially the museum dedicated to the Vietnam War.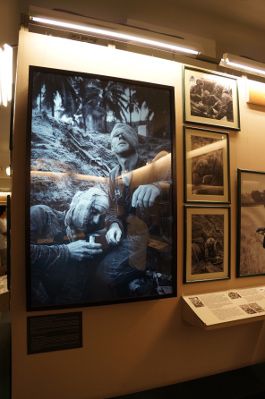 War Museum in Saigon
This place left a very strong impression on me (like the museum on the S21 Khmer Rouge prison in Phnom Penh)! Until then, I had never realized the atrocities that happened during that sad period in Vietnam (we don't learn that at school in Switzerland). When you go out, you look at people differently because you realize that the majority of them have lived through this period.
We also think that all these people with deformities are victims of the Orange Agent, a chemical developed by the Americans to cut down Vietnamese forests (in order to deprive guerrillas of hiding places). There have been several million victims of this product in Vietnam and unfortunately, future generations will not be spared (or compensated by the perpetrators)…
If you are looking for more details on this sad page in the history of Vietnam (and especially the USA), you will find a lot of information on the web but we still understand a little better why some Vietnamese don't really like Americans…
Infos
The museum is open daily from 7.30am to 6pm.
Address: 28 Võ Văn Tần, Phường 6
Entrance fee: 40'000 VND / Person (about 1,5€)
The tunnels of Cu Chi
In the continuity of our visit to the museum, we left one morning to visit the tunnels of Cu Chi, located not far from Saigon. This network of underground tunnels was used by soldiers to resist and fight the Americans as well as to hide and heal during offensives.
Unfortunately, this site has been transformed into a "tourist circus" where you can, among other things, shoot live ammunition with old American weapons (for about 20 dollars for 10 ammunition…), take pictures on old tanks, eat the typical food that the soldiers cooked in these undergrounds and much more…
Just after visiting the Vietnam War Museum, this show deeply saddened us and we still wonder how so many visitors let themselves be tempted by a short shooting session at the M16 in a place steeped in such a heavy history! As a result, we strongly advise against this visit….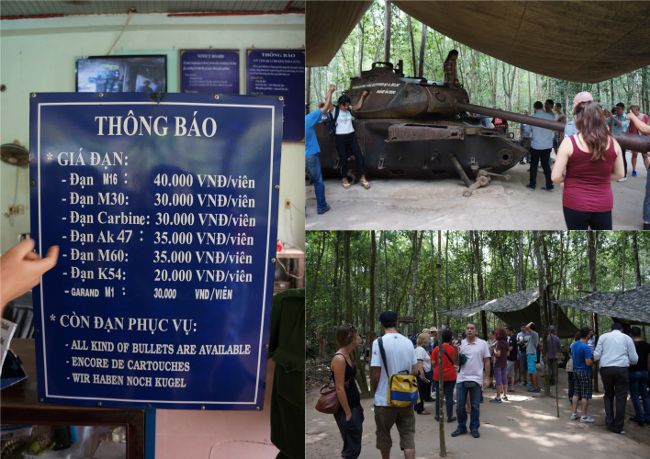 Homestay in the Mekong Delta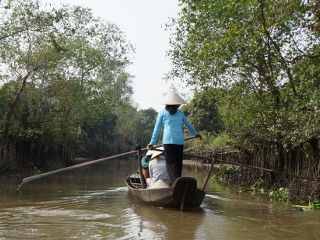 After these few historical visits, we wanted to take advantage of our 3 days left before New Year (we had an appointment with friends in Mui Ne to celebrate 😉 ) to get a glimpse of the Mekong Delta. We met several travellers who advised us against the tours organized from Saigon as well as the city of Can Tho and its floating market crowded with tourists.
So we simply bought a bus ticket to the small town of Vinh Long with the idea of finding a homestay on An Binh Island and visiting the floating market of Cai Be. As usual, we hadn't organized anything in advance… As soon as we got off the bus, we were spotted by a biker who immediately alerted two of his buddies!
After negotiating the price of transport, they take us to the city centre where we hope to find information about accommodation with the locals. But we underestimated our 3 friends who had already alerted "their cousin" who was waiting for us on arrival to suggest what… a homestay on the island of An Binh! (it must be said that this is generally what the few tourists who arrive in Vinh Long are looking for)…
She offers us two nights with dinner and breakfast plus a 6-hour boat trip to the Mekong River via the floating market for 700,000 dong per person (about 35 dollars). We gladly accept her proposal and follow her towards her house.
Do a tour

There are many organized tours that leave for the Mekong Delta. On Getyourguide you can find excursions from
17€ a day
per person and from
55€ for 2 days
.We have not tested these tours and will have difficulty telling you if they are worth it. Taking a tour is clearly a "more comfortable" option but you will also be less "alone"… The reviews on these tours are very good, so if you have little time it can be a solution, even if for our part you are encouraged to go "on your own";)A good compromise? Book your homestay in advance! It'll be a little more expensive than going there, but you'll know where you'll sleep. Homestays generally cost less than 20€ per night.
Exploring the region by bike
After dropping off our things, we borrow 3 bicycles from our host to discover the island. We take a lot of pleasure to ride through such a scenery…. There are many fruit tree plantations, canals for fishermen… It is clear that the Mekong Delta is Vietnam's main agricultural and fish farming region. After a few hours of riding and a refreshing coffee by a canal, we return to our host for dinner.
And now, my friends, we didn't expect such a feast! On the menu: Elephant fish, spring rolls, chicken, fresh vegetables and fruits for dessert… I think we can say that this is one of the best meals we had on the trip. Despite all our efforts, we will not manage to finish our plates.) So it's happy and with a full stomach that we're heading to our beds that evening because the next day we wake up at 5:45 to go by boat on the mekong and get ahead of the crowd.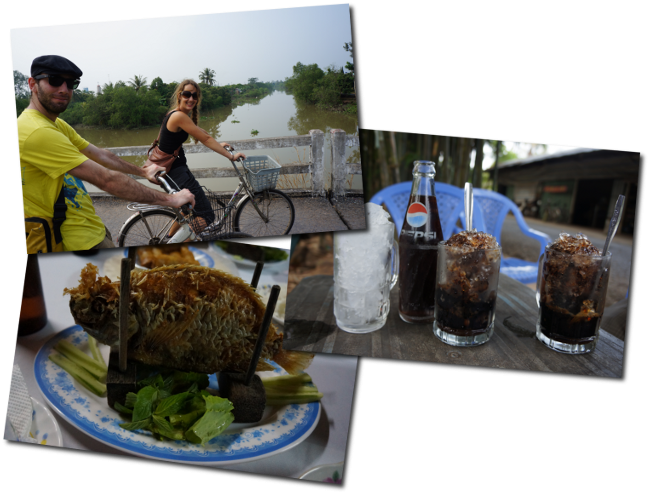 Visit of the Mekong Delta by boat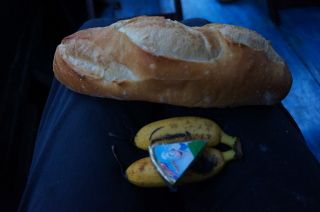 After a rather difficult awakening, we follow "one of our host's cousins" who takes us on his small boat. Before casting off, we are given a nice breakfast…. This morning it will be baguette, bananas and Vache qui rit cheese ;-)… curious mixture isn't it??? We then vogue through the canals to reach one of the main branches of the mekong.
As you can imagine, there is no crowd except for a few fishermen…. We sail for a good hour to reach the floating market of Cai be. To be honest, we expected to see a hundred boats trading their products… to see a real market on the water!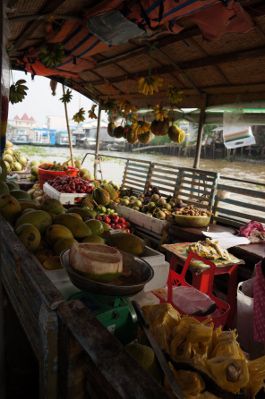 So either floating markets are no longer in fashion, or it was not the right season because there were barely a dozen boats selling a few fruits and vegetables… We were a little disappointed to be honest! We stopped at an old lady's house who was selling fruit and coffee. She made us taste all her stock of fruit while we enjoyed our coffee… a very nice moment.
Despite the small disappointment of the floating market, we are not discouraged because our boat trip lasts more than 4 hours and there are still many things on the agenda. Our captain of the day then takes us to a small coconut candy factory.
We are shown how cookies, puffed rice and coconut candies are made. Obviously we are offered to taste and buy some sweets but we do not feel pressured to consume. Moreover, as it is still very early, we are alone in the factory and we can fully enjoy the moment.
Rowing boat tour
We then move on to narrower canals where we change boats… This time it's another old lady who makes us get on her boat and takes us through the canals.
We feel a little guilty about letting her paddle for us when she must be 60 years old but she manages her boat much better than we would be able to do. 😉 We feel like we've gone back in time with our Vietnamese hats sailing between fruit plantations.
On the way back, we stop again at a Bonsai farmer's house. He kindly offers us tea in his beautiful garden… and introduces us to his friend the giant python. Fabienne even petted it (but I was too bad to immortalize this moment… my bad!).
For my part, I haven't been so reckless…. After this last stop, we returned to our homestay where we took the afternoon to take a nap and relax… until dinner time, which has been as memorable as the day before ;-).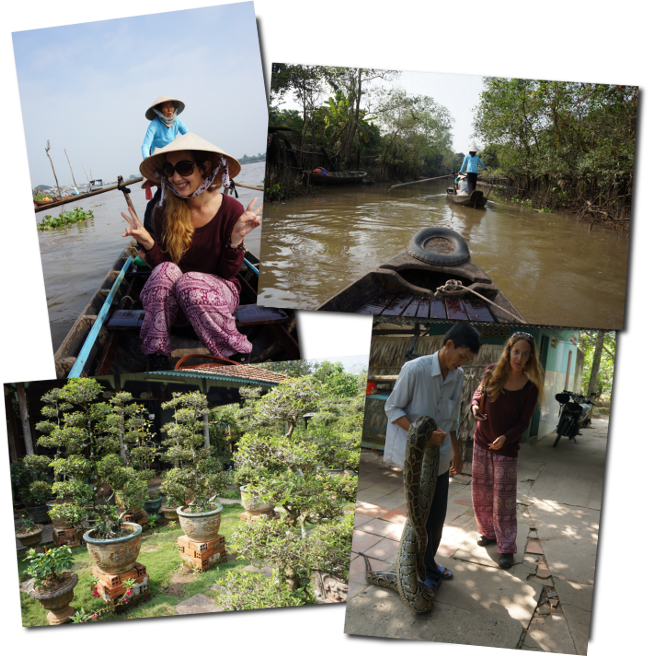 Vietnam: our first impressions
In the end, we really started our visit to Vietnam on the right foot! We were impressed by the incredible amount of scooters in Saigon and really enjoyed the Vietnam War Museum. If we add to that a very nice homestay in the Mekong Delta and friends who visited us to celebrate New Year's Eve… We couldn't have dreamt of a better way to start in 2014!
And have you ever been to South Vietnam? What did you visit?
Note: This article may contain affiliate links. By using our links you obviously do not pay anything extra, but we'll earn a small commission. Thanks for your support. 🙂