After one month in Cambodia, we were still looking forward to changing air and continuing our journey towards the south of Vietnam and Ho Chi Minh and the Mekong Delta.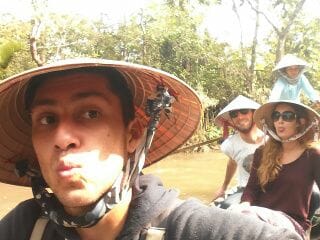 There are obviously magical places to discover in the land of smiles and this is what we will keep: the sincere smiles of the young Cambodians! But the incessant solicitations of the salesmen, the barely concealed sex tourism, and the daily attempts of scams ended up making us tired and distrustful… And you know, there is nothing worse than to become distrustful when you travel, because you start to make films, you can't trust people anymore and in the end, you enjoy less!
The first step of our trip to Vietnam is Ho Chi Minh City, a city full of history that plunges us directly into the daily life of the Vietnamese, then we take you to the Mekong Delta for a different adventure. Let's go!
Update 2022
We took this trip in 2014, but the article was completely revised and updated in October 2022. If you see any price changes or have additional information that might be relevant, please feel free to leave us a comment!
Crossing the border and arriving in Saigon
After our eventful entry into Cambodia through Poipet, we were a little apprehensive about the border crossing between Cambodia and Vietnam. We crossed the border at Ha Tien (20 km east of Kep) and everything went smoothly! Please note that you will have to show your international vaccination booklet, otherwise you will be asked to pay 1 extra dollar to take your temperature 😉. But hey, nothing too bad!
From Ha Tien, we then took an overnight bus to the city of Saigon (which is none other than the former name of Ho Chi Minh City) where we had an appointment with a Swiss friend. We arrived at 4 a.m. but you can sleep on the bus until 7 a.m.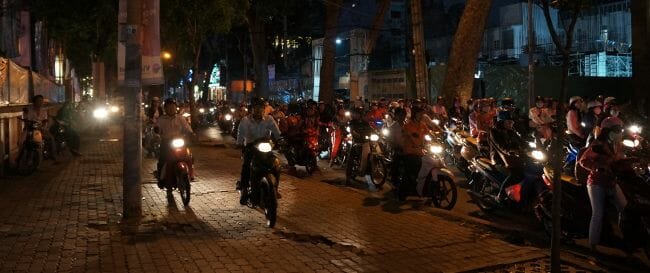 So don't panic and stay quietly in your bunks! We came out of the bus shed still a little bit asleep and there, the slap! Thousands of motorcycles, scooters, and other two-wheeled vehicles are fighting in the street in front of us. Even Bangkok seemed peaceful next to this happy mess!
So we decide to play it safe for once and to take a cab to reach our hotel even if it means getting ripped off for the umpteenth time in Asia… Moreover, we had no idea of the usual price to go to downtown Ho Chi Minh! A moto-taxi kindly offers to take us but we politely refuse since we were loaded like mules. He takes us to his friend, the cab driver, who offers to take us for 180 000 dongs, about 8 euros: it's not expensive for a cab!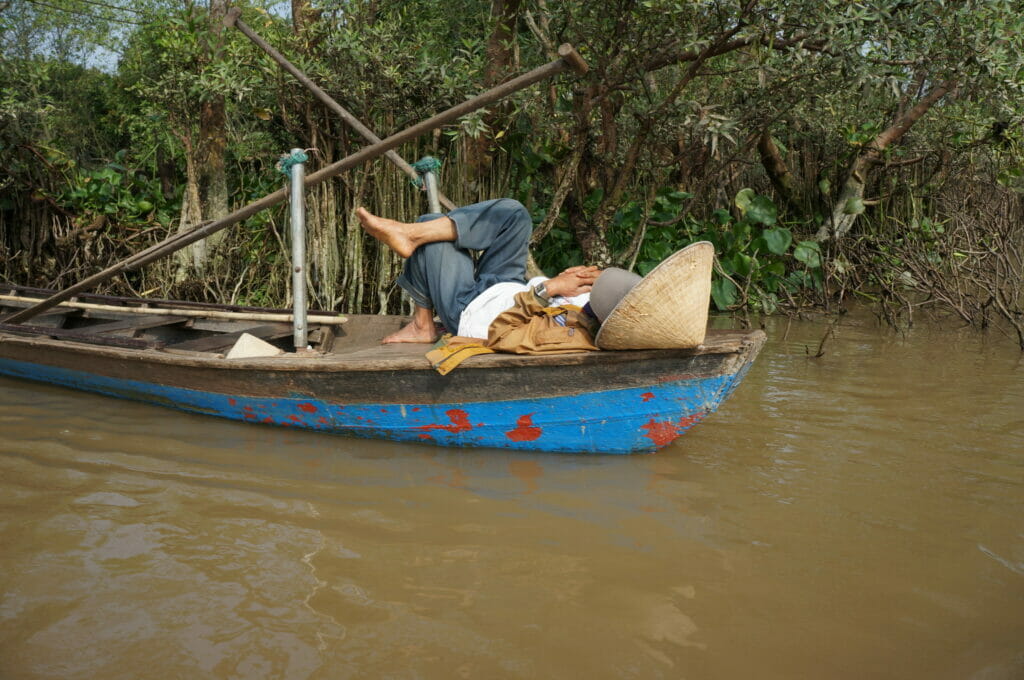 We accept his proposal. Arrived at the destination, the meter shows 183 000 but the cab driver asks us 180 000 dongs as agreed… With Fabienne, we remain speechless! We were however easy targets that morning and nobody tried to take advantage of it… That immediately gave us a good first impression of Vietnam (even if we knew well that we were not going to have all the time so much chance 😉).
Bus to Ho Chi Minh
To get to Ho Chi Minh City from Kep, you will have to take 2 buses: 1 from Kep to the border (go directly to the bus station) for a 1-hour trip and a second one from the border to Ho Chi Minh for a 7-hour trip. For your travels between the big cities of Vietnam, we recommend you the Futa bus company. It is really reliable and less expensive than the others.
What to do in Ho Chi Minh?
As our Swiss friend doesn't have a year to travel (who can have such a long vacation?), we weren't going to spend a week in Saigon either. So we limited ourselves to the visit of the city center with some markets, a little shopping, and especially the museum dedicated to the Vietnam war.
The War Remnants Museum in Saigon
The War Remnants Museum left a very strong impression on me, a bit like the museum about the Khmer Rouge S21 prison in Phnom Penh… I had never realized the atrocities that happened during this sad period in Vietnam, we are not really taught that in school! When we go out, we look at people differently, because we realize that the majority of them lived this painful episode.
We also say to ourselves that all these people with malformations are victims of Agent Orange, this chemical product developed by the Americans to raze the Vietnamese forests to deprive the guerrillas of hiding places. There were several million victims of this product in Vietnam and unfortunately, future generations will not be spared, let alone compensated by the guilty parties…
If you are looking for more details on this sad page of Vietnam's history (and especially of the USA), you will find a lot of information on the web, but we understand a little better why some Vietnamese don't really like Americans…
Useful information
The War Remnants Museum is located at 28 Võ Văn Tần, Phường 6, and is open daily, 7:30 am to 5:00 pm. The entrance fee is 40,000 dongs (1.7 euros). Find more information on the museum's website.
The Cu Chi tunnels, a visit to avoid
Following our visit to the museum, we left for the morning to visit the Cu Chi tunnels, located not far from Saigon. This network of underground tunnels was used by Viet Cong soldiers to resist and fight the Americans as well as to hide and heal during offensives.
Unfortunately, this site has been transformed into a tourist circus where you can shoot live ammunition with old American weapons (for about 20 dollars for 10 rounds…), take pictures of old tanks, eat the typical food that the Viet Cong used to cook in these tunnels and much more…
Just after visiting the Vietnam war museum, this show deeply saddened us and we still wonder how so many visitors let themselves be tempted by a little M16 shooting session in a place loaded with such a terrible history! So we strongly advise you against the visit to the Cu Chi tunnels!
Other activities to do in Ho Chi Minh City
We did not do all the following activities but if you stay longer in Saigon, it will give you some ideas:
visit the Independence Palace (or Norodom Palace): This former presidential palace was bombed in April 1975, marking the end of the Vietnam War, and then became a symbol of Ho Chi Minh. To complete the visit, the palace also contains an exhibition on its history since 1868. It is open from 8:00 am to 3:30 pm and the entrance fee is set at 40,000 dongs for the visit to the palace only and 65,000 for the exhibition.
take a tour of the French colonial buildings: the Notre-Dame Cathedral of Saigon, the Central Post Office just across the street, the city hall and the opera house are the remnants of French colonization and are worth a look!
walk in the pedestrian streets: to escape the swarms of scooters, take the mythical streets of Bui Vien and Nguyen Hue to taste the atmosphere (sometimes overexcited) of the city!
stroll in Hô Chi Minh's markets: the hundred-year-old Ben Thanh market is a bit more touristic than Binh Tay (a huge wholesale market) but they both offer a typical experience and excellent Vietnamese street food! On another note, the Ho Thi Ky flower market is a must-see for your eyes and nose!
Other activities about Vietnamese food in Saigon
Ho Chi Minh is full of things to do around the cuisine: discovery of Vietnamese street food, cooking classes, beer tasting… If you want to taste all these good things, Getyourguide proposes these greedy activities for a typical Vietnamese moment!
This article contains affiliate links to partner sites. When you use our links to book accommodation, a car, or an activity, you don't pay anything extra, but we get a small commission. This helps us to offer you free, independent, and ad-free content. Thank you for your support!
The Mekong Delta in 2 days
After these few historical visits, we wanted to take advantage of the few days left before the New Year when we join some friends in Mui Ne to party! Let's go to the Mekong Delta for 2 days of visiting!
We met several travelers who advised us against organized tours from Saigon as well as the city of Can Tho and its Cai Rang floating market crowded with tourists.
Day 1: Stop at Vinh Long
We simply bought a bus ticket to the small town of Can Tho with the idea of finding accommodation on the island of An Binh and visiting the floating market of Cai Be. As usual, we didn't organize anything in advance and were lucky! As soon as we got off the bus, we were spotted by a motorcyclist who immediately alerted two of his friends!
After having negotiated the price of the transport, they take us downtown where we hope to find information for a homestay. But, we had underestimated our 3 friends who had already alerted their cousin who was waiting for us at the arrival to propose, guess what, a homestay on An Binh island! Well, it must be said that this is usually what the few tourists who arrive in Vinh Long are looking for!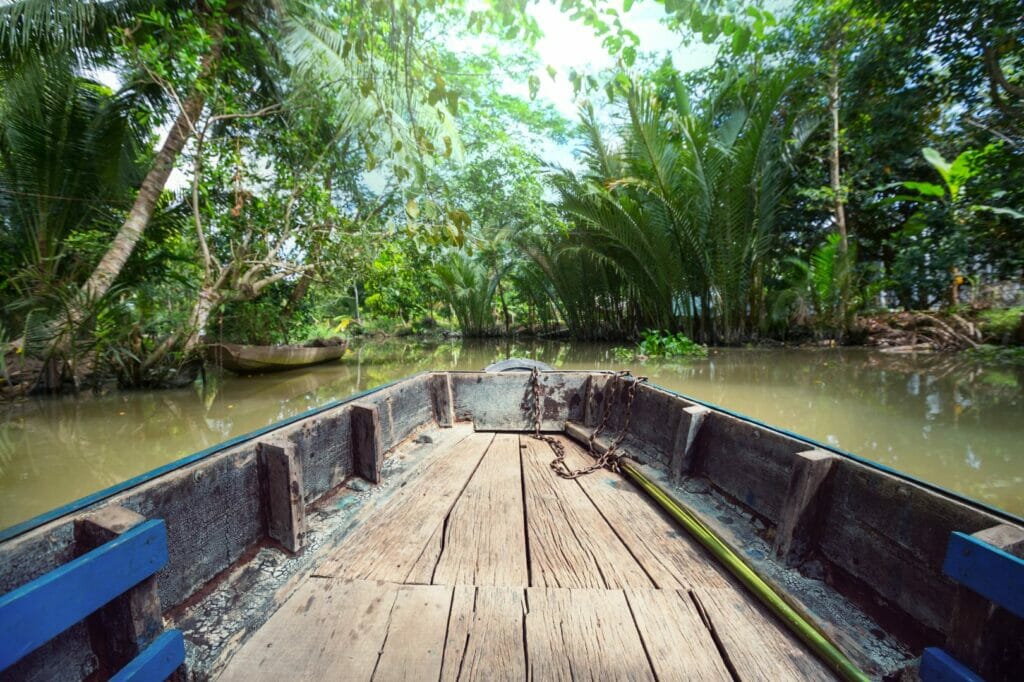 She offers us two nights with dinner and breakfast, and a 6 hours boat trip on the Mekong river passing by the floating market. All this is for 700 000 dongs per person (about 30 euros). We accept willingly her proposal and we follow her in the direction of her house.
The Mekong Delta by bike
After having left our things, we borrow 3 bicycles from our host to discover the island of An Binh. We take a lot of pleasure riding through such a scenery: there are a lot of plantations of fruit trees, canals for the fishermen… We feel that the Mekong Delta is the main agricultural and piscicultural region of Vietnam! After a few hours of stroll and a restoring coffee at the edge of a canal, we return to our host for the hour of supper.
And there my friends, we did not expect such a feast! On the menu: elephant fish, spring rolls, chicken, fresh vegetables, and fruits for dessert. We can say that this is one of the places where we ate the best and the most of the trip! Despite our best efforts, we don't get to the end of our plates 😅. It is thus happy and stomach well filled that we head towards our beds this evening because the next day, alarm clock at 5:45 a.m. to leave in a boat on the Mekong and to precede the crowd.
Mekong Delta homestay
If you're not really a fan of the idea of pre-booking accommodations, no doubt you'll find Vietnamese people from Can Tho to take you to An Binh Island and help you find a homestay! After all, that's also what adventure is all about 😉!
If you have tight timing or for any other reason, you will find good homestay addresses on the Booking website!
Day 2: Visit the Mekong Delta by boat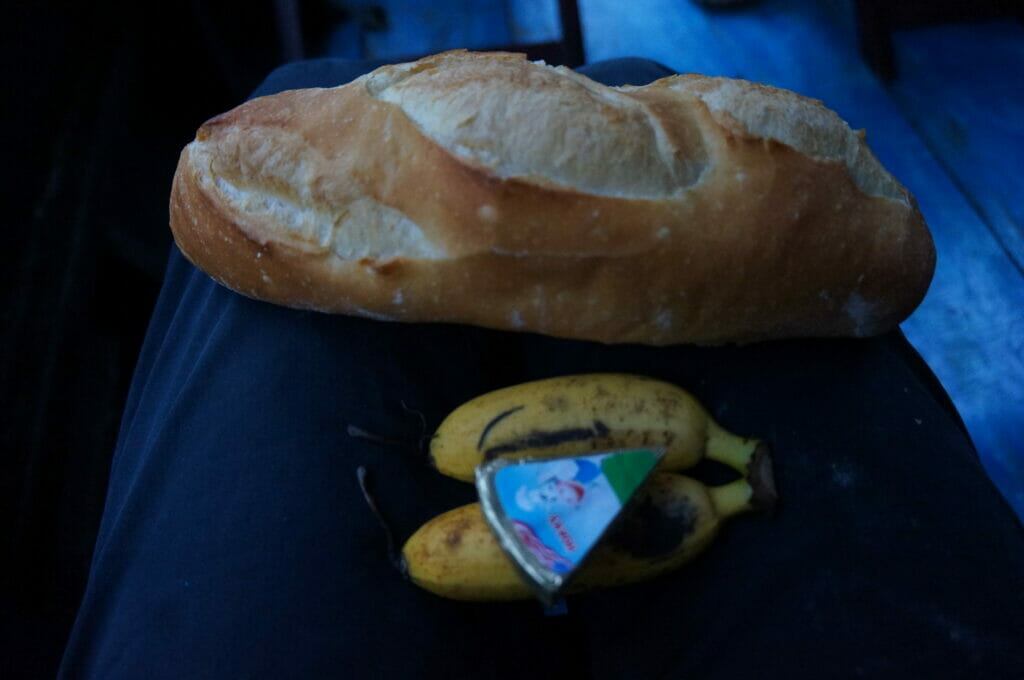 After a difficult awakening, we follow one of the cousins of our host who takes us on his small boat. Before casting off, we are given a nice breakfast: it will be baguette, bananas, and a spreadable cheese wedge this morning! A curious mixture, isn't it? We sail then through the canals to join one of the main branches of the Mekong.
The floating market of Cai Be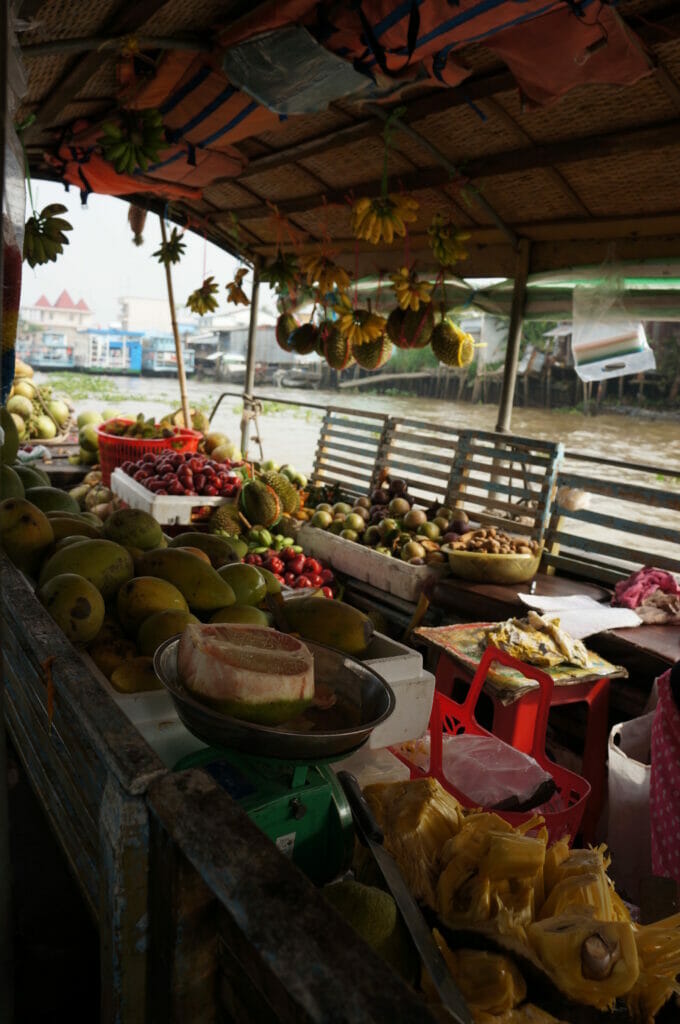 As you can imagine, there is no crowd except for some fishermen… We sail for a good hour to reach the floating market of Cai be. To be honest, we were expecting to see a hundred boats selling their products, a real market on the water!
So you have to know that this is not the most crowded floating market because only about ten boats were selling some fruits and vegetables. We ignored it which makes that we were nevertheless a little disappointed! We stop anyway at an old lady who sold fruits and coffee! She makes us taste all her stock of fruits while we savor our coffee, a very nice moment!
Coconut sweets factory
Despite the small disappointment of the Cai Be floating market, we are not discouraged, because our boat trip still lasts more than 4 hours and there are still many things in the program.
Our driver of the day takes us then to a small factory of coconut sweets where we discover the secrets of the manufacture of cookies, puffed rice, and candies. Of course, we are offered to taste and buy some sweets, but we didn't feel pushed to consume. Moreover, as it is still very early, we are alone in the factory and can enjoy the moment fully.
Tour in a boat with oars
We go then towards narrower channels where we change boats. This time, it is another old lady who makes us climb on her boat and who takes us. We feel a little guilty to let her paddle for us when she must be 60 years old, but she manages her boat much better than we would be able to do! We feel like back in time with our Vietnamese hats sailing between the fruit plantations.
Bonsai grower
On the way back, we stop one last time at a bonsai grower. He kindly offers us tea in his beautiful garden before introducing us… his friend the giant python. Fabienne even stroked him, but I was too bad to immortalize this moment… My bad! On my side, I was not so reckless…
After this last stop, we go back to the house where we take advantage of the afternoon to take a nap and relax until dinner time which will be as memorable as the day before!
Getting to the Mekong Delta & tours
To move by its means in the Mekong Delta is not easy, but not impossible! Indeed we were very lucky to have fallen on this family who programmed us everything for 2 days. Finally, the best is to see on-site actually. You can go by motorcycle and by boat and find drivers who go from point A to point B and boats which make a tour in the day. There is little information on the net except that it is possible! Sometimes, it is even the homestay hosts who will offer you a small boat tour.
As far as organized tours are concerned, many leave from Ho Chi Minh City in the direction of the Mekong Delta. On Getyourguide, you can find day trips from 21 euros per person, and from 200 euros for a trip of 2 days, all included. We have not tested these tours and will have difficulty telling you how much they are worth. Taking a tour is a more comfortable option, but you will also be less alone… The reviews on these tours are very good, so if you don't have much time it can be a solution, even if, for our part, we rather encourage you to go on your own way 😉.
More information on the Mekong Delta
3 days in Mekong Delta, it's quite short because there are so many things to see: Ben Tre, My Tho, Cat Tien National Park, Sa Dec, Long Xuyen, and many others. We invite you to discover more about My Tho on Ashley's blog.
First review of Vietnam
In the end, we really started our visit to Vietnam on the right foot! We were impressed by the incredible quantity of scooters in Ho Chi Minh, and we appreciated the museum about the Vietnam war. If we add to that a very nice homestay in the Mekong Delta and friends who visited us to celebrate the New Year, we couldn't dream better! See you in Hoi An for the continuation of our Vietnamese adventures!
And you, have you ever been to the south of Vietnam? What did you visit?
Pin it