After spending a few days in the Mekong Delta with Benoit's cousin and Fabienne's best friend (we'll let you guess how we met), it was time for a 3-day "vacation" to spend New Year's Eve in Mui Ne with our friends and family!
In short, this new year starts in good shape! Ready for a new year of travels 😉? Here we go!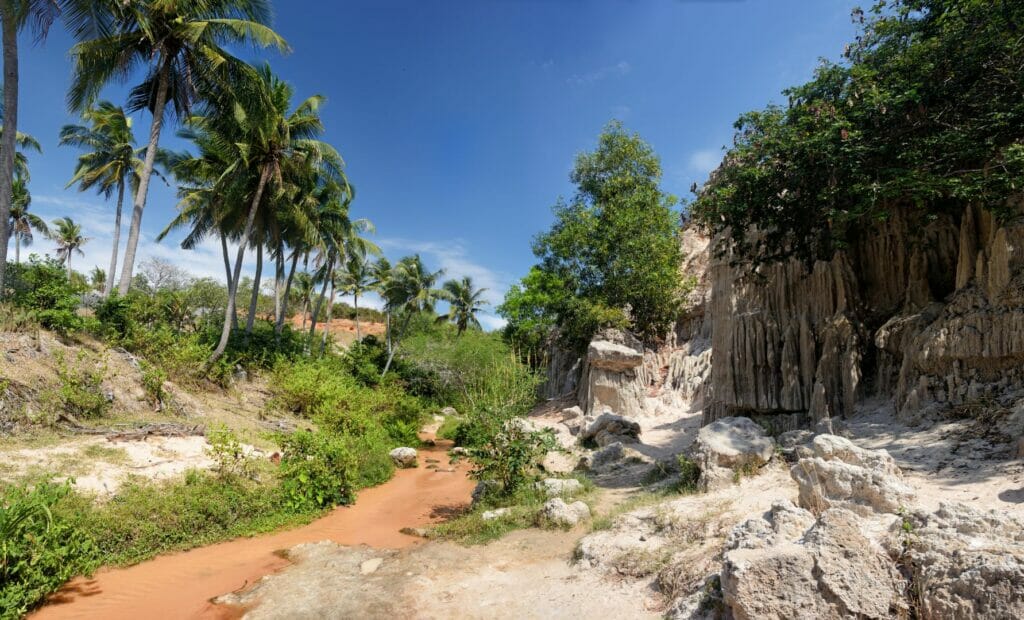 Update 2022
We took this trip in 2014, but the article was completely revised and updated in October 2022. If you see any price changes or have additional information that might be relevant, please feel free to leave us a comment!
New Year in Vietnam
On December 31st, we had an appointment in the seaside resort of Mui Ne with another couple of great friends and Fabienne's dad to celebrate the new year!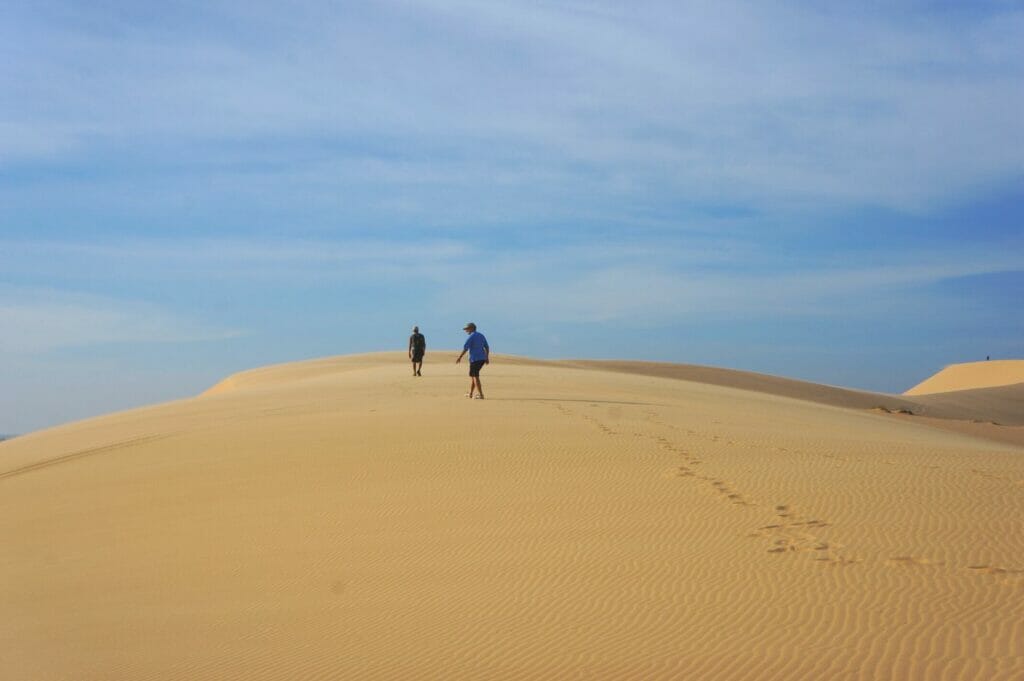 One thing is certain: New Year's Eve under the Vietnamese sun is a classy experience! For us, Mui Ne was definitely a breath of fresh air in our journey, with a generous invitation to a great hotel from our friends and another one to celebrate this new year with a delicious meal! In short, we were spoiled!
The sand dunes
Mui Ne is a very touristic resort with a lot (too many) Russians… But the area is beautiful, especially with the red dunes that are located just on the other side of the road that leads to Mui Ne. They are breathtaking! Go there at least for the sunset which gives a really magical atmosphere!
There are also white sand dunes located 30 min away from Mui Ne. The atmosphere is different but the change of scenery is guaranteed! You can reach it on foot from the road but you will see a lot of quads and jeeps climbing these sandy hills. Apparently, there would be fewer people and fewer vehicles at the other end of these huge dunes…
Be careful if you rent a scooter! The policemen tend to stop everyone on the road to the white sand dunes whether you are legal or not and will only let you leave after slipping a small ticket…
Tour in Mui Ne
We had booked at my dad's hotel a tuk-tuk tour that combined the white dunes, the Fairy Stream, and the fishing port, but it's quite easy to go by yourself. Count around 90 000 dongs per person (it probably depends on the hotels).
The Fairy Stream
About a 20-minute walk from Mui Ne is the Fairy Stream, a river that flows into a kind of canyon, between palm and coconut trees on one side and red cliffs on the other.
Here, take off your shoes and walk up the stream to a small waterfall, for 10-15 minutes of walking in the warm water (foot scrub guaranteed 😉 ). The level is not too high: in the worst case, you will have water up to your ankles. Anyway, the mix of colors is really nice with all the red, green, and white of the stalactites! The entrance fee is 15 000 dongs if you come by your own means.
The fishing village
Our last appointment of the day is at the Mui Ne fishing village to watch the ballet of boats and fresh fish buyers at the adjoining market. It's a fascinating sight, full of colors… and smells! In short, it is a slice of the daily life of the Vietnamese that one could contemplate for hours.
Getting to Mui Ne
The easiest and cheapest way is to take the bus! Whether you come from the south of Vietnam (Ho Chi Minh, Vung Tau) or from the north (Nha Trang, Da Lat, Hoi An) to go to Mui Ne, we recommend using the Futa bus company. It has a good reputation and prices are cheaper than elsewhere.
Hotels in Mui Ne
Since Mui Ne is a seaside resort, you can imagine that there is a pretty impressive offer of accommodation for all prices! We stayed at Villa Aria Mui Ne, a nice hotel right next to the beach. Count around 60 euros a night (yes, we did ourselves a favor to mark the New Year and the reunion 😉 ). Find all the hotels in Mui Ne at the best price here!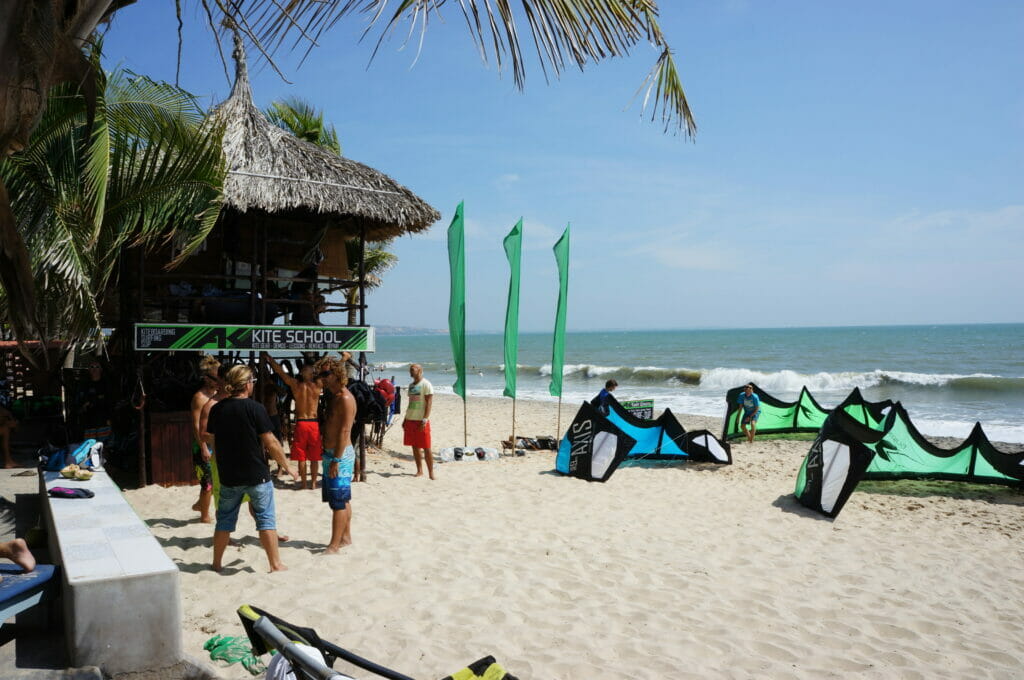 Our review
Clearly, this little stay in Mui Ne gave us a boost for the rest of our adventure! We enjoyed the beach and our friends and family, but we have to admit that there is not much to do in 2-3 days. In addition to the above activities, you can watch the sunrise and sunset from the dunes or the fishing village as well as try your hand at kitesurfing in one of the many schools along the beach; Mui Ne is definitely the spot to try to tame the waves! Anyway, if you want to take a day or two off to laze around on the beach, Mui Ne is definitely the place to be!
So, ready to have a good time in Mui Ne? For the next part of the adventure, head to the tailors of the charming city of Hoi An to customize some very special clothes 😉.
This article contains affiliate links to partner sites. When you use our links to book accommodation, a car, or an activity, you don't pay anything extra, but we get a small commission. This helps us to offer you free, independent, and ad-free content. Thank you for your support!
Pin it