This winter we spent 3 weeks in the pretty town of Briançon in the Hautes Alpes. During our stay we enjoyed the outdoor activities of the region and we already told you about our snowshoe hikes in the surroundings here and here. Now, we'd like to focus on one of our other winter hobbies: skiing!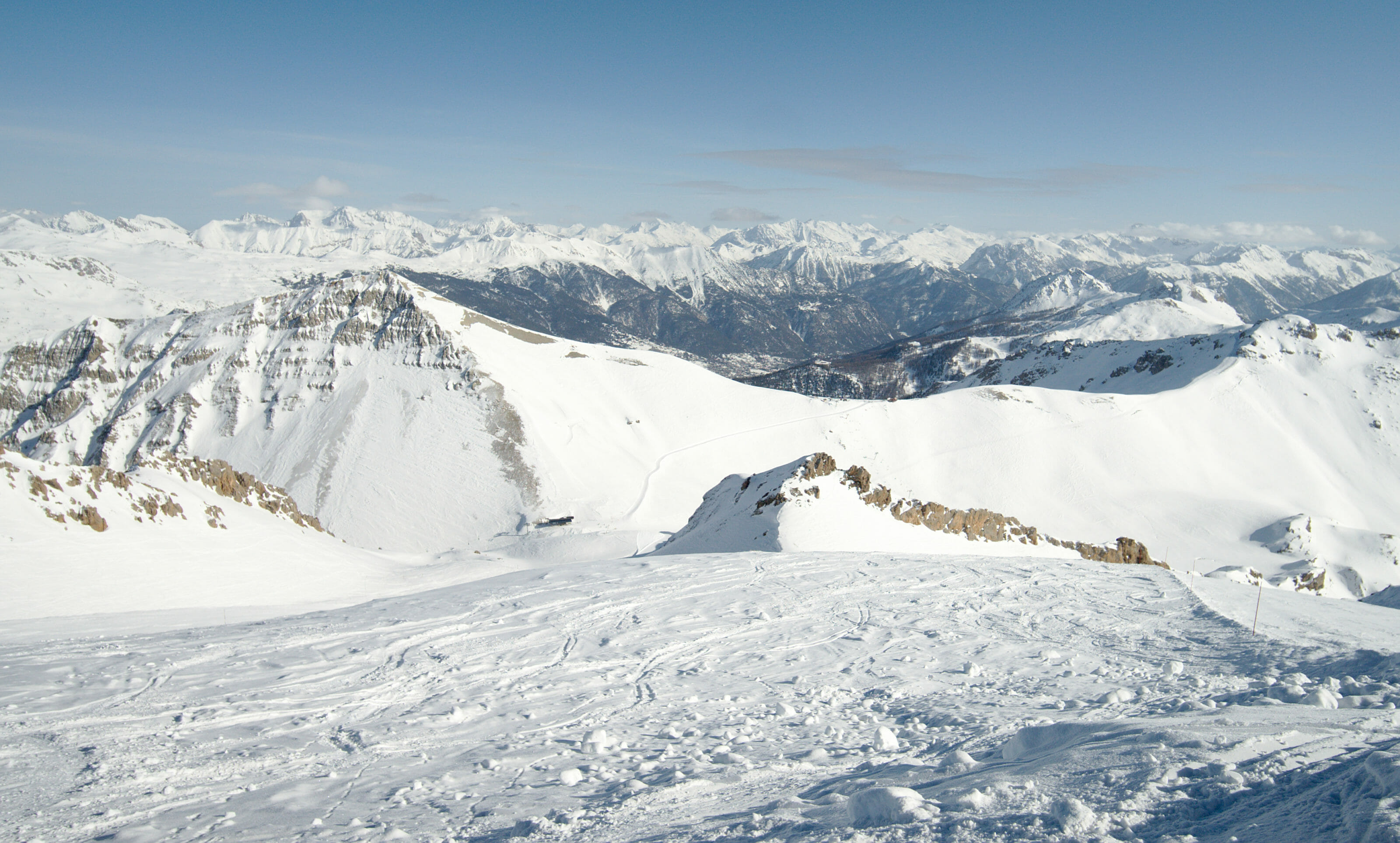 Briançon has a rather special status if you ask us. It's not really a ski resort in the true sense of the word because it's more of a pretty town with its citadel listed as a UNESCO World Heritage Site. It has a very "local" atmosphere (a bit of an alternative atmosphere too, which is not to displease us) and finally quite far from the clichés of ski resorts. Not that we don't like the clichés (we live in a resort in Switzerland), but it's true that we really appreciated this "small town" side with a direct access to the ski slopes.
Skiing and us: a long story!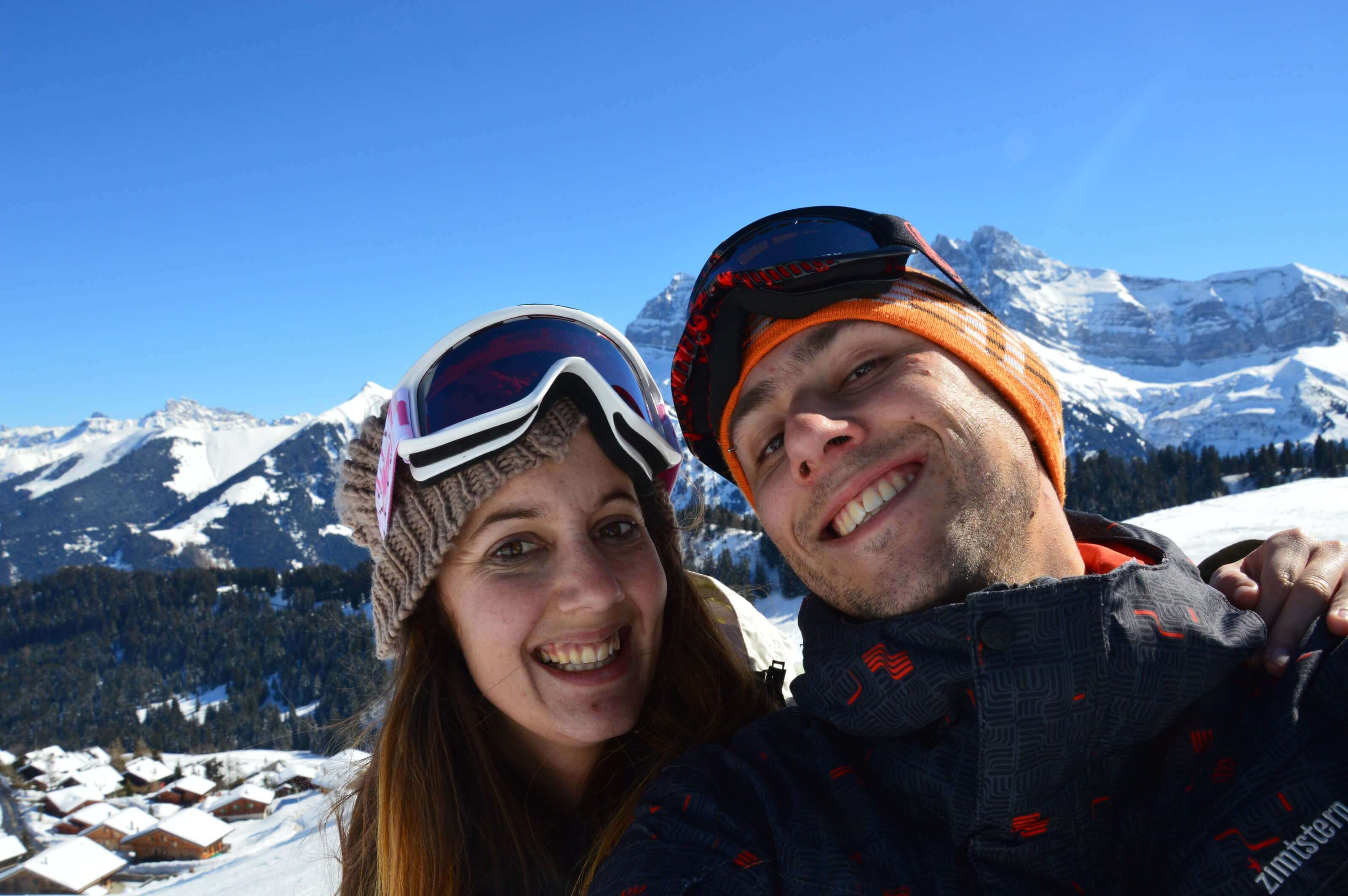 Skiing has held an important place in our lives for many years. Well… for Benoit certainly more than for me. 😉 Since we are little we ski very regularly and we easily spent about twenty winters with the season pass (thanks to the children and student prices). Benoit even worked as a ski teacher during his studies to earn money. But in the last ten years or so, we have greatly reduced this leisure activity.
Not because we didn't want to to be honest, but simply because we had to make certain choices in our lives. When we decided to set up our small business and start the "entreprneur lifestyle" we knew that automatically it would come with some sacrifices. Skiing was one of them.
It's no secret that skiing is and remains an expensive activity. This winter, and after almost 8 years without skiing (with 2-3 exceptions when we went on family outings) we decided to get back at it a bit. First at home, in the Portes du Soleil area, then in Briançon. But it has to be said that we do it sparingly… We choose our days. Powder? Blue sky? Low crowd day? GOOOOOOOO! (that's how we ended up not celebrating New Year's Eve and going skiing on January 1st at 8:30 am hihi). During our 3 weeks in Briançon we had 2 VERY nice days of skiing and we thought we'd tell you a little bit about this beautiful area.
Briançon: starting point for the ski area of Serre-Chevalier
Briançon, with its nearly 11'000 inhabitants, is the highest town in France! And it's actually quite funny when you get there and see a cable car leaving from the town centre. I don't know, for me winter facilities I always associate them with ski resorts with chalets and après-ski bars (yes yes, I have some serious references). In other words, Briançon is a "proper" town, but only with a gondola lift that leaves its centre to reach a 250km ski area. Rather nice if you ask me!
Our opinion on the ski area of Serre-Chevalier
We loved it. And this comes from 2 people who are spoiled to live in one of the biggest ski areas in Europe (Les Portes du Soleil and its 650km of slopes). The area has nearly 250km of slopes and not far from 60 ski lifts. Needless to say that it would be difficult to get bored there when staying for a full week (or more).
The resort also has a good distribution of slopes for all levels. There are green (non-existent in Switzerland), blue, red and black slopes. In short, there is something for everyone!
As we only came for one day, we took advantage of every available minute and arrived at the opening to leave just before closing time. It was a very intense day as we like them, where we had time to visit a good part of the resort. From Briançon we went to the other end of the ski area (Cibouit) and came back trying not to take the same tracks again.
Our favorite spot on the resort? Probably the Col de la Cucumelle and its absolutely breathtaking panorama! They've even installed self-service barbecues up there! So don't forget to bring your sausages (or vegetable skewers) 😉 On a "Panoramic picnic" level I think it would be difficult to do better!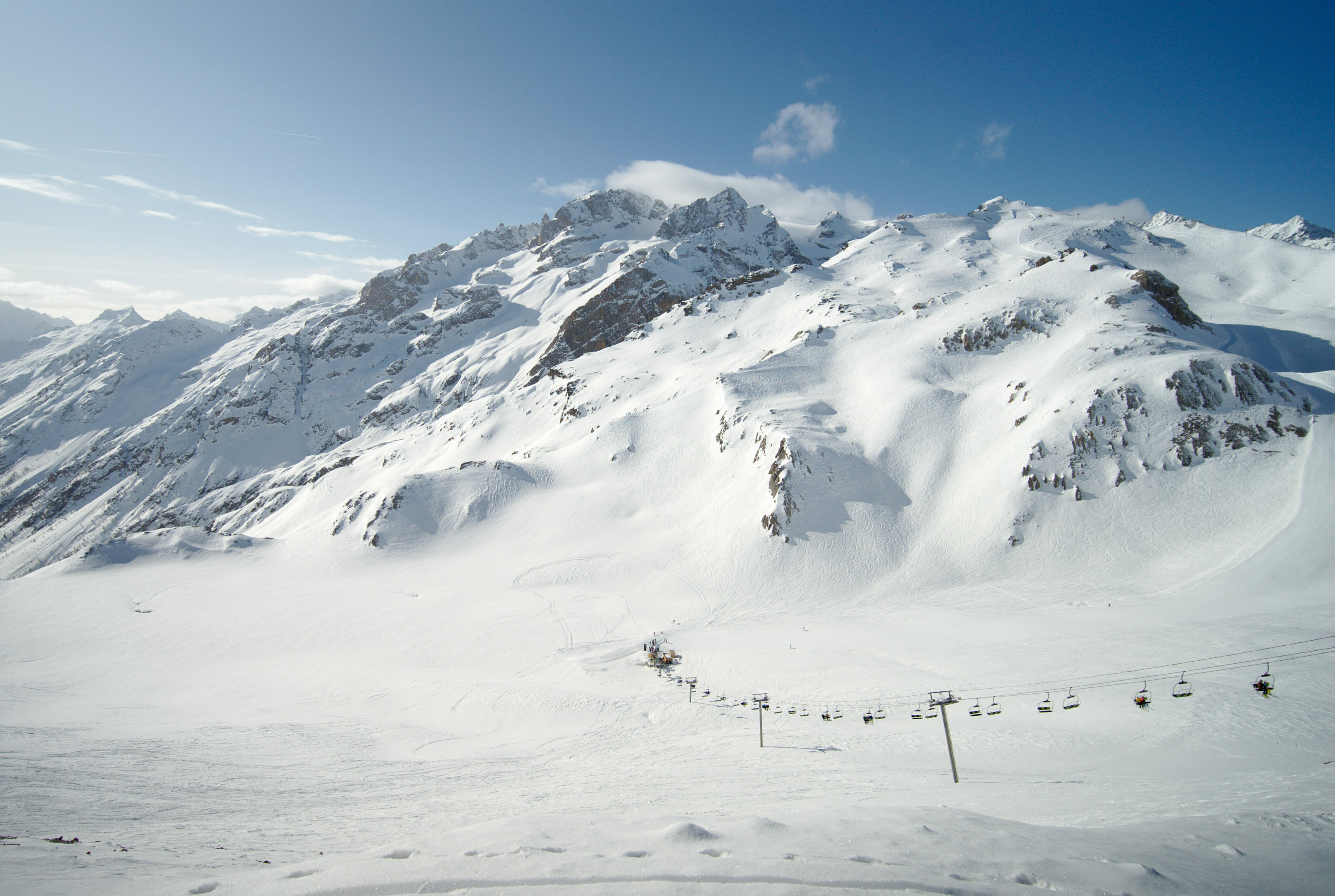 Infos: Barbecues are lit every day from 11am to 3pm.

Advice: If you are here on a Saturday we recommend this day for skiing "away from the crowds". It's funny because in Switzerland we tend to go skiing during the week to avoid the crowds but in Briançon it seems to be the opposite. There are relatively few day skiers who come here and as the official day for changing holiday rentals is usually Saturday, this day is actually quite quiet!
Other ski resorts in the vicinity of Briançon
In this section you will find a small list of resorts and areas that are less than an hour and a half drive from Briançon and that are nice. We haven't tested them all though. We'll tell you more about them below!
We have deliberately omitted to tell you about Villeneuve, Monêtier-les-Bains and Chantemerle which are the neighbouring resorts of Briançon and which are also on the Serre-Chevalier area. Given that it is the same area, we thought it would be kind of repetitive to talk to you about it again. But these 3 resorts are very nice and they are clearly "smaller" than Briançon in terms of feeling. Less city and more mountain resort feeling… Depending on what you're looking for it can clearly be an excellent alternative! As we absolutely wanted to go to the Cloud Citadel Coliving which is in Briançon, this question did not really arise for us.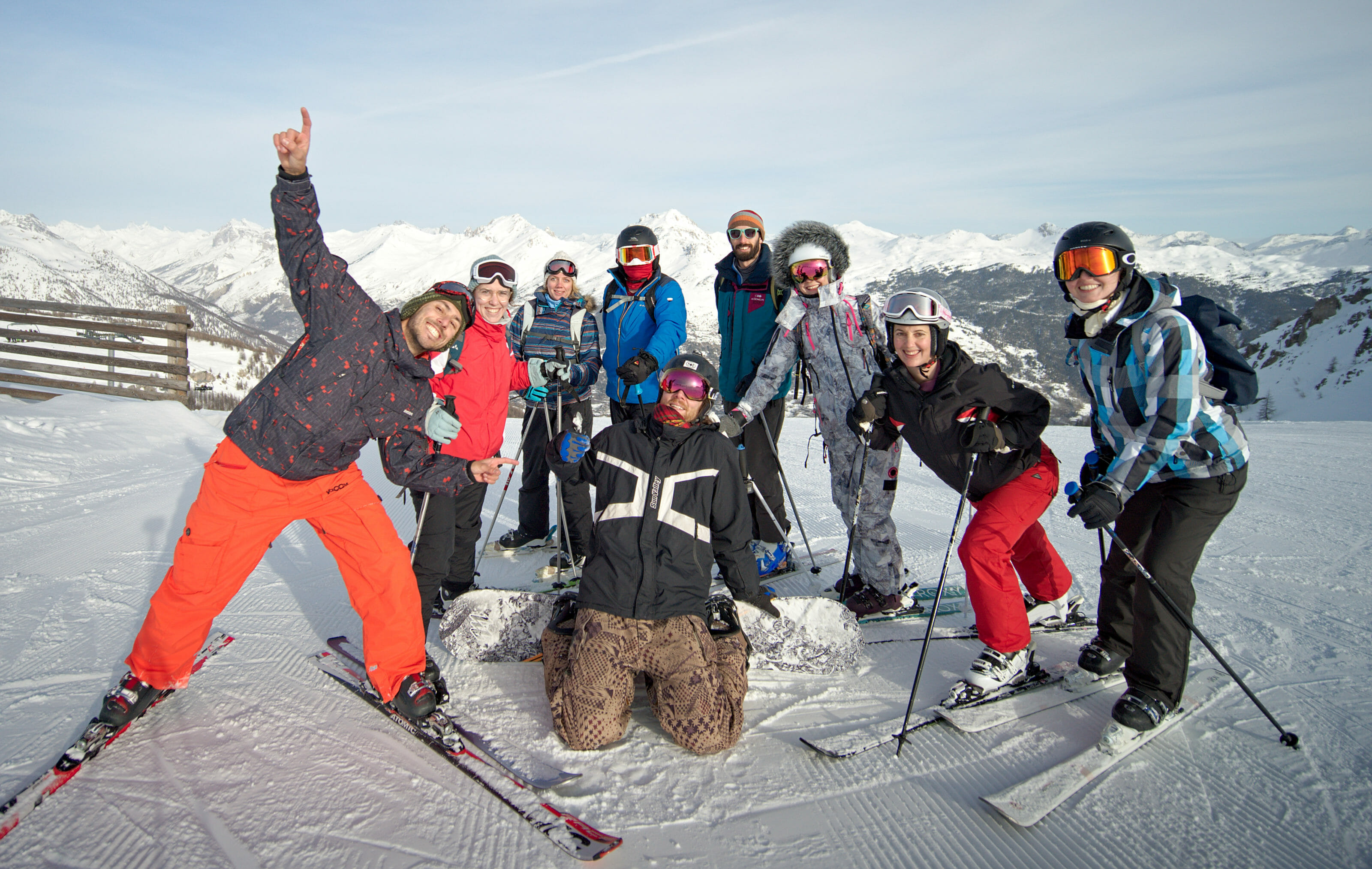 the ski resort of Montgenèvre
The other resort in the area we tested. It is located less than 20 minutes drive from Briançon and has the particularity of offering a domain in both France and Italy. The daily passes are a little cheaper (38€ per day for the Grand Montgenèvre area and 42€ for the Monts de la lune area).
In all, the great Montgenèvre has 95km of slopes and the Monts de la Lune 110km.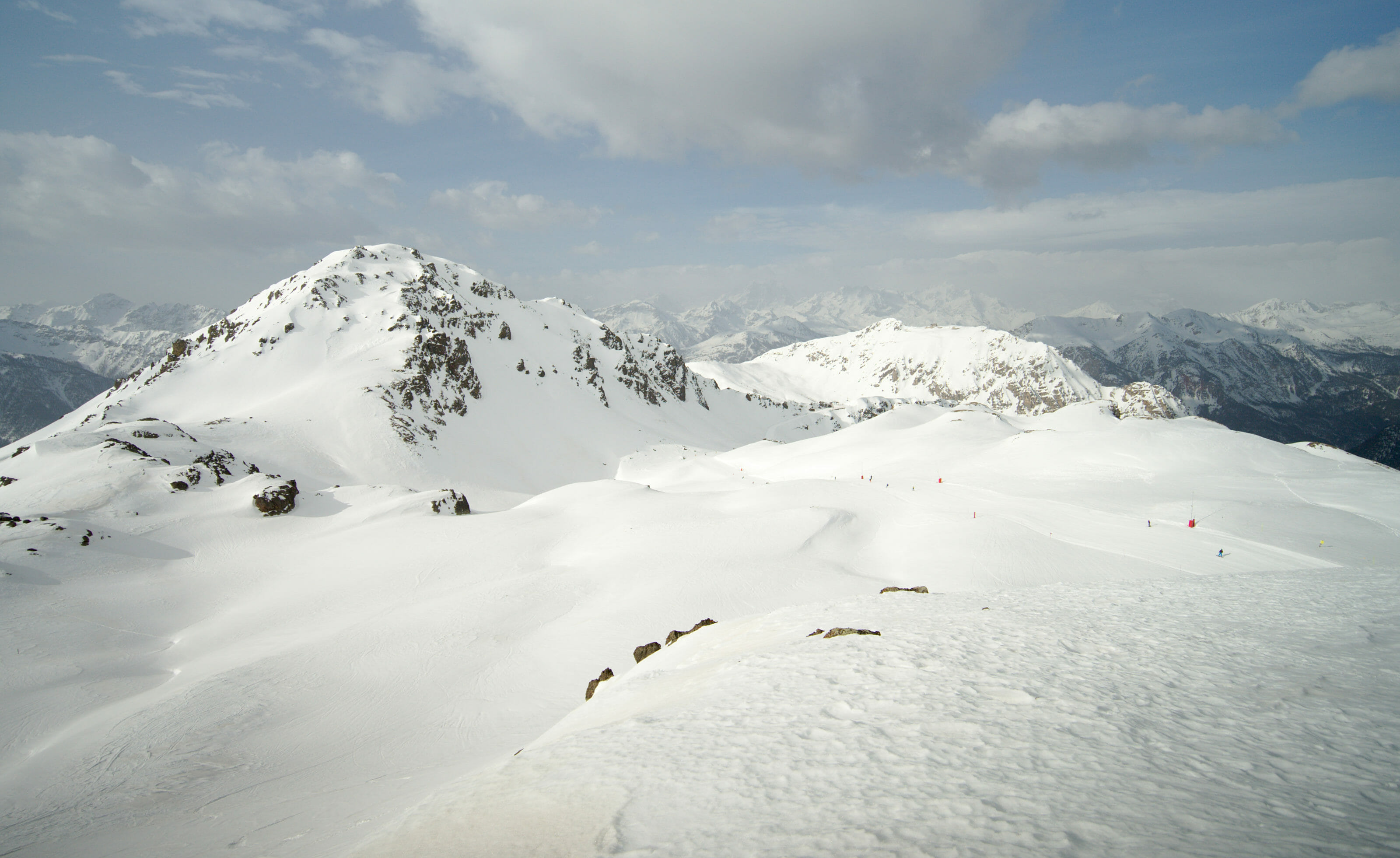 We won't hide from you that we're a little less excited about this area. The slopes are more "flat" but especially on the day of our visit a very large part of the slopes had not been groomed during the night (we were there at the opening). As it had been very cold, the slopes looked more like big skating rinks with pieces of ice on them… Clearly, a groomer could have done no harm! It was not difficult to see where the snow groomer had passed (about 40-50% of the tracks).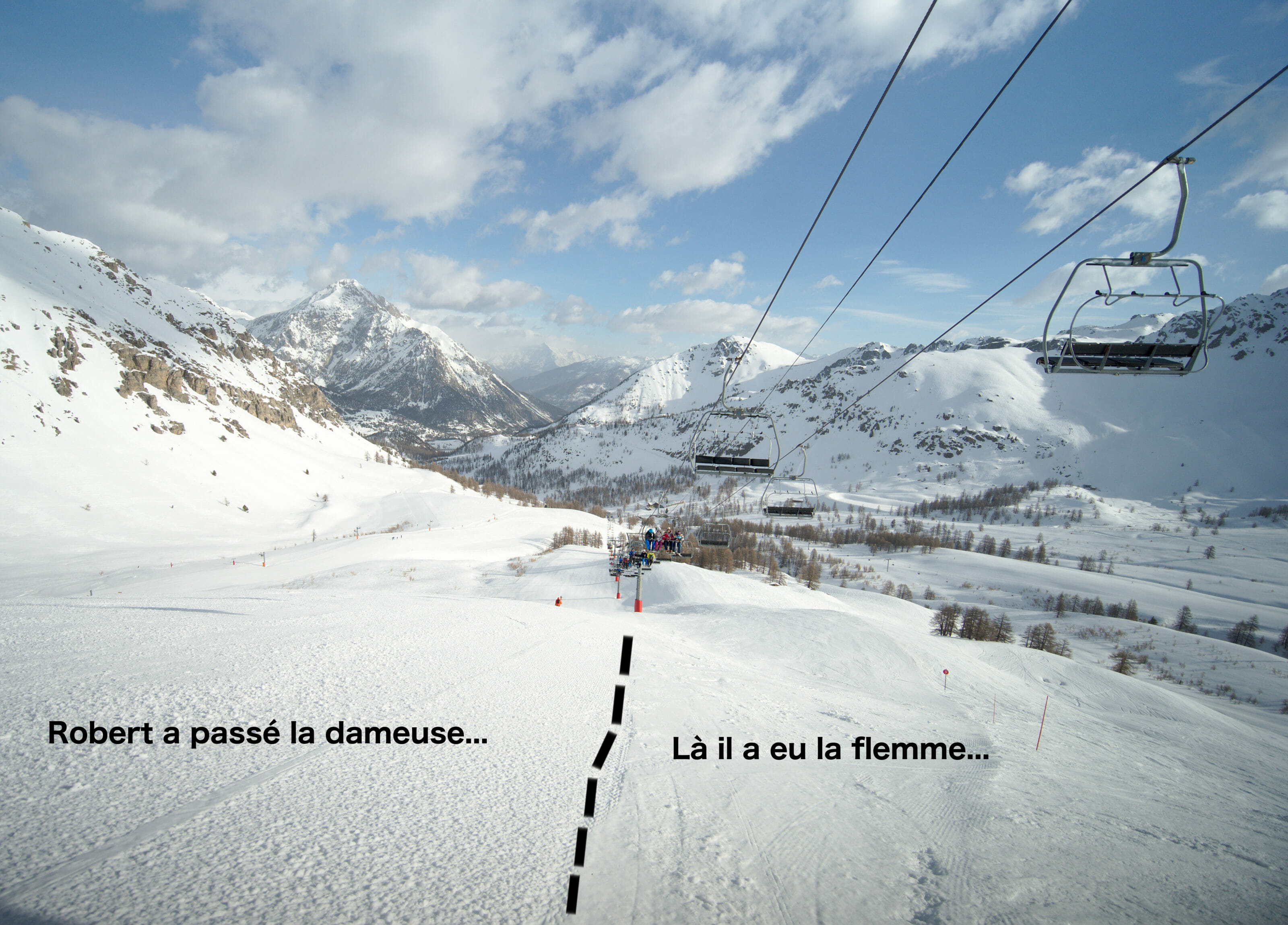 But the big fail was when we decided to move on to the Italian side "just to have a look". No sign indicated anything, but when we arrived on the other side we quickly noticed that ALL the lifts were closed. There was no wind and frankly we couldn't tell you why it was closed. Strikes? Blackout? No idea… what we know is that in the end we had no choice but to follow an endless blue trail in spring snow (mid-January this kind of feels weird) before we could get a connection lift back to Montgenèvre.
Then maybe we came at a bad time. But I would still say that Montgenèvre would be more suitable for families or beginner skiers. The choice of more "fun" slopes is more restricted for good skiers in our opinion (but it's cheaper though).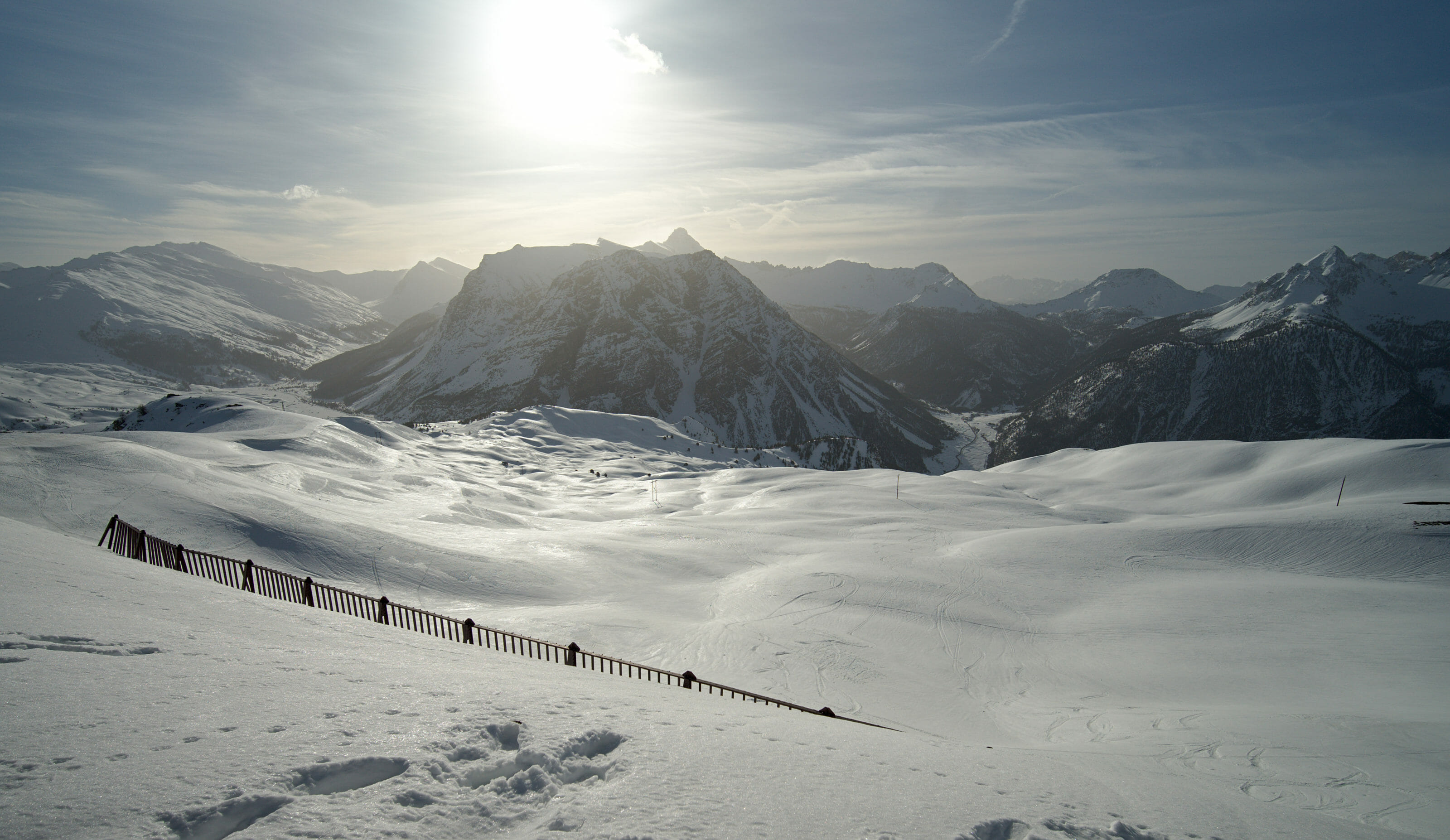 the ski resort of Pelvoux
Another area that is less than an hour's drive from Briançon. We have not personally tested it but several people from our coliving went there and came back enchanted. A very small resort which is not very well known and also very quiet.
There is "only" 25km of track with 2 black, 3 red, 5 blue and 2 green slopes. But the big plus of the resort is the more than 1000m of difference in altitude that it is possible to descend "in one go". Second very attractive point? The price! The whole day is sold for 20€ (or 100€ for 7 days). Price level is absolutely unbeatable. So we're not saying that we would spend 7 full days there given the size of the area, but we clearly wanted to test one day (unfortunately the weather went nuts towards the end of our stay and we didn't have the opportunity).
La Grave – La Meije
A great addition thanks to the comment left by Patrick (on the french version of the site). I don't know why I didn't think of it when I was writing the article, but it is indeed very relevant to add this mythical free ride spot to the list! Located less than 50 minutes drive from the center of Briançon, it's a great place to go and have fun in the powder.
La Grave is not a ski resort in the classic sense of the word. The reason? There is only one cable car and a ski lift that take you to over 3200m in 30 minutes! Only one piste (at the top) is marked out, everything else is left wild to give everyone the opportunity to create their own track.
But be careful, this place clearly requires a good level of skiing and is in no way intended for beginners!
We have not been there personally but several of our colivers have told us about it and the place seems incredible!
Les 2 Alpes and L'Alpe d'Huez
These two well-known and appreciated resorts are about 1h30 drive from Briançon and there is plenty to do in terms of size of the ski areas. Both resorts are about 250km long but the Alpe d'Huez is best known for its impressive off-piste skiing options. In short these are areas that we haven't been to, but they are clearly not far away and may be worth exploring if you are in the area.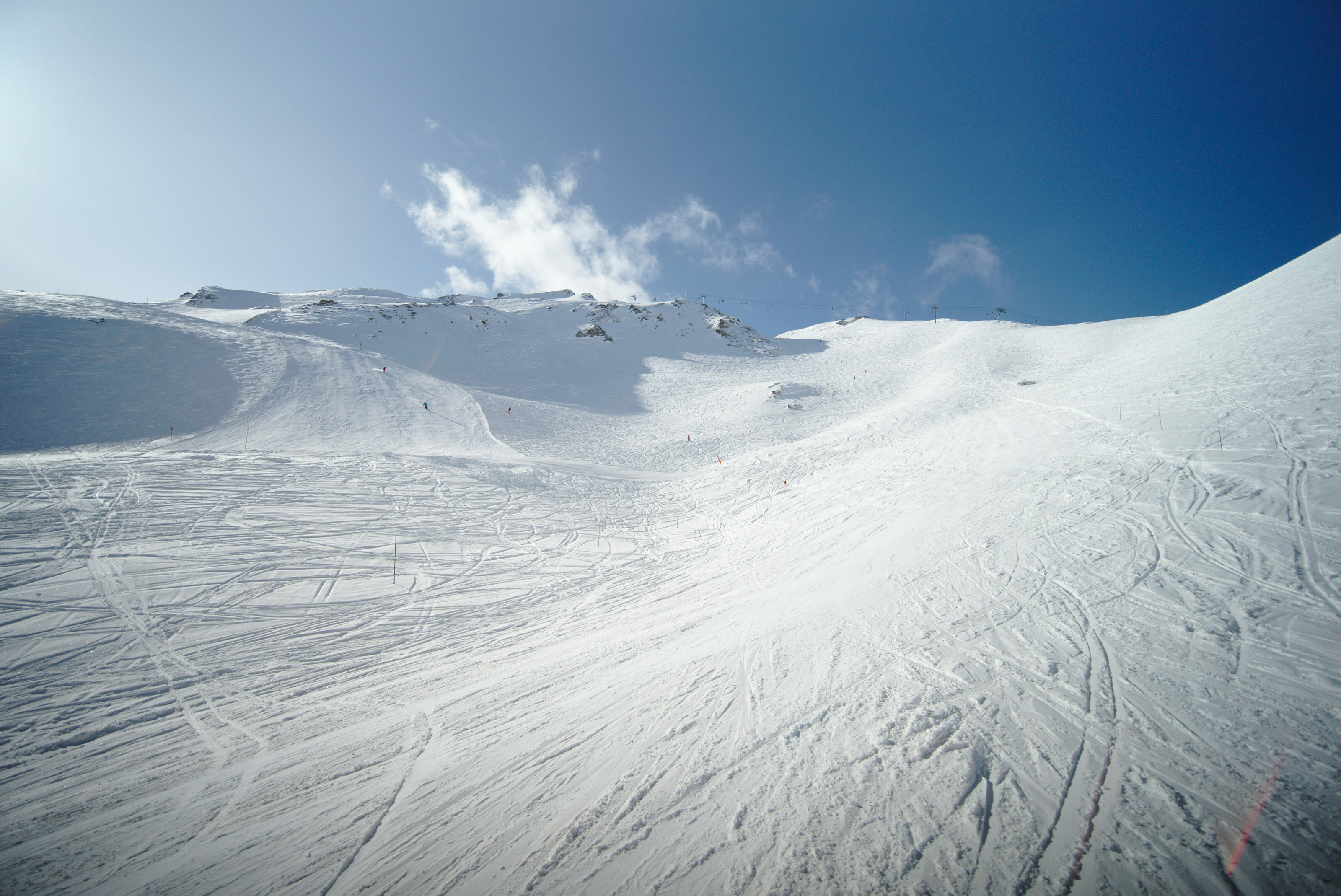 Buy your ski pass: Holiski presentation (Ski à la carte)
I must admit, this is a question we rarely asked ourselves… In my opinion, the ski pass is bought at the bottom of the lifts and there you go! When we arrived at the Cloud Citadel coliving we met Pez, an guy from England who is very addicted to numbers, excel tables and good deals (even more than Fabienne… if it's possible). In the Slack group of the coliving he shared a price comparison file and that's how we discovered Holiski.
What is Holiski?
Holiski is a pass that allows you to ski in 8 different areas with a single card. The areas that are in the pass are: Serre-Chevalier, les 2 Alpes, Tigne, Val d'Isères, La Plagne, Les Arcs, Le Grand Massif and Peisey Valandry. The card is subject to a charge but then allows you to benefit from a discount on the daily pass and avoid waiting at the ticket office. A loyalty programme also allows you to enjoy a day's skiing for only 1€ (each season your 9th, 14th, 19th day of skiing are at 1€). You will find more informationon their website.
Holiski prices (ski à la carte):
The card costs 29€ per season. Then it's between 22€ and 44,1€ per day, only on days when you ski. See the rates (It's cheaper on weekends and at the beginning and end of the season.)
The big advantage of the pass is that you don't have to wait in line for tickets. If you decide to go skiing, the pass is activated for the day as soon as you pass the first lift gate.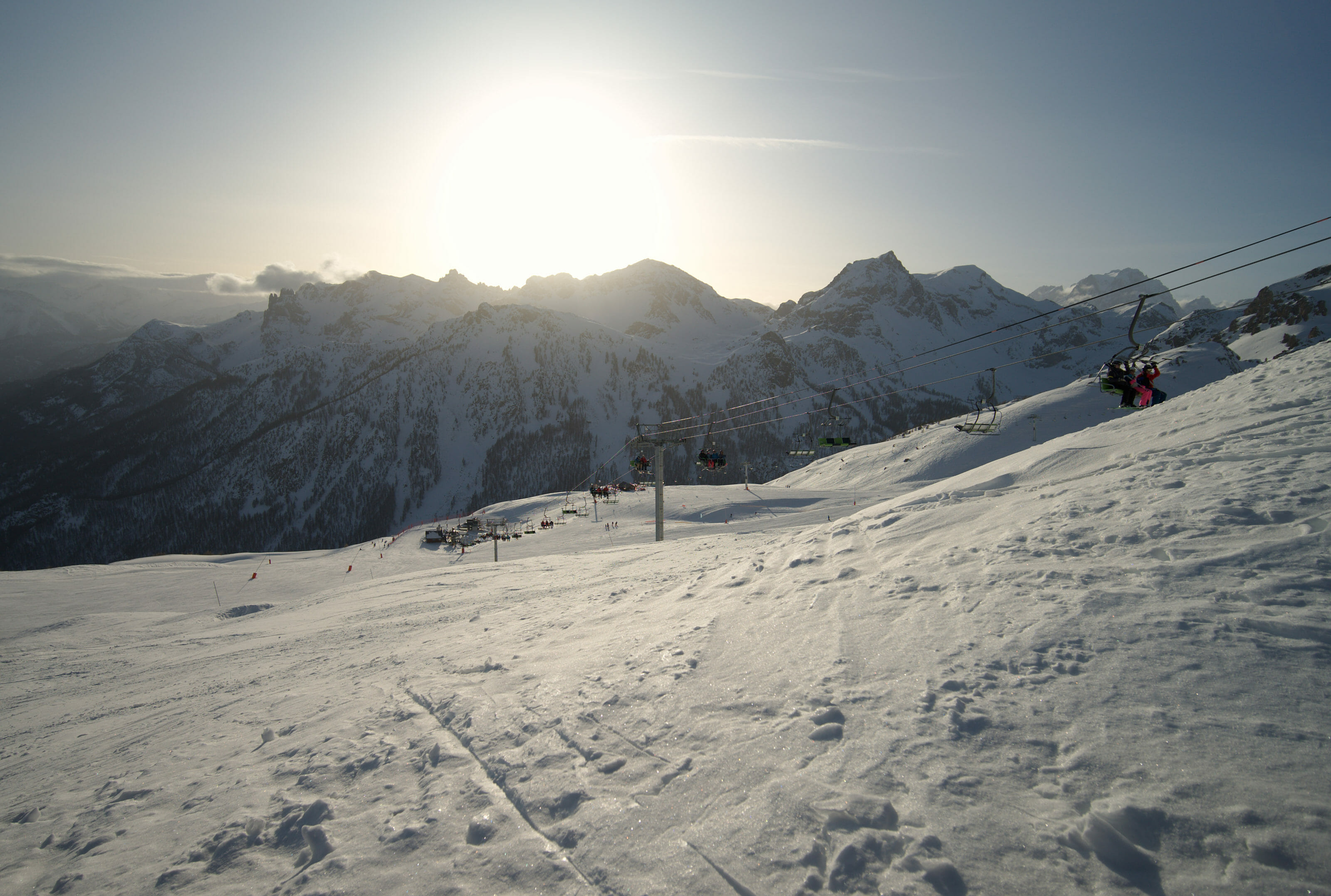 Official SkiPas prices in Serre Chevalier
In the resort of Serre-Chevalier the rates vary according to the season, but during the main season (from December 21st to April 3rd), the ski day is 51,5€ for the whole area. There are also options to take smaller areas but if you are a good skier you can quickly get bored (for beginners it's ideal).

When does Holiski become profitable?
According to the calculations of our friend Pez, the Holiski is profitable as soon as you plan to ski more than 4 days (in a row or not).
Exception: If you plan to ski every day in a row, the "normal" pass for 6, 7 or 8 days is cheaper by a few euros. But the advantage of Holiski is that if one day the weather is too bad, then your day will not be counted and therefore it becomes immediately more economical. After 9 days the Holiski always wins.
Why we decided not to take it
In short, we wrote these few paragraphs because we thought you might find them useful. For our part, we hesitated quite a bit, but in the end we decided not to take it. We didn't know how many times we wanted to go skiing and above all we wanted to go exploring other resorts such as Montgenèvre which, unfortunately, are not in the Holiski. In the end our choice proved to be a wise one as we probably wouldn't have amortized it as we did less than 4 days on the domain. So we paid for our ski days at the official rate of 51.5€.
Where to rent ski equipment in Briançon
Here's another discussion that animated many of the evenings at Coliving: ski equipment. I must admit that we were only listening with one ear because we came to the area by car and took all our ski equipment with us.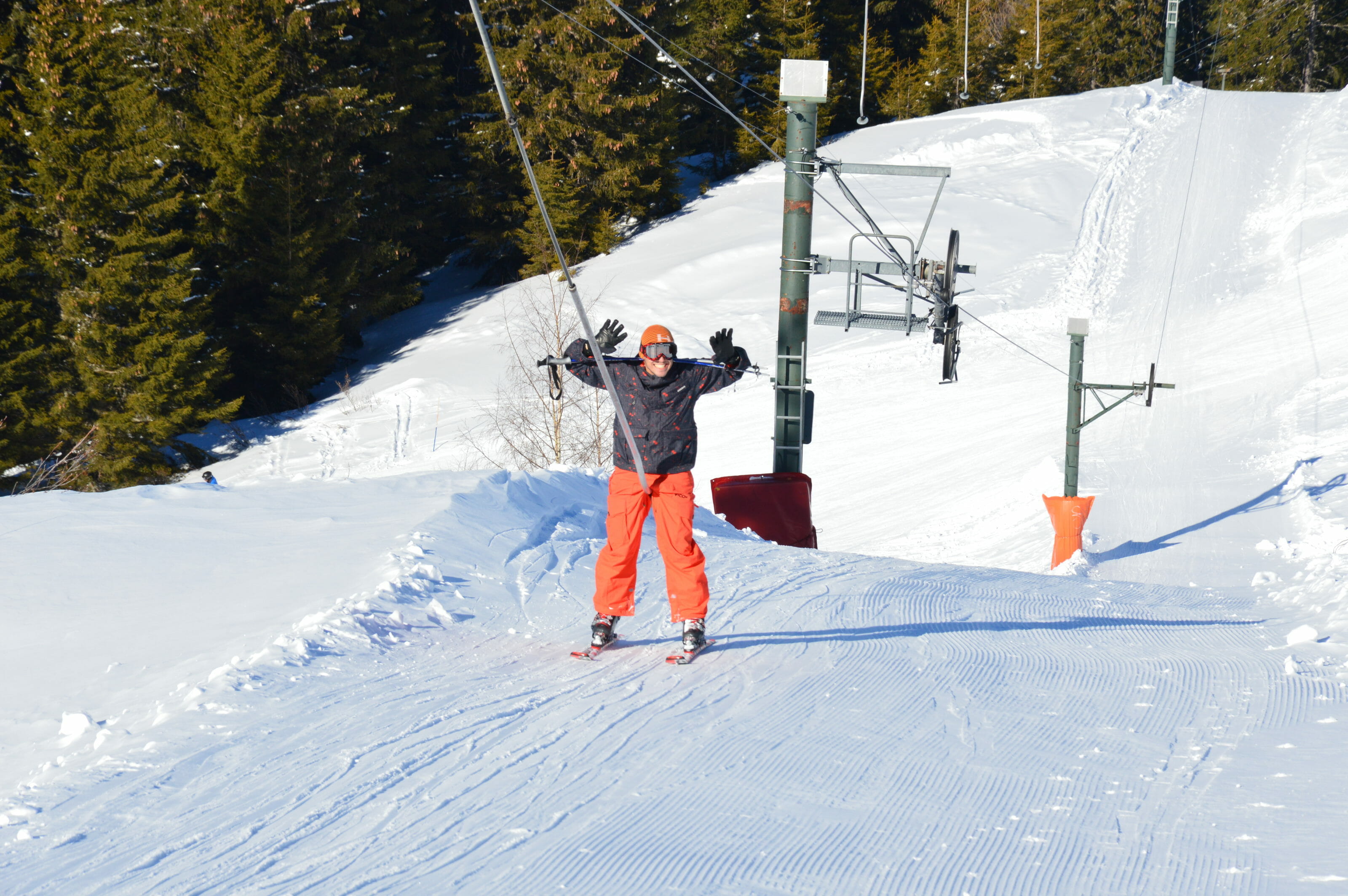 Many other nomads had arrived with nothing. From our experience in Switzerland we didn't even dare to consider the rental scenario and didn't even think about whether we would take our gear or not. In Switzerland the rental of a pack of skis+boots+poles+helmet easily costs around 40 euros per day (around 180€-200€ for the week).
Briancon has obviously many option (and prices)! But the cheapest our colivers have found is the Inter Sport Espace Sud. To get the best rates you have to book your equipment online and you can get 6% discount with the code "planetski" and an extra 5% if you join their loyalty program which is free. With all these little tricks, our friends were able to rent a complete set for about 13€ per day or 100€ for 14 days! Quite unbeatable if you ask me… and I must admit that for people who come from far away it becomes more interesting to rent at this price than to lug your skis on the train or even the plane.
Alternatives to skiing: What to do in winter in the Hautes Alpes?
The reason we're talking about skiing in this article is because we love it! But for the past few years, as I said in the intro, we've also been a little more careful with our budget and that's how we started to look for alternatives.
Ski touring and snowshoeing quickly established themselves as excellent compromises. If you come to the Briançon area, you are really invited to also consider leaving the groomed trails from time to time to explore wilder areas that are only accessible on foot or snowshoes.
If you are looking for inspiration we had published two articles with some snowshoeing routes in the area:
Practical information about Briançon
To end this article, we thought that a small point on practical information could be useful for you.
Ski lockers

If like us you are not staying at the foot of the slopes and you plan to ski regularly it might be worth considering the option of leaving your equipment at the bottom of the lifts. The coliving being located in the Vauban city I guarantee you that the little hike uphill with the skis on your back will hurt your legs a bit after the day's skiing 😉 The Go Sport shop which is at the foot of the slopes offers ski guarding for 2€ per day. This allows you to come in sneakers, put your skis on, enjoy the day and come back wearing comfy shoes in the evening. This is a small luxury that is well worth it, believe me!
At Go Sport the skis are stored in an "open" space but supervised by the staff. If you want closed lockers there is the Francis Sport shop which offers them for 3€ or otherwise Sport 2000 has large lockers for 8€ (these lockers are spacious enough for 4 pairs so it's advantageous if you are a group of people).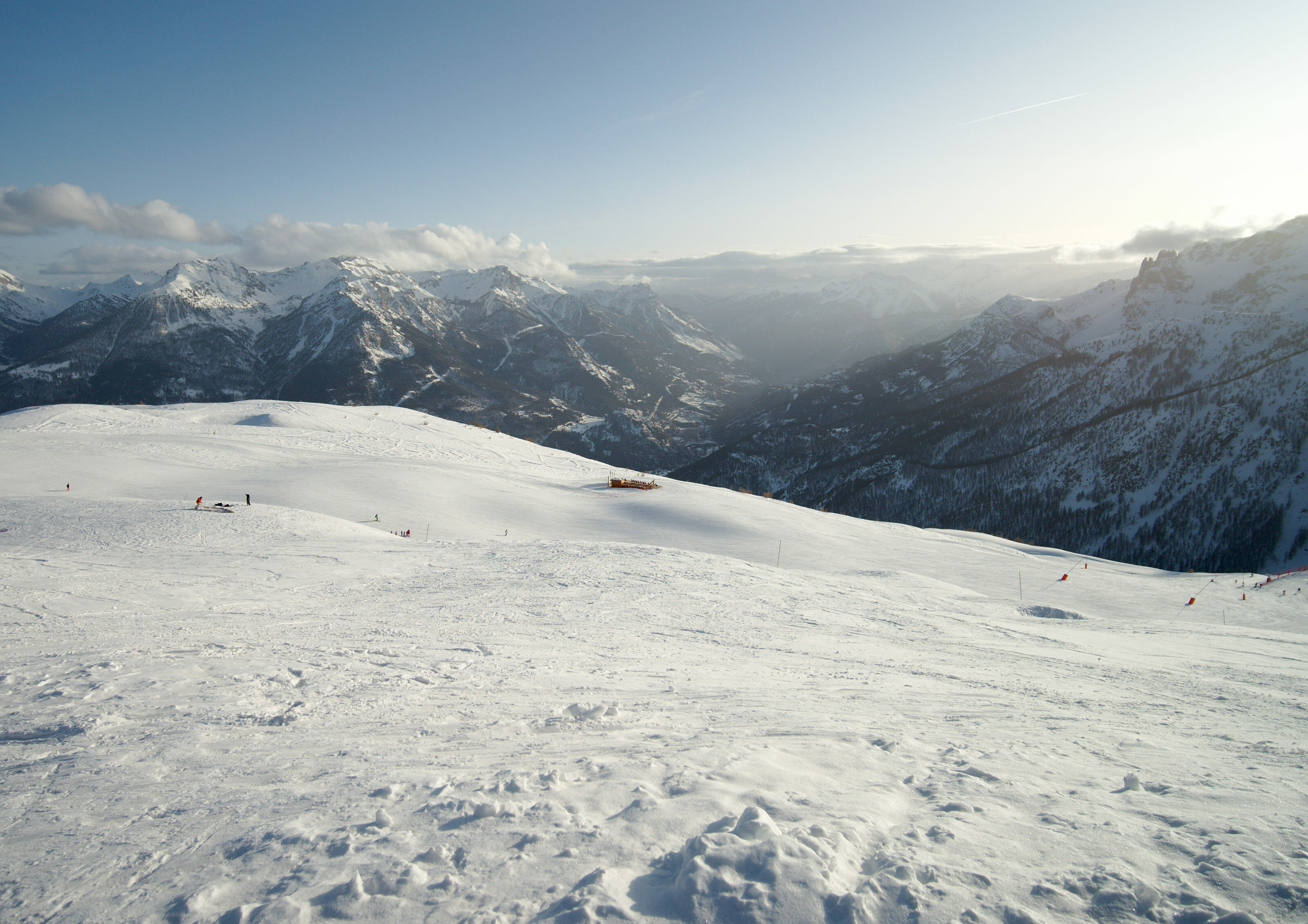 Getting to Briancon by car
Briançon is easily accessible by road. To give you an idea, it takes about 3h30-4h by car from Geneva, 3h20 from Lyon, 2h from Grenoble or 3h from Aix-en-Provence.
Small note if you come from the "northern" part: we strongly advise you not to trust blindly Google Maps! If you are coming from Geneva, Lyon or Paris, this Google Maps rascal will want to take you through Italy to save 15 minutes of driving time.
The snag? this "little" Italian hook goes through the Fréjus tunnel which charges… be careful…. 47,10€ for a one-way ticket (or 58,8€ for the return ticket if made within 7 days). For 12km of tunnel it's really expensive!
We'll let you guess who got caught by that little rascal. 🙂
In short, if you don't want to pay the equivalent of a ski pass to go through the tunnel, just go through Grenoble. It's about 15 to 30 minutes longer, but I promise the road is very nice (we took it on the way back, of course). 🙂
Getting to Briancon by train
It is also possible to arrive in Briançon directly by train. Many of our colivers have opted for this option. TER trains arrive from Grenoble or Marseille but if Briançon station is also known as one of the last French night train destinations. The train leaves Paris in the early evening and arrives in Briançon in the morning, a 12-hour journey comfortably seated in a couchette.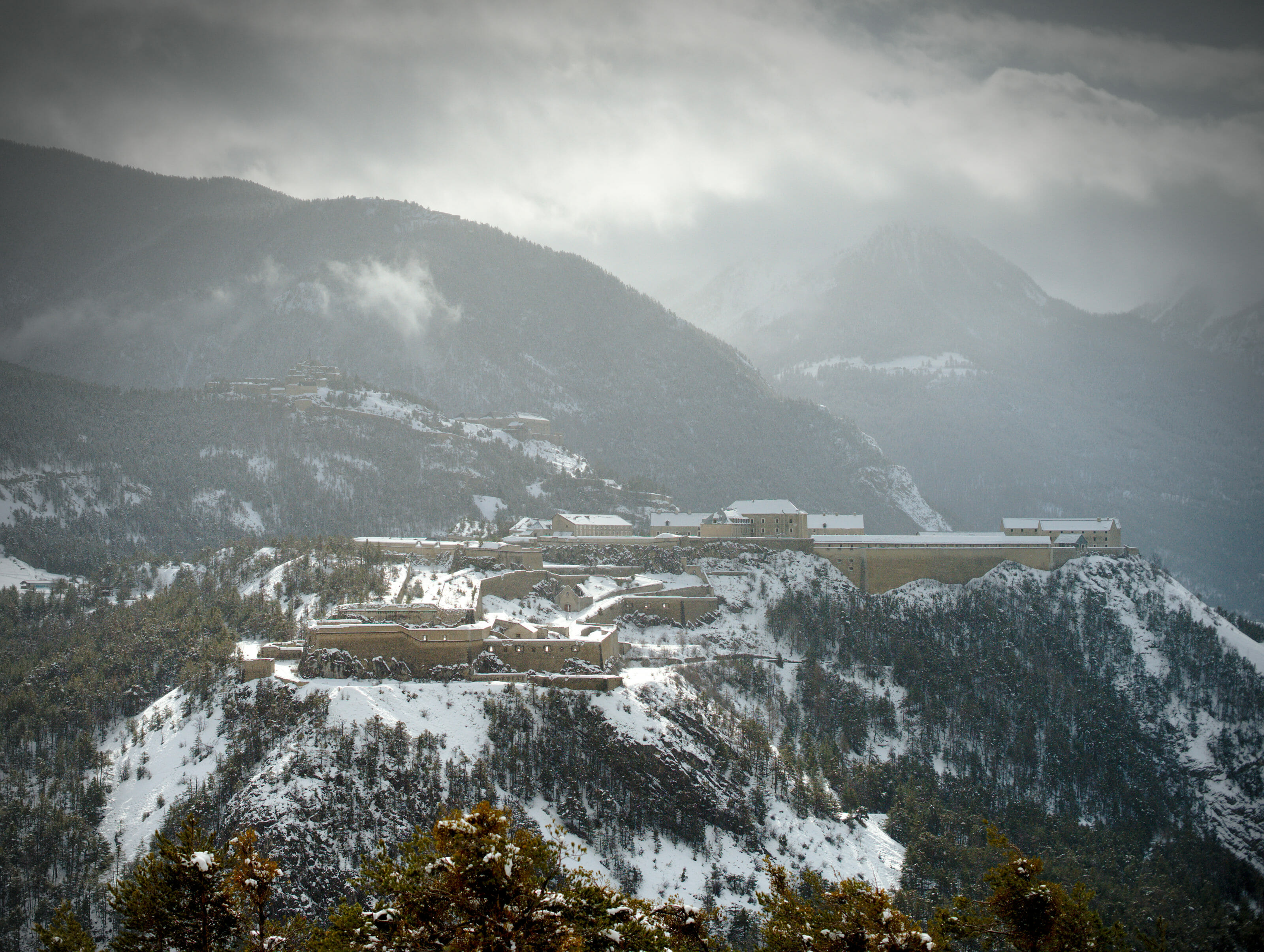 That's it for this article on skiing in Briançon and the surrounding area. We hope you will use it to prepare your next skiing holidays. We'll be back very soon with a new article to tell you more about this famous coliving where we spent 3 weeks.
Pin it