For us the year 2013 ended in Vietnam with our relatives, but before telling you a little more about this new country that we are discovering a little more each day, we will come back to our stay in Cambodia.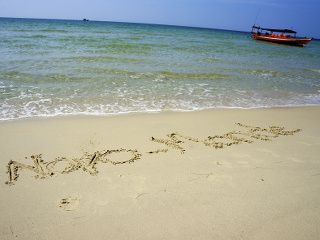 In all, we spent nearly 25 days in Cambodia, it doesn't hurt, but very little at a time…. Let's have a look on this stay with a few images, facts & figures
Our Cambodian journey began in a rather hectic way, trying to avoid the multiple scams at the Thai border of Poipet and then set off to discover the temples of Angkor… We invite you to read this article to know more about our adventures in Angkor and about the border crossing.
Afterwards we made a small detour to the capital, Phnom Penh, where we took our first Cambodian cooking class. The capital, is in fact a big city like many others, or let's just say that we haven't found any particular charm in it… A little oppressed by the incessant requests of tuk-tuk, mototaxiis, souvenir sellers of all kinds, we decided to flee it quickly enough to go to the south of the country: Koh Kong, Kampot and Kep was on our list!
1$, 1$… Or how the Cambodians have put our nerves to the test
Cambodia, to be quite honest, left us with a rather mixed impression. We had heard a lot about the smiles of the Cambodians, their welcome, but also and above all about the authenticity of this country which is still recovering from its recent and painful history…
The first thing that marked us in Cambodia was undoubtedly the extremely commercial side of its inhabitants. We've seen smiles, even a lot of them! But few were those who were not followed by a purchase solicitation.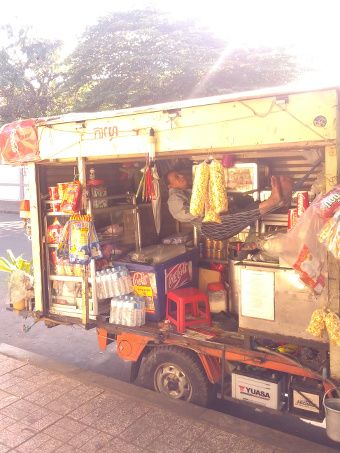 Good on the other hand small special mention to this street seller…. His nap technique made me dream!
It should be noted that in Cambodia the official currency is the Riel.
The current price corresponds roughly to $1 = 4000 riels. But what we know less often is that the American dollar is a currency that is used just as much, if not more…
Finally, let us be honest, it is mainly a currency used for and by tourists.
During our trip we had this unpleasant feeling that we were always being cheated when prices were expressed in dollars.
Well yes, it's quickly seen, in Cambodia there are no Cents. So anything that can be found in Thailand or Vietnam for a few cents automatically costs $1 in Cambodia.
A bottle of water? Instant coffee? A roll of toilet paper? Well, $1 naturally!
But of course, as soon as you leave the tourist centre, you will find prices in riels. And it is no surprise that in a local market you can get 1 kilo of mandarins, 2 coffees and a packet of biscuits, all for 4000 riels. 🙂
Bugdet for a holiday in Cambodia
In terms of the budget, we admit that we were a little surprised…
We expected to have a budget below the one we had in Thailand, and finally we barely managed to stay in the green figures, and with much more sacrifices.
Prices in Cambodia have literally exploded in the last 2 years. A guesthouse manager entrusted us with renting his rooms at twice the price of the previous year, and this without difficulty!
Afterwards, everything remains relative, eh! Cambodia remains an extremely cheap country for us who arrive with our European purchasing power, but things are moving! In fact, it was not so much the increase in prices that shocked us, but rather the permanent impression of paying "a tourist price". In Thailand, it also exists, but we have been much less confronted with it (or we hadn't noticed it, who knows?)!
to give you an idea, we'll tell you a little more about our budget!
In all we spent 954 euros for 2 people in 25 days, an average of 38.2 euros per day, or more precisely 19.1 euros per day and per person.
The breakdown between the various items of expenditure was as follows (sorry, the image is in french, but with the icons you should get the idea):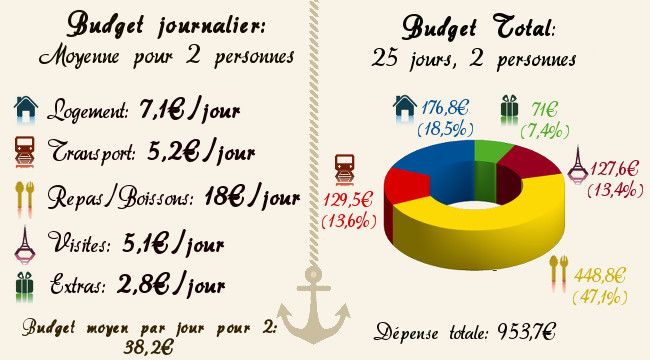 All numbers on the left are our daily average per item and on the right it's the total for 25 days.
Good on the other hand, we also celebrated Christmas in Cambodia! And just for the meals on the 23rd and 24th we spent 55 and 65 euros respectively (well, we like red wine… and it was Christmas…) 😉
It may not sound like much, but we guarantee you that for a meal in Cambodia it's pure madness! But at this price we drank some good red wine, and even ate a cheese platter and a chocolate fondant! 🙂
A few figures in bulk:
Our most expensive night: 15$ the room in Kep with private bathroom (without hot water)
Our least expensive night: 5.5$ the room with private bathroom (without hot water)
Cambodian cooking class: 23$ per person for the full day
Average price of a Khmer coffee in a street stand (excluding touristic area): 3000 riels
Bank fees charged by Cambodian banks: $4 per withdrawal.
Apparently Canadian Bank does not charge these fees, but all the distributors we tried were still "out of order"… 🙁
Number of tuk-tuk taken: 9
Average number of requests for a tuk-tuk: about 376 per day….
A beer in a small bar: 1$
Renting a "Cambodian" bike (no gears): 1$ per day
Rental for a mountain bike: between 3$ and 5$ per day
Vietnamese: 45$ at the embassy in Phnom Penh.
You can get your visa almost anywhere in Cambodia (Siem Reap, Shianoukville, Kep and of course Phnom Penh), but by going through an agency you will probably pay between $55 and $70 for a 30-day single entry visa.
Budget for the Angkor temples
Admission fee for 1 day at the temples: 37$
3-days pass: 62$
Weekly pass: 72$
Update 2017: These are the new prices in effect since February 1, 2017…. (still valid in 2019)
We strongly advise you to take the 3-day pass, because in one day it is really very, very short! Especially since the 3-day pass is valid for 7 days, which means that you can take a day off between your visits!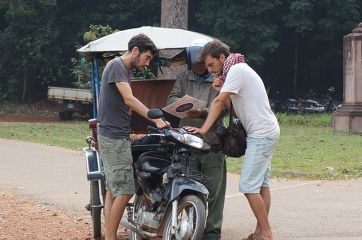 One budget item that can also count is transportation. For our part, we opted for bicycles, so we only paid $15 for 2 great mountain bikes for 3 days. But if you decide to visit the temples by tuk-tuk, you will have to count between $12 and $20 a day (depending on the number of kilometers traveled and your super negotiating power…).
Our accommodation in Cambodia
Home Sweet Home in Siem Reap:
Basic hotel, clean, but with a somewhat unpleasant manager…. But hey, it's close to the center and among the cheapest!
Price per night: about 10$
See on Hostelworld
Blue Dog in Phnom Penh:
Ideal and cheap location…. On the other hand, you should know that they organize rock concerts in the evening (but they end at 11pm).
Double room (shared bathroom):about 10$
See online
Paddy Guesthouse in Koh Kong:
very simple (but cheap) rooms. But above all, a golden owner who takes in and trains orphaned children.
Price for a double room: about 6$
See this place

Kampot and Kep:
We apologize but we forgot the names of the guesthouses… In Kampot we had stayed outside the village, on the banks of the river in a super small bungalow for $8 a night. In Kep we have a more than mixed memory of the guesthouse run by an expat who is a little too fond of the local youth, so we don't have any recommendation for the area…
Info Accomodation
During our trip to Cambodia we rarely booked our accommodation in advance. In general, the lowest prices are often found by searching directly on the spot, in short by going door to door. 😉 But if you travel in high season here are the sites that we recommend:
Hotelscombined: Not a booking platform strictly speaking but a platform comparator. Basically you enter the destination and date and this will compare the rates at the most popular sites such as Booking, Agoda Trivago etc. In short, it is the cheapest price on the Internet and we use this platform when we are looking for a hotel or a guest room.
Hostelworld: Less complete for hotels, however, it is THE reference for youth hostels. They have a guarantee of the lowest price, so if you find cheaper on another booking site they will refund the difference. Really at the top!
Sexual tourism: the plague of Asia
We often hear about Thailand and its sex tourists but much less about Cambodia!
We didn't really expect it, and honestly we were a little shocked in some areas…. In Thailand we have not been in the South, nor in Pattaya, so it is only from the corner of our eyes that we have observed sex tourism in some places in the country.
In Cambodia it is a bit the same story…. Not really present, or at least nothing shocking at the Angkor temples or in Phnom Penh, it is in the south that things are getting worse! We have "only" seen 3 cities in the south (Koh Kong, Kampot and Kep), and each time a little bit the same observation. White men, a big belly, wrinkles in the corner of the eyes, a mischievous look, and on their arm: a pretty little Cambodian girl who seems to be 15 years old (but who must be 18)… To illustrate the point, we thought of a great illustration of Tony from the blog travelplugin.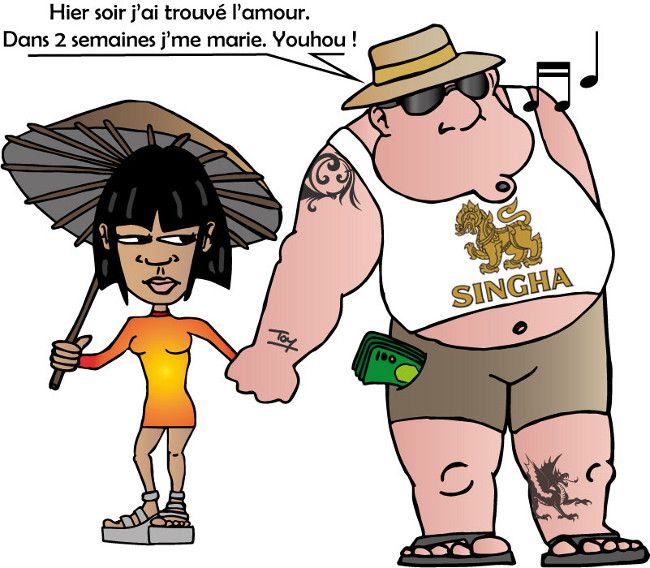 Our experience in southern Cambodia
The whole thing is quite sad I find, especially since they are often expats living in the area and enjoying their retirement by redoing their youth and collecting chicks…. We had a few nice specimens in two of our guesthouses…. Each time the same speech:
"It's cheap here, girls, you can have 4-5 without ruining yourself and they're docile…"
But what human being can talk like that? The worst? They are proud as cocks and brag openly to anyone who will listen…. Even with us, when we were quietly drinking our coffee on the terrace and not asking for any kind of information on that matter…..
I'll save you the details about this evening I spent chatting with a guy in his forties under the influence of mushrooms and who explained to me in detail that he didn't like the evolution of the police…
Ten years ago he could "fuck" 13-year-old girls without any problem, today he is qualified as a paedophile. The poor fellow pissed me off! But he was so much under the influence of his drugs that he scared me a little bit and it is only with one last look for this dark individual that I simply decided to disappear in my room with my stomach full of disgust and hatred…
In short… The human species sometimes frightens me, but that's also the journey. You meet people made of gold, and sometimes you come across the biggest losers…
Overall impression of Cambodia
As you may have guessed, for us Cambodia is a somewhat mixed picture. As much as we LOVED the temples of Angkor, we spent excellent moments in Phom Penh as well as in Koh Kong or Kep, we enjoyed the Khmer cuisine, but on the other hand we were a little disappointed by the people…
We certainly had some nice encounters (notably a French couple making reports on Cambodia or Cambodian children with their super sincere and adorable "heeeellooo"). As much as we also came across a beautiful collection of scammers and tourists of dubious morals…..
Everyone told us that Vietnam was "the land of scams". But honestly, we've been there for a little over 2 weeks now (yes yes we're a little late in our articles…), but frankly for the moment the Vietnamese have seemed much less insistent and venal to us.
Our assessment: To be taken with a grain of salt
But don't misinterpret our little report. It is a little critical, but we wanted to mention those aspects that we did not like. But it would be a real shame to stop at our few little misadventures, because Cambodia is definitely a country that is full of beautiful landscapes and resources! To miss it would be a shame….
Who knows one day we may come back! We have heard a lot of good from the north of the country. Due to time constraints we were unable to spend time this time.
Yes, we had an appointment with my dad and friends from Switzerland to celebrate New Year's Eve in Vietnam! A big breath of fresh air (and some good food as well), but we'll come back to that soon!
Cambodia: A country that is recovering slowly… But at what cost?
Cambodia's history is recent, and there is no doubt that we can feel that the country is still healing its wounds at the moment! In general, Cambodia gave us the impression that we were still running a little slower. At least if we compare it to its neihbours Thailand or Vietnam….
The tourism industry is on the move, but it seems to be struggling.
Except for Siem Reap, there, tourism is in full swing! But it is especially in the south that we had this somewhat special impression; the infrastructures are there, the guesthouses are multiplying but despite the fact that we were there in "high season", no guesthouse was full, far from it!
Kep for example, at times gave us the impression of a ghost town!
Either the tourists are well hidden in their resorts or they are not there. It is difficult to say, but in any case the city is almost depopulated by Cambodians because of the higher prices that make the place way to expensive for locals.
But from what we have heard from a Cambodian guesthouse owner and a young guide, the boom is not long in coming. Soon the Chinese will be here!
China is rushing to the gate
Yes, because Cambodia has problems, many problems, especially at the economic level. Due to their recent history with the Red Khmer, the country, as it stands today, is almost devoid of any economy. There are very few industries, let alone factories.
Probably faulty investments, but also faulty roads! Because in Cambodia, few roads are paved! Most of the roads are still vulgar dirt tracks, there are no railway lines and as a result travel, but also the transport of materials is difficult!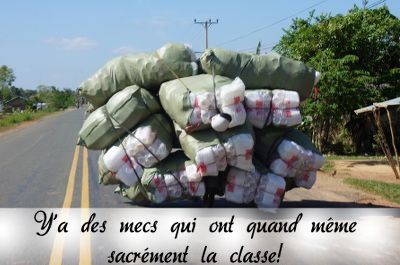 This lack of economic resources has led the government and individuals to accept the sale of land (sometimes even entire islands) and the management of certain sites to foreign investors!
For example, the island of Koh Kong. A small desert island, which we mentioned in a previous article, already belongs to…. a casino! The Chinese, but also Vietnamese and Koreans are investing heavily in this country. Why? Because they see a great potential as a holiday destination for "their tourists" (they also like the beautiful woods of the Cambodian forests…).
Angkor? Managed by a Vietnamese company.
Tonlé Sap? Koreans are in charge.
The mangroves in Koh Kong? The Chinese are ready
Anyway, you see where I'm going with this…
Outstanding issues
Investment is good for the country because it allows roads and access roads to develop, but it also poses many other problems for Cambodians, including the problem of having their country "auctioned off" and used as a long-term investment by foreigners.
Will these foreigners really create jobs for Cambodians or will they suddenly decide to use their own labour force?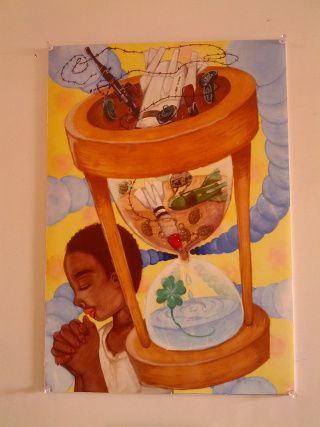 Only the future will tell us, but in any case, we can only hope that Cambodia will recover and find its balance….
That's all the evil we wish them!
At the S-21 Museum in Phnom Penh I came across a drawing by a young Cambodian schoolboy that I found very touching…
Cambodia has experienced many acts of violence, many Cambodians still remember very well what it means to be "hungry" and to get up with fear in your stomach…
Only time can heal these wounds, let's just hope that Cambodia's future will be peaceful and prosperous!
NB: This article contains affiliate links. This means that by using our links to make your reservation you will not pay more, but it will help us to keep this site alive. Of course, we only recommend services that we use ourselves on a very regular basis. Thank youiii 🙂

Enregistrer