In our last article Benoit told you about our hikes in the Lofoten and today it is me, Fabienne, who is writing to share with you our traditional travel budget article!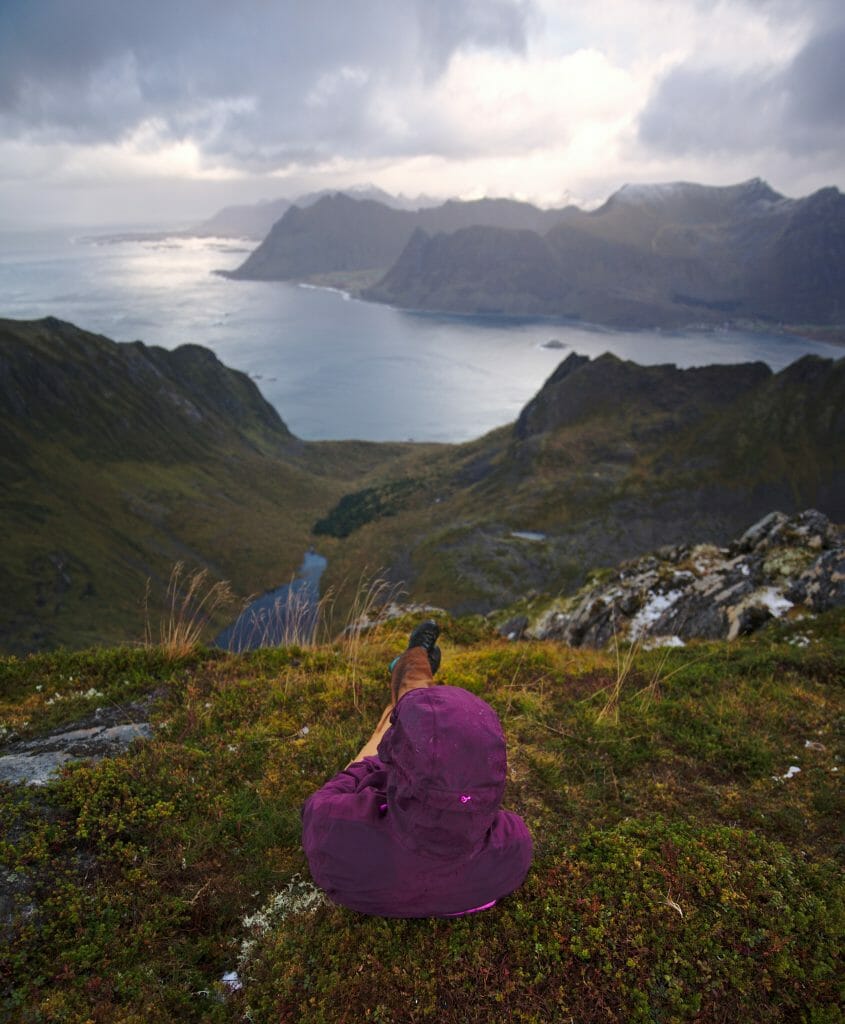 This trip was our very first experience in Norway and we have to admit that this adventure was only quickly planned… 😉 In fact, when Marine, Sabine and I decided to go on a trek in Swedish Lapland (see our Kungsleden trek), we immediately decided to go with Benoit on the Lofotens! This destination had been on our list for quite some time now and as the end of our trek was quite close, the opportunity was simply too good to be missed!
Afterwards, we won't hide from you that we had a lot of questions about the budget… Norway is known to be expensive and Lofoten are apparently the "summum" in terms of Norwegian prices. It doesn't matter; after some research on the net, with a good dose of naivety and optimism we decided to extend our trip and go see what these islands in the north of Norway had to offer!
So what do you think? The Lofoten islands are overpriced? #SpoilAlert: You will see it below but travel the Lofoten islands on budget is quite feasible.
Our travel budget for 10 days in the Lofoten Islands
We're going straight to the serious stuff, okay? How much did we spend during those 10 days of roadtrip in Norway?
The answer: not that much after all! But as you will see, it will not have been without some constraints 😉 We will start by giving you our numbers, then we will detail each part in the rest of the article.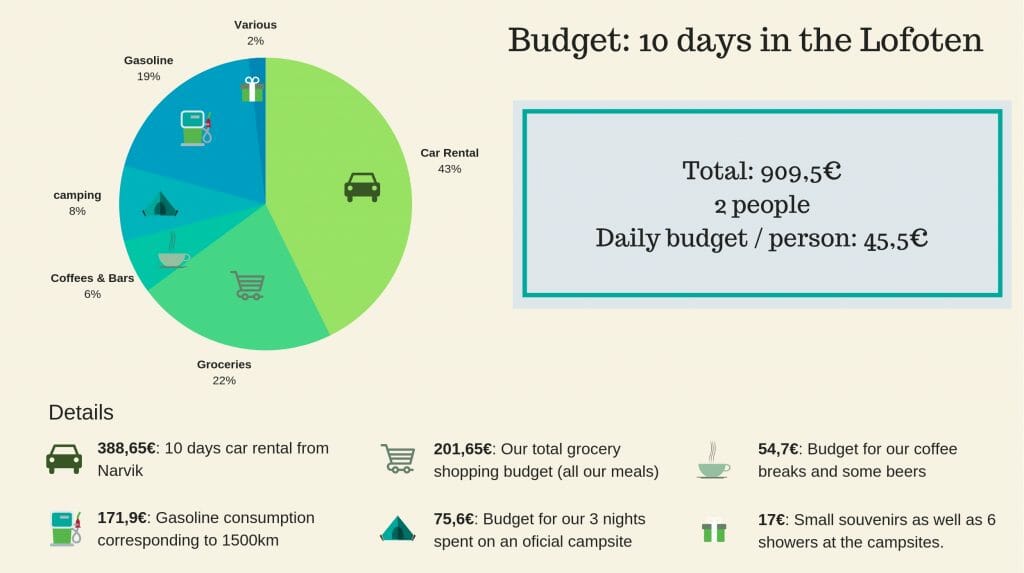 The above budget includes absolutely all our on-site expenses. Of course, air/train tickets are not included in this…. But we'll tell you more about it later in the article! 🙂
Itinerary of our Roadtrip in the Lofoten Islands
It is in the small town of Narvik, in northern Norway, that we picked up our rental car. We arrived here by train from Swedish Lapland just after our Kungsleden trek. About the itinerary, we didn't have much planned except that we knew we wanted to go to the very end of the E10, in the small village of Å.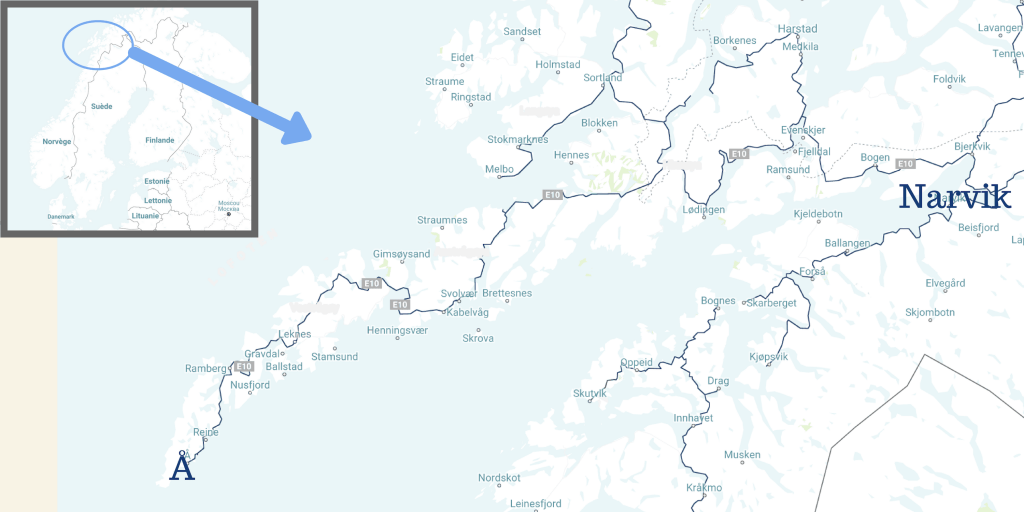 To tell you the truth, our itinerary was quite random during this trip… To illustrate this I would simply say that in 10 days we covered nearly 1500km! Knowing that there are "only" 366km between Narvik and the end of the road in Å. I let you imagine the number of small detours we have made on the small roads… 🙂 I wouldn't want to go too far, but I think we easily covered at least 90% of the existing roads on the archipelago at least once… hahaha
Driving in Norway: our impressions
I wanted to do a little paragraph about driving in Norway for the simple reason that driving here is just absolute happiness! The roads of the Lofoten are very well maintained and signposted. In short, there is roughly one single road (the E10) that crosses all the islands to Å (which is pronounced o). Then, from this road there are many small roads that go to reach fjords and the ends of the islands… No matter where you go, you will always end up coming back to the E10. In short, it's impossible to get lost in Lofoten!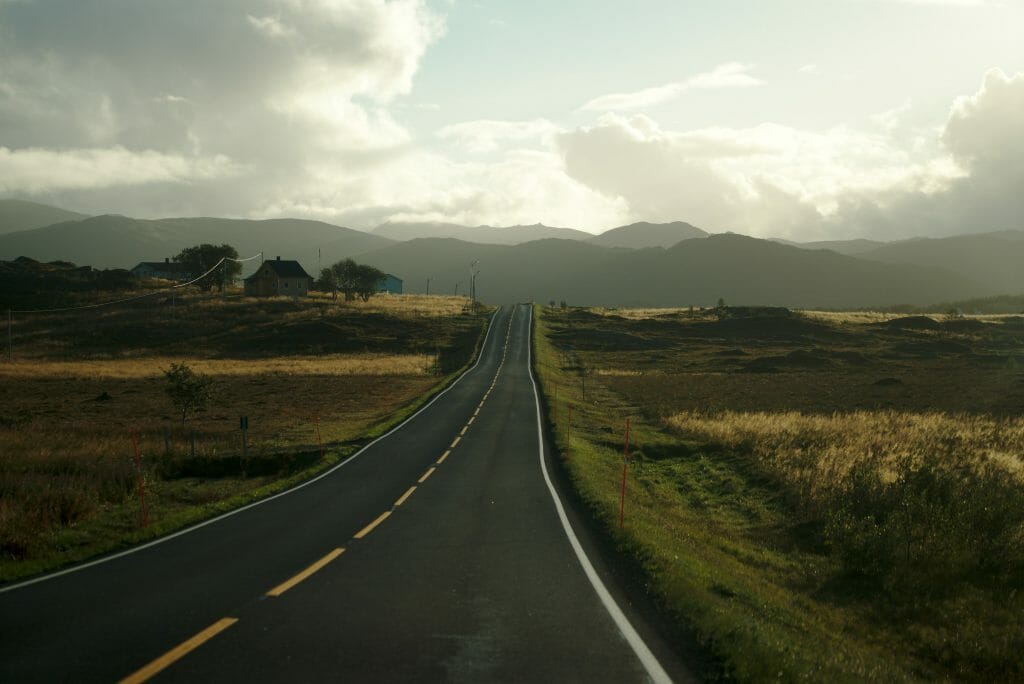 Traffic wise we found that there was very little traffic, people have a very smooth driving and they are especially super zen. In short, it was a nice for us little Swiss kids who don't like to be stressed out in the car (little souvenir of Nice or Paris, where we almost died of a heart attack on every street corner) 😉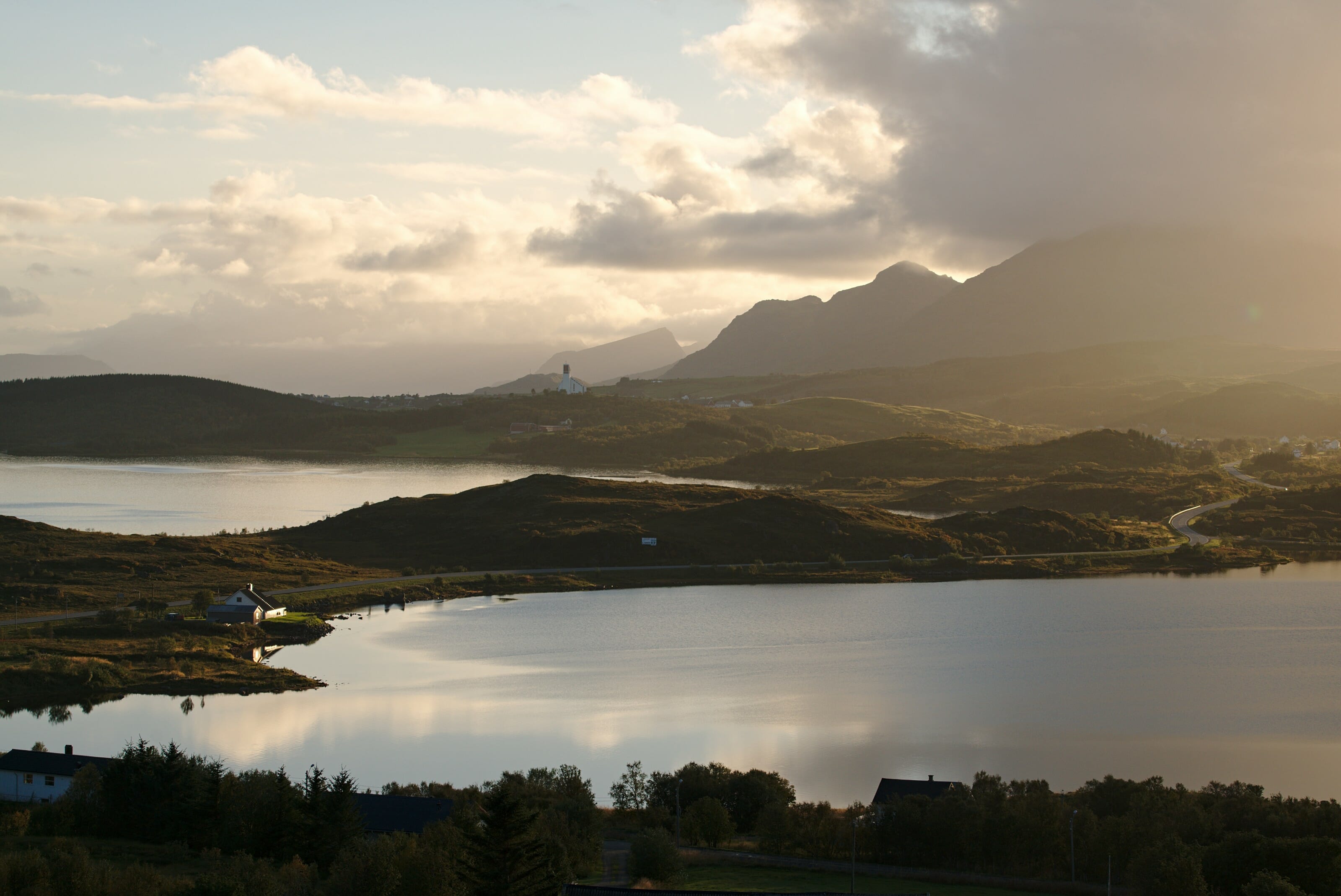 Cycling Lofoten?
Some of you have written us on social media to ask us why we decided to opt for the car and not the bicycle… We wont deny that cycling had (briefly) crossed our minds. However, considering the time of the year we left (and what we had to deal with in the rain) we are rather happy not to have chosen this option…
BUT we must say that after having seen some stories from other travellers, this mode of travel would tempt us for a future trip (preferably in summer) 🙂
If you want to get an idea of what Lofotens look like on a bike (and under the sun) we invite you to discover the article written by our friend Laurène on her experience with cycling Lofoten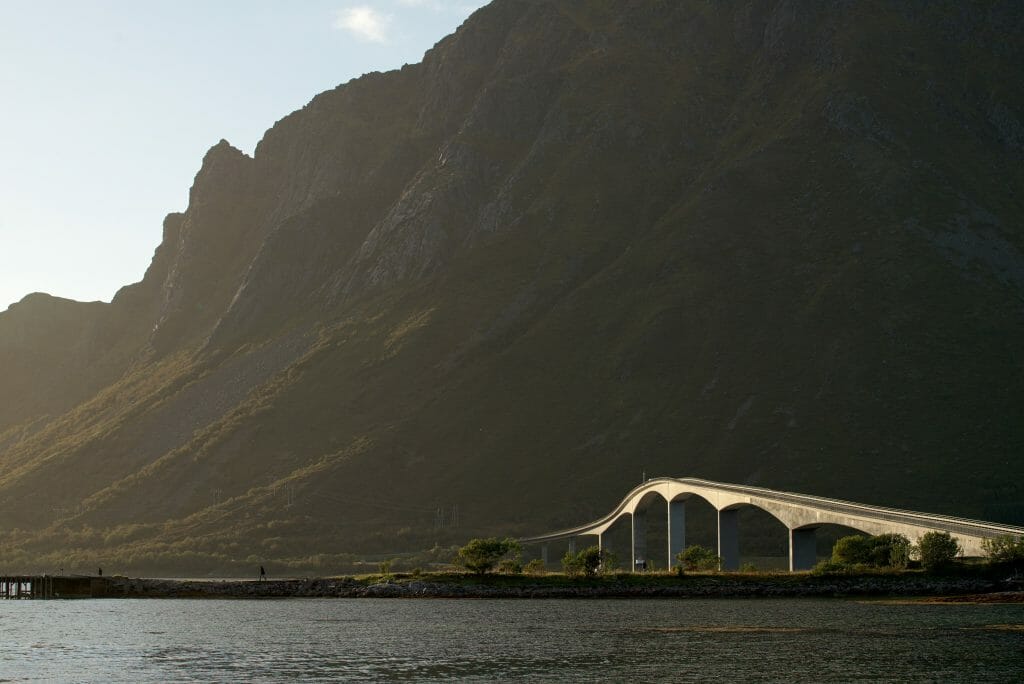 Looking for some more adventure?
If you want to do some activities on the Lofoten Islands you can go check the GetyourGuide activity page. They have lots of different excursions such as kayak trips, photo tours and boat tours.
Lofoten map: All our favorite addresses and hikes
Before going on to the various expense categories in detail we provide you with a small map of the Lofoten Islands with our best addresses and hikes. If you want to find the precise itineraries of our hikes, we invite you to take a look at the article written by Benoit on our hikes in Lofoten (with maps of each hike in the article).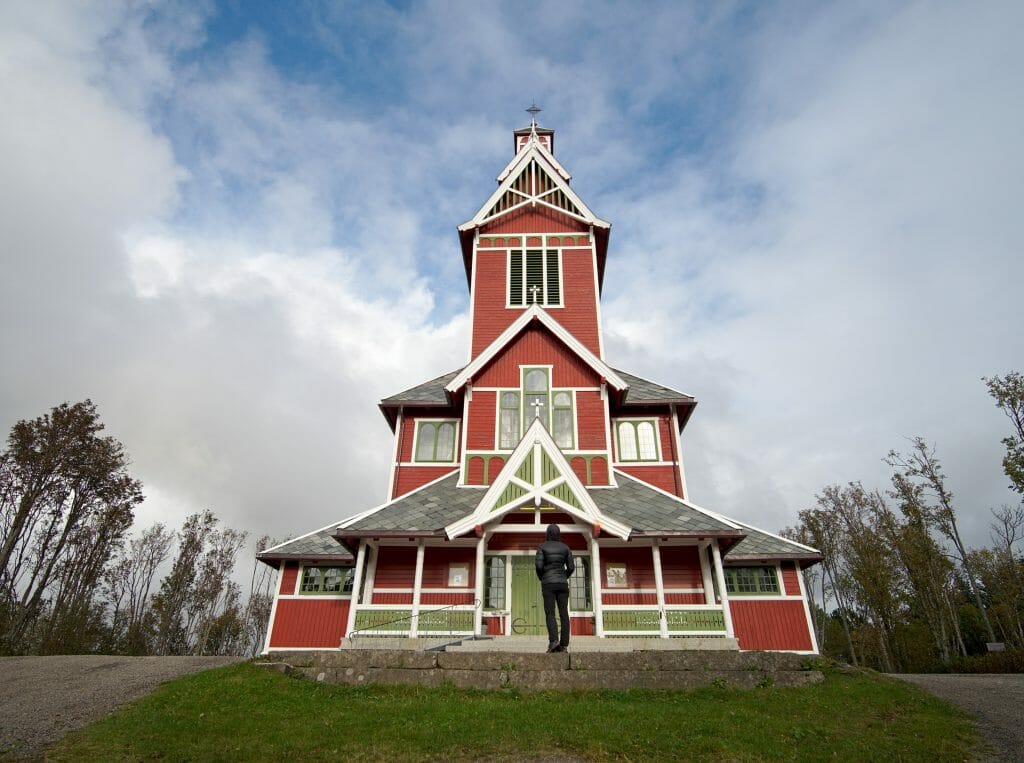 Note: I added a lot of info and pictures under each pin. Feel free to click on it for more information.
Rent a car in the Lofoten Islands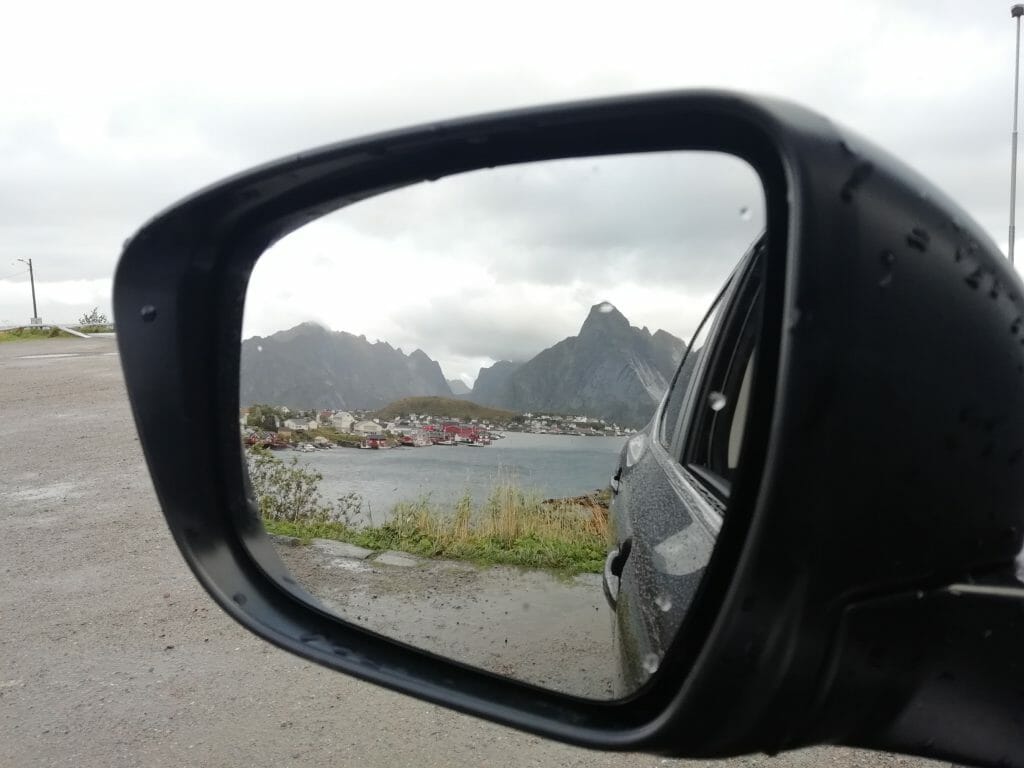 In our opinion, having a a mean of transport is essential for Lofotens! Whether it is with the strength of your calves if you opt for the bike or if not a car. Car rental is VERY common here and honestly we can understand why! The Lofotens are still pretty big and above all there are plenty of places to explore!
It is possible, in absolute terms, to take the bus too. On the other hand, you just have to be aware that:
buses are also not very frequent
They are not cheap! Example: a trip from Narvik to Å (which is at the end of the Lofoten) already costs 45€ per person!
They only stop on the main roads and cities… It is therefore difficult to access the viewpoints and the starting points of hikes.
In short, if you have a license, we really recommend that you rent a car! But if you prefer to take the bus, you will find all the information on timetables and fares on the Lofoten transport website: 177nordland
In terms of budget, we found that it was relatively OK… (For Norway eh… 😉 )
To give you an idea, we paid 388€ for 10 days of rental. We had researched the cheapest companies via Rentalcars. In the end, Hertz was the one who came out. This price corresponds to a car like VW Polo type… Fortunately for us we were lucky and upgraded to a Nissan Qashqai (which literally saved our nights in the storm)
Budget for gasoline in Norway
You will have probably seen it in our statistics above but the fuel budget was relatively substantial: 172€. However, we had a great car that didn't consume much fuel (we were turning at less than 6L/100km, which is quite reasonable considering the size of our car).
On average, a litre of petrol costs 15-16 NOK per litre, or just under 2€/l.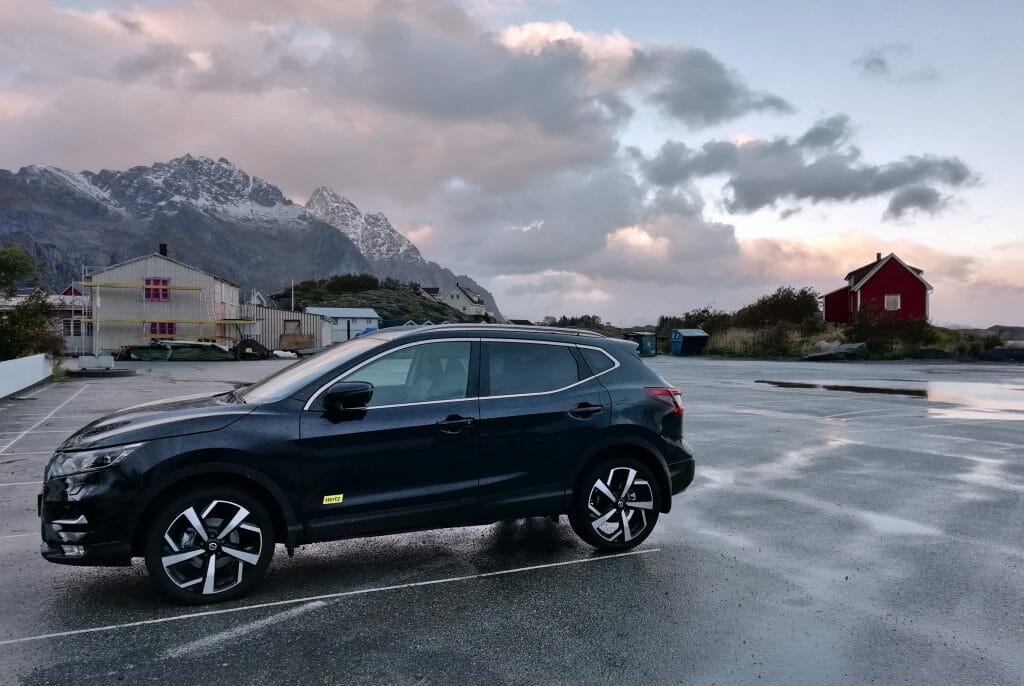 Tolls in Norway
In Norway there is a toll system on some sections (mainly motorways). The counting is done via a small box installed in the car. Fortunately for us, the Lofotens are not subject to tolls, so we only paid something like €8 (NOK 43 per trip) for the round trip on the section between the Lofotens and Narvik.
Are you planning to come to Norway with your car? We asked the question to our rental company, and the box is not mandatory for vehicles passing through if they are less than 3.5 tons. If a car is not equipped with a box then a picture is taken and you will receive the invoice at home a few weeks/months after your trip (think about this when calculating your Norwegian crossing budget if you plan to come by car). More information on the Norwegian Auto-Pass system here.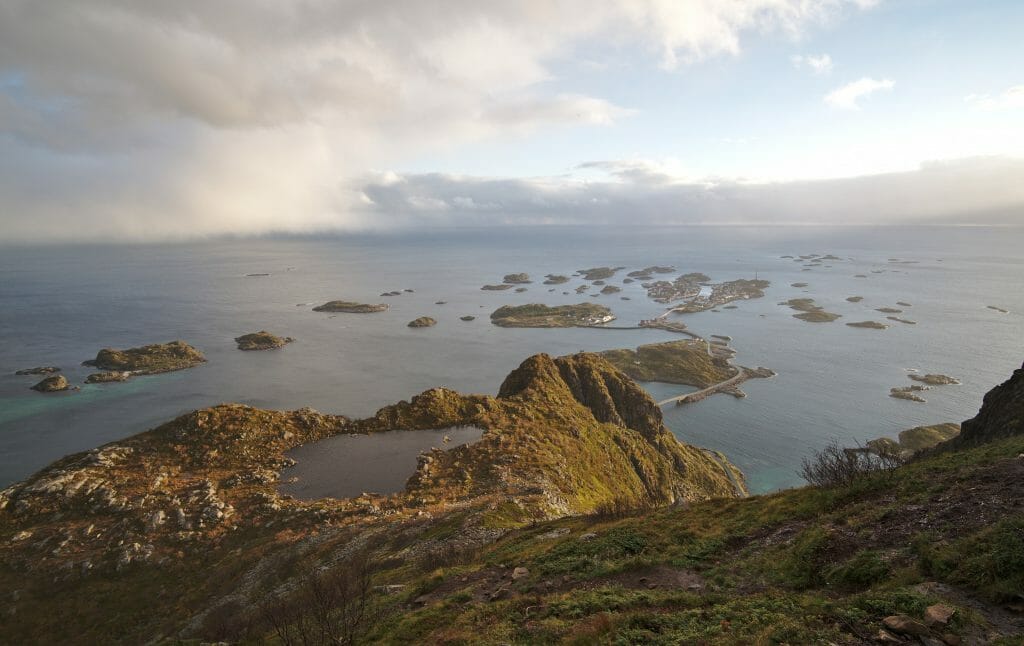 Accommodation in the Lofoten Isalnds: What are the options?
In terms of accommodation, there is a lot to choose from on the Lofoten Islands. Below is a brief overview of the most common options classified by price order (from the most expensive to cheapest).
To compare hotels and apartment prices you can check the map below. Simply use the filters to define a price range and accomodation type and then move the map to your desired destination.
Hotels in the Lofoten islands
Lofoten islands are a touristic destination, so in terms of hotels you can imagine that there is no shortage of offers… Then we will admit that we didn't focus too much on this accommodation type because who says Norway, also says relatively expensive prices for low budget travellers. About the Rates double rooms with breakfast start at around 80€ per night…
In order to compare hotel rates between different booking sites we recommend you take a look at Hotelscombined or Booking.
Rent a Rorbur / Cottage (via Vrbo, booking sites or directly)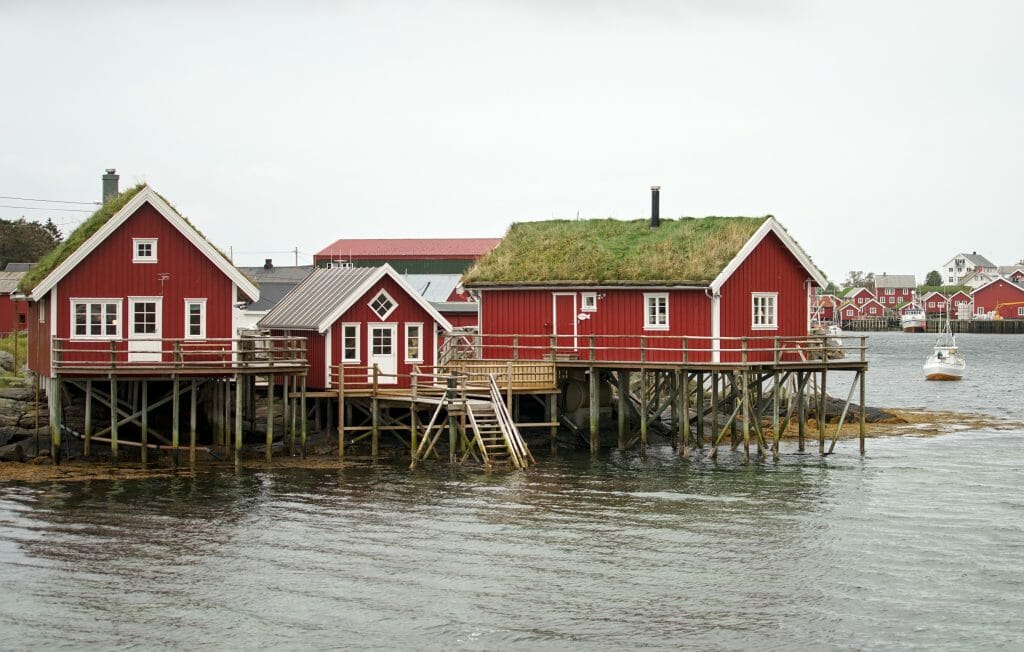 The alternative most often used to lofoten and also the one that has (in our opinion) the most charm is to rent a Rorbu or a cottage. Here the rates are quite similar to the hotels but the significant advantage is that you have a kitchen at your disposal. This allows you to cook some meals yourself and thus save money. But again, for this trip it was a little above our budget.
To find a cottage or Rorbu, you have roughly 3 options:
Use a booking platform such as Hotelscombined or booking. Many accommodations in the form of cottages or Rorbu are listed there
Use rentals. Note: on rental sites it is also possible to rent only rooms in a host family. It's cheaper, but often it doesn't give access to the kitchen.
Search on spot! This last advice applies mainly for the off-season in my opinion… But when we were there in September there were several signs with phone numbers on the side of the road. Our campsite (in Ramberg) also offered accommodation without booking. These offers are often not available on the Internet…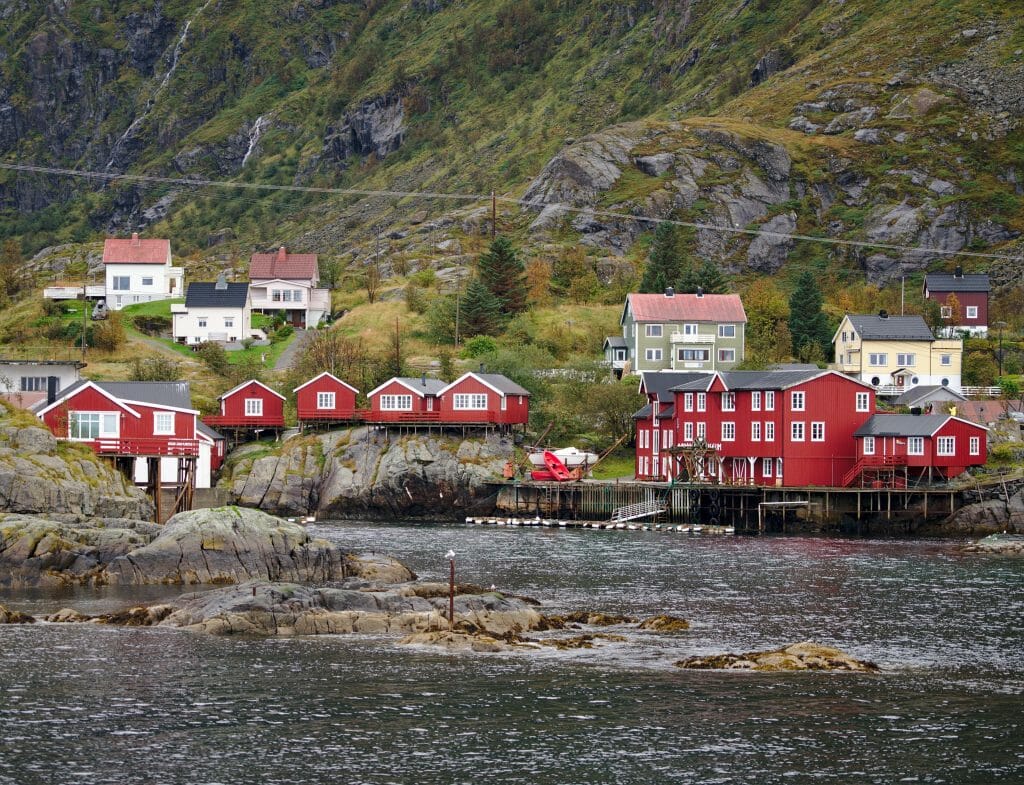 Camping in the Lofoten (20€ to 30€ per night)
A much cheaper alternative but which still guarantees a minimum of comfort: camping. We tested 2 of them in the Lofoten (we also stopped in a 3rd to have a coffee and warm up) and overall we found infrastructures very nice! In our opinion, the Ramberg one is the best value for money.
Price wise it is necessary to count between 20€ and 30€ for 2 people with a tent and a car. The price gives access to a heated common room, a kitchen and toilets (hot showers are often charged extra, however. 10 crowns per 4 minutes seems to be the current rate…)
For booking, we can't tell you for the high season, but in any case in September there is clearly no need to book in advance; there is plenty of space.
Wild camping in the Lofoten (free) / Sleep in your car (free)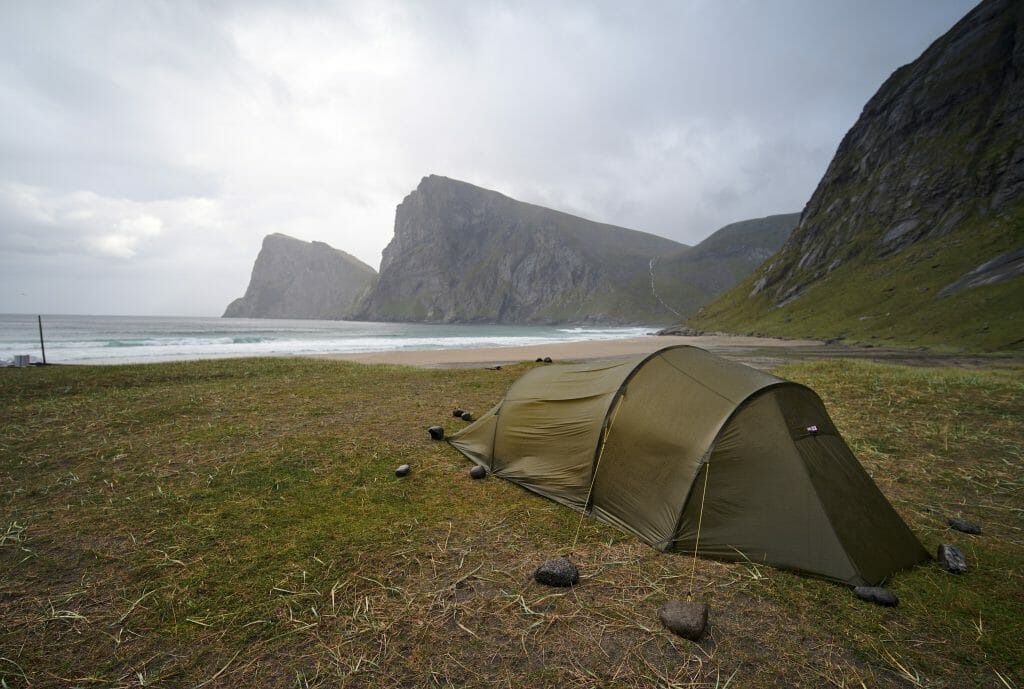 Lofoten is a gorgeous nature destination and with the right of access to nature that allows everyone to camp (almost) where they want, this is simply a blessing for campers and hikers! But in addition to the tent, there is also the car…
Last option and the one we used the most! Let's just call it the " emergency " plan if you don't mind… 🙂 So our basic idea was to camp… But with the weather we had it was simply impossible (gusts of wind at over 100km/h sometimes). In short, for us it was clearly a fallback solution!
Note: It is absolutely possible to rent Vans in the Lofoten. We considered this option but to be honest the price of the rentals quickly cooled us down.
Note bis: if you plan to sleep in the car "just in case" do not hesitate to put 5€ more per day to have a spacious car! We had rented a VW Polo and we were lucky enough to have been upgraded because they no longer had a polo available… In other words, after sleeping 9 nights out of 10 in the trunk of our Nissan Qashqai, we thank God for not making us sleep in the polo instead… We probably would have slept (even) less well!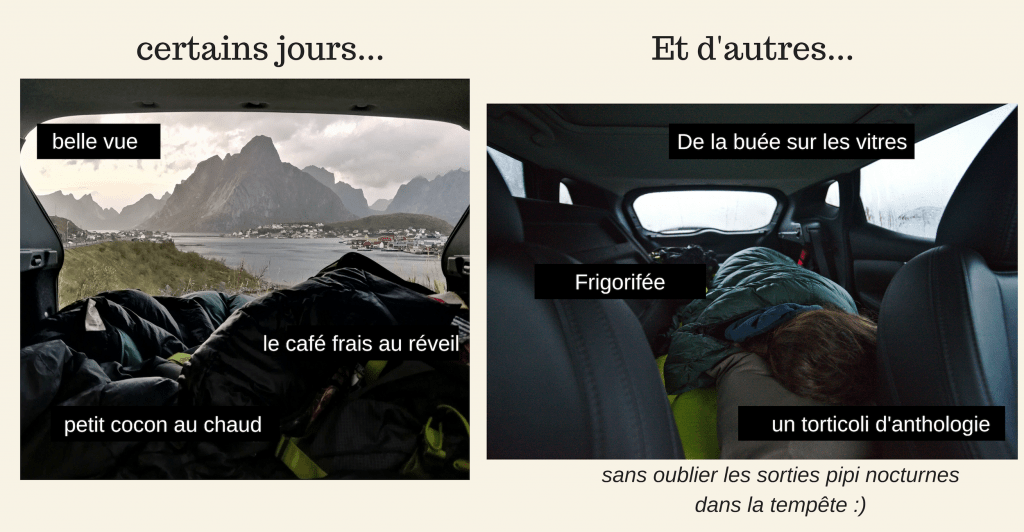 To find spots for the night we used 2 things:
The app Park4Night
Our common sense 😉
No more seriously, sleeping in your car in Lofoten is the best! There are prohibitions to spend the night in some large car parks (especially those located on the E10) and it is important to respect these restrictions… But be reassured, as soon as you leave the main road a little bit you will always find a nice little spot where you can settle for the night and where you don't disturb anyone. On our 6 nights of "wild camping in the car" we never had the slightest problem.
Always respect the restrictions: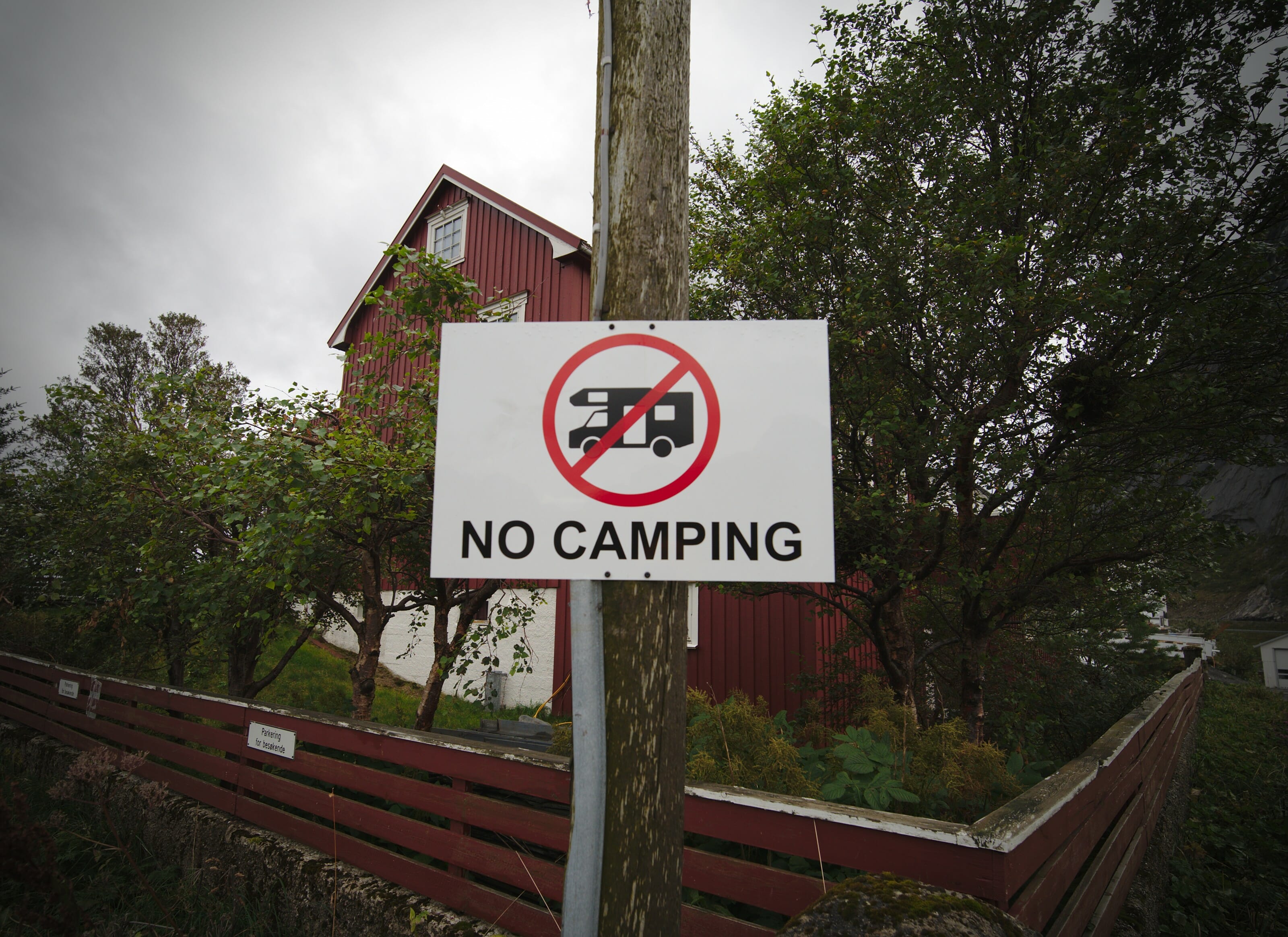 Find a cheap flight for the Lofoten
The Lofoten is not quite nearby so in this section we will assume that you want to fly there. If you are with a car and you are going for big trip across Europe you can clearly skip this chapter 🙂
For flights, we actually have a lot of options! They are not equal in terms of price or travel time (as often there is an inversely proportional relationship between these 2 components) 😉
Arriving directly in the Lofoten – Leknes or Svolvaer
On the Lofoten islands strictly speaking there are 2 main airports: Leknes and Svolvaer. To get here you must automatically make a stopover either in Oslo or Bodo. This is obviously the most direct option, but also the most expensive.
There may be good offers, but overall the price for flights from France or Switzerland to these airports varies between 350€ and 550€.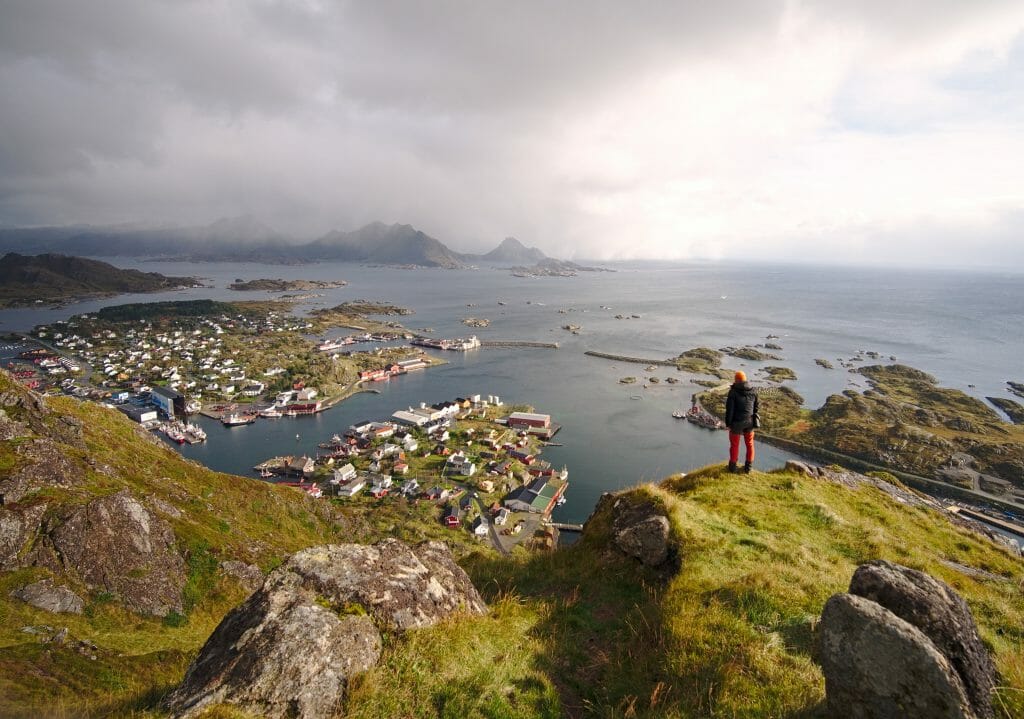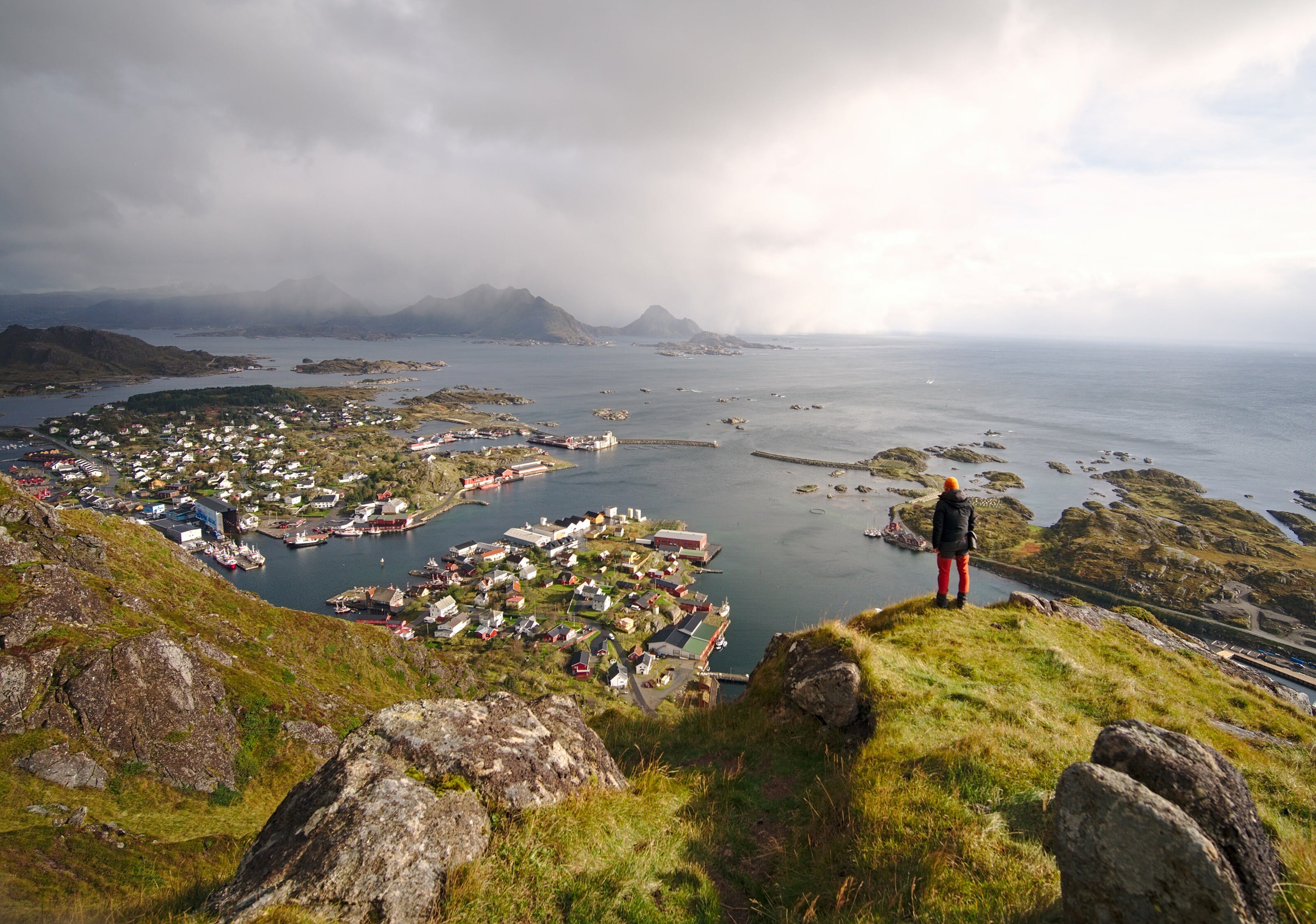 Arriving close to the Lofoten – Bodo / Tromso or Narvik
To find some cheaper flights, many travellers decide to choose "larger" airports. The most commonly used to come to the Lofoten are those of Bodo, Narvik (Evenes) or Tromso.
Distances:
From Tromso it takes about 6 hours by car to reach Svolvaer
From Narvik it takes 3h30 by car
From Bodo you have to take the ferry to Moskenes. Duration of the trip about 3h30. Be careful, you have to count the cost of the crossing (one way: about 23€ per person and 94€ per vehicle).
Find a cheap flight to Stockholm and take a train
Otherwise, the last alternative for those who have the time but also and above all want to see a little of the landscape is the option of combining a flight to Stockholm (flights are available for less than 50€ if you do it in advance) and then to take the "arctic circle train": a nice train that crosses Sweden in all its length and that takes you to Narvik in Norway.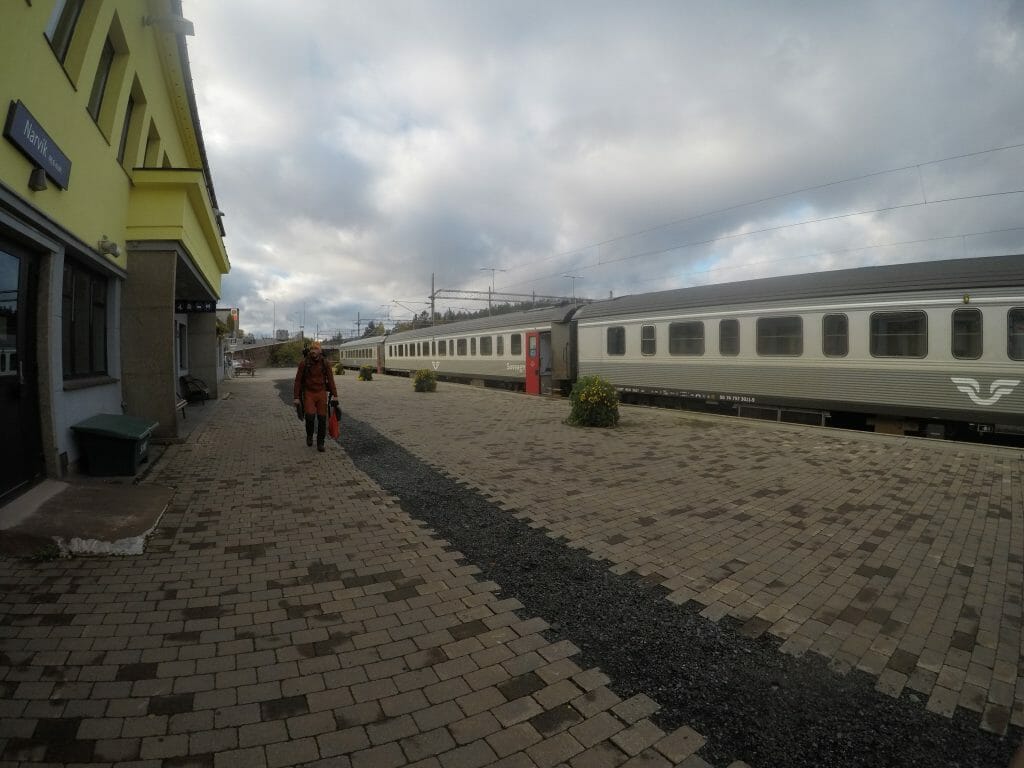 We arrived by this train after our trek to Abisko. Once in Lofoten we hadn't yet had our return flight tickets and after almost having a cardiac arrest when we saw the price of last minute flights from Tromso or the Lofotens to return to Switzerland we finally decided to take this train to Stockholm.
Duration of the trip: 19h
Advantage: We left Narvik in the afternoon to enjoy all the beautiful landscapes of Lapland from the train, then we slept for 7:30 and woke up when we arrived! Not bad! Not bad!
Prices: Ticket prices vary depending on when you buy them… Having booked 10 days in advance we payed 68€ per person for the train in the couchette category (the seats were around 60€ so we didn't hesitate). The flight from Stockholm to Geneva with 1 checked baggage was 100€ per person. But as mentioned before, we only booked a week before… It is clearly possible to get better deal! 😉
(Note: at the time we tried to book our flights, prices from the Lofoten or Tromso started at 450€ per person… so much to say that we didn't hesitate for long)
Useful resources for the train:
Find a cheap ticket for the Lofoten: Compare!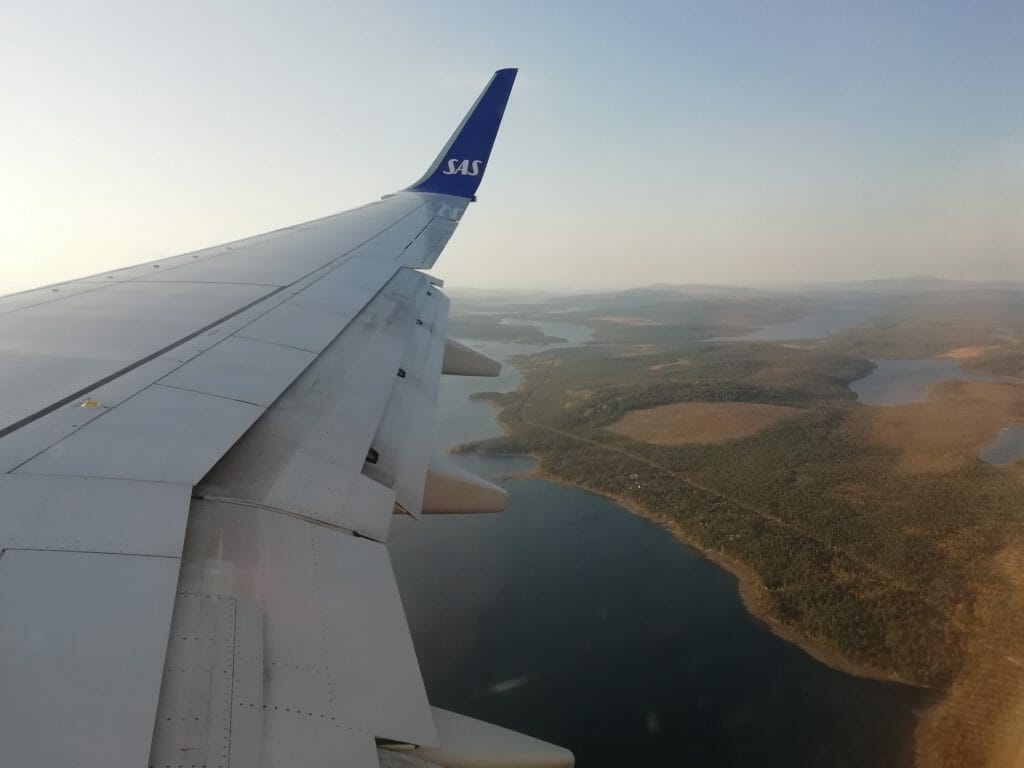 I would very much like to give you the miracle solution to get to the Lofotens for the best price, but the problem is that unfortunately the answer to this equation will always depend on the season, the length of your stay… In short, the key word here is comparison!
Here are the options that I recommend you to compare with the dates of your choice:
Option 1: Price of flight ticket to Leknes + Price of car rental from Leknes
Option 2: Price of a flight to Tromso + Price of a car rental from Tromso
Option 3: Price of a flight to Bodo + Price of a rental car in Bodo + Price of the ferry (including a vehicle)
Option 4: Price of a flight to Bodo + Ferry fare for Lofoten + Car rental in Lofoten
Option 5: Price of a flight to Stockholm + Price of the train to Narvik + Price of the car rental in Narvik
There are of course many other combinations… But while preparing this article I had fun doing about fifteen date simulations. The 5 options above were each at least the cheapest once.
Searching tools
To compare flight tickets we recommend you to use Skyscanner or Kiwi because they are the 2 tools we use the most.
To compare the rental car prices we recommend always Rentalcars
Lofoten Budget: How much to expect on average?
The budget of a trip is very personal and will obviously always depend on how you travel and what you expect in terms of comfort… By sharing our statistics with you, we are not saying that this budget will necessarily correspond to yours, but by being transparent on everything, it will help you to estimate it more easily.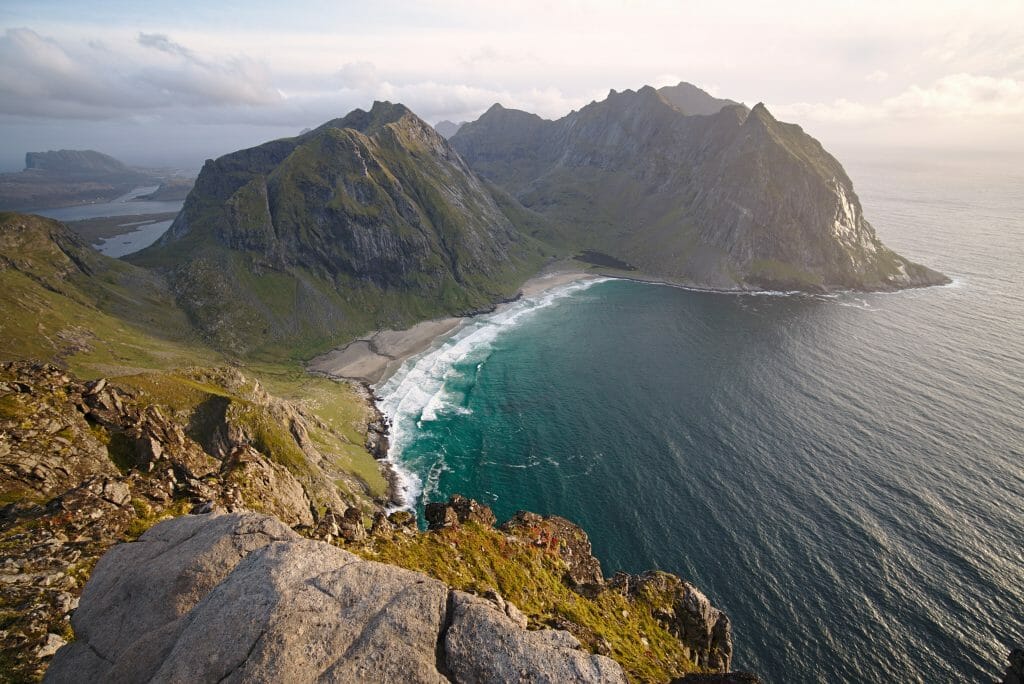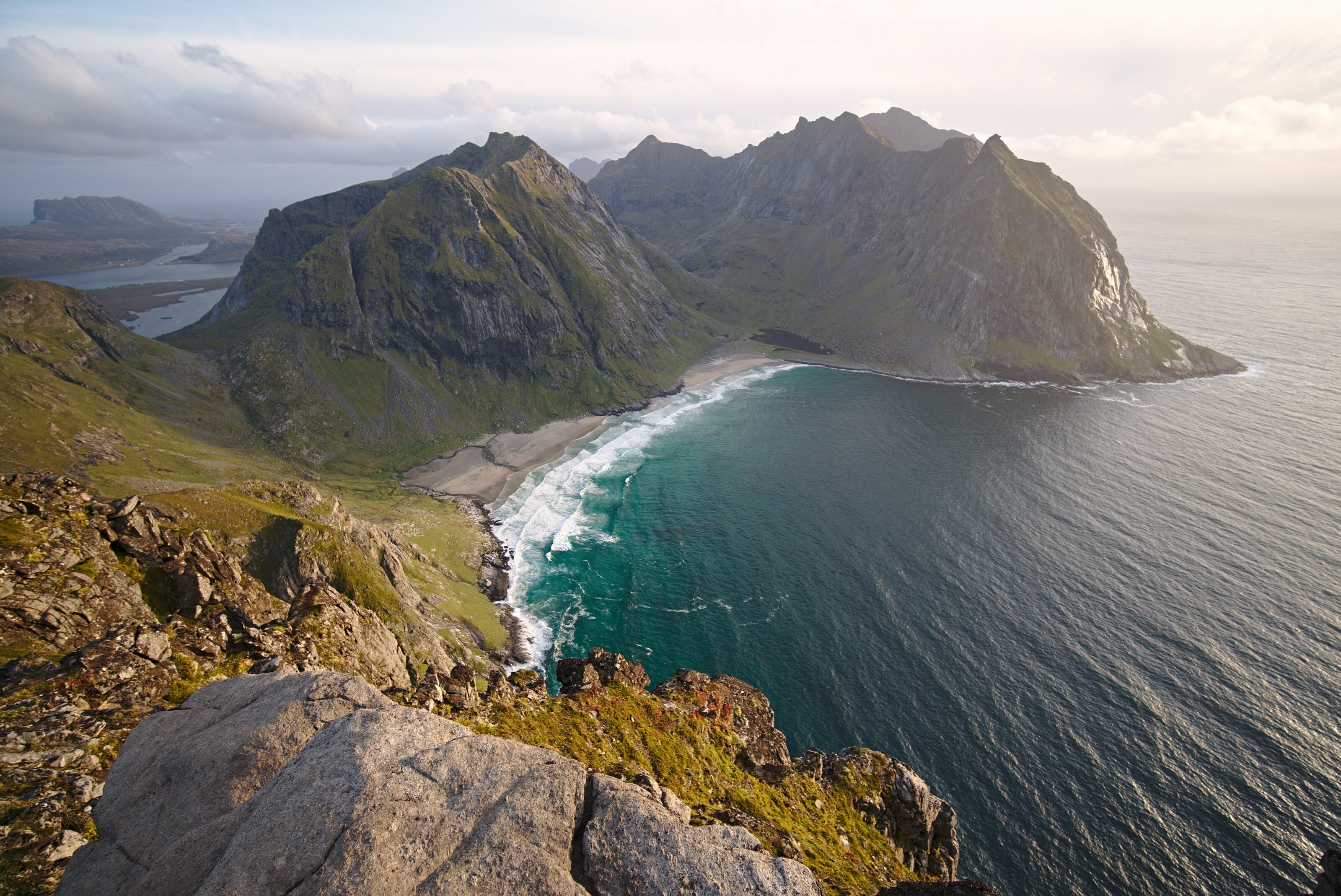 In Lofoten (and as everywhere else I guess) the budget is a very personal matter… But if we had to draw very rough conclusions here is what to expect depending on the type of trip:
Hardcore backpacker: Between 25€ and 35€ per day and per person -> Hitchhiking, you mainly wild camp with 1-2 campgrounds for the shower. Meals are taken on the go or cooked on a stove/camping site, no paid activity.
backpacker (like us): Between 35€ and 55€ per day and per person -> Car rental with petrol, alternating wild camping and camping, most meals are cooked but you will take coffee breaks in the warm.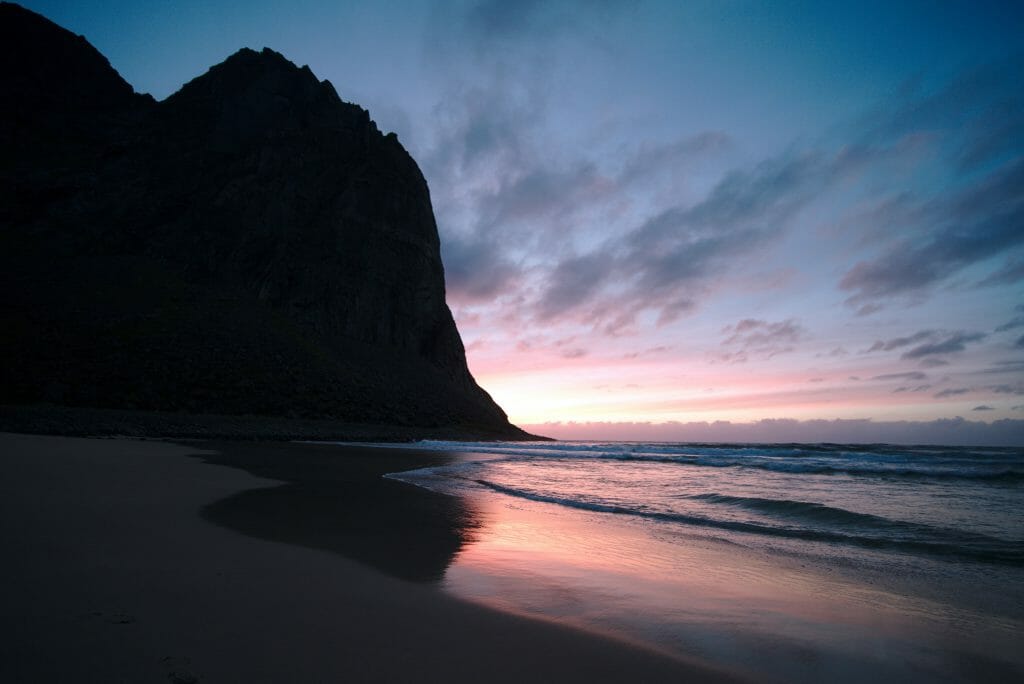 Campers: Between 55€ and 70€ per day and per person -> Car rental, camping every evening for the shower, 1-2 small restaurants/apero during the trip, regular coffee breaks.
Independent Travelers with comfort: Between 70€ and 100€ per day and per person -> Car rental, Accommodation in a guesthouse or rental every evening, 1-2 paid activities, 2-3 restaurants during the stay and the rest of the meals cooked in the accommodation. Find a place to stay on Booking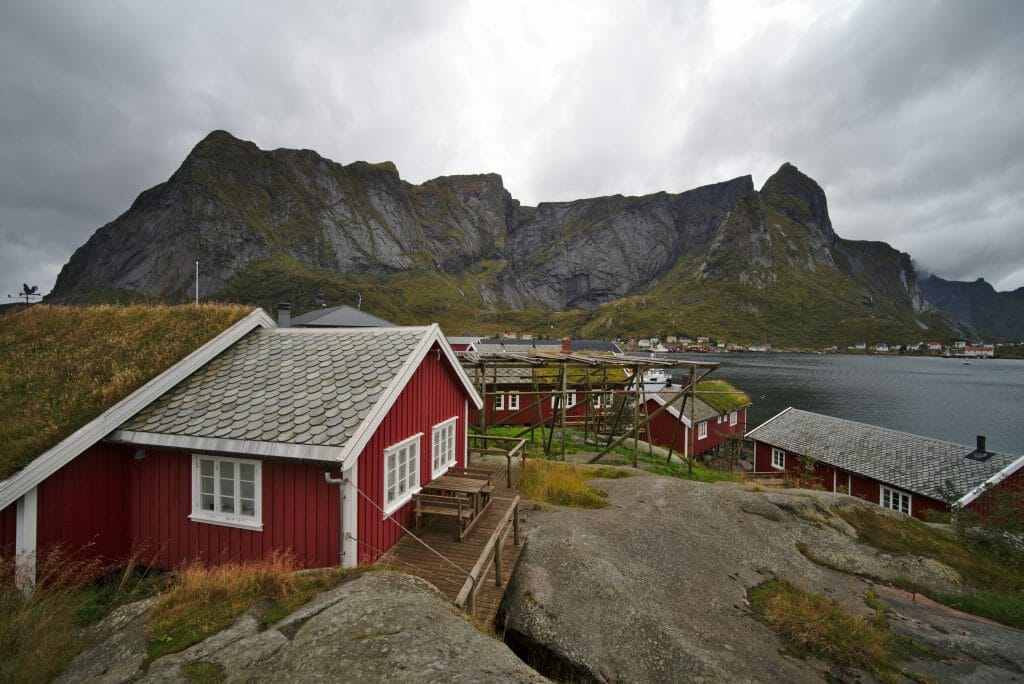 After that I would say that "Sky is the limit" 🙂 With activities every day, all the meals taken at in restaurants and pretty hotel rooms the bill can easily rise to 200€ per day and per person (even much more for those who really love luxury… but these have probably already stopped reading our article before arriving at this paragraph) 😉
To this amount it will of course be necessary to add the price of the plane ticket or train/bus/ferry to arrive in Lofoten. (See above for the different options).
Travel on a budget in Norway: Our tips in brief
Rent a car! Yes it is strange as advice I agree, but unless you hitchhike or cycle it is clearly the most economical way to travel! Besides the fact that you are 100% flexible to bivouac outside the cities or even sleep in the trunk if necessary, renting a car is no more expensive than taking the buses (especially if you travel with several people) and above all it will really allow you to go everywhere! Check on RentalCars
Forget about restaurants and cook! Eating in a restaurant is very expensive in the Lofotens… So certainly it can be fun to eat a fish caught in the fjord in a restaurant, but if you want to save money it's probably one of the easiest ways to do it.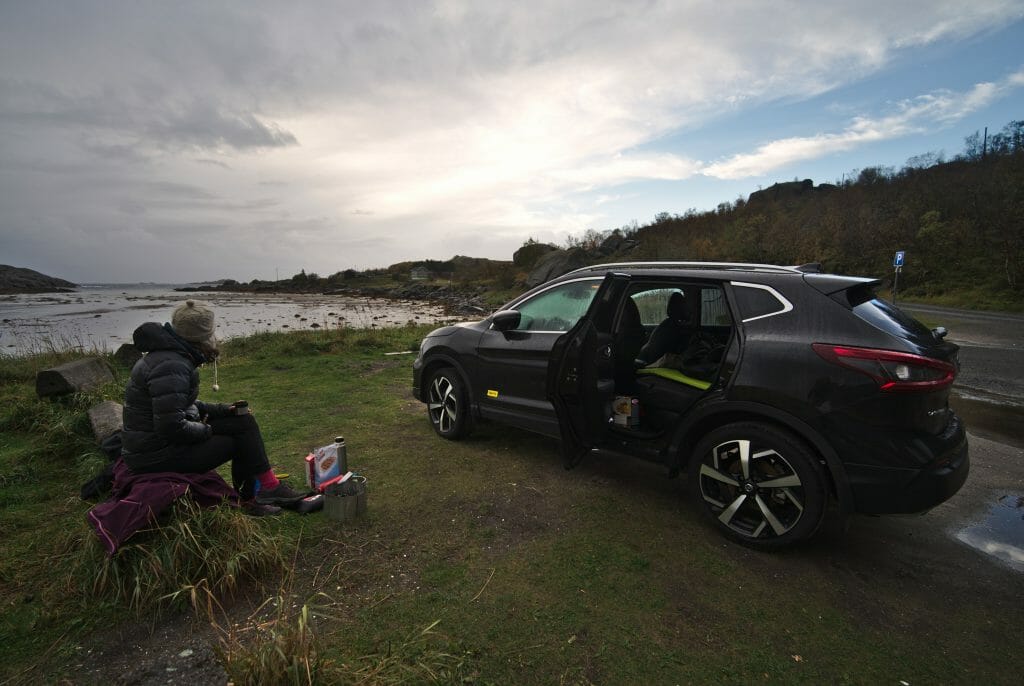 Go easy with the alcohol… 🙂 Alcohol in Scandinavian countries is expensive, very expensive even! The reason? Alcohol is very heavily taxed (Norway being the country with the highest tax). A beer easily costs about ten euros in a bar (5€ in a supermarket roughly speaking). Anyway, this is the great time to go into detox! Norway is a country where you come for the landscapes and not for drinks 🙂
Take advantage of the free access to nature to camp! Norwegian law allows bivouacs almost everywhere (some restrictions, of course, to be respected)
Choose supermarkets' own brands: almost all store chains have a range of basic products such as pasta, boxes, biscuits, etc. sold under their own brand. These products are generally much cheaper than international brands.
Hike! Lofotens are simply a paradise for hikers, so take advantage of every opportunity to go on a hike and this is 100% free 🙂 (PS: Never forget the waterproof layer though!)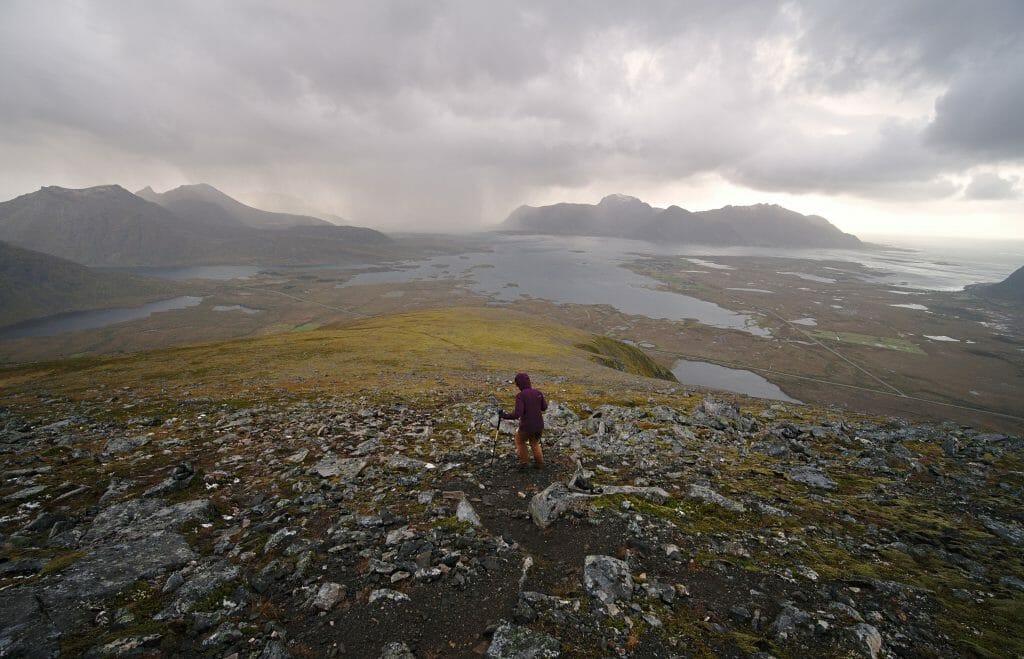 Now, this time I think I told you everything about our budget during this magnificent roadtrip! We enjoyed this first Norwegian adventure, even if we suffered a lot from the weather! In short, we will certainly come back (even if we will maybe avoid the end of automn this time)! 🙂
Note: This article contains affiliated links to some external sites including Hotelscombined, Skyscanner, Kiwi or Rentalcars. These are services that we also used during our trip and that we recommend you. The entire trip was carried out independently and 100% paid by us. By using our link you don't pay anything more, but we do receive a small commission.