Believe it or not, the Kungsleden trail (or Kings trail, which is in Swedish Lapland) was not our idea at all… One day, Marine, one of Fabienne's best friends, sent her the link to a blog post saying:
Look at that, the Kungsleden looks SOOO cool…. wouldn't you like to do it with me?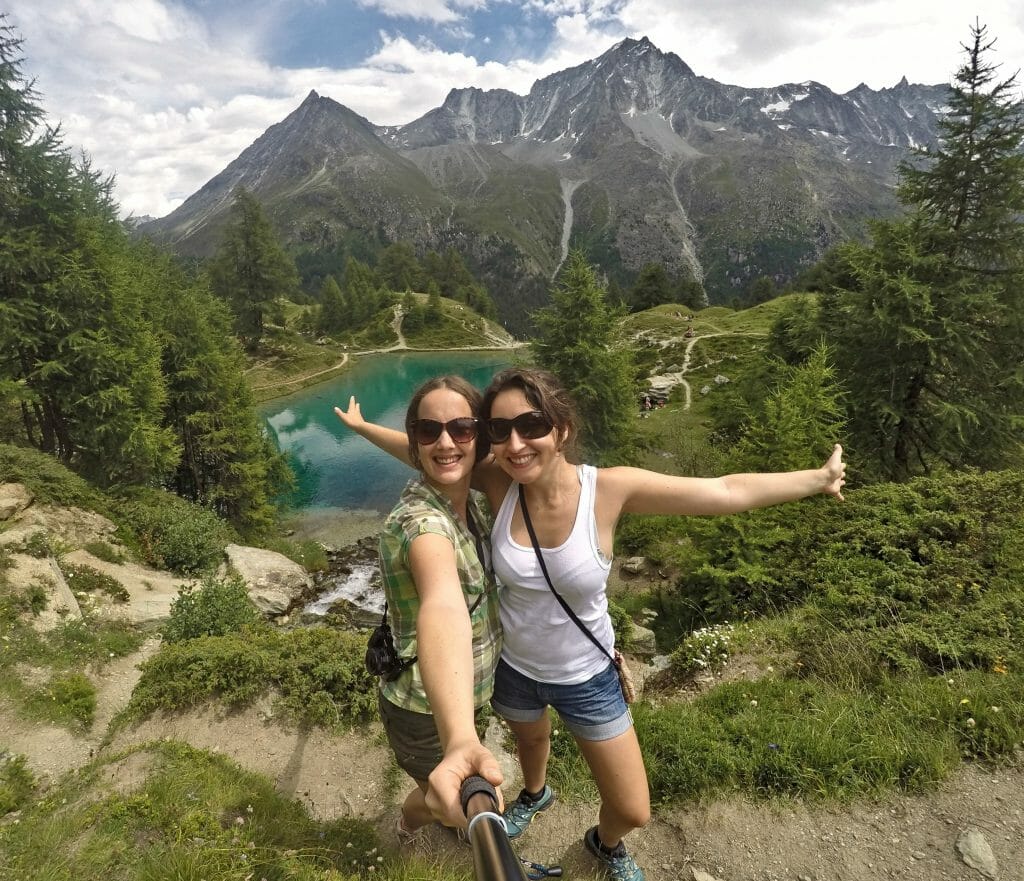 I have to say that since our return from our round-the-world trip, Marine has had the great pleasure of hiking with Fabienne, first for a day and then a few pretty excursions over 2 days with a night in a hut. I guess she got a taste for it and wanted to step up her game. But since she had also read somewhere that there were bears in Swedish Lapland, she also thought it would be nice to have some travel companions just in case…. #NotCrazyMarine 🙂
And as you can imagine, you shouldn't offer us twice a nice hike in partial autonomy in one of the least populated places on the planet… A few weeks later and after having embarked my sister on the adventure, here is the complete #chattingHiking team with 4 plane tickets in their pockets to Kiruna, in the very north of Sweden.
Note: This article was originally written in preparation for our trek. We totally updated it once we got back to include our comments after the trek as well as brand new sections dedicated to the budget and food on the trek. And if you can see a little bit of our more global impressions after the trek then Benoit published a "first impression" article about our trip to Lapland and the Lofotens
The kungsleden trail (kings trail): Where is it? What is it?
The Kungsleden (or kings trail in english) is actually a hiking route of about 440 km between Abisko and Hemavan in Swedish Lapland. This trek crosses one of the least populated regions in Europe, passing through large wilderness areas but also the highest mountains in Sweden. The trek passes north of the Arctic Circle, which also makes it an ideal place to see the Northern Lights (finger crossed) and the midnight sun in the middle of summer. It's already making it quite attractive, isn't it?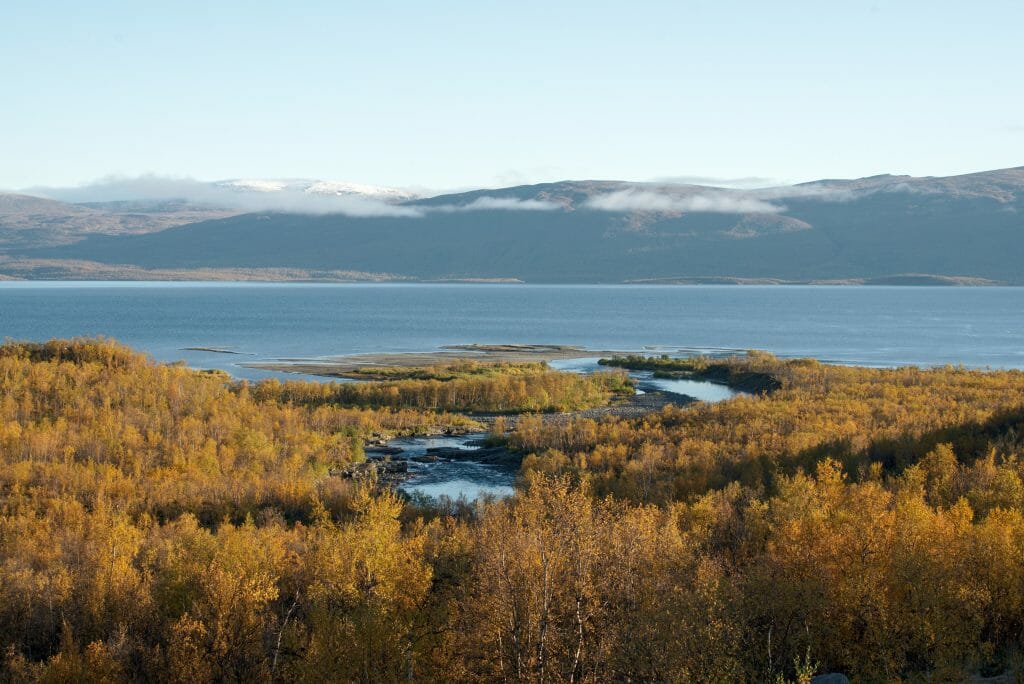 In our case, we will focus on the northern part, the 100-110 km between Nikkaluokta and Abisko for several reasons:
Marine and my sister have a big week of vacation at their disposal and that's exactly what's needed to take our time on the northern part of the kings trail.
The stages are quite short and the elevation changes are not very important. Perfect for a 1st experience of semi-autonomy hiking.
In case of emergency, there are huts every 10-20 km so even in case of serious problems (injury, tent damage) or horrible weather, we don't risk much. It is also possible to get supplies in some of the huts, which will allow us to avoid having 7 days of food in the backpacks.
Even if it is the most popular part of the Kungsleden (although in September one should not meet too many people), it is also the most mountainous and "Arctic" part of the trek.
Both ends of this section (Kiruna and Nikkaluokta) are easily accessible by bus / train
And if you want to have a look at our adventure on the Lapland trails in video, Fabienne has prepared a short 2-minute video for you! Enjoy 😉

When to hike the Kungsleden trail
the weather in Swedish Lapland
One of the challenges of going on a 7-day hike over the Arctic Circle is the weather. In this part of the world, the weather can change extremely quickly and you have to be prepared for rain, lots of wind and even snow at night! But well, as the proverb says very well:
There is no bad weather, only bad clothes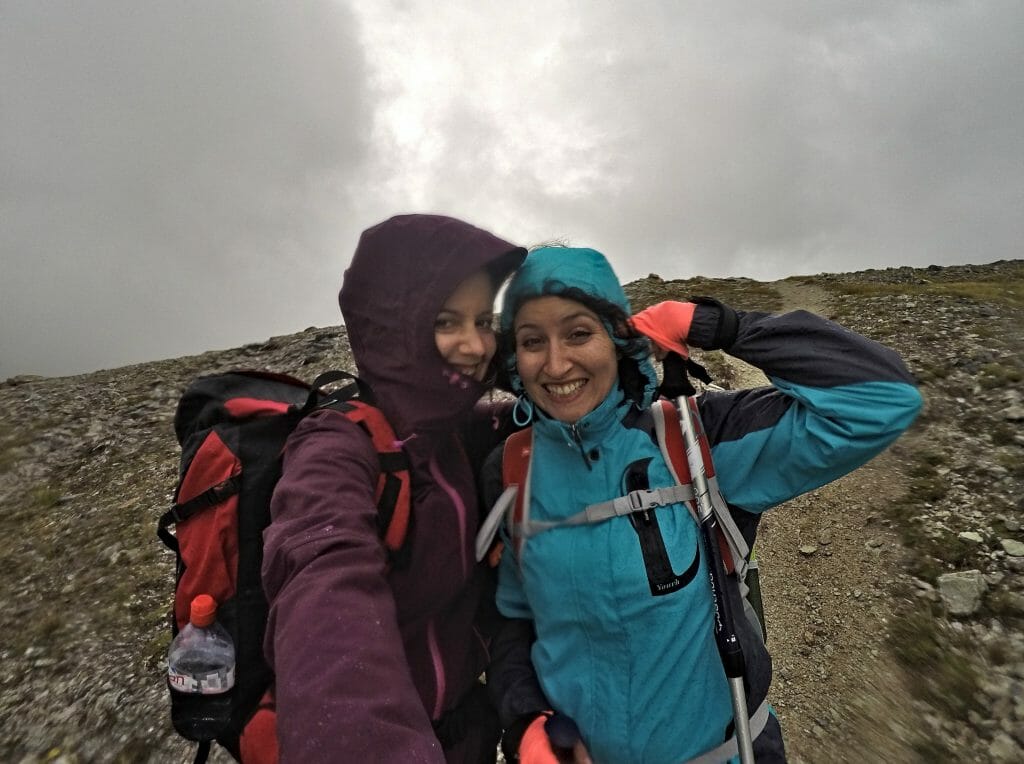 We'll talk about our gear below, but basically, you just need to have the right gear 😉 . If you are interested, you will also find the history of the weather in the region on this website. But globally the months with the most precipitation are June, July, August and September (there can be up to 150mm per month) which are precisely the only months when the trek is practicable by foot. Indeed, in June there may still be a lot of snow on the passes and late September marks the period when the snow returns and temperatures drop significantly. Otherwise it is obviously possible to be lucky and have a nice sunny week… but it is better to count on very changing weather and rain about every other day.
Feedback after the hike

Honestly in terms of season and weather, we were soooo lucky!!!!! The autumn colors were sublime and we had relatively little rain and wind (I mean for the area… we got pretty severly wet once or twice to be honest).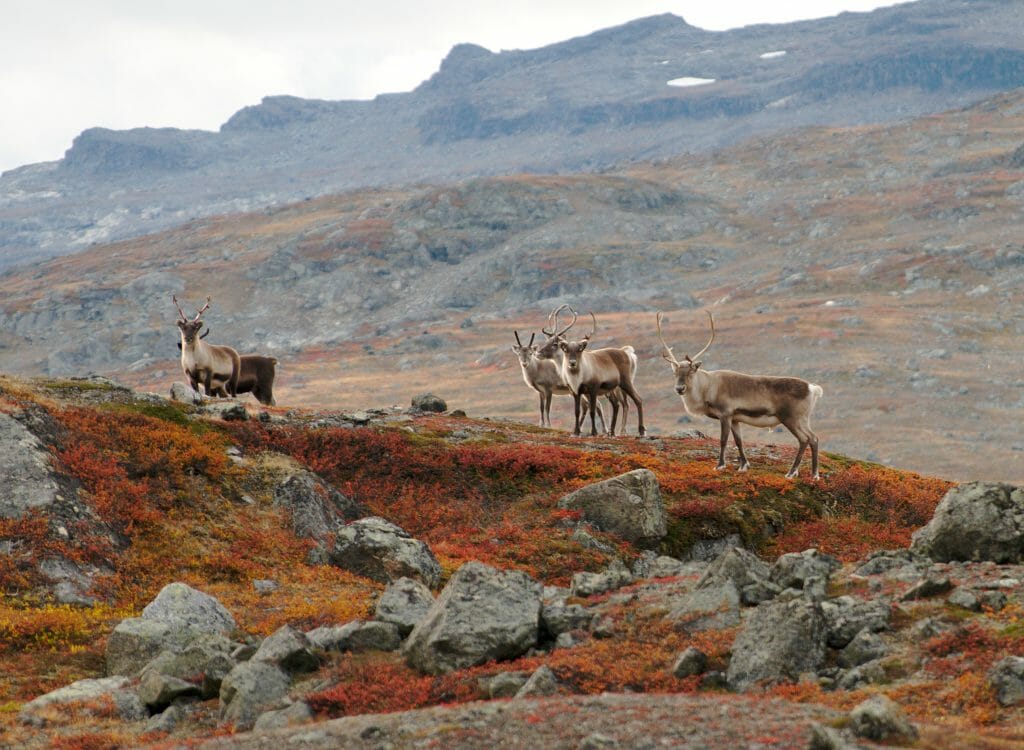 Mosquitoes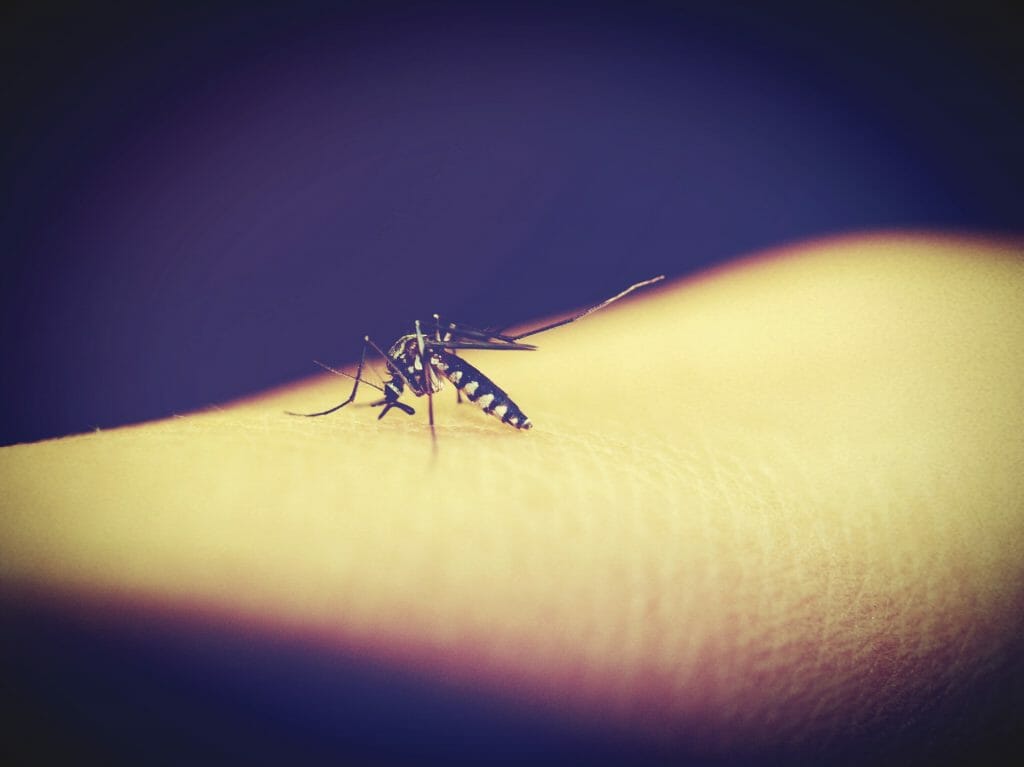 My nightmare!!!!! I must admit that mosquitoes alone have the power to completely ruin my pleasure on a hike. On the Kungsleden, mosquitoes return as soon as the temperature increases (mainly July – August) and can be particularly vigorous, especially below the tree line. But they disappear again when the temperature drops to around 0 degrees at night in September.
In any case if you go in July and August, it is better to have a mosquito net to protect your face.
Feedback after the hike

We had no issue with the Mosquitoes! There were still some left towards Alesjaure and the Kebnekaise hut, but really nothing to be bothered about… No bites to report, so it was great at that level!
Our choice
We decided to do the northern part of the Kungleden in mid-September at the end of the season (all huts close between September 20 and 30). Although the temperatures will certainly be cooler, we should be able to enjoy the beautiful autumn colours and above all we should not have too many mosquitoes. Another thing is that in September the nights get longer again and it is one of the best months of the year to observe the northern lights. And since we've never seen them with our own eyes before, we just dream of having a nice clear night and being able to watch them.
After trekking: WE HAVE SEEEN NORTHERN LIGHTS!!!!!!!! 🙂 … and we even wrote a whole article about these magnificent lights and especially how to capture them here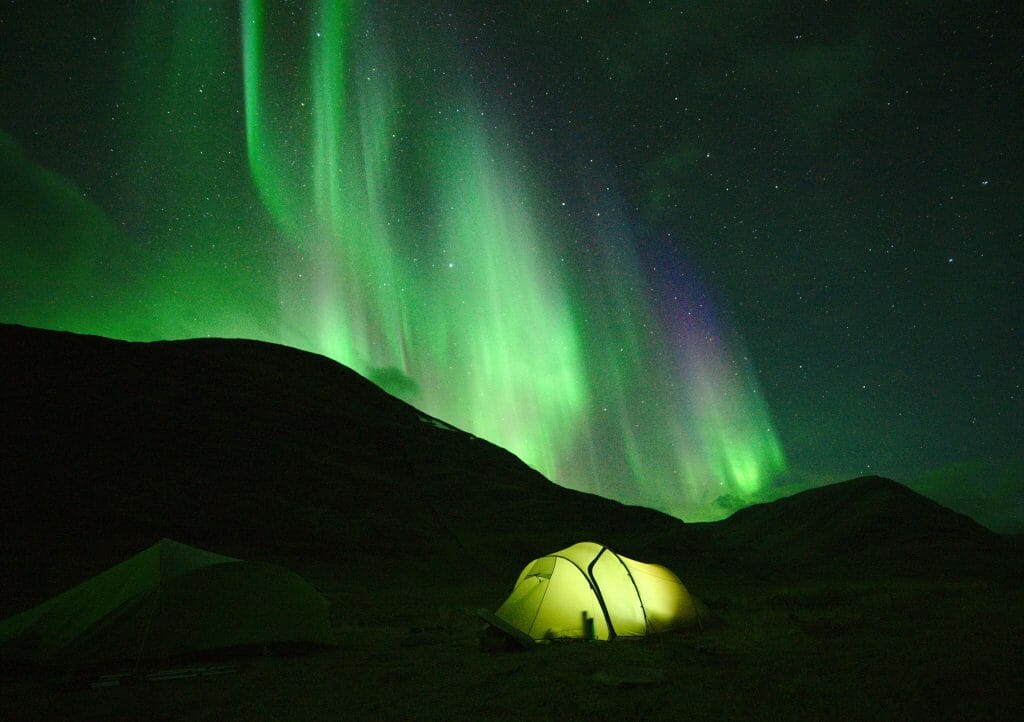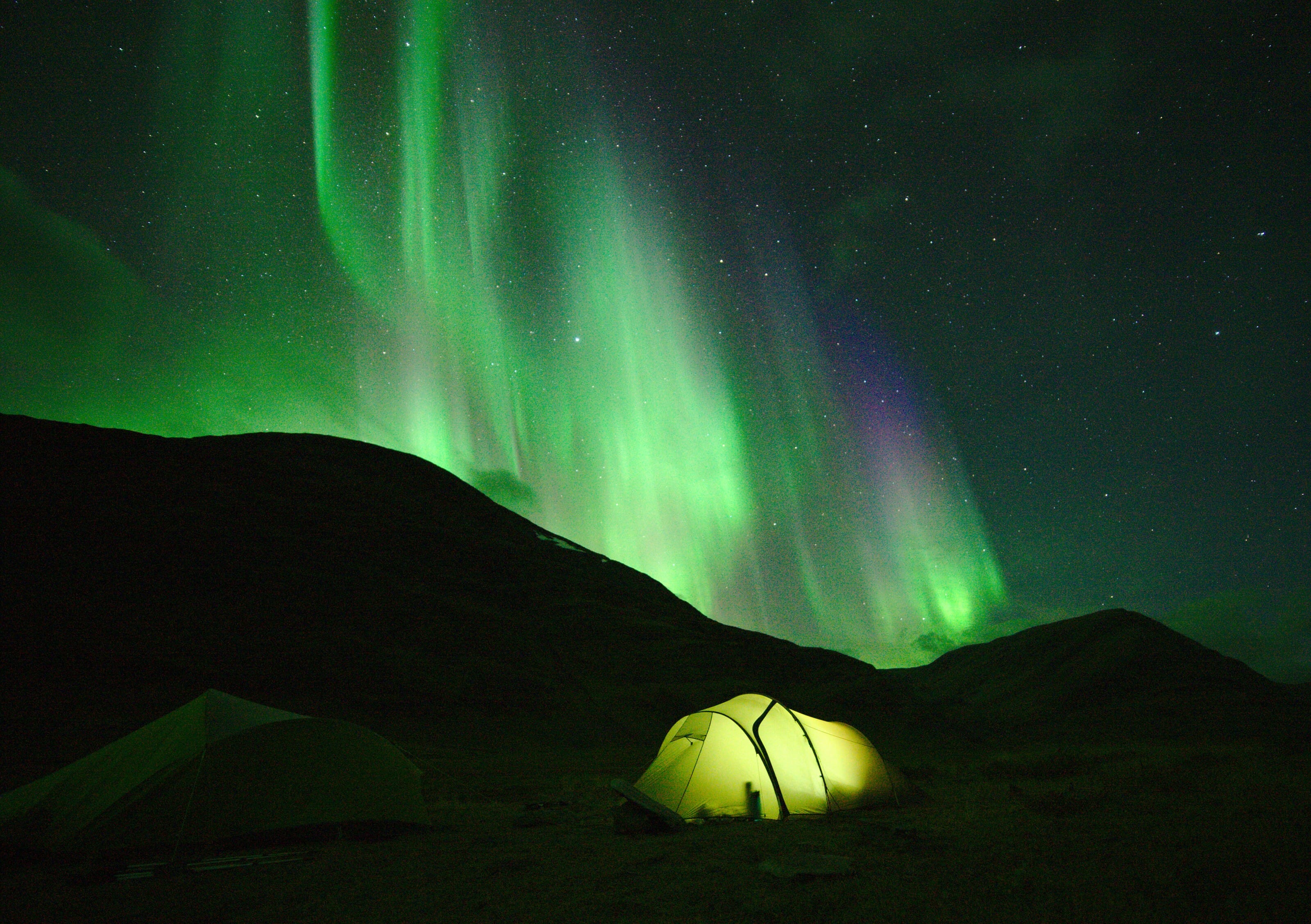 Travel Budget: how much does it cost to hike the Kungsleden?
So I don't know about you, but when I started preparing this trip I automatically said to myself: Scandinavian countries and even more "Lapland": it's going to cost me a lot of money!
So, first good news: Lapland is expensive, but lapland in hiking mode remains totally ok from a financial point of view!
In detail we spent:
263€ for a return flight from Geneva to Kiruna. See flight prices on Skyscanner
42€ for 2 nights in an hostel the day before the trek and the day before the return flight (21€ per person per night in a double room at Yellow House in Kiruna). This is the cheapest hotel we've found… Not particularly charming, but it does the job. To book, you must contact them by email or through their website.
40€ per person for transport in Sweden (this includes the airport bus to Kiruna (SEK 200 return), the bus from Kiruna to Nikkaluokta (SEK 150) and the trains from Abisko to Kiruna (SEK 55)). Note: In Sweden it is cheaper to book your bus and train tickets in advance. The links to book are at the end of the article
57€ of "food" budget before departure (price per person). (This includes all the food carried in the backpacks as well as the gasoline purchased in Kiruna for the burner. More details on food later in the article).
28€ of "restaurant". This includes the lunch buffet after finishing the trek and a small meal on the last evening.
36€ of purchases per person in huts. This includes the purchase of a lyophilized meal, some picnics and lots of cookies. 🙂
0€ of camping. It is absolutely possible to camp next to the refuges and enjoy the latter's facilities (toilets, kitchens, etc.) but this costs almost 30€ per person per night (10€ if you use the facilities only during the day (for cooking at noon for example)). As for us, we preferred to camp far from the huts and thus not spend anything at this level.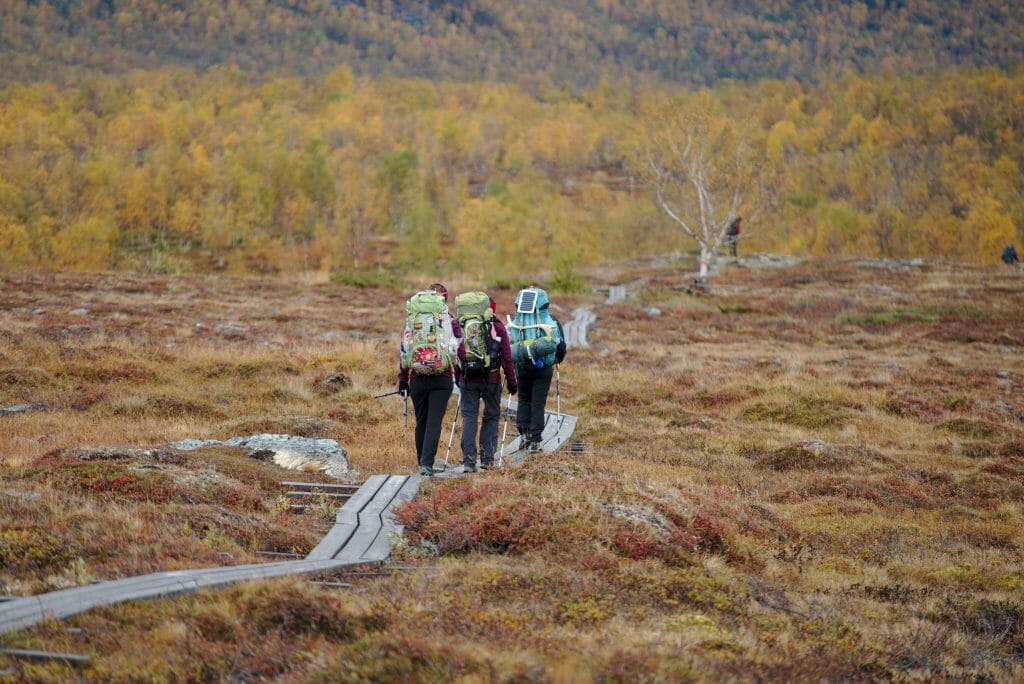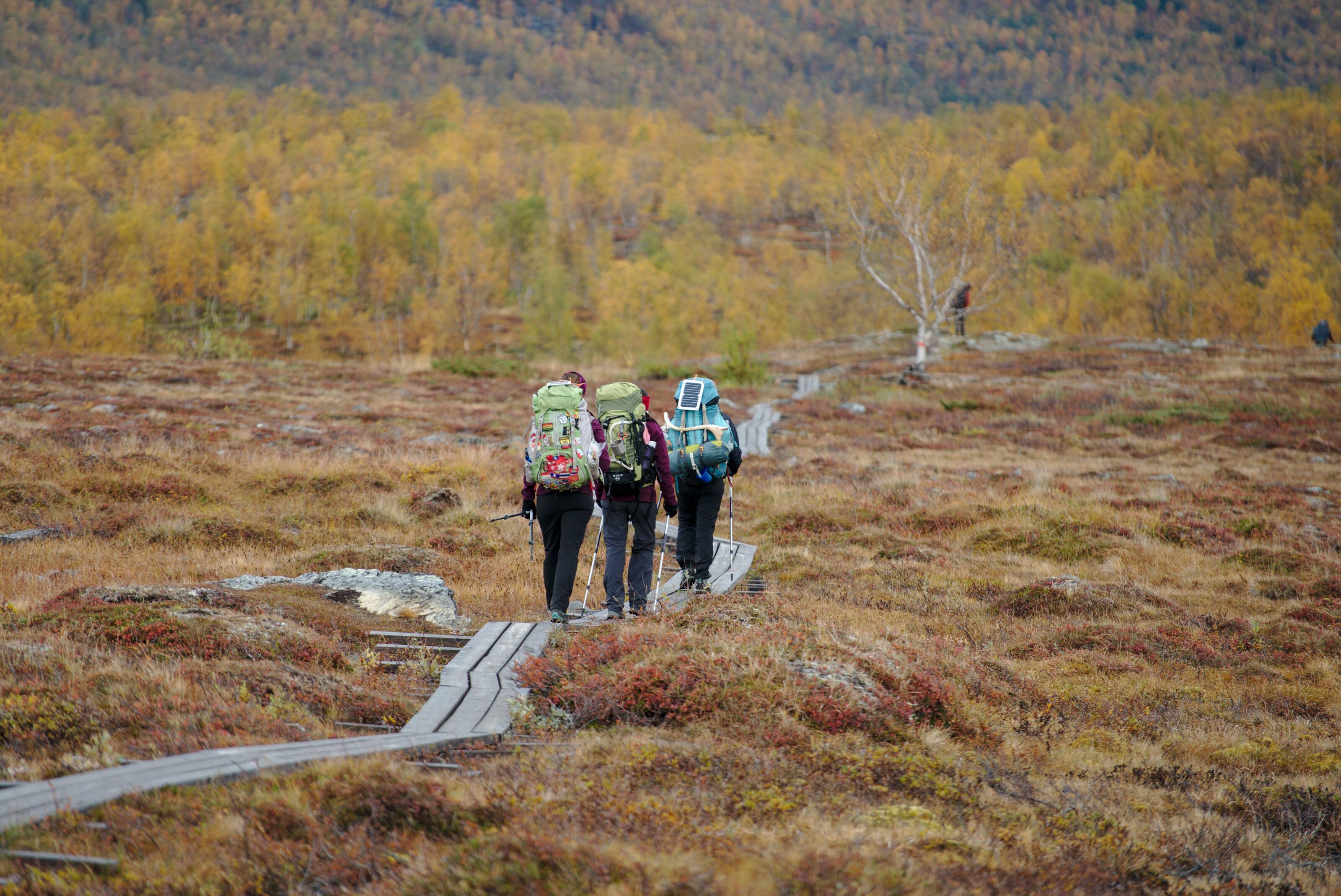 This makes the great amount of… drum roll… 466€ per person for 9 days and 7 nights of trekking in Lapland! In other words, it's not that expensive for a holiday in Lapland! 🙂 #justSaying
Info: We were 4 people. This budget is per person and includes all expenses for accommodation, transport and food for 7 days on the Kungsleden Trail.
The price of the flight ticket can obviously vary a little… But overall it is between €250 and €350 per round trip from central Europe. If eventually the price of the plane gets too expensive, the other option is to take a flight to Stockholm (these are often cheap) and then take the night train to Kiruna or Abisko. By booking in advance, it costs less than 50€ for a bed on the train.
About the plane tickets I gave you the price of the round trip that Marine and Sabine paid. For our part, we had a one-way ticket (210€ per person) because we continued our trip to the Lofoten Islands.
I have also included the train ticket from Abisko to Kiruna that Marine and Sabine took to return to the plane and their night at the hostel the day before their return. This way you have a more precise idea of how much this trek "in its entirety" costs.
For the hotel we went for the cheapest option… After that if you want a more charming accommodation you can take a look on Booking or at the map below that will show you the available hotels and apartments: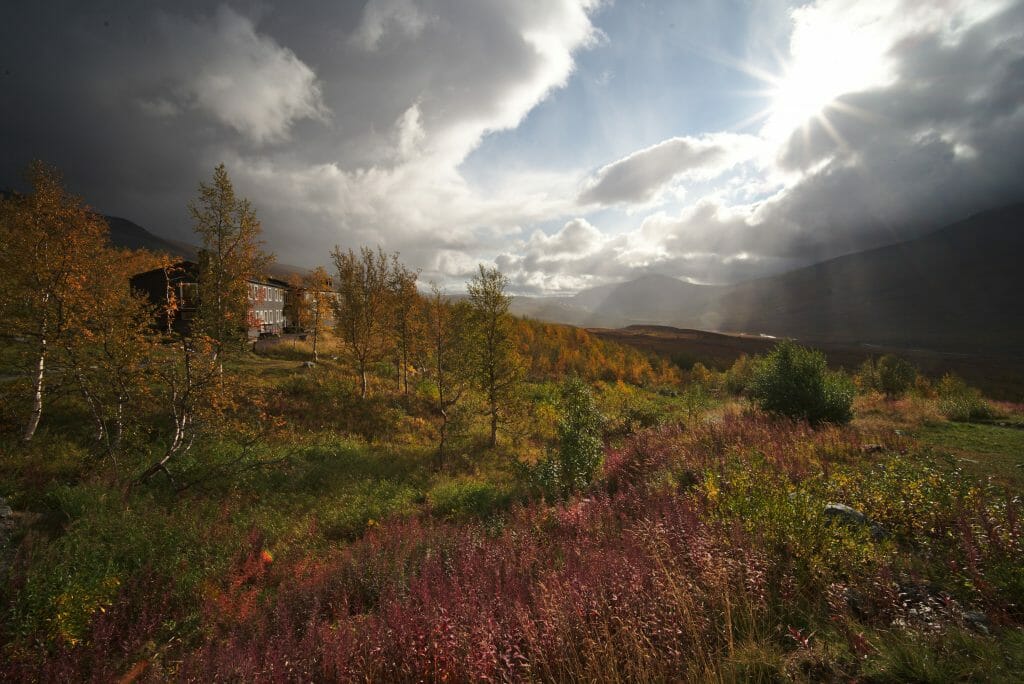 Note: In order not to confuse you, I have put here only the expenses related to the trek, excluding everything related to the equipment itself. However, for this trek we had some expenses for "winter" equipment such as 2 warm down jackets (200€), 2 floor mattresses (156€) and leggings (80€). Find all our equipment later in this article.
Infrastructures on the Kungsleden trail
As I said at the beginning of this article, one of the points that shifted the balance in favour of the Kungsleden was the excellent infrastructure available on the northern part of this trek. There are STF refuges (Swedish Tourist Association) every 10-20 km approximately and they should all have a small shop with some food (obviously the prices should be quite high lost in the mountains). You can find the huts on this page of the STF website as well as all the necessary information about the functioning of the shelters and prices here. So certainly we don't plan to sleep in a hut on this trek but it's still cool to know that we won't necessarily need to carry 7 days of food and that we can take shelter in case of a storm 🙂 (note that there is no electricity or running water in the huts).
Otherwise the trail looks very well indicated (according to my research) and all major river crossings should be equipped with footbridges. So there should be no difficulty on that side.
Feedback after the trek

Indeed the infrastructures and the markings of this trek are very good! We've never got lost 🙂 and we've never had to cross a river on foot! About the map we had only downloaded the gpx on our mobiles (you can also download our gpx above by clicking on the little cloud at the top of the map). Afterwards if you are rather for paper map then it is possible to buy the kungsleden map online. As for shelters and food, a special section is dedicated to them later in this article.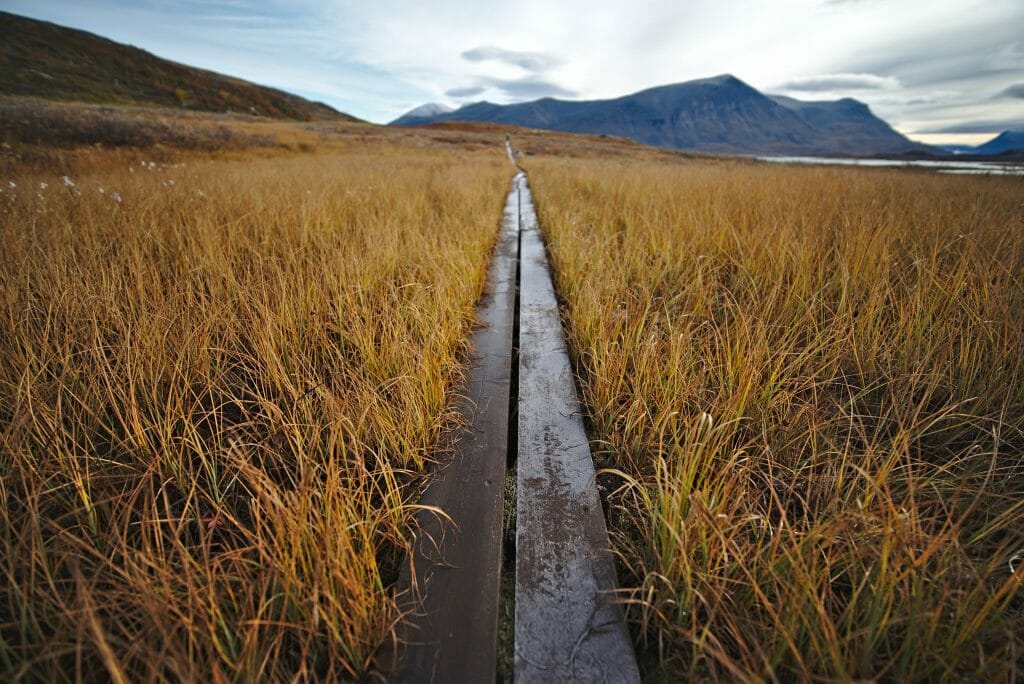 Itineraries for the Kungsleden trail
The most classic route of 100 km ( approximately) between Abisko and Nikkaluokta does not represent any particular difficulty (at least according to my readings). There are about 65 km on the original Kungsleden route between Abisko and Singi and then 35 km to reach Nikkaluokta via Kebnekaise (the refuge not the summit 😉 ). This itinerary is clearly feasible in 5 days, which leaves us plenty of room to take our time and/or make a small unplanned excursion.
Hiking maps info
For this trek, the itinerary is not very complicated and it is especially well marked. In short, there is no need to make a thorough study of the terrain before you start. However, we recommend you to have a map with you! To do so, you can download all our maps from the article (button above each map).

To download the map from AllTrails (the website and mobile application we use) you simply need to have an account (free to create) and then you can download the map in the format of your choice!
Be sure to have access to an "offline" map during this trek (Maps.Me, AllTrails+, etc.) The mobile network is almost non-existent on this route!
Note that it might be interesting to have an AllTrails+ account to be able to print the maps in full resolution (you won't have to worry about batteries). The AllTrails+ account normally costs 29,99€ per year. If you go through this link, you will get a 30% discount.
Here is the route:
There are also several variants that I have identified during my readings on different sites. The first is the Tarfala Valley, which looks absolutely magnificent as it passes very close to large glaciers and high altitude lakes. Just before the Kebnekaise refuge from Nikkaluokta, you can go up the Tarfala valley to the right to the eponymous refuge by the lake. It should be possible to continue through a pass around the Kebnekaise and then descend a long valley to join the Kungsleden route. As the pass still rises above 1450m, it will just be necessary to make sure that the snow conditions are good. Here is the map of this variant:
Warning!!!
The itinerary through Tarfala can only be considered if the conditions are good! For this route you pass at the foot of a glacier and it is only possible to pass if there is enough snow. This autumn it was very hot on the Kungsleden and as a result the snow had melted too well. As a result, this route would have been done on ice patches with cliffs underneath. In other words, it is unconscious to do this without crampons and adequate equipment! The huts are very well informed about the state of the trails, so before you start in the Tarfala Valley, pass imperatively either at the Kebnekaise or Sälka refuge (depending on the direction from which you arrive) and ask the rangers!
I also came across another route that takes a rather different path in the middle of the trek. This itinerary passes through the Nallo and Vistas refuges instead of Tjäktja. This route was recommended to get away from the "crowd" in July-August on the main trail.
Another popular one-day detour is to climb the Kebnekaise (2100m and Sweden's highest mountain) from the Kebnekaise refuge (as a round trip so you can leave with a light bag on your back).
In short, you can see that it is possible to do a lot of things around this Kungsleden hike. On our side we do not yet know exactly which route we will choose but we will see on the spot depending on the weather and the motivation.
Update: In the end we followed the so-called "classic" itinerary (the first one presented above). The Tarfala Valley was not accessible without crampons and about the alternative route, we did not feel the need to escape the "crowd" because in September there were not that many people on the trail. 😉
On the other hand, this first trek on the northern part clearly made us want to see more! Next time we will probably try to continue on the trail on the southern part!
Our hiking gear for the Kungsleden trail
We finally get to the part about the equipment for the Kungsleden. Here is what we plan to bring in our backpacks (if you want to compare, you will also find here our gear for the Via Alpina, a 15-25 day summer hike through the Swiss Alps that we did in 2017):
Edit 2020
As we get more and more questions about bivouacking during our long hikes, we published a practical guide with all you need to know about backpacking and bivouac in nature:
read our backpacking guide to bivouac
Camping Gear
Fjellheimen Superlight 3 tent: The investment we made for the Via Alpina (it is expensive… but it's kind of our only "real estate" so we invested) 🙂 A spacious tent (3 places with a large front to cook in the dry), ultra light (less than 2kgs) which has already safely withstood some pretty decent storms.

Feedback after the hike:
Still sooo HAPPY about this tent! We were very dry and above all we had plenty of space for 2! We were even able to have dinner the 4 of us (a little cramped, of course) on the evenings when it rained.

Sleeping bag Valandré Swing 500 : As with the tent, we had bought them for the Via Alpina and we were very satisfied with them. A light weight of 900gr for a comfort temperature limit around 0/-5 degrees… nothing to say. It may be around -5 degrees on the Kungsleden in September at night. But we preferred to buy well insulated floor mats rather than replace our sleeping bags.

Feedback after the hike
Always very happy also on that side! Then we won't hide the fact that the comfort temperature was just okay for this time of year on the trek (we really recommend that you don't go with a cooler sleeping bag… we were fine, but it shouldn't have been colder)

Therm a Rest Trail lite camping pad (woman version) : We had these Quechua camping pad on the Via Alpina and we actually realized that we were losing heat from the ground at night (yet we had no very cold nights in Switzerland in the summer). So we opted for the Therm-A-Rest Traillite (the women's version is more insulating) which are super insulating (R-Value of 4.2), very comfortable and rather cheap (around 70€). Certainly it is not the lightest mattress (700gr against 350gr for the lightest) but it has very good reviews on the web. We opted for this alternative because the more "efficient" mattresses in terms of weight would quickly reach 200€-250€ each and since we do not plan to specialize in extreme cold hiking we preferred to limit expenses. When we go back on trekking in warmer climates we will probably continue to take the Queshua which are lighter.

Feedback after the hike
WONDERFUL!!!!!! Seriously, it changes everything to have a mattress that really insulates you from the cold! We are very happy with this purchase and we can't recommend it enough!

MSR WhisperLite Universal Stove: We are loyal to our good old gasoline stove that has never let us down since our round the world trip. It is light, super compact, robust and above all it works with almost all types of gasoline (white benzine, gasoline, diesel…). We prefer petrol burners (even if they are a little more difficult to use) because it's much easier to find petrol than gas bottles all over the world.

feedback after the hike
Always happy! Arriving in Kiruna on a Sunday evening we were able to simply stop by a gas station in the evening to fill our bottles. For your information, for the 7 days of trekking and 4 people we counted 2 bottles of 0.6L

Cooking Equipment: A small pot, 2 forks, 2 cups and of course our faithful Swiss Army knife 😉
Hiking gear
Hiking shoes : The paths of the Kungsleden can be very wet (swamps, rivers) but also rocky with stones and possibly snow (although we hope not to see too much… but it is better to be prepared). So we'll leave with our high shoes that we had on the Via Alpina. On my side I am in love with my Meindl Air Revolution 4.1 shoes which are super light, comfortable and above all completely waterproof! Fabienne will leave with her Salewa MTN Trainer Mid Gore-Tex in which she is like in slippers but which are unfortunately not 100% waterproof in case of very wet weather (which does not justify a new purchase in our eyes for the moment)
Backpacks : Nothing new on the horizon on that side. We will have with us our good old Quechua bags that have been with us everywhere since the beginning of our round the world trip. We know that they are not the lightest empty bags but they have a good carrying comfort and we simply can't part with them anymore!
Hiking poles:Nothing crazy on this side… we have three-section clip clamping sticks from Quechua (we often had problems with the rotation clamping models). They are not the lightest either but we are not ready to put 100€ more to win 50gr 😉 . I think that sticks are essential for hikes with a lot of weight on the back. It distributes the loads and helps a lot for stability, especially downhill.
1 Lifestraw water filter bottle : To drink, we only have to take one lifestraw filter bottle per person. If there is one thing you shouldn't miss on the Kungsleden it's water. So there is no need to charge ourself with several bottles when we should be able to fill our lifestraw everywhere.

Feedback after the hike
We are still so in love with these bottles! Even if in the absolute on this trek the water is so pure that the filter was not necessarily required… 😉 And about water, there is really nothing to worry about, there is some every 100 meters (or almost). We never had more than 6dl per person on our backs.
Clothes
Regarding clothes, we leave with warm layers on this hike… especially since with Fabienne we will extend our stay in the north after the hike on the Lofoten Islands. If you don't want to go home the first time it gets cold, we might as well have something warm to wear.
2 long-sleeve thermal sweater: the idea being to have one for walking and one dry for sleeping
1 thermal leggins in merinos to walk
1 fleece leggins for sleeping
1 warm down jacket
1 waterproof jacket / windproof gore-tex or other type
1 waterproof poncho
3 underwears
1 hat
1 pair of gloves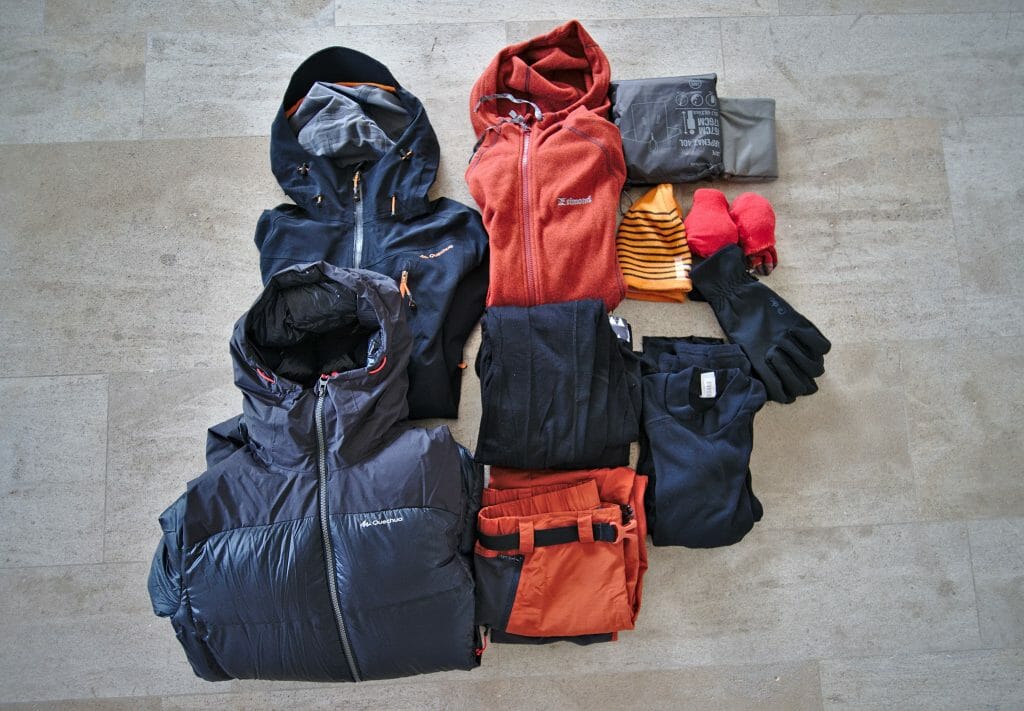 Frankly for the clothes we don't even ask ourselves the question anymore and we go to Decathlon (good news they arrive in the US as well)… we find almost everything we need at very affordable prices (except maybe thermal clothes in Merinos)
Feedback after the hike

We are very happy with the equipment we brought! In terms of warmth, we were fine and we used everything we had taken! Fortunately for us, we didn't have to pull out the waterproof ponchos (the rain jacket were more than enough for the few showers we had). Despite that we don't regret having taken them because we were really lucky with the weather during our week of trekking…. The situation could have been different!)
The only "unnecessary thing" was the leggings in merinos to walk. On the principle we thought we would wear a merino during the day and so we took 2 leggings per person in order to always have a dry one for the evening. In the end we never put on our leggings under the hiking pants; the cold was quite manageable in simple pants when we were on the move.

Electronic gear
That's where we have some problems 😉 … Even if we have already improved our setup quite a bit, we can't leave light with our photo / computer equipment. Because after the trek we will continue towards the Lofoten, we will have a laptop with us (in case of emergency work, we can't leave for a month without a laptop) plus our photo/video equipment. So don't be afraid as you read these lines, we don't have the electronic equipment of an average hiker… here is our equipment (for 2 people) :
1 Lenovo X1 Carbon computer (with charger)
1 Sony a7ii body and 4 batteries
1 Laowa 15mm f/2 FE Zero-D lense: The new baby in my small collection… a wide angle lens with a beautiful opening that will allow me to take (if everything goes well 😉 ) beautiful night pictures, northern lights and also very beautiful landscapes.
1 lense pouch (that attaches to the belt)
1 Sirui T-025X Carbon tripod: It is impossible to photograph the Northern Lights without a good tripod. So I invested in an ultra light tripod (between 700gr and 900gr depending on the setup)
1 GoPro Hero 5 and 2 batteries
1 Karma Grip: Even if we replaced the gopro and the Karma grip with an Osmo pocket
2 clip Capture to attach the camera and GoPro to the backpack
1 remote control for long stops
2 smartphones
2 solar batteries of 15'000-20'000 mAh
1-2 charging cables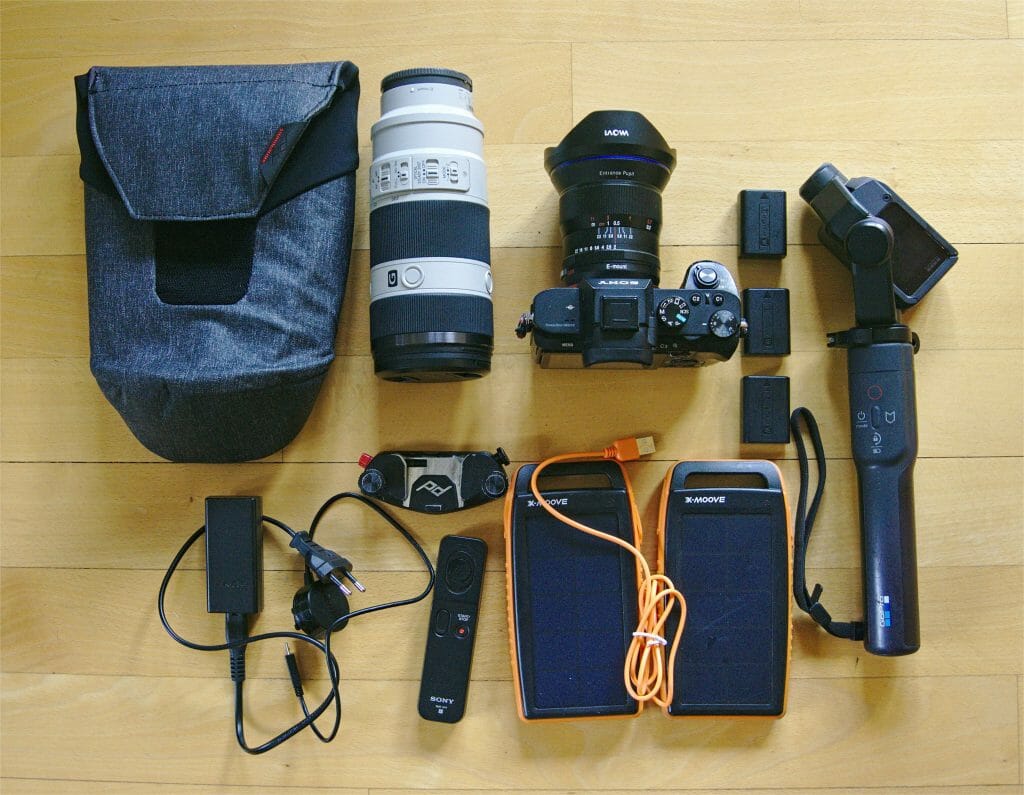 Aouch that's all for the equipment… so without the food in the backpacks, it makes us a bag that weighs around 15kg for me and 12kg for Fabienne 😉 .
Update: After filling our bags with food and weighing them at the start of the trek we ended up at 19.5kg for Benoit and 16kg for Fabienne (Marine and Sabine also had 16kg each).
On the electronic side we used everything we took… 🙂 Even if we say it, solar panels are not the best for destinations where the sun is a little shy (we could have guessed it, you will tell me hahaha)
Food for the kings trail: What should you take?
This section is new in the article, but after completing the trek we thought you might be interested to know a little bit about how we managed the food on this trek.
As you may have seen in the budget above, a large part of our food expenses were made before departure. Indeed we decided to leave with the equivalent of 5 hot meals per person for the evening, 3 picnics, all breakfasts and especially a whole lot of snacks! The main motivation for this choice was not to spend too much money in shelters, as food is expensive there.
Here is a little overview of the food we brought and bought during this trek.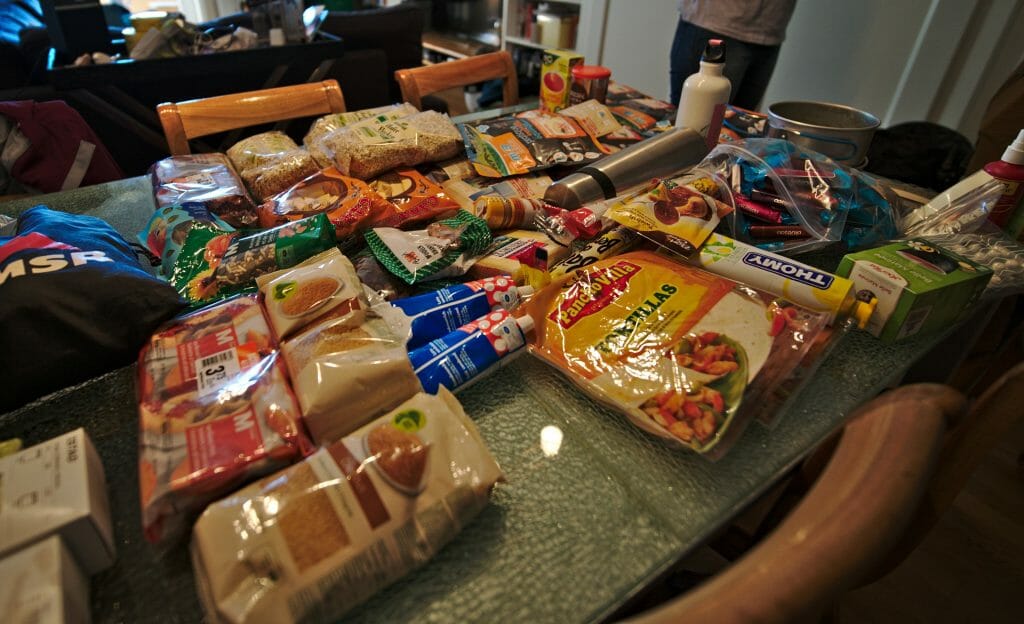 Our breakfasts during the hike:
We left with 2 kg of oats. The idea was to have 7 breakfasts for 4 people with this. In the end it turned out to be too much (we brought back almost 800g)!!!!! We didn't know exactly how much to count and we clearly took too much. In the end we ate the equivalent of 45g of oats per person per morning. In short, there is a small lack of optimization at this level…
In addition to the oats that we mixed with hot water, we also had enough to give this mixture a little taste:
about 80g of cinnamon
2 large tubes of condensed milk (we used to sweeten the mixture but also for coffees! caloric and effective!)
600g of nuts and dried fruit to add a little crunch to this slightly "pasty" mixture, otherwise
Regularly we enhanced our morning meal with fresh blueberries harvested all over the trek.
Otherwise we also brought 150g of soluble coffee and some tea bags.
Lunch during the hike

Here we have chosen not to eat a hot meal at lunchtime (to save fuel but also for simplicity). In short we left with 16 wraps (the fajitas things, we counted 2 per person per meal) and a good piece of Swiss gruyère and 2 large sausages.
The other noon we ate either things bought in shelters or simply lots of snacks
Evening meal during the hike
As usual we left with our couscous buddy. Quick to cook, very nutritious, it is the number one ally of the hiker! With 1kg of couscous we had some for 2 hot evening meals for 4 people. In order to enhance all this we also brought 2 bags of powdered sauce that we simply put in hot water before adding the couscous. (Onion sauce and mushroom sauce).
We also had 6 bags of tomato soup. Not very caloric it was still quite nice to have a very hot soup one evening.
For all our other meals we brought lyophilized menus with us. It was the first time we ate it and we must confess, we were a little apprehensive about the concept. In the end we were quite happy with our menus! We had bought the several different things: aligot, truffade auvergne, noodles bolo, rice with beef, etc…. We were really surprised to see that the menus were not too bad!
Personally I had a preference for dishes in which "there was something to chew" such as pasta or rice. Aligot and trufade were good, but the mashed potatoes didn't really stop me.But otherwise, it's quite strange, because the caloric intake is relatively "low" if you have enough activity. Some evenings we clearly completed our menus with lots of snacks, because 500 kcal the menu was a little slim. After the taste/weight/calorie ratio remains great!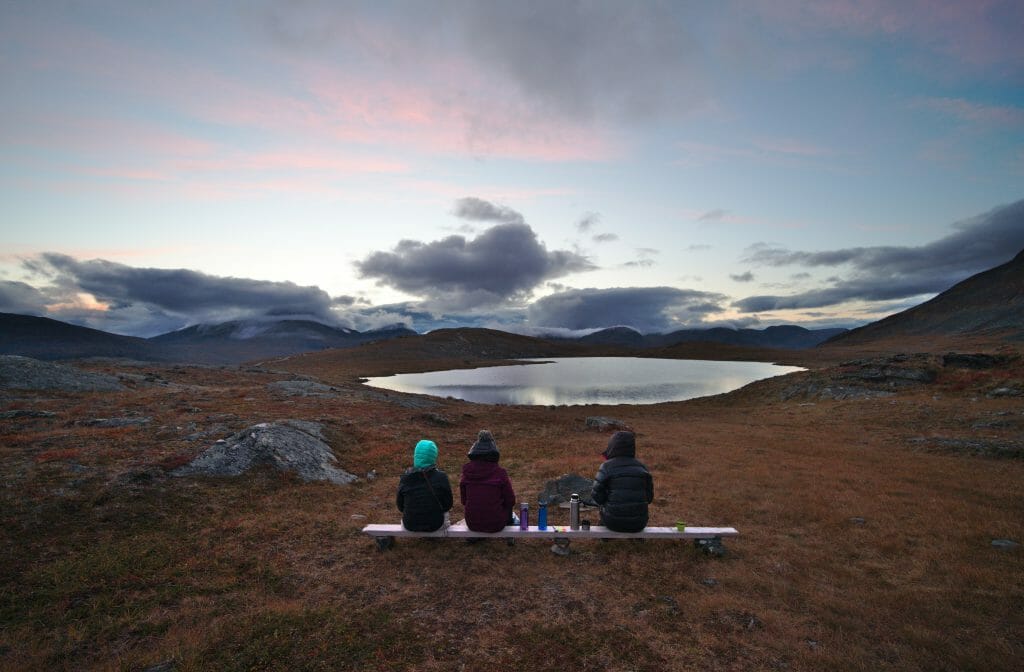 Snacks are life!
So there you guys, we didn't make half measures… Linz tarts, lots of soft caramels, chocolate bars, cereal bars and lots of cookies! When you walk all day, and especially if you don't make a real meal at lunch, snacks are just essential… And well, chocolate is good for morale, so we don't deprive ourselves!
What we bought in the huts
The vast majority of the refuges are equipped with small stalls and it is therefore possible to get supplies there. For our part we bought a lyophilized meal for the last evening, many cookies (those of the brand Ballerina are a delicious…) 😉 , rye bread for lunch and… tube cheese (sacrilege I know… but that's all they had that we could spread).
Food on the Kungsleden trek: our opinion
The food on this hike is clearly a matter of weight and budget! The shelters are well organized and equipped, so basically you can leave with zero food on you and promised you won't starve! On the other hand if you buy everything in a refuge you will on the one hand spend more money (prices are roughly 30%-40% more expensive, lyophilized cost for example 9€ each) and especially the variety of your menus will be quite poor… In short, if you can carry your food, or at least part of it, we advise you to take a few menus with you!On the other hand, shelters are great for snacks! We could clearly have brought fewer snacks and eaten more Ballerina and Daim chocolates.
Note: here is a document with the food in the big shelters and prices. Not all products are always available but overall we found the shelters well provided anyway. On our itinerary the "big" refuges that had this assortment were Abiskojaure, Alesjaure, and Sälka.
Useful links
Below are some links that have been useful to me in preparing this article and that could be useful to you:
Here it is… I hope you liked this article and that it will help others to prepare a trek on the Kungsleden. In any case, we are super excited to discover Swedish Lapland hiking in summer. In addition with our fine team of #ChattingHiking, it promises good moments of fun on the Swedish trails 😉
P.S. If you buy something through one of our affiliate link, we will receive a small commission that will help us maintain and grow the site. Of course, we only talk about the products we use and it won't cost you anything more 😉