After a nice introduction to Patagonia with a trek in the Huerquehue National Park, we went a little further south in the Chilean lake region to the small town of Puerto Varas.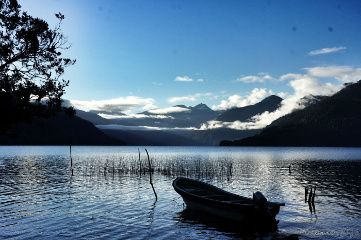 Like the Pucon region, this part of Chile is full of lakes, volcanoes and national parks that are waiting to be explored… As it is necessary to make choices, we have set our sights on the Vicente Perez Rosales National Park to do a 3-day hike that goes through the thermal baths of Callao. So, everything didn't go exactly as planned, but in the end, we were amazed and that's the main thing that matters. ;).
Puerto Varas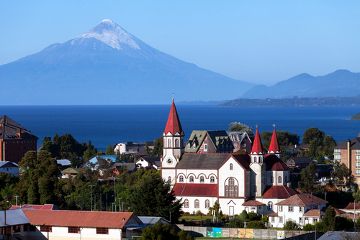 Puerto Varas, in addition to being an excellent base for exploring the region, is a small town with a lot of charm. Located on the west shore of Lake Llanquihue, you will have a breathtaking view of the Osorno volcano, which stands majestically at the other end of the lake. You will also find everything you need to prepare a trek (large food shops, a little bit of mountain equipment…) or to organize a tour, a kayak trip, rafting, climbing…
Info
we liked the
Ellenhaus hotel
which offered very good rooms. There is also a kitchen at disposal, a good wifi… Anyway, everything we're looking for.
Vicente Perez Rosales National Park
The first region in Chile to be protected within a national park, this reserve is made up of very dense and humid forests, the magnificent "todos los santos" lake and the 3 volcanoes Osorno (2652m), Tronador (3554m) and Puntiagudo (2190m). Frankly, after travelling for several months in the drier regions of Peru, Bolivia and northern Chile, we were delighted to find more vegetation, greenery, rivers… And I can promise you that we weren't disappointed!
To access it, it's easy from Puerto Varas. Minibuses leave about every 45 minutes from 8:30 in the morning to Petrohué. They cost 2500 pesos/pers. The main entrance to the park is located on the shores of Lake "todos los santos". There are also CONAF offices to obtain information about the park. We give you a small map of the national park with the different walks we have done.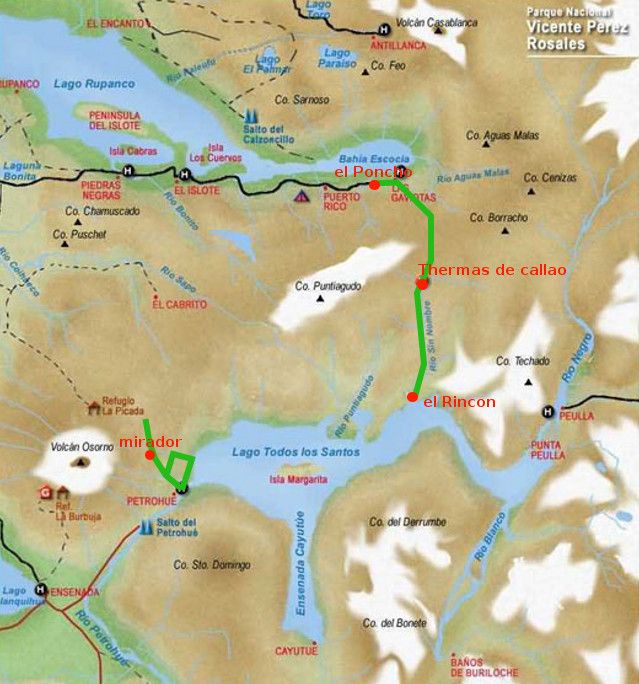 Petrohue Falls and the "Camino de la Desolacion"
As you can see on the map, the trek that we had planned to do starts from the place called "el Rincon" which is only accessible by private boat from Petrohué. So, we took the first bus in the morning hoping to find a boat quickly, so that we could start our hike not too late. Once we arrived at the port, there were indeed several people with private boats who proposed to take us to "el Rincon".
But the problem was the price! Impossible to negotiate at less than 50,000 pesos/boat (70 euros). No way for us to pay such a price for going trekking. Thus, we started looking for people who were motivated to go hiking with us and share the boat costs… But as you can imagine, it is impossible to find other motivated people with 3-4 days of food in their backpacks for the hike (it's probably much easier to plan in advance and find people in Puerto Varas) ;)… no shit! ). Thus, we had to opt for a plan B…
Plan B: Hiking in Petrohué
From Petrohué, there is a nice day trip towards the foot of the Osorno volcano: I named the "camino de la desolacion" (cf map).
So we said to ourselves: "Let's already go for this walk and we'll see when we get back".
Excellent decision! The trail is absolutely superb. We were walking at the foot of the volcano with an incredible view… Imagine thousands of yellow flowers (the Retamas that come out in November in Patagonia) and the perfect shapes of the Osorno as a backdrop.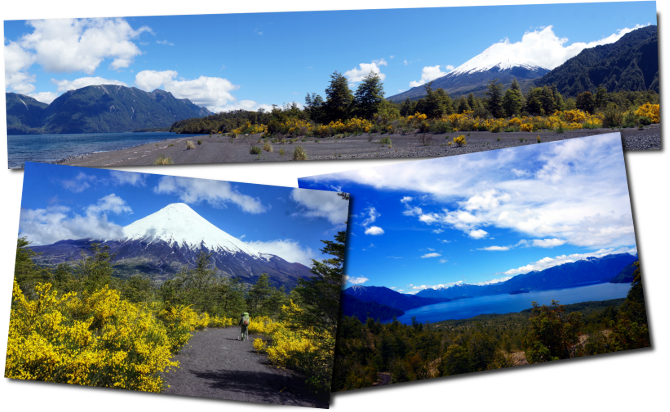 It would have been a shame to miss that! We then climbed up to a viewpoint from where we had a breathtaking view of the lake "todos los santos"… Perfect for a small picnic. Then, instead of going up further towards the volcano, we decide to go down again and make a loop passing by the the edge of the lake. The contrast between the black volcanic sand of the beach and all these yellow flowers is striking. We take this opportunity to take a break and take a lot of pictures ;). After 5-6 hours of walking, the loop is complete and we are back in Petrohué.
Hiking Map:
You can download the map from AllTrails. For this, you simply need to create a (free) account.
The chance of encounters sometimes does things right
We then had planned to pitch our tent at the Petrohué campground to visit the falls (located 6 km upstream on the road) the next day. But an encounter will have changed the game… So, we won't have seen the Petrohue Falls in the end, but we'll still put a little picture on you because it looks really beautiful.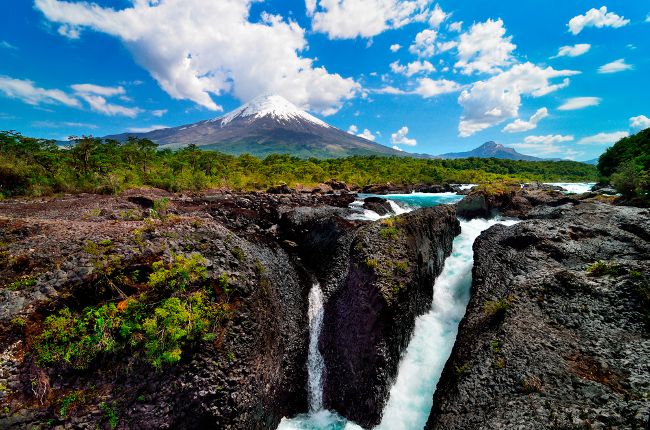 Photo Credit: Idan Ben Haim
From Petrohue to el Rincon
So, when we arrived in Petrohué after the "camino de la desolacion", we saw a couple who was also staying at our hotel in Puerto Varas. While talking with them, we tell them about our misadventures to find a private boat at a reasonable price that would take us to "el Rincon" to do this famous trek. Speaking of the thermal waters of Callao, we see Monica's eyes light up… That's all it took to convince them to share the boat and hike together. And in addition they had all the camping gear and 5 days of food in the backpacks… like that, sometimes luck does things well.
And since it was already around 6:30 pm, we were also able to negotiate much more easily with the boat owners. Well, yes, they go home at the end of the day anyway and prefer to fill up their boat a little. As a result, we got by at 40,000 pesos for the 4 of us, which is already much more reasonable.
Infos
So a tip if you want to go to "el Rincon" to do this trek. Either you organize yourself in a group in Puerto Varas to share the boat costs, or you go to Petrohué at the end of the day to negotiate a good price (or both).
It takes about 1h-1h30 by boat to reach "el Rincon" (a small beach where there is only one house). But time passes quickly because the boat ride is sooooo amazing(and I weigh my words). In good weather, you will have an absolutely spectacular view of the Osorno and Puntiagudo volcanoes… Once you arrive on the beach, you can camp there while admiring the evening lights on the lake "todos los santos"… Believe me, we are not about to forget this boat trip and the view from the pretty little beach of el Rincon… an evening in paradise.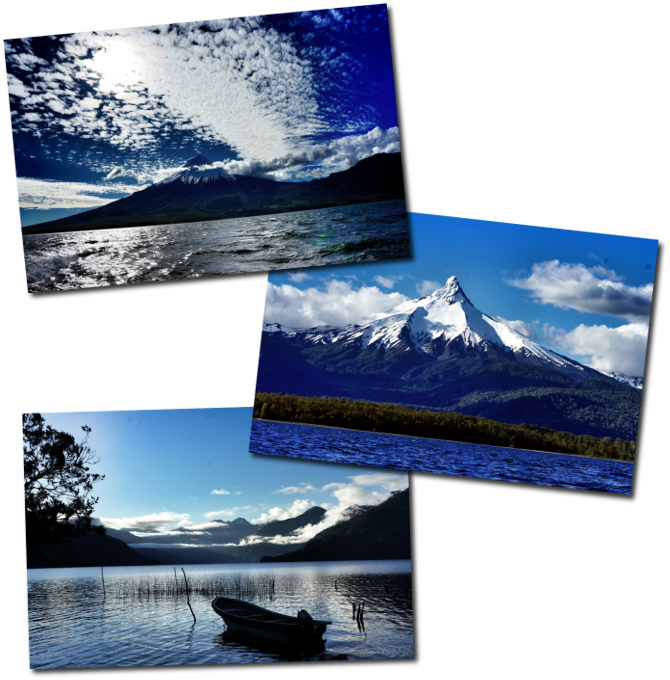 Reaching the thermal baths of Callao, a real obstacle course
So we get up early to do the 12 kms that separate us from the thermal baths of Callao. According to the lonely planet trekking Patagonia, it represents a small walk of 3-4 hours on an easy path. They event mention this hike can be done with kids! ;).
So the reality is that in November (late spring in Patagonia), this path is extremely muddy, which makes it more difficult and tiring. And if you ask us, since this national park is extremely wet, the path must be muddy all year round. Add to that 2-3 suspicious footbridge crossings and 1-2 icy river crossings, and it doesn't make it all that easy. 😉 (by the way, if the lonely planet reads these lines, know that we would never do this trek with children…).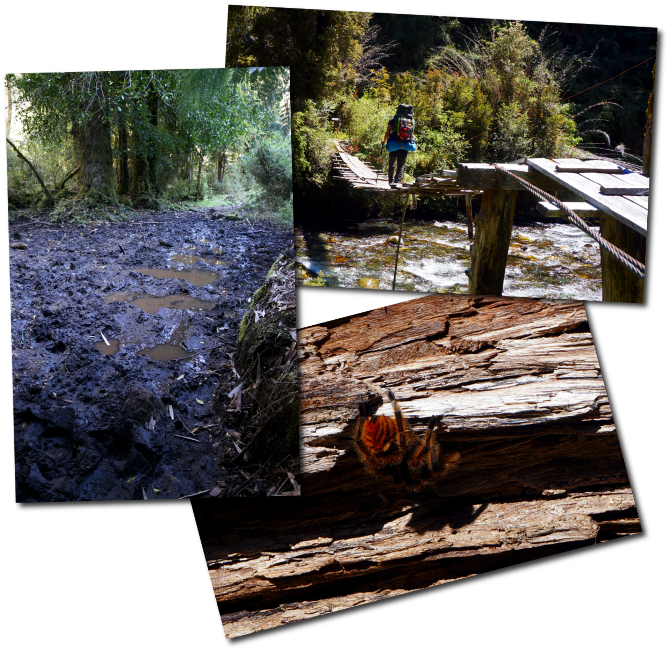 But apart from the state of the path which has sometimes put our coordination to the test (when you don't want to take off your shoes to cross the icy river and there are only 4 unstable stones to walk on 😉 ), the landscapes are once again breathtaking. First we crossed some pastures with a view of the lake, then we went into this very dense and humid forest along the "unnamed river" (rio sin nombre).
The variety of trees and plants, the number of birds that fly in all directions, the absolutely crystal clear water… a true garden of Eden! We then crossed some clearings that offer a completely unobstructed view of the majestic Puntiagudo volcano... with the cows grazing in the foreground… I mean, this was almost ridiculous how beautiful this was… Vicente Perez Rosales really stole our heart!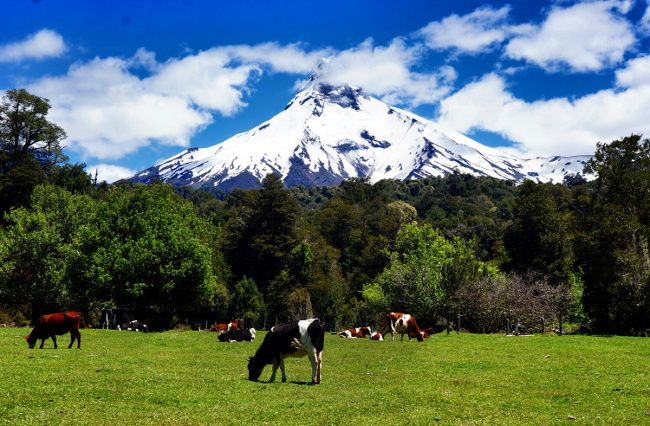 El Callao: thermal waters of happiness
40 minutes after passing Hospedaje el Callao (yes, there are people who live here 😉 ), we reach the campsite where the thermal waters of Callao are also located. This camping spot is absolutely awesome! There are a few tables, fireplaces, the river just next to it… and above all a small cabin with 2 hot water tanks! Can you imagine the happiness after a day of hiking? As it was hot, we first jumped into the icy river before quickly going to warm up in the hot water basins…. paradise, we're telling you;).
Infos
To be able to open the hut with the hot water tanks, you will have to stop at the hospedaje el Callao to pick up the keys and pay 10,000 pesos/tent for camping and access to the thermal baths.
Once you're at "el Rincon", there's no way to go back. You are obliged to cross to Lake Rupanco (minimum 2 days). So make sure you have planned your move carefully;)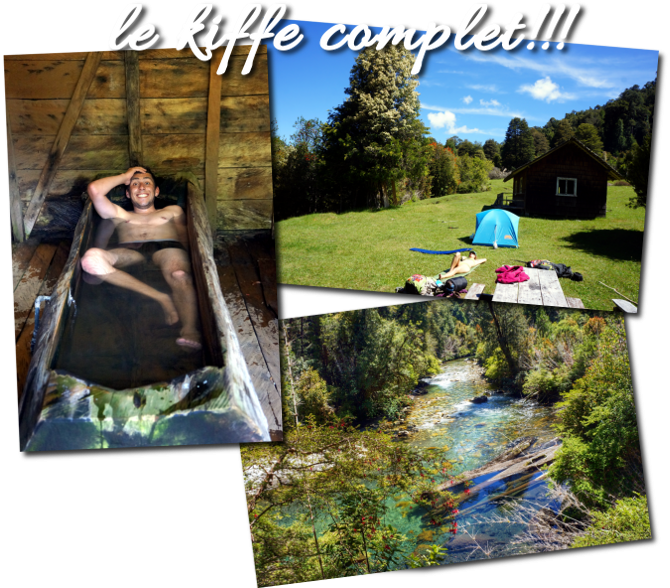 To Lake Rupanco and el Poncho
If the landscapes in Patagonia are so green, it is also because it often rains… So, don't think when you look at our pictures that we only had good weather! We waited several days in Puerto Varas to get a more or less good serie of days. And when we got up on this 3rd day of hiking, the weather was unfortunately not really good.
On the day's program, there were 16 km that separated us from the place called "las Gaviotas" located on the shores of Lake Rupanco. The day looked good with a small lagoon on the way (laguna las Quetros) and a descent to Lake Rupanco with a magnificent view of the Casablanca volcano. Unfortunately, we didn't see much of this….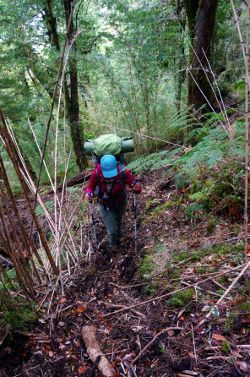 We start the day in the fog. At the first river crossing, I (Benoit) tripped over and ended up with my feet in the water… ideal to start a day's walk ;). We then climb up to the las Quetros lagoon, which we almost missed because we could barely see it in this fog. And to make matters worse, it started raining…. The path that was already really muddy did unfortunately not get any better.
A day of walking in the rain in Vicente Perez Rosales
After a picnic break at the edge of the lagoon that we do not see, we start the descent to Las Gaviotas and Lake Rupanco. The path is sometimes a little difficult to find and we still have to cross a few rivers (we always try to remove as little as possible our shoes given the temperature of the water).
We cross several clearings and pastures from which we should see the Casablanca volcano… But with this weather, it won't be for us (but in good weather, we imagine that the view must be spectacular).
As we get closer to the lake, we will find some farms and then some magnificent holiday homes… It must be said that this is the ideal place to be quiet! It is difficult to reach the Gaviotas by car, so some rich Chileans who can afford a boat have also built magnificent holiday homes on the lake.
Change of plan… or how to end your hike!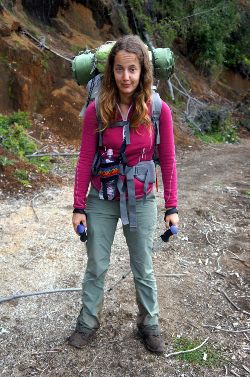 We arrive in Las Gaviotas in the rain at 3pm. As the prospect of camping in this weather does not delight us and as the weather for the next day does not look better, we decide despite the fatigue, to do the last 12 kms that separates us from el Poncho (end of the trek and first place where it is possible to take a bus) the same day.
To reach el Poncho, no real difficulty… just follow the path and then the dirt track that runs along the shore of the lake for 12kms. There are some absolutely magnificent villas with private beaches and breathtaking views of the lake and the Casablanca volcano (which we still can't see 😉 ).
A well-deserved little beer
We will arrive around 18:30 at el Poncho, exhausted, after almost 240 km of walking with all our stuff on our backs…. But to cheer us up, there is a small grocery store (there is only the grocery store and a small bus stop 😉 ) in el Poncho and we will have a well-deserved beer before setting up our tent under a small shelter on the rocky beach. It will even stop raining during the evening to offer us beautiful colours on the lake before going to bed. We will take the bus at 6am the next morning to return to Osorno and then Puerto Varas (be careful, there is only one bus per day at 06:00 from Monday to Saturday and on Sunday at 14:00).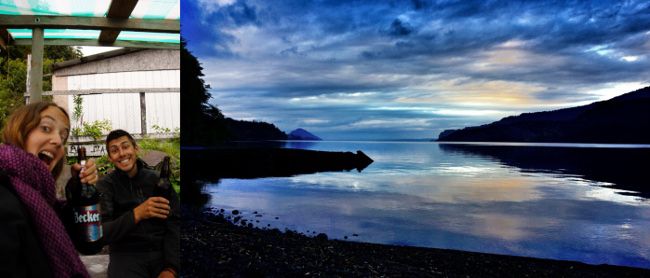 Infos
Trekking Map:
Food for the trek :
We finally spent 3 nights in tents but if the weather had been fine in the last few days, we would have done 4, so count 4 days of food in your backpacks instead.
We could also buy some bread and cheese at the hospedaje el Caillao but don't count on it too much. They had almost nothing left when we passed. And don't forget to have enough snacks! There is nothing like a little caramel or a piece of chocolate when it is cold and raining 😉
Clothes / shoes :
We left with a little too much stuff I think but it can still be quite cool at night. So don't forget the hat, a fleece, a good waterproof/windproof layer, the bathing suit (for the thermal baths 😉 ). We had also taken thermal underwear that we didn't use after all.
Shoe level, take well waterproof ones… I left with trail running shoes (salomon) and I regretted it. These shoes are great for a round the world trip because they are versatile, but for a trek like this it's not ideal. Mud and river crossings are better with high boots.
Review of our trek in Vicente Perez Rosales Park
This is it for trekking in the Vicente Perez Rosales National Park in Chilean Patagonia. There are of course other hiking possibilities in the region but we really enjoyed this tour. It is a beautiful and isolated corner of nature. It is unlikely that you will meet other people on your way.

NB: Please note that this article contains affiliate links to partner sites. If you buy a product on one of their sites you will not pay more but we will receive a small commission. This will help us to keep this site alive. Thank you! 🙂