Valparaiso, or Valpo for intimates, is a city apart in South America and Chile. Alternative, bohemian, colourful, perched on its "cerros", it knows how to seduce travellers passing through…
T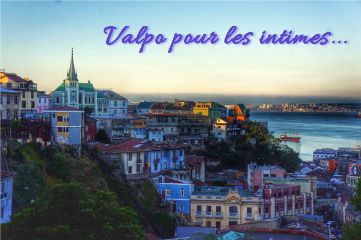 o be honest, Valparaiso is the second city (after Sydney) where we said to ourselves: "I could see myself moving here… it's really good to live in this city!
Valparaiso: a unique city
But what makes Valpo so special? Why is it that after only a few days in this city, we already want to settle there?
The origin of the coloured houses in Valparaiso
As Valparaiso is a port city, the short story goes that the "Porteños" (meaning the inhabitants of a port city) used the abandoned metal in the port to cover and protect their houses made of adobe bricks (a kind of clay mixed with water and straw). And as with wind and humidity the prison tended to rust, people started painting their houses with the paint used on the boats. And you will have understood it, these paintings are very resistant and especially very colorful (it is necessary to see the boats from far). This is what would be at the origin of this "coloured metalic" touch that makes Valparaiso so original.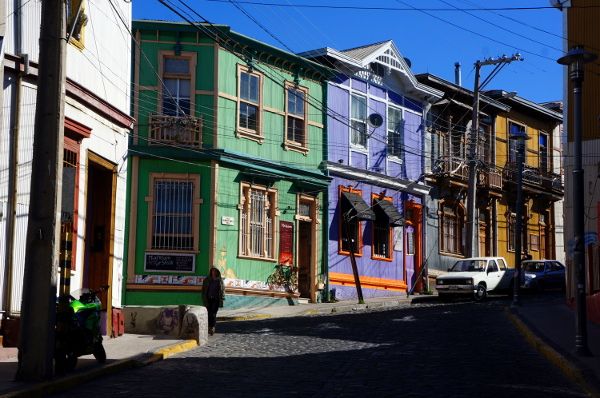 The cerros (or hills) :
When you hear travellers talking about Valpo, you will most likely be told stories of endless stairs and aches and pains. There are indeed more than 40 hills in the city, but we didn't find it insurmountable either.
On the contrary, it is one of the characteristics that gives the city its charm. The inhabitants had to adapt their houses to this atypical topography. You will see that buildings often have 4-5 floors on one side for only 1 or 2 on the other; the houses on the ridges are often very narrow…
And then, we especially loved this labyrinth of alleys, stairs, passages that makes the visit of the city always surprising. You never feel like you're going through the same place twice ;).
Street art scene in Valparaiso :
It's simple, I've never seen so many graffiti on the streets of one and the same city before. That's impressive! On every street corner, on every wall there is something new to discover. There are even entire facades of buildings that have been tagged! And these are not hasty tags like "F… politicians, F… the police", they are real works of art… the words "street art" take on their full meaning here. As a result, each walk through the streets of Valparaiso becomes unique… we always discover new interesting details, a new funny sentence. It's really pure happiness to walk through these alleys;).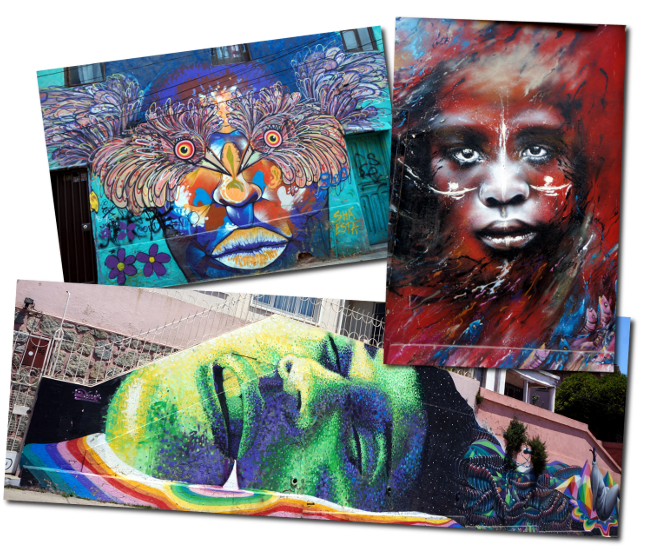 original bars and restaurants:
We will gladly give you some good addresses a little further down, but you just have to walk around to find your happiness, as the city is full of cafés, restaurants, bars, all more original than the other. There is chic, alternative, traditional breweries, terraces with an incredible view, clubs, live music, exhibitions… In short, there's more than enough to keep busy for than a few days. It is also perhaps for this reason that so many travellers decide to stay ;).
How to visit Valparaiso?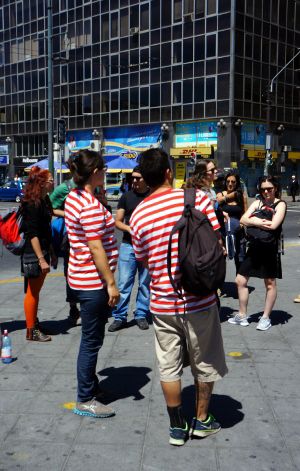 As you will have well understood, the best way to visit the city of Valparaiso is on foot, with the strength of your calves. We still strongly suggest that you start your visit by taking a "tour4tips" free walking of the city. The principle of tour4tips is simple: you go to visit the city for 3 hours in a group with a guide (they are easy to recognize disguised as Waldo ;)) and you pay the amount you want and only if you are satisfied.
But don't worry, as in Santiago (where we also did it), this tour is absolutely awesome. The guides are passionate about the city and will give you a maximum of tips, advice on what to do and what to do during your stay in the city. Frankly, thanks to the tour, we really got a good overview of the city and especially full of ideas for the rest of our stay. It's really worth starting your stay with this tour!
In Valparaiso there is not one tour, but 3 that are proposed!
If you tire after the 20th staircase and the 7th hill, you can still take one of the many lifts / funiculars (vertical or not) that will save you some energy. In the city centre, there is usually one per hill. And they also have a lot of charm. Most of them have been restored while keeping their style of the last century… and then, for 100 pesos per ride, why deprive yourself? ;).
Getting around Valparaiso by bus and funicular
And finally, you can also travel by bus or trolley (count 300-400 pesos depending on your destination). In particular, you can take the "O" bus which will take you to Alemania Avenue. The particularity of this street is that it crosses the whole upper part of the city (without going up and down too much) with a splendid panorama over the whole bay. We really advise you to walk along this street to enjoy the view at its best. However, if you don't have the courage to walk to Alemania, simply take the "O" bus.

Oh and for the anecdote, the tramways of Valparaiso have the best origin in the world… Yes, they are SWISS! Hihi, how do we know that? Well the buttons to request stops are in French AND German, and the stickers on the back of the buses are the same as those that are still on the back of Lausanne buses today…
Things to see in Valparaiso
So in 5 days we had time to visit a lot of places in Valparaiso and the area we clearly preferred is the whole area classified as a UNESCO World Heritage Site since 2003.
It is in fact a group of inhabitants in love with their city who have gathered and contacted UNESCO themselves in order to protect the city centre from modernization. Among others, the magnificent Alegre and Concepcion cerros, Plaza Sotomayor, Bellavista hill and its "del cielo abierto" (open-air) museum and funiculars have been protected, and that's good.
We had a real crush on the Alegre and Concepcion cerros, which really represent the city of Valparaiso. A maze of small alleys, each one more charming than the next, multicoloured houses, grafs on every street corner, funiculars and above all an impressive choice of bars, restaurants, hotels of all kinds.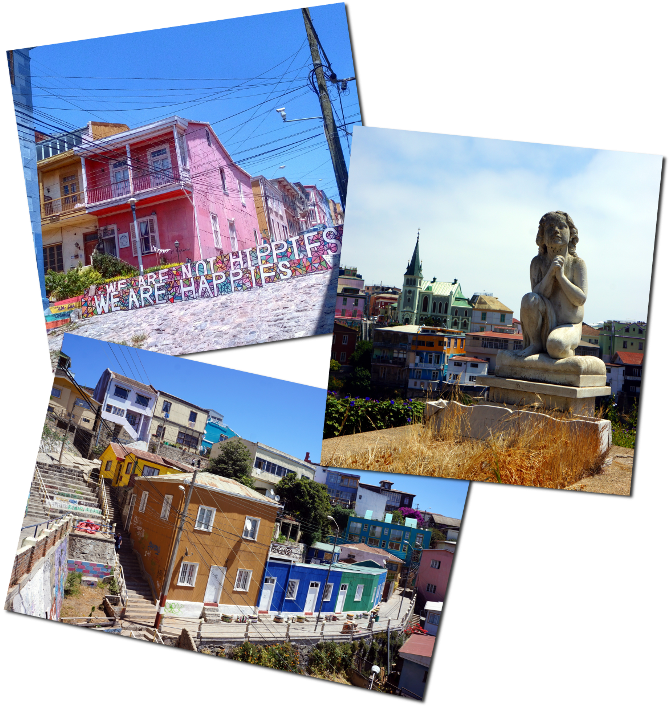 Good addresses in Valparaiso
Finally, we share with you some good addresses that we have tested. But as you were told, in Valpo there is a lot of choice and it would take much more than 5 days to be able to claim to have tried the best bars/restaurants in the city.
Where to stay in Valparaiso?
Casa verde limon: We stayed the 5 days in this great hotel located at the top of Cunming Street. A superb green house, beautifully decorated and super clean with spacious double rooms for 19000 pesos. Frankly, not much to complain about… we immediately felt at home. Oh yes, funny little detail, you can use the trapeze in the middle of the living room 😉 See availability
Where to have a drink or eat in Valparaiso?
Le Via Via: That's when we celebrated our victory at the golden blog awards (ouhhhhh yeeaahhhh). The terrace of this bar is very pleasant and located just below a giant grafiti… and to convince you, they have a very complete choice of Belgian beers. Perfect to celebrate a small event ;). Otherwise just next to the Via Via, there is also a restaurant with a breathtaking view over the whole bay.
Cerveceria Altamira: their homemade beer is delicious and we also ate our best burgers of the trip (Well, we don't eat a lot of burgers but still)… A recommendation of tour4tips of course.
Peter's wine tasting (Casa verde limon): If the Carmenère and Carignan grape varieties don't mean anything to you, spend an evening with Peter (who also works at casa verde limon), a wine lover who will introduce you to Chilean nectars. For only 7000 pesos, you will spend a relaxed evening with wines and cheeses of excellent quality and also in more than enough quantity. On our side, it will remain the best evening we have ever had in Valpo… Thank you Peter for these beautiful discoveries;)
Summary of our visit to Valparaiso
So like many other travellers, we literally fell under the spell of Valparaiso… an atypical city, full of positive energy and things to discover. Frankly, even if we liked Sucre in Bolivia or Quito in Ecuador, it's the first time a city has had such an effect on us in South America…

NB: Please note that this article contains affiliate links to partner sites. If you buy a product on one of their sites you will not pay more but we will receive a small commission which will help us to keep this site alive.🙂