After taking a little vacation on the island of Koh Chang and seeing our first wild elephants at Khao Yai National Park, we temporarily left Thailand (we will return there after Laos) for Cambodia. Our first stop was Siem Reap, where we spent quite some time exploring all the different temples.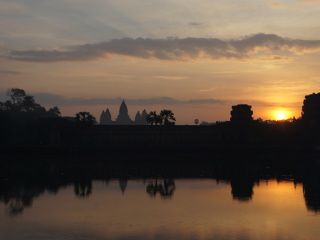 Everyone has alreadyat least heard about these incredible temples. But you may most probably already have seen them as well because they have been used as a backdrop for several films (including the famous Tomb Raider). After cycling along the east coast of Taiwan our legs were more than ready for a new adventure on a bike… Thus, instead of doing a more traditional visit by tuk-tuk, we decided to visit the Siem Reap temples by renting bikes!
Getting to Siem Reap from Thailand
Scalded by our recent transport problems across Thailand, we thought it was worth going back to Bangkok to reach the cambodian border. So we got up again early in the morning and boarded the first train to Bangkok.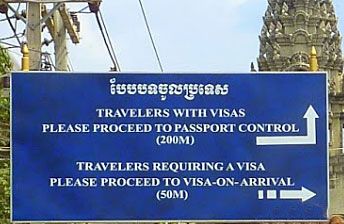 Once in the capital, we took another train to Aranyprathet, a terminus station very close to the border town of Poipet. Poipet is the main border with Cambodia which is super famous for its scams of all kinds. When we arrived at the station, we followed the advice found on the various blogs that talk about scams at the border.
We took a tuk-tuk for Poipet (less than 100B). Then the important thing is really to start playing dumb and ignore the armada of people who want to "help" you with visas (don't pay any money until you crossed the Thai border and reached point 4 of the map). We walked to the Cambodian border post where we paid $20 for visas (official price) and $100B for the kindness of the border guards. (hum, hum)
We finally crossed the border safely. "Like bosses" you will tell me! Well not quite… after crossing the border that's when the scams were going to start happening for us….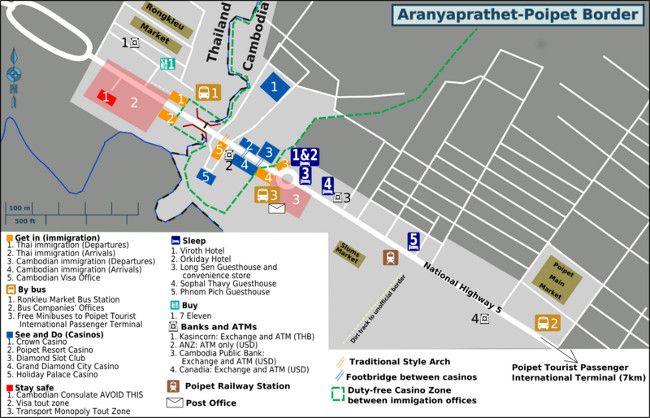 Getting to Siem Reap
After crossing the border, it was already past 8pm and we still wanted to go to Siem Reap that evening if possible. So we got together with the last travellers to cross the border (the border closes at 8pm) to get a cheap minibus. After negotiations, we manage to settle on a price of $10 per person, which seemed pretty good to us. The deal was, that the minibus was supposed to take us to Siem Reap Town (city centre)
After two and a half hours of travel, the minibus stops a little outside Siem Reap, where a tuk-tuk army was waiting for us.
"Damned, we got screwed.!!!"
The tuk-tuk drivers all agreed to take us to the hotel for free if we agreed to take them to visit the temples the next day. But no luck, with Fabienne we had planned to do the tour by bike. As a result, they were less cooperative and pretended not to know where our hotel was. Well… for $3, the guy magically regained his memory!
In total our trip will have cost us about 15€ per person (and a lot of nerves). If you prefer a quieter option, it is possible to buy bus connections online for about 20 euros. These buses take you from Bangkok to Siem Reap "in one go".
See the tickets online on 12goAsia
So we arrive after only 10 minutes of travel to the hotel around 23h30. We had not booked but we knew the price of a room (which was $10) because we had checked in advance on the internet.
A little hotelier scam….
So we get to the reception and there the guy takes me out:
"It's $12 for the cheapest room."
… and I reply
"But on Hostelworld the room is $10 and on your site it's $7…"
But given the late hour, the guy knew we had no choice. Anyway, we took the $12 room. We just played dumb the next day and checked out early and then immediately checked in again after booking online for 10$.
You will tell us that we may nitpick for a few dollars, but that's the kind of thing that gets tiring in the long run. To be honest I don't really get it, because when we book online the have to pay a commission to the booking platform and thus they would be making far more money by giving travellers the right price right away…
Anyway… that's how it is! But in the end, we did quite well compared to other travellers who crossed the border in Poipet. It's better to be aware of the scams! But we still ended the day tired and a little upset..
You want to book your cheap accommodation in Siem Reap, then Hostelworld is over here 😉
I you prefer to book a hotel, then have a look on Hotelscombined.
How to best visit the temples in Siem Reap?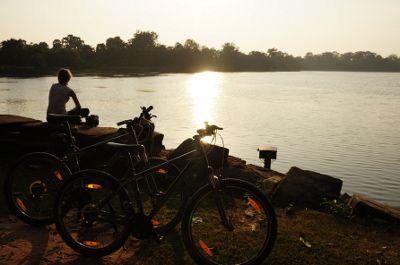 We're not the kind of people who stay on our first impressions. So after a well-deserved day of rest, we got up very early in the morning (06:00) to discover one of the most beautiful sites in the world.
It is therefore rested and motivated that we got on our 2 great mountain bikes, rented the day before for 15€ for the three days. Let's go explore Angkor Wat and all the other temples around Siem Reap!
Many people will tell you that it is only possible to visit the Angkor temples by tuk-tuk. (I mean… mostly you will hear this from hotel owners and tuk tuk drivers. Why? Because it will cost you at least $15 a day). But it's FALSE! It is also possible to visit Siem Reap Temples by bike!
Okay, the site is quite large but the roads are in good condition and it's completely flat…. Of course, if you don't want to pedal in the sun, that's understandable! But if you are tempted by adventure, don't be discouraged by people (hotel managers and tuk-tuk drivers in particular) who will tell you that it's hell to do it by bike. We've tested it and it's very easy to do. And considering the price of admission to the temples there is no harm in saving a little on transport.
To find all the prices go to our Cambodia Travel budget article.
Getting up early: The key to visiting the Angkor wat temples in (almost) peace
Otherwise, you will have noticed that we got up early to start the visit… and it's not because of the heat! It is rather to be one step ahead of the many buses and tuk-tuks filled with tourists who flock every day from Siem Reap. It must be said that the Angkor temples are very popular. More than 3 million people now visit the site every year.
So I'm not yet asking whether it's good or bad to have such a large number of people visiting Angkor (I'll let you discuss it at the end of the article), but in any case, it's good to be a little ahead of schedule. I would even say that it is good to have a strategy in order to enjoy the temples more quietly. But before revealing our technique, here is a small map of the area to give you an idea:
Angkor Wat Map: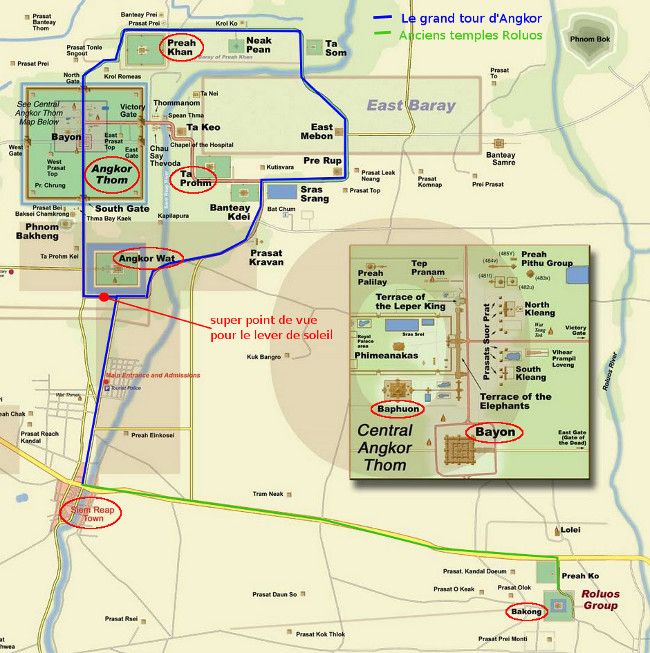 Important Info
It seems that our map is no longer up to date for the place where we buy the tickets! (Thank you Marlene!). The current location of the ticket office is at the crossing between Road 60 and the Apsara Road, next to Angkor Panorama Museum. They are currently working on online ticket purchase, but this is not live yet.
See the blue line? This is the most popular route for visiting Angkor. People who often have only one day to visit begin with Angkor Wat and then Bayon, Preah Khan to finish the loop with Ta Prohm.
So… this is how we did it to avoid the crowds:
(We had the entry for 3 days valid for one week… so no need to get up early 3 days in a row 😉 )
Visit Angkor Wat avoiding the crowds: Day 1

Start directly with the Preah Khan temple by voluntarily skipping Angkor Wat and the Angkor Tom site! (I admit it's hard to pass this site without stopping, but I promise it's worth it! ;-))). This will give you a head start on all the people who have got up to see the sunrise on Angkor Wat and who then moved on to the Bayon Temple. Then take your time to visit all the small temples that follow each other on the blue trail.
They are all very pleasant to visit. In the afternoon, go to Ta Prohm, which will most certainly amaze you. The vegetation that has invaded the area will literally plunge you into the world of Indiana Jones (or Tomb Raider… it's up to you)… I was like a kid ;).
Make sure to voluntarily get lost in the hidden corners of the temple (it's bigger than it looks) and simply enjoy the beauty of the place. If you decide to cycle, count between 40 and 45km for this day.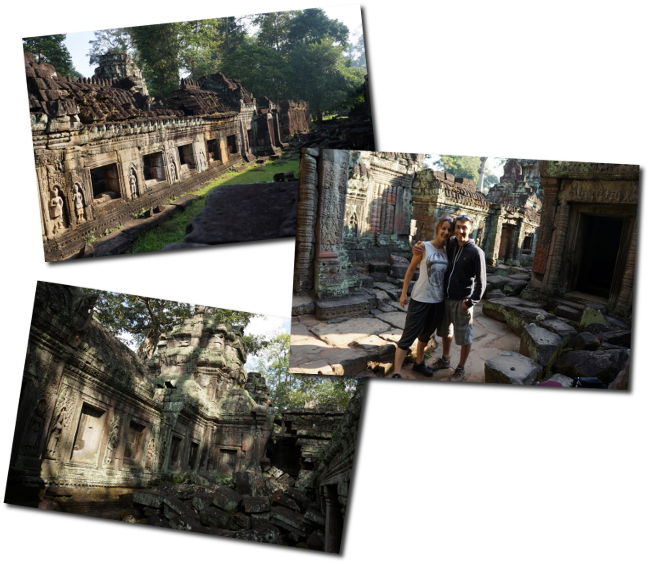 Second day itinerary in Siem Reap:
No stress for the second day. You can visit the oldest group of Roluos temples, located about 15km east of Siem Reap. It is also possible by bike but there is a lot of traffic on the road. Another alternative is to visit the Banteay Srei and its pink stones. Another possibility would be to go 50km further north to visit Kbal Spean. We heard a lot of good things about this place (it's a kind of river bed carved in the jungle)… However, you will probably need a tuk-tuk to get there.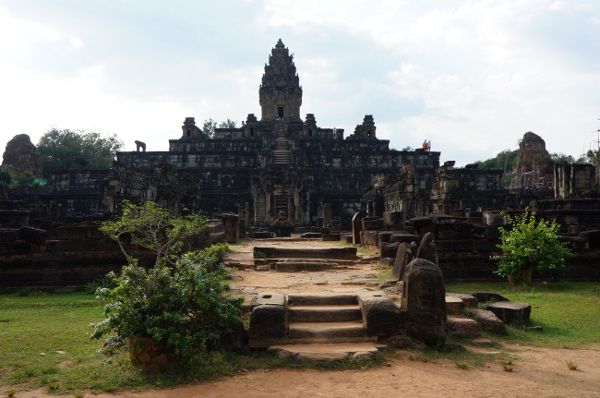 Sunrise in Angkor Wat: where to go?

It is the day that hurts a little because you will have to set your alarm clock around 4:30-5:00 in the morning. But you won't regret it, I promise.) Make sure to be at the temple at around 5:30 for sunrise. (If you do it by bike, don't forget your headlamp). You will be very surprised to see that there are many people who get up early!
But strangely enough, people rush inside the temple enclosure while if you stay on the left of the bridge at the entrance, you will be quiet and you will get incredible reflections on the expanse of water that surrounds the temple… I think the pictures speak for themselves.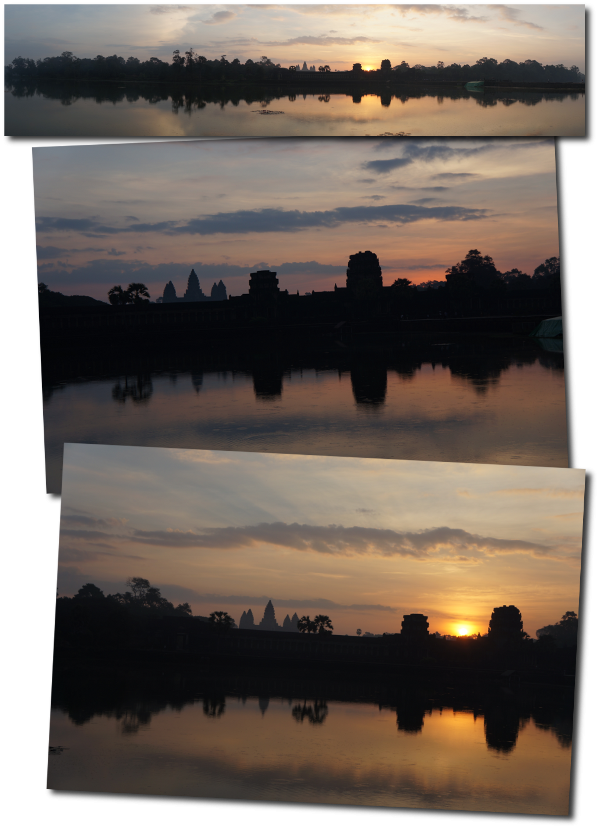 After sunrise, don't visit Angkor Wat yet!!!!! Head towards Angkor Tom and his famous Bayon before people arrive. Most people stay in Angkor Wat after sunrise and thus all other temples are still pretty quiet!
You will see that the 216 enigmatic smiles of the Bayon have an incredible charm in the morning light (especially if you are alone in the temple area ;-).
Visit Siem Reap temples: Plan your meal times to avoid crowds!
Finally, anticipate the lunch a little earlier! If you got up so early, you'll be hungry before noon anyway. Then take advantage of the time when everyone is eating to discover the magnificent temple of Angkor Wat. (Most tour groups stop for lunch at the same time and thus the site becomes much quieter between noon and 1pm.
Note : I'm not saying it's the perfect program, but it's the concept of taking advantage of the early morning hours and lunch break to visit the main monuments that is essential.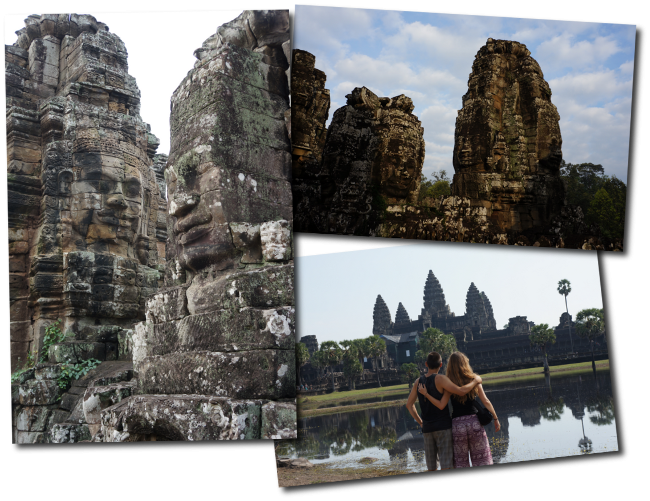 Siem Reap: the town to go visit Angkor Wat
If I haven't told you about Siem Reap yet, it's because there's not much to say about it. It is a kind of succession of hotels of more or less good quality where you will be stopped every 30 seconds to find out if you need a tuk-tuk. In the city centre you will find everything you need for food and drink but nothing particularly interesting.
In terms of prices, as you can expect, it's quite expensive compared to the rest of Cambodia! It will be difficult for you to find a room for less than $10-15$ and to eat for less than $3. I mean, this remains cheap of course, but considering that the average salary in Cambodia is around $100 it's still quite a lot… To be honest, we were quite happy to leave Siem Reap after 5 days.
Angkor Wat: our travel video
Are the Angkor temples in danger?
3 million visitors per year and a growth of about 20% per year is difficult to control. Especially since one of the things that makes the strength (and weakness) of the Angkor site is that we have the possibility to enjoy the site in total freedom. You can enter the slightest little corridor, explore every nook and cranny of each temple, touch the stones etc….
It does have a price because you can see very clearly that the rock wears out in many places. At the same time, in a country as poor as Cambodia, which depends mainly on tourism for its survival (and therefore on its main tourist site), it is difficult to imagine any restrictions on visits by the government…
So the Angkor temples are incredible, but for how long?
NB: Please note that this article contains affiliate links to partner sites. If you buy a product on one of their sites you will not pay more but we will receive a small commission. This will help us to keep this site alive. Thank you! 🙂