After 3 days of trekking between Kalaw and Inle followed by a day of cycling around Inle Lake, it was time for us to head towards THE destination of Myanmar…. I named Bagan and its 2000 pagodas.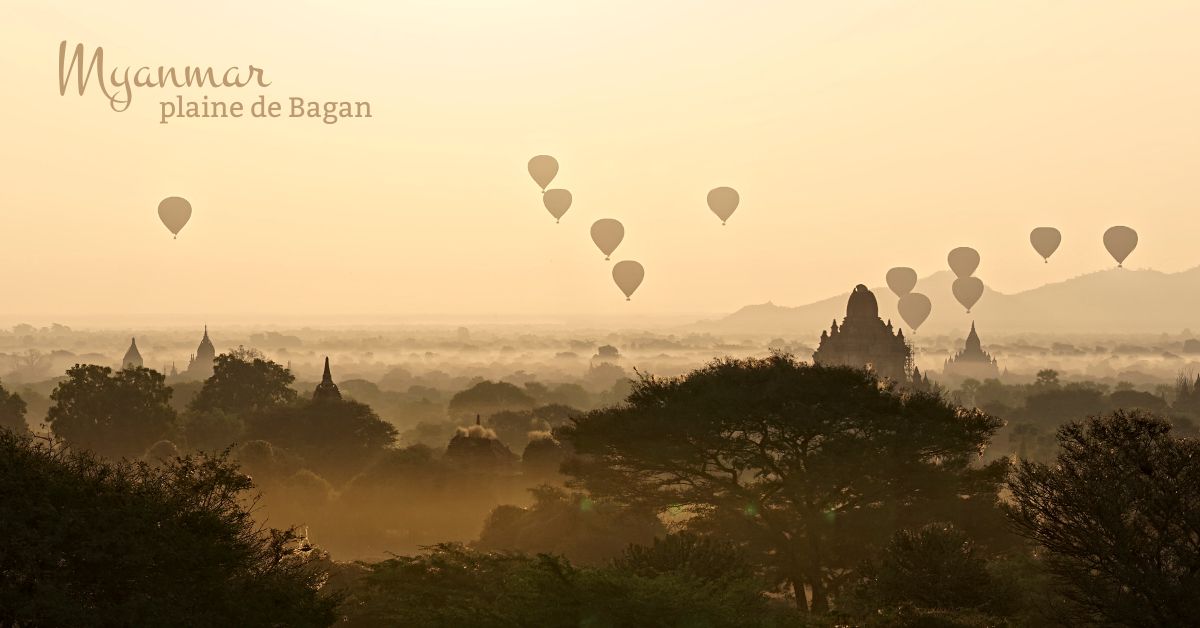 If there was one place we couldn't miss on our first trip to Myanmar, it was Bagan. Like all travel lovers, we dreamed of admiring the sunrise alone on our temple… to contemplate the mist dissipating on the plain with the hot air balloons above us (so poetic all that 🙂 ). The only thing that scared us a little bit was that the place could be so crowded that it could ruin the fun. Spoil alert: Nothing was ruined at all!!! Bagan is awesome and it is cleary possible to visit the place off the beaten tracks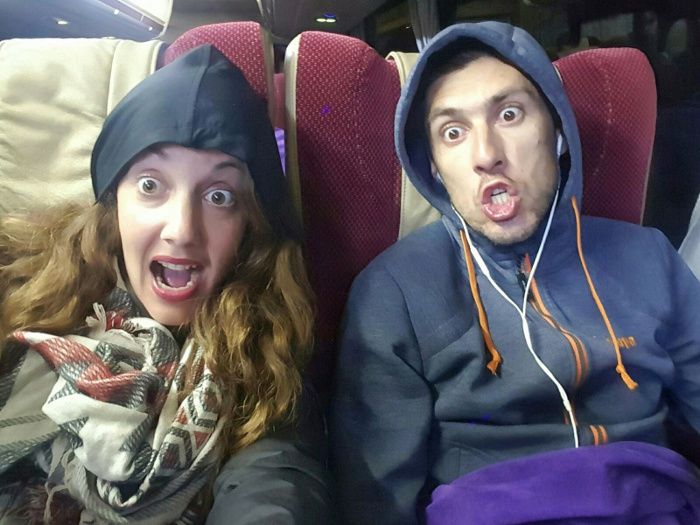 But in any case, the only way to find out was to get on a nth night bus from Nyaung Shwe to Bagan. And as usual in Myanmar, we board our bus at the end of the day (around 19:00) and finally arrive at our destination at…. 3:00 a. m.! (we don't know why they don't make the buses leave a little later but that's the way it is).
So we had seen it coming but as the bus station is outside Bagan (about 8kms from Nyaung U), we already knew we were going to be harassed by 100 taxi drivers as soon as we got off the bus… And without any surprise this is exactly what happened!
As usual we decided to step aside for a while and let the first other get convinced by drivers. Once we were almost the last ones left we started to negociate our ride. But despite all our efforts, we will not manage to get by at less than 7000 kyaths for the 2 of us (we were with another couple, and thus the price for the ride was 14'000 to be divided in two). In Hpa An we had hired a mototaxi driver for the whole afternoon at this price… 🙂 (Obivoulsy this remains cheap… and sometimes it's a bit weird to be bargaining for 5€, but we believe it's better if we at least try to get a fair price otherwise taxi drivers will just keep inflating prices).
So the four of us get in the cab. And what was not our surprise to be stopped after only 3 minutes at a checkpoint where we were asked the famous 25'000 kyaths of entrance fees for 5 days in Bagan (update 2018: since July 1, 2018 the duration of the pass is 3 days and not 5 anymore… price remained unchanged obviously :((. Thanks to Lid & Ludo who left a comment at the end of the article (french version)!).
We get off in Nyaung U (the cheap guesthouses district in Bagan) at 4am, a little tired, without guesthouses and lightened by 57'000 kyaths. Wouhouuuuu…
But you can imagine, it takes a little more to discourage us. So after a good sleep in, we are more than ready to go discover the temples of Bagan!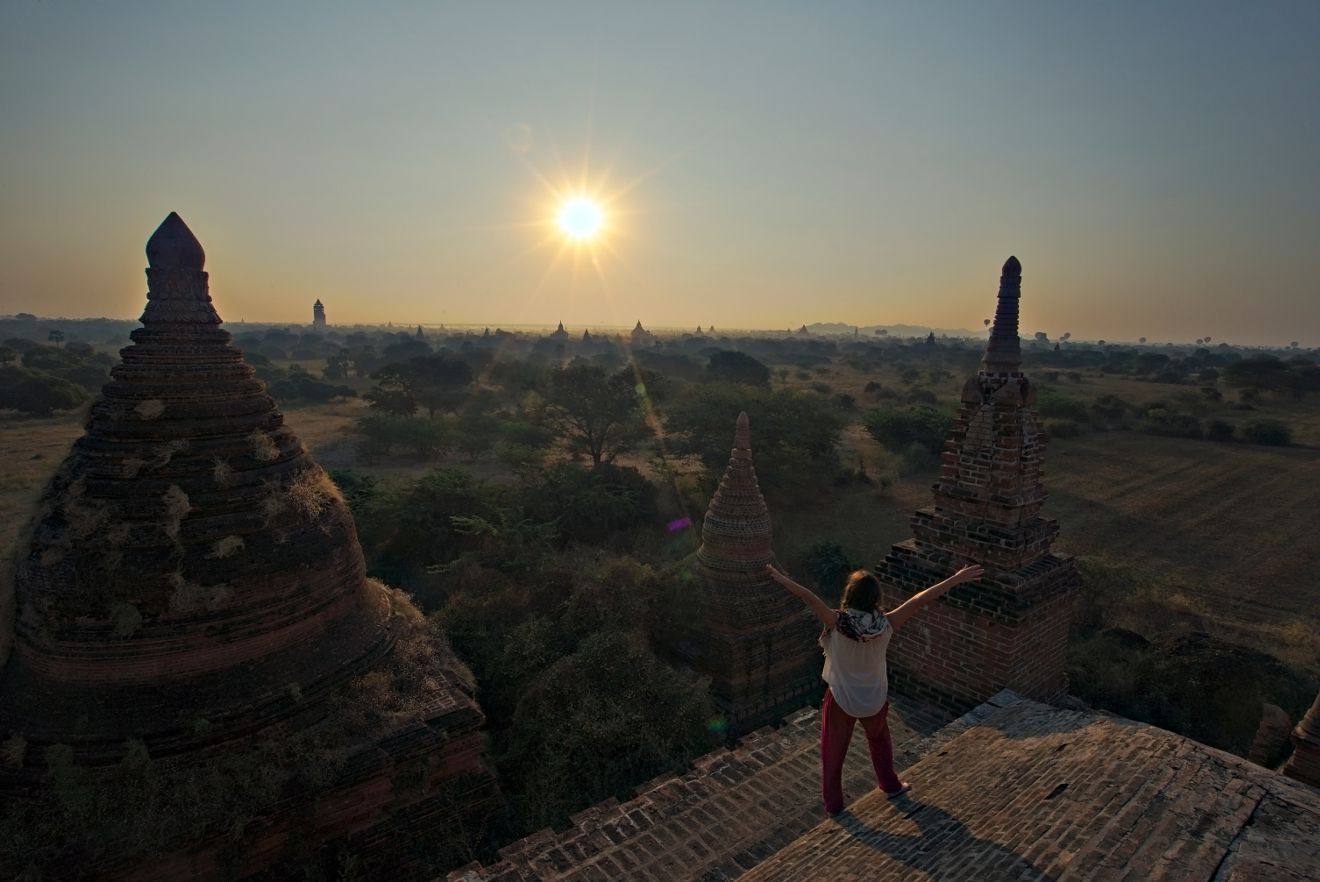 A typical day visiting Bagan
The main attractions in the region are of course the famous sunrises and sunsets on the Bagan temples! Thus, our first afternoon on the site is devoted to looking for the perfect temple for the sunrise or sunset (it brought back good memories of the Angkor temples where we had a bit of an Indiana Jones feeling). So this is what a typical day's visit to Bagan looks like:
Info !!!
After several feedback from readers who have travelled to Bagan since February 2018, we have confirmation that it is now forbidden to climb all the temples. This change was made for obvious reasons: this unique place's conservation. It is now everyone's responsibility to respect this effort to maintain the temples and not to violate local laws.
Early morning in Bagan
5:00 am : the alarm clock is ringing! We try to get out of bed in a good mood while knowing that we will ride our bike (or electric scooter) at night for quite some kilometers.
6:00 am : We are all set on the temple we chose to admire the sunrise… Depending on the temple, there are more or less people with us to share these magical moments;) (But don't worry, if you follow our advice, you will be quiet).
7:30 am : We set off to visit one or two temples while enjoying the morning coolness.
9:30 am : We return to the hotel just before breakfast closes… Waking up at dawn makes you hungry and it would be a shame not to eat the 2 toasts, the fried egg and the banana included in room price haha 🙂
10:30 am : It's nap time! Anyway, it is getting too hot to ride a bike (or scooter) under the blazing sun of Bagan. An smart explorer recovers his strength before heading back to the sunset.
The afternoon in Bagan
14:30 : We usually wake up starving… Thus the plan is to go out to find a nice place to have lunch!
16:00 : We get back on our bikes. The idea is now to find the perfect sunset spot!
17:30 : We start to worry if we haven't found good spots… and if not, we sit back and enjoy the show.
18:30 : We let the night gently arrive and enjoy some of the large temples that are illuminated before returning to Nyaung U with a headlamp.
20:00 : After a good shower (that obviously depends on your hotel), head to the restaurant for a good well-deserved meal… and a good beer.
22:00 : We go to bed because tomorrow we start all over again!
No rest for a day's visit to Bagan, right? 🙂
The best temples for sunrise in Bagan
We stayed 4 days in Bagan and had 3 full days on site…. which means 3 sunrises and 3 sunsets :). Well… without further ado, here are the 3 spots we chose for the sunrise:).
Small temple near Shwesandaw Pagoda
So the place that is undoubtedly best known for sunrise is the Shwesandaw pagoda (all the information is on the map at the end of the article). If it is the most famous, it is not for nothing… it is indeed close to large temples which gives a beautiful effect on the photos with the mist and the sun rising. So for the first morning we thought we were going to go near this pagoda, to a small temple just behind Shwesandaw (the sunrise spot on maps.me). We were indeed not alone on the temple (we must have been about forty) but the view was worth it. On the other hand, we saw the number of people who got up to Shwesandaw for sunrise… believe us, it's not for agoraphobes ;).

The temple that was not on any maps
The idea of the 2nd morning was to find a temple where we would be very quiet in order to be able to enjoy the moment a little more. We also wanted to get a little closer to where the hot air balloons leave. So, on the advice of some readers of our blog, we went to temple No 446 (which is not even marked on maps.me! Information on the map at the end of the article). And what can I say… we were just 4 on the temple (us and another couple from our guesthouse) to enjoy these magical moments. Frankly… it's difficult to express in words what it feels like to watch such a show! You really have to experience it to understand it!
But you still get a picture so you can get an idea ;).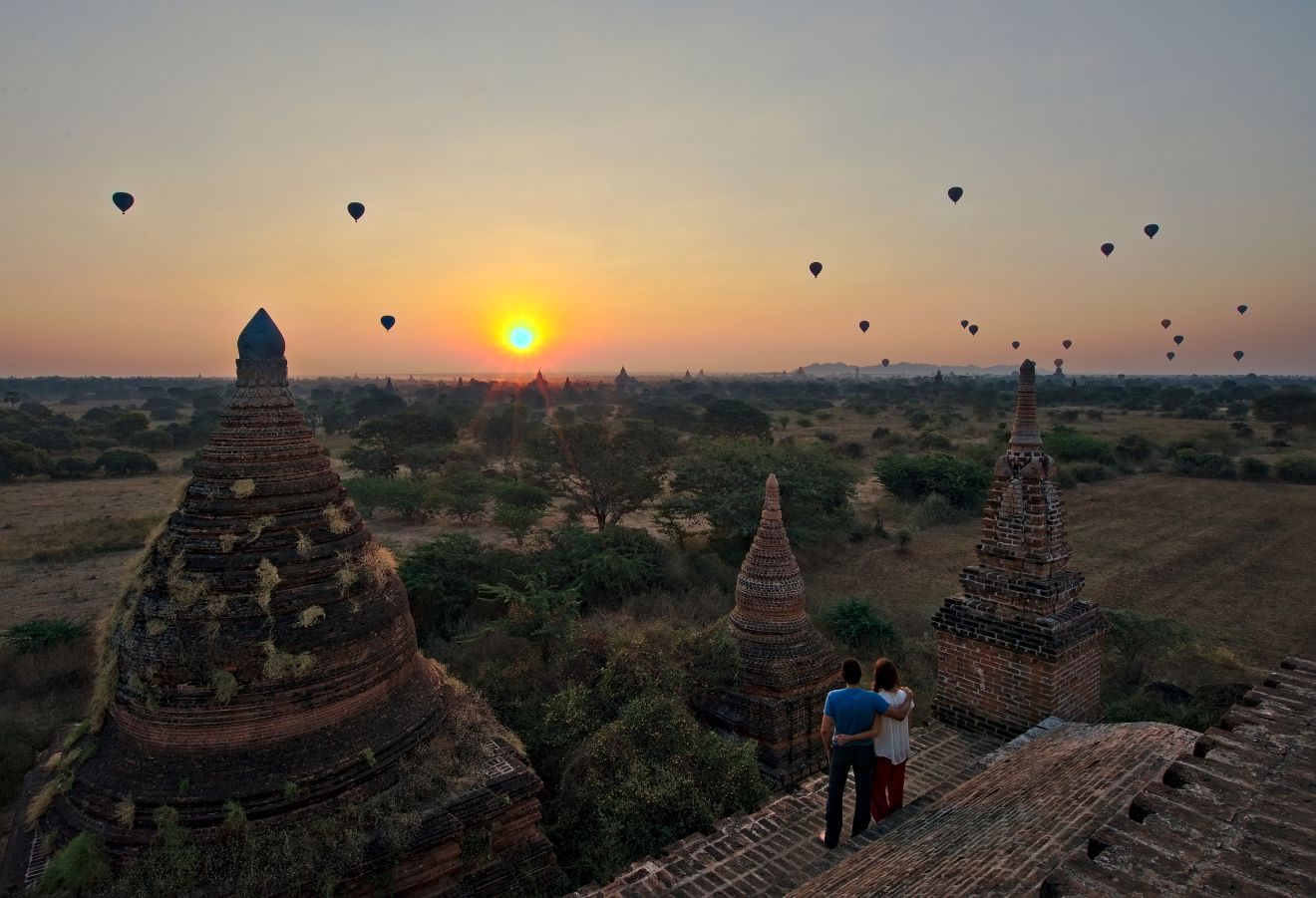 The temple recommended by friends
3rd morning, we decided to trust our friends who came here a couple weeks before us. Their spot is not far from the Sulamani temple and is also really nice! There were not 4 of us but 6 people that morning! The particularity of this place is that it is located just below the route taken by the hot air balloons. It was really nice… we could even say hello to the people inside. And here too, it looks pretty good in the picture :).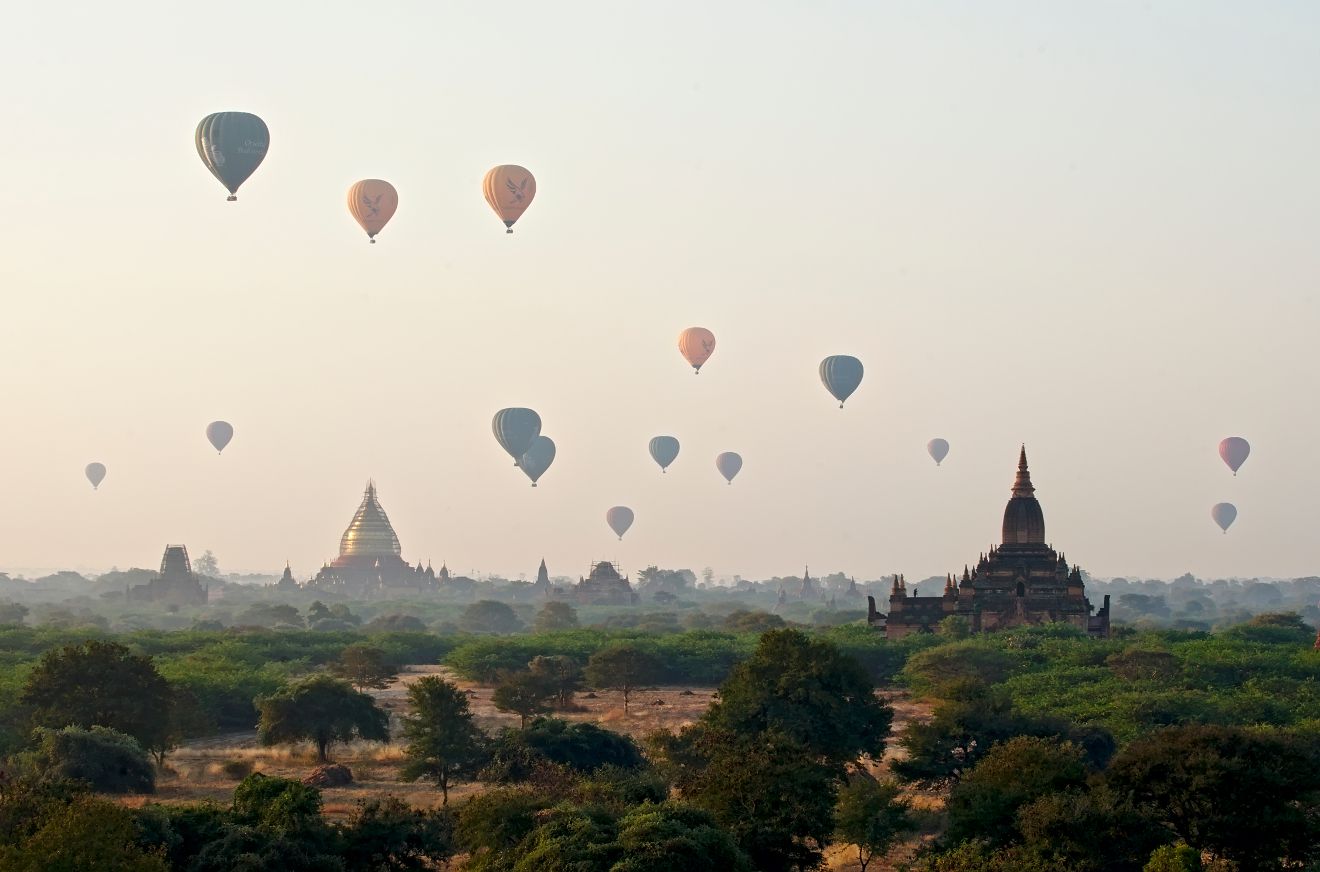 Sunrise from the hot-air balloons on the plain of Bagan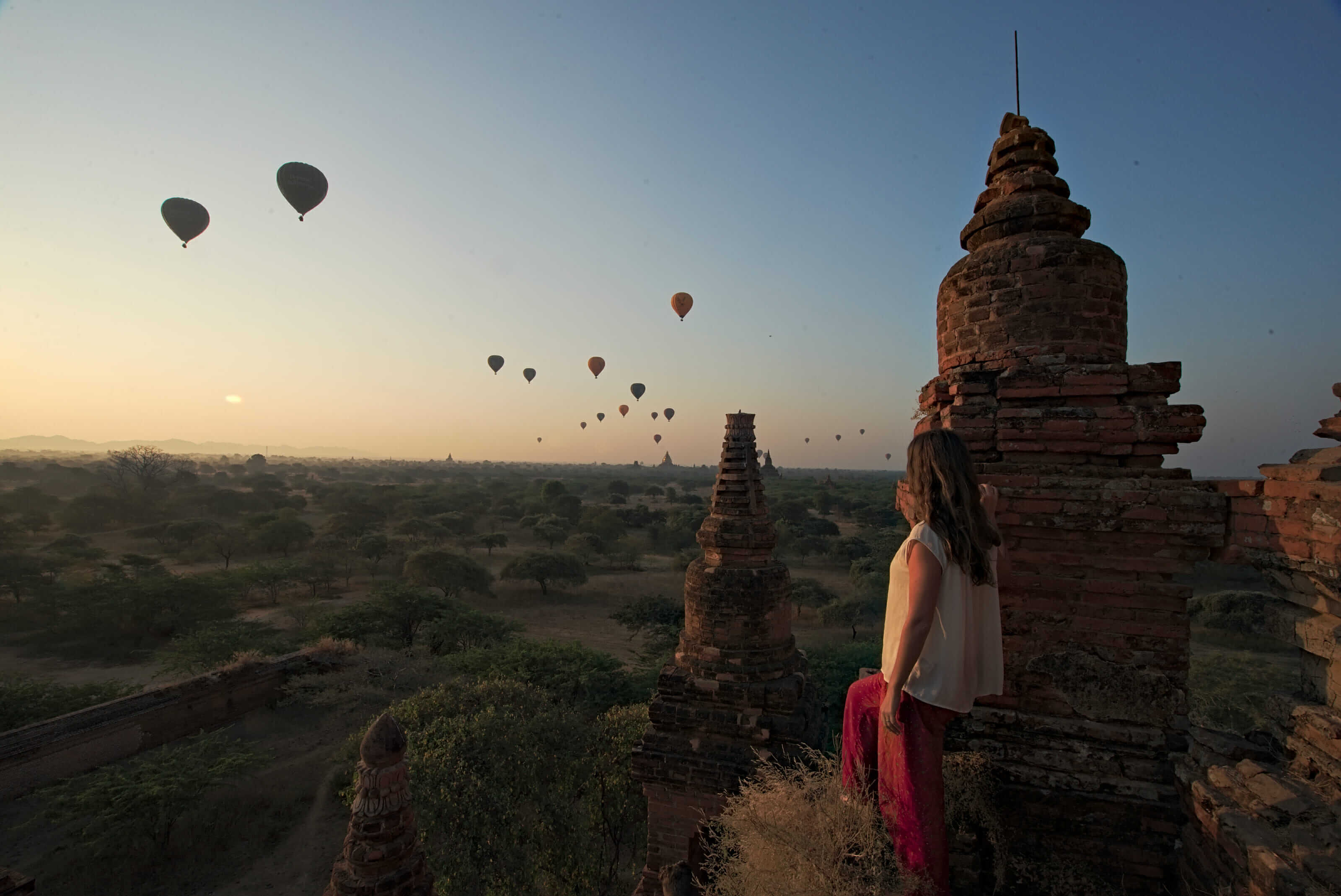 Many travellers come to Bagan to take a ride in the famous hot-air balloons. For our part, we decided to stay "on the ground". The reason? Simply the budget… Ballooning is expensive all over the world and Burma is no exception to the rule. Flights are available from about $300 and it can go up to over $1000 for a private flight. Several companies are operational and it's very controlled. Accidents, although they do happen, are very rare.
For us it was totally out of budget to put 600€ for a hot air balloon flight, even if it must be a magical moment I grant you.
If you are interested you can check availability and book your flight on GetyourGuide. They work with the Golden Eagle company which has a very good reputation.
the best spots / temples for sunset in Bagan
As for the sunrise, it is the Shwesandaw temple and its 360 degree view that is best known for the sunset. But in terms of crowds, it's even worse than in the morning! So here's what we recommend for the sunset.
Getting lost and finding a small temple
Unlike the sunrise when it's nicer to have the hot air balloons in front of you, for the sunset, the place is a little less important. As long as you can climb on a temple, you will have a clear view of the area and it will be great. Thus: Get lost and find a temple you like, climb on it and enjoy!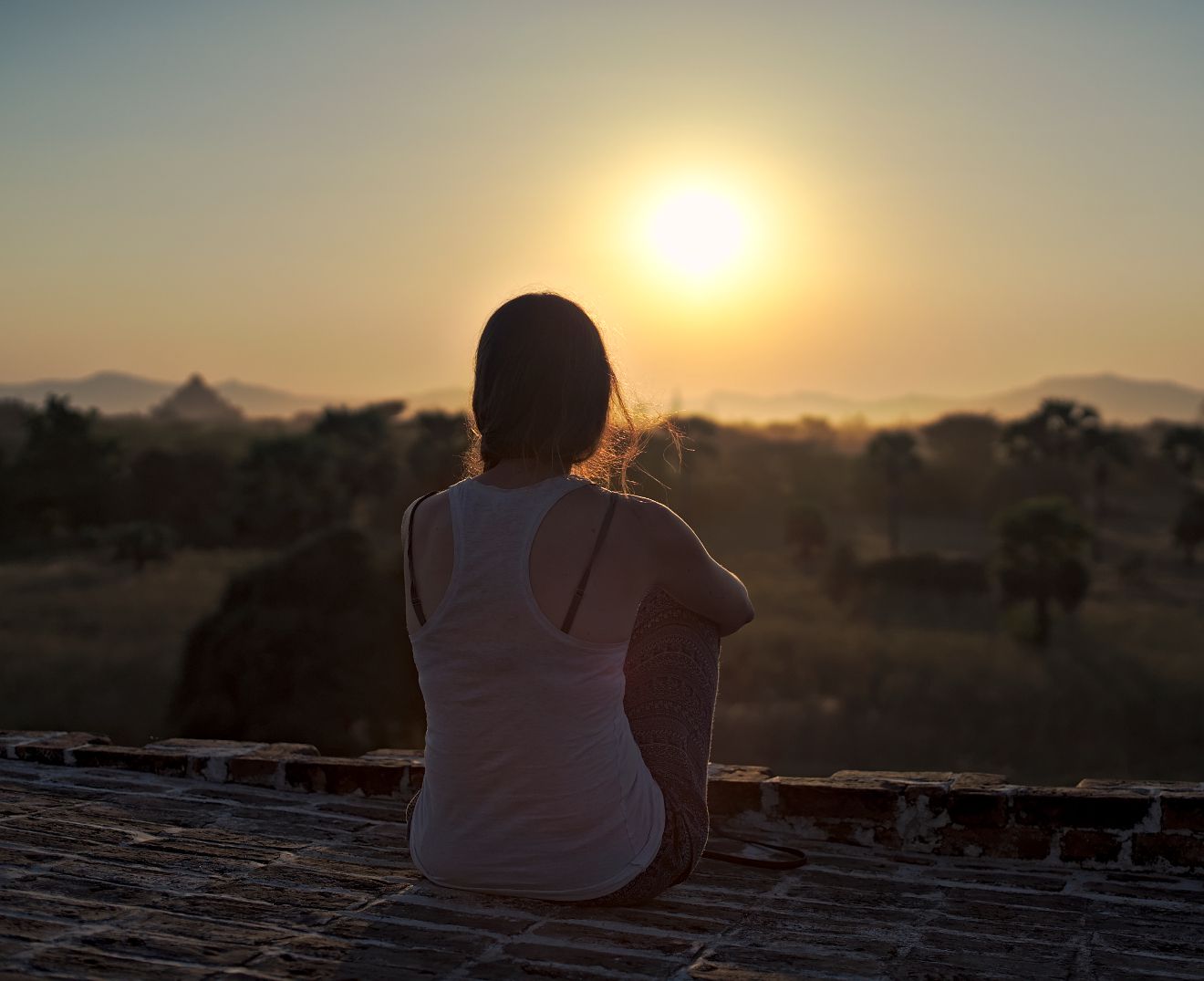 Sunset on the Irrawaddy River
After 3 sunrises, 2 sunsets and 3 days in Bagan, we had a little overdose of pagodas :). So we took the advice of a German we met at our guesthouse and went on the banks of the Irrawaddy River for sunset. And frankly we didn't regret it… except for a few families washing in the river, we were all alone. If you want some advice, save an evening for the river and bring 2 beers with you:).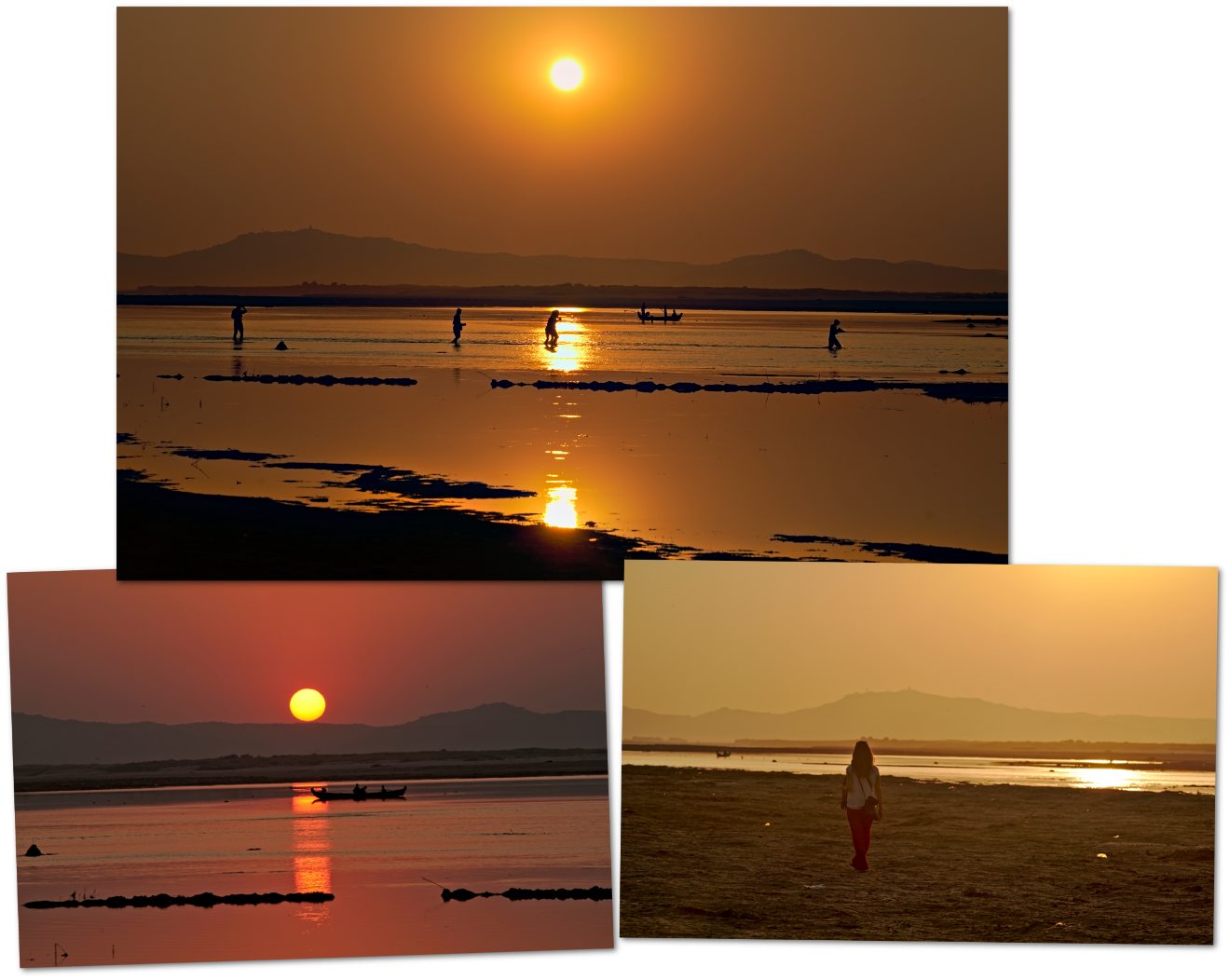 Practical tips for visiting Bagan
For us there are not 36 ways to visit Bagan… it is either by bike or E-bike (on foot the distances are too long and by car it is difficult to take the small paths that reach the smallest temples).
Visiting Bagan by bike: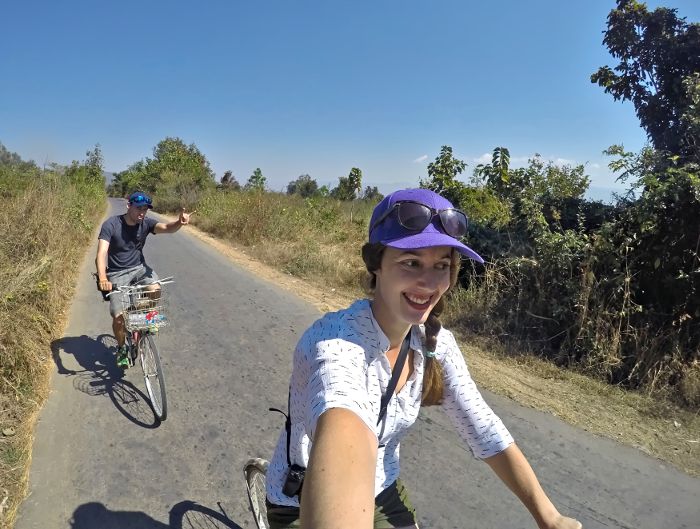 This is the most economical way to visit the temples… but you have to be ready to sweat a little. We rented bicycles (count between 1000 and 2000 kyaths per day available everywhere from 5am) for our first 2 days in Bagan and frankly it wasn't that difficult. So it is certainly a little hot during the day (we took a nap between 10:30 and 15:00 😉 ) but it is perfeclty flat! The only difficulty encountered was in the morning when we had to ride at night, using our headlamps to see the sunrise. As we didn't have good headlamps, we didn't see where we were going and it was a little difficult to avoid the sandier areas of the roads. So we found ourselves once or twice having to push our bike (especially to go to the most temples).
Visit Bagan with an E-bike :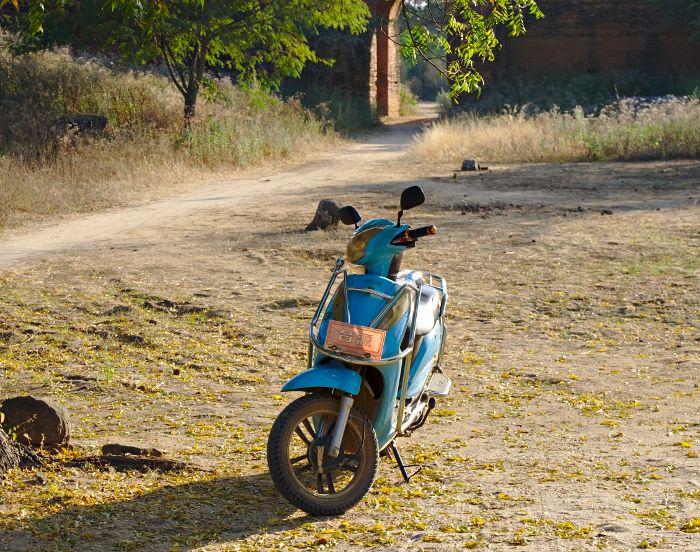 For our 3rd day, we still wanted to test these famous e-bikes (understand by the electric scooters that run at a maximum of 30kmh). To rent them nothing easier…. Most rental shops open at 5am and they will all ask you for 8000 kyaths a day per e-bike. So normally, the advantage of the e-bike over the bike (beyond the fact that you don't need to pedal;)) is that they are equipped with good headlights to ride at night in the morning. But well, we managed to rent the only one that had a faulty headlight and we found ourselves riding a scooter using AGAIN our headlamp 🙂 #Fail. But otherwise we have to admit that it's quite nice and that we spent a relaxing day on our e-bike ;).
Where to stay in Bagan?
There are basically 3 different places to sleep in Bagan. Old Bagan or New Bagan for people who have a little more budget and are looking for nice hotels. Otherwise it is the main street of Nyaung U where all the cheap guesthouses and hotels are located.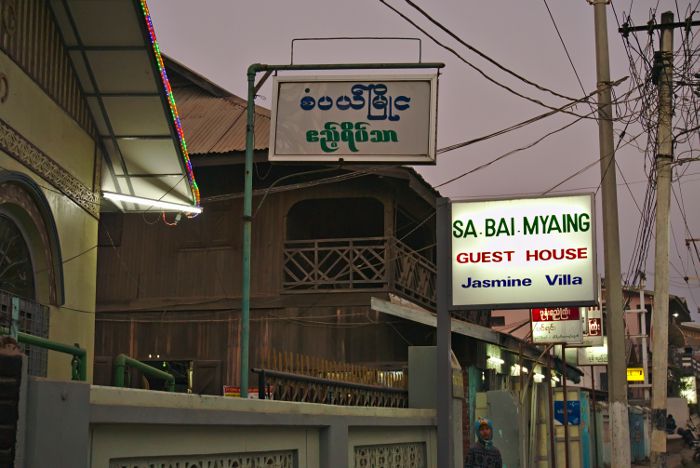 On our side, as we arrived in Nyaung U at 4am, we landed at the Jasmine villa (a guesthouse that is not on the booking sites;) but that a friend had recommended us. They agreed to give us a room at 5:30am without paying for the night which we thought was pretty nice of them:). So it's not really charming but the owners are adorable, the people are nice and the single room starts at $5 a night! On our side we opted for the luxury option with double bed, private bathroom and air conditioning for attention… 16$ per night (including breakfast) ;).
If you are looking for something slightly different there will be plenty of options in Bagan. This city really has something for every person and budget. You can take a look on the map below and use the filters to refine your searches:
Where to eat in Bagan?
There are also many restaurants in Bagan… In Nyaung U, there is a street (Thirispyitsaya 4 St.) where there are many restaurants and bars. We didn't have time to test everything by far but we went to weather spoon's one night which is really good but ultra crowded in the evening. We also tried the Indian which is just before the weather spoon's (I think it was "the wonderful tasty") where we were served an excellent squash curry. And if you want to splurge and need a good pizza (we plead guilty), take a look at "Terrazza Bagan" or "La Pizza" (the owners are Swiss too) which make delicious pizzas over a wood fire… (but it's obviously a little more expensive).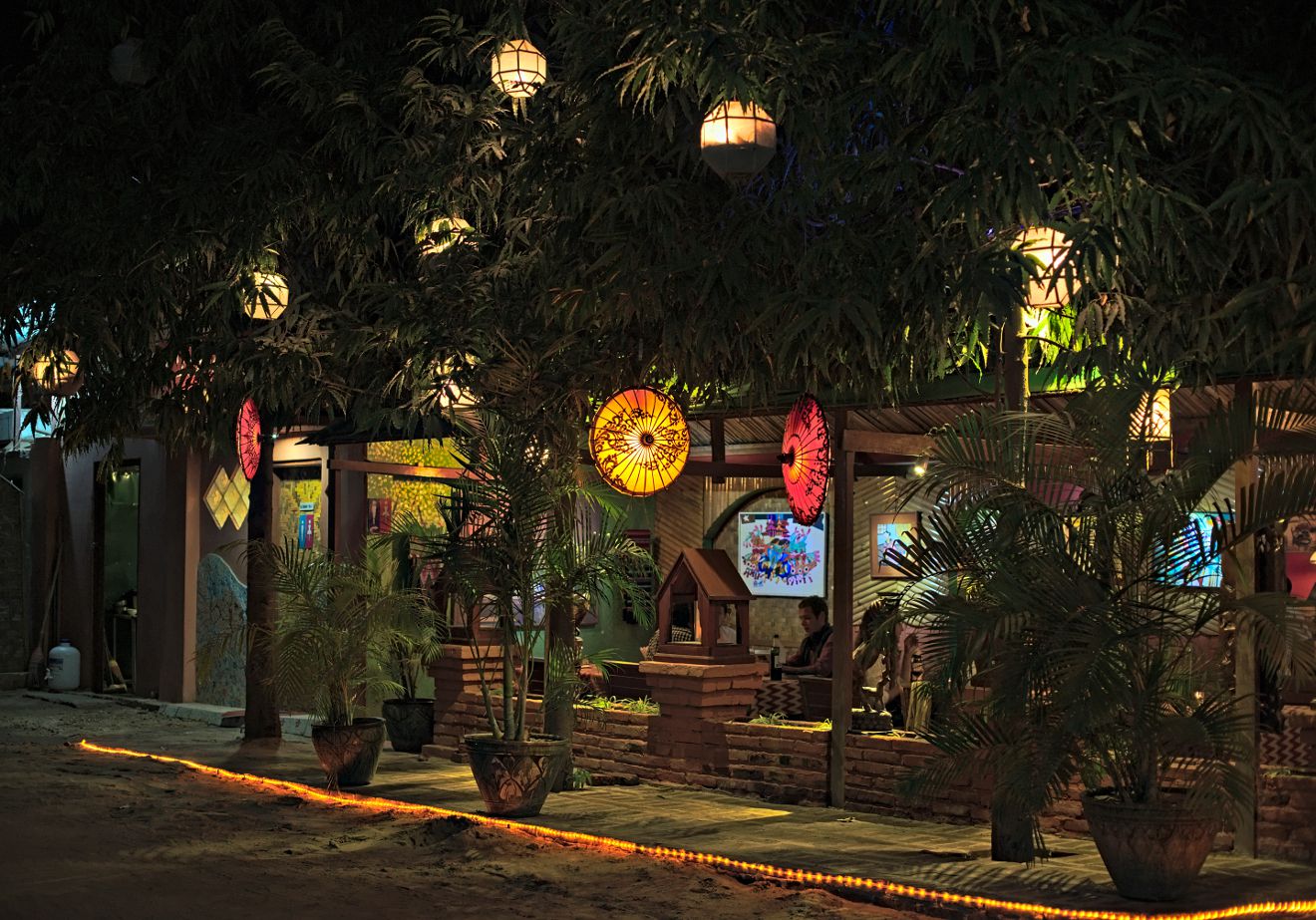 But it's not all nice and cute…
In one of the temples we visited in the late afternoon we saw a sad spectacle that we had already heard about online. When we arrived in the temple, there were about ten Chinese pros photographers (I judge by the price of the equipment they had) with a guide who took pictures of 2 child monks. There was a whole staging with incense, leds in books to light the faces of the children, monks who positioned themselves exactly as the photographers wanted etc…. We quickly realized that we were not welcome and were kindly asked to go up to the roof of the temple.
The staging is not new in travel photography but here we find that it is pushed a little far. We mix money, business with spirituality… And the thing is that these images are then presented as authentic. It's really not pretty !
Our conclusions about Bagan
Anyway, apart from this story of photographic staging, we loved our stay in Bagan. Even if it is THE spot to see in Myanmar, the place is so big that you quickly find yourself alone in the middle of the pagodas (and yet we were there in high season). As one reader told us
" there is a before and an after Bagan… "
now we really understand why! This plain with thousands of pagodas that gradually lights up in the morning, the fog that dissipates, the scarlet red sun that rises to the horizon… It is a show that leaves no one indifferent. And frankly, we can't advise you enough to come and admire it with your own eyes :).
Note: This article contains affiliate links. By booking through our links, you do not pay anything extra, but we'll earn a (small) commission. Thanks for your support