That's it… we're now leaving Peru! At least for the moment…. 1 month backpacking from north to south and discovering this magnificent country!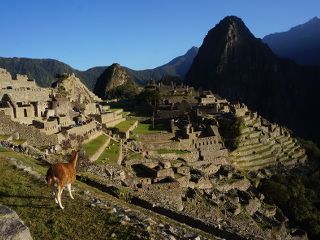 For us, Peru has been synonymous with beautiful encounters, but above all with incredible treks!
Whether it was to reach Machu Picchu in an alternative way or during our passage in the Cordillera Blanca, Peruvian nature and landscapes have left us speechless more than once!
In this post, we'll review our month in the land of the Incas, and as usual we tell you everything about the budget. At the end of the article, you'll also find a special section about the alternatives to join the famous Machu Picchu in which we detail the different associated budgets!
Peru: a country made for hikers!
We had been warned, and the least we can say is that we were not disappointed! Peru is one of the best countries to hike in South America.
We loved the Huascaran park in the north and its impressive Cordillera Blanca and the Machu Picchu region for hiking sooooo much !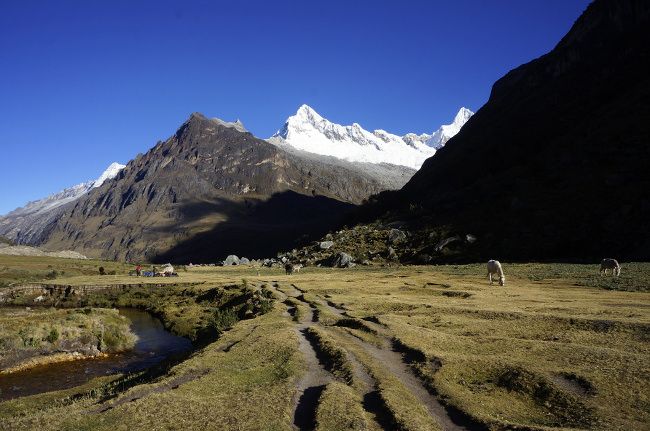 In general, the trails are well marked, and it is relatively easy to hike without going through an agency. Even if in the Cordillera Blanca it requires a little more organization as we explained in our article on the Santa Cruz trek.
In the end, our Peruvian stay ended with nearly 280km of trekking, 10 nights in our tent, a good dose of aches and pains, but above all magnificent landscapes in the head!
Budget: How much does a trip to Peru cost?
A question that is difficult to answer precisely, because avery often, there are as many budgets as there are travellers. 😉
Basically we had planned a budget of 27€ per day and per person to visit Peru.
In the end, and especially thanks to the many treks, we limited the damages and spent less than expected.
In total we spent 1451€ for 35 days of travel, thus an average of 20,7€ per day and per person.
To give you an idea, here are our figures by expenditure item: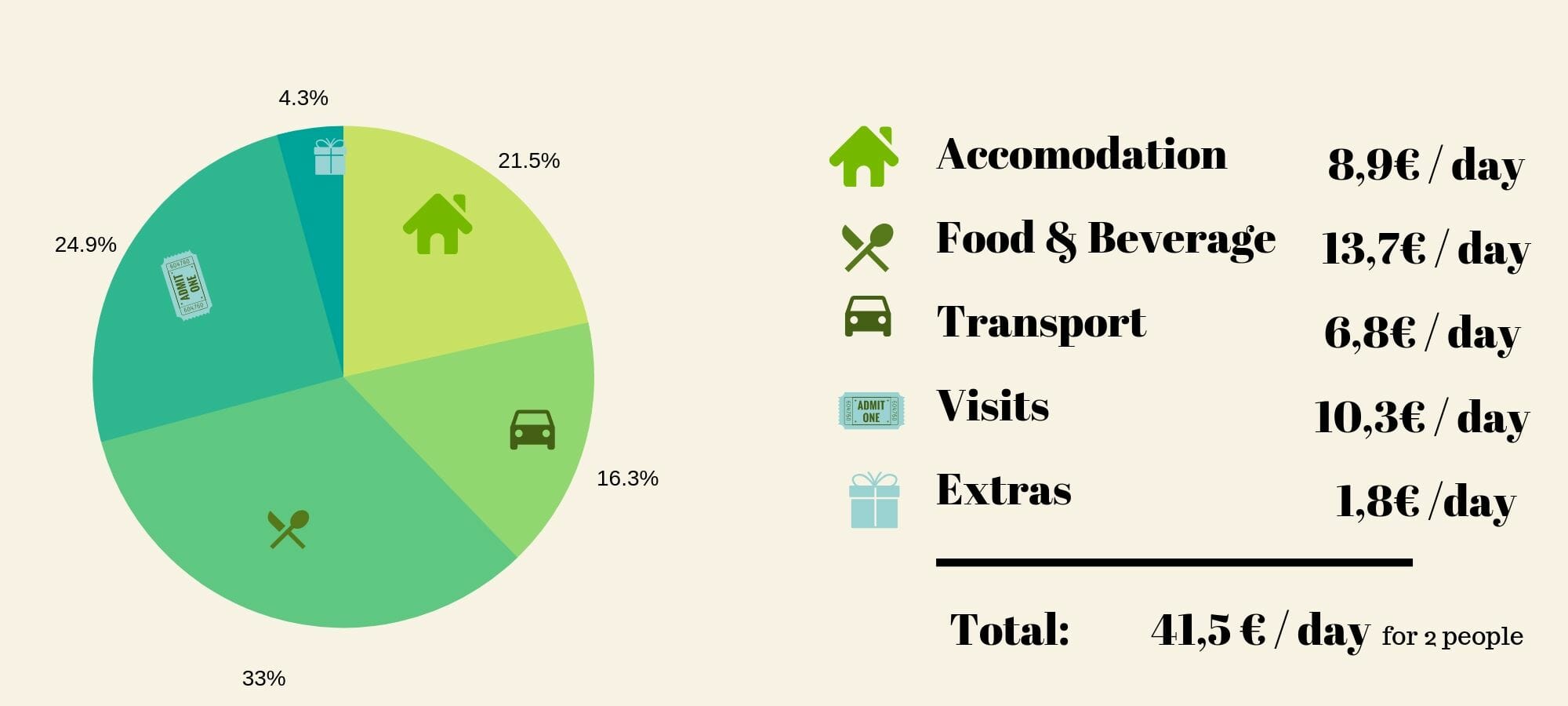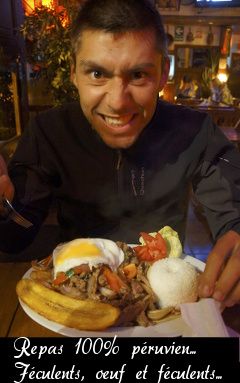 But beware, these are averages! For example, for the accommodation we have camped 10 nights out of 35 (and spent 4 nights in buses). As a result, the daily average is not really representative. On average one night in a guesthouse (double room, private bathroom) cost us 60 soles, or 16€ for 2 people.
But we give more details on housing prices later in this article. The same is true for food…. Let's be honest, a pack of instant noodles swallowed greedily in front of the tent is not quite on the same budget as a llama steak in a Cusco restaurant! 😉
Peru Budget: Our recommendations
To sum up, it seems that a budget of 21€ per day per person is an ideal budget for those who love hiking and camping and who are not afraid to walk a little and carry their food.
On the contrary, if hiking and instant noodles are not your thing, then a budget of 27€ per day seems more suitable.
But in any case, Peru remains a country in South America where it is possible to travel on a reasonable budget.
Learn Spanish in Peru
During our trip to South America we decided to take Spanish lessons when we arrived on the continent! As a result, we took our courses in Quito, Ecuador (it was our first South American stop), but there are quite a few travellers who opt for courses in Peru.
If you want our opinion, the best city to do classes is probably Cuzco! There are language courses available in all Peruvian cities. But if we had to choose to settle down for a few weeks, we would clearly choose Cuzco over Lima for example. 😉
Transports in Peru
After travelling 9 months in Asia I can promise you that we had rather low standards of comfort… So already in Ecuador we were impressed by the quality of the roads and buses, but that was before Peru!
In Peru the buses are incredible, super comfortable and frankly not so expensive….
Here is a short summary of the trips we have made in Peru, the type of seat and of course the price…
From Cuenca (Ecuador) to Chiclayo: Super Semara. About 12 hours of travel, 20$ US per person in a semi-cama. To read the story of our border crossing again, it is this way
From Chiclayo to Trujillo: Linea company if our memories are good… we are no longer sure… it was only a 3-hour drive… But anyway we had paid 15 soles per person.
From Trujillo to Huaraz: Movil Tours, A super comfortable bus. Price per person: 50 soles in semi-cama. Meals on boardFrom
Huaraz to Lima: Z'Bus, offers from our hostel: 50 soles per person in semi cama including taxi to the bus station. Meals on board.
From Lima to Cusco: Super Civa. Good bus, affordable price of 120 soles per person in semi-cama (all meals on board), 23 hours of travel. Benoit's stomach flu has ruined the fun a little bit, but definitively a good option!
From Cusco to Cachora: Bredde company bus, about 3 hours drive, 25 soles per person
From Cusco to La Paz (Bolive): Nuevo continent, 18h drive, price of 80 soles per person in cama.
Book buses in Peru online
It didn't really exist at the time of our round the world trip but today, there are several platforms like
Bookaway
or
12Go
which allow you to book your tickets online. We have to admit that it's quite convenient and we would have certainly used those platforms if they had existed at that time.
check the buses in Peru on Bookaway
Cruz del Sur: why didn't we travel with them?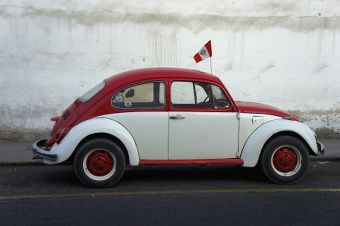 You will notice that we have not travelled once with the company "Cruz del Sur", yet it is the company that is recommended in all tourist guides and on the net….
So 2 reasons for this: the first is Cruz del Sur is a company 100% dedicated to tourists, so you can certainly meet nice people there, but forget the idea of meeting Peruvians.
The second reason is the price! On average, Cruz del Sur buses cost between 20% and 40% more.
Personally I agree to pay more if it is of real interest to my safety…. But honestly some companies like Movil Tours, Linea or Super Civa offer similar comfort and they didn't seem more dangerous to us.
Hotels in Peru – where did we stay?
We told you above we spent a total of 10 nights in tents in Peru as well as 4 nights in night buses… But rest assured, we also found 2-3 beds in Peru! 😉
Chiclayo: Hostal Sipan (or something like that) But nothing transcendent. Price of the double room: 65 soles. This was our most expensive room in Peru, but by far not the best option. Find a place to stay in Chiclayo on Hotelscombined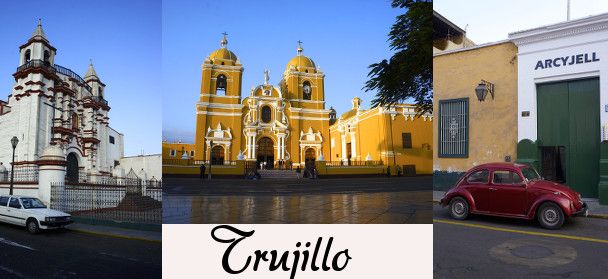 Trujillo: Hospedaje on Junin Street. Clean and friendly staff. Double room with private bathroom: 50 soles
Huaraz: Alpes Huaraz. A youth hostel as we like them. Spacious room, clean, common space with kitchen at disposal and good wifi. Price of the double room with private bathroom: 60 soles. Check availability
Lima: Hotel España. An old building renovated in a rather kitsch style (crystal chandelier, Greek statues and gilding). Price of the private room with shared bathroom: 55 soles. See the availabilities
Special mention for the roof terrace which offers a view of the cathedral and on which 2 peacocks, 5 turtles and 2 parrots walk freely.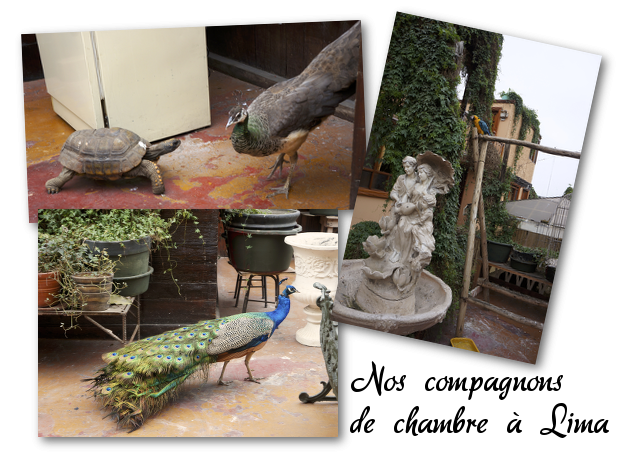 Cusco: Hostal el puma, a little on the top of the plaza de Armas. Super manager, great room, even if when we were there it was freezing cold! 😉 Price of the double room with private bathroom: 60 soles.
Good wifi, kitchen at disposal. See the availabilities
Aguas Caliente: Honestly, we don't remember it… but nothing memorable! The hotels follow each other and all look alike…. But for your information, we have found a private room with a private bathroom (hot water!) for 60 soles.
Machu Picchu: How much does it cost?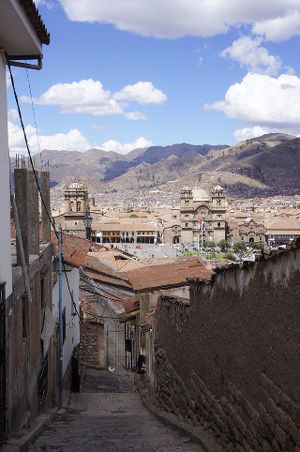 Hehe the million-dollar question!
So Machu Picchu is for sure, it's an incredible site, but believe us it's also quite a business!
There must probably be more than 100 ways to visit Machu Picchu and just as many budgets…
Thsu, we have decided to prepare a short summary on the different options available to you and the associated budget for people who like trekking and those who prefer to take the train or bus.
But know that in any case a visit to Machu Picchu will take you at least 2 days if you leave from Cusco.
Some agencies offer the round trip in 1 day, but if you want our opinion it's pure madness!
Do you want to make other visits in Cusco such as the Valley of the Incas or the 7-coloured mountain (Vinicunca)? Have a look at GetyourGuide to see some tour ideas.
For those who do not want to trek (from the most expensive to the cheapest):
Take the train from Cusco to the Machu Pichu

The most expensive option, but probably by far the most comfortable. For the train journey it is necessary to count approximately 75€ the one-way ticket or 120€ the round trip. Once there, the ticket for Machu costs 126 soles, or about 34€, and for accommodation it costs between 10€ and 20€ per person. Add to that 2 meals and some snacks, and you arrive roughly at a total of 200€ per person for 2 day/1 night.
Go to Machu Pichu by combining the Bus + Train via Hydroelectrica
From Cusco it is possible to take a minibus that takes you to Hydroelectrica and then to take the train. Minibuses cost on average 50 soles per person for a one-way ticket, or 13€. If we count the train from Hydroelectrica to Aguas Caliente (22€ the trip), it amounts to a total of 70€ the round trip. Plus the hotel, entrance to Machu and meals, it costs roughly 150€ per person for 2 days 1 night.
Getting there by bus and on foot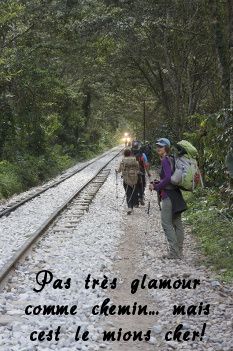 Same as point 2, except that instead of taking the Hydroelectrica train to Aguas Caliente you walk along the train tracks. This section is far from beeing incredible in terms of landscapes, but has the merit of bringing you closer to Machu Picchu quietly….
Distance: 11km, allow about 2h-2h30.
In the end, by doing so, it costs you about 110€ per person for 2 days/1 night and the visit of Machu.
NB:If you are a student, entry to Machu Picchu is half price (58 soles). However, remember to have an international student card (ISIC). In case, this card can be made in Cusco (on the main square, 8€)
For trekkers at heart (from the most expensive to the cheapest):
The Inca Trail to Machu Pichu

The most famous and most popular trekking route also! This is a quiet 4-day trek, with a total of 45km which has the more than certain advantage of getting you directly into Machu Picchu in the early morning (without going through the official entrance).
But in recent years the Inca trek has also experienced some limitations, so nowadays it is important to know that only 500 people can use this route every day. But beware, 500 people does not mean by far 500 tourists!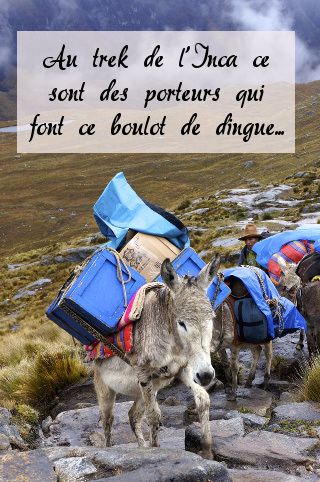 Mules are forbidden on the trek, so each group leaves with porters and of course a guide. By removing the guides and porters there are only 200 places left per day for hikers! In short, this trek costs between 440€ and 1000€ per person for 4 days.
The range is wide, but it depends on the number of people in the group. If you want a small group tour for 3-4 people then it is 1000€, for 440€ they are usually groups of 14-16 people.
But it is essential to reserve at least 2 months in advance (even more in advance for July and August). The price generally includes the trek itself, all accommodation (in tents), all meals, entrance to Machu Picchu and return by train to Cusco.
The Salkantay trek (or variations of it)
With the success of the Inca trek and the limitations imposed, don't worry, the agencies have redoubled their efforts to propose alternatives. The most famous is the Salkantay trek.
This is a 4-day trek of about 65km kilometres. But be careful, with this trek you will arrive at Aguas Caliente and you will enter Machu like everyone else through the main gate.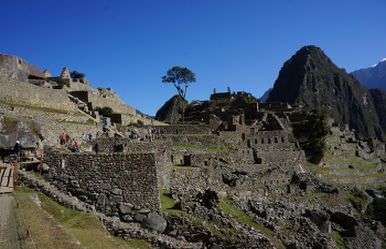 There are variations of this trek (the jungle trek is one of the most famous) that make you go mountain biking, zip line and so on. But overall this type of trek sells for around 200€-350€ per person for 4-5 days. The price of the trek usually includes the trek, accommodation in tents, food, entry to Machu and return to Cusco (by train or minibus depending on the conditions).
These treks are considered magnificent but be aware that they can be crowded during the high season (July-August). Because unlike the Inca trek there is no maximum number of people per day.
If you want to do one of these treks, but you don't know when you will arrive in Cusco don't worry! There are departures every day and there is always a spot left. (And it is often cheaper than on the internet)
The Choquequirao Trek and the continue to Machu Pichu
We weren't going to make you a list of options without telling you about the trek we chose: El camino de los locos. It is a 9-day trek with 166km and above all a rather imposing difference in altitude. To read about our adventures on this trek, it's this way.
For information there are some agencies of Cusco that offer this trek. The prices we saw, were around 700€ per person for 9 days! It's really expensive if you want our opinion!
Then, you can always decide to do as we do, i.e. play it solo, without an agency, and carry your own equipment.
In the end the trek came back to us at 145€ per person for 9 days. This includes bus transportation, food, camping, entrance to Machu and Choquequirao and overnight in Aguas Caliente.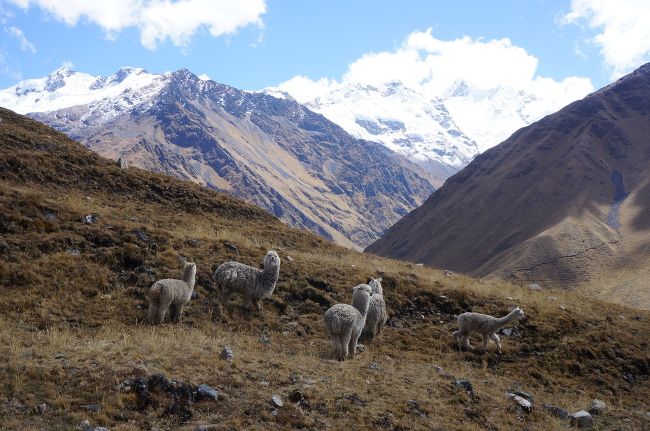 Should you buy your Machu Pichu tickets in advance?
Big update 2019: We originally wrote this article in 2014, following our trip to Peru. In this section we explained how, at the time, it was still possible to find same-day tickets. Unfortunately, it seems that things have changed a lot since then, and now booking your ticket has become imperative.
Machu Pichu ticket: how does it work?
Since 1 January 2019, new rules have been introduced:
Visitors must choose the time slot during which they wish to visit
Visitors are required to enter the site with an official guide
To access the site you must present your ticket and passport
The visit follows an established route and you can stay on the site for a maximum of 4 hours.
You can choose to buy a ticket for the site alone, or a combined ticket with either the mountain or Huayna Picchu.
See the tickets and different combinations
From the end of 2019, ticket prices will also vary according to the time of the day. The first morning tickets will be more expensive than the late morning or early afternoon tickets.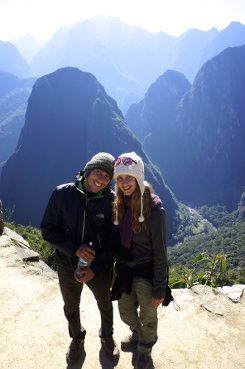 We admit it to you, we haven't seen what all these questions of schedules and regulations give "in real life" but let's say that we are quite divided on this decision. Of course, regulating the flow of visitors was necessary for the preservation of the site and that is understandable. The problem is that with all these changes, it leaves much less flexibility to travellers and above all… it has become more expensive!
You can book your guide in advance by taking a combined ticket like this one, but it is still possible (and cheaper) to take a guide directly on site. From what we have heard, a guide charges about 40€ for 2.5 hours of visit, so the more people you are, the more it is worth doing it like that.
If you were on site recently and you have additional information to bring, don't hesitate to leave us a comment! This will help us to keep this article up to date and will help future travellers.
Here you know everything about our Peruvian accounts and the options to join Machu Picchu! We'll meet you soon for our first steps in Bolivia!
NB: Please note that this article contains affiliate links to partner sites. If you buy a product on one of their sites you will not pay more but we will receive a small commission. This will help us to keep this site alive. Thank you! 🙂