After about fifteen months spent in the Austrian capital we have already had time to test a lot of restaurants in Vienna (we like to try some new food…).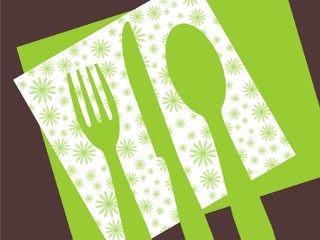 It therefore seemed natural to us to share with you our addresses of the best restaurants so that you can have as much pleasure as we did in the Austrian capital.
It is also good to know that there is no need to spend a lot of money to eat well! However, it is more difficult to avoid tourist catches in the city center. Here are some tips and addresses that may be useful to you.
Austrian restaurants and cuisine in Vienna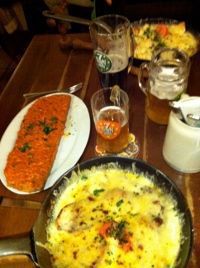 As you have already heard, Austrian cuisine is not the lightest thing on the planet. And the quantities served on the plates are often quite large. Moreover, after the excitement of the beginning, we quickly had enough of the giant Wiener schnitzel's with its potato salad.
The problem is that most of the restaurants you will come across offer a fairly modest menu. On the menu? Mainly these great classics of Austrian cuisine that are a hit with tourists.
However, after a few attempts, we managed to find some addresses that offer a wider variety of dishes while remaining typical. Of course, I'm not saying you shouldn't go eat a good big Wiener Schnitzel!
Taste Vienna
If you want to do something different in Vienna, there are a lot of activities around gastornomy.
For example:
Demonstration of the manufacture of the famous Strudel and tasting – See more
A gastronomic visit to the Nachmarkt – More Information
A concert and dinner at the Schönbrunn Palace – Plus d'infos
These are only a few examples! If you want to eat well and take the opportunity to do an activity there are plenty of options. We only tested the dinner shows and it was great!
But the places we will recommend certainly offer these dishes while giving you the opportunity to discover aspects of Austrian gastronomy that might not be so well known.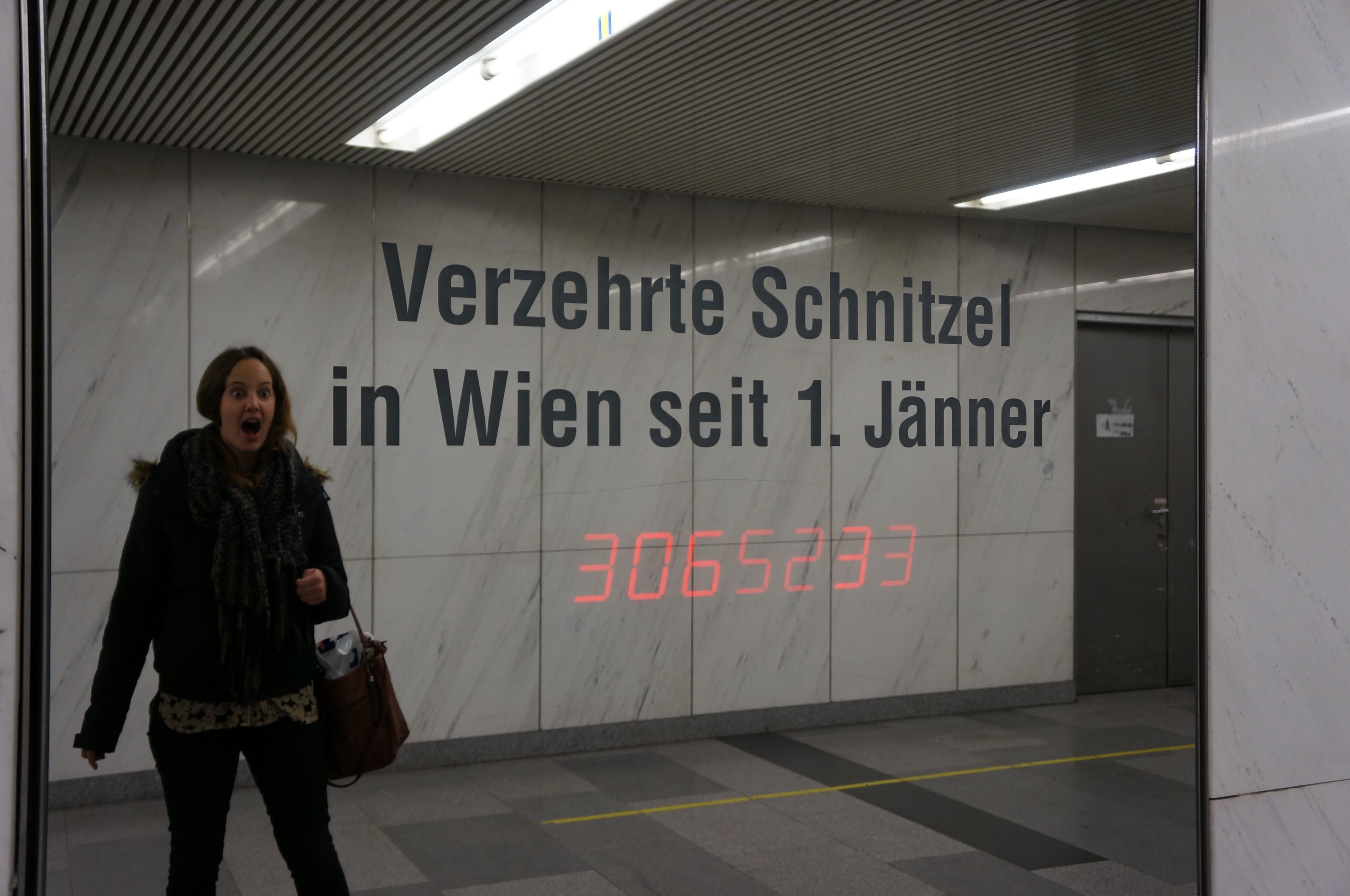 About the prices, we will probably not offer you here the restaurants with the best quantity/price ratio. On the other hand, the quality is promised!
However, you will see that in comparison with Switzerland (at the same time it is not difficult to make cheaper than Switzerland) and France, you will be surprised to see how much you can eat in very good restaurants without spending so much moneye… Well… Enough talking! It's ranking time:
Top 5 Austrian restaurants in Vienna
This is probably our favorite restaurant in Vienna! We've been there about 20 times, I think. 🙂 Every time we have guests hehe. In summer, you can eat in a beautiful courtyard. When the temperatures are less pleasant, a typical and welcoming interior will allow you to eat in the warmth.
This place always offers a very extensive seasonal menu (asparagus, chanterelles, truffles… it is not so common in Austria) as well as the great classics. The plates are simple but always well presented and the prices very reasonable. Count between 15 and 20 euros per person with drinks. It would be a real shame not to go there if you are in Vienna. It's really worth a visit…

It is in one of these three restaurants that you will eat the best Tafelspitz in the city! And what is the Tafelspitz, you might say? Well, it's a precise piece of the upper thigh of an ox. The meat is simmered in a delicious broth and served with a multitude of side dishes, each one better than the next.
It was one of the favorite dishes of Emperor Franz Joseph, husband of Princess Sissi. These restaurants are quite chic (well… no need to take out the suit either) but the way the Tafelspitz is served (everything in the middle of the table and everyone serves themselves) make it a very convivial place… In terms of prices, it's a little bit more expensive but it's worth it! Count about 30 euros per person.
Dinner Show

The Rathauskeller also offers the option of having dinner shows!
More information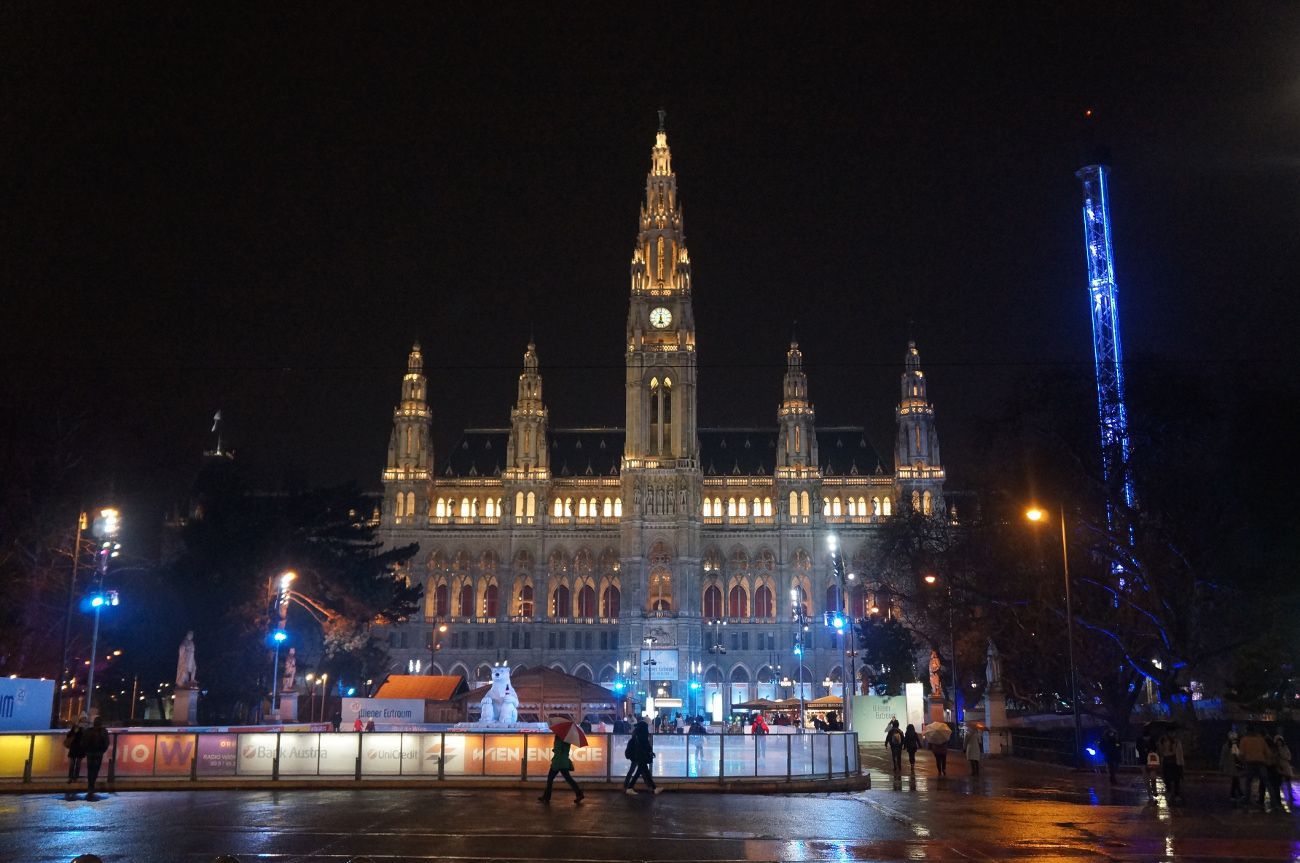 It is the most chic of the restaurants we propose you in this article. Located under the magnificent Rathaus of Vienna (in the cellar in fact), this address benefits from an exceptional setting. The rooms are absolutely beautiful and have personally made a lasting impression on me. It's really the kind of place that takes your breath away when you walk in!
In terms of food, it is a bit like Austrian gourmet cuisine. There is not a huge choice but the cuisine is delicious and very well presented. However, it is better to wear a nice shirt (or dress) if you decide to test this restaurant. Count between 40 and 50 euros per person.
In a completely different style, here is one of my favorite breweries in Vienna or "Heuringer" as they are called here. You can test the different homemade beers while eating traditional Austrian dishes. It is a perfect place to spend an evening with friends without breaking the bank… Indeed, the prices are very correct! I'd say we can eat something and have a beer for 10 euros without any problem! Ahhhh yes, they also have a Bier Garten (beer garden = terrace) open during the summer…

Well anyway, I had to put in this top 5 the address to eat the best (and also the biggest) Wiener Schnitzels in the city! I don't think you'll even miss the posters advertising this restaurant at the airport already…
But even if this place is very touristic, the fact remains that the dishes served are of very good quality! And the Schnitzel is gigantic there!
A little tip: the restaurant is divided into two parts and tourists often queue in front of the first entrance. Follow the signs and continue for 100m if you don't want to wait 🙂 .
A small negative point though, the service sometimes leaves something to be desired because there are so many people! In short, the waiters are relatively under pressure… Count 20 euros per person to eat Schnitzel with side dishes and drinks!
BONUS
This is not a restaurant as such but a canteen! But a rather special canteen…. The one of the courthouse!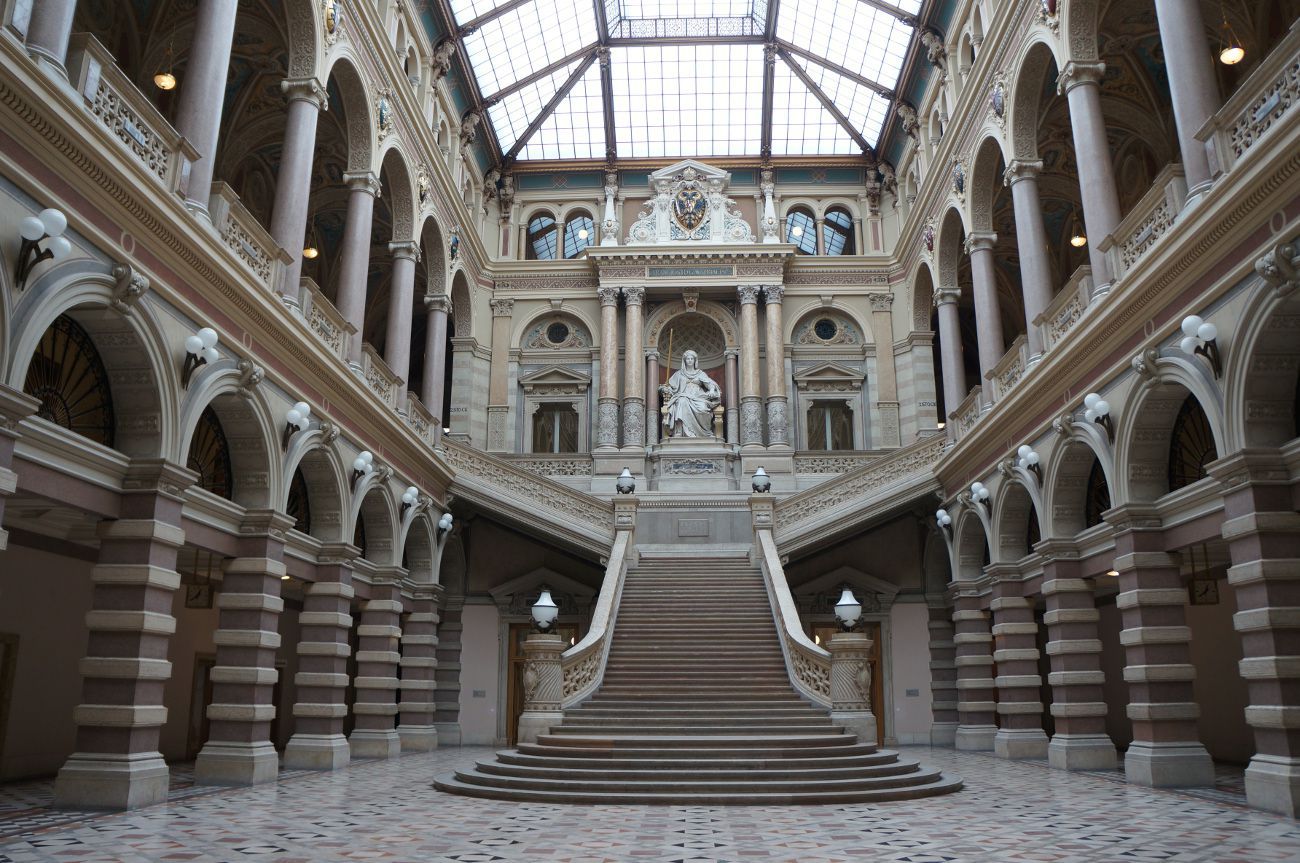 Intuitively, we wouldn't necessarily think of going to a courthouse and even less so to eat in its canteen. But in fact, it's really worth it! When you arrive at the courthouse you must first pass the security checks (it is like in airports with the security gate and bag check). Then we climb to the top and enjoy a breathtaking view!
Here it is not a mecca of gastronomy but it is an option to eat a cheap lunch in a rather atypical setting with a view to fall on the ground! Believe us, it's really worth it!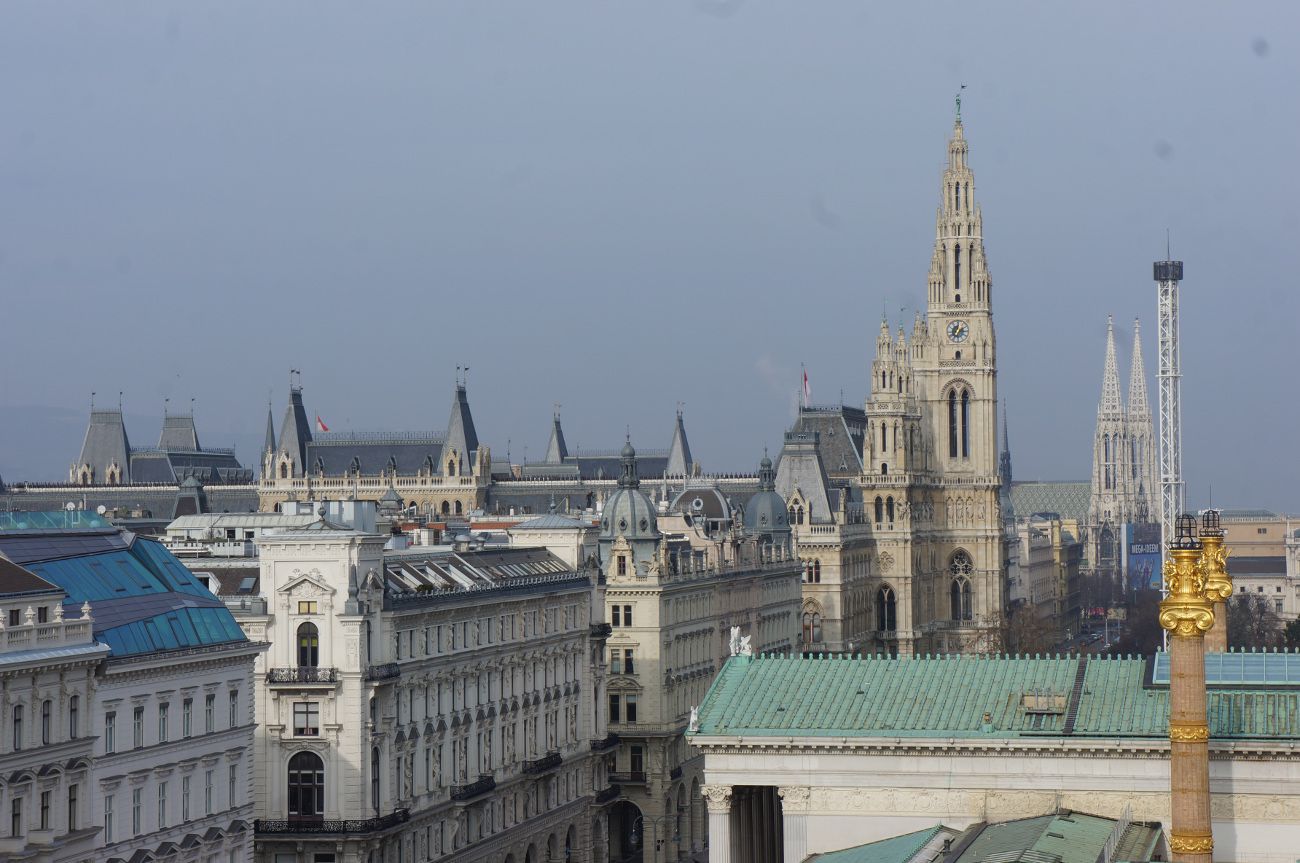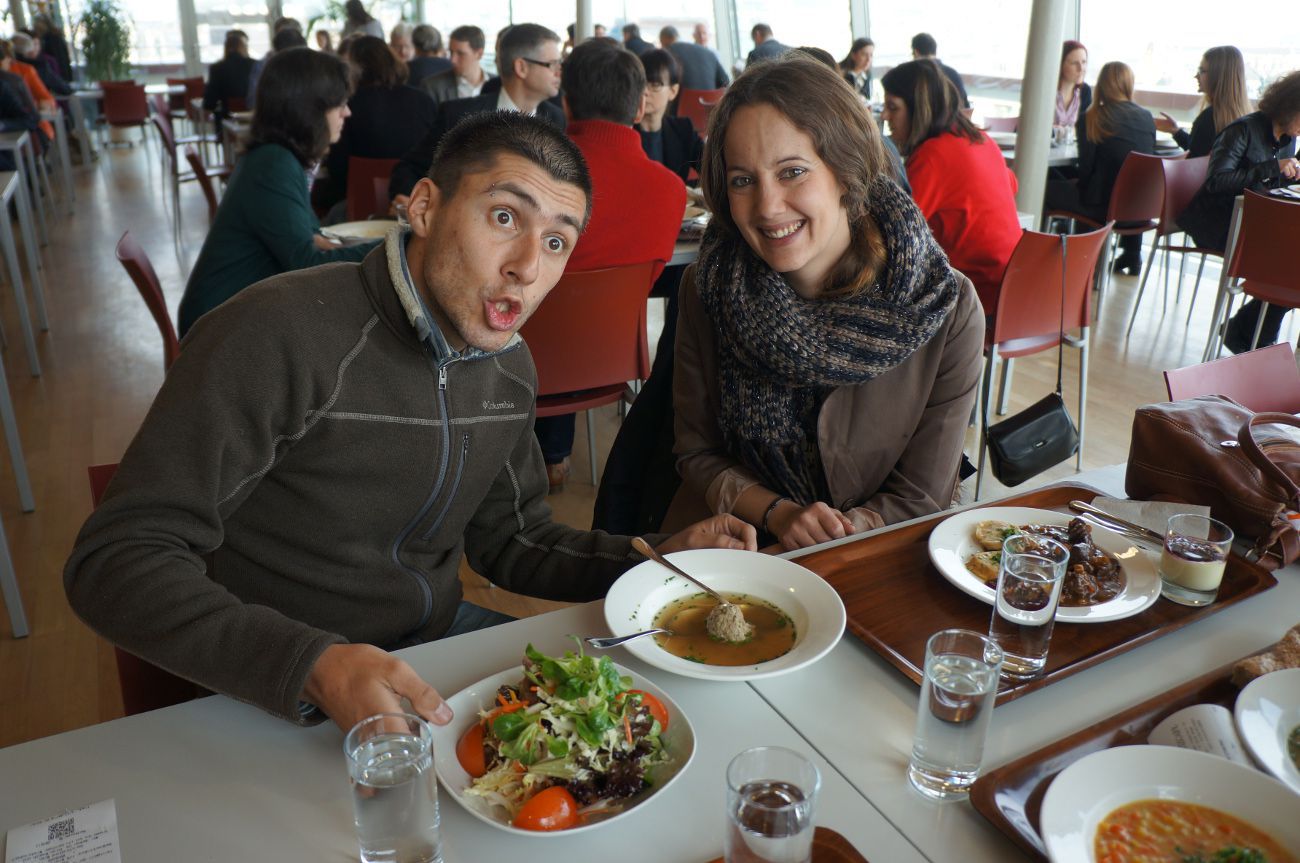 So here is a short list of restaurants not to be missed in Vienna! If you want to discover Austrian cuisine, I would really recommend the first one on the list. It's been our favorite since we've been here. And of course, if you have already been to Vienna and have a good address to recommend, don't hesitate to leave a comment 😉 .
Where to stay in Vienna

Accommodation in Vienna is unfortunately relatively expensive… But don't worry, there are still some good alternatives, especially in terms of youth hostels.
If you prefer to choose a hotel or hostel, we recommend that you visit the website of Hotelscombined. It is a search engine that allows you to compare several major booking sites such as Booking, Agoda, Expedia and many others. In short, the guarantee of the best price!
Youth hostel does not necessarily mean dormitory… In Vienna many hostels offer double rooms with private bathrooms, in short it is like in a hotel but cheaper! Our advice: Have a look on Hostelworld and look for accommodation thanks to the map option, everything that is close to the centre and Mariahilf will be an ideal location to discover the city on foot! My little favorites? Wombats city hostel, Wombats city Lounge, Ruthensteiner
The alternative? An apartment. In Vienna there are hundreds of holiday homes. The prices are clearly not cheap, but it can still be advantageous to have an apartment compared to a hotel room because you can save a lot on restaurants.
If you'd rather choose your accomodation based on location you can take a look on the map below. You'll see all available apartments and hotels for your desired dates / price range:
NB: Please note that this article contains affiliate links to partner sites. If you buy a product on one of their sites you will not pay more but we will receive a small commission; this will help us to keep this site alive.