After our little article about autumn in the Austrian capital, it is now time to take a look at one of my favourite seasons in Vienna: winter.
In this article I will mainly talk to you about my 100% winter favorites in the Austrian capital and its Christmas markets. Of course, many of our good addresses that we have written in other articles remain valid this season and I invite you to come and take a look at these other blog posts we wrote:
Edit 2019: we lived in Vienna from June 2011 to August 2013. All the articles on the blog were written at the time. But as we still love this city so much and return there almost every year, all the articles have been kept up to date.

Visit Vienna in November-December or visit Vienna in January?
If you have come to this article you may be wondering if it is better to come to Vienna in December or January… You will see it in the rest of this article, but there are plenty of things to see and do in Vienna in winter! The thing is that not all of them can be done at any time… Here's a quick overview:
Vienna in December: Christmas market and festive atmosphere
December (or already at the end of November) is undoubtedly the best month to visit Vienna and see the city in its most festive light and enjoy the magnificent atmosphere of the Christmas markets.
Vienna in January: 100% winter activities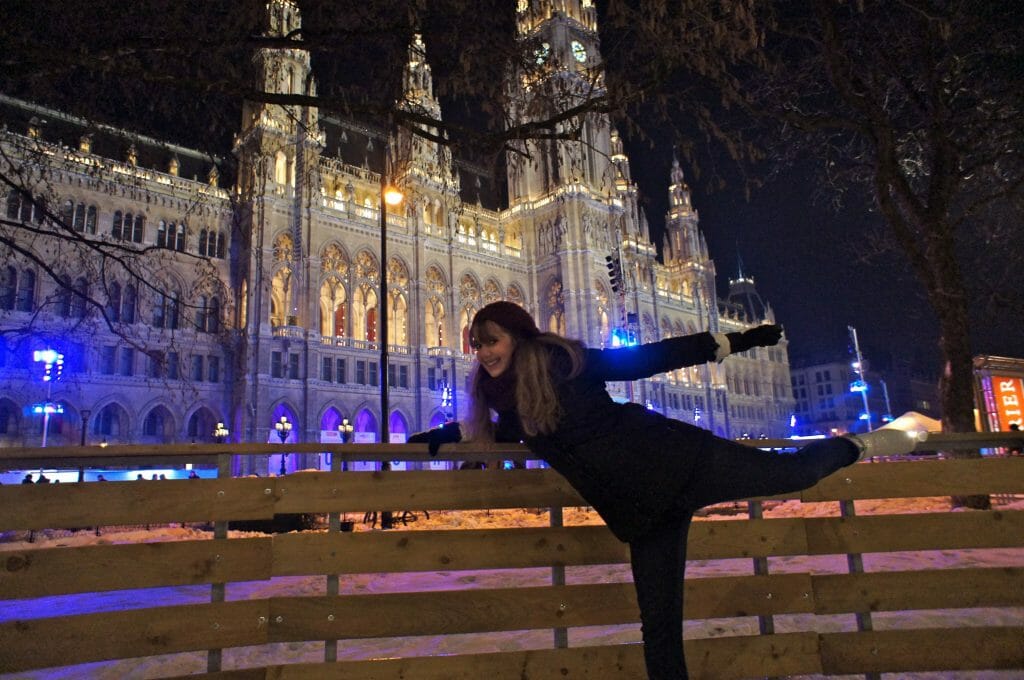 In January the decorations are still in the streets but the Christmas markets have all already closed their doors… On the other hand, if your goal is to see the city under a beautiful white coat and walk on the frozen Danube (or skate there) then January will most likely be your best option! January is also a little less touristy and this tends to have a slight impact on the price of accommodation and transportation.
A winter in Vienna – weather
Let's say it right away, the Viennese winter is chilly as we say at home… The thermometer will only rarely show above 0° between December and the end of February! But in itself this is not exceptional, you will tell me….
For my part, the biggest difference between Austria and Switzerland is the wind. In the Lake Geneva region we have a cold wind called the breeze, which sometimes blows in winter. Well in Vienna the "sometimes" becomes "constantly". As a result, the temperatures felt are often lower than the actual temperatures.
Snow does not fall in abundance in Mozart's city… Generally, there are between 3 and 5 days of snow per month during the winter season. On the other hand, frost and ice are present almost all winter long. As a result, many less frequented roads and sidewalks quickly turn into giant ice rinks.
Braving the cold
But the city of Vienna is actively fighting this problem, and nearly 14,000 tons of salt are used every year in this city of nearly 2 millions inhabitants.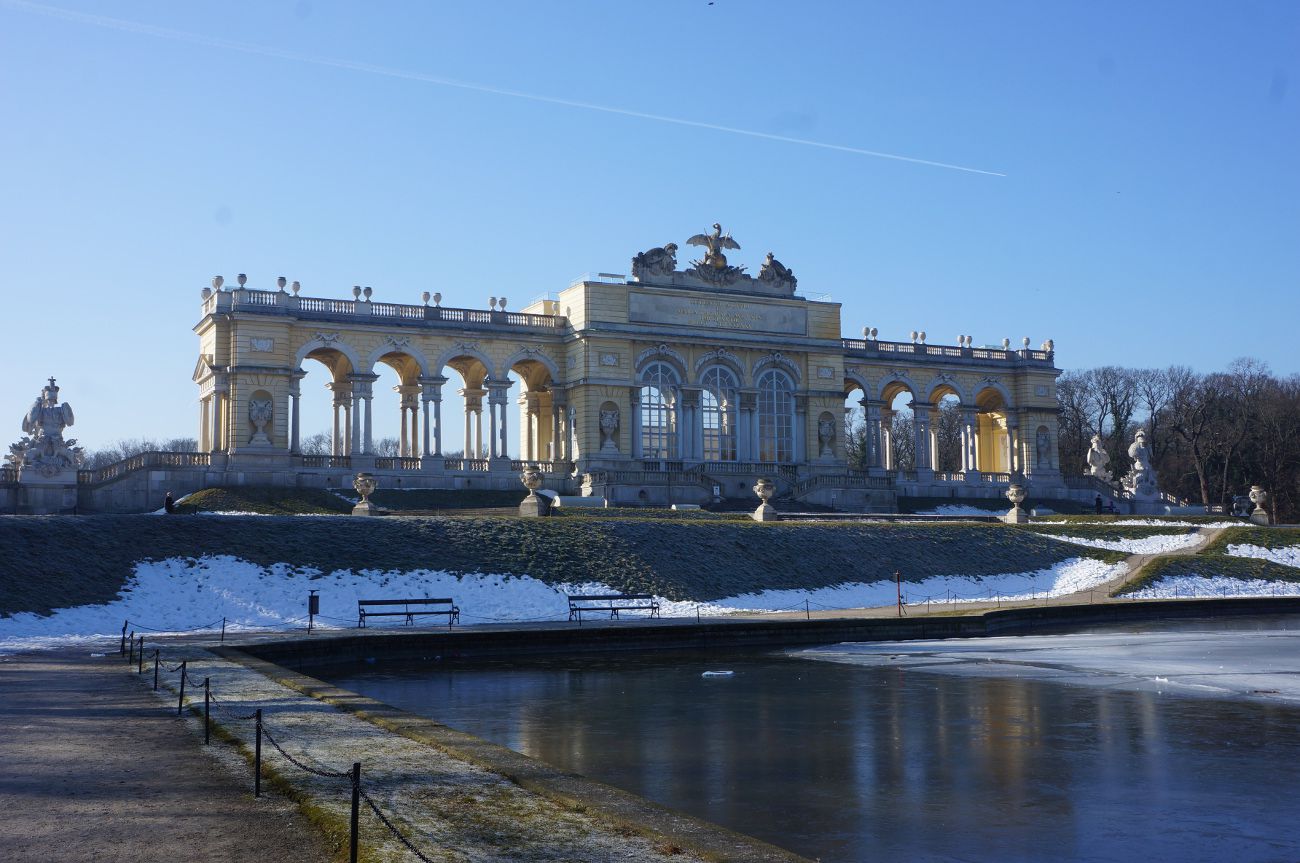 But as many Viennese will tell you, there is no bad weather, only bad clothes. In short, I decided to equip myself a little better than with my poor old coat and my little fake leather boots.
And I can tell you; with a real warm coat and stuffed boots, winter becomes (almost) a pleasure!
You might say it's nice, but what would make someone want to go for a walk outside in -20°C? Personally I already have my dog who forces me to brave the cold 4 times a day. But that's not all; Vienna offers a wide range of winter activities, each one more enjoyable than the other: a quick overview:
Take a walk on the frozen Danube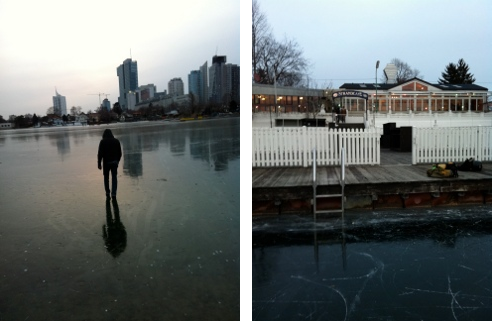 Once the cold has settled in the Austrian capital, it is not uncommon for the Danube to freeze in some places. Nice you'll tell me but nothing crazy, well okay I'll give you that…
But what is very nice is that in the city of Vienna the Danube splits into three main "arms": the Danube Canal which passes near the city center, the new Danube and the Old Danube.
In winter, frost sets in everywhere, but the old canal is the one with the least current, so it often freezes completely. As a result, this part of the Danube turns into a giant ice rink! Viennese people do not hesitate to wear skates to go for a walk or to play against each other during an improvised hockey game.
Skating is by no means Fabienne's favourite sport, so we opted for a simple walk on the ice and it's really nice to access the "beach" bars via the frozen pontoon…
Ice skating in Vienna
But if you like skating then the place not to be missed would probably be in front of the Rathaus!!!! Every winter, the city sets up a huge ice rink where the bravest can try a little race against elves and Santas. Yes yes yes there is indeed a track for races, and some evenings competitions are organized… Personally I was able to attend a terrible Battle between Santa Claus, a reindeer and a dozen courageous people who came to compete against them! 😉

Where to stay in Vienna

Accommodation in Vienna is unfortunately relatively expensive… But don't worry, there are still some good alternatives, especially in terms of youth hostels.
If you prefer to choose a hotel or hostel, we recommend that you visit the website of Hotelscombined. It is a search engine that allows you to compare several major booking sites such as Booking, Agoda, Expedia and many others. In short, the guarantee of the best price!
Youth hostel does not necessarily mean dormitory… In Vienna many hostels offer double rooms with private bathrooms, in short it is like in a hotel but cheaper! Our advice: Have a look on Hostelworld and look for accommodation thanks to the map option, everything that is close to the centre and Mariahilf will be an ideal location to discover the city on foot! My little favorites? Wombats city hostel, Wombats city Lounge, Ruthensteiner
The alternative? An apartment. In Vienna there are hundreds of holiday homes. The prices are clearly not cheap, but it can still be advantageous to have an apartment compared to a hotel room because you can save a lot on restaurants.
If you'd rather choose your accomodation based on location you can take a look on the map below. You'll see all available apartments and hotels for your desired dates / price range:
Enjoy the magic of Christmas in Vienna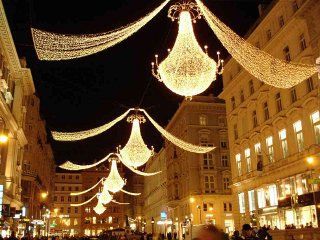 As Christmas approaches, Vienna is not spared from the decorations that invade many cities around the world… I don't know about you, but I have often found that these decorations had a kitschy side to them, but even if we are completely aware of it, we still love it!
When we lived in Zurich, the illumination of the "Bahnhofstrasse" with its decorations was always a big event, especially when the lights were switched on for the first time at the end of November. In Vienna, the city center is also lit up with a thousand lights.
Personally, I particularly like the Graben neighbourhood, where suspended lights are combined with the decorations of the windows, each more impressive than the other in the luxury boutiques, as well as the small, more sober decorations of the traditional Viennese coffees…
A little advice: If you need to warm up a little (and incidentally want to see something sublime), don't miss under any circumstances to get inside the Stefansdom!!!! The atmosphere is just magical!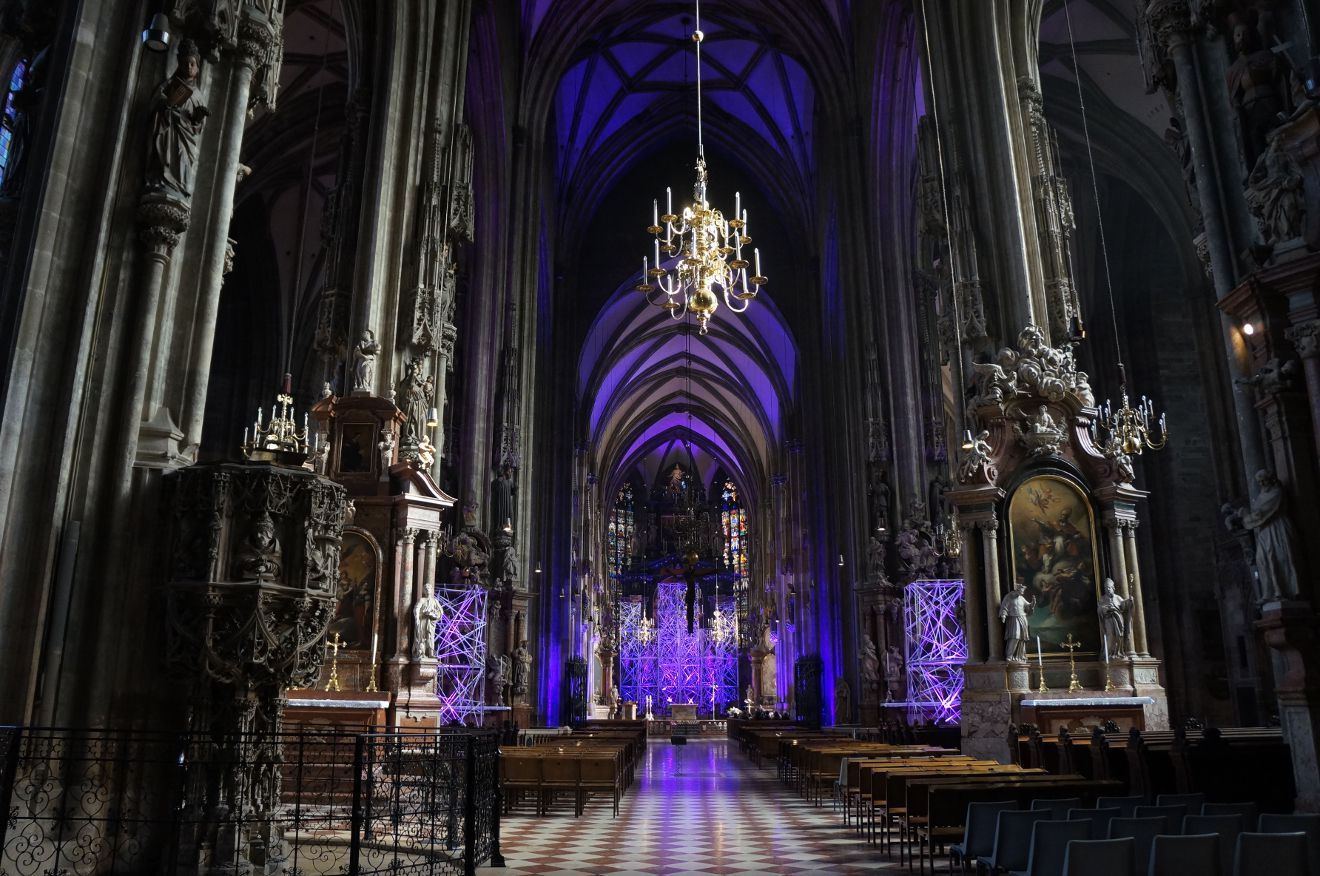 When a few snowflakes and horse-drawn carriages are added to the picture, I feel completely transported by the magic of Christmas. I think I could sit for hours at the window of a small bistro and watch the comings and goings of tourists and Viennese looking for Christmas presents in this absolutely sumptuous setting…
Visit Vienna

If you wish to do
activities in Vienna such as museum visits or tours
, we recommend that you book your tickets via the internet in order to benefit from the best prices (and also avoid queues) 😉 To find activities, we recommend that you take a look at the site
GetyourGuide
. In total, they have more than 200 activities and visits in and around the city of Vienna
See the activities on GetyourGuide
Christmas Markets in Vienna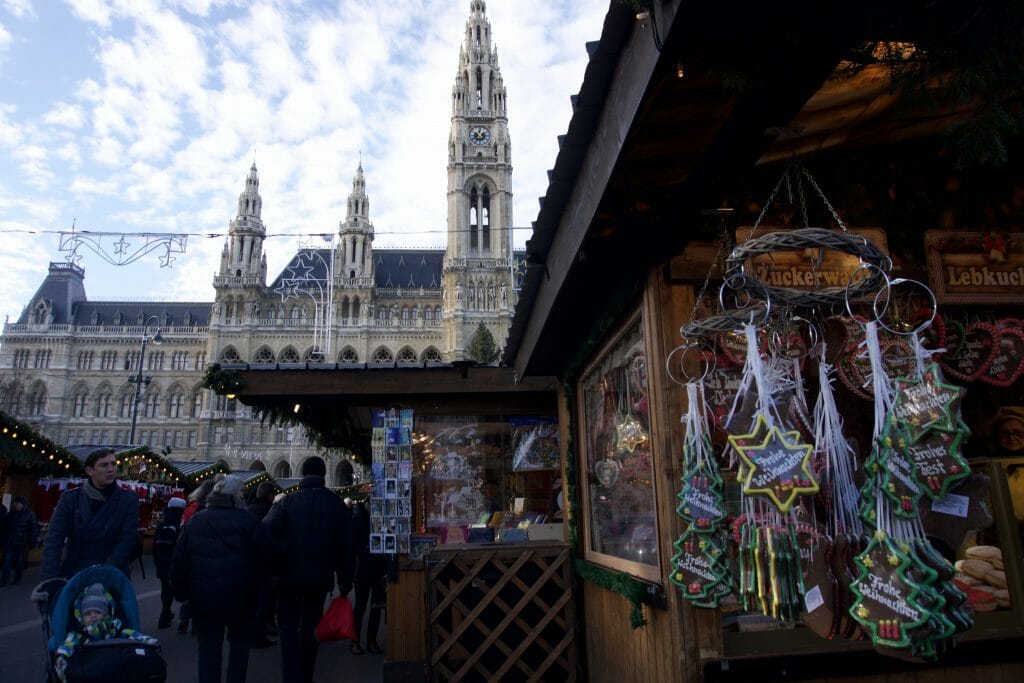 From the last weekend of November you will find more than ten Christmas markets in the city of Vienna. We are, for our part, big fans of these little "mulled wine" breaks with friends in the evening after work. Here are, in our opinion, the 4 Christmas markets not to be missed if you pass through Vienna between the end of November and the end of December :
Karlsplatz
Splendid Christmas market held every year in front of the Karlskirche. The fountain in the square is emptied and transformed into a carousel. Ponies, donkeys, goats and even pigs will delight adults and children alike. In the evening there are often small Christmas concerts in front of the church, which gives this place a really special atmosphere…
The little trick in addition is also an old carousel made only of recycled materials! Here there is no electrical system to move it forward! Two bicycles are fixed on the sides of the carousel and it is up to parents, volunteers or carousel managers to pedal to keep the children turning! Personally I LOVE this ride!
Rathaus
This is probably the most popular Christmas market for tourists; the main reason being that it is located not far from the center but also because the setting is sumptuous! The market is located in front of the "rathaus" which is illuminated by a thousand lights, in the center of the square is also the famous skating rink of which we spoke above!
Schönbrunn
Who doesn't know Princess Sissi's castle? Every year there is a Christmas market held in the castle courtyard. There are often many people on weekends, but on weekday evenings it is nice to walk around and enjoy a potato stuffed with cheese and a good punch!
Altes AKH
That's our little favorite! It is less touristy than the others because it is also smaller, and less bling-bling… No skating rink, pony, or big stage… It is simply a market where it is good to stroll and enjoy the evening with friends around a good mulled wine…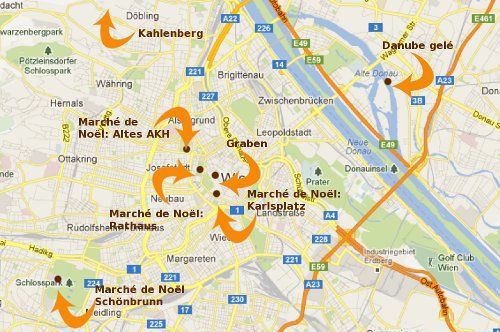 I realize that we look a little like alcoholics, I can reassure you that Christmas markets are not just about mulled wine and punchs, right?!? You will find all kinds of crafts (sculpture, wood, clothing) and also magnificent Christmas balls in glass or Crystal! The Christmas markets are also an opportunity to taste some Austrian cuisine. On the other hand, I warn you, nothing very light on the menu: cheese potato, raclette, quiche, waffles, Knödels, and so on! Well it's cold, you have to make some supplies for winter!
A word of advice Don't hesitate to brave the cold a little more, and go to the Christmas markets after dark, the atmosphere will be even more magical!
New Year's Eve celebration in Vienna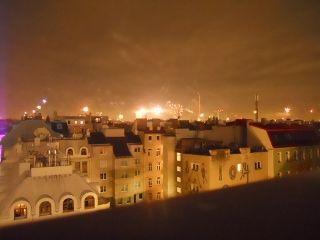 Once the Christmas carp has been digested (yes, because in Vienna you don't eat turkey but Christmas carp, but you'll come back to that in a future article), you have to get back on your feet quickly for New Year's Eve. Vienna is a big city and as such will offer you many possibilities for evenings…
For our part, we decided that this year we would do the same as the previous year, that is, not go to a big night out in a disco but rather celebrate with friends. The ideal, in our opinion, for the 31st is to take a little height….
Indeed, in Vienna the passage to the New Year is celebrated with fireworks. I don't know how it goes in France, but in any case in Switzerland fireworks is the day of the national holiday and not New Year's Eve… I have the chance to work on the top floor of a fairly high building, and last year our boss left us the keys so that we can enjoy the view at midnight, I let you admire the photos and the short video. NB: Sorry for the quality of the video, we are not yet Spielberg in the making, but we will try to improve and especially to buy better equipment for our world tour….
Because you don't all have such a nice boss, and a terrace at your disposal, I can advise you to go to the Kahlenberg to see the fireworks. The hill overlooks the city, and from there you will have a breathtaking view of the city.
Getting to Vienna

There are also many flights arriving in Vienna from most European cities. In order to find the best price, we recommend that you compare rates from your city on Skyscanner.
But as you certainly know, flying is not very environmentally friendly, so if you can, using the train or the bus could be an option
If you are looking for information about Flixbus or the interflix pass, check out this article.
Ski in Semmering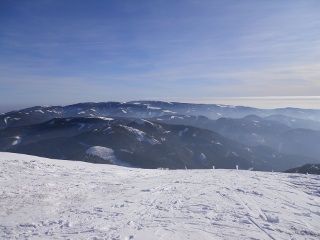 People (and we first) often have a false image of Austria… I don't know about you, but when we decided to come to Vienna we didn't think too much and we said to ourselves: "Nice, the ski country, we take our gear…"
Especially Benoit who is a great ski enthusiast, and who in Switzerland spent every weekend skiing… Yeah well once again Vienna is not quite Austria at this level… The surroundings of the capital are a pretty flat landscape, and no great summit on the horizon.
For skiing, it's more in Tyrol! Unfortunately, that's a long way for a single day. But let's be reassured, there are still possibilities! It is certainly not the eldorado of skiing, but less than two hours from Vienna there is the Semmering: a ski area with just under a dozen lifts. Ouch… we're not used to it, we were used to the Portes du Soleil, but well… we're still looking forward to this winter to put the skis back on, and enjoy the good weather outside the city!
Final thoughts
For me Vienna in winter has a special charm! And frankly, if you're not frightened by cold, or if you have warm clothes, it would be a shame to miss it!
Vienna is really a city where life is good, and the term "Christmas Magic" takes on its full meaning when you let yourself get lost in the streets… So I tell you: " Put on your most beautiful Moonboots, take your thickest coat, and go to Vienna this winter for a good glass of mulled wine ! "
NB: Please note that this article contains affiliate links to partner sites. If you buy a product on one of their sites you will not pay more but we will receive a small commission; which will help us to keep this site alive 🙂