This improvised trip to Brittany really started off on the right foot:) ! A great stay in Saint-Malo and on the Côtes d'Armor followed by a memorable day on the pink granite coast… But if you follow us a little bit on facebook or instagram (if you still don't follow u, it's about time 😉 ), you know that this was only the beginning of our Breton surprises. 🙂
So today, we take you with us to the South Finistere where we spent a few absolutely memorable days with Géraldine, a reader of our travel blog who was kind enough to invite us to her house and show us her region. You will see that the diversity of the landscapes is just incredible!
Where is South Finistere?
Weeeelll at the end of the world would tell you the Bretons :)… More seriously, Finistère (Penn-ar-bed in Breton) is the most western department of Brittany. So you will understand why it is given this nice little nickname ;). It is a region with a magnificent wild coast and nature that appeals to all lovers of hiking, fishing or even sliding sports (surfing, windsurfing, kite…).
Following Géraldine's great invitation, it is in the south of this region that we have dropped our backpacks, in Gouesnac'h near the village of Benodet. You should know that Géraldine and her boyfriend Nico are real fans of surfing, windsurfing and travel…. We couldn't have dreamed of better guides to discover the area.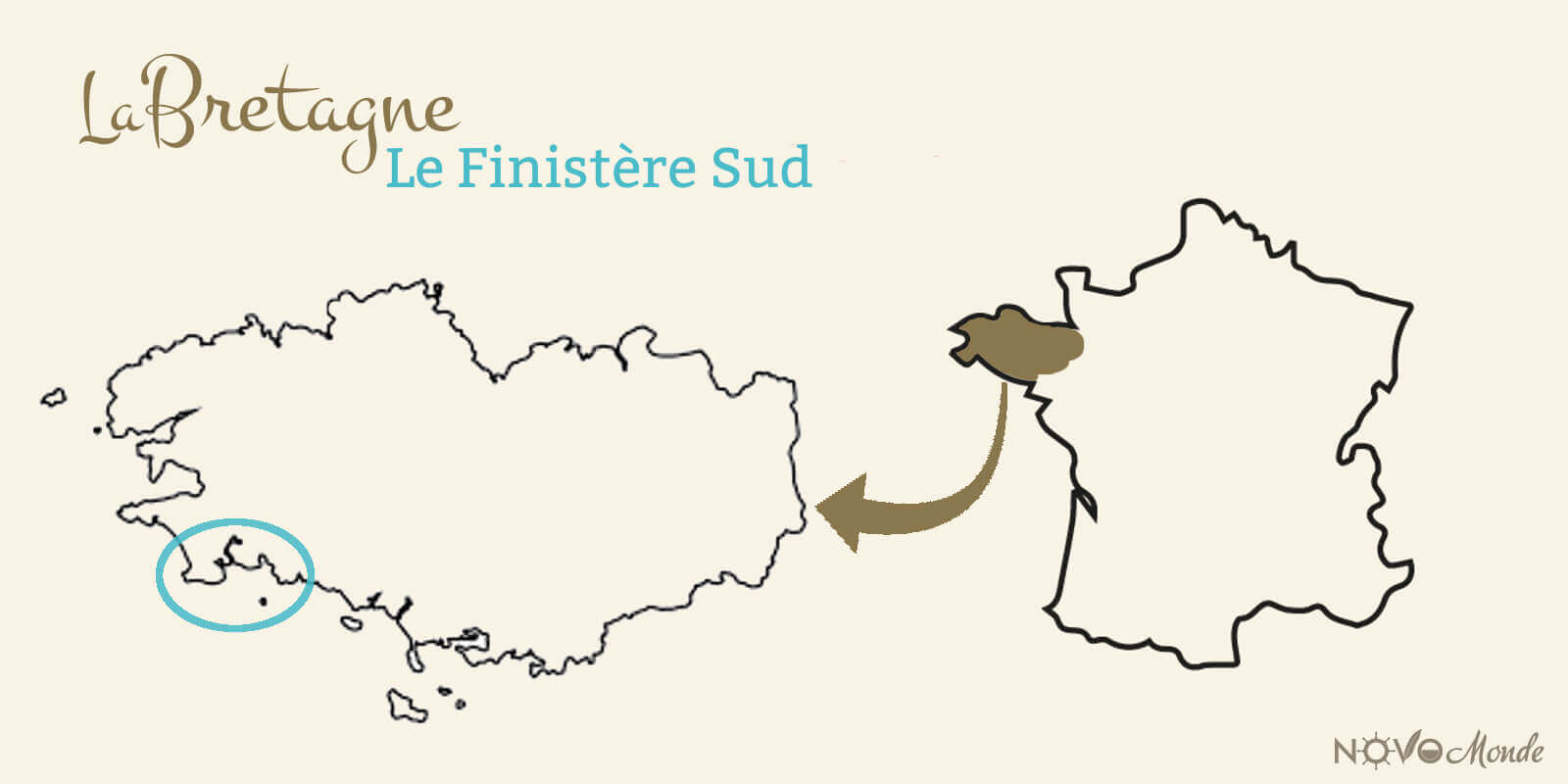 As we had not necessarily planned to stop in the South Finistere, we didn't really know what to expect… However, we were not disappointed at all because we were once again amazed by the spectacular landscapes we discovered. Come on, we'll take you with us to explore this little piece of paradise.
The ports of Benodet and Sainte Marine
As soon as we arrived, Géraldine took us to eat at the port of the charming village of Sainte Marine, located on the shore opposite Benodet. Both villages are located on the banks of the Odet, just before the river flows into the Atlantic.
This small fishing port is not lacking in charm and it is nice to stroll along the riverside or have a drink on a terrace. As always since our arrival in Brittany, not a single cloud to be seen in the sky. It makes you wonder if Britons don't pay the French weather guy to lie about the weather in Brittany 😉 (to be quiet and not to have too many tourists)
The tulips of the Pointe de la torche: it's beautiful but…
After eating well again (we won't tell you how many kgs we gained in Brittany 🙂 ), Géraldine leaves us and advises us to go to the Pointe de la Torche and stop to admire Plomeur's tulip fields. So we take the car back to the Torch and indeed, it is impossible to miss the tulip fields by the side of the road… it is a real explosion of colors! Frankly, we've never been to the Netherlands before, but that's how we imagined tulip fields. 😉
It's beautiful but…. One reader pointed out that these tulip fields, however bright and popular they may be, are in fact a small local ecological disaster. To grow such beautiful flowers on sand, you have to use a lot of pesticides, divert watercourses and so on… Well, we're not experts on the subject, but we thought it was important to mention it in order to moderate the enthusiasm around these flower fields.
The pointe de la Torche : paradise for surfeurs
After this small flowered break, we continue a few kms until the pointe de la Torche. As soon as we arrived, we were immediately introduced to the atmosphere! There are dozens and dozens of surfers on the parking lot already 😉 (Well, it was Saturday, but still).
the pointe de la Torche is in fact a peninsula that delimits the bay of Audierne to the south. The beach of La Torche, which extends to the north, is really impressive… you can hardly see the end. On the beach, the deal is clear… here the bosses are the surfers! Their number is really impressive and we can't see ourselves going swimming there in the middle (at the same time the water is at 15 degrees celcius so it's not too bad we can't go 😉 ). But it's really nice to walk along the coast and watch the surfers do their tricks.
Otherwise, the little tour around the Pointe de la Torche is also nice to do (it's a few hundred meters long walk), especially in spring with the flowers 😉
The Glenan Islands: Tahiti in Brittany (#TahitiBreizh)
After a nice evening talking about travelling around a few beers (again these beers 😉 ), Géraldine offers us to accompany her with her brother and two friends aboard a zodiac to sail to the Glénan archipelago. Obviously we hasten to accept because we were strongly advised by readers to go to islands in Brittany.
Once again, the weather is perfect the next day. So we board the zodiac towards the Glénan. But even with a radiant weather, there is still a lot of swell on the sea. As a result, the Zodiac jumps from wave to wave… quite impressive for 2 little Swiss kids who don't necessarily have sea legs :). This trip also allowed Fabienne to remember that she was seasick. 😉 In other words, after a good half an hour of boat ride, we are very happy to arrive on "Île aux moutons" (sheep island) for the picnic (even if Fabienne was only moderately hungry).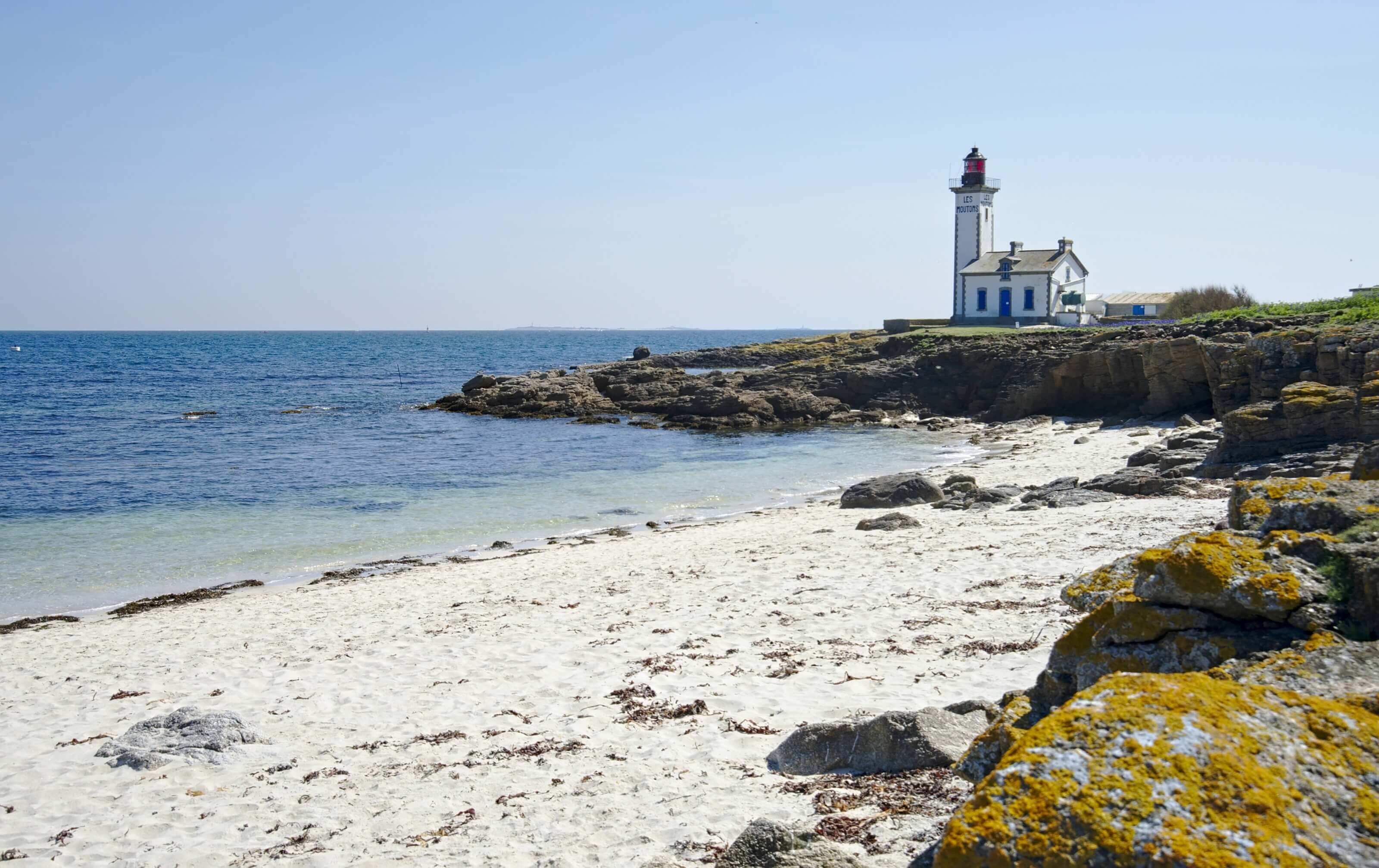 Sheep Island is not very big but we found a very nice beach with a lighthouse… perfect to recover from our emotions and have a picnic. However, we are not yet in Glénan and we are already preparing for the second round on the waves.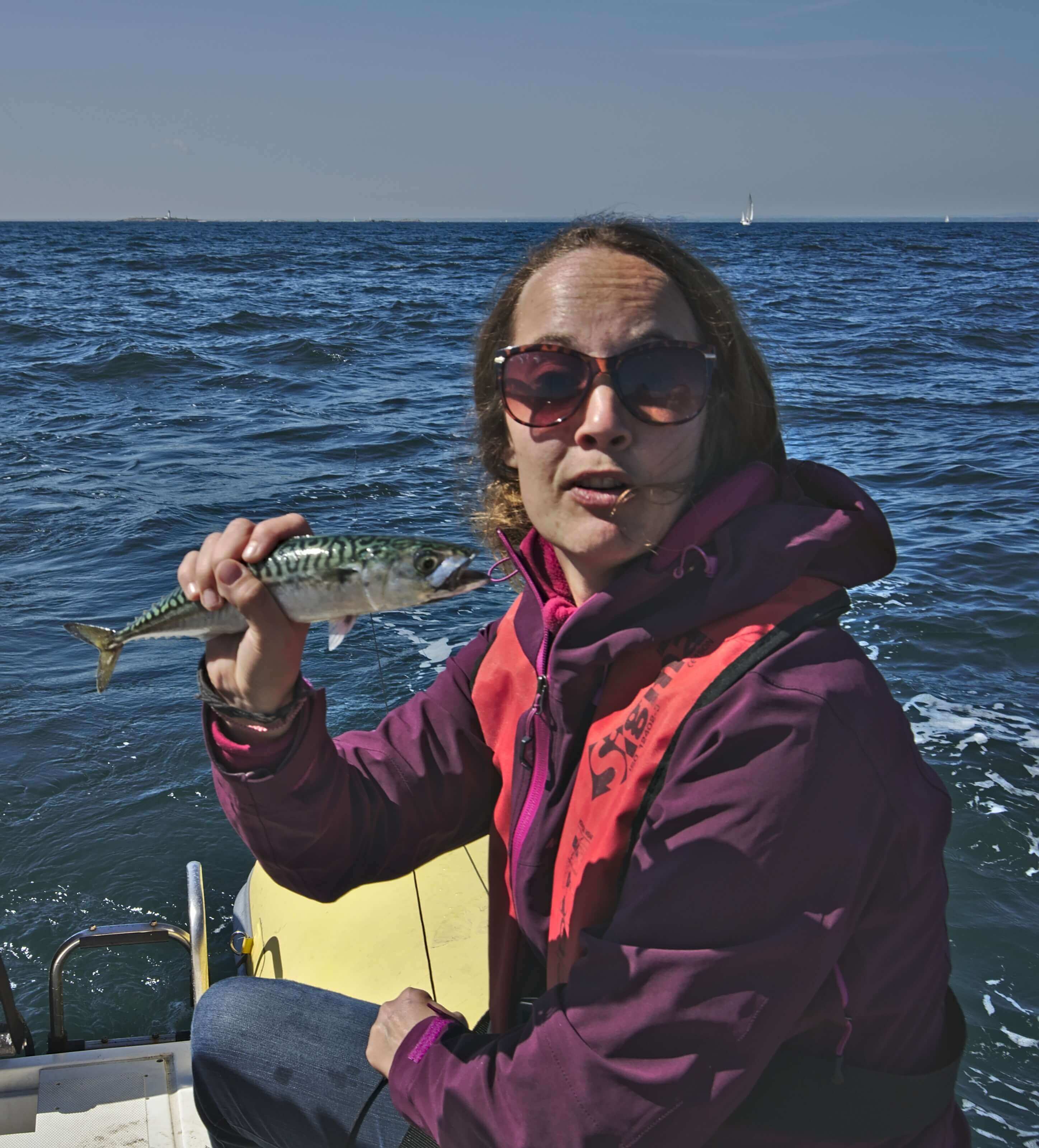 However, during the break and for our greatest pleasure, the swell has disappeared and we take advantage of the time we have left to the archipelago to try our hand at mackerel fishing. Fabienne reveals her innate talent for this sport and catches her first fish in less than 5 minutes.
Then we finally reach the Glénan Islands… and there I must say that we are simply amazed by the landscapes. In the heart of the archipelago, the water is perfectly calm and turquoise blue. There are several small islands, white sandbanks and no one to bother us… We thought we were teleported to the Maldives in less than 10 minutes! Honestly, we stayed stupid because we didn't expect to find such a place in Brittany! #TahitiBreizh we tell you;)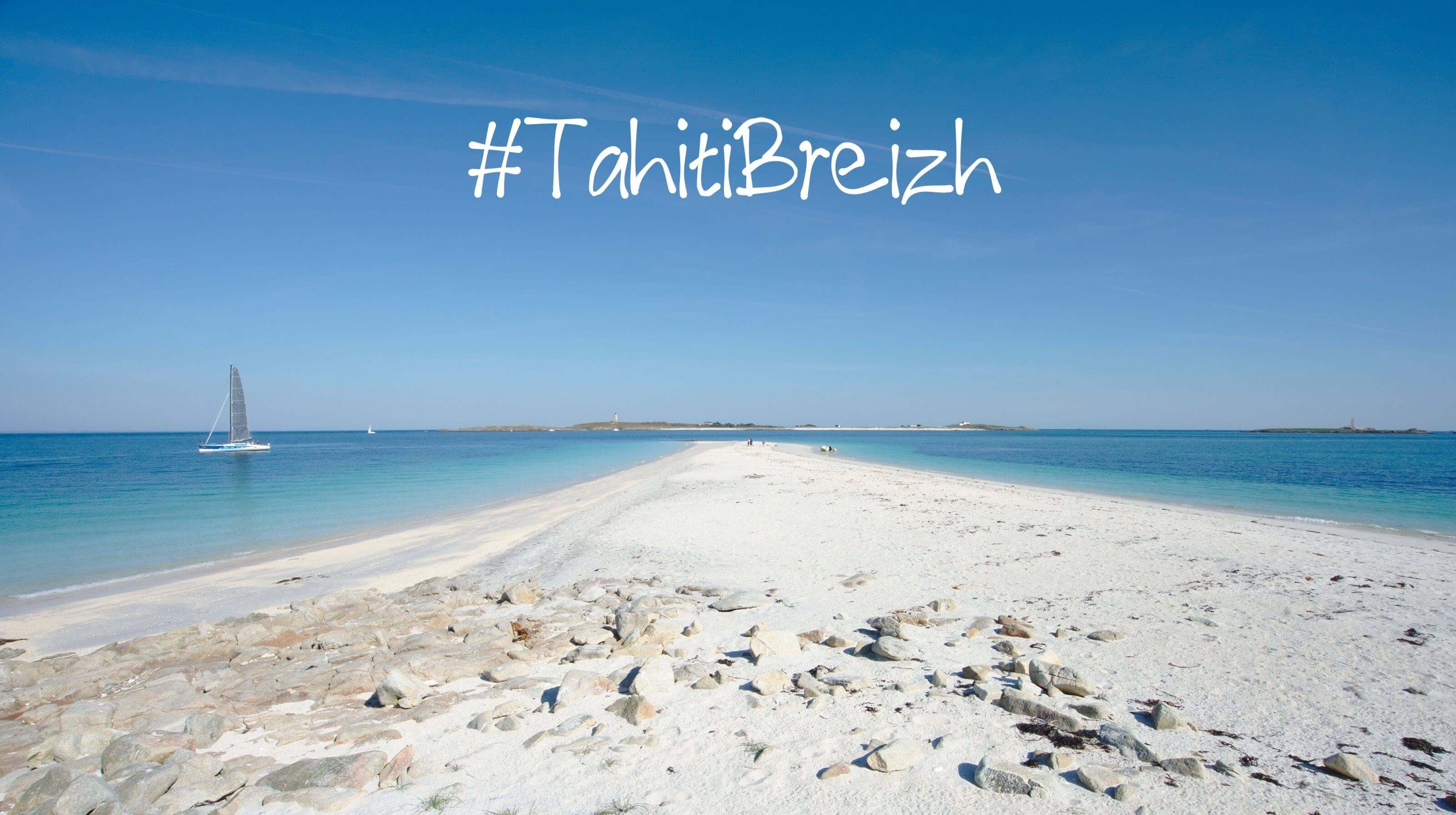 We take this opportunity to moor the zodiac on a small island of white sand to stretch our legs a little and enjoy this small paradise. Afterwards, even if the place looks like the tropics, we can promise you that the water is very Breton. Benoît tried swimming, but he didn't stay in the water very long…. A dive, 2 short minutes in the water to take a souvenir photo and he was already back on the beach ;).
We spent the rest of the time on the island acting like the big kids we are by taking stupid pictures… but we had a damn good time!
Infos
If like us you don't have a super awesome girlfriend who takes you to the Glénan on her zodiac, you can always take the "tourist dragger" as the locals say 😉 . In fact, they are shuttle boats who make the round trip to the island of St-Nicolas on the Glénan with stop on the island. For more information, check out the website of the vedettes de l'odet.
Quimper : the capital of Finistère
Last morning with our friend Géraldine…. We decide to head to Quimper, the largest city in South Finistere, to stroll through the alleys of the old town. The old centre of Quimper is really pretty with all its half-timbered houses, its beautiful cathedral and cobbled streets. It's well worth a day's stop!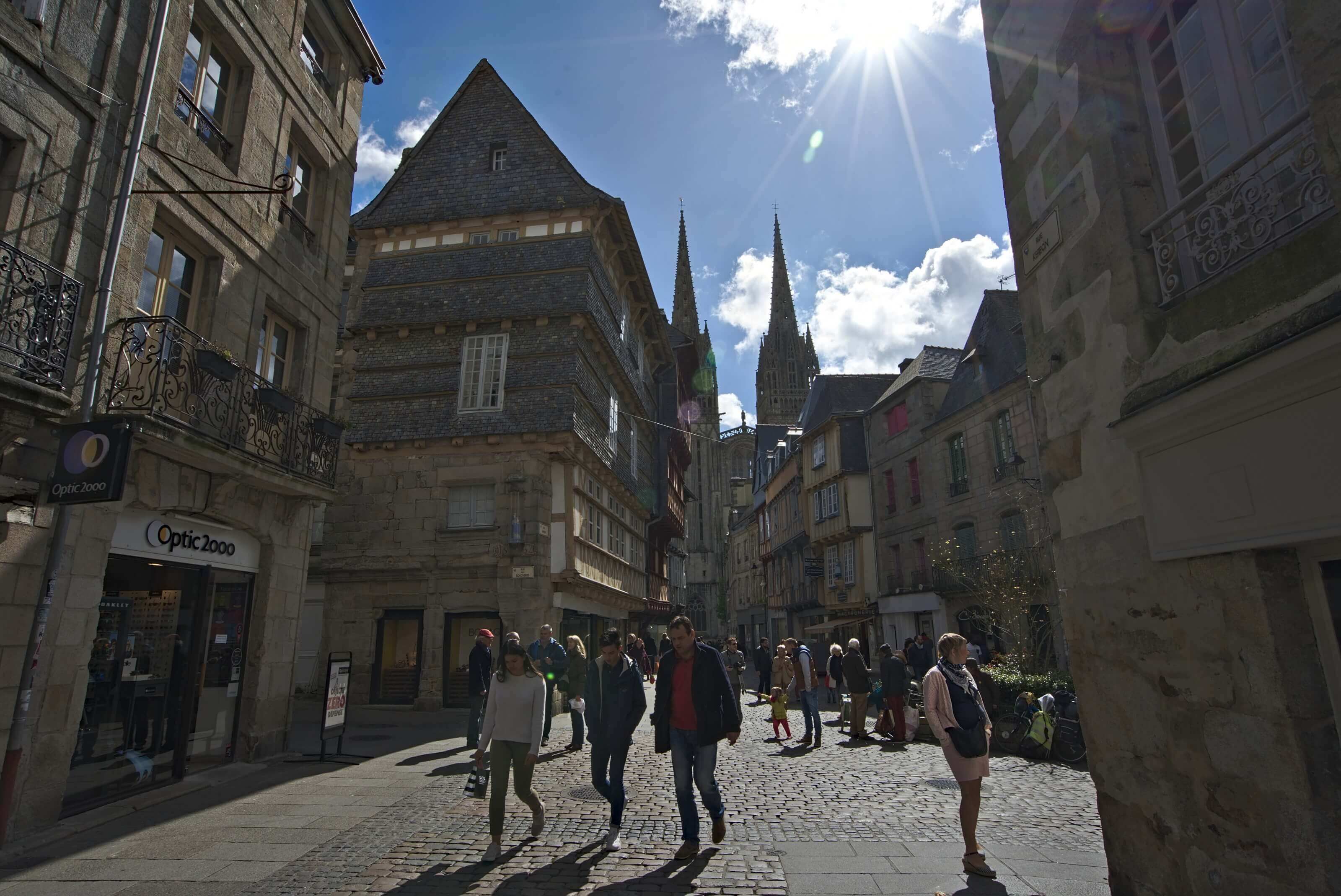 And suddenly we pass by a window that offers lots of appetizing little things: I named the Kouignettes! What the hell is that? They are in fact mini kouign amann, a typical Breton pastry made with butter, sugar and more butter 😉 (it's not healthy AT ALL but it tastes amazing). Impossible to resist, all the more so as here they offer them in miniatures and full of different flavours such as salted butter caramel, raspberry, chocolate…. We came out of there with an extra slab of butter in our stomachs, but it was all happiness!
Infos

The Kouignettes paradise is called the Georges Larnicol chocolate factory, 12 Rue des Boucheries in Quimper. You can admire all the kouignettes on their website
If you want to grab some lunch then head to "de l'autre côté" (the reviews on the facebook page should convince you), at a friend of Géraldine's who will serve you lots of homemade dishes in a great atmosphere.
That's it! Needless to say, we are still so charmed by Brittany 🙂 . We also take this opportunity to thank Géraldine and Nico 1000 times for their incredible welcome. Because Brittany is also that, golden people, welcoming and warm. And this transforms a trip.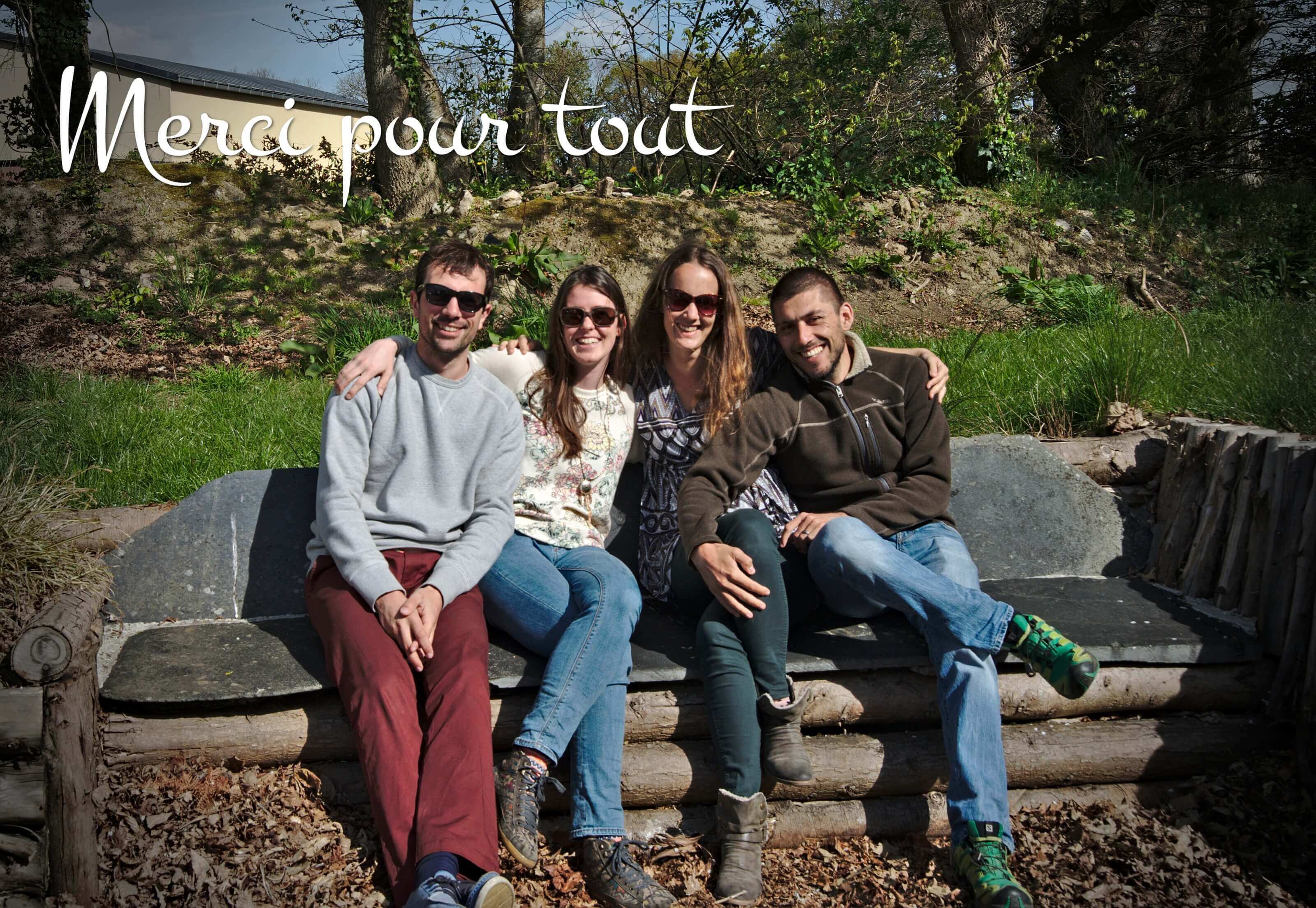 Enregistrer