After our stay in Saint-Malo and our first steps in the Côtes d'Armor we headed towards Kreizh Breizh, or the centre of Brittany. 😉 In all we will have spent more than a week in the centre of Brittany and we promise to get back to this great region in a future article! But for now, we will take you with us for a short day trip to the famous Pink Granite Coast in the area of Ploumanac'h.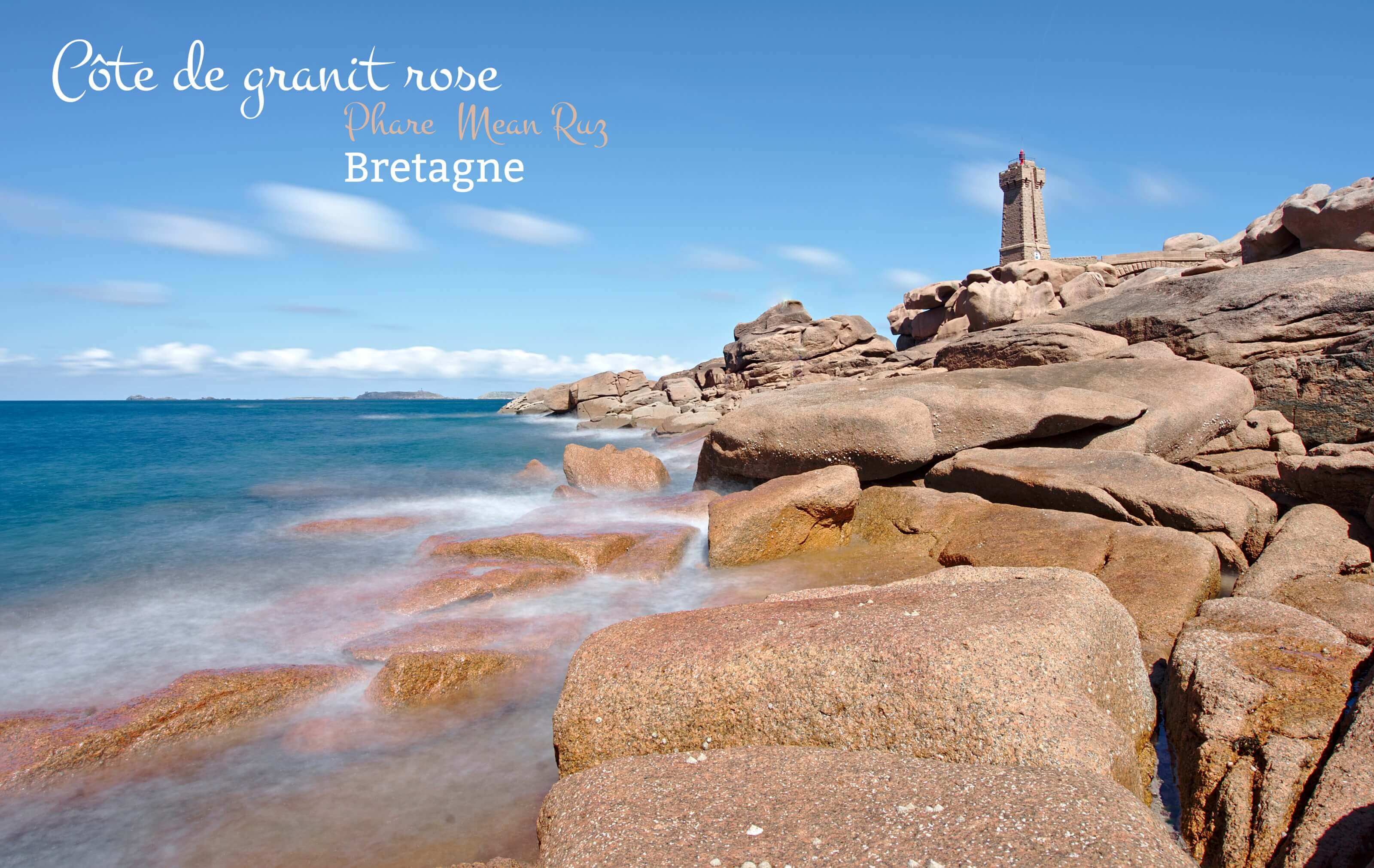 The pink granite coast or Côte de Granit Rose, where is it?
Located in the côtes d'Armor, this 10km long coast is probably one of the most famous spots in Brittany. And we easily understand why this is so! It's a 10km-strech along the English Channel where the granite seems to have been painted pink.
The Pink Granite Coast extends from the small village of Perros Guirec to the surroundings of Trébeurden.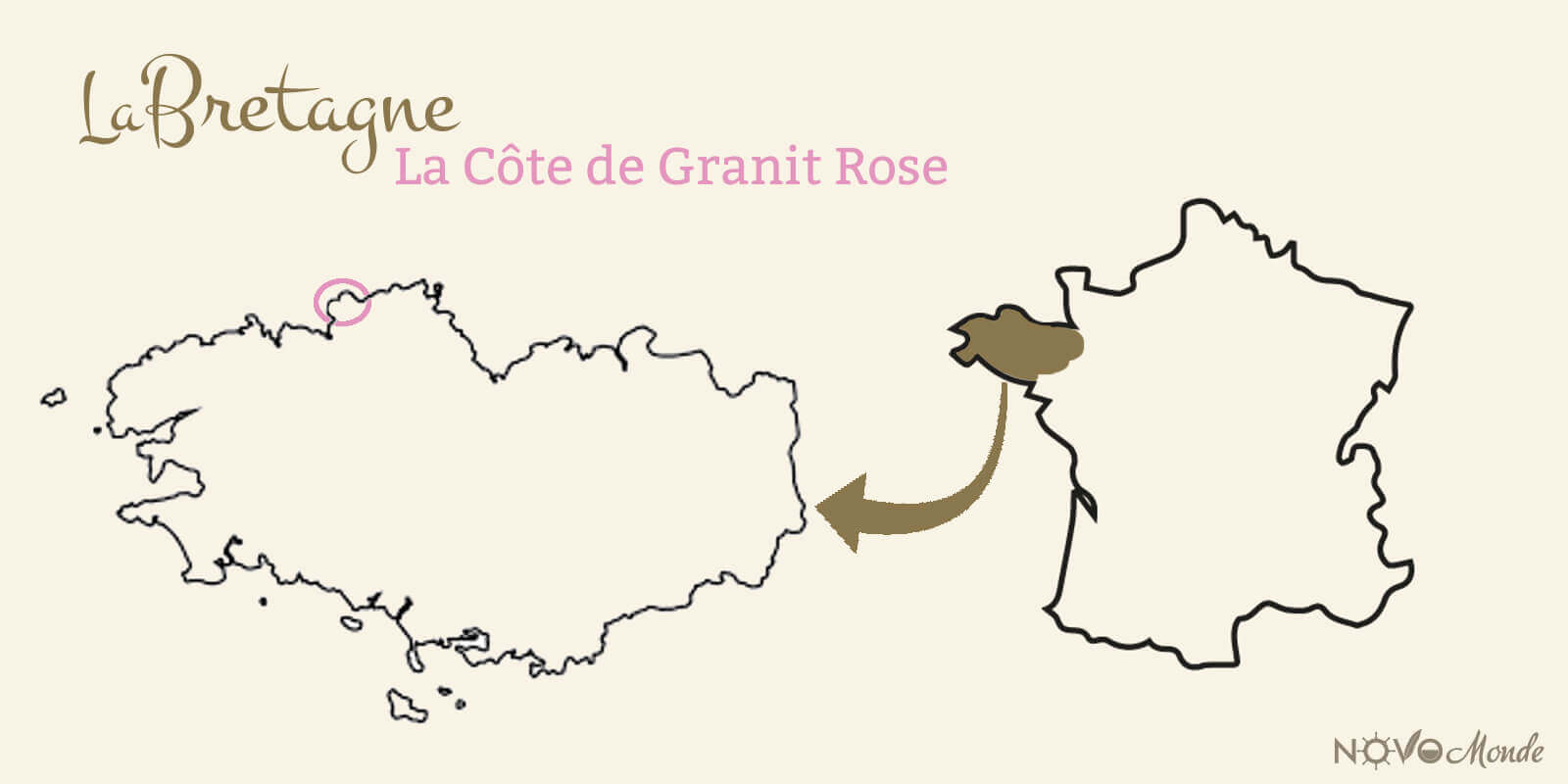 In reality, the stone is not really pink strictly speaking…. In fact, it is a brown tint that slightly tints pink, especially when you see the coast under the sun.
This phenomenon of pink tint is very rare. There are only 3 places in the world where granite has this color. Here in Brittany, Corsica and China.
The pink granite lighthouse of Ploumanac'h
We admit, it is on the basis of a photo of this lighthouse that we decided to come and spend the day in the area! Its official name is Mean Ruz Lighthouse, but it is generally better known as Ploumanac'h Lighthouse or Pink Granite Coast Lighthouse (yes yes, the granite used is coming straight from the coast).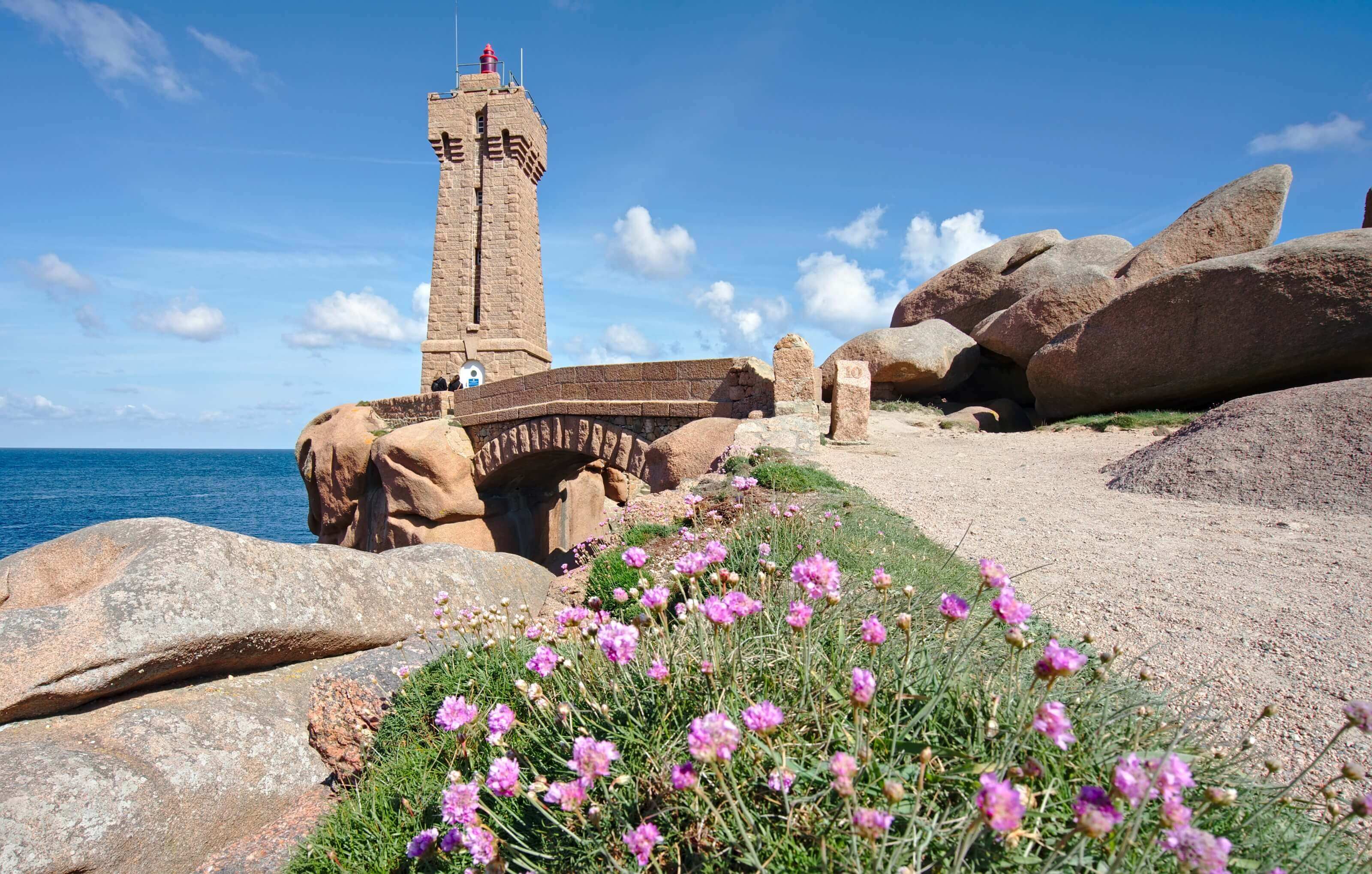 So for the record, you will know that the first Ploumanac'h lighthouse was built in 1860 already! But it was destroyed in 1944 by the Germans. As is not possible to leave this beautiful coast without a lighthouse, it has been rebuilt. The current version therefore dates from 1946.
Villages to see in Brittany
Find Ploumanach as well as a selection of 22 other charming towns and villages in our special article "our favorite villages in Brittany".
Stroll on the Pink Granite Coast: Itinerary
To see the lighthouse but also to discover a little the area which is clearly not to be missed in terms of Wouah, the best is still to explore the area on foot. To help you find your way around, we have prepared a small map of Ploumanac'h with the itinerary we have done on foot. Don't worry, it's not a big hike… The loop must be 4 or 5km long and the tour is very easy to do in 2 hours. (This walking time includes a lot of photo breaks! If we had done it by walking at good pace it would probably have taken us 1 hour or less).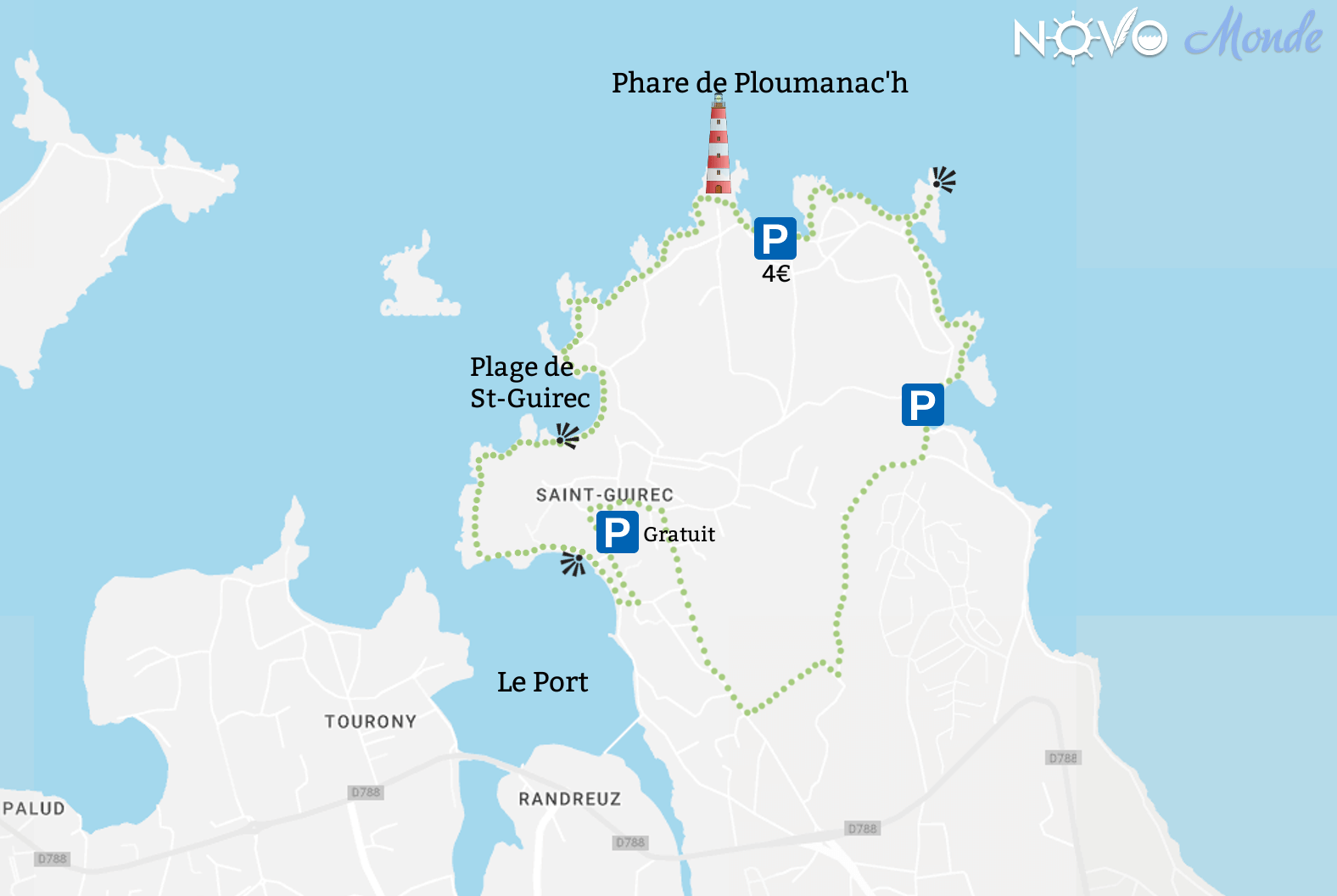 Much of the loop follows the GR34, or more commonly known as the Sentier des Douaniers. For those who do not know it, the Sentier des douaniers is a hike of nearly 1800km along all the Breton coasts!!!! But we will come back to it in our next article because we decided to follow it for more than 100km on the Crozon peninsula (on foot of course!) 😉
A small glimpse of this pretty walk on the pink granite coast and in the port of Ploumanac'h:
When leaving the Ploumanac'h lighthouse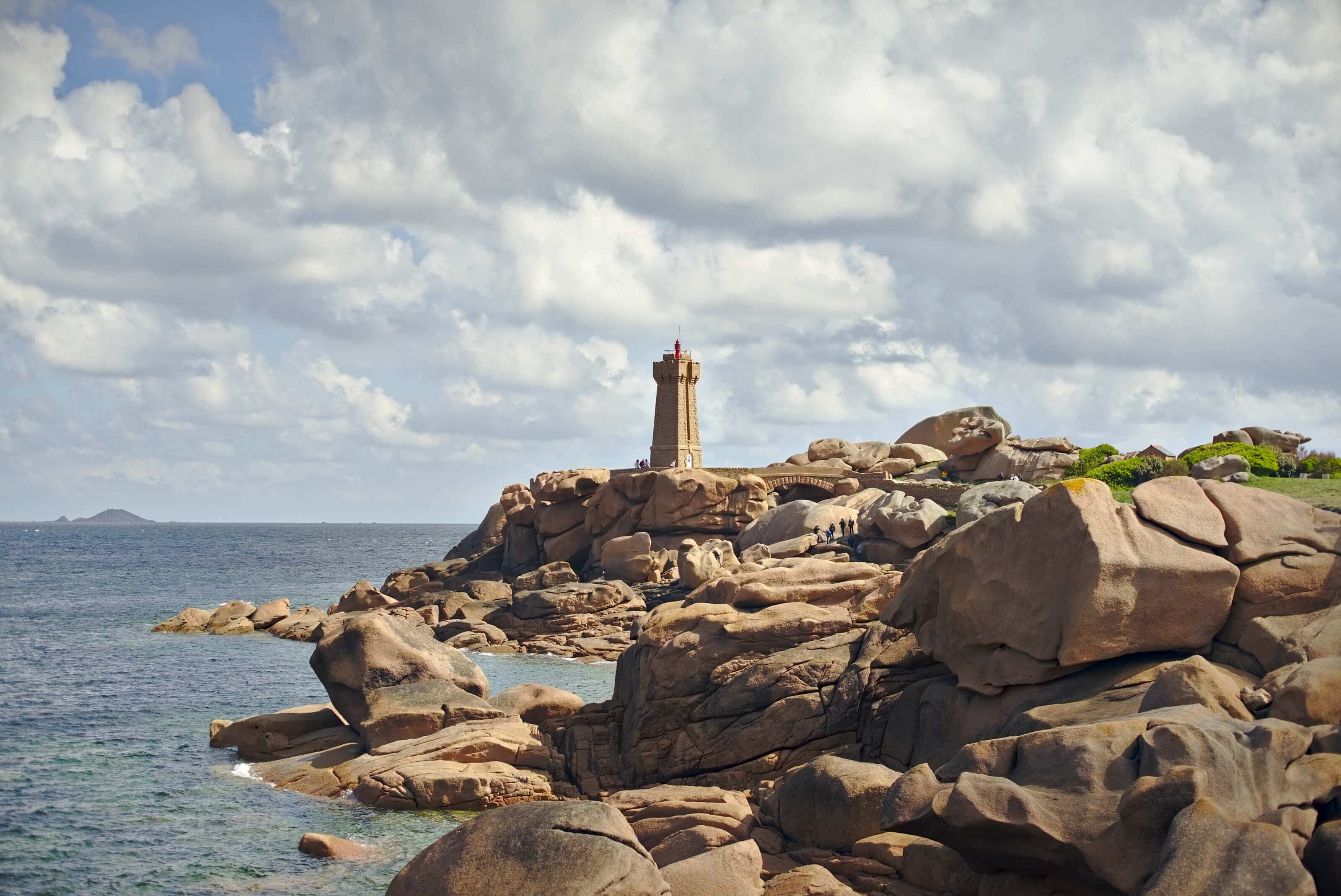 Our Picnic Spot at St-Guirec Beach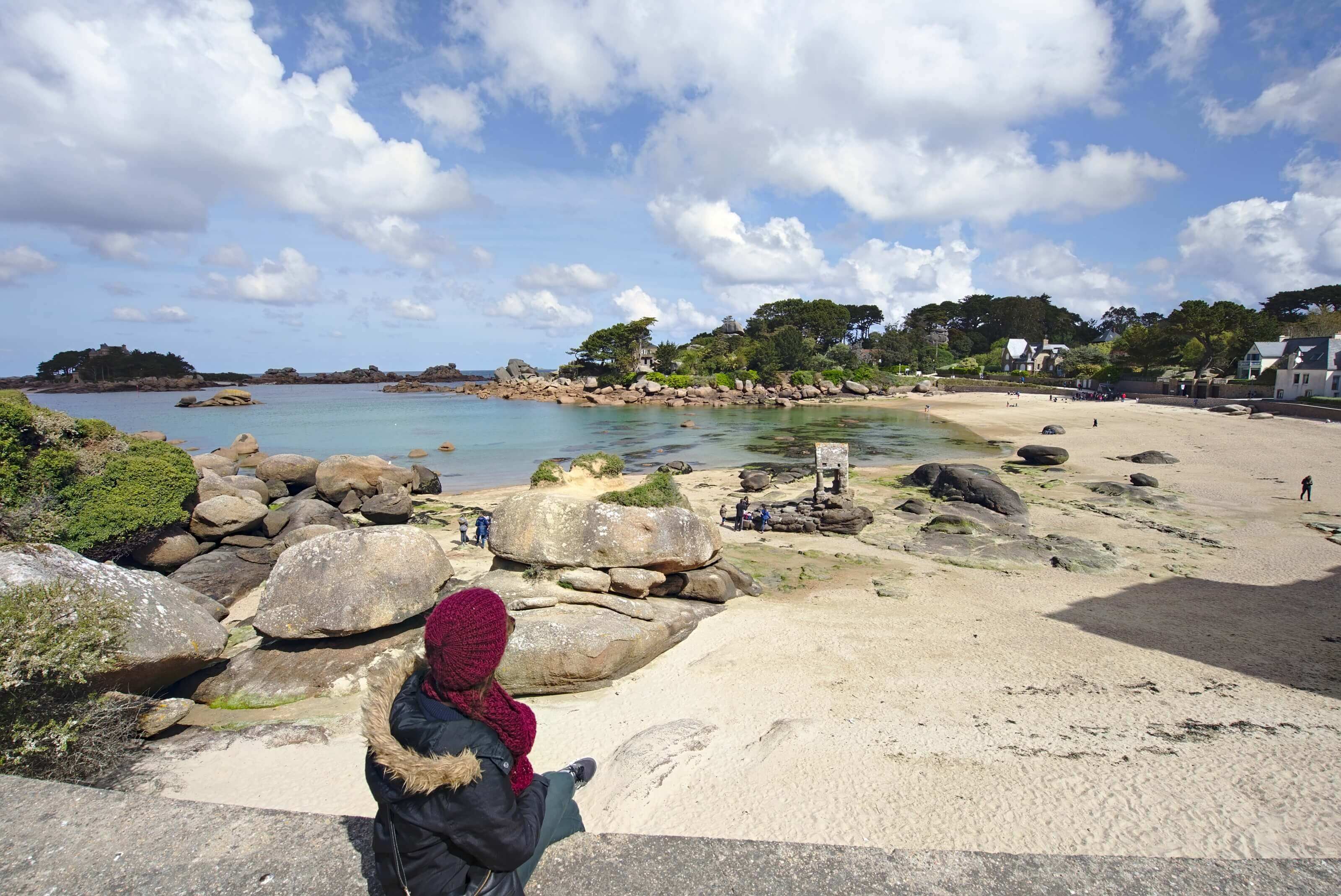 The small Port of Ploumanac'h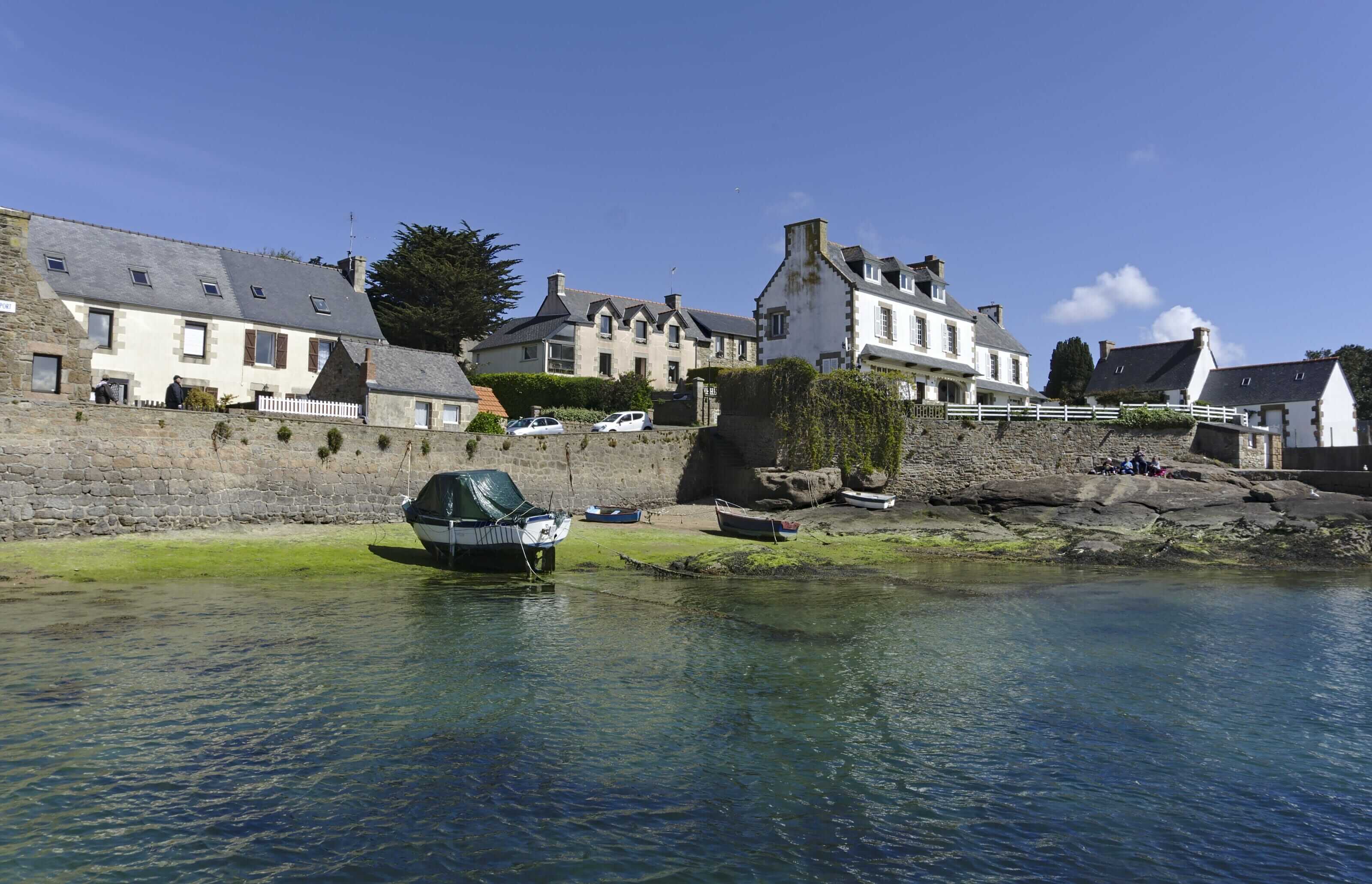 Crossing through the gorse
When you leave the small port of Ploumanac'h and once you have crossed the pretty little village you start crossing "the land" to come back to the other side. So I put a lot of big quotation marks on it, because if you say that like that, you'd think it was an expedition to unknown lands. I reassure you right away it is a pretty little well marked trail that should not even take 20 minutes from one end to the other. 🙂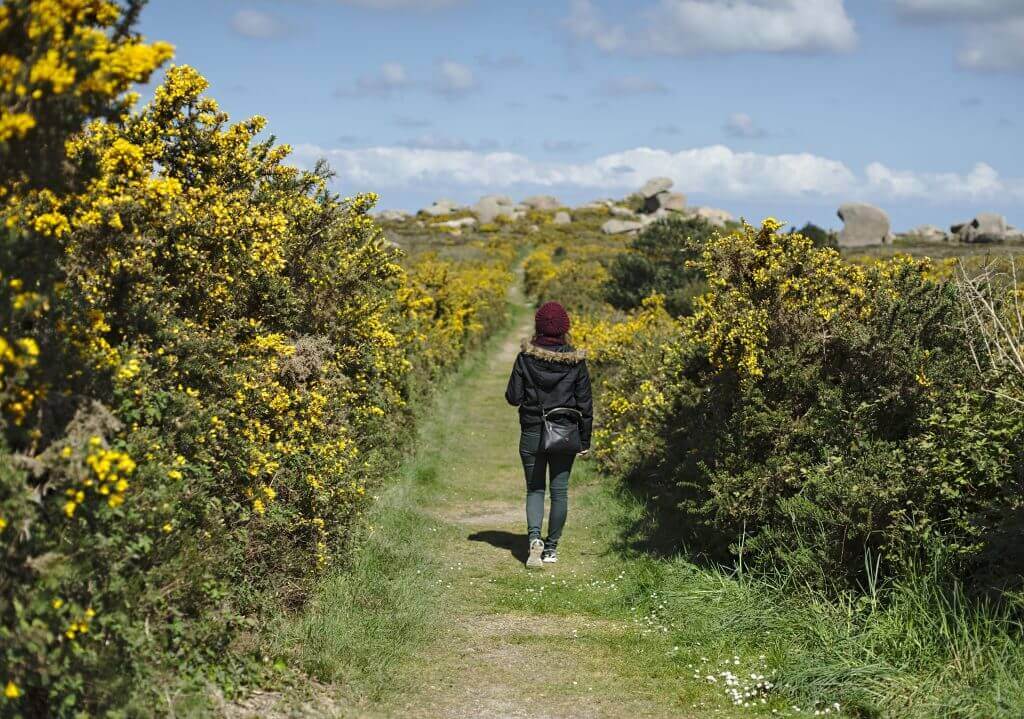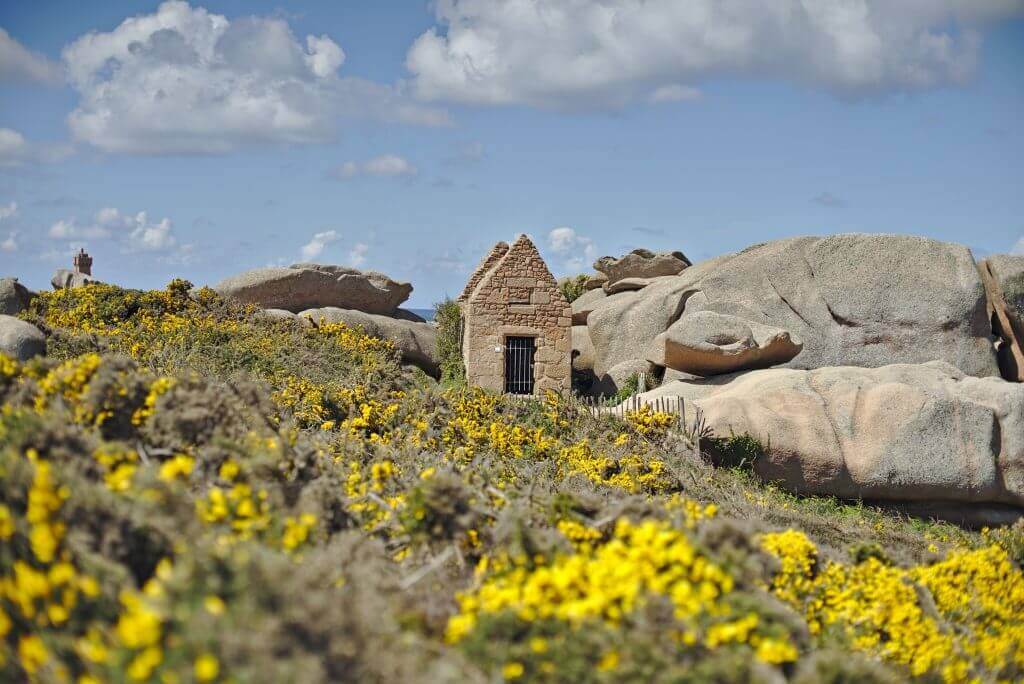 Infos:
Parking: There are several of them near the lighthouse, but you should know that they are not free. The price is fixed and is 4€ per day. If you comein low season it is nevertheless possible to find free places in Saint-Guirec.
Walk: About 4-5km, allow 1h-1h30 to go around. Well marked and very easy path.
Excursion: At the port of Ploumanac'h it is possible to take a boat to discover the 7 islands. The departure times vary according to the tides and the outing costs 18€ per person for 2 hours of tour. Please note that departures from Ploumanac'h are only during the high season (July-August). The rest of the year the boats leave from Perros-Guirec. More information
Where to stay? You'll find lots of suggestions in the area on the map below. Use the filters to show only hotels or apartment rentals.
Renote Island
This day we had not planned it too much. Thus, it was a bit by chance that we discovered the area by stopping with our car as soon as we saw a spot we liked (we might as well explain that we stopped often)! 😉
One of these stops led us to Renote Island. In reality it is not really an island but rather a peninsula because it is connected "to the mainland" but let's move on. We started by parking in the large parking lot and as everyone seemed to be heading towards the peninsula, our eyes were first clearly drawn to the pretty beach just across the street.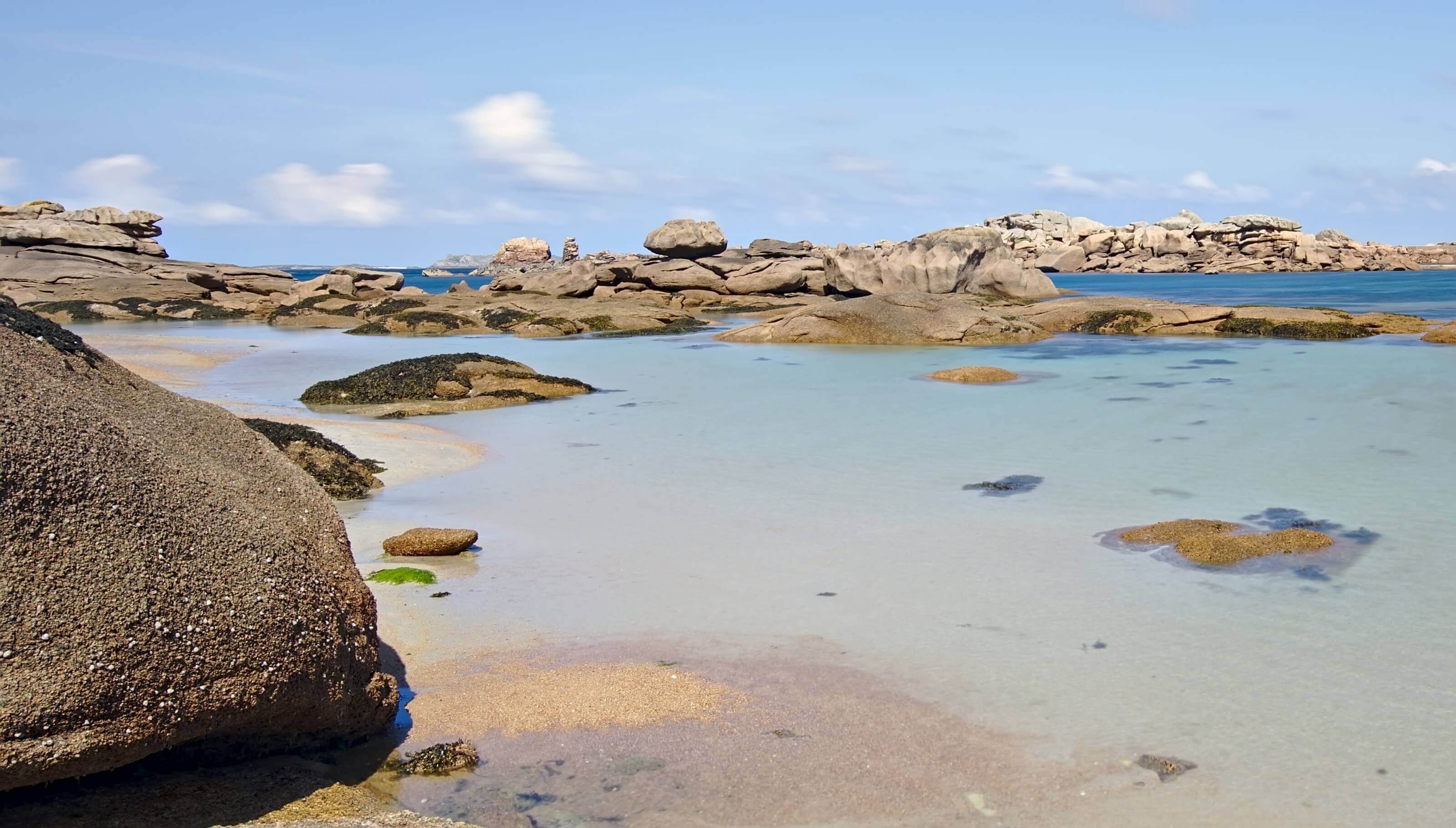 Our Book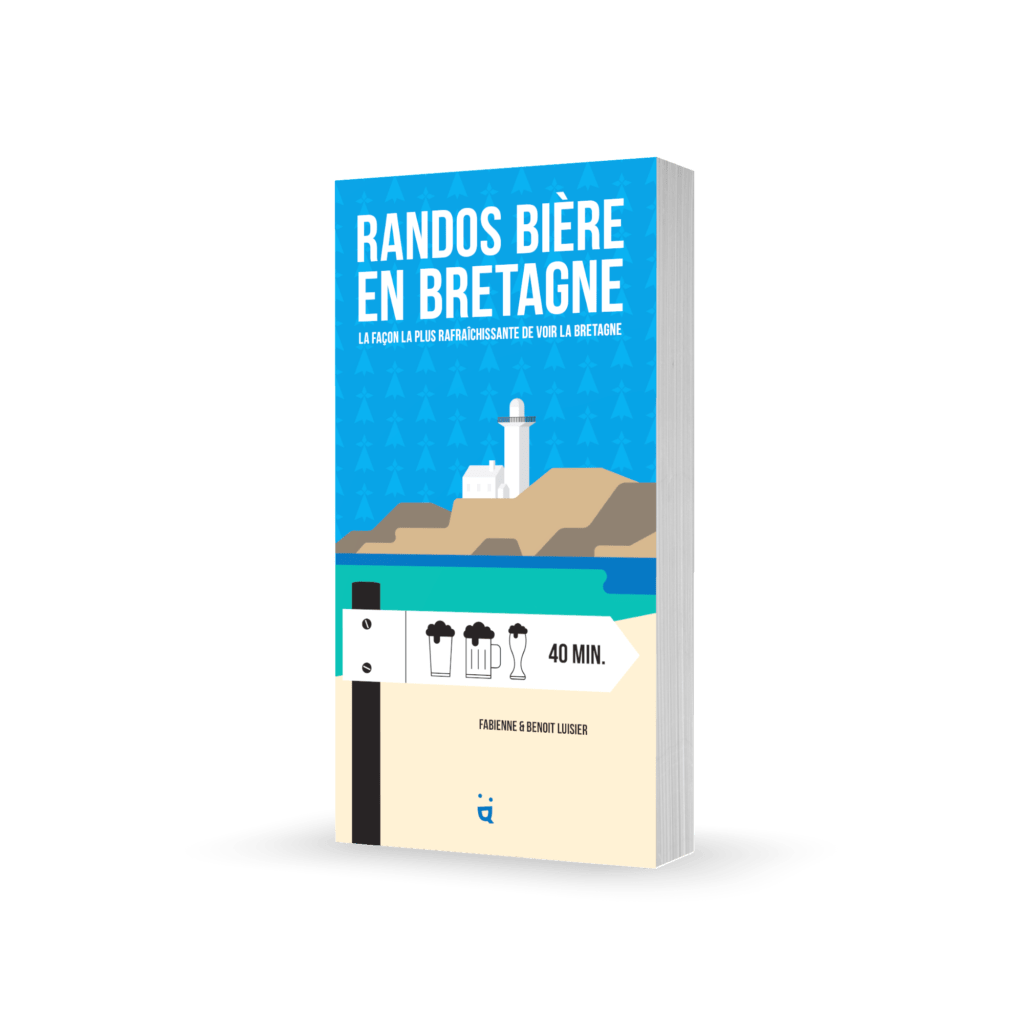 One of the reasons we've come back to Brittany so many times is also our love for beautiful hikes and craft beer.
In 2022, we published a new book called "Randos Bière en Bretagne", a hiking guide that offers 40 itineraries through Brittany and with the particularity of always ending with a local, craft beer.
Thanks to this guide you will be able to discover the rich diversity of Brittany's landscapes but also of its brewing scene.
The book is not translated into English (only available in French), but if you speak a little French, it may give you some ideas!
You can find the book in most bookshops in Brittany as well as on the following websites
A quick swim
It is this spot that I chose to soak my white calves in it! Yes yes I almost talk about it as an achievement, but know that I am a NOT a water person at all! So, when in addition to that, the water is at 14°C, I explain to you that it is already a hell of a performance to have soaked my calves in it…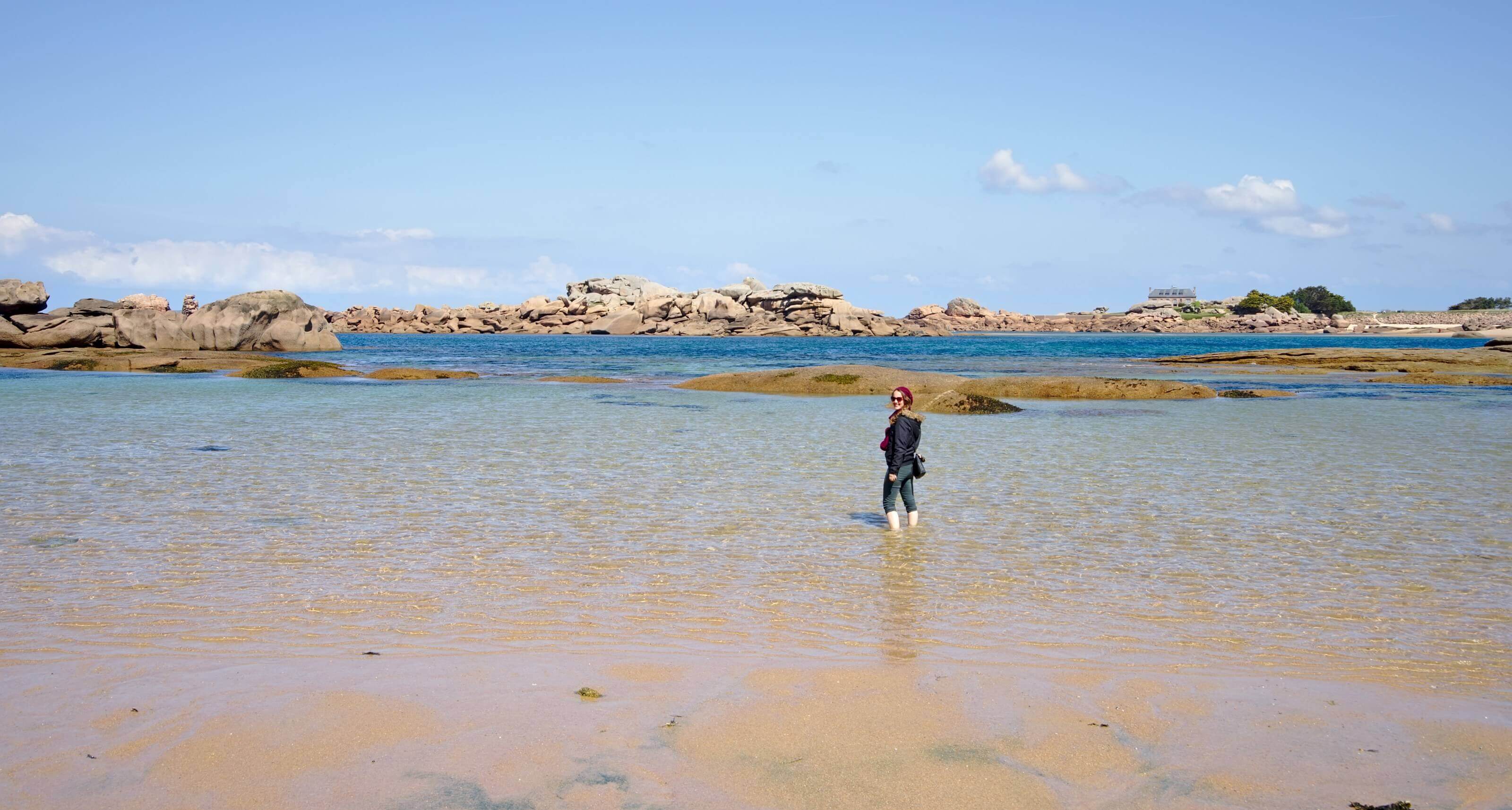 Before leaving to go around the peninsula we continued a little along the beach and went to explore a little the pink granite coast by climbing on the rocks to try to get the best view on this translucent water!
The tour of the peninsula itself is a mini walk of barely 2km on a well-designed trail. The main advantage of this walk is the breathtaking view of the Ploumanac'h lighthouse and the pink granite rocks.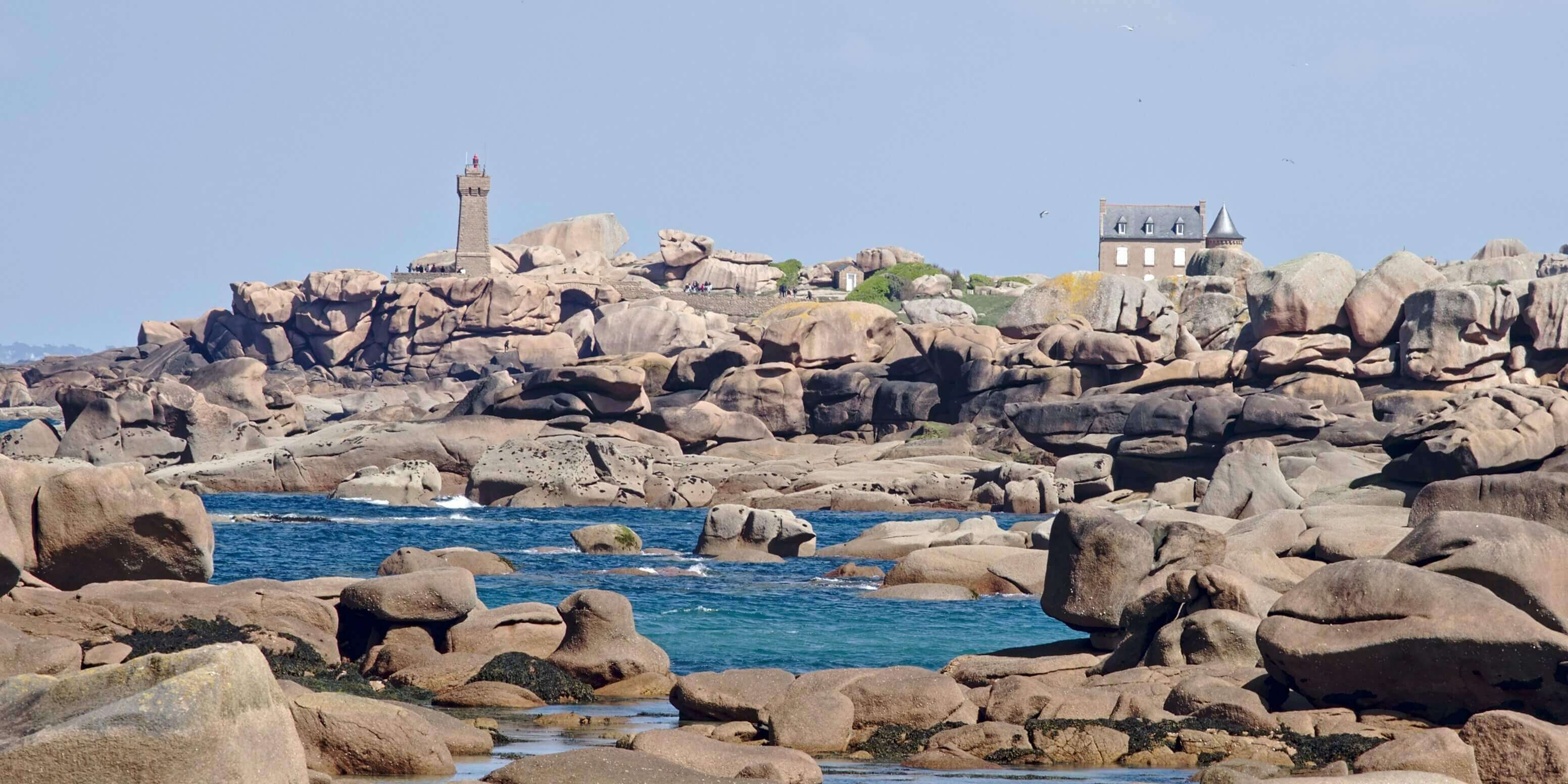 Infos
Parking: There is free parking at the beginning of the peninsula
Walk: About 2km. The trail is very accessible. No problem to take your little ones or even the grandmother there 😉
Hiking around Trégastel
This is an update of 2021. Our first visit to the Pink Granite Coast was in 2017 and in 2021 we came back to the region to write our new guide "Randos bière en Bretagne" (we'll tell you more about it when it comes out in May 2022).
We came back to Plougastel and Trégastel and went around Renote Island again. Except that this time we extended the walk to the west and went along the coast until the end of the Kerlavos bay. From there, we went inland to Tourony before taking the coastal path back to Trégastel. A beautiful itinerary that you will find more details about in the guidebook to come 😉 But in the meantime, here are some pictures taken during this wonderful day: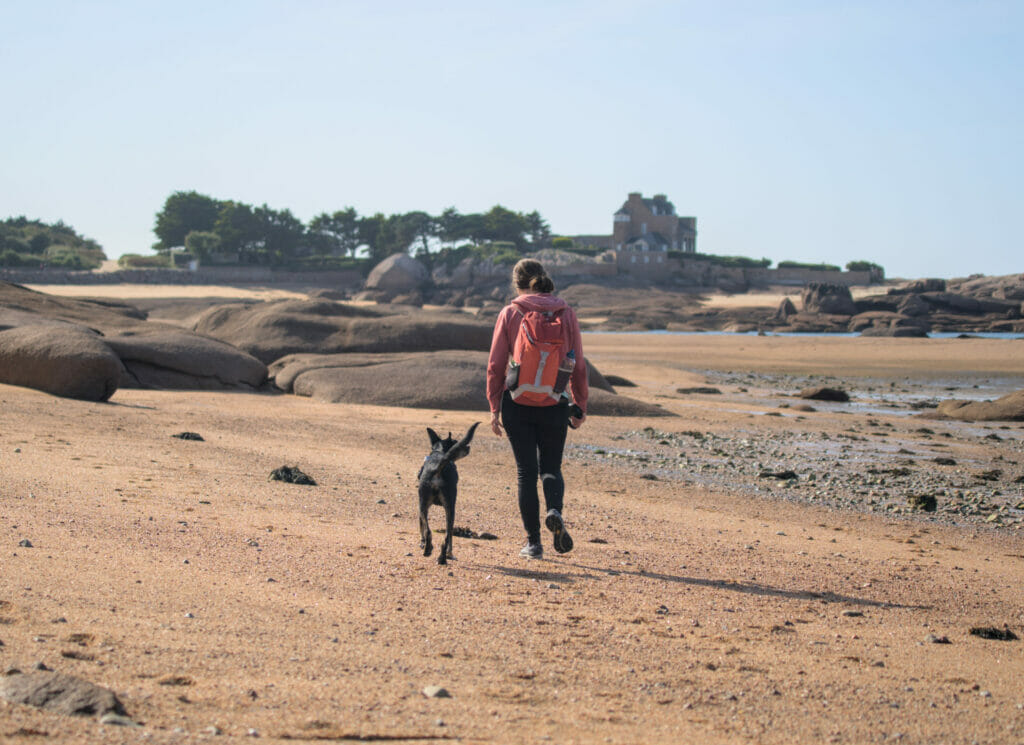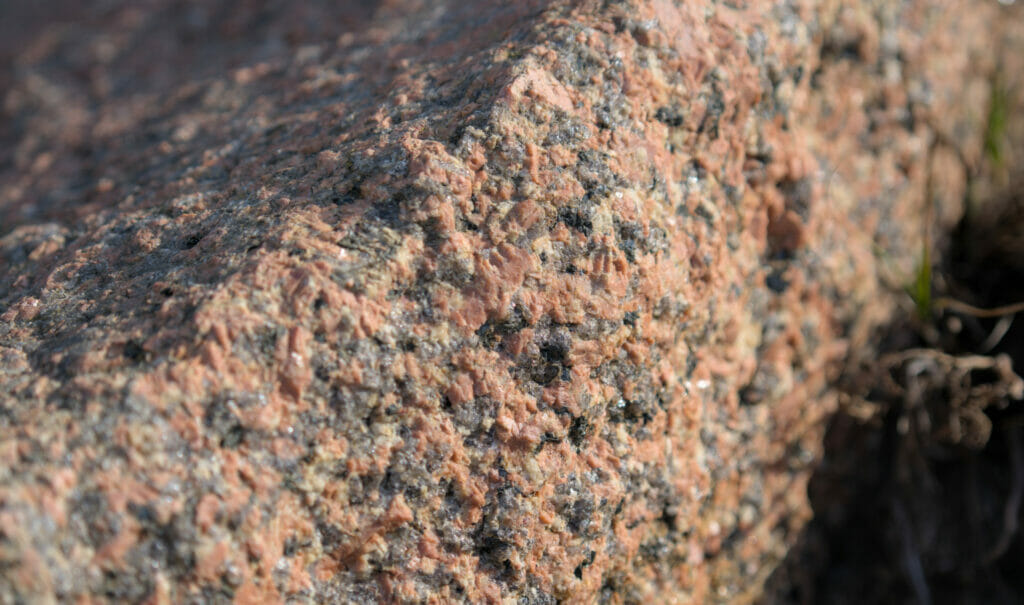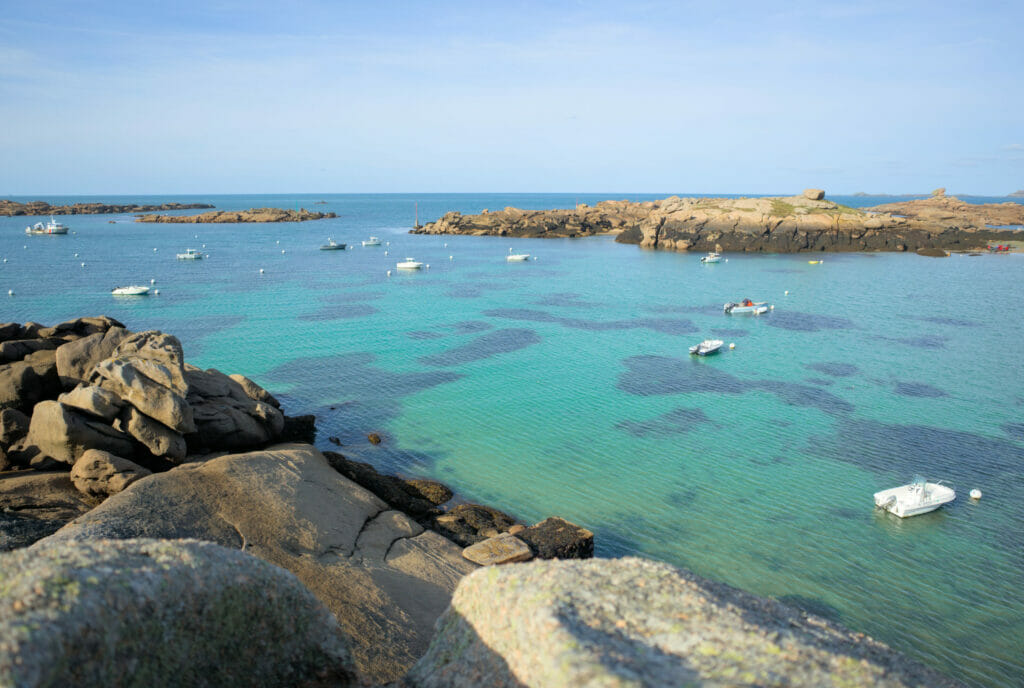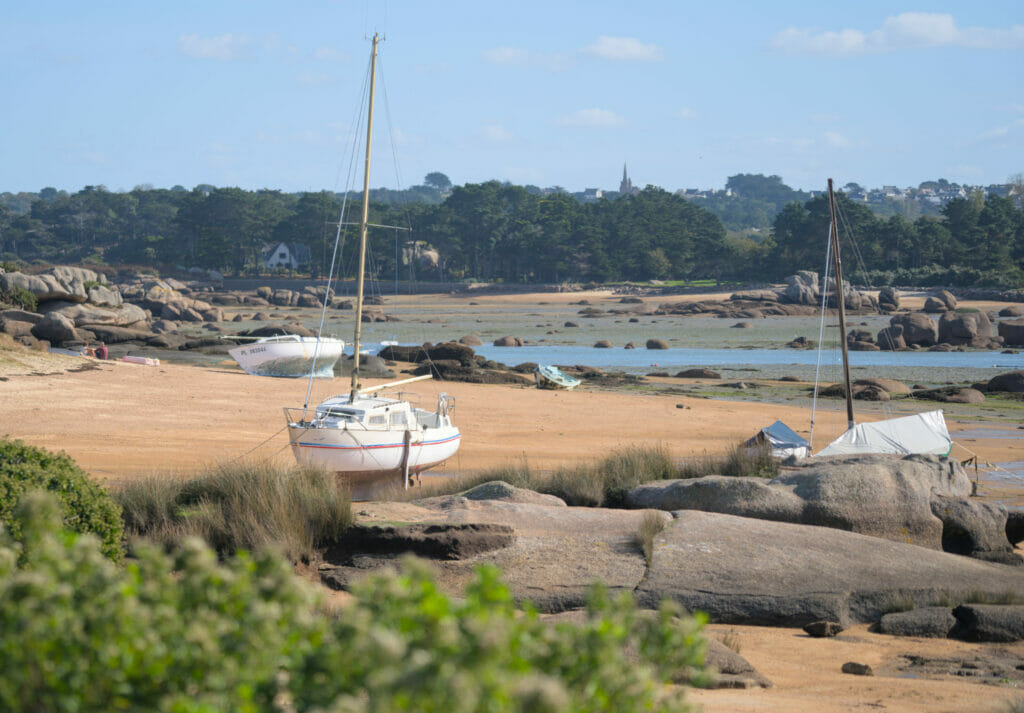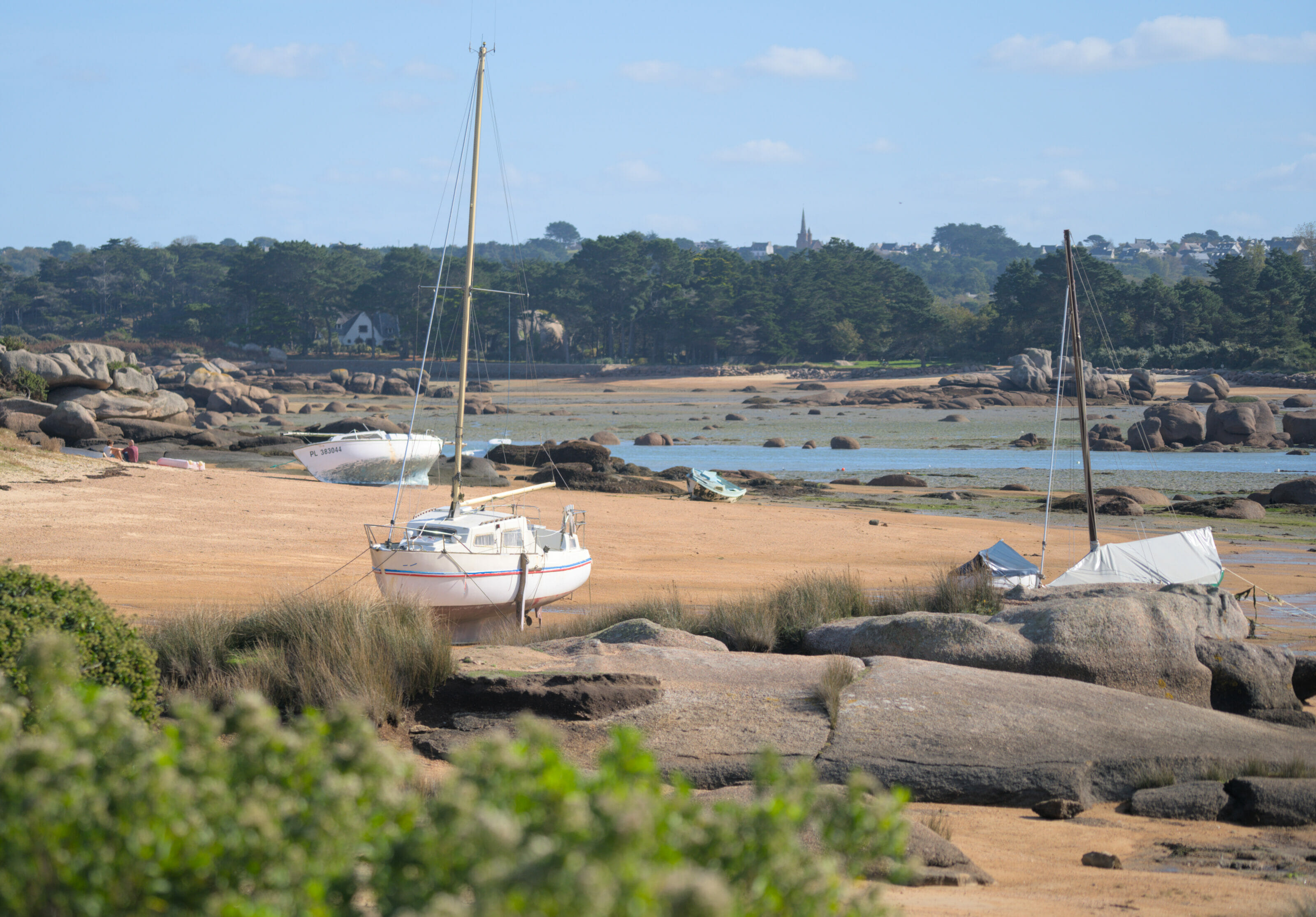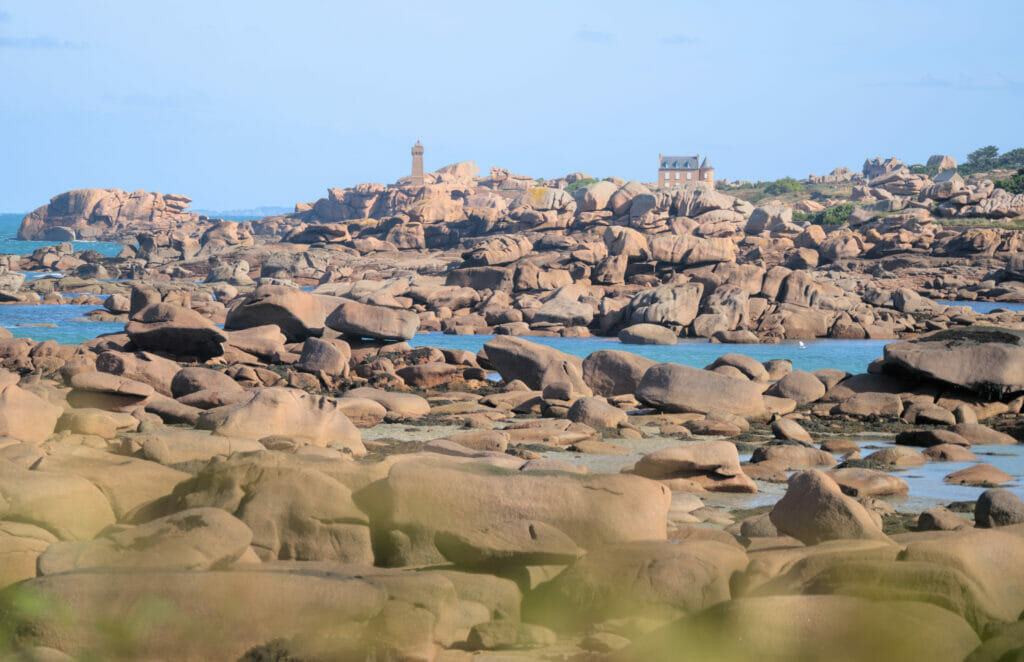 Île Grande: best place to see wild nature
Before returning to central Brittany we took the car again and headed towards l'île Grande. We admit it, we didn't have any plans except to park our car and go for a walk… Wise choice!
This island is where you come to enjoy the fresh air and wide open spaces! Because unlike Ploumanac'h, here there is no particular thing to see, it is just the island and its landscapes as a whole that are worth a visit. We come here to stroll through a wild landscape and since there is no official spot better than another we quickly find ourselves with this delicious feeling of being alone in the world.
Our favorite? The tip of Kastel Erek! An old granite quarry where the rock falls to the sea, really super impressive!
The little rock towers
For some reason, the area seems to be popular to try building little rock towers. Who knows, I've never really understood why it's something you never think about unless you see some already existing ones… At that moment we were caught in this irrepressible desire to do the same (at least that's my case). I started to work on my tower, but I admit that I lack dexterity and patience in this little game. 🙂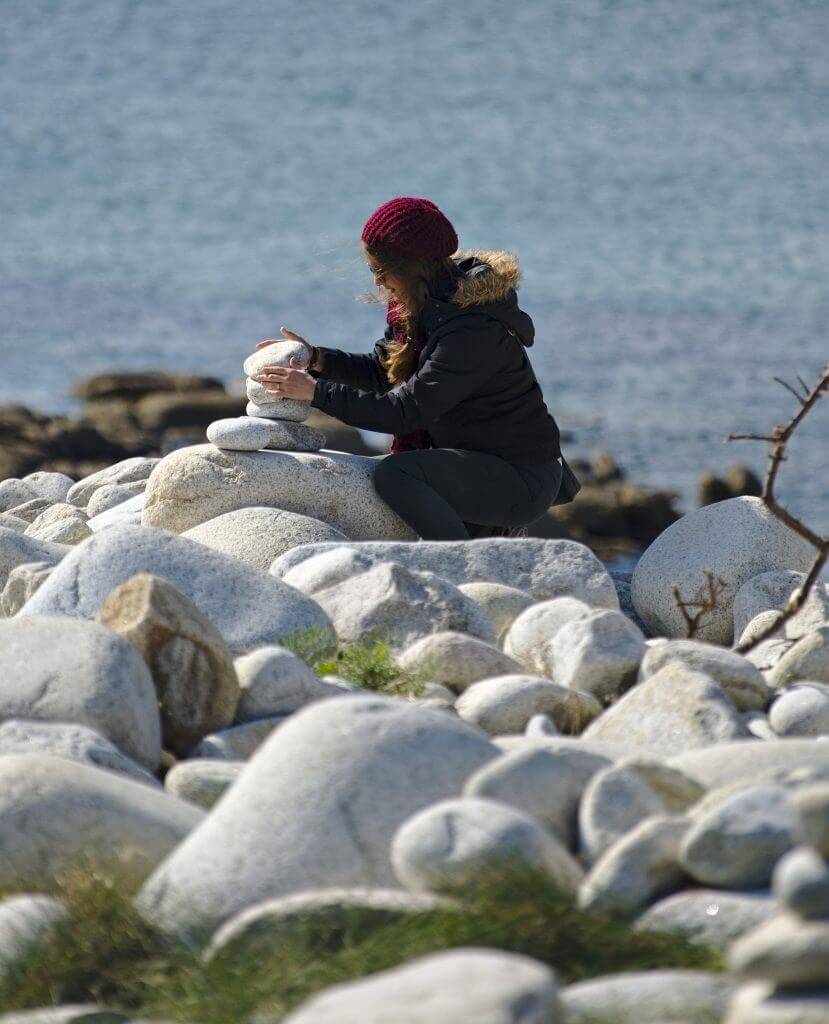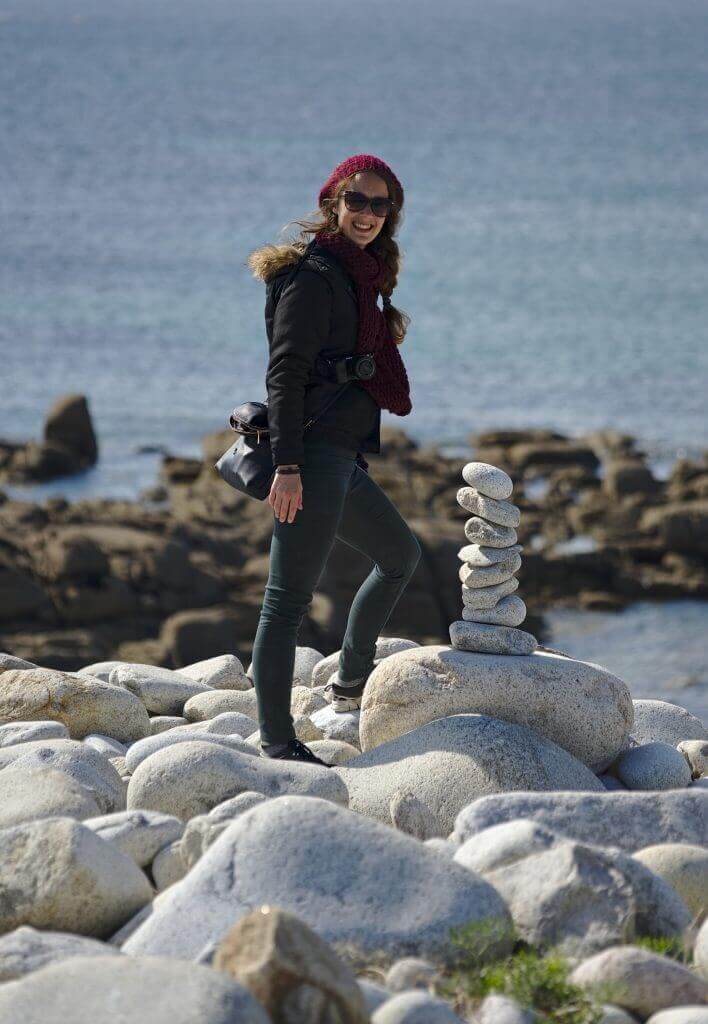 If you come around here don't look for my little tower, eh. It collapsed miserably 10 seconds after we took this picture.
Anyway, on this acknowledgement of balancing failure, I'll leave you for today! We look forward to seeing you soon for a next article on Brittany. Kenavo!
Enregistrer
Note: This article contains affiliate links to housing. By using our links you don't pay anything extra but we will get a small commission. This helps to support our work and allows us to continue to offer you free and independent content 😉