When we bought our round the world tickets, zip world told us: "If you want, for 10€ more per person, we can add the Easter Island to your itinerary!"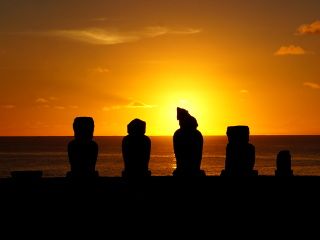 At that moment, we looked at each other with Fabienne like two children who had just received an unexpected gift.
We could already see ourselves sleeping in the middle of these Moais on one of the most isolated and mysterious islands in the world! Easter Island, here we come!
It is a piece of land 25km long by 12 wide that is lost in the middle of the Pacific Ocean… It belongs to Chile, but it actually is totally isolated. Imagine, there's absolutely nothing within 2,500 km! It is not for nothing that it is also called "Rapa nui" which means "the distant" in Tahitian.
Getting to Easter Island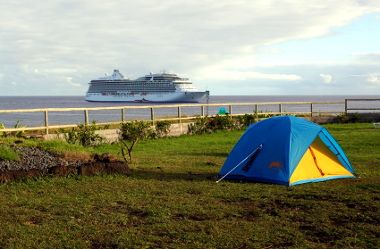 So, to get to Rapa Nui, there are no 36 ways! The only solutions are the plane or the cruise ships. (Although it must also be possible by swimming or by rowboat but I do not recommend it).
You can leave Santiago with LAN (one flight a day) or from Papeete on Tahiti (However, the flight from Tahiti always arrives around midnight, which is not ideal if you have not booked a hotel).
You will need to count between 400 and 600€ for a return flight from Santiago in low season. Prices can increase enormously in January-February for the Tapati festival which attracts many tourists!
Check the prices on Skyscanner
Cheap accommodation on Easter Island: Camping!
Well, we're not going to hide it from you, staying on Easter Island, it's not cheap… It's hard to find a room for less than $30-40 a night. And officially, wild camping is not allowed so there is no choice but to go to the official campsite (even if we have seen people wild camp… 😉 )!
I think there are 2 campsites in the village of Hanga Roa (the only village on the island where all the hotels, restaurants and shops are located) but we will only recommend one as it was so good: Camping Minihoa. Located by the ocean, it is the perfect place to admire the sunset and sleep rocked by the sound of the waves. In addition the campsite is very well equipped….
With the pitch, you will receive a locker containing dishes for 2 people, the kitchen is giant and in perfect condition and finally, the toilets are super clean…. Perfect for spending good evenings with the other campers and enjoying the crazy sunsets, with a little beer in hand. Frankly, we highly recommend…. Fabienne and I had rarely pitched our tent in a campsite of this quality.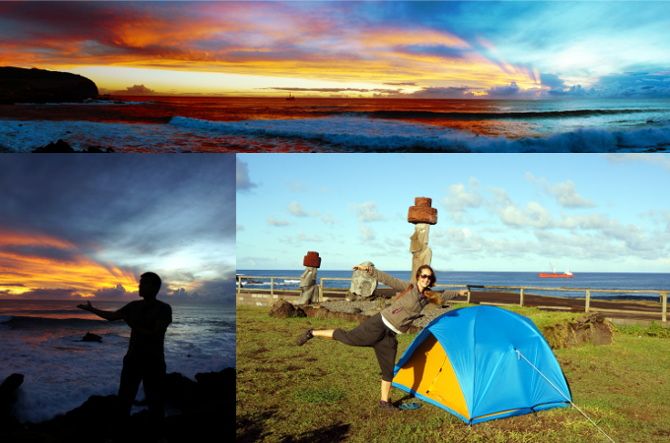 Infos
We advise you to pay the camping in pesos (10000 pesos/pers), it will cost you less than in dollars (16 dollars/pers)… And don't pay for the internet, it doesn't work anyway ;-)…. But a little week without the Internet doesn't hurt anyone, does it?) (especially not us)
If camping is not your thing, you can as well go take a look on Booking for hotel options. But we'll warn you, it gets pretty pricey over ther.
Rapa Nui, the moais, the Birdman cult… what is this all about?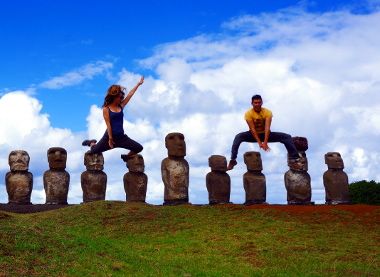 You probably know Easter Island for its famous moais, don't you? But whoever says giant statues also says inhabitants…. Imagine that the first people to have set foot on the ground of this lost island probably arrived by canoe (and therefore with the strength of their biceps) around 1000 AD… when we know that there is nothing within 2500km around… Hats off, gentlemen!
They then began carving giant statues, that are now called moais, a symbol of strength and protection! There, followed a fierce competition between the tribes to get the biggest moai… because obviously, the tribe with the biggest dominated the others!
Imagine, the largest moai is about 10 meters long and weighs 80 tons…. They were quite strong on Easter Island, weren't they?
The Birdman Cult on Easter Island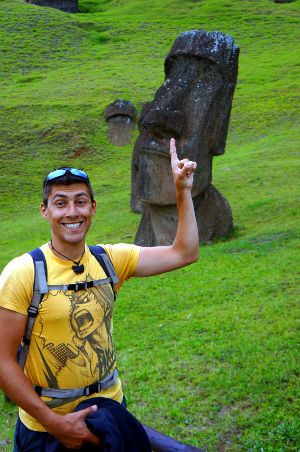 Well, after a few hundred years and some famines or other diseases, the inhabitants began to think that these moais were not really useful after all. This is where the birdman cult began! Every year, a competition was held between the tribes of the island to elect the famous "birdman". The champions of each tribe had to swim to a small islet to retrieve bird eggs and then return and climb the most impressive cliff on the island.
The first to reach the top had obviously won, bringing many benefits to his tribe! Having seen the cliff with my own eyes, I can assure you that the champions were not weak ones… Well, even if it has to be said that many of them died from a fall or eaten by sharks… 😉
Then, in the 19th century, the inhabitants of the continent arrived, bringing with them slavery and tuberculosis…
Things to do on Easter Island
So I can assure you that there is plenty to do on Easter Island…. Hikes, moais, lava tubes, volcanoes, beaches and crazy diving spots are waiting for you! To get an idea, here is a map of the island we made: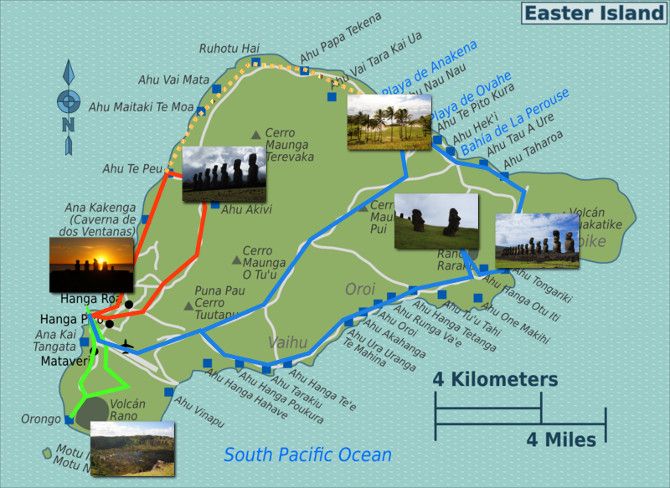 A short hike on Easter Island (in green on the map):
On easy and nice hike is to Climb up to the crater of the Rano Kau volcano and visit the village of Orongo, the site of the "birdman" competition. To do this, nothing could be easier, there is a nice hiking trail that runs along the coast and climbs to the edge of the crater.
Allow about half a day to go around with a visit to Orongo.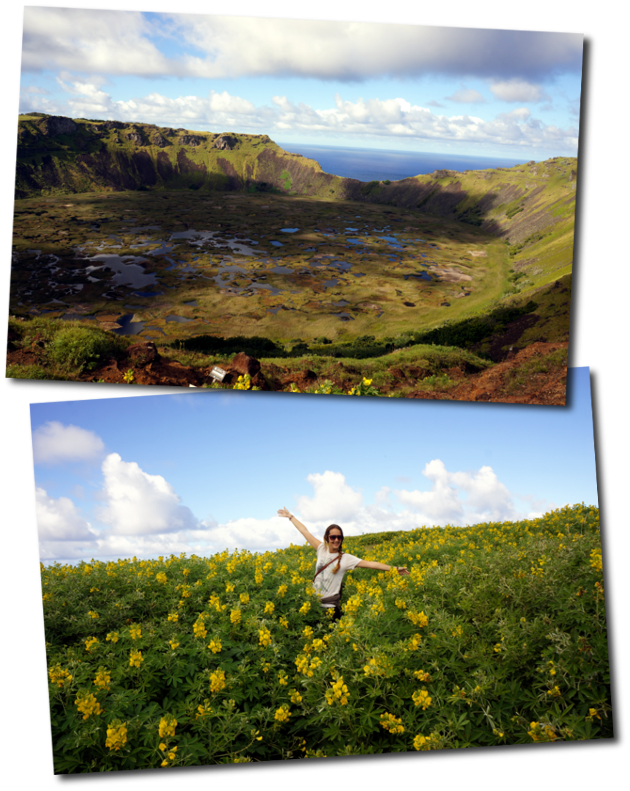 If you are feeling lazy, know there is also a road that leads up to the village… but frankly, we advise you to walk, especially in such a setting.
After having enjoyed the magnificent crater of Rano Kau, go to the village of Orongo where a small museum will explain better than me what the ceremony of the "birdman" was all about. You can also visit the site and see how crazy the tribal champions were. 😉
Long hike around Hango Roa (in red on the map):
Walk to Te Peù and return through the Moais of A Kivi. For this walk, count the full day because there are between 15 and 20 km to cover (9-12 miles). However, the whole stretch along the coast to Te peù is splendid… Among other things, you will pass by the famous lava tubes that once served as houses for the island's inhabitants. And if you are lucky, you may see frescoes on the walls of these lava caves.
But the highlight of the walk are the moais of A kivi! Even if we had already observed some of these statues on the way, this row of 7 moais is really Impressive! We had a picnic next to them… it was pretty nice ;-)… To be fair, the return trip to Hanga Roa via the interior of the island was not that amazing!
Small regret : If this walk had to be repeated, we would have continued along the coast to Anakena (dotted on the map), a beautiful beach at the other end of the island. It is not possible to walk back and forth in one day (well… unless you are ready for a 40km hike) but Anakena is one of the most visited places on Easter Island and there are usually taxis posted there (and it's probably possible to hitchhike back as well, as there are many other tourists who decide to rent a car). We heard from other travellers that following the coast up to there was really incredible…. And you are not likely to meet other tourists during the walk 😉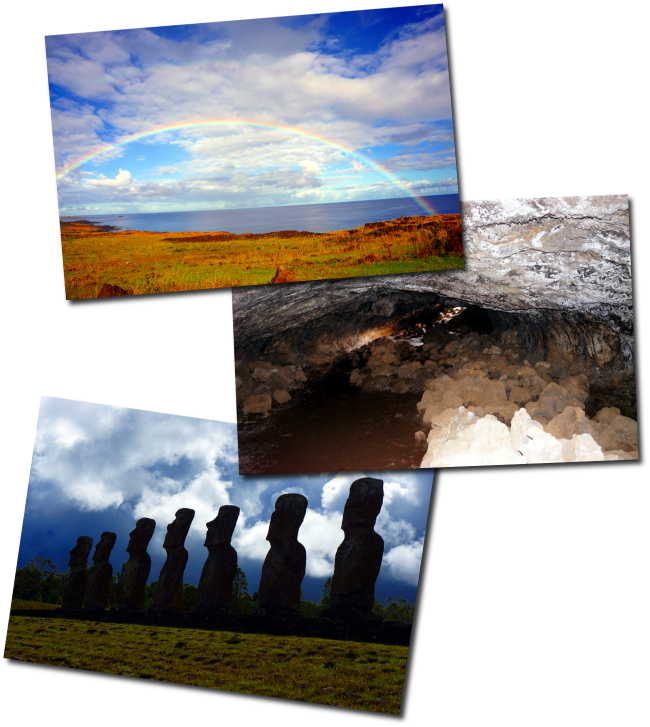 Easter Island tour by scooter (in blue on the map):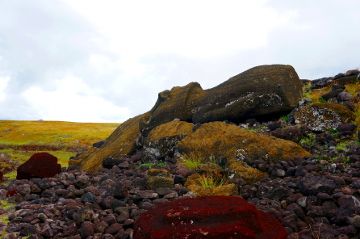 This big ride is perfect to see all the highlights of Rapa Nui (note that it's also totally feasible on a bike)!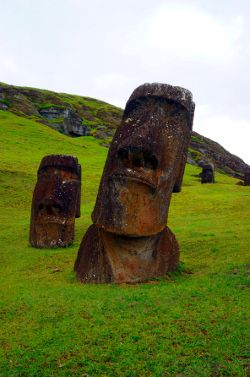 First step, follow the east coast of the island… As you can see on the map, there are many things to discover on the way… On the other hand, don't expect to see moais standing… on the coast the majority of statues have fallen and are often even broken. But it gives a particular charm to the place ;-)…. I personally liked this part.
After going along the coast, you will arrive at the Rano Raraku volcano. It is there that all the moais were sculpted and most of them are still there (not so easy to move statues of several dozen tons).
This place is just amazing…. There are moais planted everywhere. Some are still half cut in stone! Frankly, it's the kind of place that radiates a rather special energy… difficult to describe in words!
The Tongariki site
Not far from there is the largest row of Moais on Easter Island: Tongariki. This is probably the place you saw in pictures in the magazines…. 15 moais lined up, some of them almost 10m high… something crazy!
I actually liked it so much, that I decided to come back early in the morning to admire the sunrise… and frankly it's worth getting up…).
Finally, the last stop of the day, the beach of Anakena (which I was already talking about above). In addition to having moais, volcanoes, lava tubes… well there is also a beautiful beach on Easter Island.
Not bad, is it?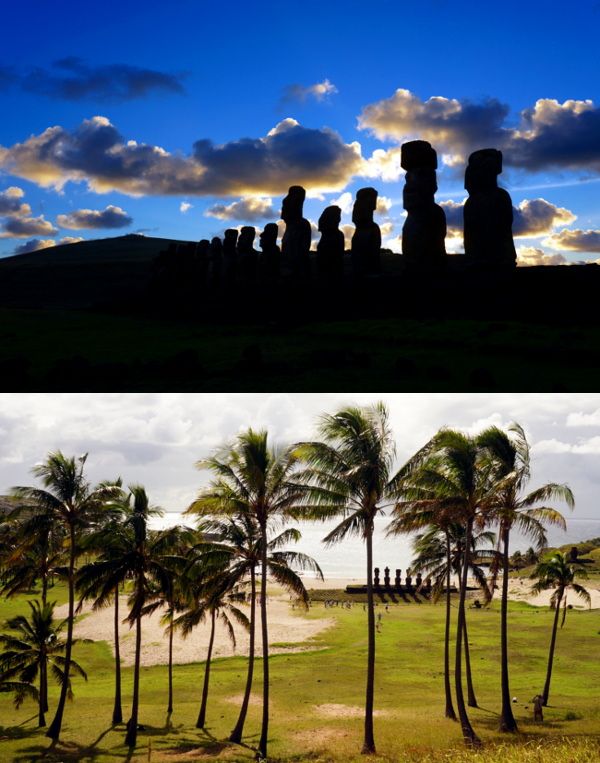 Other activities you can do on Easter Island (not tested):
It is also possible to dive on the easter island. There is also a very popular spot with a sunken moai. Alternatively, you can also come during the famous Tapati festival where you can attend many sports games and dance shows in traditional costumes. However, it is impossible to tell you if this festival is still authentic or if it has become a tourist attraction… And don't forget that the prices explode during the festival!
So here we are, we really enjoyed this week of camping on the distant and mystical Easter Island… it's really one of those places that we will remember all our lives…
Pure moments of happiness 😉
And as we loved it so much, Fabienne is still preparing a short article on "how to visit Rapa Nui on a budget"… We spoil you, don't we?
And to finish off beautifully, a little panorama for the road 😉

So, when are you going to Easter Island?
Note: this article contains affiliate links. By using our links to book your flight or accomodation you do not pay anything extra, but we'll earn a small commission. Thanks for your support