We are almost certain that if this is the first time you are going on a round-the-world or long-distance trip, you are not sure what you are going to put in your backpack. You may even be wondering if you're going to leave with a backpack 😉 (you could also leave with a suitcase for example).
Before we left for our round the world trip, we had the impression that we would never be able to fit everything in our backpack. We were also afraid of forgetting clothes or equipment that might be important during our trip.
But in the end we worried about a lot of things for nothing!
With the experience that is now ours, we decided to write a detailed post about all the equipment that you could take with you during your world tour (backpack, clothes, accessories, electronic equipment…) and we give you our opinion so that you can leave with only the essentials.
Chapter 6: Table of Contents
Our free ebook in PDF format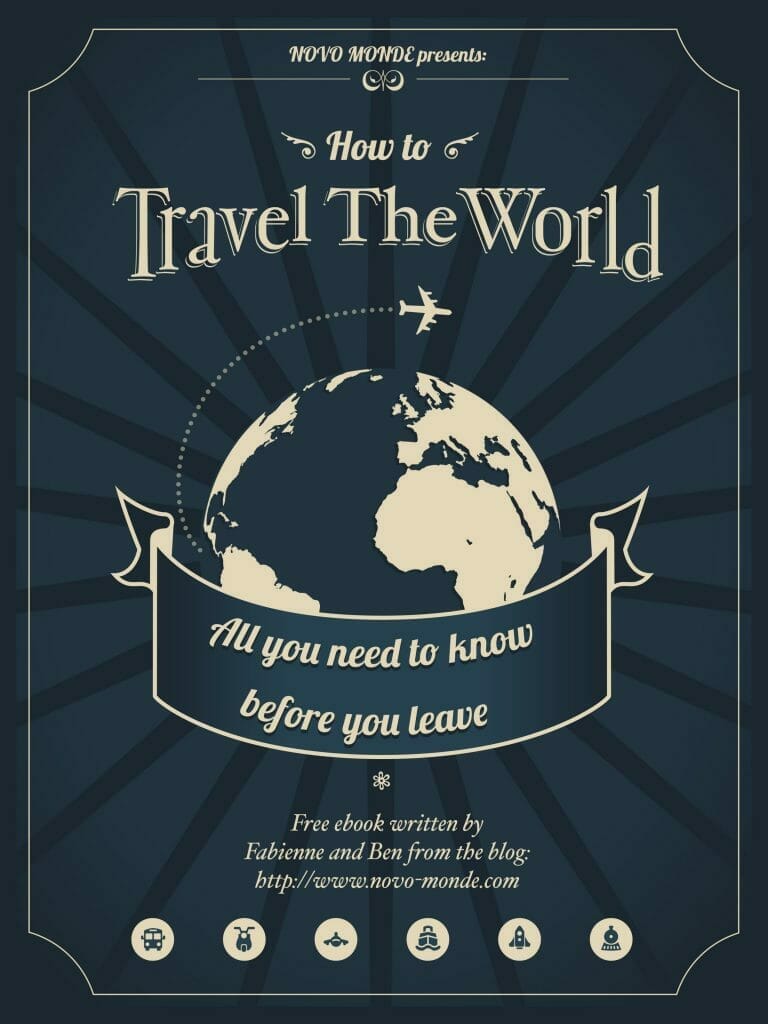 You are currently on the online version of our ebook. Below you can discover the full content of our online guide.
But if you prefer, our guide is also available in PDF format. You can read it on your computer, smartphone or tablet (or even print it out if you want). To get the ebook, just subscribe to our newsletter at the end of the page. To go directly to the registration form clic here.
A little sneak peek in the ebook:
Backpack or suitcase?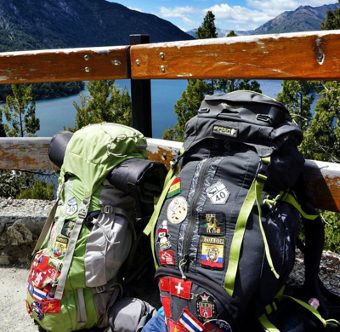 For us this question did not really arise, with the type of trip we were planning (a lot of walking and hiking). It was obvious that we were going to leave with a backpack, but that is not necessarily the case for everyone…
The suitcase: pros and cons?
If you are going to a fixed place, and you do not plan to travel regularly, this may be possible. On the other hand, don't think that asphalt roads are legion all over the world, so try to imagine yourself pulling your roller suitcase on a dirt road, or worse a mud road.
Doesn't that scare you? Then why not!
Personally I prefer to take a suitcase when I go for example by car for a week to a rental house. The clothes are less wrinkled, and we have a better overall view, but from the moment I know I'm going to have to walk for more than 5 minutes, then it's automatically the backpack that takes it away!
What about backpacks with integrated wheels?
I must admit I thought this was a wonderful idea at first! The idea of being able to carry my backpack on paved roads and not having to carry it between hotels at all times excited me… But soon I started to realize that this might actually not be the best option. This type of backpack seem to be a good compromise at first but it's actually a bit of a misconception
Why is that?
First of all, the comfort of these backpacks! Once placed on the back, these simply don't "fit" well (at least for the ones we've tried so far. The wheels tend to interfere more than anything else, but the main disadvantage is the weight. This type of luggage is heavier than a simple backpack when it is empty. So if you want to start with less than 13-14kg, then the extra kilo (or more) of wheels and reinforcements is really not worth it! And if like us you also think that you might be using your backpack for hiking at some point during your round the world trip, I promise you that you'll be happy to have the lightest bag possible.
So we agree? It'll be a classic backpack for the round the world trip!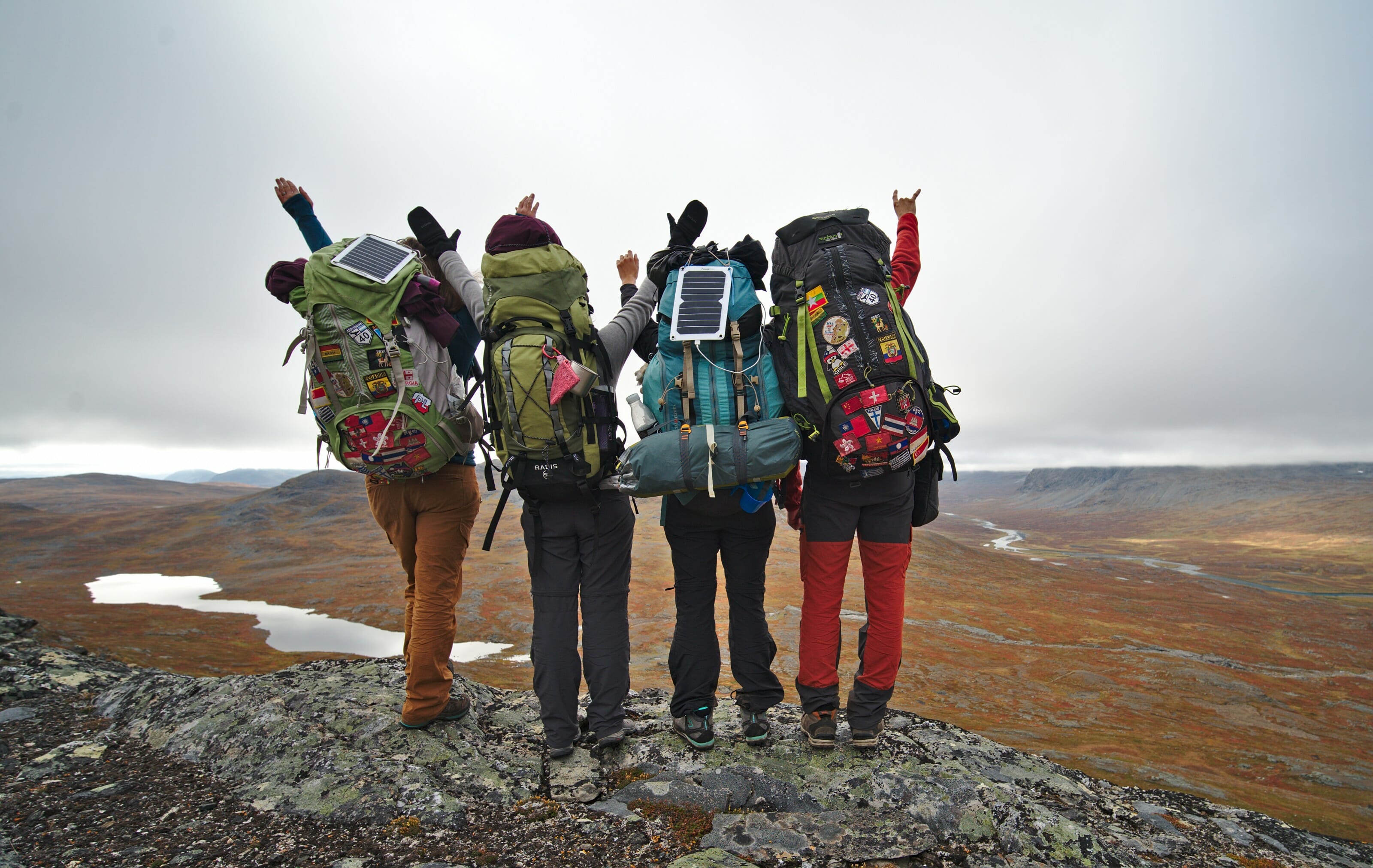 Best Backpack for a round-the-world trip
Criteria for choosing the right backpack
So I won't go into too much detail (still quite a bit though) but a good backpack must still meet some basic criteria:
It must have at least two separate compartments that are individually accessible from the front (generally the upper 2/3 are separated from the lower third). This allows good organization and better access to the equipment.

The bag Ben chose when we left in 2012

The back must be rigid and adjustable. It is very important to be able to adjust the position of the bag so that most of the weight rests on the hips and not on the shoulders.

The straps should be fairly wide and well padded.
I like bags that have a sufficient number of external straps and pockets. It is always useful for mattresses, tents, hiking poles and also to dry your clothes 😉 (and for anything else you may want to do with it…).
It must have a rain cover
A good weight/liter ratio if possible (20-25gr/litre).
The size can vary between 50l and 70l for a long trip. I doubt it will do much good to think bigger. Fabienne chose a 60l bag and Benoit a 70l bag that was not completely filled. If it doesn't fit, it's better to reduce your equipment!
The backpacks we chose for our round the world trip
The prices of backpacks are very variable (60-300€) depending on the brands and associated gadgets. But for our part, it was not really an option to put more than 200€ for a Deuter backpack while backpacks like the decathlon backpacks (which many travellers use and which we also use) meet all the above-mentioned criteria.
Since we left for our trip (in 2013), decathlon has again made enormous progress in terms of ergonomics and design of its travel and hiking backpacks. We are still very happy with our "old" backpacks but if we had to choose in 2019 we would opt for one of the following models:
The Forclaz 60l backpack for Fabienne and the Forclaz 70l for Benoit: These two backpacks meet all the above criteria (and much more) for an absolutely unbeatable price (50€ and 60€). Forclaz models do not have super sophisticated features but they are lightweight and versatile. Without hesitation if we had to buy backpacks now, we would take these!
The Travel 500 50l backpack for girls and the Travel 500 70l for guys: These backpacks have been designed specifically for long-distance trips with lots of smart storage space and even a small integrated backpack! Frankly they have everything to please but all these features still have a price: the weight of the empty bags is quite heavy (which is not the best for hiking). In addition, I find that the straps are a little thin and that the wearing comfort is not optimal. But well, the additional features might convince some of you and their price is still very correct (80€ and 100€).
If you do not have a Decathlon in your area you can take a look on Amazon. The Osprey brand as well as the Deuter brands are the ones which are most used by travellers. These bags are more pricey than the Decathlon version, but they are also slightly lighter. Ben's sister for example has the Air Contact from Deuter and she's really happy about it.
The small backpacks (or day packs)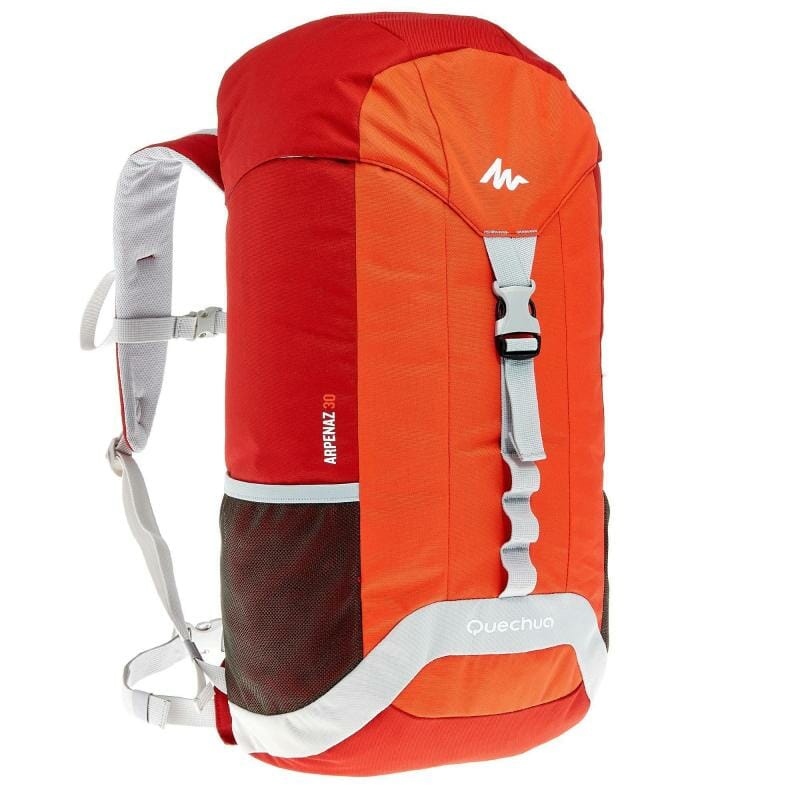 We also have a small, lightweight and foldable 30-litre backpack (which takes up very little space and can be easily stored in the 70l) that we use for short hikes or walks in the city or as hand luggage in the plane and buses (we always store our computer and camera in it). It's the backpack you carry in the front when you have all your gear on your back. Of course, Decathlon is unbeatable for this backpack. 30l with a 10 years warranty for 10€…. no need to think twice!
For this bag, seriously the brand or the features don't actually matter so much… we rather buy some good lense pouches and adequate camera protections.
The backpack cover
We have also invested in a backpack cover to protect it in transport. Opinions were divergent on the net as to its usefulness but we decided to test it anyway because it remains quite light (400gr).
And considering the condition of the covers after more than 5 years of travel, I think we can say that it is money well invested! Our bags are still as good as new (well almost… but they have clearly been spared by the covers)!
We bought such covers and we can only recommend them! They can be closed using a small padlock and thus we also use them when we go on longer hikes: whatever we don't need on the hike we just put it in this cover, we lock it up and drop it at a hotel reception!
Feedback after the trip!
Our Decathlon backpacks
Benoît left with a male decathlon backpack model 70l+10 and Fabienne with a female decathlon backpack 60l. We admit it was the price that decided us, and we were wondering a little bit about how things would go on the roads. So first observation: We are delighted with our decathlon backpacks!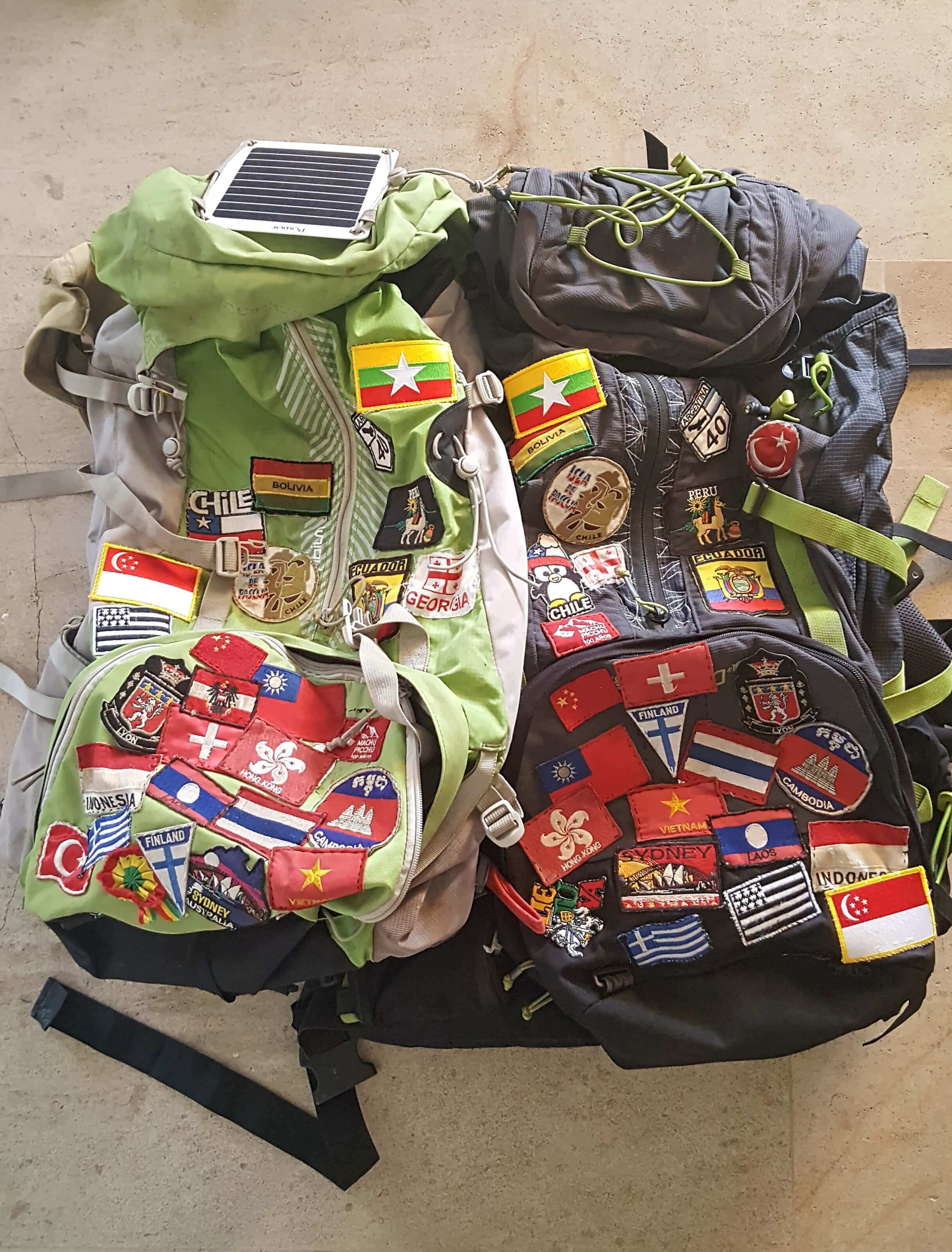 More than 6 years later? We still have the same backpacks! 🙂 We certainly have a sentimental attachment to them, but overall their condition does not justify changing it. The zips are still as good as new, even if obviously for the color it's another story… Benoit had the good idea to choose a black backpack, so don't worry about it! I opted for a pale green backpack (well yes, it was so much cuter…)
Yeah…. Now my backpack is more of a light green color dragged through dust and mud, but it doesn't get any worse!
The strong points of Decathlon backpacks:
The price of course! Unbeatable in our opinion in terms of quality/price ratio! Frankly, we found nothing worth decathlon in the world in terms of quality/price ratio
The resistance of zips and closures.
The resistance of the fabric (no holes or tears to declare in more than 6 years… not bad no?)
The comfort of the bag once on the back is relatively good. We even did several days of treks in autonomy with no worries! (like this 8-day trek in autonomy to Machu Picchu and we also took them back for our crossing of Switzerland on foot…. 23 days of walking with it!)
The negative points of Decathlon backpacks:
There are missing straps on the sides to properly balance and tighten the material in the full bag. Two additional small straps (we bought them extra) were used to attach objects to the outside and to properly tighten the bag.
The girl version of the bag is too big in terms of waist size…. As a result, the bag fits perfectly when I'm in a jacket, but in a T-shirt it's another story. But it seems that the new version of the decathlon backpack has solved this problem! Edit 2019: I got fatter… hahahaha no more concern to have for me
For Benoit's bag: the tightening of the straps is a bit limited…. Even tight as tight as possible, it's just not enough (yet he still has good arms, my man… well what??? Am I not being objective? Maybe…);) ;). But here too there is a new version of the backpack available that may have solved the problem
The backpack covers /Duffle Bags:
So it is without hesitation that we tell you that we are delighted to have brought these covers! They have served us well, both during air travel, but also during the many bus trips!
Around the world: For us the main advantage is that we could slip our entire backpack in, then close it with a simple little padlock: and hop the bag is protected from thieves! It discourages the temptation for thieves to simply open the bag to see the contents! Of course the cover could very well be opened with a simple knive, but we think it dissuades curiosity…
And well, we also used it a lot when we went on a trek with our big backpacks. We simply put all our stuff we didn't need trek in the covers, we put the padlock, then we put the covers in the luggage room of our guesthouse! Frankly, we really recommend that you buy the backpack cover or the new one from decathlon.
Since the return: We kept using the covers! We always take them with us when we fly. This protects the bag and also secures the elements that are attached "outside of the bag" such as the tent or hiking poles.
Clothes to take on a long trip
When you go on a world tour, the idea is to bring the most versatile clothes possible in order to be equipped for the variety of climates you will encounter during the trip. The idea is to think of your clothes in layers so that you can wear the minimum when you are in hot climates and simply add layers when temperatures drop.
Note: if you forget something, you can always buy clothes along the way so it's not a big deal
In this list we put you all the clothes we initially brought, as well as in italics our remarks after the trip.
Quand on vous dit qu'on a maltraité nos habits 😉

A warm and windproof soft-shell jacket. Benoit opted for the equivalent of this model at the time and Fabienne for something like this one. They followed us for 18 months and we really used them a lot!

Glad to have brought them, they served us a lot, adapt to many climates and are very strong.

A not too thick fleece that goes under the soft-shell (we took a model like that for Fabienne and like this one for Benoit).
Note that there are models that combine the jacket and warm layer (the woman's model here) with the possibility of detaching them, which can also be an interesting option.

Very happy too… even if we would have liked the combined option we are talking about and did not yet exist at the time.

A lightweight, waterproof gore-tex jacket (or other less expensive material) wide enough to fit over the other layers and with a hood. When we left for our, we took the waterproof jackets we had at the time, but since then we bought new ones which are lighter and more effective. Examples: For men or for women

We barely used them in Asia but on the other hand this has proved to be an essential additional layer to protect against the wind at altitude in South America as well as to do treks.

Lightweight and breathable hiking pants for long walks.
See online for men and for women

Very good purchase, we even bought a second pair once we arrived in South America because we did a lot more hiking than expected;)

Ben's clothes (jackets and pants) when we left for our trip

in 2019 it looks more like this 😉

Basic clothing: 1 light sweater/hoodie, 4 T-shirts (2 synthetic, 2 cotton), 2 Shorts, 1 long-sleeved shirt or shirt (practical because long sleeves will help protect you from mosquitos 😉 ), 1 swimsuit.
One "nice" outfit: a polo shirt for Benoit, a dress for Fabienne. Just because we travel with our backpacks doesn't mean we can't get "dressed up" every once in a while.

It seems futile to some people…. In the end we used them relatively little, but we were still happy to have them! Well yes, going to eat in a nice restaurant in Hong Kong is not great with hiking shoes and fleece….

Underwear: 4-5 panties – bra – boxers, 4 pairs of short socks, 2 pairs of hiking socks.
A leggings for Fabienne (and one for Benoit afterwards).

Frankly not convinced at first, but once we were on the way I was totally in love with them. It's not the ultimate glamorous level, but it keeps you warm under pants, it's very comfortable combined with shorts for an air-conditioned bus ride, and they do the job as a "pyjama" for sleeping in a dorm… so nice that even Benoît bought one in South America… it means a lot i swear 🙂

1 pair of trail running shoes (and 1 pair of flip flops)

For Asia we left with trail running shoes. It was ideal! Once in South America, we tested both: high and low shoes. I would say that even after 18 months of travel, the choice of shoes remains difficult. But if you had to choose, the most versatile shoes remain the trail running ones (gore tex). They are sufficient for most of the hikes, are also good in the city and are relatively lightweight. On the other hand, don't try to save on shoes because you will wear them every day!!! We have since written a complete post and comparison about the best trail shoes for hiking and backpacking and we recommend you to read it
Getting back to shoes, we've tried really many different models since 2013 (trail, hike, sneakers) and we always come back to the low-top trail running shoes. These are the most versatile shoes and are enough for almost any situation. We tried different Salomons, several models from decathlon, La Sportiva etc… so much so that we finally took the time to write a complete post and comparison of the best trail shoes for hiking and traveling… you can read it below.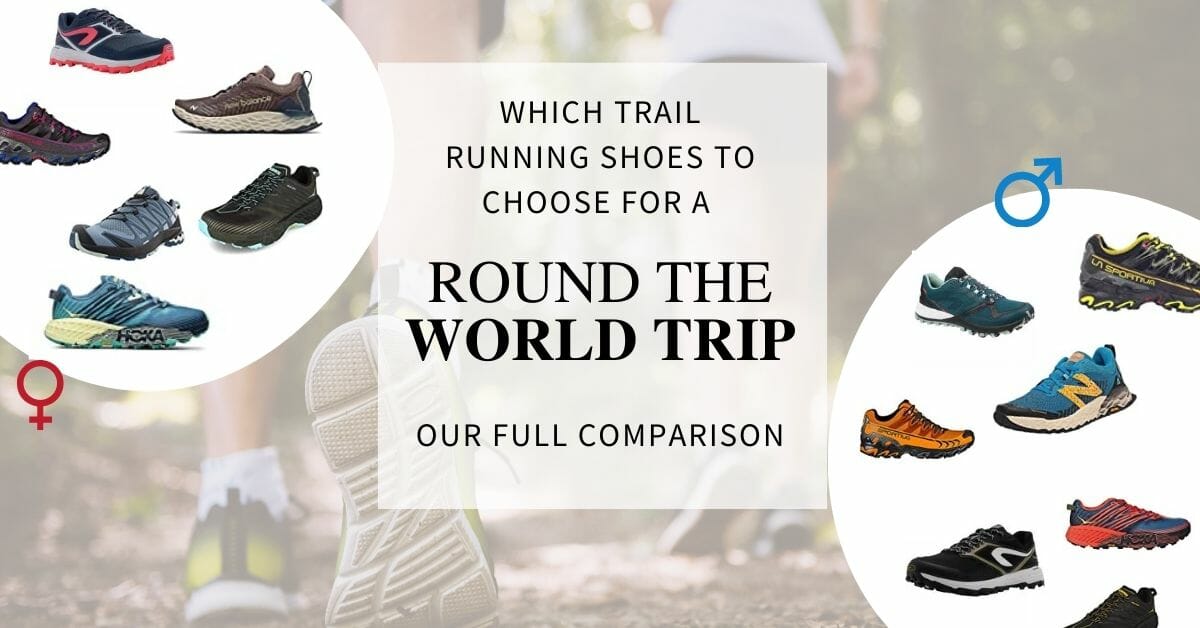 Best trail running shoes for hiking and backpacking compared
Backpacking gear in general
Here is the list of useful items we decided to take with us. Here too, you will find most of the items with an excellent quality/price ratio at Décathlon or online at Amazon for example.
Sleeping equipment
our tent

1 tent : We left without a tent at the beginning of the trip but we quickly bought one along the way. A tip, if you are thinking of camping during your round the world trip, you should buy a tent before leaving because it is difficult to find a light and quality tent along the way. Since we do a lot of autonomous hikes, we decided to invest in a spacious, super waterproof and ultra light tent (our first real estate investment) ;). The brand we have is no longer available but if we had to buy a new one, we'd probably go for the Big Agnes 3

Note: it is very important to always count an extra person… because when hiking you have to get your backpacks inside… and 2 big backpacks are clearly equivalent to a third person 🙂

a sleeping bag can even be useful when you go watch sunset 😉

1 ultra-light sleeping bag. Again, a sleeping bag is mainly useful if you are going to camp during your trip. Otherwise a silk liner can do the trick.

We went to Asia with an ultra-light sleeping bag that was suitable for temperatures of 10-15 degrees and it was perfect (honestly we didn't use them much in Asia except during our bike week in Taiwan) But we quickly changed them to warmer sleeping bags in South America (and we struggled to find some not too bad ones in South America). Currently we have a sleeping bag with a comfort temperature of -5 degrees that weighs only 900gr that we take with us everywhere. It is a big budget but the weight/heat ratio of this kind of sleeping bag is unbeatable. However, I will only recommend this type of purchase to people who will do a lot of hiking during their trip. Otherwise, a silk sheet may be sufficient.

1 silk bag to protect the sleeping bag and increase the thermicity by a hair. It is also possible to sleep only with the silk bag in hot climates or when the sheets are a little dubious (this is real life)

Useful for many reasons, but in the end we used it extremely little… We could have left it at home I think… Let's say that if you travel without a sleeping bag it is useful, if you have a sleeping bag it makes a bit too much to take both…

1 lightweight air mattress. Thermarest is definitively the brand with the best options if you ask us…

If you are camping during your trip, this type of mattress is obviously essential. I would even say that if you start camping in fairly cold temperatures, you will have to look at the insulation quality of the mattresses or the R-Value (to avoid losing heat from the ground).

Cooking for backpackers: our equipment
1 (for both of us) mini kit of pots, services and glasses for camping (we chose a pot where the lid can be used as a frying pan)… One of our little pleasures when we travel with our backpack is to make our own coffee in the morning or cook ourselves some nice dishes. That's why we "bother" with that. Well, it is obviously essential for camping and hiking in autonomy. We have something similar to this.
1 (for both of us) light liquid fuel stove (and 1 lighter). Do not use a gas burner because the tips of the gas cylinders vary from country to country (believe us… we experienced it)… On the other hand, you will always find petrol. Of course it is a purchase that is only worthwhile if you want to go hiking and camping during your world tour.

Very happy with our stove! Make sure to buy one that allows you to use both white gas and unleaded petrol (it's very easy to just go to a gas station and fill it up… these can be fond anywhere on the planet!)

Useful trick to know to save money: rather than buying white gaz in camping stores go to a DIY store! Painters use it to strip walls. It is the same product, but simply sold cheaper to painters than to hikers. 🙂
Infos
If you are looking for information that is more specific to the equipment we take with us on our long hikes, you can take a look at what we took on the Via Alpina (crossing Switzerland through the Alps during 20 days) or on the Kungsleden trek. Finally there are not so many differences with the equipment we took with us on our round the world trip (just a little less clothes)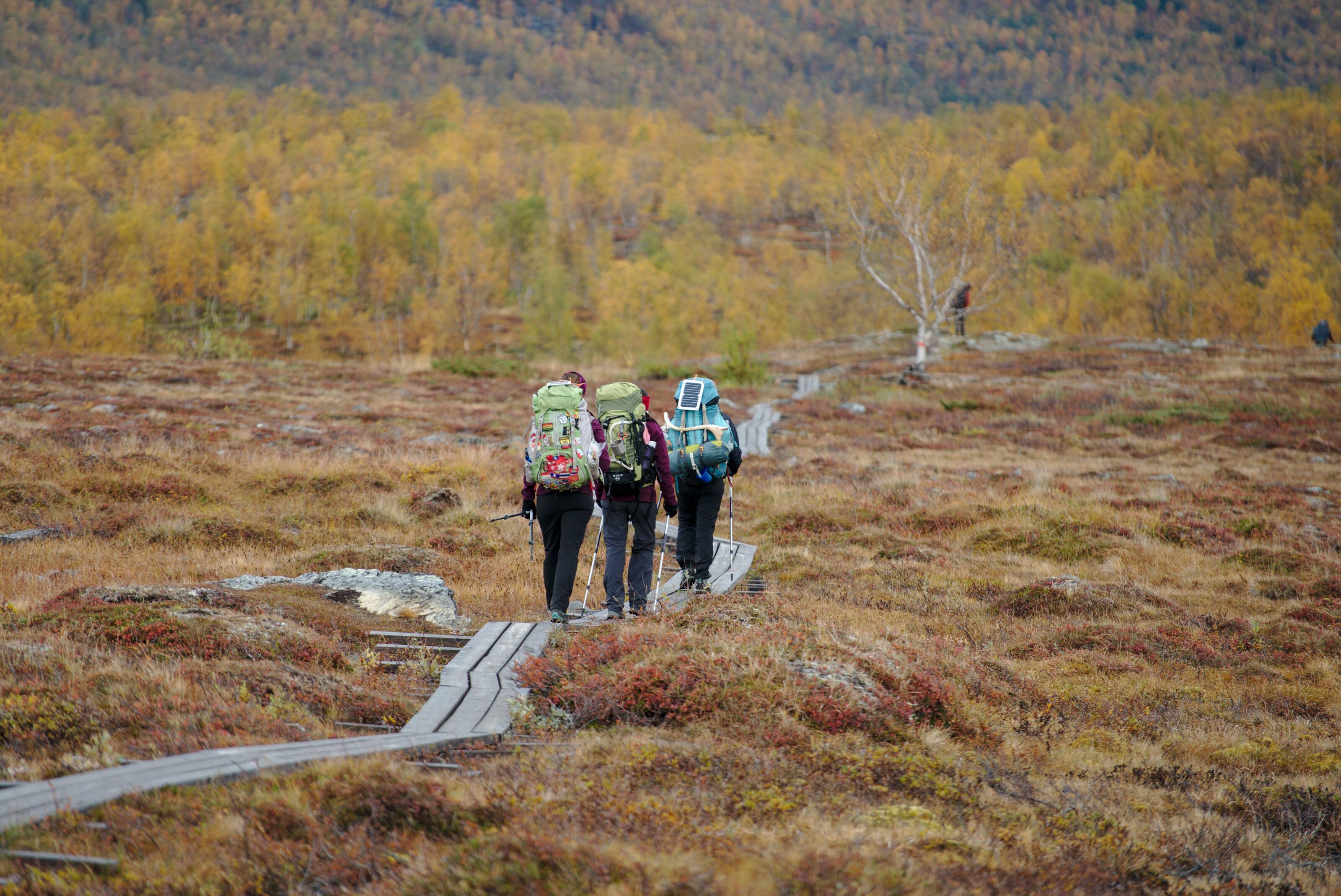 Various accessories and usefull gadgets
3 storage bagsof different sizes to store things in the bag. We found these pouches very handy and used them all the way! Note: we generally prefer the ones which are soft and that do not have a fixed "shape", it's much easier to fit them in the backpack this way. You can look for this kind of packing cubes.

We really used these bags all along the trip… they are very good.

1 large travel towel that takes up little space and dries quickly. Well, it doesn't dry as well as a sponge cloth, but it's much more compact and lightweight.

Let's be honest, these towels don't dry very well… But the size-to-weight ratio is so good that we would never leave with them. Even if you are happy when hotels or hostels offer real towels 🙂

1 pair of hiking poles (Fabienne has knee problems and it helps her a lot on the slopes). And frankly, with hindsight, it's essential if you're thinking of hiking during your trip. Note: we prefer to choose models that have a flip lock system rather than a rotation system. This type of stick is less prone to oxidation. These are what we mean.

A must if you have weak knees like me! We use them a lot and we are really happy to have them!

2 Padlocks to close the tent or backpack cover for air travel or when leaving things in a guesthouse during treks.
1 logbook and 1 pen to keep track… Besides, if you follow us, you know that we always share our budgets by country… I always take daily notes in my little notebook

Benoit en mode pirate quand il dort dans les bus 😉

1 sleeping kit (neck cushion, earplugs and "wolf" for the eyes) mainly used by Benoit (Fabienne sleeps in any conditions while Benoit needs all his gear to sleep;)

1 headlamp (any brand will do the trick… it's more for camping or finding the way to the bathrooms when in a dorm)
1 Swiss army knife. Note: For backpacking we recommend taking a "simple" version of it with not too many tools. The one linked is exactly the one we have.

As good Swiss people, we will never dare to criticize our national pride… We love it!


2 straps to attach the bag to a motorcycle or to avoid that the whole load is on the zippers.

We use them also to attach sleeping bags to the outside of the bag, very useful!

We were hesitant to take a mosquito net that can be easily suspended everywhere. But in the end we are very happy not to have taken one… Wherever there are mosquitoes, there is usually a mosquito net.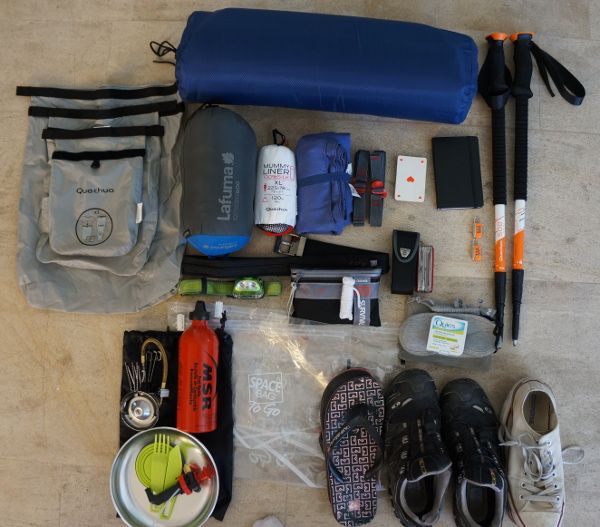 The toiletetry bag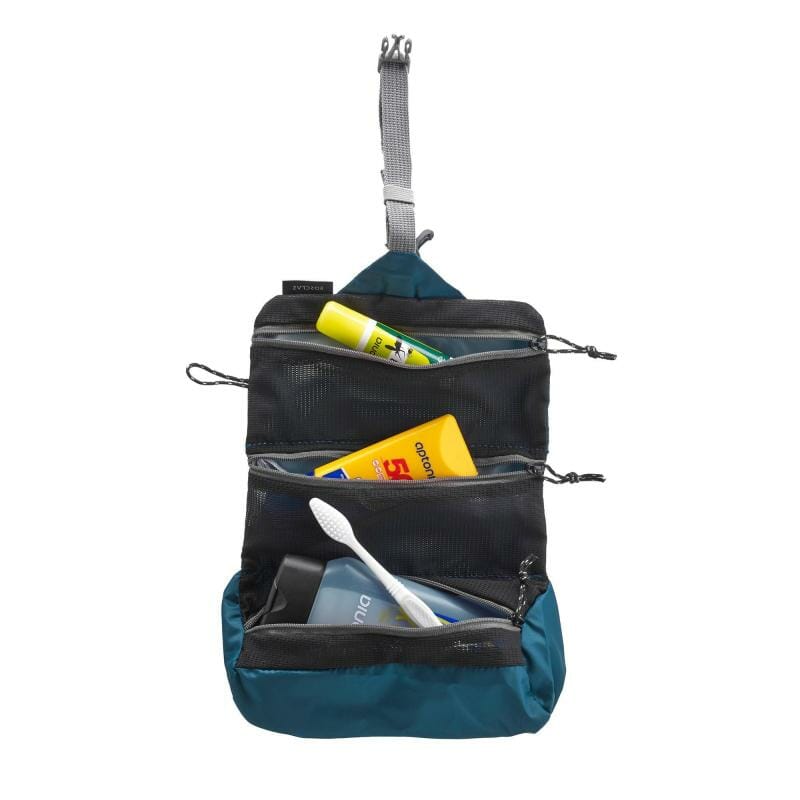 I'm not going to go into the full detail of what's in a couple's toilet kit. But just know that there are ingenious models of toiletry bags with a hook. This will allow you to hang it in the shower or bathroom without putting it in the dirt.
The medicine kit
My mom is a pharmacist, thus we had nothing to worry about on this level… She made sure we left well prepared! 🙂 This is the contents of our medicine kit:
Anti-malarial: We opted for Doxycycline which is much (but then really much) cheaper than Malarone. We have 2x 20 tablets.
Imodium for diarrhoea 😉
Motilium for the stomach
pain killers

Water purification tablets
SanitizerA well concentrated mosquito repellent and a product for insect bites.
Various plasters (for blisters or wounds) and compresses.A band with a clip and a small roll of tape.
Electronic equipment (computers, cameras)
As we went on our trip while blogging at the same time, we have a lot of gear on that side too. Here is the list of our electronic gadgets:
1 Laptop per person. I've always had a Lenovo thinkpad. Small, light, powerful and robust, I love this computer. Fabienne opted for a macbook air.
Back then we left with a A Sony Nex 5N hybrid camera (with a 16mm lens and an 18-55). We chose a hybrid because it's much less cumbersome, it's less professional too (it's more discreet) and it still allows us to do a lot of things.

Great camera, we were really happy about it! On the other hand, the Sony Nex 5N was an excellent choice at the time but since we got back, we have invested in the Sony alpha 6000 and a Sony A7II which are excellent cameras for us for a long tripBut as the choice of camera to go on a trip is not summarized in a few lines, we have written a very complete file to help you choose your camera according to your budget and your expectations.

1 mini 700Gb self-powered external hard disk that turned into a 4Tb hard disk in 2019;) . Currently we have 2 of these.
1 Smartphone per person because we are addicts… Useful for everything: photos, videos, calendar, bookings, maps, social networks…
During our trip we had an old action camera. To be fair it was really bad! Since March 2019 we now use a DJI Osmo Pocket which is great!
1 multi power outlet (very useful, because this allows us to only plus 1 adapter and then charge all our devices at once).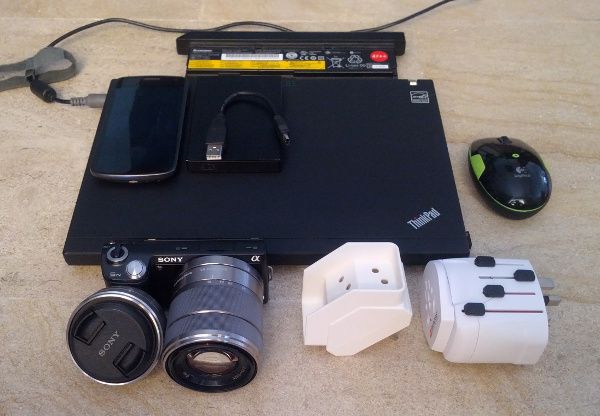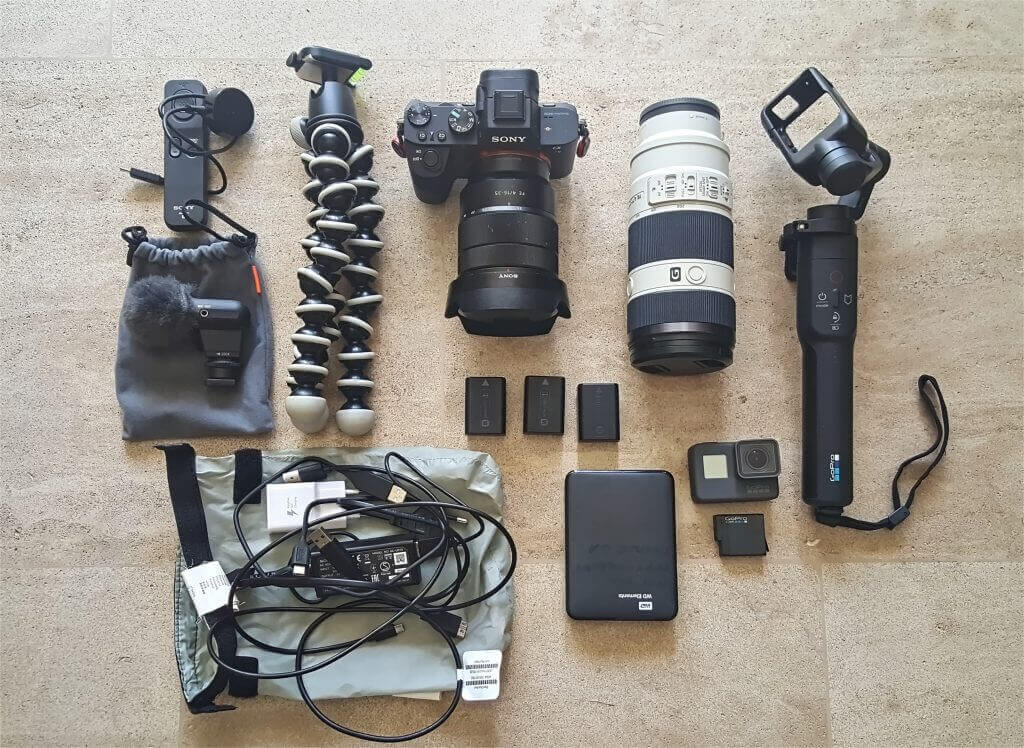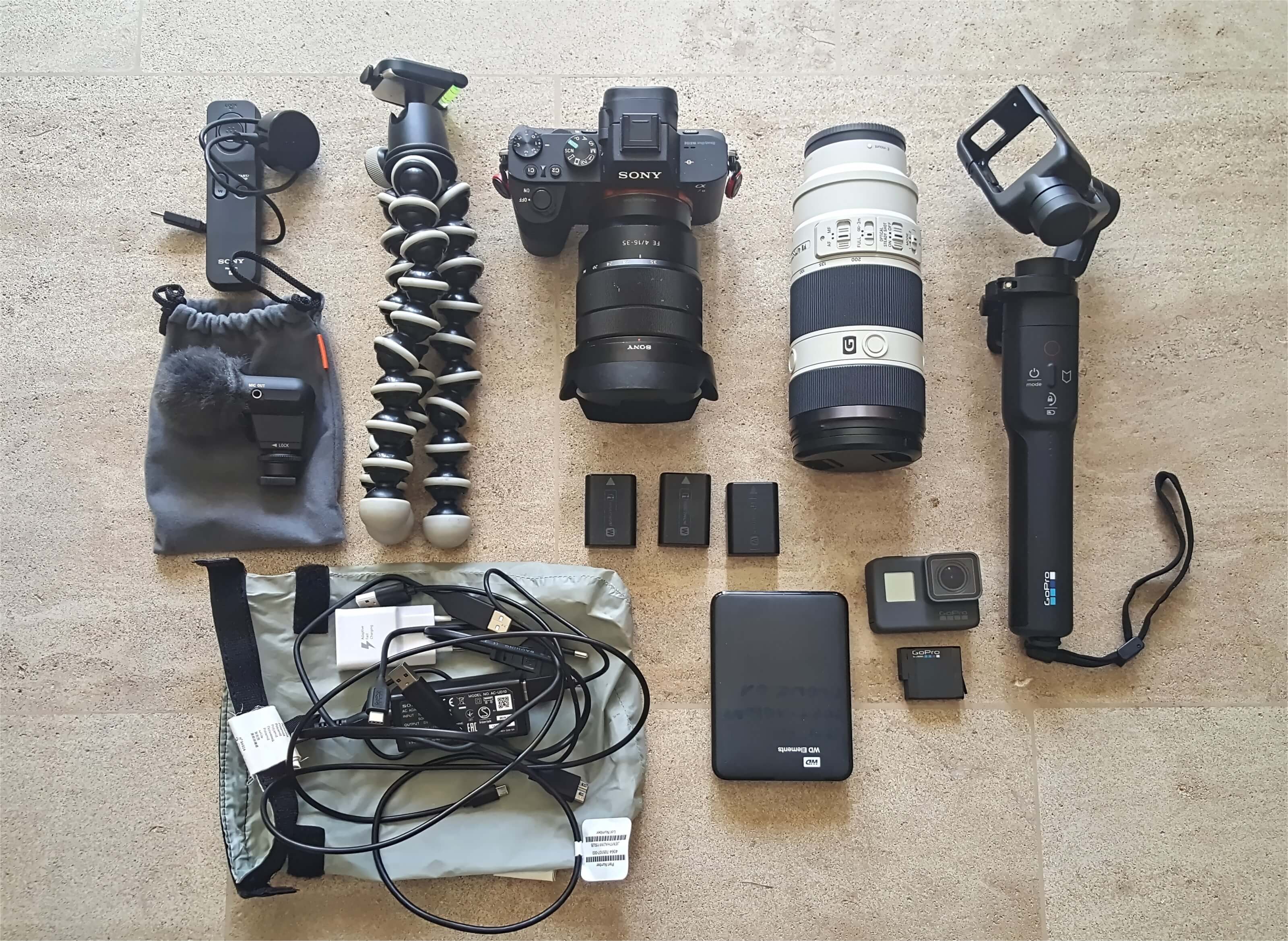 We reassure you, we realize that we are probably not the average traveller…
We have a lot of equipment, and it weighs a hell of a lot!
So for electronic equipment we'll say it depends on what you want to do. You can do very well with a smartphone and a small compact camera. It's just that on our side, over time, we started to take an interest in photography and for the sake of harmony in our couple, we are REQUIRED to have 2 laptops;)
Finally, some advice that may seem obvious but don't forget to put all your belongings in your bag to try to wear it before you leave… It would be silly to arrive on D-Day and not be able to lift your backpack, wouldn't it?
What do you think of this list? Feel free to give us your opinion or advice!
P.S. If you buy an item via one of our links, we will receive a small commission that will help us maintain and grow the site. Of course, we only advertise for products we use and pay for and it will cost you nothing more 😉
Download our free pdf E-book!
Subscribe to our Newsletter and get a free E-book with more than 100 pages to help you prepare your trip around the world