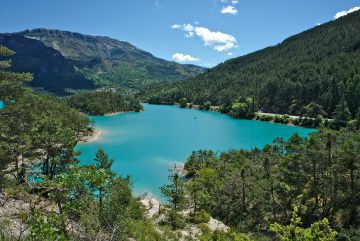 We already had 3 good days of walking in the paws from the village of Castellane to the edge of the lake of Sainte-Croix through the gorges du Verdon. All we had to do was walk to Moustiers Sainte Marie to reach the goal of our hike! (located just 10 km from the lake). We had an appointment there at the end of the afternoon with Martine (from the french blog Mart'in trip) to have a drink or two and discuss travel… A day that looked pretty good. 🙂
Paddle or pedal boat at the mouth of the Gorges du Verdon
As we were not in a hurry, we decided to do a little morning pedal boat session at the place where the Verdon flows into the lake of Sainte-Croix. It must be said that it is impossible to miss the pedal boats, boats, paddles or other types of boats that can be rented at the Galetas bridge. But as it was still early (maybe 9:30 am), we were the first ones to be there (with a guy who was paddling) and we had the gorges all to ourselves for a good half an hour.
Frankly, we really advise you to get up a little early for this activity! Because after 10:00, it starts to get really crowded. See for yourself. Alone in the gorges it's pretty nice;)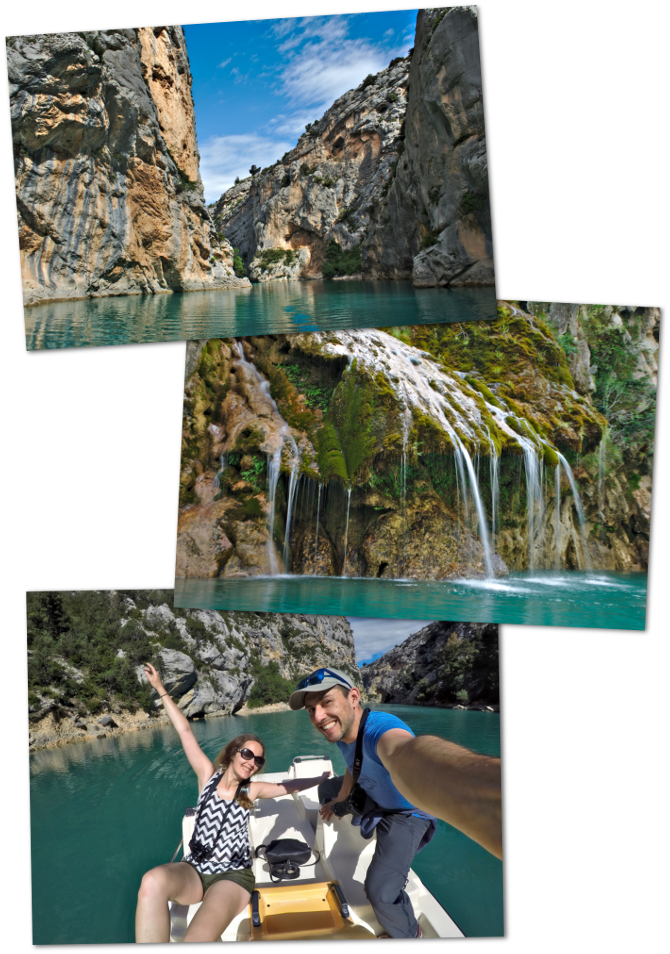 Moustiers-Sainte-Marie: Provence as we imagine it
After 2-3 hours of walking we reach the pretty village of Moustiers-Sainte-Marie.
After finding a charming little guest house that smelled like lavender, we went to visit the village while waiting for Martine to arrive.
We were impatiently waiting to discover Moustiers and we were not disappointed! Nestled against a cliff, the village has a great character with its colourful houses, small flower streets and pretty terraces. Terraces on which we only want to stop, of course :). But before the aperitif, we decide to make a last effort and climb up to the chapel nestled in the rock a little higher.
We had the good idea to leave our hiking shoes at the guesthouse….
" Wrroonnnggg Idea ! "
Go up to the chapel in Moustier Sainte-Marie
The stone stairs leading to the chapel have been so worn out by tourists that it becomes quite difficult to walk because it is so smooth! Because yes, in July and August there Moustier gets really crowded!
Fabienne even preferred to walk barefoot to get down to avoid an embarrassing accident. 🙂 But well, the view from the chapel is quite nice and it is even possible to take a longer walk back to the village by another way! (option that we didn't really consider because the pretty terraces called us a little too loud 😉 ).
We then joined our friend Martine in the centre of the village for a very nice evening to discuss travel around a few drinks and a good restaurant!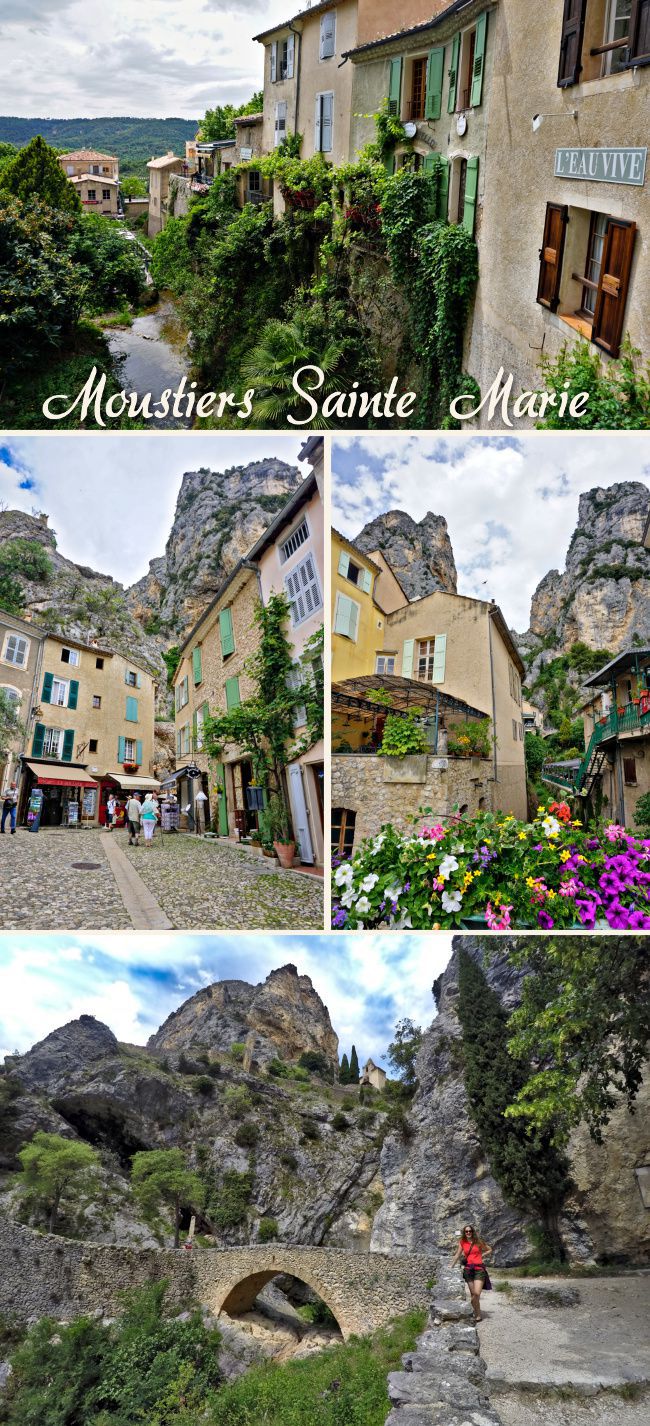 Infos
From Lake St. Croix to Moustiers-Sainte-Marie
Distance : 10Kms
Elevation change : it's flat 🙂
Pedal boat rental : about 15€ per hour
Accomodation : Nice room that smelled like lavender (Le Clos des Iris) : 80€
Return to Castellane by…. hitchhiking
If you come to the region in July and August (we advise against it but well… 😉 ), there is a bus that connects the villages of Moustiers-Sainte-Marie and Castellane every day via the Gorges du Verdon. However, all the rest of the year, there is a bus per… week (Saturday)!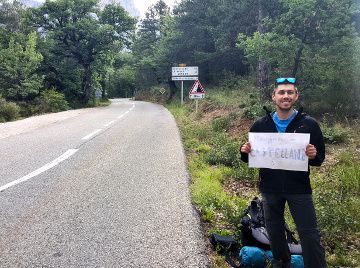 So since we didn't have time to walk 2-3 days back to Castellane via the GR4 and we didn't want to pay for a taxi, we decided to raise our thumbs in the hope that good souls would take us. 🙂
After our few South American hitchhiking experiences, we noticed that people stop more easily when Fabienne raises her thumb. (one wonders why 🙂 ). And there was no exception this time, as soon as we got to the side of the road, a car already stopped. Thus, 2 hours and 2 cars later, we were already in the village of Castellane! In addition, we were able to exchange with our benefactors of the day (a Parisian and an Australian couple on holiday).
Thanks to them for stopping and talking to us in their car! It was really nice.
Discover Castellane and Lake Castillon
As a result, we arrived in Castellane a little faster than expected. As we had not had time to visit the surroundings at the beginning of the hike, and we had a day and a half left before returning to Nice to fly back home, we took the opportunity to discover the area a little.
The Castillon lake:
A great walk from the village of Castellane is to go up to the lake of Castillon! (Yes, I know, we hadn't walked enough yet 😉 . Like the Verdon and Lake St. Croix, this lake has an absolutely incredible color. With Fabienne we took advantage of the sun to even out our hiker's tan and rest while admiring these crazy landscapes.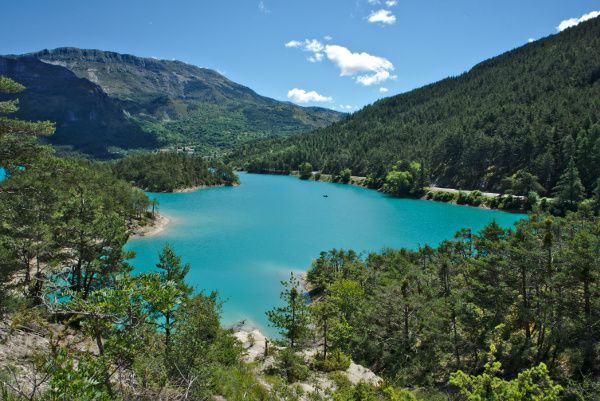 The notre dame du roc chapel:
The rock and its chapel are in a way the symbols of the village of Castellane. From up there, the view is absolutely splendid and it is probably the best place in the area to admire a beautiful sunset. Anyway we took a picnic and a bottle of wine in the backpack, we sat comfortably at the top of the cliff and we just enjoyed the view 🙂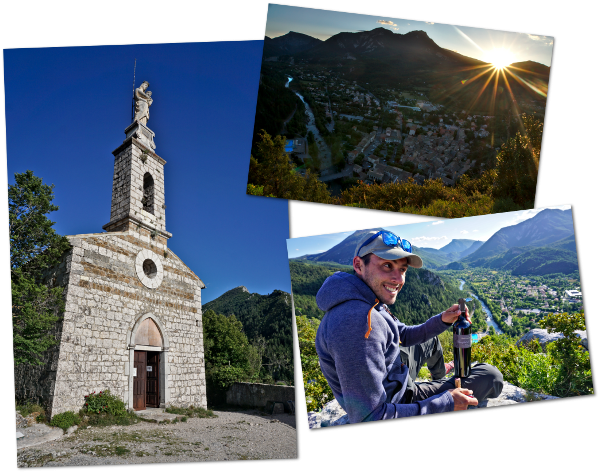 Infos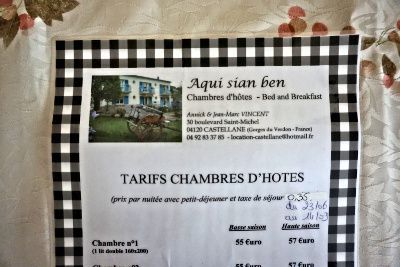 We found a great cheap guest room just outside the village of Castellane towards Lake Castillon. Name: Aqui sian Ben. For 55€ we had a very nice double room with a balcony and a delicious breakfast. In addition, the owner is very nice and likes to talk during breakfast. Pure happiness!
So that's it, it's over for this series on our hike in the Verdon Natural Park. As you may have noticed from reading these 3 articles, we loved this region! We hope you'll do as well if you end up coming!
Note: For this hike, we recommend that you download the trail to have it with you on your smartphone/connected watch. To do so, you simply need to have an account (free) on AllTrails and you will be able to download our map.
But even more than that, this week in the Gorges du Verdon really reinforced our idea that there are a lot of incredible places to go backpacking in France and that we absolutely must fill this gaping hole that is our knowledge of France in the near future. We will try to fix it in 2017 🙂
Other articles on this hike:
And what are your favorite hikes in France?
NB: Please note that this article contains affiliate links to partner sites. If you buy a product on one of their sites you will not pay more but we will receive a small commission. This will help us to keep this site alive. Thank you! 🙂
Enregistrer