It is now a little over a week since we started our trip of about 5 months in France, and the least we can say is that this new adventure starts strong! Arrived in Nice, we took advantage of a first day with a dream weather to immediately put on the hiking boots. Might as well get the good habits right away, right?
The small village of Castellar, Alpes Maritimes
Before we started walking for "real" we parked in a small parking lot just below the small village of Castellar. How can I explain to you that we just couldn't resist going for a stroll before we started our hike. 😉
France is known worldwide for its charming little villages, and it is clear that Castellar has its place in the list of pretty villages. I mean… all those little stone houses that are like hanging on a small hill with a nearly 360° view of the sea and mountains… there are clearly worse things! 🙂
The ascent to the Col du Saint-Bernard – first part of the hike
We start this hike by what will be by far the least exciting part of the day…. I must admit, during this first part I had serious doubts as to the fact that I would like this hike. (Doubt at 2000% not justified as you will see later).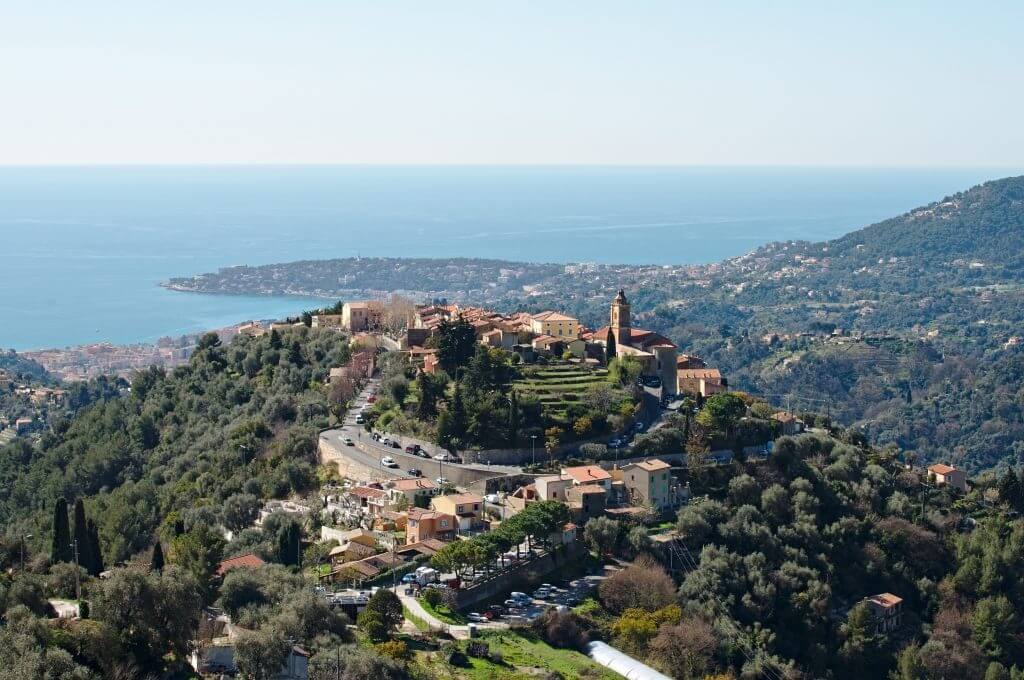 In short, if I was a little doubtful it was that the first 3 km (and also the first 300 meters of altitude difference) is done by following a road…. Certainly the view is magnificent during the whole climb, but personally when hiking, I prefer when it is on trails and not on a the road or a track. Finally…. It took us less than an hour to arrive just before the Saint Bernard Pass.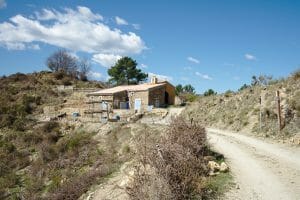 PS:there is a path that indicates the rock of Orméa about 300m from the pass. We strongly recommend that you do not take it and continue until the next path on your right about 50m before the pass (direction Mourga). (I put a marker on the map to show you which one not to follow and as a bonus here is a small picture of the pass where you can see the path to take on the right of the image)
Towards the Col du Berceau
From the moment we left the Col du Saint-Bernard we were this time on a small path as we like them. After a few hundred meters we arrive at the site of the ruins of the Mourga; a really nice place with, of course, a crazy panorama!
From these first ruins we continue our journey towards other ruins: those of old Castellar.
We regretted not finding more precise information on this place but apparently it is an old castle dating from 1200-1300 and whose fortifications were razed to the ground in 1747. In short, we can't really tell you more about this place except that it is worth a look: on the one hand to see the ruins more closely but also to enjoy the beautiful view!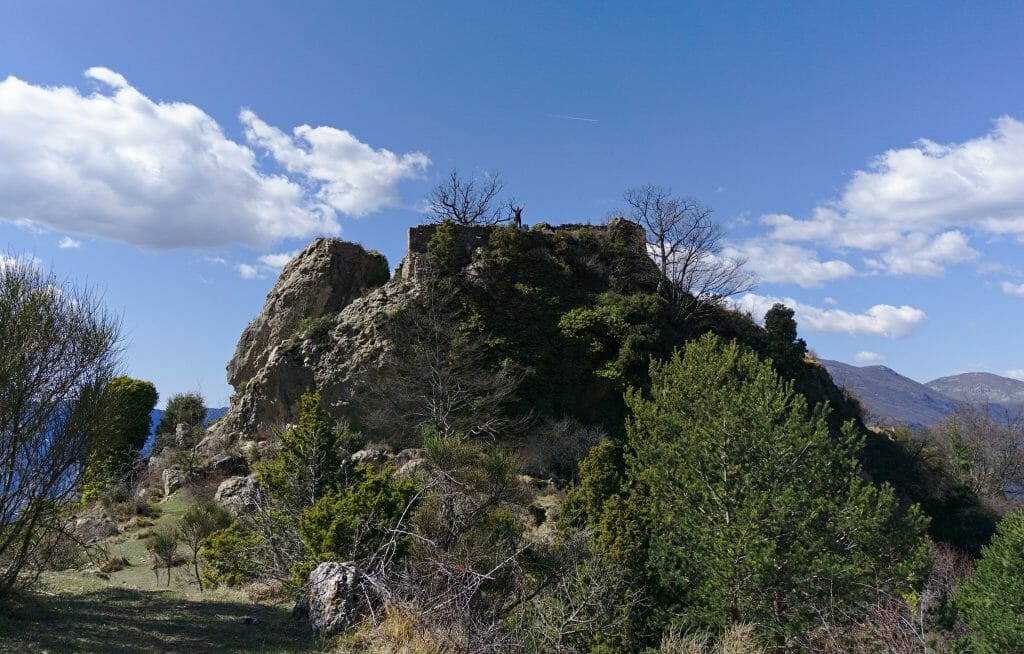 It is basically from these ruins that the more serious things begin in terms of climbing. The last 300 meters of altitude difference leaves little room for suspense… we climb, we climb and we climb! (at the same time we came for that you will tell me);)
the Roc de l'Orméa – south of France hiking
From the pass we have roughly 2 options for the point of view. Arriving from the side we indicate to you, there is on your left a path that climbs towards the Cime de Restau. From this point of view we apparently have a very nice view on the Italian side. (We can't tell you… I didn't have the courage to climb both peaks!)
The option we chose was on our right. There is no real path strictly speaking in the sense that there are rather 200 different tracks that go towards the rock of Orméa. Basically, it doesn't matter which one you take, as long as you climb you're good! 😉
From the cradle pass, the climb to the rock of Orméa is really only a small formality (not even 100m of altitude difference), so it means that we reach the summit very quickly.
Once at the top, there are simply no words…. It's just WOUAHHHHHHHH! But rather than describing the view, I think the easiest way is to show you: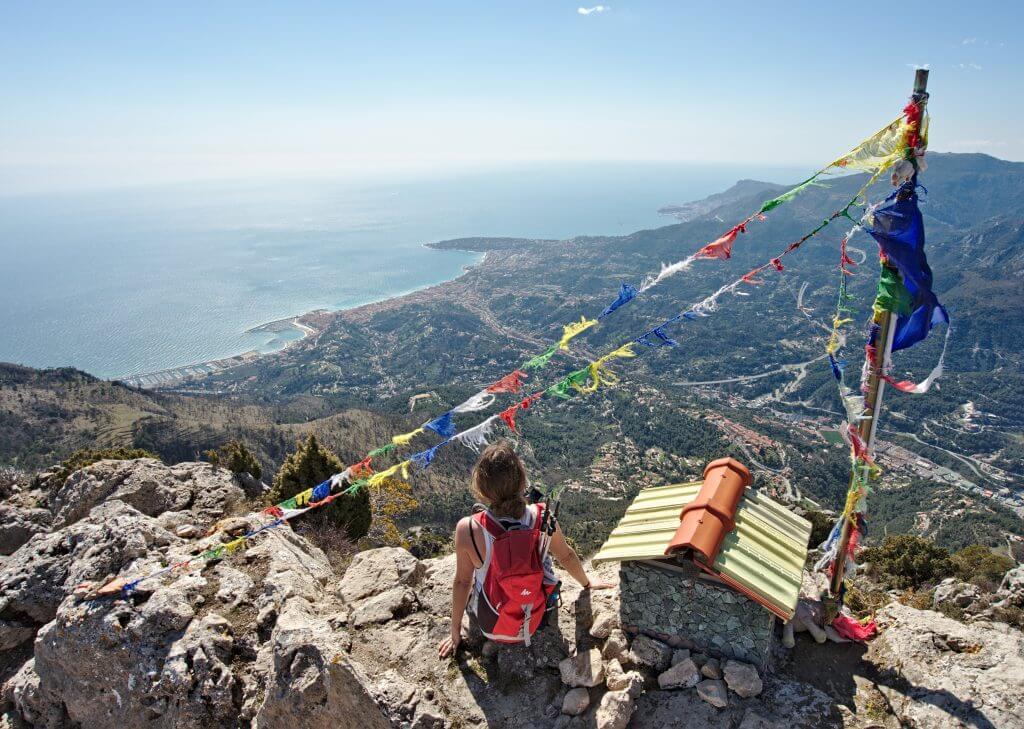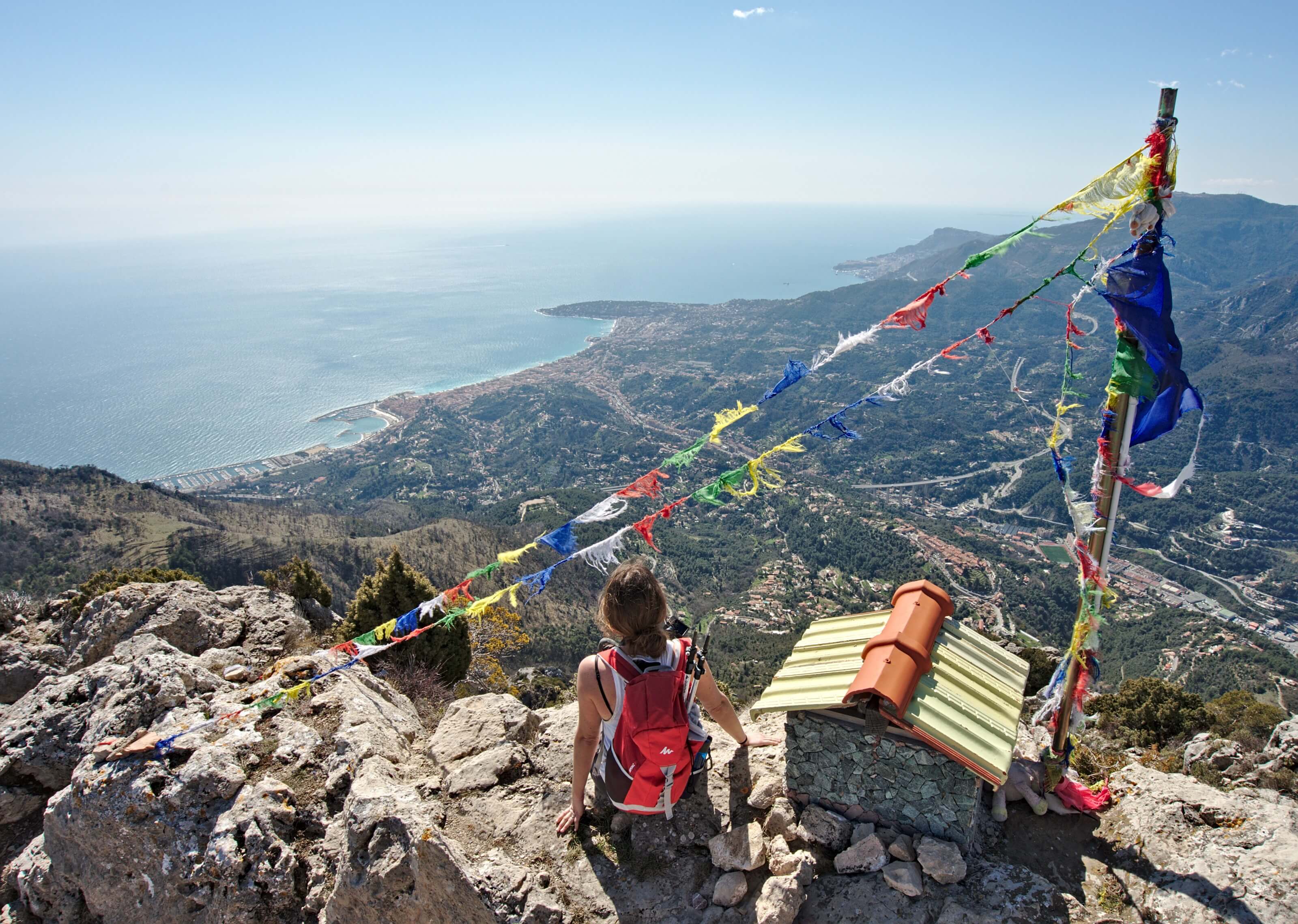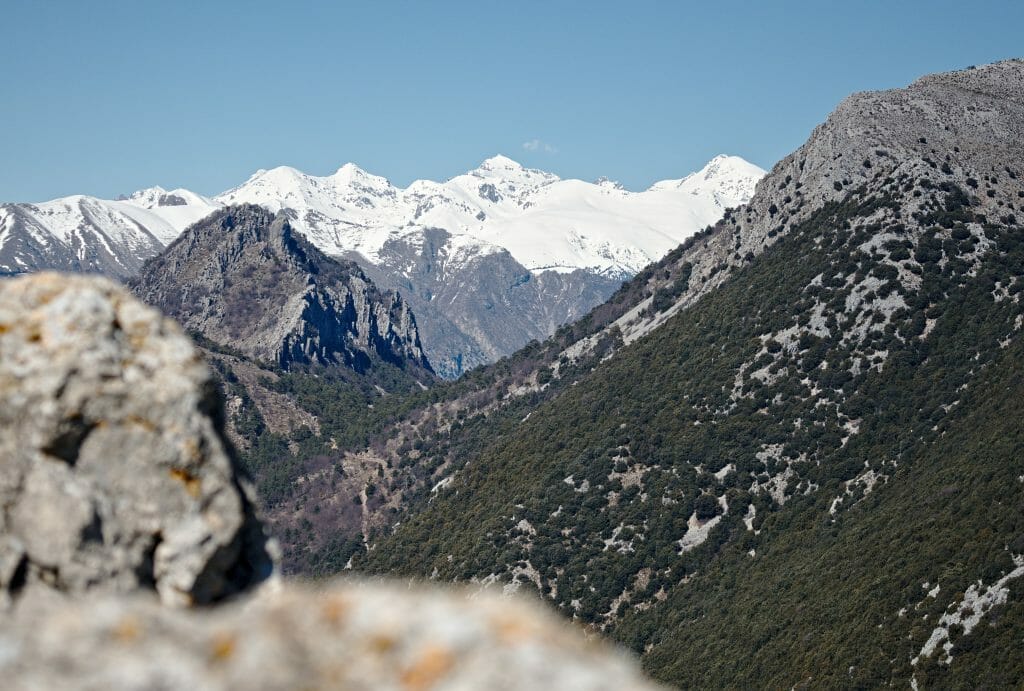 Descent from the pass – Lion plan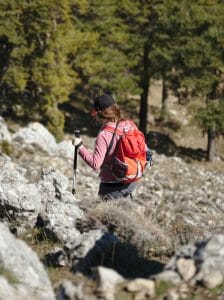 Once we had taken the time to enjoy the view from the rock of Orméa, we decided to set off again towards the village of Castellar. Coming back the same way as the climb we always found it a little frustrating…. So certainly, sometimes we have no choice, but in this case there was clearly a way to make a "little detour" to get back from another place. BINGO!
From the Col du Berceau we took the small path which goes down a little steep at times in a very stony terrain. We narrowly avoid repeatedly finishing on the buttocks, but for once: neither of us will have fallen. 😉
Le Plan du Lion – the best view for sunset?
Arrived a little after the forest we saw a sign which indicated "Castellar" on our right… Hmmm… tempting, but actually we wanted to continue this hike a little longer. So we opted for a second "little detour" to join the Plan du Lion.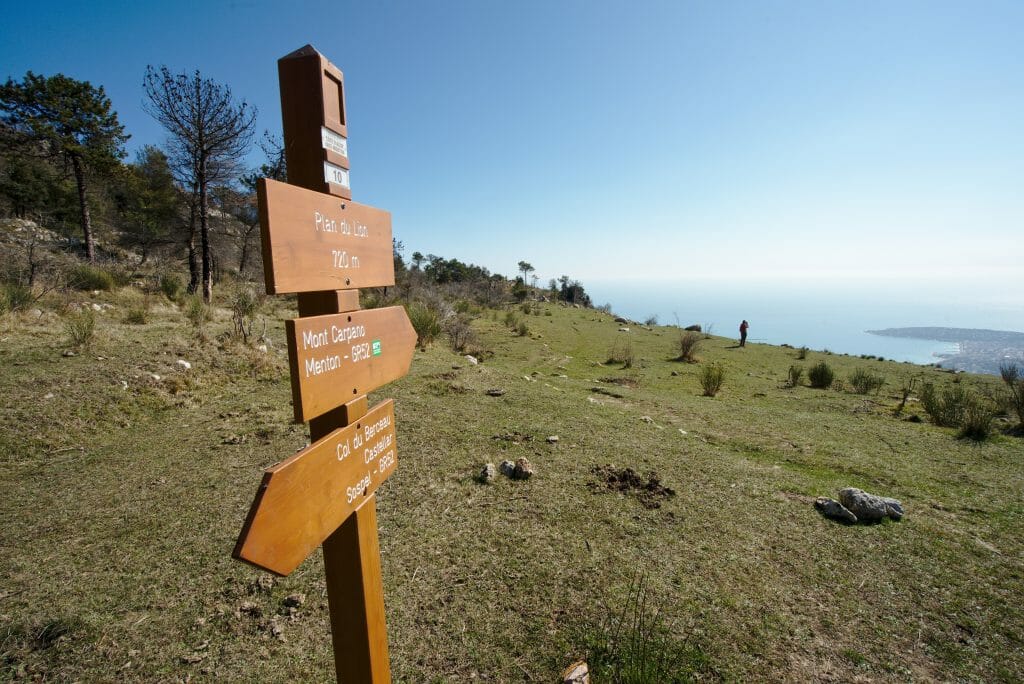 The Lion's plan is a simply magical place: a huge flat area with a view to the coast. We admit it to you our first reflex when we arrived here was to tell ourselves that this is a perfect bivouac spot! 😉 But let's face it, bivouacs are strictly forbidden in the region because of the risk of forest fires. The ban is there so that campers do not set the fire, but also so that they are not caught in the flames in case a fire breaks out! In the area it is so dry that it spreads at high speed (this area had been totally burned during the fires of 2015 that devastated the highlands of Menton).
Return to Castellar – end of the hike
From the lion's map, there is again a sign indicating "Castellar". I give it to you in the bull's-eye, we "again" didn't take it. 😉 Why? Well, because we still wanted to go and see Italy up close, of course! Well I reassure you, the border being only a few kilometers away we didn't need to go very far… We just extended our hike a little bit to go to Mount Carpano. An additional mini climb (barely 80m of altitude difference in addition). After all we had already climbed we were clearly not that close anymore. 😉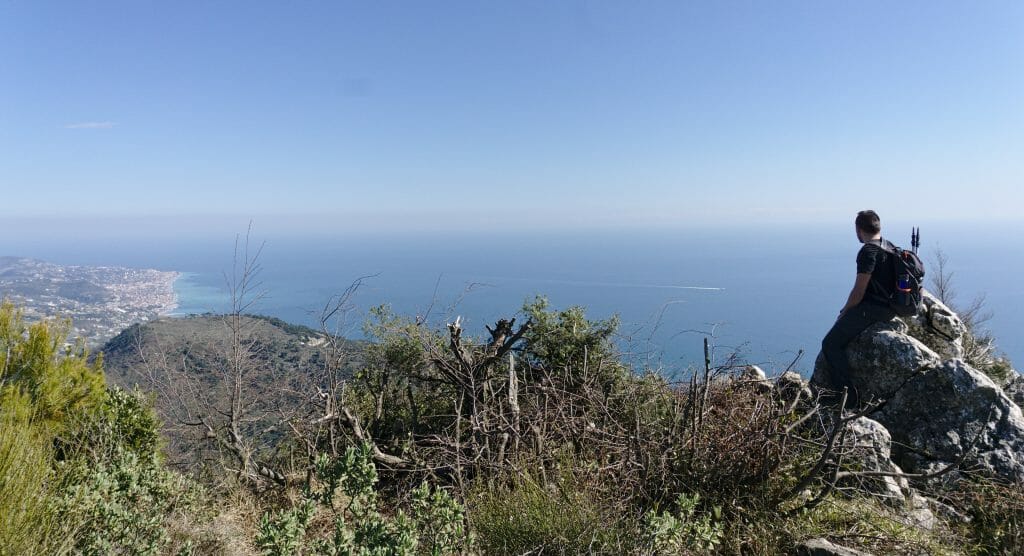 With hindsight this was not the most extreme point of view of the hike. It was pretty, but the lion's plan and the rock of the ormea were something else! 😉
From Mount Carpano, however, we finally decided to take the path again (which later turns into a small road) towards Castellar. The loop was closed! We were quite tired at the finish, but delighted with this wonderful day!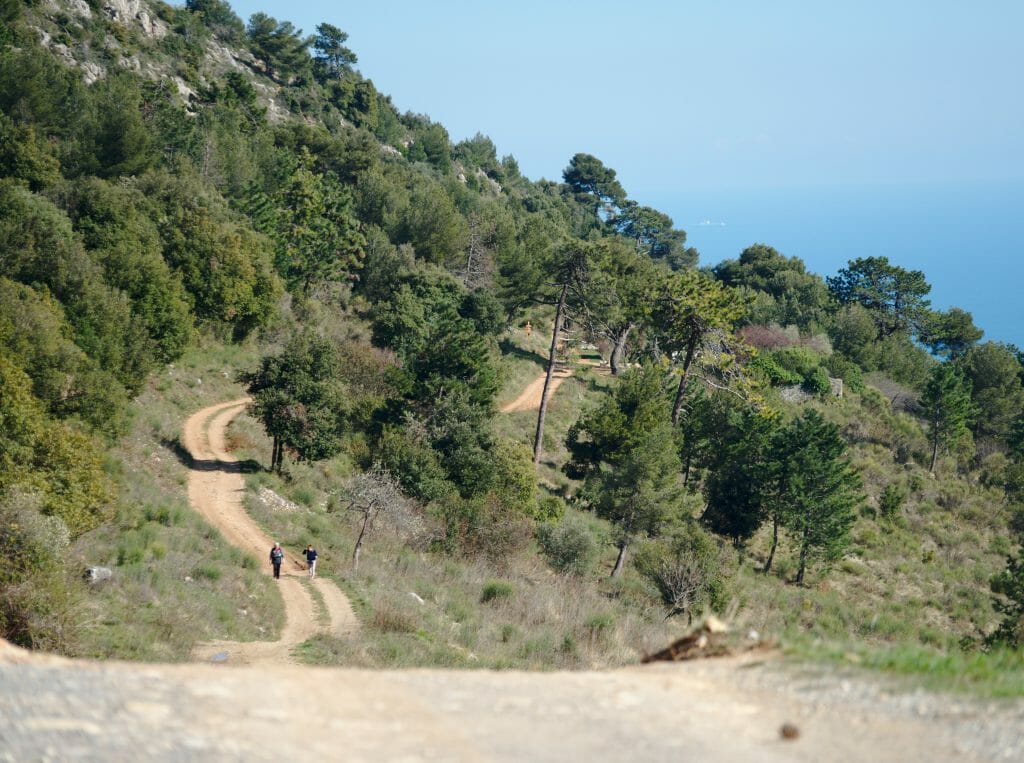 The information you need to know to hike the Orméa rock
If you are interested in this hike, you will find below all the practical information you need to start it (itinerary, access and equipment).
Hiking map and itinerary details
To download the route, you'll need to have an AllTrails account. It's free and only takes 1 minute to create.
Infos
Starting point: The village of Castellar
Finish: The village of Castellar (the itinerary is a loop)
Distance: about 13km
Elevation change: about 845m (in both positive and negative since it is a loop)
Difficulty: Average (no technical difficulty, but there is still a good gradient)
Duration: Count between 4h30 and 5h of walking time (does not include breaks)
Getting to the hike
The hike starts from the village of Castellar. For our part, we came by car from Nice (it takes about 40-50 minutes by car from the centre of Nice). From Menton it is roughly 20 minutes drive. In Castellar there are several parking spaces. Having come out of season we had no difficulty in finding a spot.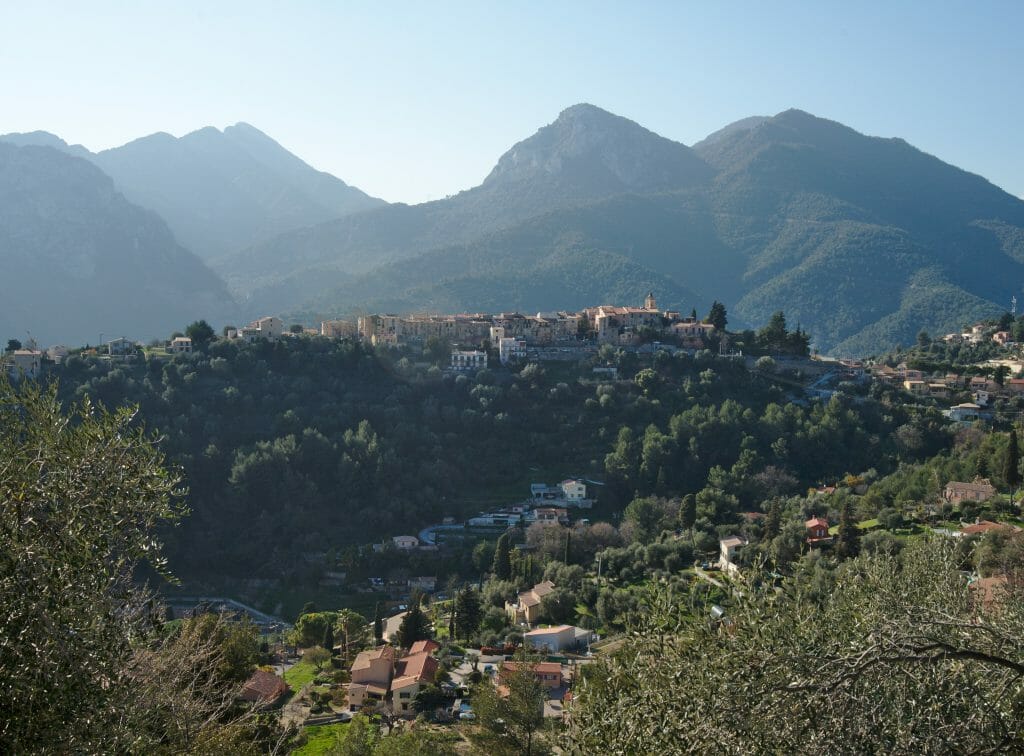 If you are not motorized, it is also possible to come by bus from Menton. ZestBus line 6 connects the Menton bus station to the small village of Castellar in about 30 minutes. The ticket costs 1,5€ and for the schedules we let you take a look at their official website (they probably vary with the seasons, but remember to look carefully because there are not many every 10 minutes that's for sure 😉 ).
What should I bring with me?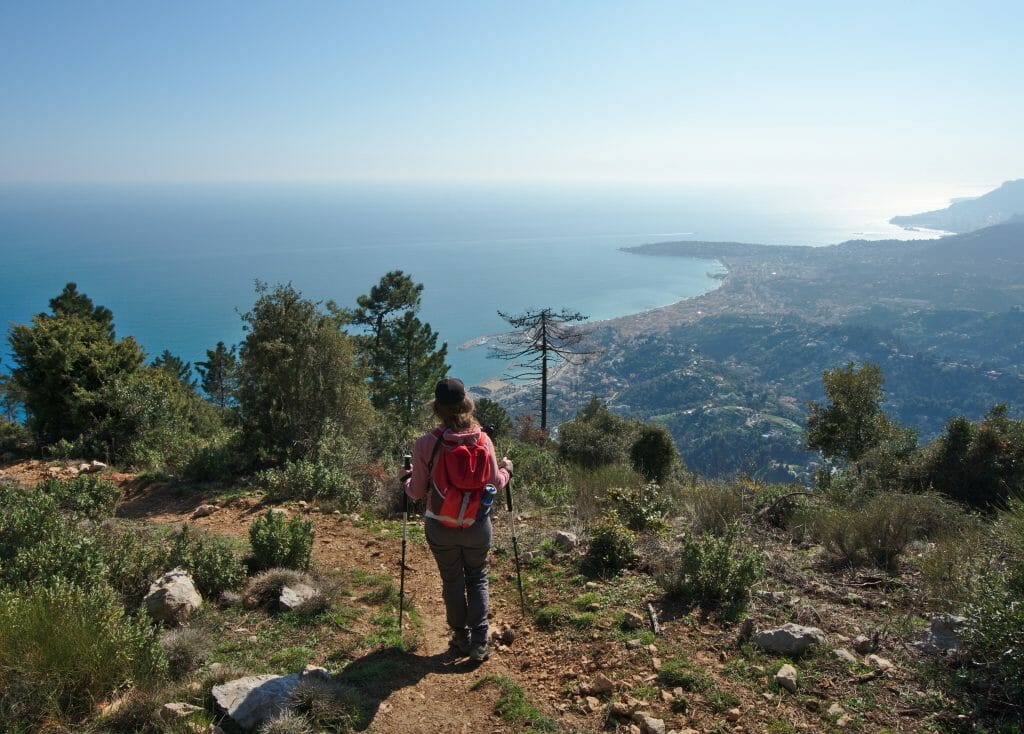 This hike does not present any particular difficulty, so no specific equipment is required. But if we had to give you advice, it would still be to have good shoes! The trail is quite rocky at times and with small sneakers this could be a little tricky in our opinion. Besides that, I was delighted to have taken my hiking poles for the descent. Having weak knees it helped me a lot (Benoit with his steel legs didn't use them though) 😉

Otherwise, in terms of food and drinks, it is obviously necessary to plan a picnic if you plan to eat on the rock of the ormea (we strongly advise you to do so). At the water level we crossed several springs and were able to fill our filter bottles without any problems (the water looked clean at the springs, but since there are still possibilities to have cattle there, a Lifestraw is safer).
Now, this time I think you know everything you need to know to go on this wonderful hike! If you are from the area (or passing through) we strongly recommend this hike! It is really not very difficult but offers a panorama that is simply magical!
We look forward to seeing you here soon for a new posts on our escapades in the south of France!