After a 1-month trip to Indonesia, it's time to reveal the travel budget! This first stay in this country of a thousand colors and flavors was enchanting, and the experiences were many. Are you closing this last chapter with us?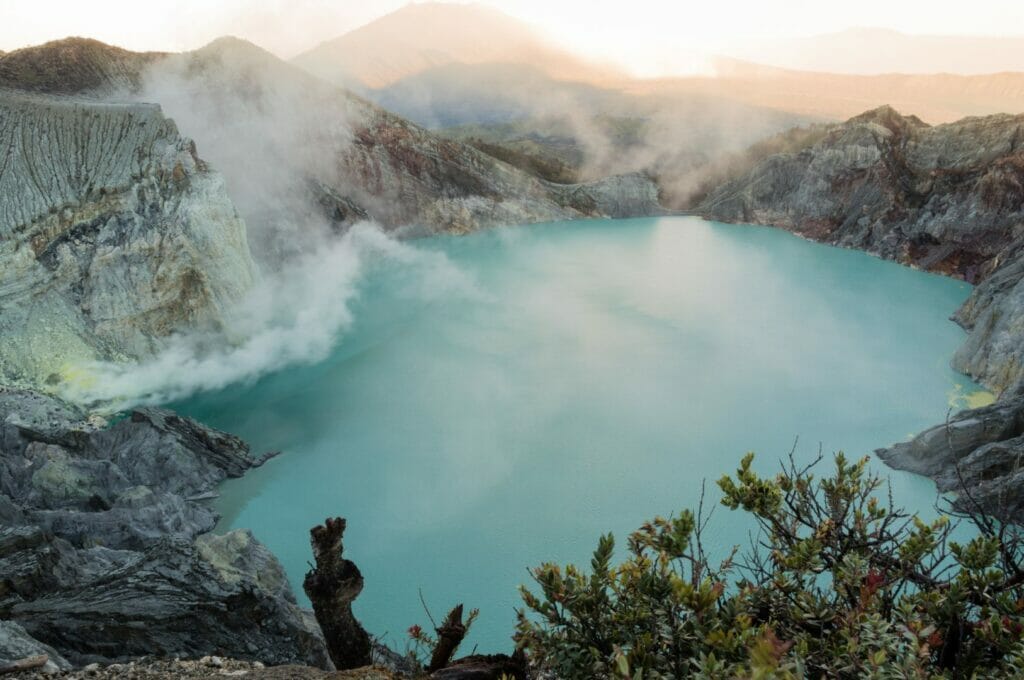 Update 2023
We took this trip in 2014, but the article was completely revised and updated in May 2023. We have updated the prices, as the cost of living in Indonesia has increased, especially accommodation and activities. As a result, our travel budget would be higher today, by +20-25% approximately. If you have any additional information that might be relevant, please don't hesitate to leave us a comment!
Looking back on our trip to Indonesia
Indonesia was the last Southeast Asian country on our round-the-world trip, and it's definitely one we'd like to return to! We enjoyed heavenly beaches, discovered a little more about Muslim and Hindu culture, climbed many volcanoes and probably witnessed the most beautiful sunrises of our trip!
Indonesia is also about surfing, climbing coconut palms and getting soaked in an Indonesian thunderstorm. We sum up this epic trip in pictures!
Budget for a 1-month trip to Indonesia
As usual, we're revealing all our figures! So you can get an idea of the budget for a trip to Indonesia. We spent 29 days there for a total cost of 1 298,5 euros for 2 (plane tickets excluded). This corresponds to an average budget of 22,4 euros per day per person.
Note: this budget will be roughly the same if you plan your trip only to Bali or Lombok, Java, etc. Prices are relatively identical if you watch your spending!
Here are our detailed figures: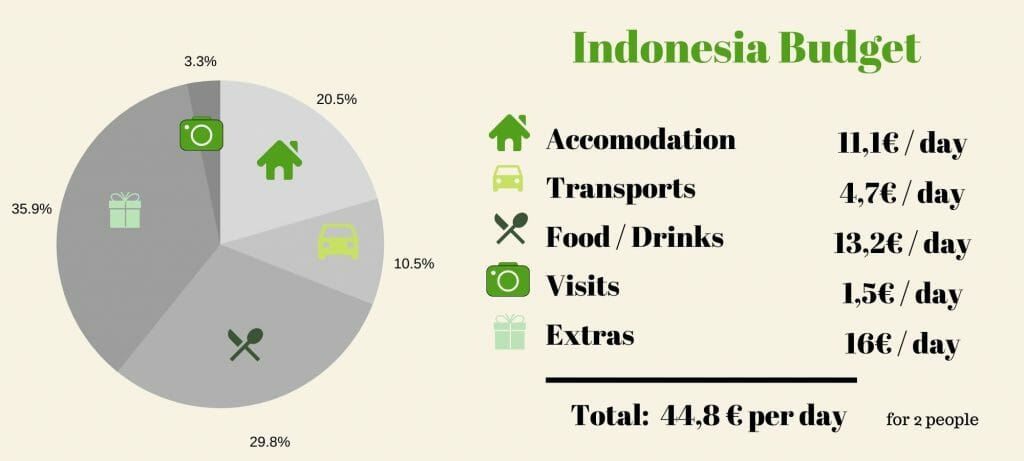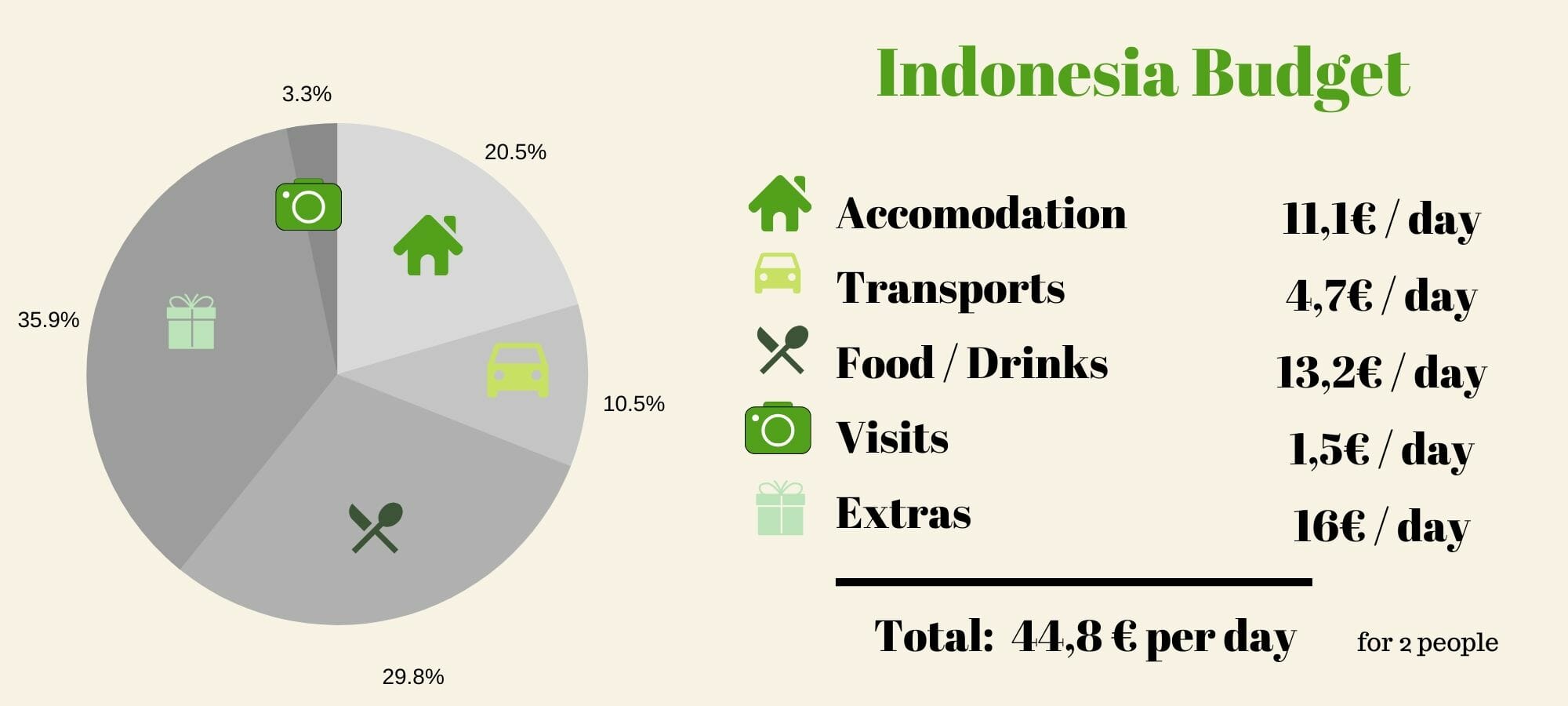 Generally speaking, Indonesia is a cheap place to travel for backpackers, especially when it comes to accommodation and food. On the other hand, it's also a country with a lot to offer in terms of activities, and these can quickly add up. Let's take a look at each item of expenditure to understand the budget required for a trip to Indonesia.
The transport budget in Indonesia
If you're backpacking through Java or Sumatra, take the train! It's often cheaper than the bus, and you'll get there faster! Note that travel times on the roads tend to be higher than those indicated, due to the sometimes chaotic traffic.
Beware of scams, whether at the bus stations or the ports on the various islands. Whether you're looking for a taxi or a ferry ticket, you'll come across some very insistent touts… In every article about our trip to Indonesia, you'll find tips on how to avoid them as much as possible. Their stratagems can be quite clever!
Taxi from the airport to Kuta Lombok: 84 000 rupiahs.
Average cost for a motorbike rental: 90 000 rupiahs for 24 hours.
Average cost of a liter of gas: 12 000 rupiahs.
Crossing from Kuta Lombok to Gili Air: 20 000 rupiahs each.
Crossing from Gili Air to Bali: 215 000 rupiahs each.
Bus from Ubung to Ubud: 4400 rupiahs per ticket.
Bus from Denpasar to Gilimanuk port: 50 000 rupiahs per person.
Ferry from Gilimanuk to Ketapang: 6500 rupiahs per ticket.
Train from Probolinggo to Yogyakarta: 95 000 rupiahs per person.
Night train from Yogyakarta to Jakarta: 185 000 rupiahs per person.
Number of night buses: 1. It's not much, but this trip counts for at least double, given what happened to us! For those who missed the horror bus episode, take a look at the video!
Minimum number of scares on Indonesian roads with our scooter or in the back of locals: 128.
Number of scares leading to an accident: 0. Phew!
Public transport in Indonesia
Whether you want to travel by bus, train, or even by boat from Bali to Lombok or across any of Indonesia's islands, we advise you to check and compare on 12go, but also Tiket and Easybook. For shorter journeys, the best option is to take a bemo, the local minibus, or rent a motorbike locally.
This article contains affiliate links to partner sites. When you use our links to book accommodation, a car, or an activity, you don't pay anything extra, but we get a small commission. This helps us to offer you free, independent, and ad-free content. Thank you for your support!
Accommodation budget in Indonesia
Depending on the island and the city, hotel prices vary considerably. For example, in Cemoro Lawang, to see Mount Bromo, it's impossible to find a hotel for less than 200 000 rupiahs a night, while the quality of the cheapest rooms leaves much to be desired…
Average cost for a double room: 175 000 rupiahs.
Our most expensive night: 700 000 a night in Munduk. But for this price, we had a magnificent room with a swimming pool in the middle of rice fields.
Our cheapest night: 150 000 rupiahs in Gili Air.
Hotels in Indonesia
During our trip to Indonesia, we never booked our hotels and guesthouses in advance. We always found something when we got there, but that was in low season. If you're traveling in the dry season, or if you simply prefer not to have to look for accommodation when you arrive, we recommend you book your accommodation on Booking, or Hostelworld if you're backpacking!
Food cost in Indonesia
Indonesian food is like that of the rest of Southeast Asia: tasty and cheap, especially street food! In smaller towns, you'll easily find warungs, small local restaurants offering dishes at unbeatable prices! As breakfast is generally included in the room rate, our food bill was reduced by around 1-2 euros per day.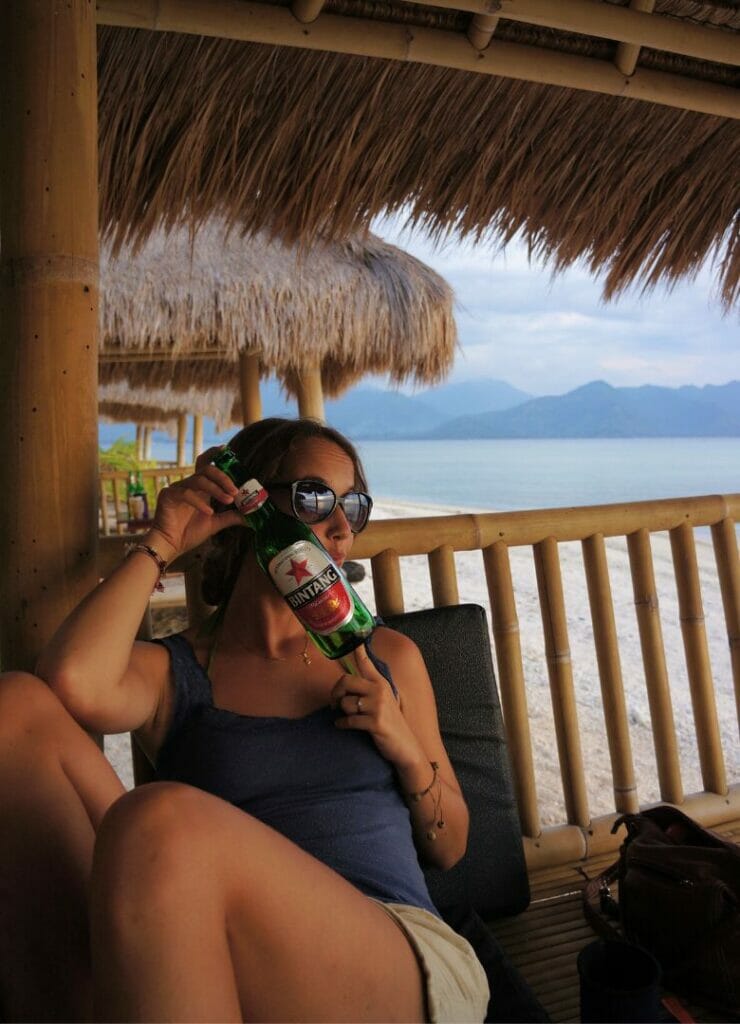 Average cost of a street food meal, like nasi goreng or mi goreng: 10 000 rupiahs.
A meal for 2 in a small local restaurant: 65 000 rupiahs (2 courses and a large bottle of water).
Meal for 2 in a more touristic restaurant: from 120 000 rupiahs.
1,5 l water bottle in a supermarket: 5000 rupiahs.
A bottle of Coke in a supermarket: 10 000 rupiahs.
Average price of a beer in a bar: 40 000 rupiahs!
As you can see, alcohol is very expensive – more expensive than an average meal at a small street stall! This is mainly because Indonesia is a Muslim country, and alcohol is not part of the culture. What's more, all alcoholic beverages are heavily taxed by the government.
As a result, it's also an expense that can quickly add up. We were wise… 2-3 beers over the whole trip to Indonesia and no hard liquor, that's reasonable, isn't it?
The sightseeing budget
In our backpacker budget, we spent 41,8 euros, which was the sum of all our admissions to temples and museums.
The activities budget in Indonesia
On the other hand, you'll surely have noticed that the activities bill is rather steep. 463 euros is the amount we spent on our various treks to Indonesia's volcanoes (Mount Rinjani, Mount Batur, Kawah Ijen and Mount Bromo), as well as a surfing course in Kuta Lombok and a bit of snorkeling, among other things!
So if we take out the activities, our budget for a trip to Indonesia came to less than 14,5 euros per day per person for accommodation, food, transport and entrance to temples and museums! So Indonesia can be an extremely cheap country! But of course, it can get more expensive if you decide to go hiking, diving, or other extreme sports!
3-day, 2-night trek on Mount Rinjani on Lombok island: 200 $ per person (admission, camping gear, guide and food included).
Surfing lessons in Kuta Lombok: 500 000 rupiahs per person for 4 hours of lessons (board rental, teacher, transport and snacks included).
Trek to Mount Batur: 400 000 rupiahs for 2 people.
4-day, 3-night stay with miners to visit Ijen and Bromo: 3,5 million rupiahs for 2 people, all-inclusive.
A few figures
An Indonesian visa costs 500 000 rupiahs.
Average price of laundry: 12 000 rupiahs per kilo.
Number of volcanoes climbed at night by headlamp: 3 for Fabienne and 4 for Benoit, who climbed Rinjani alone.
Number of days it took the airline to deliver Fabienne's lost backpack on Gili Air: 4.
Approximate number of falls during our first surf lesson: 43.
Price in euros charged by a doctor for auscultation and antibiotics for Fabienne's skin infection: 75. Suffice to say, it's a good scam! But our travel insurance covered the costs. As a result, this sum is not included in the budget presented above.
1 month in Indonesia: our review
As you may have guessed, Indonesia was a real favorite after our trip through Southeast Asia! After China, it's definitely the second country of our trip around the world to which we fully intend to return to discover a little more!
The island of Lombok really charmed us, and we'll definitely be coming back to put our backpacks down. But for our next Indonesian adventure, we're also dreaming of going a little further afield! Flores, Sumbawa, Sulawesi, Borneo and so much more! At the same time, with over 17 000 islands, we've still got some work to do to explore the whole of Indonesia!
Do you have a favorite Indonesian island to share with us?
Pin it
Enregistrer