After the Rinjani volcano and the Gili Islands, we are slowly heading to Bali, the main tourist attraction of Indonesia. We were strongly advised against stopping in Kuta Bali (not to be confused with Kuta Lombok), as it seems to be a place for Australians to party. Therefore, we went directly to Ubud, a small town north of Denpasar, the capital of Bali, known as the cultural cradle of the island with its very refined crafts. To help you plan your trip, we have compiled a list of 16 things to do in Ubud in Bali! Let's go to discover this Island of the Gods!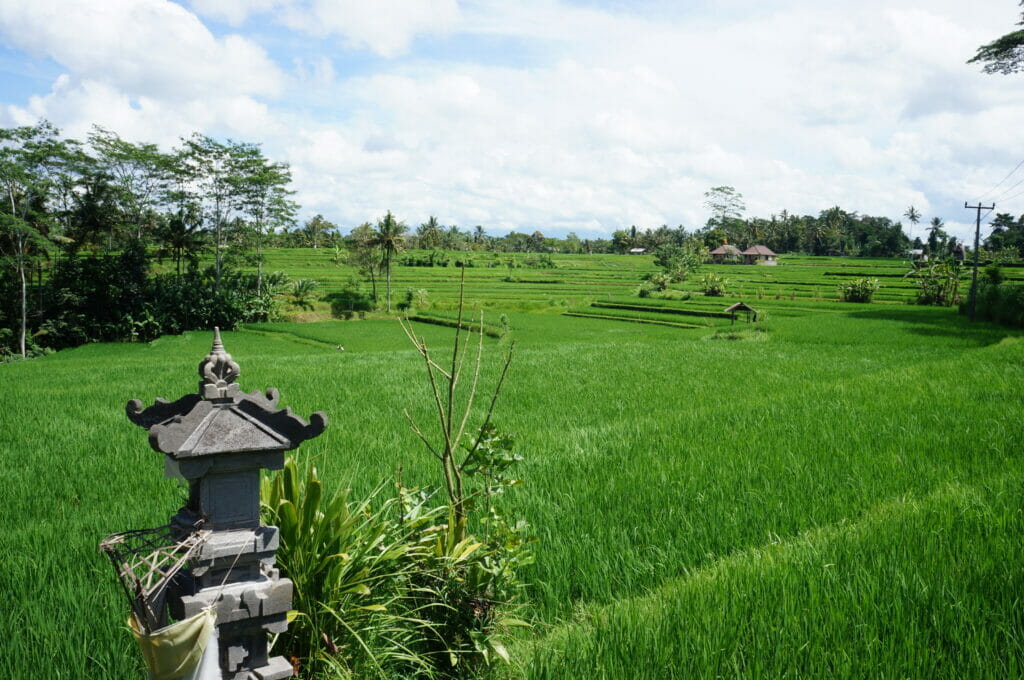 Update 2023
We took this trip in 2014, but the article was completely revised and updated in March 2023. If you see any price changes or have additional information that might be relevant, please feel free to leave us a comment!
How to get to Ubud
If you are already in Bali
As Bali is very popular, there are many tourist traps, especially cabs. In Indonesia, there is a very reliable and cheap taxi company, Blue Bird. With them, you won't have any bad surprises, even for a long trip. Go through the application, you will be sure not to be fooled by hailing a fake Blue Bird cab. There are few of them but they do exist… This is also the case for the Grab application, the Uber of Southeast Asia.
However, these drivers are almost impossible to find at the airport and in the center of Ubud. In fact, they do not have permission to pick up customers, so that other drivers can make money… Yes, there is a real taxi mafia here.
It is the same for the public buses, the famous Indonesian bemos. Nobody will give you any information about them, they are just as untraceable!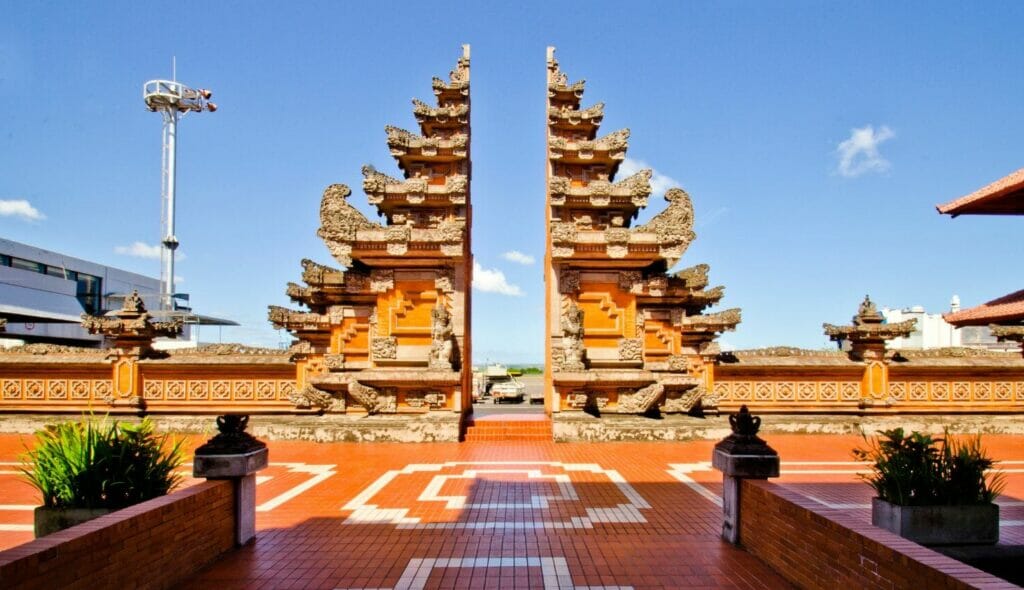 From Ngurah Rai International Airport, you have 3 possible ways to reach Ubud:
take an "official" driver: one option is to go to the departure halls and wait for a Blue Bird to drop off passengers and quickly rush inside the vehicle. Otherwise, exit across the parking lot and walk 5 minutes to Jl. Dewi Sartika where HARRIS Hotel Kuta Tuban is located. It is on this street that you can use the apps to find your driver.
take a shuttle: Kura-Kura is a minibus company that runs between Kuta and Ubud. Reach the Lippo Mall Kuta, 1 km from Ngurah Rai Airport. From there, the shuttle will make several stops before arriving in the center of Ubud in less than 2 hours for a price of 100 000 rupiahs per person. Be sure to check the schedule, the company only makes one trip per day for the moment. If you have already booked your hotel in Ubud, it probably offers a shuttle to reach the city.
take the bus: the island of Bali has set up a new bus line, Trans Metro Dewata (TMD). This would be the Kor 4B line, from the Ubung terminal in Denpasar to the center of Ubud, at 4400 rupiahs a ticket. However, there is little information online… Feel free to leave us a comment if you know more about it!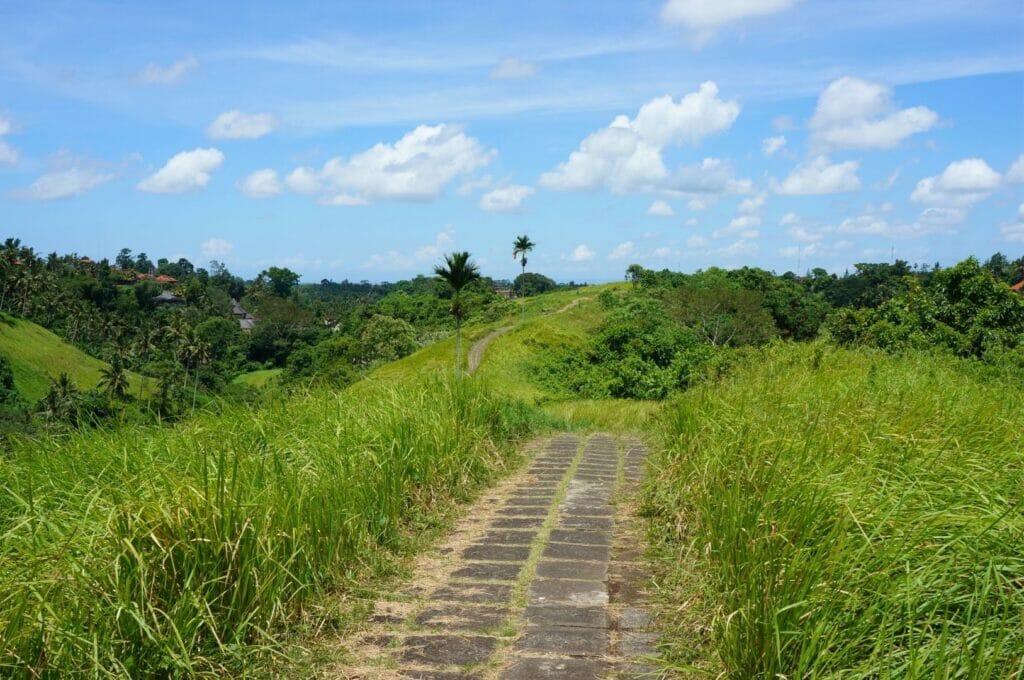 If you are in Indonesia
If you are already in Indonesia, you have 2 possibilities to get to Ubud: by plane or by boat.
Domestic flights from Java or Lombok to Bali are very frequent. The tickets cost 1 million rupiahs maximum for a 40 minutes trip from Lombok and 1 hour 45 minutes from Jakarta.
Otherwise, you can choose the sea route for a lower price. There are two types of boats: speedboats and public boats. If you take a speedboat from Lombok (Bangsal port) to Padang Bai, the crossing takes about 2,5 hours and costs 215 000 rupiahs. By public ferry, it is longer (around 6 hours for 70 km!) but it is cheaper (60 000 rupiahs). From the island of Java, the ideal is to leave by ferry from the port of Ketapang (Banyuwangi), in the extreme east, to arrive in the west of Bali, at the port of Gilimanuk. The fare is 6500 rupiahs per person for 1 hour of journey. Once in Bali, you can take a taxi or a local bus.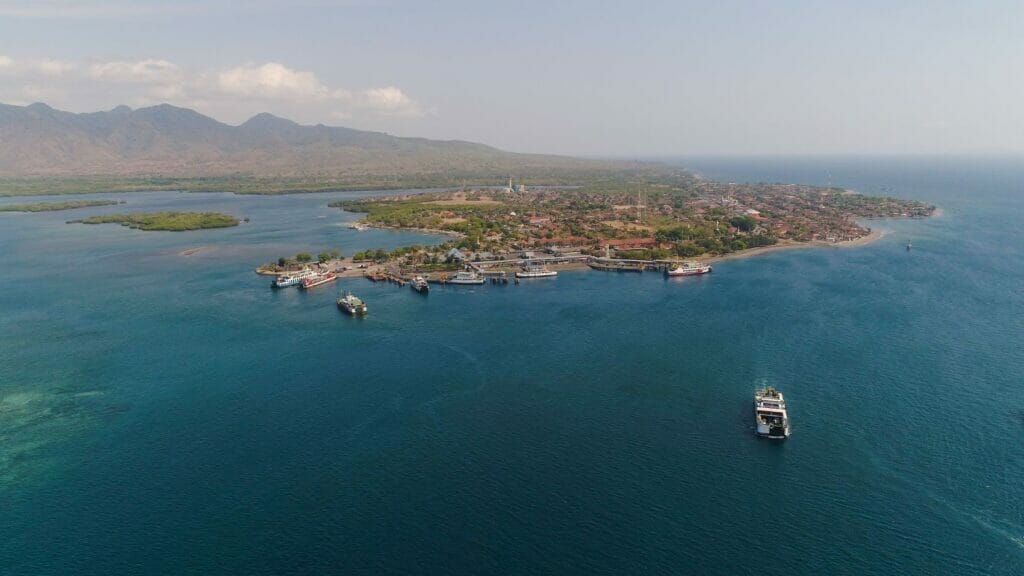 Beware, we warn you against fake ferry tickets! Once at the different ports, you will be approached by scalpers. The only solution to get rid of them nicely and not get ripped off is to ignore them and go buy your tickets at the ticket office.
From Padang Bai to Ubud, it's a 2-hour drive and the cheapest solution is to take a minibus for 120 000 rupiahs per person.
From the west of Bali, it gets a little more complicated but nothing impossible, don't worry! In fact, there is no direct transport between Gilimanuk and Ubud, except for private transport which is not cheap (1 million rupiahs). You will have to make 2 trips: between Gilimanuk and Denpasar (4 h), then between Denpasar and Ubud (1 h).
The bus station of Gilimanuk is a hundred meters from the port. There, the price of the ticket to Denpasar is 50 000 rupiahs per person and all the salesmen will try to sell them to you at 100 000 rupiahs or even more… By the way, to avoid any misunderstanding, pay on arrival, at the same time as the locals! Once in Denpasar, you have the choice between the options we detailed just above 😉. There, you will have no problem finding a driver.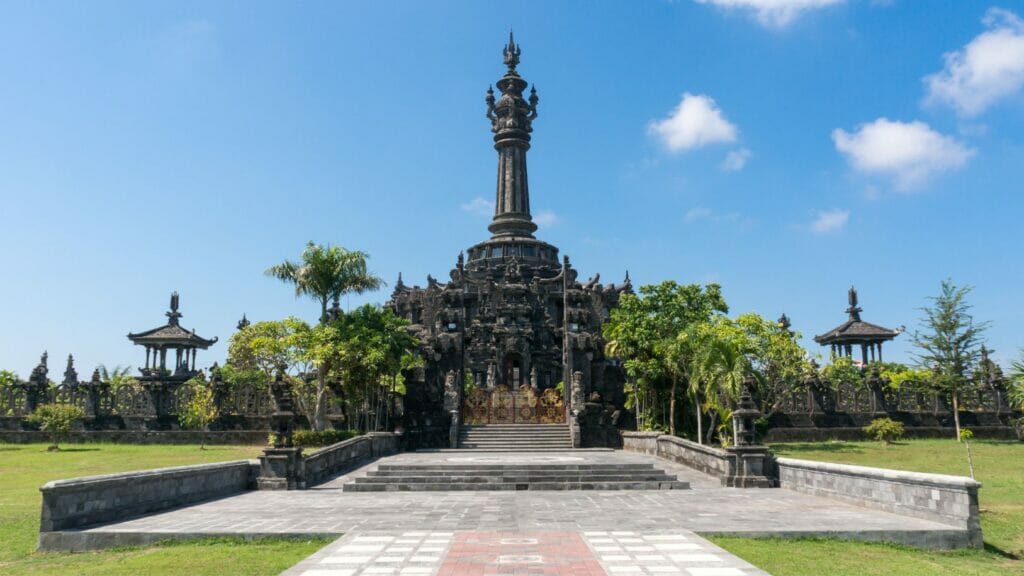 If you are in Southeast Asia
Whether you are coming from Bangkok, Siem Reap, Hanoi, or Vientiane, you will have no problem finding a flight to Bali. Ticket prices are around 100-130 euros, but in truth, they vary greatly depending on your point of departure in Asia.
This article contains affiliate links to partner sites. When you use our links to book accommodation, a car, or an activity, you don't pay anything extra, but we get a small commission. This helps us to offer you free, independent, and ad-free content. Thank you for your support!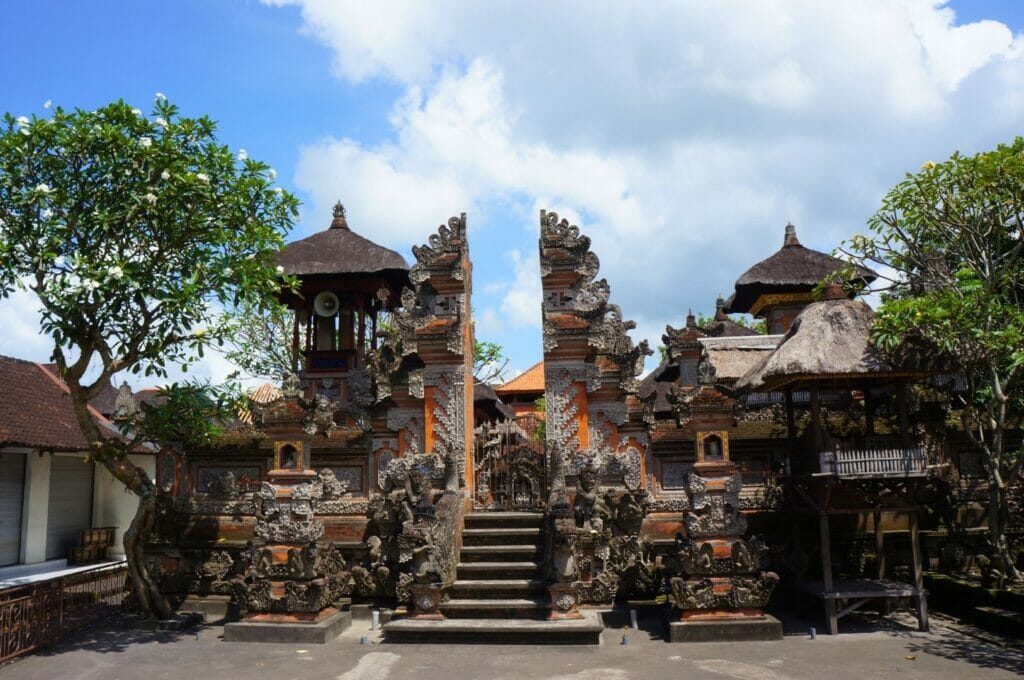 Ubud: first steps in Bali
Bali and the temples
The first thing that strikes you when you arrive on the island is the number of temples that you can see through the bus window. In fact, more than 80% of the population of Bali is Hindu, which makes it an island apart from the rest of Indonesia which is Muslim. So you will see very few mosques in Bali. However, you will notice that almost everyone has a temple in their home. In general, the richer the family, the bigger and more comfortable the temple.
It is also very interesting to observe the rituals of offerings and prayers that begin early in the morning and take place several times a day. The Balinese (especially the women) spend a lot of time preparing the offerings, often consisting of rice, flowers, or fruits arranged on banana leaves with incense sticks. Then, they distribute them in the 4 corners of the house. We can feel that it is very important for them.
Personally, I find that all these temples and ceremonies provide a special charm to Bali. The atmosphere is different, Balinese people are often very smiling and friendly, flowers fill houses, the air is perfumed with a sweet smell of incense and temples are often beautiful. In short, I had barely set foot in Bali and I already had a good impression of it!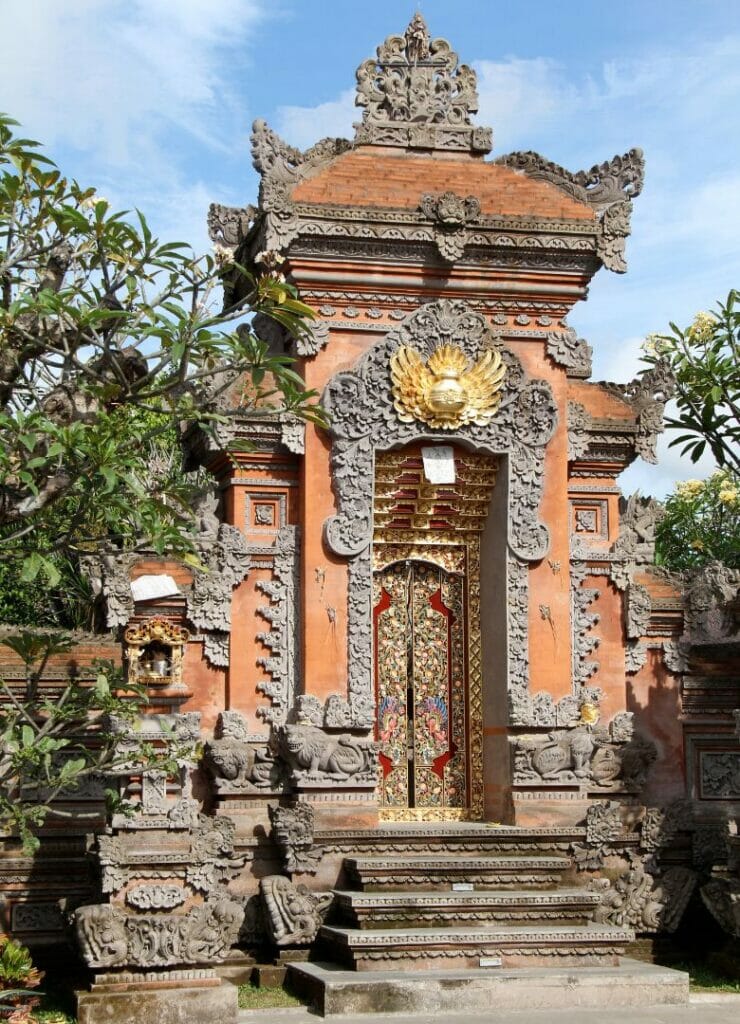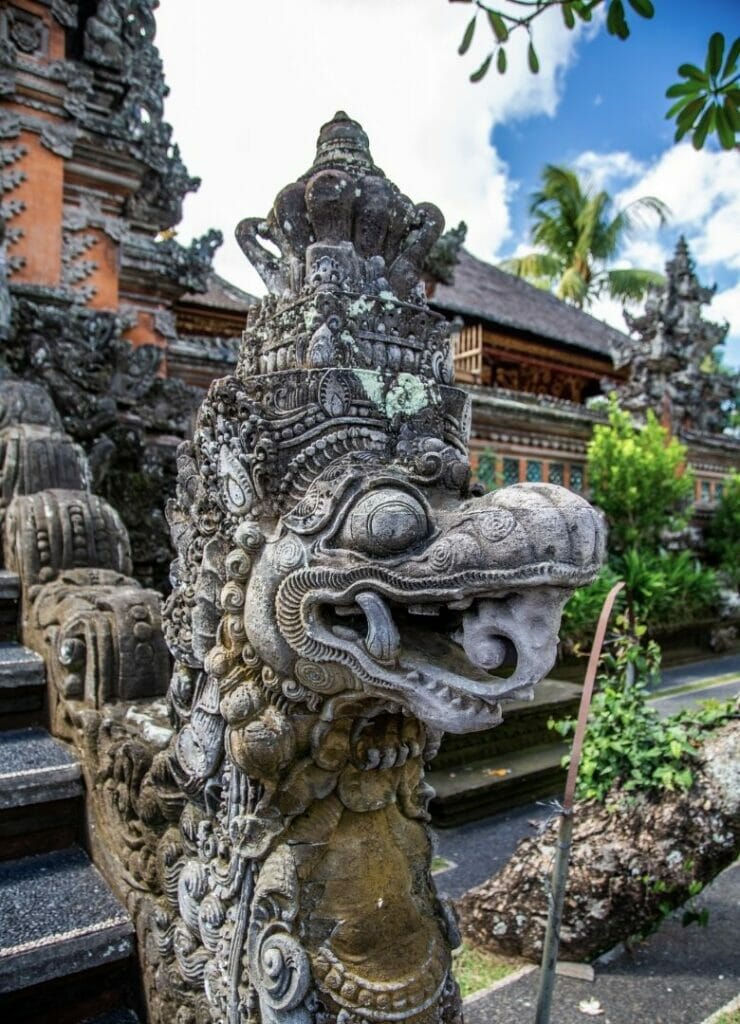 Ubud: between mass tourism and crafts
Well, I'll be honest with you. The first thing that surprised me when I arrived in Ubud, well before the cultural and craft side, was the sheer number of tourists in the streets. In fact, I had not seen such a concentration of travelers since Siem Reap, Cambodia, 4 months earlier!
However, ignoring the world, I must say that the streets of Ubud are full of small stores, each one more beautiful and original than the other. We are very far from the useless trinkets that we find everywhere in Southeast Asia. Here, you will find sculptures of wood or stone, beautiful paintings, furniture, jewelry, original souvenirs, and so on…
Even when you go out of the city, you will find many artists and craftsmen stores where you can easily observe their work. So, if you are planning to go shopping in Indonesia, save your money for Ubud! As you can imagine, we didn't buy much on our side: our backpacks were already quite full!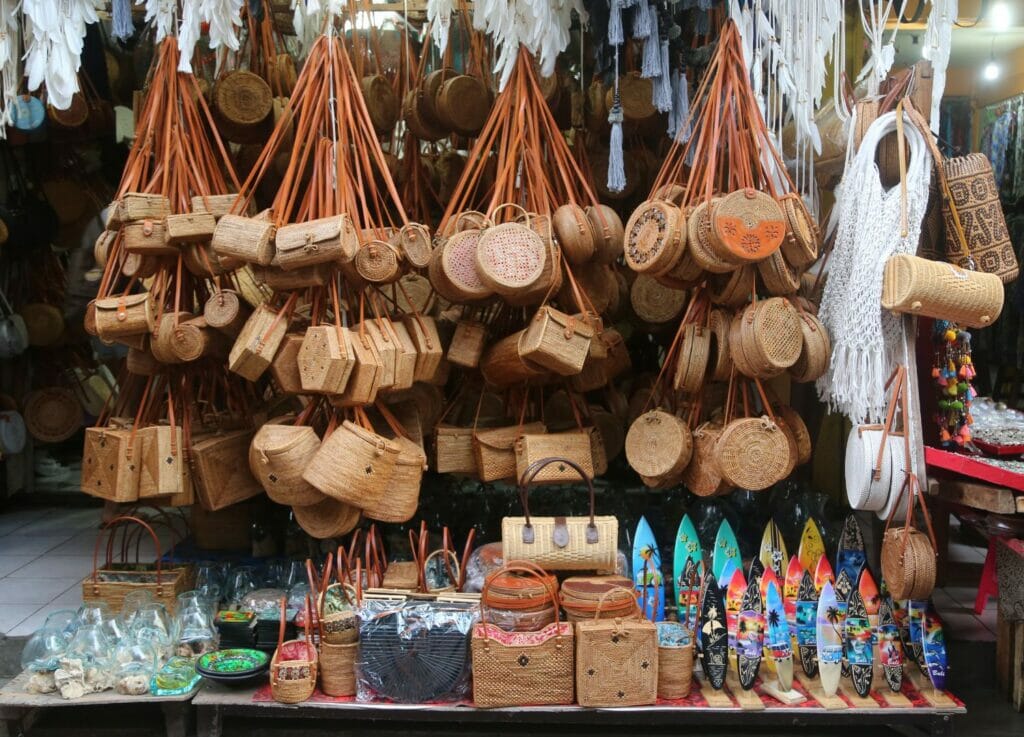 Things to do in Ubud
From the center of Ubud, all points of interest are within walking distance. Most hotels also offer bike rentals. Find all the things to do in Ubud on the map at the bottom of the article!
Go to the monkey forest
The monkey forest is the main tourist attraction in Ubud! This kind of natural reserve is home to crab-eating macaques that roam around here in total freedom. Well, if you are agoraphobic or prefer to see these mammals from far away, do not waste your time there!
The place is very well arranged and maintained, the monkeys are not at all aggressive. However, avoid having food on you during the visit. As primates have a very developed sense of smell, they might jump on you for a banana. Otherwise, you will see that they don't care much about tourists, they prefer to have fun or fight with other monkeys.
To get to the monkey forest, go to the south of the city! You can easily go there on foot. The price is 80 000 rupiahs per person for about 1,5 hours. Go early in the morning to avoid the mass of tourists and watch the monkeys while they eat.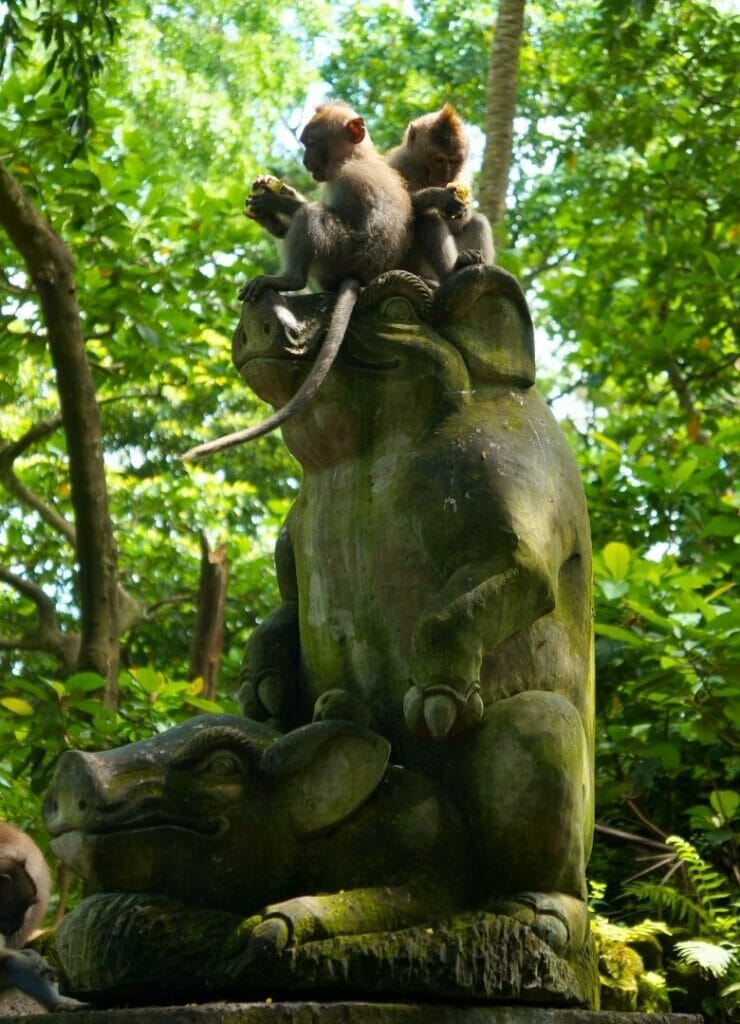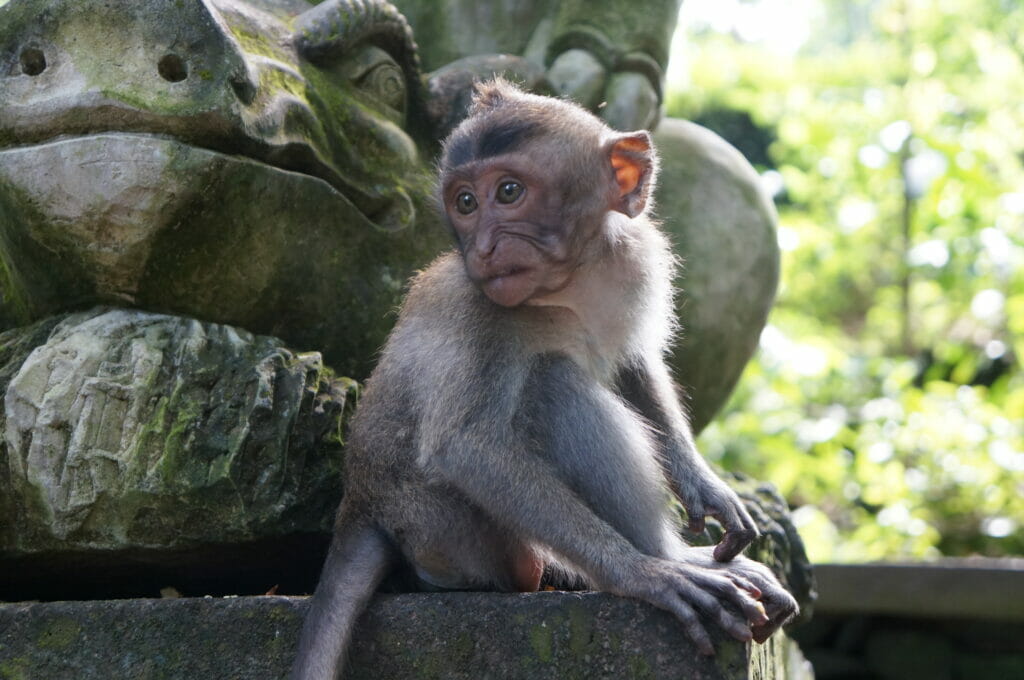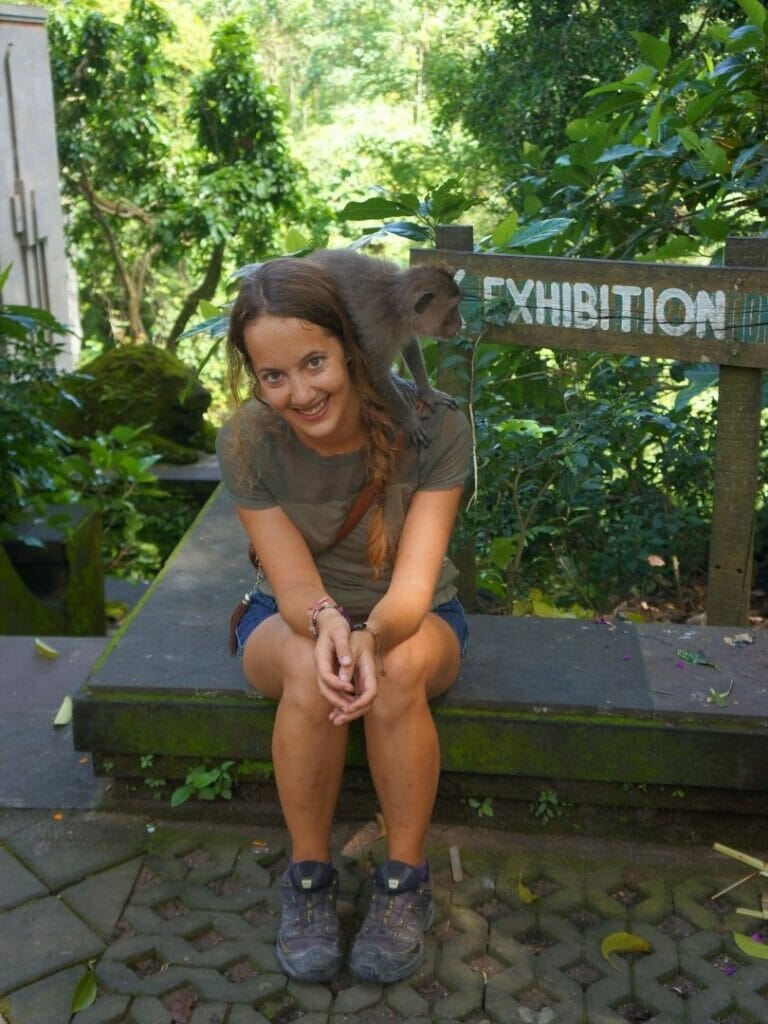 Discover the Hindu temples
Coming to Ubud, you will inevitably pass by the Ubud Palace and Saraswati Temple. They are free and often taken by storm by tourists. In the evening, they are the backdrop for Balinese dance shows which we will talk about below. However, we quickly make the tour and they are not the most incredible of the corner.
We advise you to visit a place still little known, it is the Puri Langon temple. Dating from the 19th century, it looks like no other! Very elaborate sculptures, gilding, a luxuriant garden… Moreover, it is free of charge and you will likely be alone during the visit. In short, do not miss Puri Langon, one of the most beautiful temples in Ubud.
To see other Balinese temples worth seeing, you have to move away from Ubud. Find all our tips below!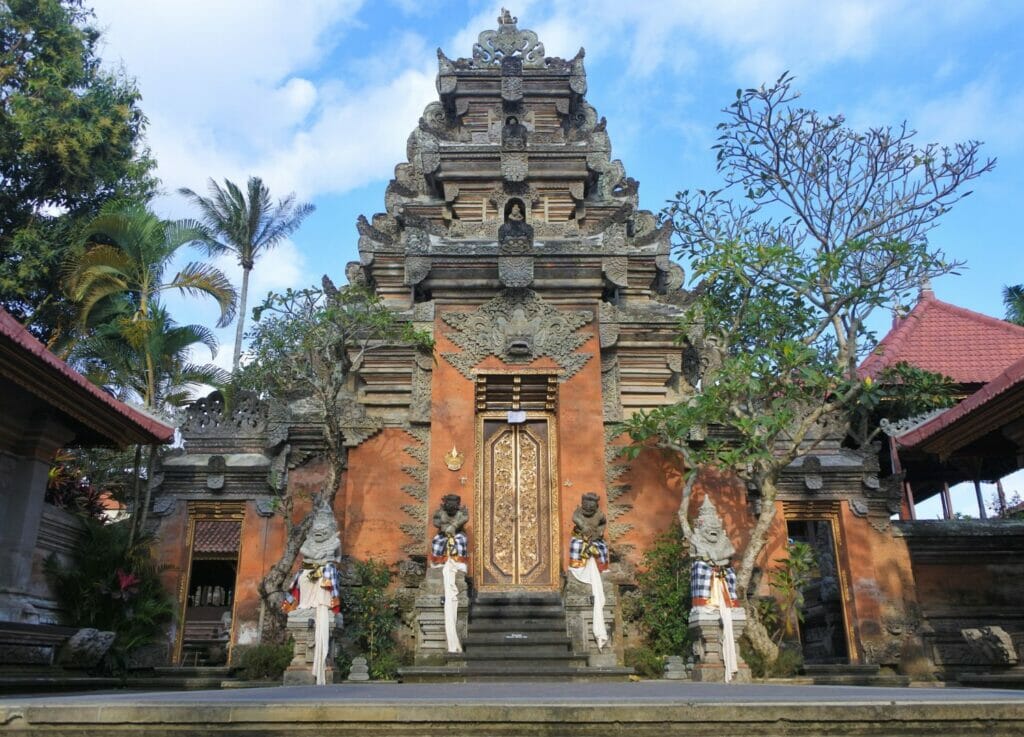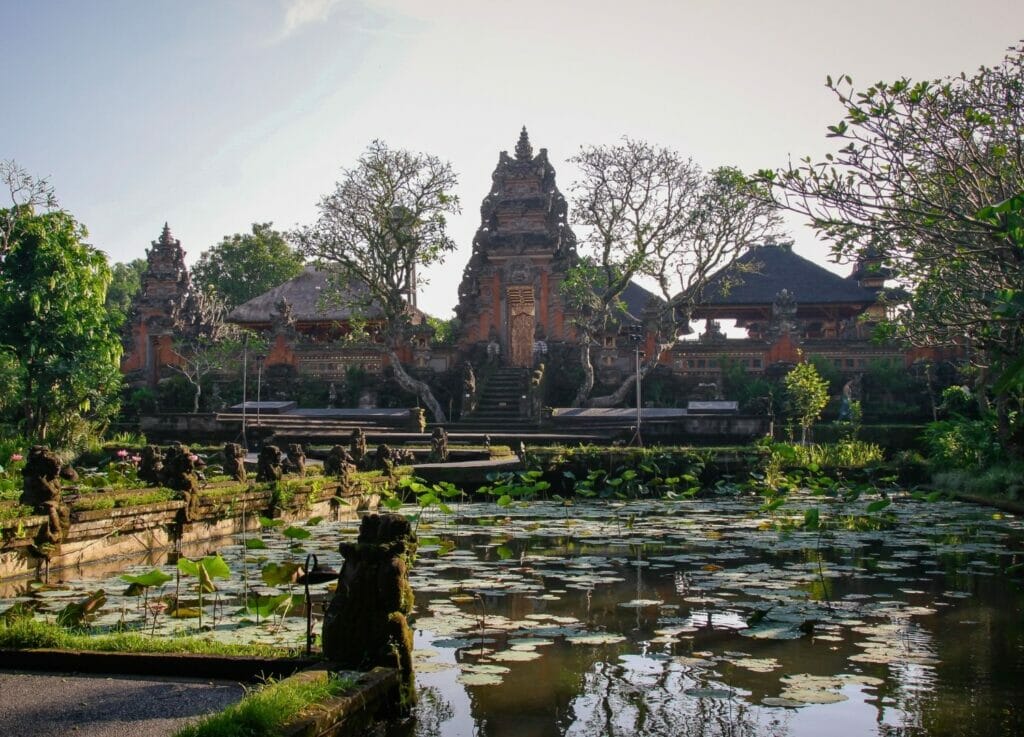 Walking in the rice fields
This is probably our best memory of Ubud! There is nothing like a long walk in the middle of the rice paddies to escape the hustle and bustle of the city center by taking one of the 3 paths: Campuhan Ridge Walk, the most popular, Sari Organic Walk and Kajeng Rice Field, more intimate. After the Puri Lukisan Art Museum, take one of the lanes that turn right and get lost in the green fields.
Along the paths, you will see some artists selling their paintings. You will also pass a few restaurants or cafes often with a terrace overlooking the rice fields. Moreover, we strongly advise you to stop at the Joglo Organik restaurant which offers excellent food and smoothies with a great view!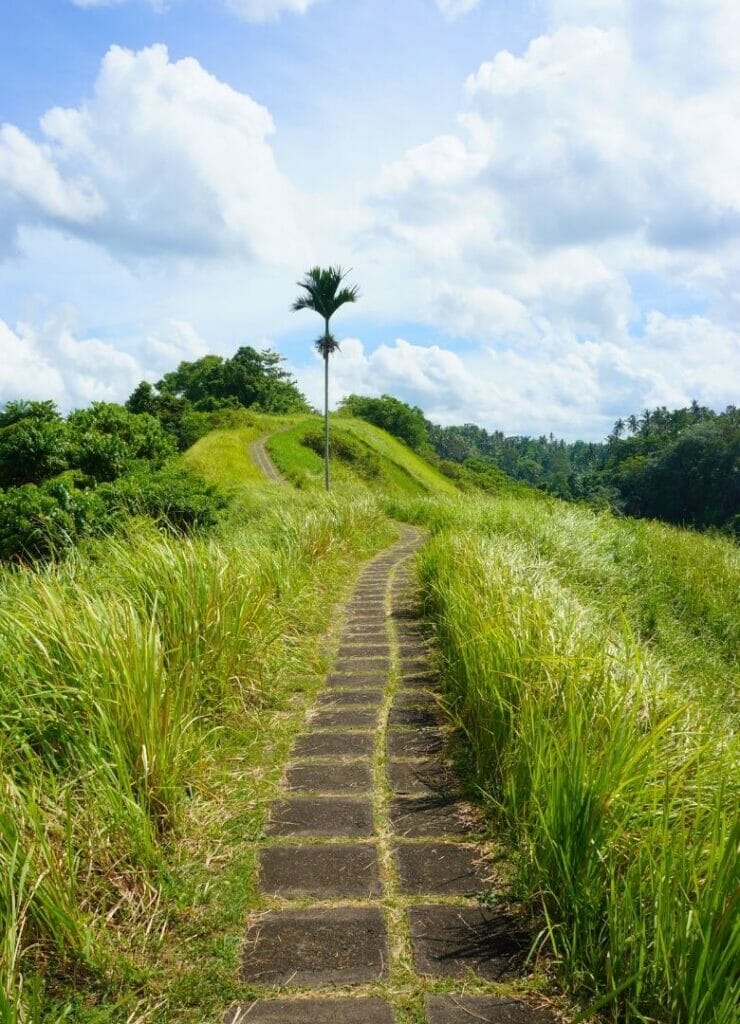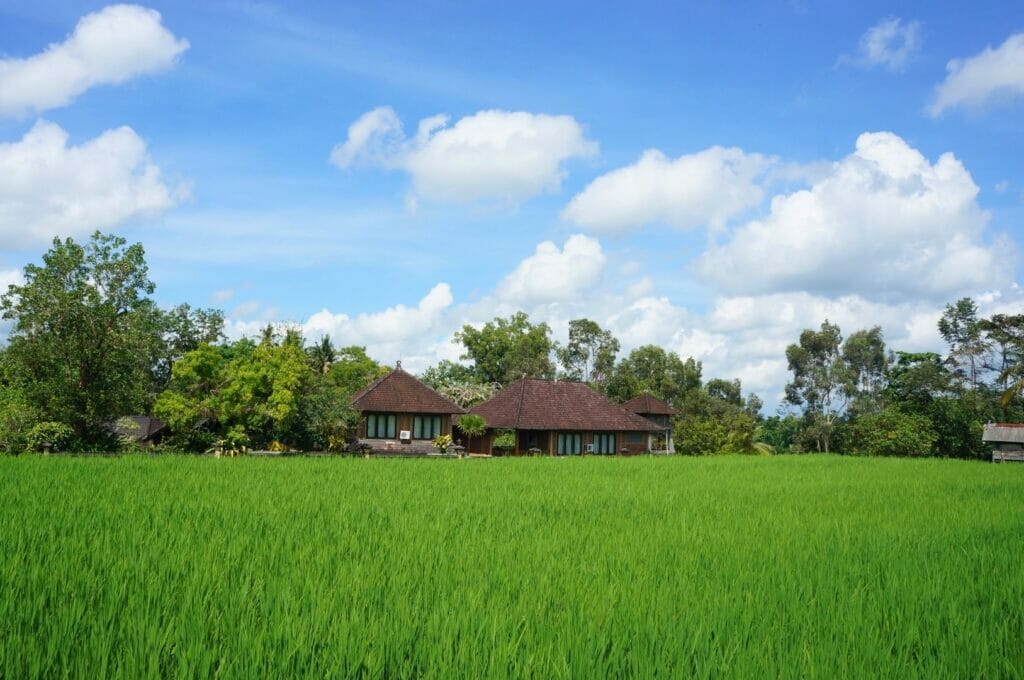 Visit Puri Lukisan Museum
Ubud is the cultural and artistic center of Bali, so if you want to know more about Balinese art, whether painting or sculpture, don't miss the Puri Lukisan Museum which has some very interesting works! There are two entrance fees: 115 000 rupiahs for the museum and lunch on the spot or 85 000 rupiahs for the museum and a free drink.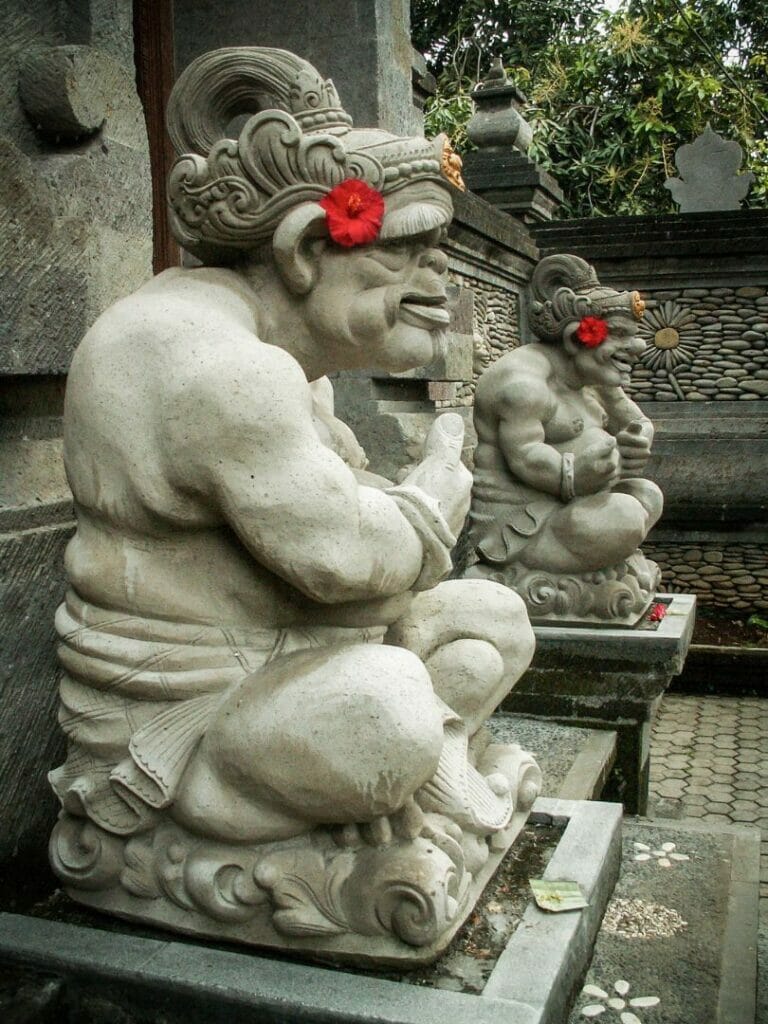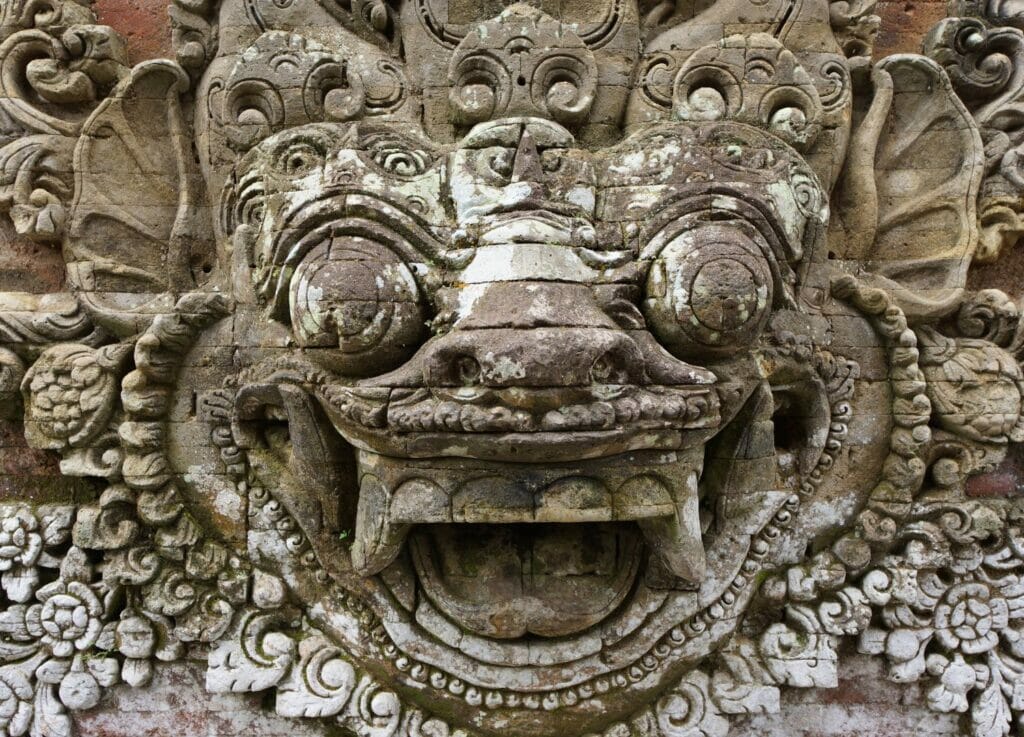 Attend the Balinese dance show
Probably because we were offered 20 times a day, we did not attend a Balinese dance performance. Maybe wrongly because the dancers just look beautiful. But we have to admit that being offered cabs, shows or other trinkets all day long is a bit annoying!
In truth, there are several dozen kinds of Balinese dances, accompanied by the gamelan, the Balinese orchestra. The main ones are:
Legong: this is the traditional dance where the whole body, including the eyes and fingers, expresses itself through complex movements. In Bali, Legong is even taught to little girls in school! This dance tells the story of a king who kidnapped a young girl who refused his advances. But the girl is engaged to a prince, who fights with the king to free his beloved.
Barong or kris dance: the dance puts in a scene the fight between the good and the evil. Here, men in a trance fight alongside the barong, an animal emblematic of positive forces, to defeat the witch Rangda. The benefactors use the kris, a Balinese dagger with a wavy blade.
Kecak: this is the most recent Balinese dance. Around a fire, the dancers perform the rescue of a prisoner by an army of monkeys led by her husband.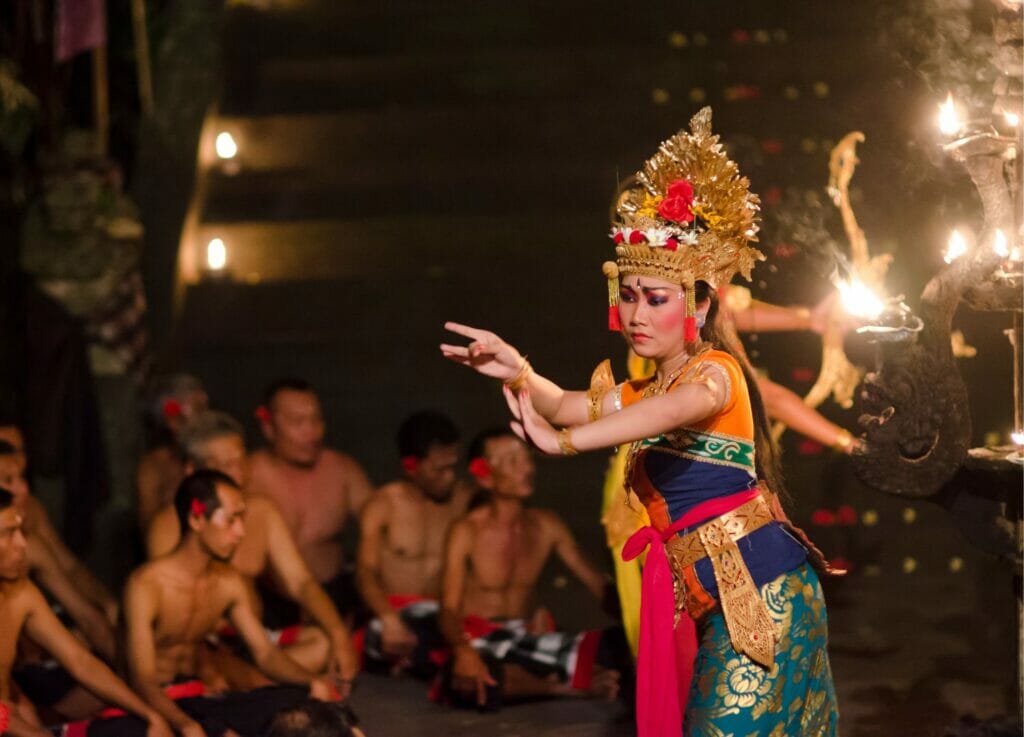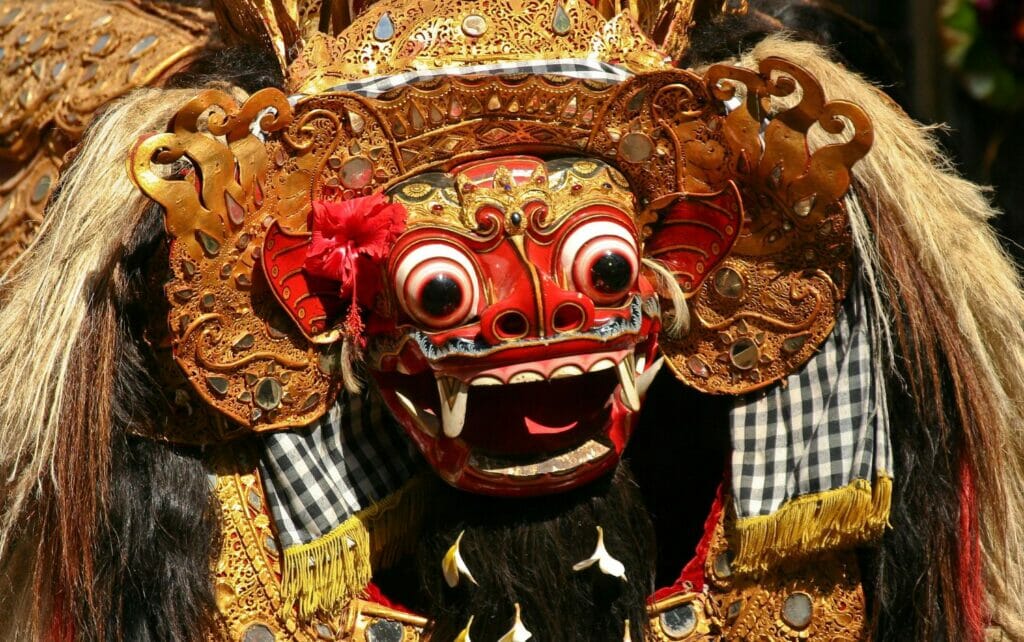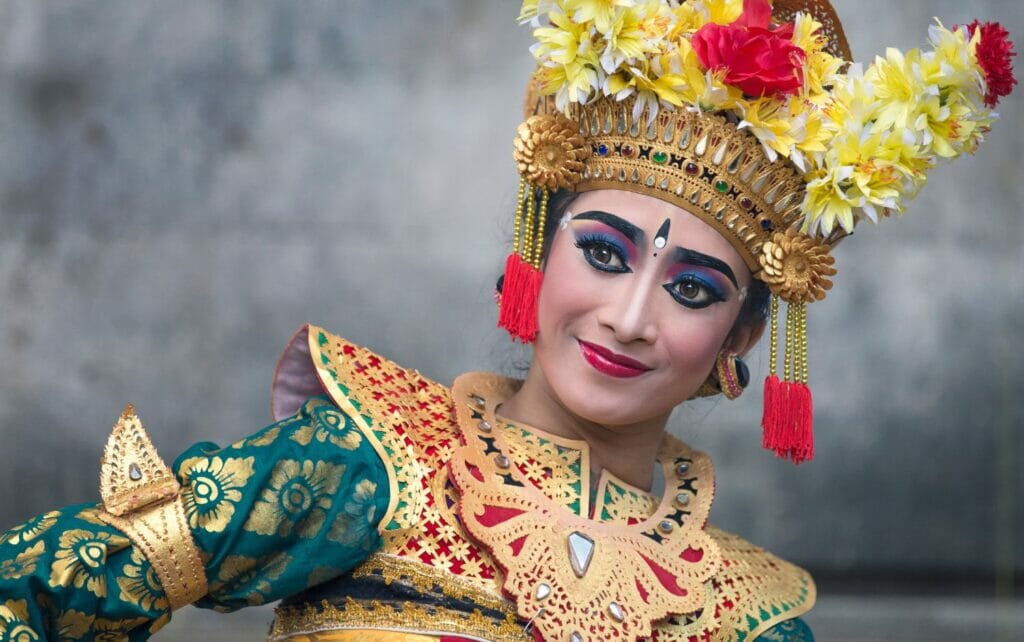 The most famous places for Legong dancing are the Ubud Palace and the Saraswati temple, located right next to it. One of the only places in Ubud to see a Barong dance performance is the Agung Rai Art Museum. To discover Kecak, go to Batu Karu temple where the show is performed only by female dancers (which is rare for this type of dance), or to Pura Dalem temple.
The performances take place every night from 7.30 to 9.00 p.m. and cost 100 000 rupiahs per person, except for the Barong which takes place every Sunday for 150 000 rupiahs. Try to arrive 1 hour early to be in front!
Treat yourself to a Balinese massage
In addition to showcasing Balinese art and culture, the city is also very well-oriented towards well-being and spirituality. In Bali, there are countless yoga studios overlooking the rice fields or spas offering the famous Balinese massage. Traveling to Bali can be an excellent excuse to make you feel good 😉! Here, 1 hour of massage costs more or less 20 euros.
Go shopping
If, unlike us, you can afford to fill a suitcase with souvenirs, you will find your happiness here. As I said above, the stores in Ubud are very interesting and full of original objects. A little advice: move away from the downtown markets to do your shopping. You will then see many artisans who have their own shops and you will also be able to observe their work.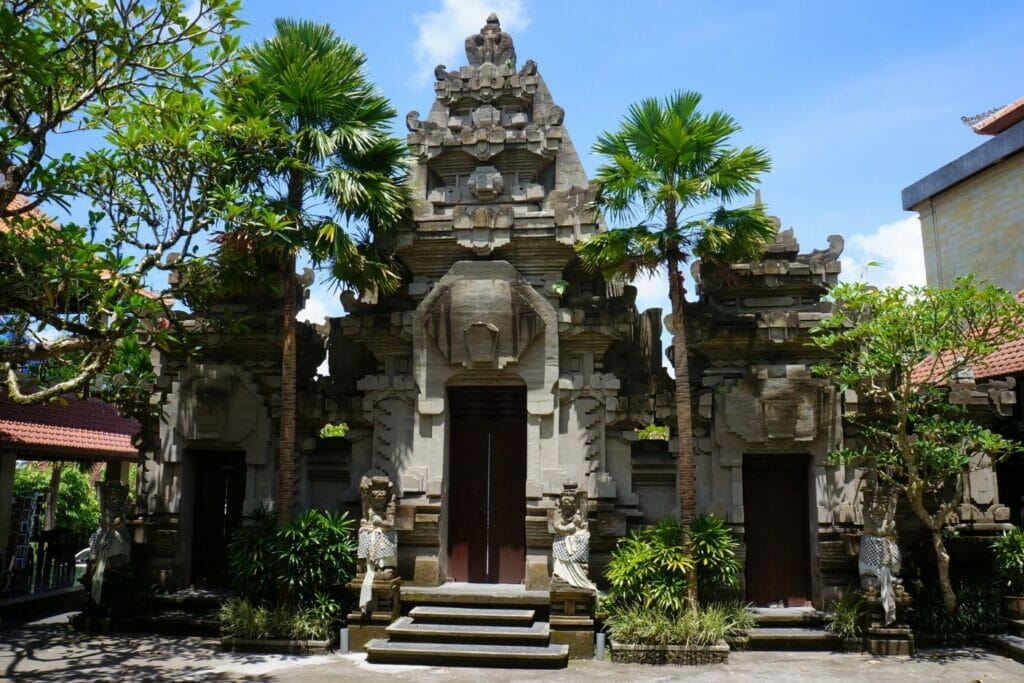 Things to do around Ubud
Although the city offers great opportunities for visits and walks, the surrounding area is also worth a look! We haven't done everything, but this gives you an idea of the must-dos and activities that are a little off the beaten track. The best way to discover the Ubud area is to rent a motorbike for about 70 000 rupiahs per day. If you are traveling with your family or are not very comfortable on two wheels, taking a private driver can be a solution to fully enjoy the treasures of central Bali!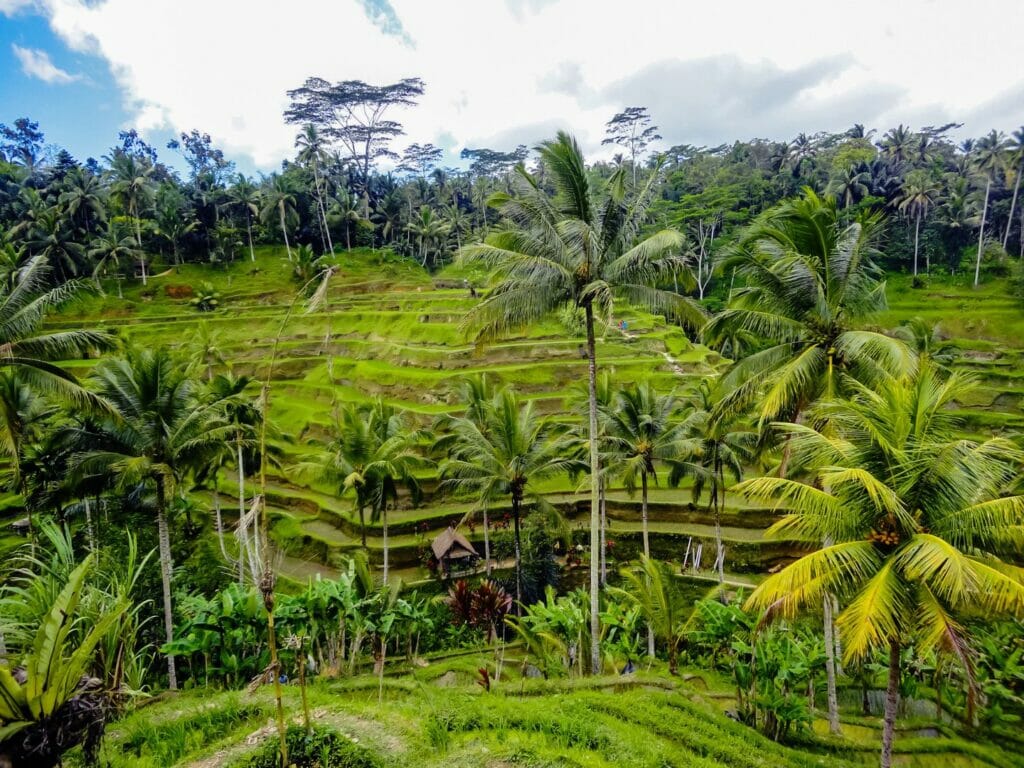 The Tegallalang rice terraces
The Tegallalang rice terraces are located only 10 km north of Ubud and are very touristy. Maybe a little too much? In the era of social networks, many sites in Bali are equipped with swings and photo spots for a fee… The Tegallang rice terraces are now part of it. So yes, they are not bad but do not imagine yourself walking alone among green fields as far as the eye can see. The access is free but some "farmers" ask for a right of passage (at least 10 000 rupiahs) to access some areas… If you have never seen rice terraces and/or you are just right in terms of timing, then yes, Tegallang can be worth it. Otherwise, we recommend these 👇.
The Jatiluwih rice terraces
More rice terraces, you might say! The Jatiluwih rice terraces are 40 km northwest of Ubud, so further away than Tegallang. Who says further away, says fewer tourists. Indeed, here, no swings or rights of passage to access the terraces. Moreover, it is not for nothing that the Jatiluwih rice terraces are listed as a UNESCO World Heritage Site! Several paths crisscross the site, so you have enough to walk for several kilometers if you wish! Plan your visit early to make the most of these rice fields! To enter, the fee is 40 000 rupiahs per person. Sure, it's more expensive than Tegallang but much more authentic 😉.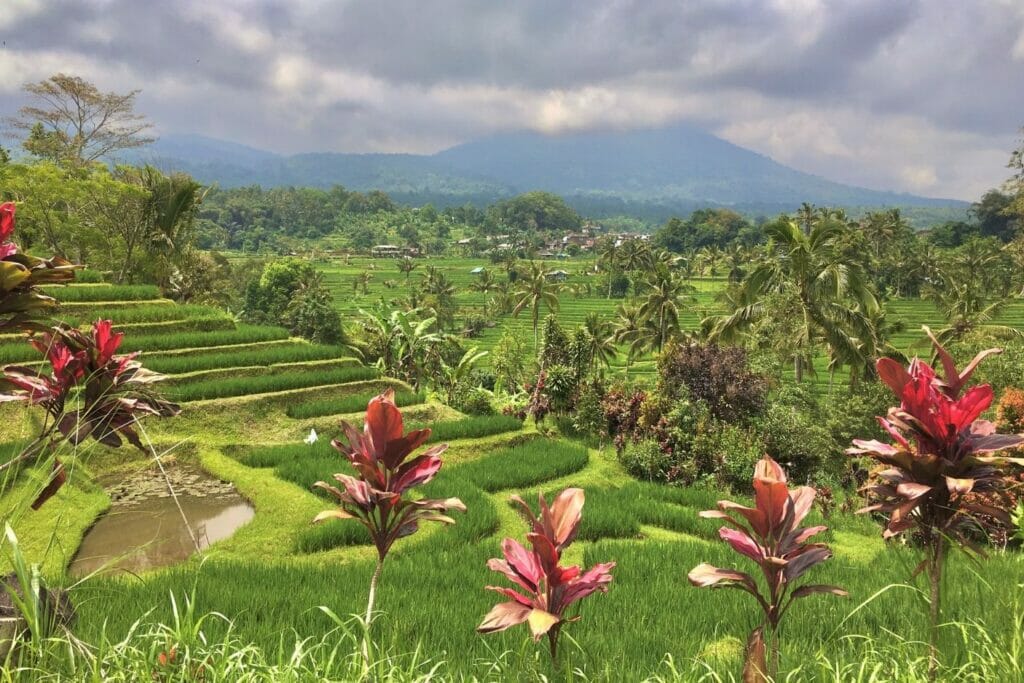 Goa Garba
6 km east of Ubud, discover the historical site of Goa Garba, completely lost in the jungle by the Pakerisan River. Dating from the 12th century, this old school was reserved for the children of the king. A meditation area has even been set up in a recess. For a peaceful atmosphere, away from the tourist hustle and bustle, this is the perfect place. The ticket price is 30 000 rupiahs per person.
Goa Gajah
Not far from Goa Garba is Goa Gajah or the elephant cave. Here, the atmosphere is rather strange… This temple dates from the 9th century and is a UNESCO World Heritage Site. On one side, you have the famous cave with a carved entrance, representing the wide open mouth of a demon head. Inside, several statues representing Ganesh and Shiva, witnesses of the Buddhist past of the place. On the other, the remains of the basins are used for the ritual of purification. The whole is stuck in the jungle where you can even join rice fields and another archaeological site, Yeh Pulu.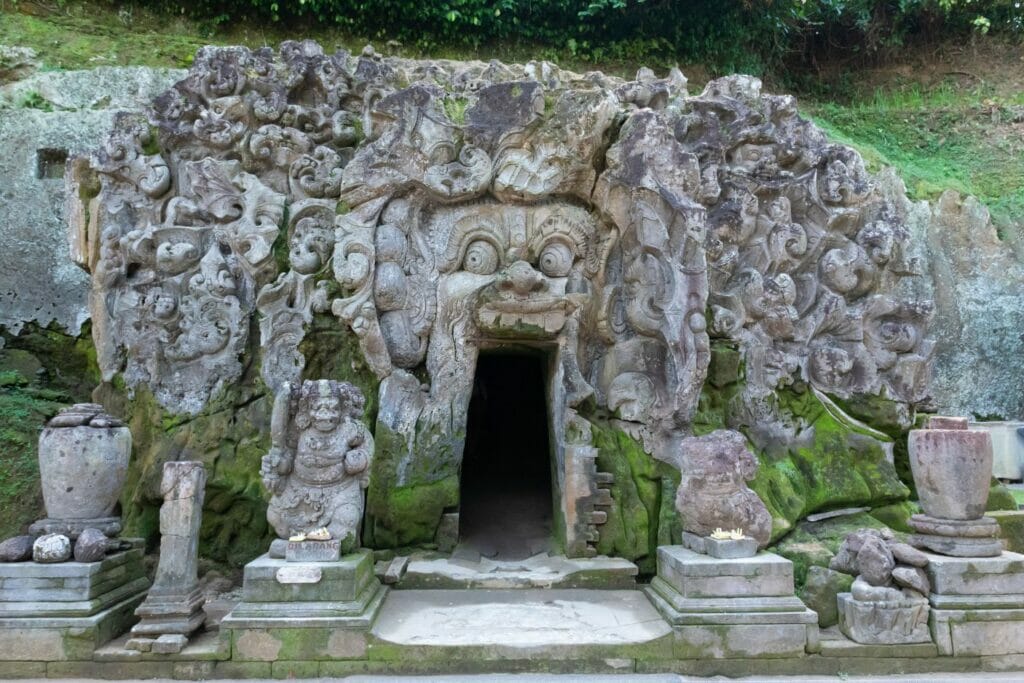 The entrance to Goa Gajah is 50 000 rupiahs. Important point: the sarong to cover your legs is included in the price, you will see salesmen trying to make you buy it… Also, beware of false guides who circulate on the site!
A purification ritual at Tirta Empul temple
The melukat or purification ritual is an integral part of Hinduism and is practiced in sacred water sources. Some temples are prized by Hindus to perform this tradition in the pools. The temple that attracts the most pilgrims is undoubtedly Tirta Empul! Divided into gardens and ponds for melukat and koi, the place is sublime. The entrance fee is 50 000 rupiahs, plus a fee for the locker and sarong.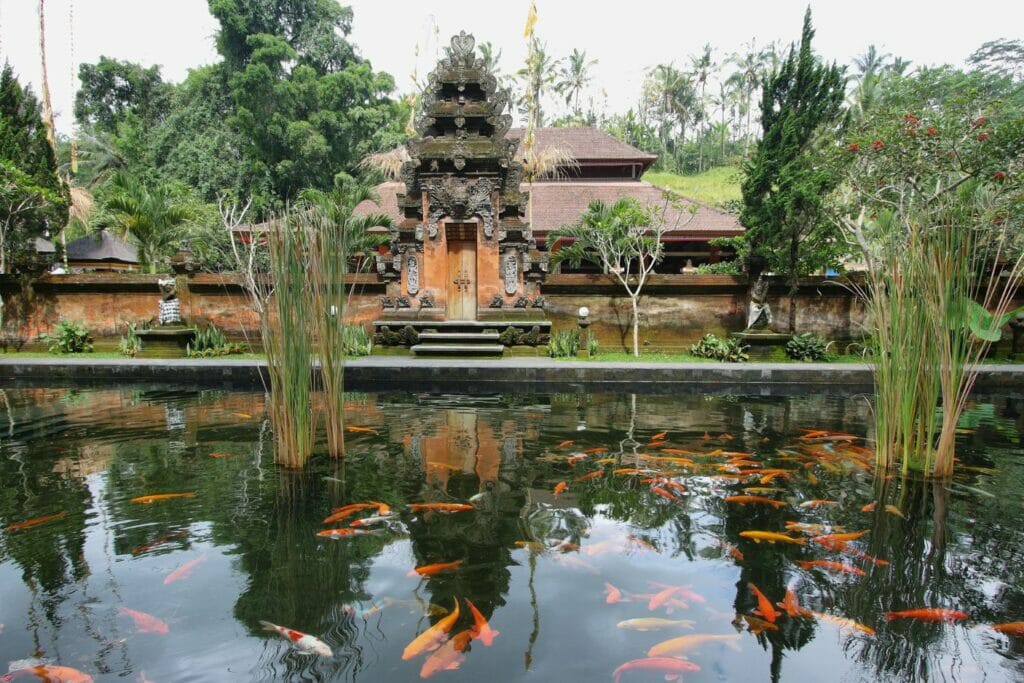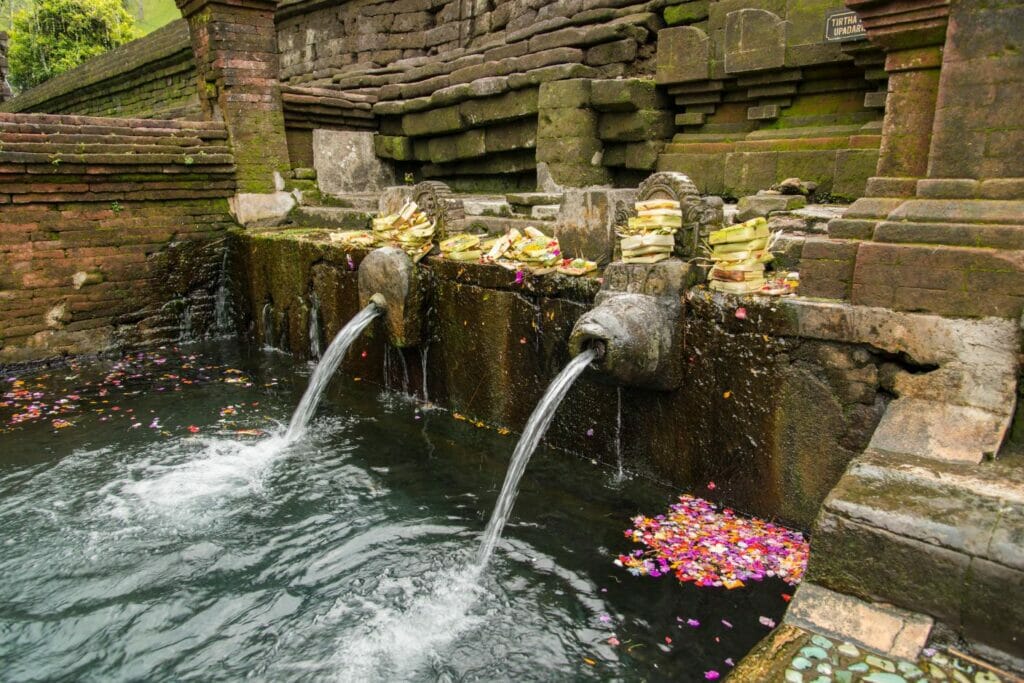 However, the Tirta Empul temple is a little victim of its success… Other less-known temples are also perfect for initiating oneself to the ritual of purification or for impregnating oneself with the meditative and calming atmosphere:
Pura Gunung Kawi: less frequented than Tirta Empul, this magnificent temple has the particularity of being completely carved in the rock! Dominating this historical site of the 11th century, 10 sanctuaries were carved in the cliff, in honor of the former royal family. The whole is surrounded by a beautiful lush garden. There is an entrance fee of 50 000 rupiahs per person and 2000 for parking and they give you a sarong to enter the pool.
Be careful not to confuse Gunung Kawi with Gunung Kawi Sebatu, a small temple located 4 km away. In a beautiful green setting, you can also bathe in the sacred springs (30 000 rupiahs per entry).
Pura Mengening: this splendid water temple is still unknown to tourists. The ticket costs 30 000 rupiahs. If you are interested, Getyourguide integrates the visit and the melukat in the day program to focus on yourself through the combination of purification, yoga and meditation.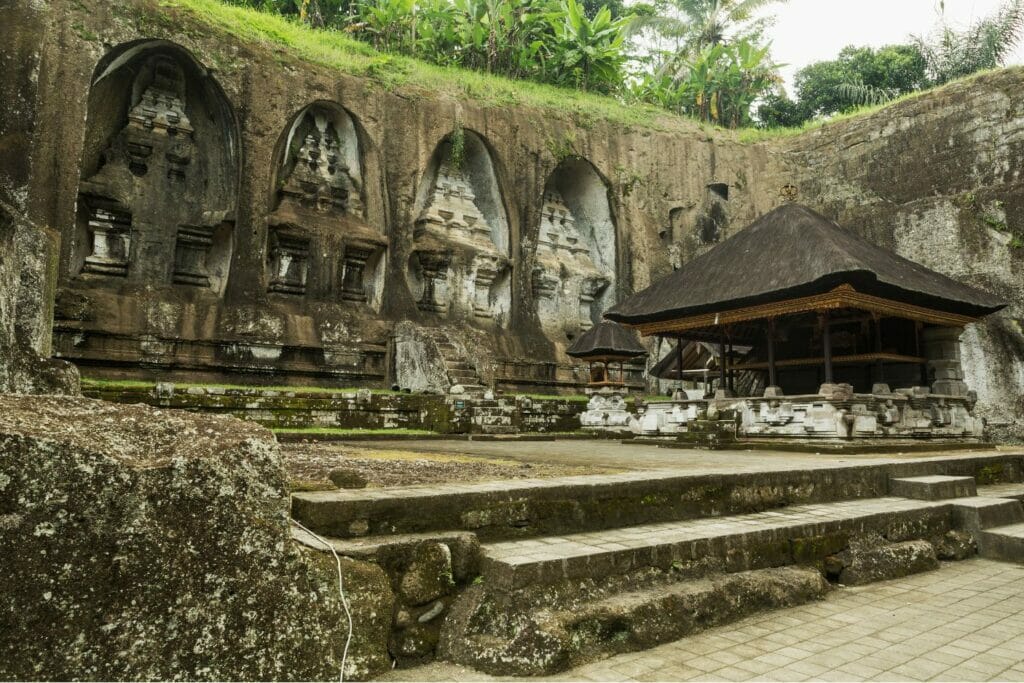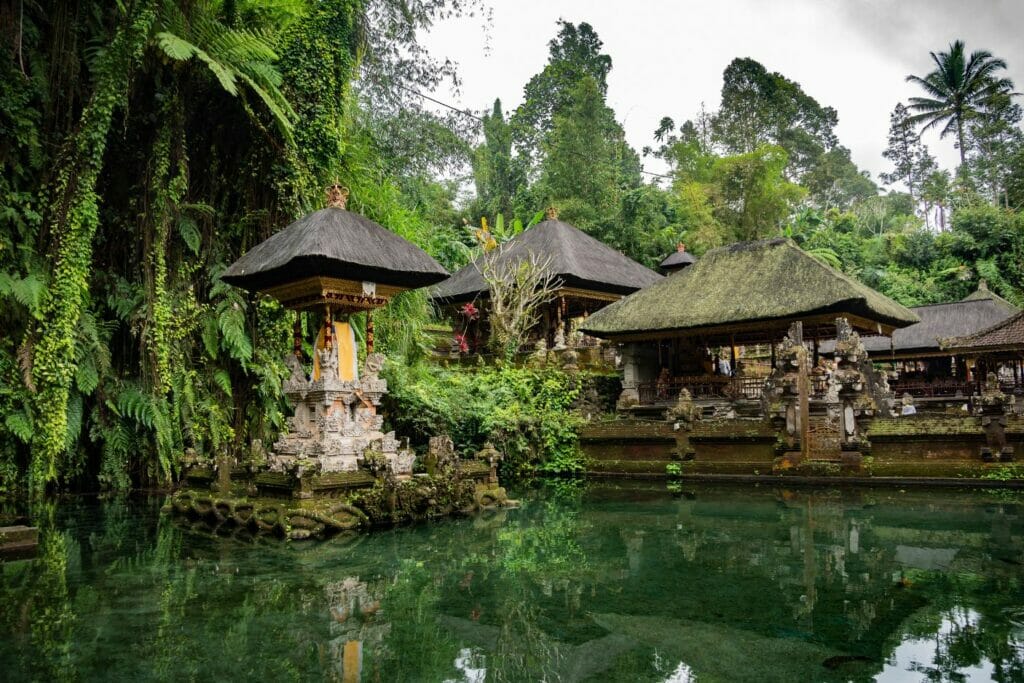 Taman Ayun temple
Taman Ayun is considered one of the prettiest temples in the region, but its location (17 km west of Ubud) makes it a less crowded place. Also listed as a UNESCO World Heritage Site, this 18th-century complex consists of several multi-roofed Hindu temples surrounded by canals. It is the second-largest temple in Bali! The entrance costs 30 000 rupiahs per person and a sarong is lent to you to visit it. If, like us, you pass by by motorbike, a stop can be worthwhile, but I would not advise renting especially a driver for a visit to Taman Ayun. Honestly, we must admit that it is beautiful, but it is nothing to write home about…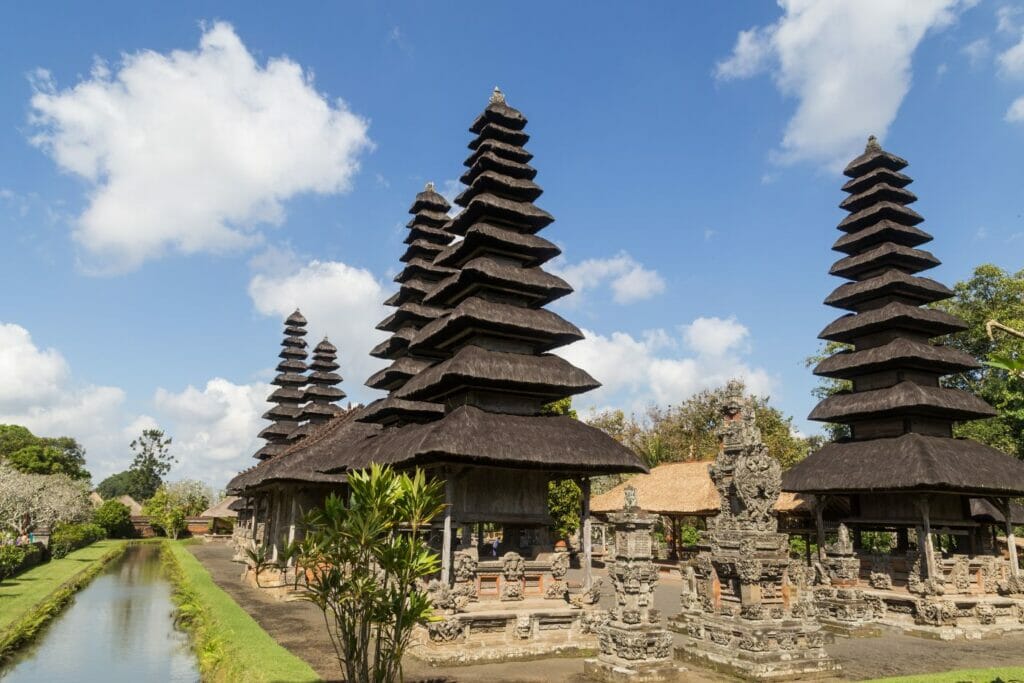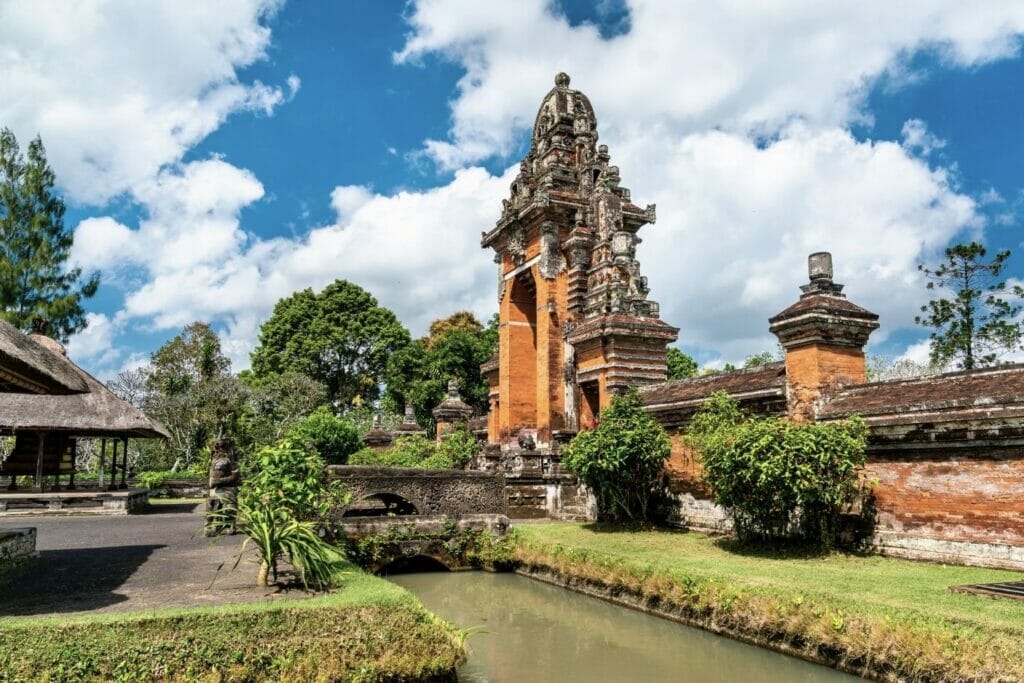 Other activities
There are so many things to do around Ubud that you could spend a week there! We have presented you with some of the more or less touristy activities that give a nice overview, but there are many others to explore around Ubud in central Bali! Here are a few more ideas to immerse yourself in the Balinese life and culture:
take a pottery class at Sari Api Ceramic Studio (600 000 rupiahs for 3 hrs);
visit Setia Darma House of Mask and Puppets, the museum is free and contains several thousand masks and puppets from around the world;
be a Balinese for one day from Ubud;
take a Balinese cooking class to prepare and taste 7 delicious dishes in a unique environment;
discover the beautiful waterfalls of the area: Dedari, Suwat, Goa Rang Reng, and Kuning.
Rent a motorbike in Bali
To visit the surroundings of Ubud, rent a two-wheeler! Renting a scooter in Ubud costs about 70 000 rupiahs per day and a liter of gasoline is about 13 000 rupiahs. In short, it won't ruin you to visit Bali on a scooter!
Road conditions in Bali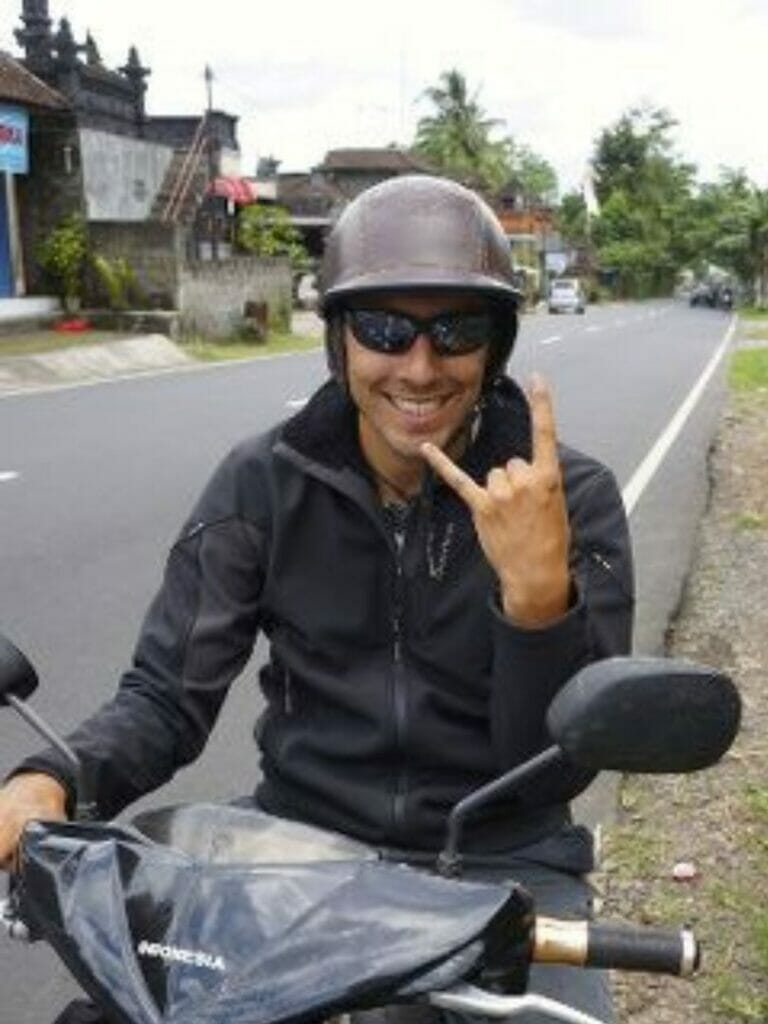 You should know that the roads in Bali are absolutely perfect! Of course, there are a few potholes and you have to beware of dogs and cows on the side of the road. But overall, the roads are in excellent condition!
Drive in Bali
Where it gets really crazy is in traffic! Bali is richer than other countries in Southeast Asia, so there are as many cars as motorbikes. You have to be on the lookout all the time! Of course, in order not to simplify anything, we drive on the left in Indonesia! But you get used to it quickly.
We had no problems with other scooters or local cars. The real public dangers? Cars carrying tourists! The drivers drive like crazy and overtake in places where visibility is null. For them, motorbikes are clearly a small and inferior species in the road hierarchy. If a big 4×4 comes straight at you (since it is passing), then you'd better move your ass to the side of the road! Otherwise, everything went well for us on the roads of Bali 😉.
Restaurants in Ubud
As Ubud is full of places dedicated to relaxation, you will find many organic and/or healthy restaurants and cafés (smoothies, granola bowls…). There are also warungs, local restaurants that serve typical Indonesian food (don't miss the babi guling with roasted pork), and restaurants that are more Western food oriented. To find the best restaurants in Ubud, we refer you to the article of Jin and De Wet.
Kopi Luwak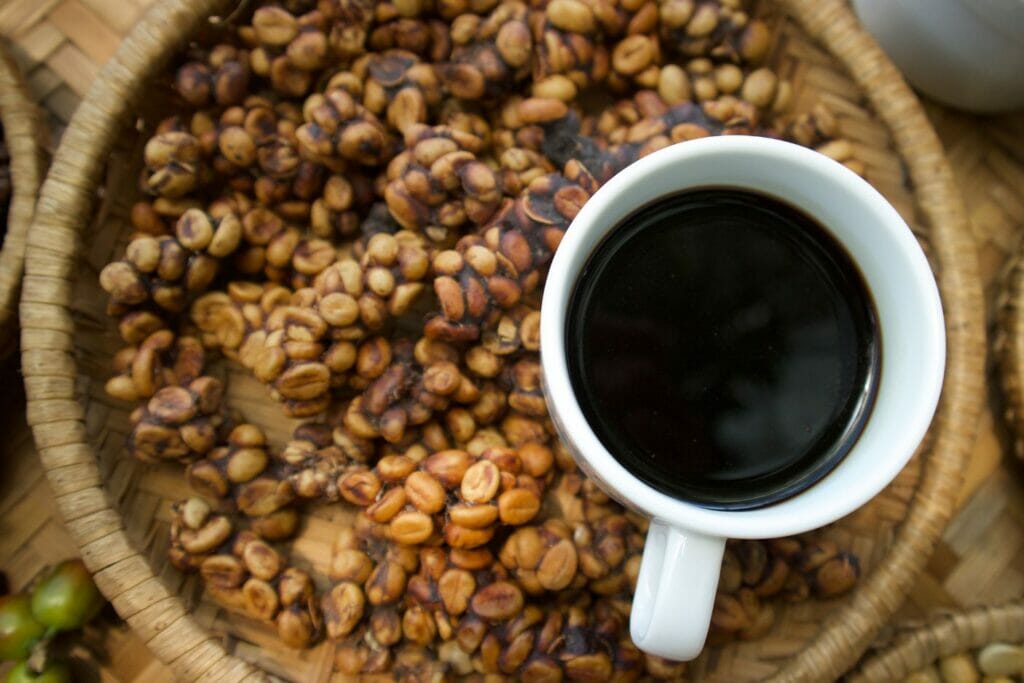 And what about coffee-tasting kopi luwak, the most expensive coffee in the world? Do you know it? For several years now, it has been causing panic among lovers of the precious nectar… On paper, nothing is appetizing about it since it is made from coffee beans partially digested by a nocturnal animal, the civet.
Coffee from droppings? Yes! It could have stopped there but the kopi luwak has become a real business in the coffee world. Thus, we find civets locked up in deplorable conditions on coffee plantations, and fed only with coffee cherries, even though they constitute only a part of their basic diet. All this for a coffee which is not so extraordinary according to the specialists… To go further on the subject of luwak coffee, we recommend you this article from National Geographic and this video from the BBC.
Hotels in Ubud
There is a whole area with cheap accommodation behind the Tropical Bar, on the right side of Wenara Wana Street. For about 120 000 rupiahs a night, you should be able to get a double room with a private bathroom and breakfast. We stayed at the Arjuna Homestay which is located in this area of Ubud and is very central to doing everything on foot!
There are also more upscale hotels in Ubud. If you feel like treating yourself, you'll have no problem finding a beautiful hotel overlooking the rice fields for 700 000 rupiahs (43 euros) a night.
Map of Ubud
To help you find your way around the area, we've listed all our things to do in Ubud on this map. Enjoy!
To finish, I would say that we still enjoyed Ubud. Although the place is very touristic (with the usual scams that go with it), it is relatively easy to go out of the center by renting a scooter to observe how the Balinese live every day and thus discover natural or architectural gems still little-known!
In short, it's worth a little stop, right 😉? There, you have several things to do in Ubud over several days! If you have other good plans for this region of the Island of the Gods, do not hesitate to leave us a little comment! We continue our exploration of Bali by going north of the island to Mount Batur for a nice sunrise! Does it interest you?
Pin it