After Laos, we flew to the last Asian country of our world tour: Indonesia, and more precisely Kuta on Lombok island! Known and recognized for its dream beaches, its fire-breathing volcanoes, its smiling inhabitants and its breathtaking landscapes, Lombok was definitely a must for our trip around the world! Follow the guide for a heavenly stop! 🤩🏝
Update 2023
We took this trip in 2014, but the article was completely revised and updated in March 2023. If you see any price changes or have additional information that might be relevant, please feel free to leave us a comment!
Presentation of Kuta
For our debut in Indonesia, we had in mind to start our stay with a few days off. Yes, we have the audacity to write that, but as we already explained in another article, it is sometimes good to take a few days off during your round-the-world trip.
Many travelers had told us about Kuta! But strangely, some of them insisted on the fact that they were talking about Kuta Lombok and not Kuta! Indeed, when we talk about Kuta without adding the reference to Lombok, we refer to the small and very festive town which is in the south of Bali.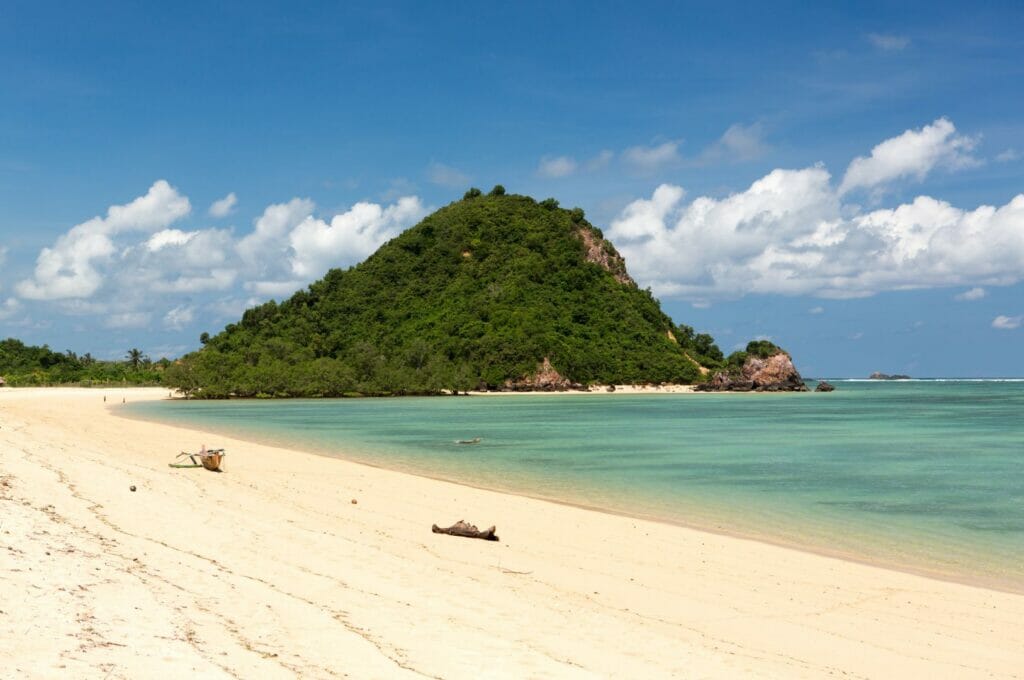 Kuta Bali
Kuta Bali is a bit of a meeting place for party people from all over the world (OK, mostly from Australia). We have absolutely nothing against parties, but for our little vacation as a couple, we were looking for something else than a place of debauchery where the beer flows freely and decibels sound until the end of the night …
Kuta Lombok
Kuta Lombok is a sweet alternative. Located in the very south of the island of Lombok, in the province of the Lesser Sunda Islands, Kuta is best known in the world for being one of the best surfing spots. As a result, Kuta Lombok is more of a small surfing town than a party town. There are certainly many guesthouses and restaurants, but outside the high season, the place remains really quiet. We've created a map that lists everything there is to do on the island. See you at the bottom of the page!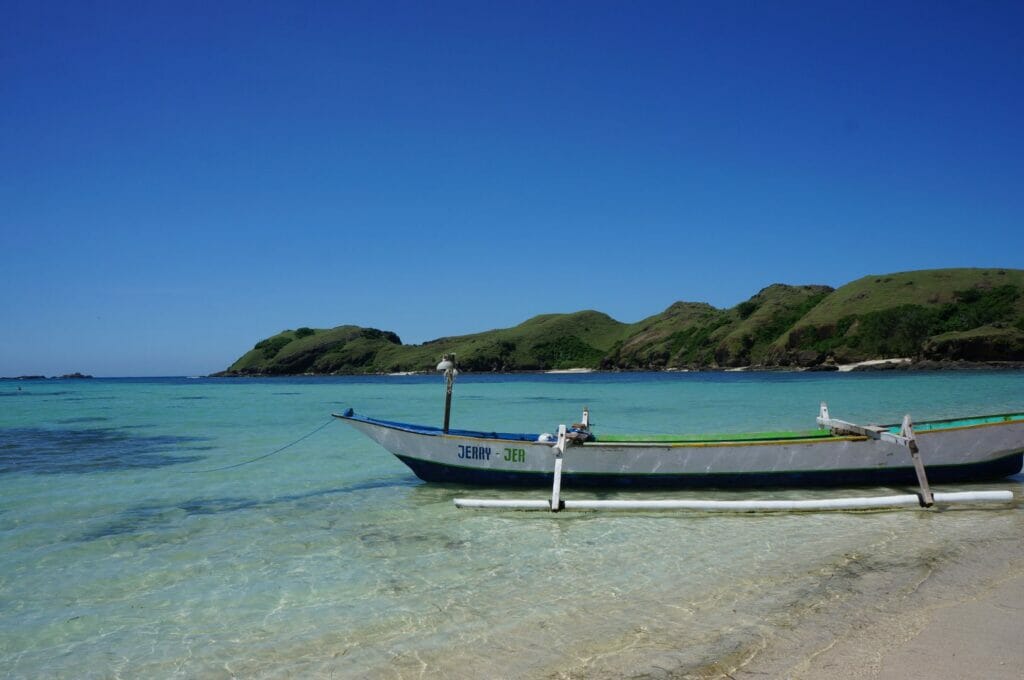 Getting to Kuta Lombok
If you are already in Lombok island
To get to Lombok from the airport or ports, there are not many options. The local buses are rare, 100% irregular, and the lines are not really fixed. For freshly arrived tourists, it is a bit of a jungle! The easiest and cheapest way to reach Kuta is still by cab. Take one of the Blue Bird company, otherwise, make sure that the meter starts!
Obviously, this company is not authorized to come to Lombok International Airport. However, if you book in advance, you can arrange to be picked up at the departure hall or 2-3 blocks from the terminal.
Otherwise, at the exit, you have to buy your cab coupon. Here, beware of scams! Our nice little man wanted to sell us a 150 000 rupiahs (about 10 euros) fare. Honestly, we had no idea about the price. But it has become a principle, we never take the first option when we arrive somewhere. In less than 5 minutes, sensing that we were about to try the local bus option, he came back to us with the official price list this time. The cost of 84 000 rupiahs already seemed much more reasonable for the 25 minutes trip. Let's go to Kuta!
Note: another good plan is to use Grab, the Uber of Southeast Asia. The big advantage, the price is fixed in advance which is not unpleasant in Asia!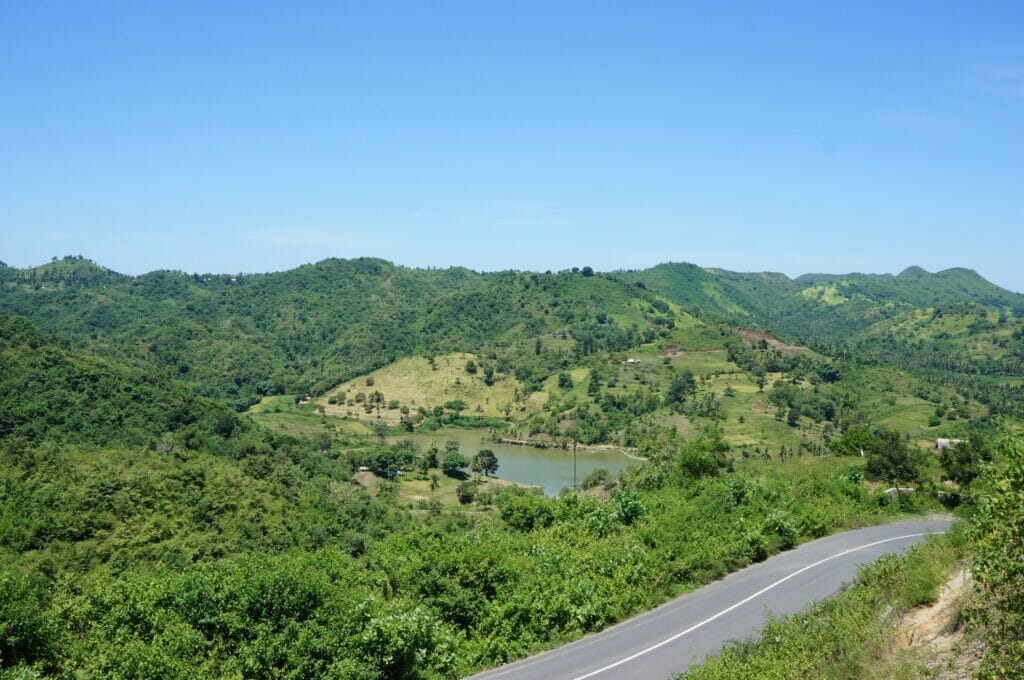 If you are in Indonesia
If you are already in Indonesia, there are two ways to get to Lombok: by plane and by boat.
By air, you are bound to find a domestic flight from Bali or Jakarta to Lombok (40 minutes and 2 hours respectively). The tickets cost 1 million rupiahs (about 60 euros).
Otherwise, you also have the option to take the boat, it's much cheaper 😉. 2 types of boats make the connection: speedboats and public boats. Taking a speedboat from Bali, the crossing takes about 2,5 hours and costs you 215 000 rupiahs. By public ferry, it is longer (around 6 hours for 70 km!) but it is the cheaper option (60 000 rupiahs). According to us, the public ferry is to be preferred only if you have a car or a motorbike! Otherwise, don't bother and take a speedboat, it's a good compromise between flying and slow travel 😉.
From Padang Bai in Bali, you will arrive at Lembar port, southwest of Lombok, or Bangsal, further north. Coming from Sumbawa, you will reach Lombok on its east coast at the port of Kayangan. Once in Lombok, all you have to do is take a Blue Bird or Grab to Kuta!
Beware, we warn you against fake boat tickets! Once at the different ports, you will be approached by salesmen asking you where you want to go, and what your name is… The only solution to get rid of them nicely and not get ripped off is not to answer and to go and buy your tickets at the ticket office.
Cruise to Lombok
If you are in Flores, another pretty cool option is to take a cruise! And yes, Wanua Adventure agency offers to cruise between Flores and Lombok in 4 days and 3 nights at a very reasonable rate. Besides, think to negotiate the price! On the program: Komodo dragons, the magnificent island of Rinca, gorgeous sunrises and sunsets, snorkeling, manta rays… To know more about it, Hannah tells you about her adventure in this article. She did it the other way around (Lombok to Flores) but the steps are the same.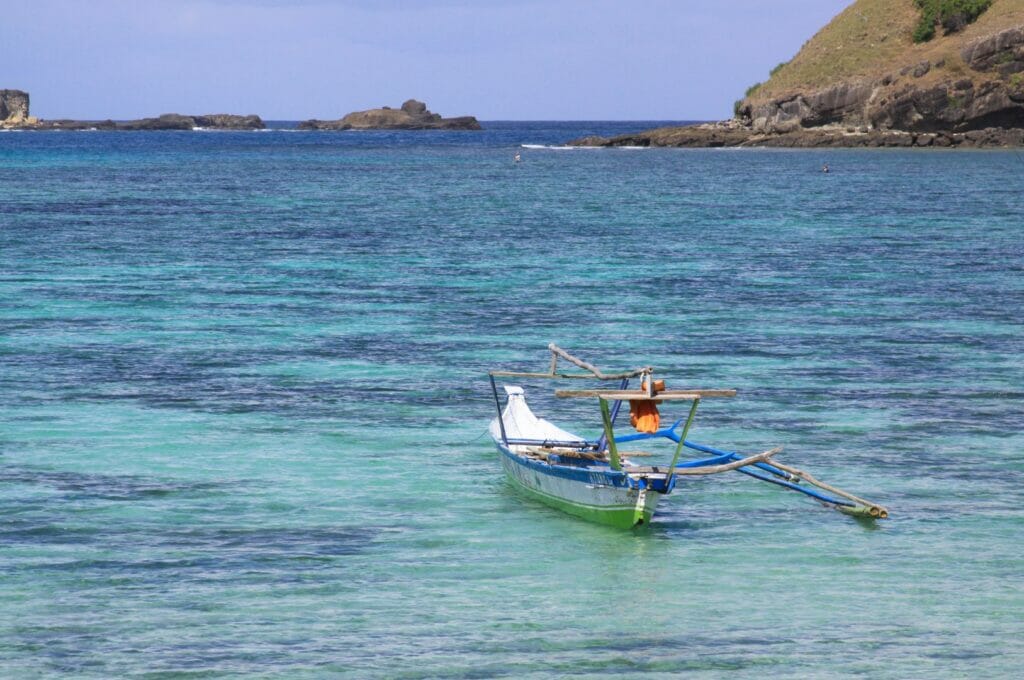 If you are in Southeast Asia
Whether you are coming from Bangkok, Siem Reap, Hanoi, or Vientiane, you will easily find a flight to Lombok. However, be aware that you will inevitably have a stopover in Jakarta, Kuala Lumpur, or Bali. Prices are quite variable depending on your point of departure but range from 120 to 200 euros roughly.
Things had started badly
For once, I was the one who was unlucky on this one. After a smooth flight, we were faced for the first time with the Indonesian administrative speed at the immigration. After 1 hour and a half of waiting, we were given 32 $ per person and confronted with a customs officer who was as efficient and motivated as I am when I start sewing, we got our precious little 30-day visa!
Then it was time to pick up our backpacks. At the Lombok International Airport, no conveyor belt for the luggage, no! Here, they are placed on the ground and patiently wait for their happy owners to come and get them. At the same time, considering the time it takes to pass the immigration, it saves them a lot of power!
We quickly spotted Benoit's backpack, but mine is missing. Well, well, that reminds us of the good experience of a night bus in Laos! Honestly, the kindness of the guy in charge of the lost luggage impressed me so much that I didn't even feel like getting angry.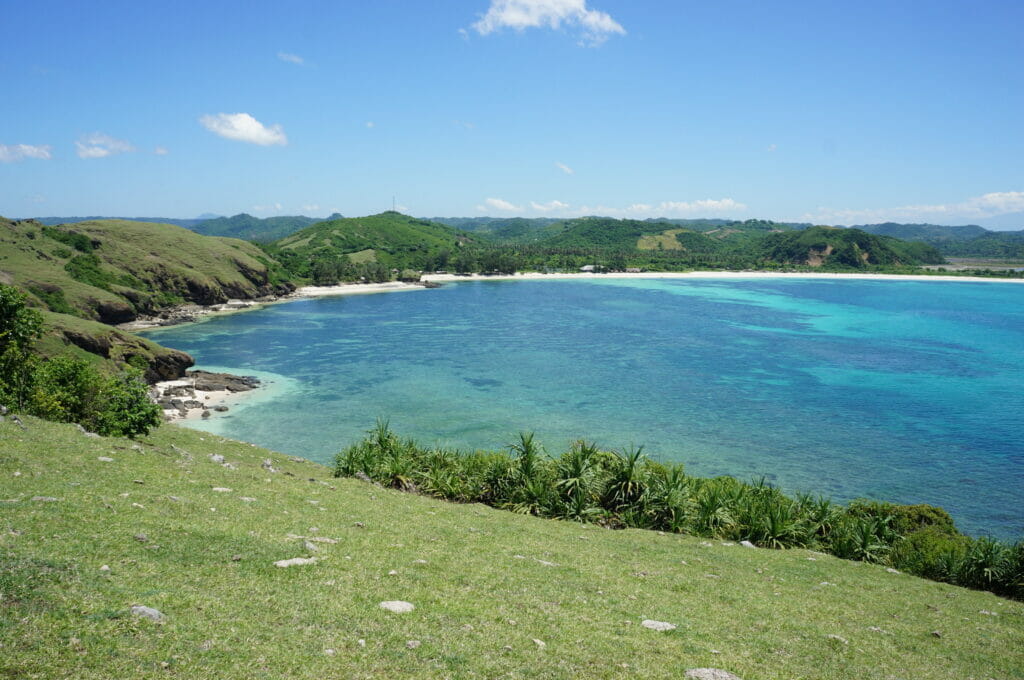 So what, the next plane is only coming in 4 days? You have no idea if my bag is in Bangkok, Singapore, or Timbuktu? Never mind. I simply filled in the form, gave my e-mail so they could contact me and we were on our way to Kuta!
But all's well that ends well! 4 days later, the company delivered my little travel companion to our guesthouse! In the end, this little mishap made me buy a new bathing suit, a little dress, flip-flops, and panties. Yes, at the beach you don't need much more!
However, you should know that finding panties in Indonesia is not easy. First, the local girls don't have quite the same size of hips as us, the Europeans, and Muslim fashion is not exactly at the forefront in terms of fine lingerie… In short, it is with 2 superb granny panties that I started our Indonesian stay 😎.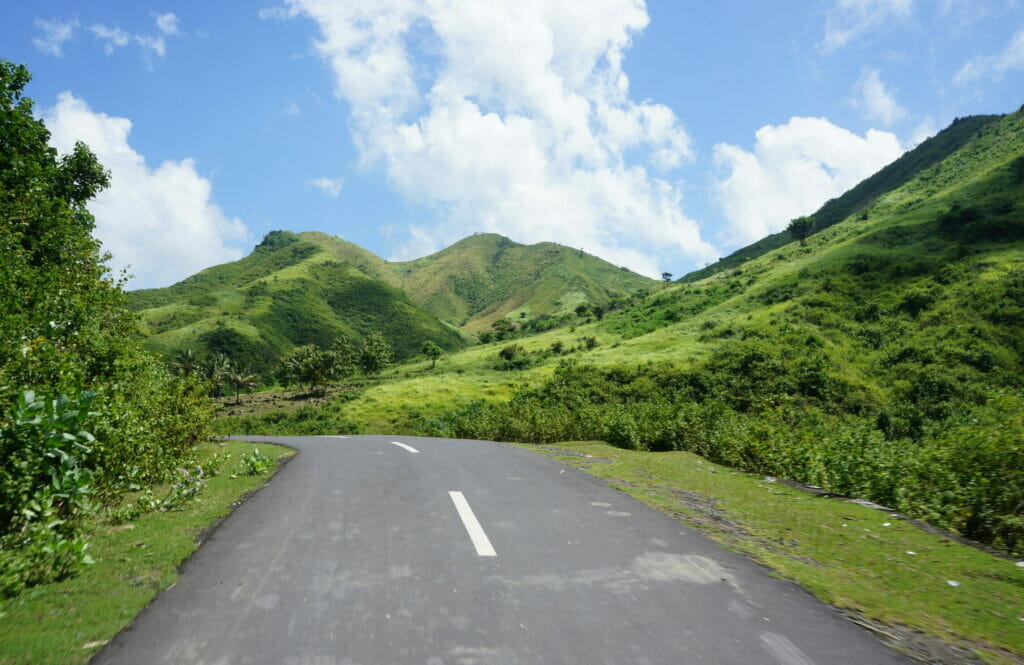 The most beautiful beaches of Kuta Lombok
Mamma mia… So, how can I describe it to you? Kuta is a small coastal town that has its own beach. So for us, just arrived, I do not hide from you that Kuta beach was already damn gorgeous. But that was without knowing what was around! The best way to discover the surroundings of Kuta is to rent a motorbike. Then? You just have to go and ride the roads. Just after the rainy season, the landscapes are just incredible, and the colors are completely supernatural!
All around Kuta are real gems in terms of beaches where blue waters and white sand are beautifully mixed! But enough of talking, we give you all the information on our favorite beaches and you will find all the spots on the map at the end of the article. If these pictures don't make you want to come to the area 😉 !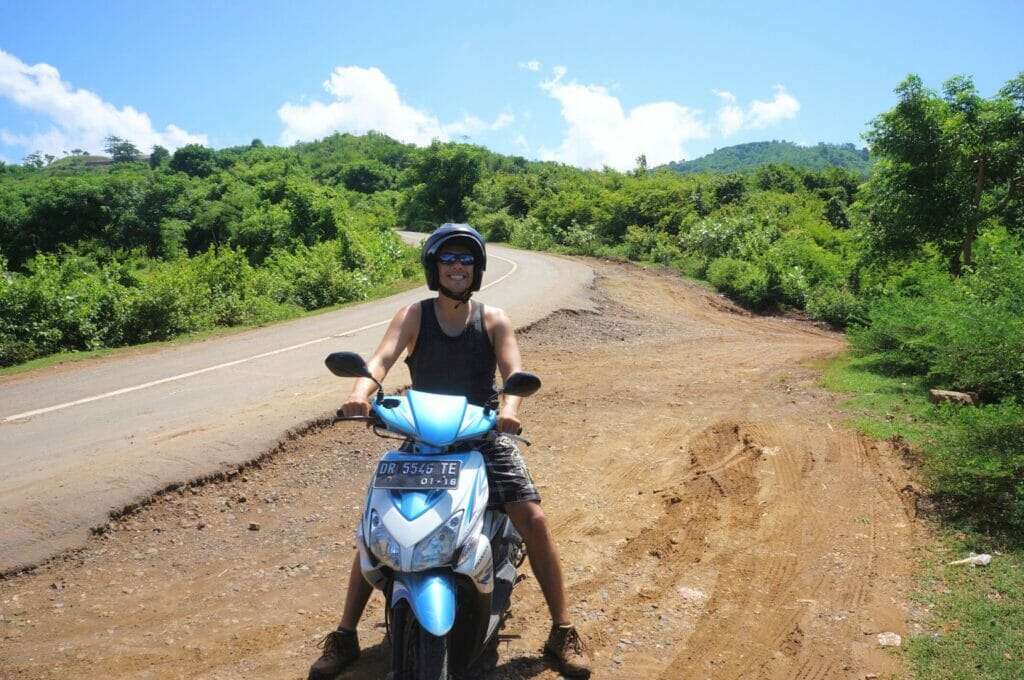 Selong Belanak beach
Heading west! Pantai Selong Belanak is the most remote but also the most famous beach in Kuta. By scooter, it takes about 40 minutes to reach it without hurrying. At the same time, it would be a shame to rush, because the scenery is just beautiful!
To find the beach, it's extremely easy: just follow the coast road. Impossible to be mistaken! Access to the beach is free, but you will have to pay 10 000 rupiahs to park your motorbike.
Once arrived at Selong Belanak, don't hesitate to continue a few more kilometers on the road toward the north. After a steep climb (I thought our poor scooter would never recover), you will be rewarded with a beautiful viewpoint (Selong viewpoint) overlooking the beach!
Mawi beach
About two-thirds of the way between Kuta and Selong Belanak, stop at Pantai Mawi. This beach is really sublime! However, swimming there may not be optimal because of the big waves.
Getting here is quite simple. On the road between Kuta and Selong Belanak, you will see a small path on the left, just after a café/surf store called Godspeed surf shop. Take it and continue for 3 km. You will have to pay 10 000 rupiahs as a "permit to entry" at the small toll booth (feel free to refuse…).
Be careful, from there to the beach, the road is really in a bad state! It is more like a motocross track than a road that can be used by scooters. If you drive slowly, there should be no problem!
Tanjung Aan beach
Located about 10 km east of Kuta, Pantai Tanjung Aan is probably one of the most beautiful beaches in Lombok! Just a large area of pristine sand, and nobody in sight!
When you will have finished sipping your little fruit shake on the deckchair, we strongly recommend you go for a walk on Bukit Merese, the hills which are on the right of Tanjung Aan beach! The view from up there is really spectacular. We can say that we crossed the cows with the best spot to graze in peace, the view is not bad! On the other side is a beautiful beach not very frequented, Pantai Tanjung Bongo. If you're around at dusk, don't miss a worthy sunset, again from Bukit Merese!
The other beaches of Lombok
In the east of Lombok, other beaches are just as beautiful as Kuta beach or Tanjung Aan beach, but unfortunately, we did not manage to get there. Our scooter decided that it was fed up with being taken for motocross and let the pressure out (of its rear tire). In short, not wanting to find ourselves completely flat, we preferred to turn back after Tanjung Aan. Here are some other beaches that were recommended to us:
Cemara beach: a little-known one with white sand and turquoise water, near the small fishing village Seriwe.
Batu Dagong (or Tabuan) beach: a nice beach with few visitors, ideal for swimming.
Kaliantan beach: next to Batu Dagong, this long beach is ideal for kitesurfing. If you are interested in a little initiation, the only school in this part of the island is Lombok Kitesurfing.
Pink beach?
You may have seen pictures on the spot or on the Internet of a pink beach in the southeast of Lombok… If you decide to brave more than 10 km of runway to put your feet on a pink flamingo beach, you may be disappointed! At the limit, you can hope to see pinkish shades, but still… In short, don't waste your time (and your money) on what can be qualified as a scam.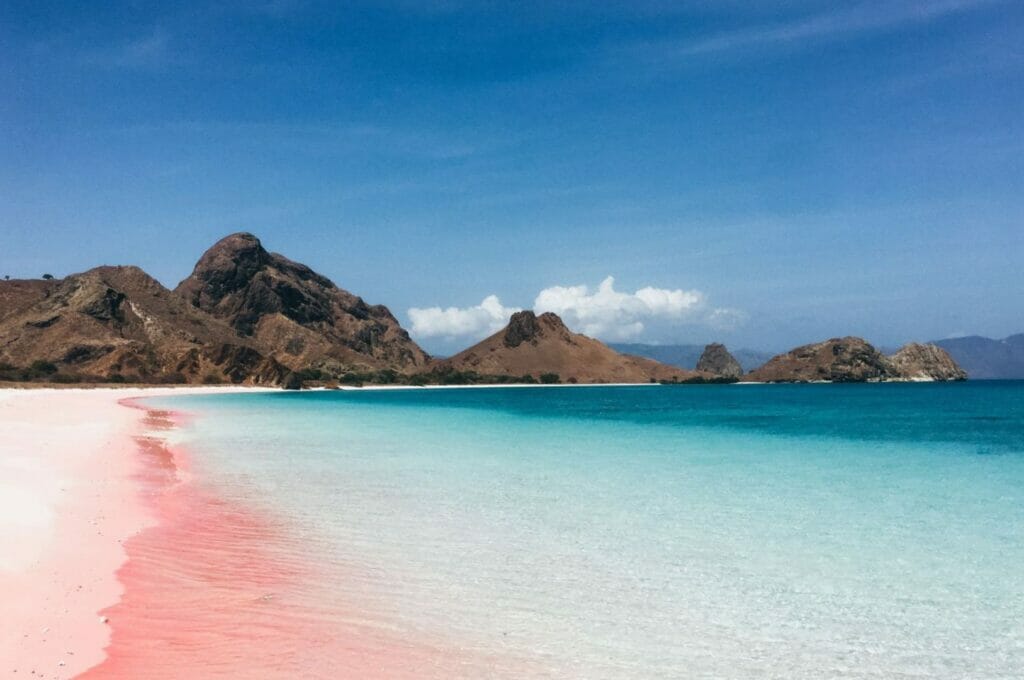 Kuta Lombok, the surfing paradise
This escapade in Kuta Lombok had the merit to make us budding surfers! Kuta is known to be one of the best surf spots in the world! So, for the first 4 days, we couldn't stop staring at all these beautiful surfers who were riding with their boards on their motorbikes. OK, it's mostly me who had the eyes riveted on these young men, but Benoit was not in rest with the women, I reassure you!
Because we wanted to look cool with our boards on the scooter, we decided to take an initiation day to the joys of surfing. The course took place on Selong Belanak beach and frankly, only for the environment, it is worth paying to take some falls!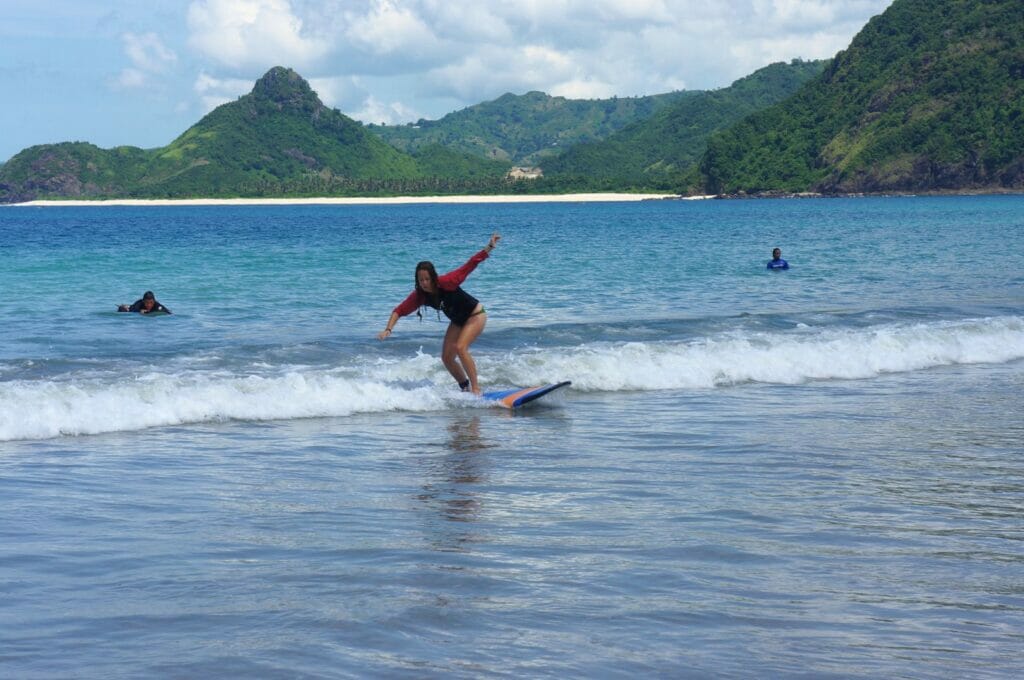 On top of that, this first experience of surfing on the water was an almost historical moment for our couple! Ladies and gentlemen, for the first (and probably last) time in my life, I was more skilled than Benoit in a sport 🎉. Champagne!
At the end of the day, we were exhausted and sunburned, but so happy! We're not a little proud to announce that we both managed to stand up and catch our first waves! Well, we are not yet Kelly Slater but it's a good start!
Anyway, Kuta is really a great place to practice this water sport! Between the different beaches, there is really for all the levels, even for perfect little beginners that we were are still.
Surfing in Kuta
There are about ten surf schools in Kuta, so you'll be spoilt for choice! For a 2.5-3 hours lesson, prices are around 500 000 rupiahs per person. This includes transfer from your accommodation, parking, board rental and sometimes a snack and photos. If you are already comfortable and just want to ride the waves, a surfboard rental costs around 50 000 rupiahs per day. You also have the option of surf camps, intensive 5-7 day stays to perfect your skills 😉.
Having a drink and eating in Kuta Lombok
There are a few bars in Kuta, but there isn't one we would recommend more than another… They all look pretty much the same and offer similar menus.
However, if you are in the mood for a bit of an uptown getaway, then Ashtari is probably the place for you! A 5 minutes scooter ride from Kuta, this restaurant/cafe/bar with a relaxed atmosphere and a large terrace offers a spectacular view of the bay! It's a bit more expensive than elsewhere, but frankly, for the view, it's worth going there for a drink.
Otherwise, to eat in the center of Kuta, Bush Radio and Oma's kitchen Mandalika Lombok have a very good reputation.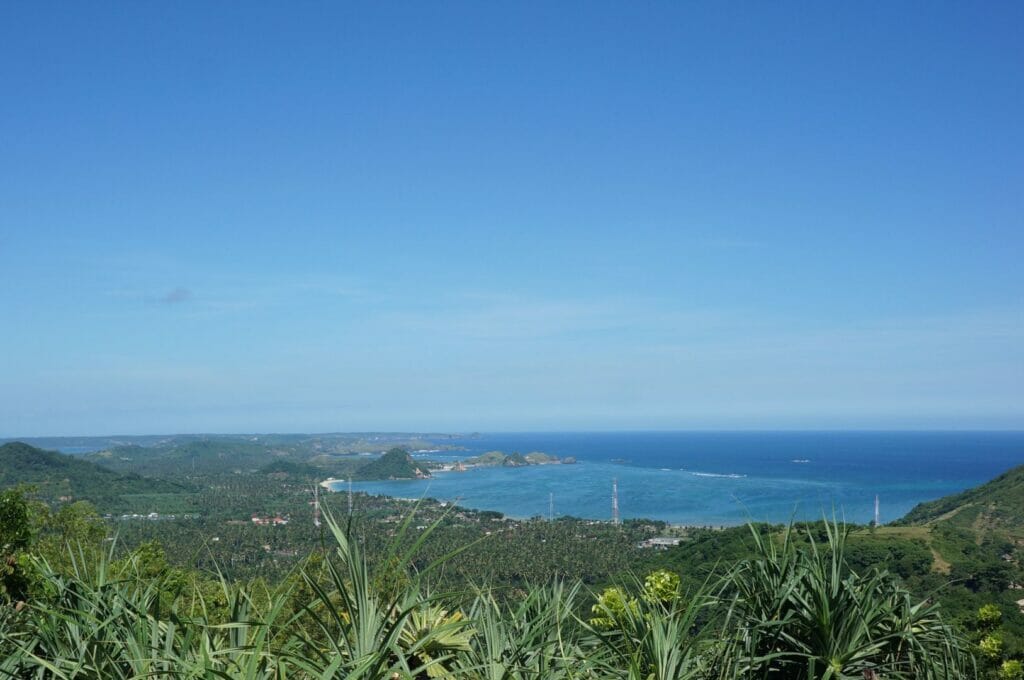 Hotels in Kuta Lombok
It's simple, in Kuta, you can find everything as accommodation: guesthouses, homestays, luxury hotels… For our part, it was under heavy rain that we arrived and paced the streets in search of a roof (but what an idea to come to Indonesia at the end of the rainy season too?!)
We stayed at the G'R House, on the road leading to the beach of Kuta, but as the quality has decreased, we strongly advise you not to stay there… This small guesthouse with its nice swimming pool used to be run by an absolutely adorable Balinese family. Now, the services are less and the staff is not very friendly… For less money, between 100 and 150 000 rupiahs per night, you will have a double room with breakfast included, in Nanda Homestay or Ebucu… In short, an excellent quality/price ratio!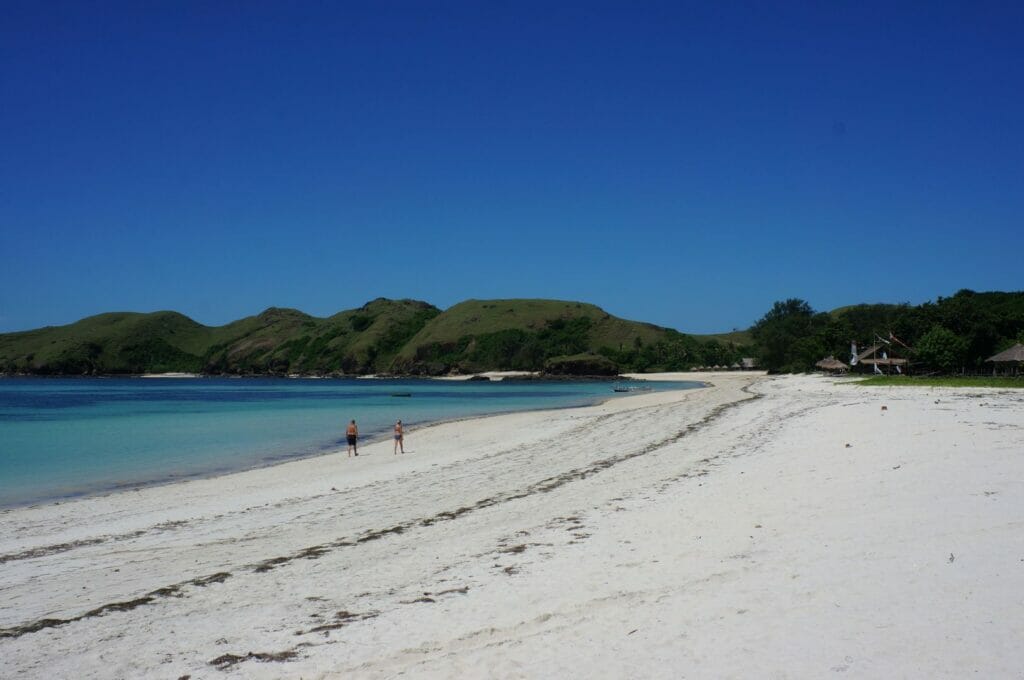 This article contains affiliate links to partner sites. When you use our links to book accommodation, a car, or an activity, you don't pay anything extra, but we get a small commission. This helps us to offer you free, independent, and ad-free content. Thank you for your support!
Other things to do in Lombok
Kuta is probably the most popular spot, but there are other activities to do on Lombok! The best way to explore it is always by a two-wheeler! Lombok is roughly 65 km by 75 km, so the tour is largely doable by motorbike.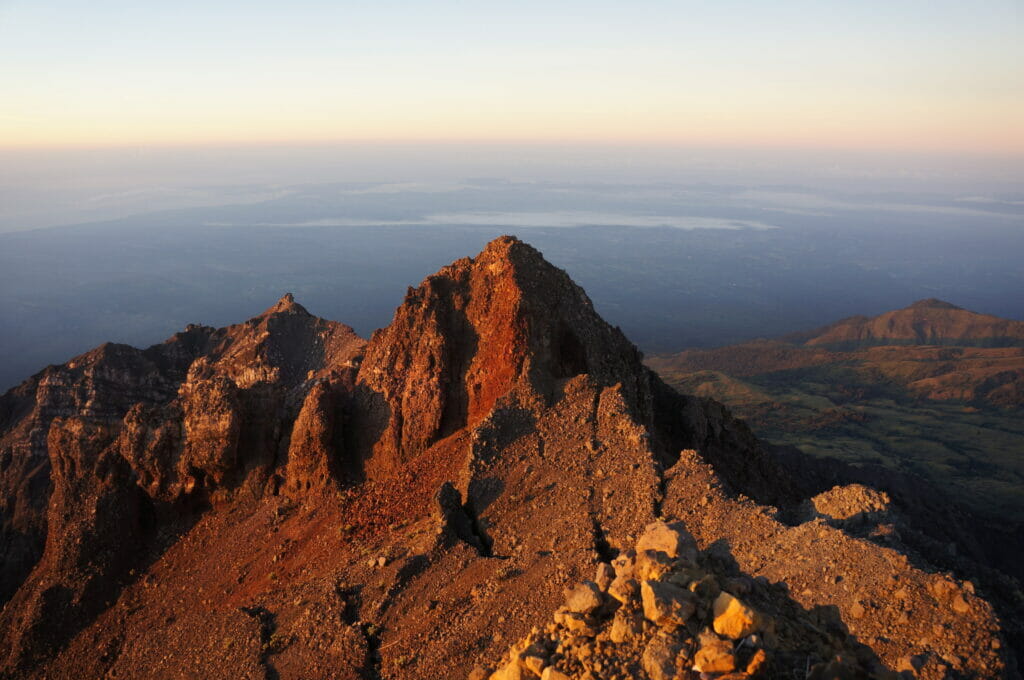 Climb on the volcano Rinjani
With 3726 meters of altitude, this volcano is the second highest in the country! To have all the practical information, we wrote a whole article on our trek on the volcano Rinjani. If you are in good physical condition, we can only recommend it!
Discover Senaru and Sembalun, in the northeast of Lombok
Often forgotten, this region of the island also has significant attractions. To the north and east of the Rinjani volcano are Senaru and Sembalun, two small villages typical of Lombok from which you can travel to:
go to Bukit Selong: this hill overlooks a plateau of rice fields stretching to the foot of the volcanic colossus.
admire Sendang Gile and Tiu Kelep: high and beautiful waterfalls that gush through lush vegetation. Beware of fake guides at Sendang Gile, the entrance fee per person is 10 000 rupiahs, no more! At Tiu Kelep, you have to pay 20 000 rupiahs each.
hike on one of the seven peaks (or bukit in Indonesian) of Sembalun, to admire the panorama and/or enjoy a beautiful sunrise. Less difficult and shorter than the ascent of the volcano Rinjani (which is part of the seven), these trails can be a nice alternative depending on your physical form! You have, at your choice: Pergasingan Hill, Kondo Hill (also written Bukit Kondok), Bukit Anak Dara, Mount Sempana, Puncak Bao ritip and Gunung Lembah. To give you an idea of the difficulty, here is the route and the altitude difference of Bukit Kondok (download the map).
Visit the small village of Tetebatu
When you think of Lombok, you immediately think of Kuta and its beaches and the Rinjani volcano. However, the small village of Tetebatu is just as much an essential and less touristy stop in the heart of the island! Imagine hiking in a lush setting among rice terraces, tobacco fields and beautiful waterfalls (Timponan, Semporonan, Benang Kelambu, and Benang Stokel to name a few)!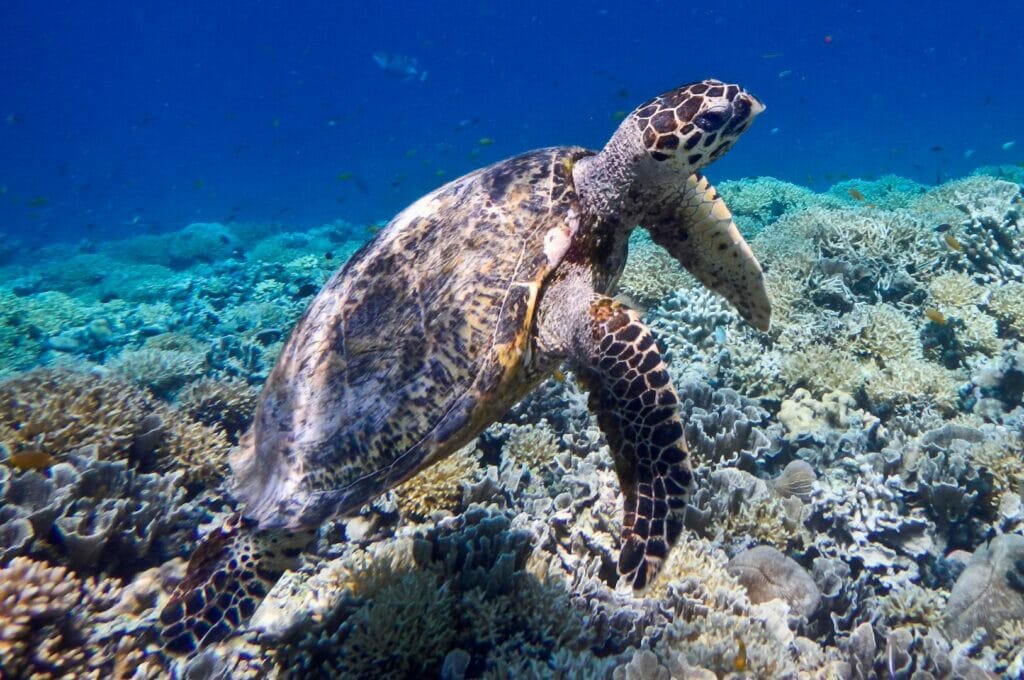 Enjoy the Gili Islands
From Lombok, don't miss a trip to the Gili Islands! It is the occasion to make a baptism of diving in an idyllic environment or to go snorkeling. Find all our information in the article dedicated to the Gili Islands!
When is the best time to go to Lombok?
The high tourist season is from July to August because it is the dry season where the weather is usually always nice and dry. Honestly, we recommend that you avoid these months when traveling to Lombok… The owner of our guesthouse explained to us that during this time of year, the hotels are often full and the beaches fill up quickly. Also, the landscapes tend to suffer from the lack of water! As a result, the beautiful green plains can quickly turn yellow-brown and give an impression of drought!
In fact, coming to Lombok in early April is an excellent compromise. The rainy season is over, it is still the low tourist season and the weather is usually fine until 3 or 4 p.m. There, a thunderstorm (short but violent) often comes to refresh the atmosphere a little before the sky clears again during the evening.
Map of Lombok
As promised, here is a map of Lombok with all the points of interest. You will find the beaches, the hikes, the hotels, and the restaurants!
Here you know everything about this small paradise where we made our first steps on Indonesian land… But don't worry, it's not over at all! We are crazy about Indonesia, whether it is the landscapes, the people, the beaches, or the volcanoes. By the way, we take you to see the sunrise on Rinjani, one of the highest volcanoes in the country! Are you coming 😉?
Pin it