After our 3-day kayak trip we were exhausted, totally burned by the sun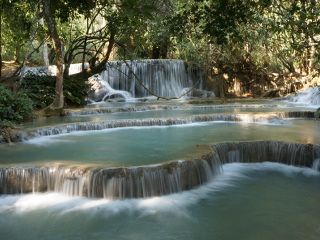 (and no, sunscreen is not enough when you spend 3 days grilling like steaks on the surface of the water). We arrived in Luang Prabang only wanting 4 things: a good shower, a cosy bed, a cold beer and a meal that is not made up of sticky rice or noodles…
Luang Prabang, a little European atmosphere in Laos
The list of our wishes doesn't seem incredible, but in Laos these 4 things are not always easy to find, or at least not in a "all at once".
But for the time being, we had planned our itinerary well! Luang Pragang is exactly what we needed!
Things to do in?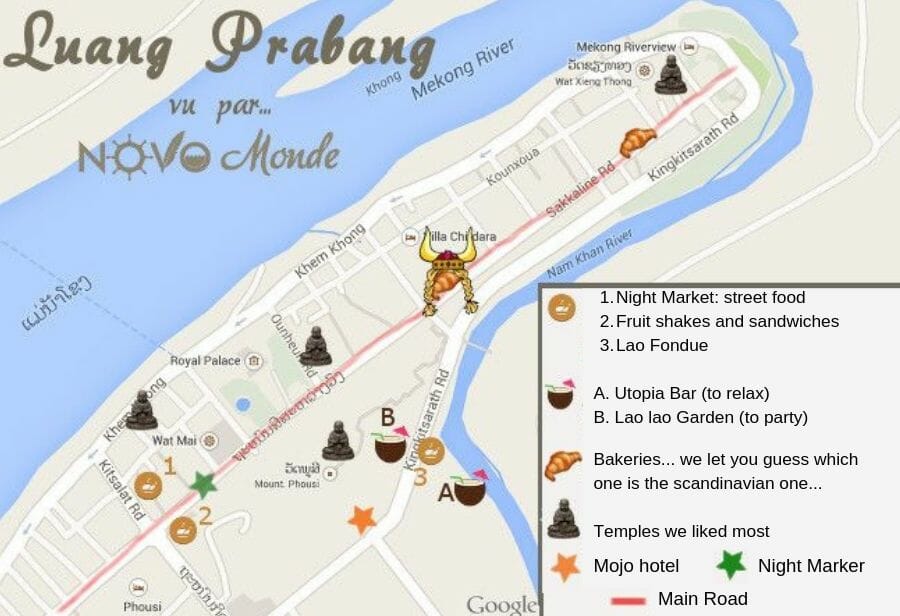 Things to see in Lunang Prabang?
In addition to the waterfalls that we will talk about below, Luang Prabang is a pretty little town where it is nice to stroll around!
Do you like temples? There are several to discover in Luang Prabang! We have put on the map those we liked (but there are dozens more all over the city!). You will see for yourself, they are all beautiful!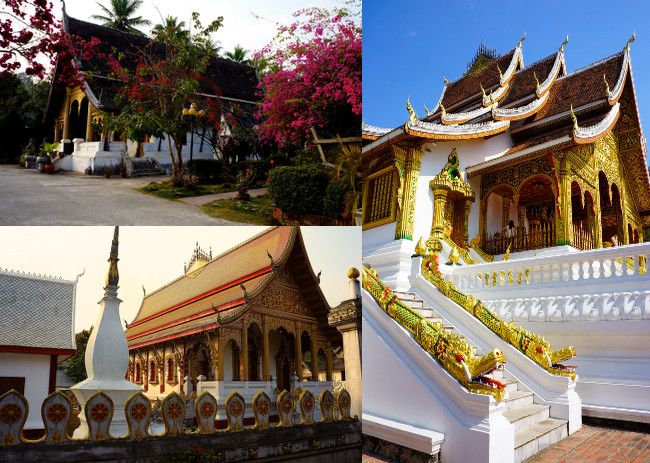 Our little preference still goes to Mount Phousi. The 360-degree view from the summit is breathtaking!
But be aware, at sunset time it gets really crowded up there, while the rest of the day there is almost no one…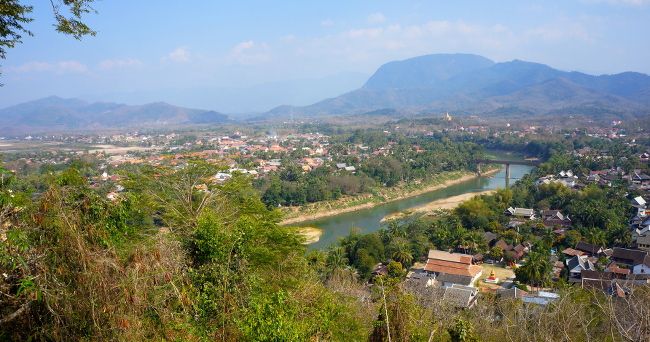 Tip for the lazy ones : Climb the stairs from the main street, and go down the other side, it will save you about a hundred stairs on the way up… 😉
Admission fee: 20'000 kips
Visits are all very nice, but they make tired and above all they whet the appetite!
Where to eat in Luang Prabang?
If you've been on the road for a while and you miss Western dishes like pizza, pasta, and the thought of parmesan cheese almost makes you cry, then I'm pretty sure you'll love Luang Prabang!
It's not cheap, but in general the quality is at the top!
For the little snacks there is also the square with sandwiches and fruit shake. Again nothing really laotion in there, but after 5 months of rice and noodle I probably wasn't going to spit on a good crispy baguette with ham and cheese. (Okay, Laughing Cow cheese (La Vache qui rit in french), but it counts as cheese when you're travelling in Asia!)
But filling up again with pizzas and pastas is all very nice, but it costs a lot of money! So if you want to eat Laotian food and in addition for cheap then we recommend you to go for a walk to the night market! In a small alleyway perpendicular to the market you will find many stands that offer buffets.
The concept? 10'000 kip per plate (1€) (Update 2019: we received message that these plates now cost 15'000 kips), and you fill it as much as you want or can, with what you want!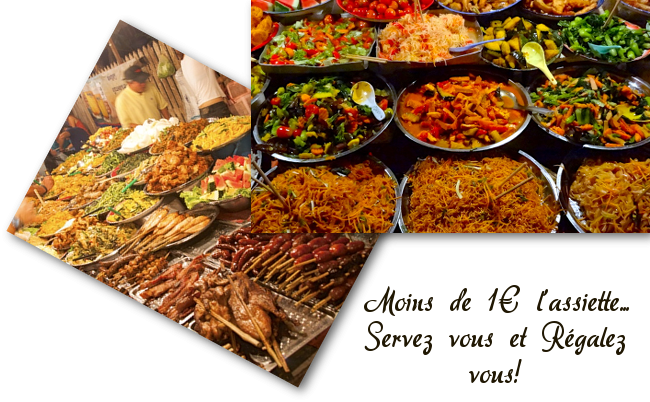 Bakeries in Luang Prabang!
For breakfast Luang Prabang is the opportunity to change a little from the noodle soups or other dubious pancake that can be found elsewhere in Asia! In Luang Prabang there are several bakeries, but in reality there is only one that you have to remember! But don't do the same mistake we did! 🙂 Let me explain…
We were told: go to the main street and it's on the right!
The next morning we left our guesthoust and got to the main road. The First bakery we saw was called something like Scandinavian bakery….
We should have been suspicious just by looking at the name, but when we saw a butter croissant through the window we immediately got weak and entered without giving it a second thought! It was good, but nothing more…
Once out of the bakery we meet a French couple who approach us:
What???? Have you been in here? Nooooooooooooooo!!!!!! You only had to walk 100m more and you could have tasted the best croissants in the world!!!!!!
Thus, The next day, we tried to do 100m more… and there!!!! How can I explain???? A pure joy!!!!! Pastries and croissants even better than in many French bakeries! I swear to you, just thinking about it, I'll almost shed a tear! If you are in Luang Prabang you know where to go now, it's the Banneton! (cf. The map above)
Going out for a drink in Luang Prabang
Luang Prabang also has great little bars everywhere!
But if there were only one, then it would probably be the Utopia Bar!
A small oasis by the water, where you can easily enjoy a good Beerlao or a small cocktail made from Lao-Lao (the local rice alcohol) at sunset!
Ok… we'll admit it's a little overpriced compared to other bars, especially for meals. But sometimes it just feels good to go someplace and just relay. And if you like, the utopia also offers yoga classes with a view of the river in the early morning or at sunset. But no worries, even If the downward-facing dog position doesn't speak to you, it will always be an opportunity to go for a beer and enjoy the atmosphere.. 😉
Where to stay in Luang Prabang?
Same as for bars, there are many options! However, it should be noted that Luang Prabang may not be the capital, but it is probably the city where housing is most expensive in Laos. From what we have heard from other backpackers, finding a room at less than 80,000 kips = mission impossible! And for 80,000 kips it's already with a shared bathroom and outside the centre.
For your information: we stayed at the Mojo Guesthouse which offers some simple but clean rooms with air conditioning and a good wifi. (Which is by far not the case everywhere in Laos, believe us!). Price of the double room with private bathroom: 100'000 kip (about 9€) back in 2014.
Kuang Si waterfalls
If I had to describe the most paradisiacal places I have seen then I think the Kuang Si waterfalls would be in my top 3!
Enough talk, I'll let you judge for yourself!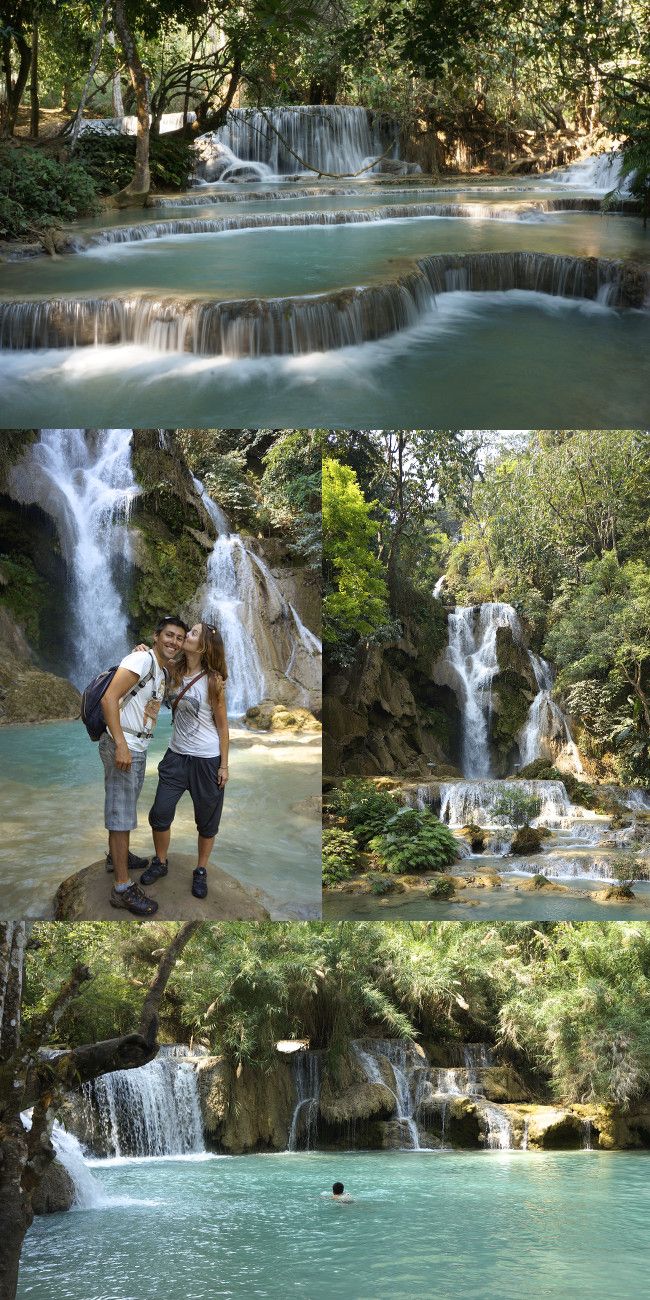 Infos

To go to the waterfalls without an organized tour you will either have to rent a motorbike or take a tuk-tuk.
The most economical is the tuk-tuk, especially if you share the costs with other travellers and master the art of negotiation!
Roughly speaking, expect that a driver will agree to take you to the waterfalls for 150,000 kip by negotiating well. A tuk-tuk that can accommodate up to 6 people, it's up to you to make friends!
Admission fee: 20'000 kips
Avoid taking one of the many tours that all leave at 1pm from Luang Prabang, as you will be there with the crowds!
Our advice: get up early, and enjoy being alone at 8am at the waterfalls!
Reach Vang Vieng from Luang Prabang
For 125'000 kips per person we booked our spot in a minibus in the direction of Vang Vieng.
The mini bus is the cheapest option compared to large air-conditioned buses or VIP buses. But it is also the one that will guarantee you a journey rich in emotions….
The road between Luang Prabang and Vang Vieng is beautiful in itself! 185Km of mountain road where magnificent views and small villages follow one another. But when you talk about mountain roads, you also talk about bends, lots of bends!
Add to that a road that is not always very "smooth" and a driver who seems to have missed his vocation in Formula 1. As a bonus there are also some Laotians who "do not handle" the road very well and who spend the journey vomiting. Mix all this together and you get all the ingredients to have an unforgettable time that lasts at least…. 6h!!! Yiiipaaaaaa!

Vang Vieng, when the party is over…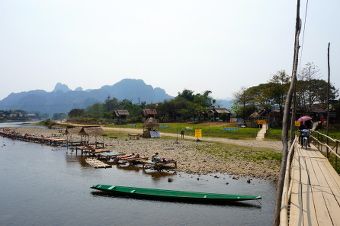 Vang Vieng is a small town whose reputation precedes it. Tubing, booze, wild nights and great sandwiches. (We met many backpackers who swore only by Vang Vieng's sandwiches!) here are the ingredients that made Vang Vieng the eldorado of young people a few years ago.
But here we are, following a growing number of deaths of young holidaymakers who had the tendency to forget their survival instincts after swallowing a few "buckets", the police decided to put some "order" in this mess.
Today, most of the bars along the river are closed, or no longer serve alcohol. Drugs are strictly prohibited (ok that's in theory), and all bars now have a curfew at 11:30 pm!
Yes, dear partygoers, at 11:29 pm the Fat Monkey bar is in full swing, and at 11:31 pm all lights are out!

Vang Vieng, what does it look like today?
We had a strange impression of being in a ghost town which was in transition from a debauchery destination to a small holiday resort for retirees… Hummm?????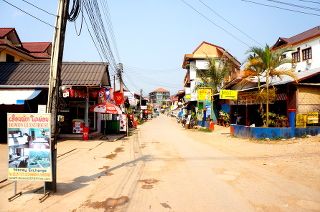 Well yes, in the streets of Vang Vieng you will always see a few young people walking around bare-chested with numbers written in felt on their bodies, but also a whole bunch of older customers sipping peacefully on their "fruit shake" next to the young people and their buckets. But most of the time, let's be honest, the streets are deserted!
It seems that Vang Vieng is looking to retrain and has entered the destination catalogues for seniors, but still persists in the dreams and memories of the youngest.
During the day it gives rise to a rather gloomy atmosphere where 80% of the bars are empty, a few people are lying on the couches watching for the 46th time the same episode of "Friends" which runs in a loop in all the bars.
The sandwichs in Vang Vieng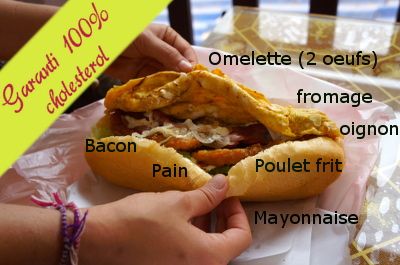 In the evening, all you have to do is choose from the many restaurants! Well after the choice is quite subjective since 80% of the restaurants have EXACTLY the same menu… Anyway…
Otherwise you also have the choice to opt for a sandwich…. There again about ten stands, all with the same menu and the same price (between 15'000 and 20'000 kips).
But let's not be mean, sandwiches are indeed really good!
You just have to ignore the fact that combining ham, bacon, omelette and cheese in a half-white bread, all drizzled with mayonnaise is a bit like a cholesterol challenge for the body..
You will have understood, Vang Vieng we were not particularly a fan… But nevertheless, even if the city clearly lacks charm in our opinion, the surroundings are worth a visit! Renting a motorbike to go for a ride in the countryside or visit one of the numerous cave are great ideas to escape this weird city…
Visiting Caves in Vang Vieng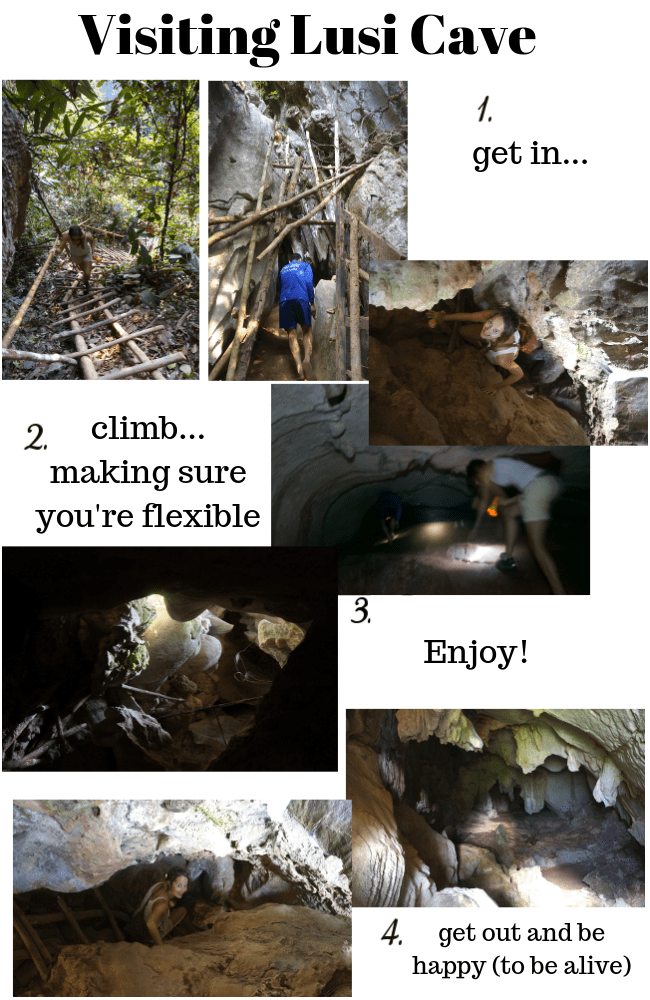 As you can see I was feeling "suuuuper confident" in that cave….
more seriously it's really an experience to do! You go for 1 hour in a cave without any lighting with only one guy wearing flip flops who opens the way with his Fisher Price flashlight. This experience is pretty priceless.
I mean… Obviously it costs something, but let's face it, it's not much!
For a "private" tour, it will cost you 40'000 kip for 2 people (3,6€).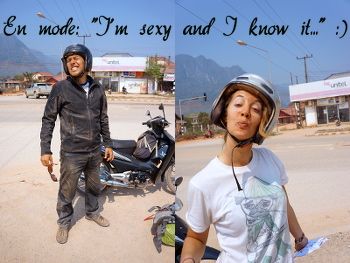 But I reassure you that our adventures in Laos did not stop there….. Want to know how our first 4-day motorcycle tour in the Thakheak area went?
You want to know how we ended up like this?
So we look forward to seeing you soon for the continuation of our adventures in Laos!