After our descent by kayak, we don't hide it from you, we arrived exhausted in Luang Prabang and totally burned by the sun. No, the sunscreen is not enough when you spend 3 days grilling like steaks on the surface of the water! In short, we only wanted 4 things when we arrived: a good shower, a cozy bed, a cold beer, and a meal that doesn't consist of sticky rice or noodles…
Our wish list didn't seem incredible, but in Laos, these 4 things are not always easy to find, or at least not in a complete package. But for the time being, we had planned our itinerary well: Luang Prabang was the perfect destination! Ready to discover this city with a European touch?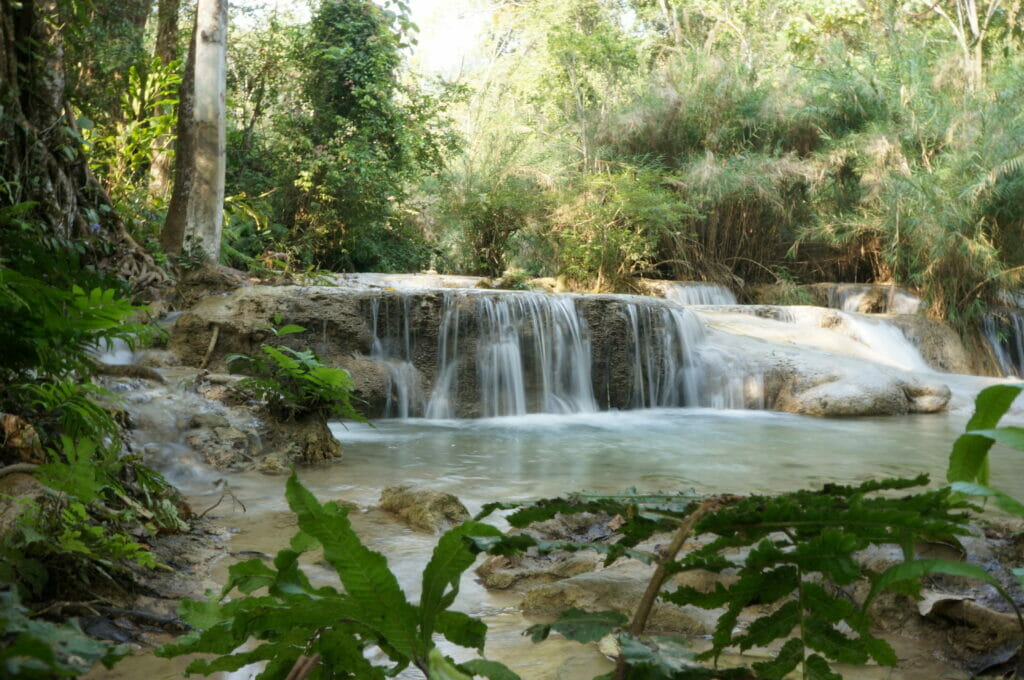 Update 2022
We took this trip in 2014, but the article was completely revised and updated in December 2022. If you see any price changes or have additional information that might be relevant, please feel free to leave us a comment!
Getting to Luang Prabang
From now on, it is not possible to reach Luang Prabang by kayak from Nong Khiaw. The only solution is to take the bus! Go to the bus station in Nong Khiaw and take one of the buses that go to Luang Prabang. The first one leaves between 8 and 9 a.m. (when it is full) and the second one around 11 a.m. The bus ticket is 40 000 kips per person for about 4 hours of travel. Once at the bus station, take a tuk-tuk or walk for an hour to the historical center (downtown) if you want to stretch your legs.
If you arrive at Luang Prabang International Airport, it will take you 15 minutes to reach the city center by transport. If you have booked your hotel in advance, it will probably offer you free transportation. Otherwise, a shuttle bus at a fixed price of 50 000 kips per person can take you to the center. You can also take a tuk-tuk for 25 000 kips per person.
Hotels in Luang Prabang
Although Luang Prabang is no longer the capital, it is probably the most expensive city for accommodation in Laos. From what we heard from other backpackers, finding a room for less than 80 000 kips is kind of impossible! To give you an idea, for 10-15 euros (180 000-270 000 kips) a night, you will be in the center of Luang Prabang but in a dormitory in a youth hostel. To find the hotel room at the best price, go to Booking.
This article contains affiliate links to partner sites. When you use our links to book accommodation, a car, or an activity, you don't pay anything extra, but we get a small commission. This helps us to offer you free, independent, and ad-free content. Thank you for your support!
What to do in Luang Prabang?
Besides the Kuang Si waterfalls, the former royal capital Luang Prabang is a nice little town where it's nice to walk around. Moreover, it is listed as a UNESCO World Heritage Site! Whether it is along the Mekong river or among the colonial buildings, it is the opportunity to enjoy a little respite!
To help you find your way around, we have listed all the must-sees on a map at the end of the article!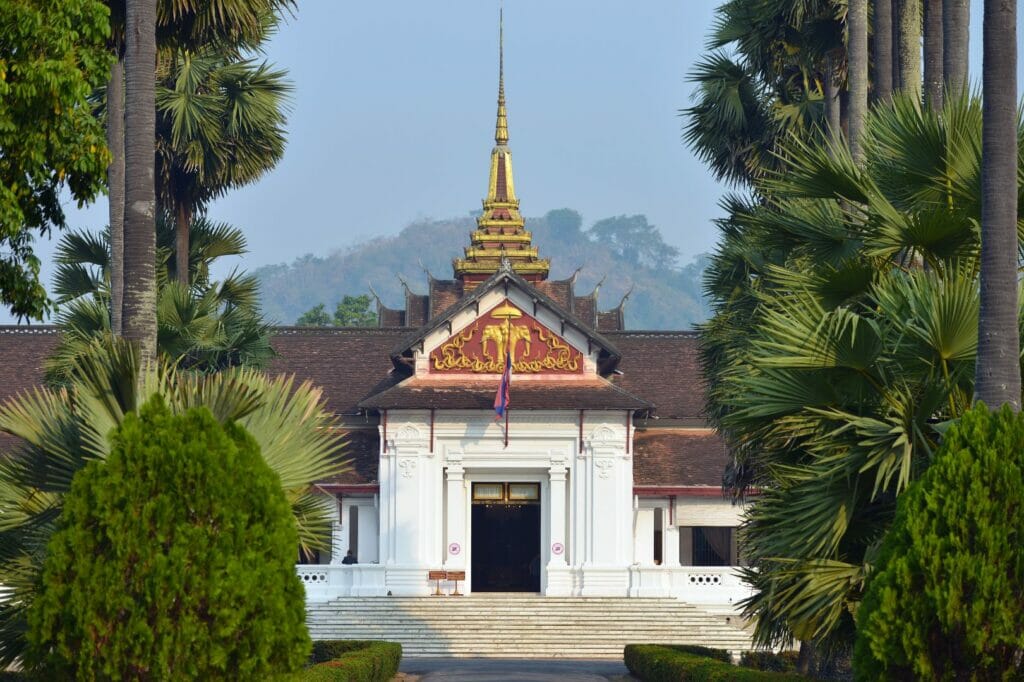 Visit the temples of Luang Prabang
Do you like temples? Good thing, there are many to discover in Luang Prabang! You'll see for yourself, they are all beautiful. Here are our favorites:
Wat Xieng Thong: one of the most famous and beautiful temples in Luang Prabang (and even in Laos). Do not miss this magnificent temple dating from 1560, covered with mosaics! The entrance to Wat Xieng Thong is 20 000 kips and it is open from 8 a.m. to 6 p.m.
Wat Phonxay Xayxana SongKham: a little-known and free temple with nice murals, near the morning market.
Wat Choum Khong Sourin Tharame: another temple a little hidden and free, near the royal palace.
Admire the sunset from Mount Phousi
The 360° view from the top of Mount Phousi is breathtaking! Be careful to see the sunset: the crowds are there! Make sure you arrive at 4.30 p.m. to have a place. The rest of the day, there is almost nobody… Tip for lazy people: go up the stairs from the main street, in front of the old royal palace (take the opportunity to visit the splendid Haw Pha Bang) and go down on the other side, towards the river. This will save you about 100 stairs on the way up 😉. The entrance ticket is 20 000 kips.
Bathing in the Kuang Si Falls
If I had to describe the most heavenly places I have seen, then Kuang Si Falls would be in my top 3! No need for a description, the pictures below speak for themselves…
To go to the waterfalls without an organized tour, you will have to rent a scooter or take a famous tuk-tuk. The latter is the most economical, especially if you share the costs with other travelers and if you master the art of negotiation! Roughly speaking, a driver will accept to take you to Kuang Si Falls in 50 minutes for 150 000 kips for 2 if you negotiate well. As a tuk-tuk can accommodate up to 6 people, it's up to you to make friends!
The entrance fee to Kuang Si Falls is 20 000 kips (+ 2000 kips to park your scooter if you come by a two-wheeler).
Little advice: don't forget your bathing suit 😉. Avoid taking one of the many tours that all leave at 1 p.m. from Luang Prabang, at the risk of being in the crowd. Get up early and enjoy being alone in the world at 8 a.m. at Kuang Si Falls!
Eating in Kuang Si
Don't know where to eat after enjoying Kuang Si Falls? Go to the Fasay Garden, just before the entrance to the site. Say will prepare a delicious Laotian meal for you to enjoy at home! In the afternoon, you will have the possibility to attend the English course he gives to the children of the village. In short, this is the kind of authentic experience that marks a trip. Too bad for us, it was not yet open at the time of our trip!
Other activities in Luang Prabang
You can easily spend several days in Luang Prabang. On our side, we stayed for 4 days wandering in the city. To give you more ideas about activities in the area, here are some suggestions:
visit the museums of Luang Prabang: to immerse yourself in the Lao culture and history of the city, we recommend the Traditional Arts and Ethnology Center (25 000 kips entrance fee and free guided tour at 3 p.m. on Tuesdays and Thursdays) and the UXO Center on unexploded bombs, deadly remnants of the Vietnam war (entrance is free).
attend the monks' alms ceremony or Tak Bat: this is not an activity in itself as it is the monks' daily routine, but it is a must-see at least once. Get up early and walk the streets at 5.30 a.m. around the temples of Luang Prabang. However, there are a few rules to follow: stay quiet, be properly dressed (shoulders and legs covered), no untimely photos, and keep a respectable distance. If you want to make an offering to the monks in a religious way, buy rice from the street vendors and wait your turn on the small plastic chairs. The almsgiving ceremony lasts about 30 minutes.
discover the Pak Ou caves: we visited them when we arrived by kayak from Nong Khiaw. You can get there by boat or by road, but we recommend you take the sea route just to have a little trip on the Mekong river. The two caves, Tham Ting at the bottom and Tham Theung at the top, contain several thousands of Buddha statues and the view of the surrounding landscape is beautiful. Otherwise, it is not worth the trip by bike or tuk-tuk… Allow 3 hours round trip. Tip: don't go through an agency, go directly to the pier next to Saffron Coffee at 8 a.m. and take the public boat for 65 000 kips per person. The entrance to the Pak Ou caves is 20 000 kips per person.
explore the area on foot or by bike: the area around Luang Prabang is just waiting to be discovered in a day or more. You can rent a bike and go on the roads around. Otherwise, Getyourguide has several nice treks and bike tours to get off the beaten track.
swim in Tat Sae falls: less popular than Kuang Si Falls, Tat Sae Waterfalls are just as beautiful. Located less than 20 km from the center of Luang Prabang, you can get there by tuk-tuk or scooter. Once there, a pirogue will take you there for 15 000 kips. From there, take the path that goes around. We did not go there, but some people still prefer Tat Sae to Kuang Si… The access is 20 000 kips.
Elephant sanctuaries around Luang Prabang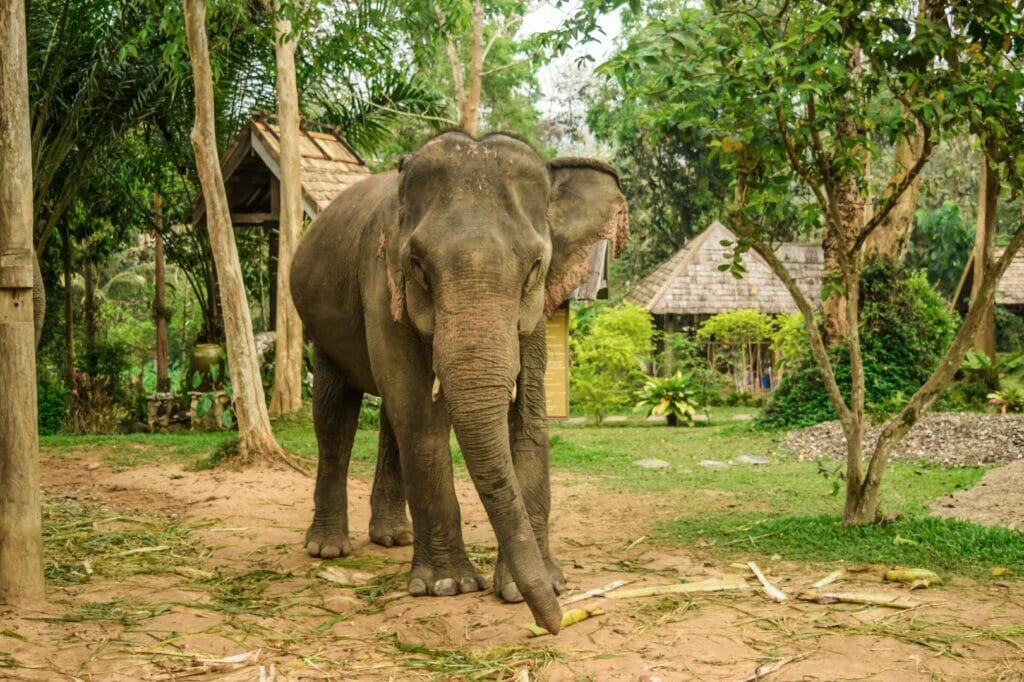 Just a word of warning: there is an elephant sanctuary right next to the Tat Sae waterfalls, we strongly advise you not to go there. We had mentioned the acts of mistreatment of Asian elephants in this article.
If you want to visit a sanctuary, choose one that treats the animals well and does not propose riding on them. One example is MandaLao Elephant Conservation, which offers treks into the heart of a reserve with free-roaming pachyderms.
Where to eat in Luang Prabang?
Visits are nice, but it's hard to resist and it gives you an appetite! You have been on the road for a while? Do you miss western dishes such as pizzas, pasta, and just the word parmesan would make you shed a tear? Then you will enjoy Luang Prabang! Of course, it's not cheap, but the quality is generally top-notch! Otherwise, you will be able to try good Laotian dishes.
To see all our addresses on a map, go to the bottom of the article 😉.
The breakfast
The morning market of Luang Prabang
To enter a little more into the daily life of the Laotians, there is nothing like a little visit to the morning market of Luang Prabang. It is located near the Mekong river, next to the old royal palace. From 5 am, the stalls are filled with freshly caught fish, fruits, and vegetables for a nice mix of colors (and smells) until 10 a.m. You'll find something to snack on or breakfast the Laotian way!
The best bakery
If you are in Luang Prabang, this is now or never the opportunity to change a bit from the noodle soups or other dubious pancakes that you can find elsewhere in Asia for breakfast. Here, there are several bakeries, but you have to remember one!
We were told: "Go to the main street and it's on the right!". So be it. We entered the first bakery, Scandinavian Bakery. We should have been suspicious just by the name, but we had a terrible meltdown when we saw a butter croissant in the window! Conclusion: it was good but that's all… Once out of the bakery, we meet a French couple who approaches us: "What? Have you been there? Noooooooo!!!! You had to walk 100 m more and you could have tasted the best croissants in the world!".
The following day, we make 100 m more to find Le Banneton Café French Bakery. And there… How to explain you? Pure happiness! Pastries and croissants are even better than in many French bakeries! Yes, yes, I swear! Just thinking about it, I almost shed a tear! In short, don't look for another address in Luang Prabang to have an excellent western breakfast: it's at Banneton!
The lunch
For a snack, there are also stalls next to the night market where you can buy sandwiches and fruit shakes. Again, nothing very Laotian about it, but after 5 months of rice and noodles, I certainly wasn't going to pass up a good crispy baguette with ham and cheese. Well, OK, it was spreading cheese, but it counts as cheese when you are on a world tour!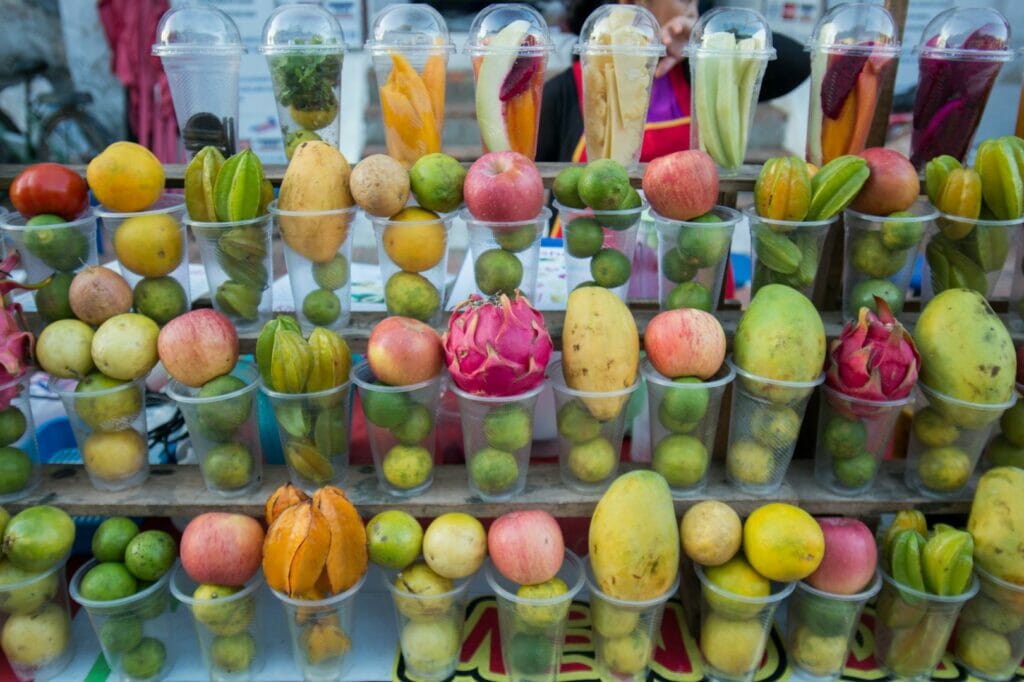 In the restaurants, we were recommended the Coconut Garden on the main street where you will find delicious Lao food. For excellent French food at a decent price, head right across the street to Tangor!
The dinner
It's nice to fill up on western food but it costs a bit more than eating local! If you feel like eating typical Lao food in the evening and for a cheap price, then we recommend you to go to the night market of Luang Prabang.
In the small alley next to the Indigo House hotel, you will find many stalls offering buffets. The concept? You pay 20 000 kips for your plate and you fill it as much as you want, with what you want!
Culinary experience
In addition to the markets, Luang Prabang is full of other foodie activities: cooking classes, city tours, and specialty tastings. Click here to choose from all the culinary experiences in Luang Prabang.
Map of Luang Prabang
Find the must-sees of Luang Prabang and our good addresses on the map below!
Our review of Luang Prabang
You will have understood that we were charmed by Luang Prabang! Do you have other good plans in the area? Do not hesitate to share them in the comments!
In any case, this step allowed us to take strength for the rest of the trip. The next stop? Vang Vieng! Are you coming?
Pin it