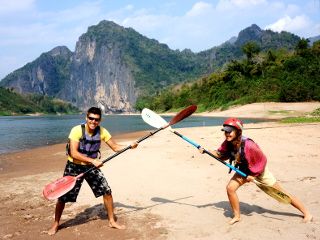 As you were told a few days ago, Sapa was our last stop in Vietnam. Overall we spent 7 weeks in Vietnam! (Our 2nd longest stay in a country during this round the world trip after China). From there, we had planned to cross the border with Laos in the north (at Dien Bien Phu) to quietly reach the city of Luang Prabang. We had no precise timing to make this trip, just the desire to discover one of the wildest parts of Laos (the northeast of the country). Our first stop brought us to the cute village of Nong Khiaw.
From Sapa to Dien Bien Phu: a journey to be made during the day
The first step was to go to the city of Dien Bien Phu, located 30 km from the Laotian border. So a word of advice, don't do this trip at night! There are many night buses running along this route, but not seeing the amazing landscapes on the way would be a shame!
We were lucky enough to have a private driver for this 8-hour stretch (and this for the same price as the bus.) Well yes, the company absolutely had to pick up customers in Dien Bien Phu. So it was convenient for them to fill the car a little bit;))). So, since we had a nice driver, we could stop everywhere to take pictures!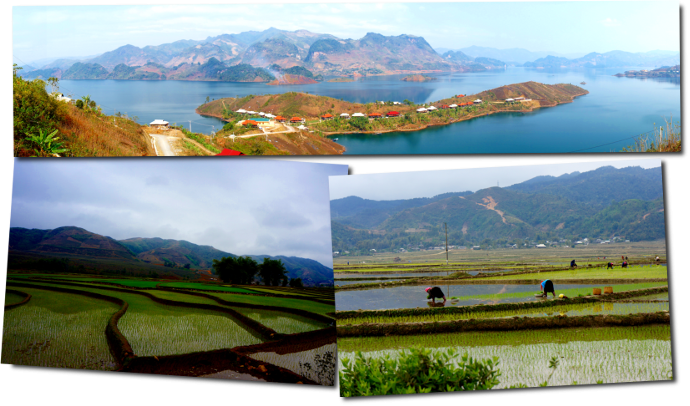 The city of Dien Bien Phu has nothing special to offer except its memorial for Vietnam's important victory over France in 1954 (there is also a small museum). The statue is located on a hill overlooking the city and the view is pleasant at sunset ;-).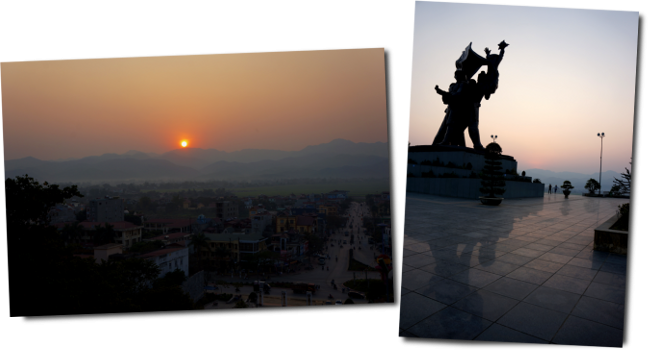 Crossing the border with Laos and travel to Muang Khua
To reach Laos from Dien Bien Phu, you have to get up early. The only bus leaves at 5:30 in the morning for Muang Khua and then Udomxai! Before taking the road we had read many stories online about this journey. Most people were saying the road was chaotic and we even would have to get off the bus to cross rivers. But those days are over! Recently, the road has been completely paved and concrete bridges have made river crossings super straightforward. (and it's not so bad like that 😉 )!
Another advantage is that the border crossing is quite an easy one. You will simply have to pay about $30 for the 30-day Laos visas. We have not witnessed and scams. A nice difference compared to other asian land borders! 😉
Note: for swiss citizen, the visa is free if you stay less than 15 days 😉
Villages in the north of Laos – Muang Khua
We then stopped at the small village of Muang Khua. (after about 6 hours by bus). This village has the particularity of being on the path of the river "Nam Ou". The advantage is that instead of taking yet another bus to Luang Prabang, you can vary the pleasures and take the whole trip by boat! Well, you can imagine it, it takes a little longer! But, does it matter? We have all the time in the world! After a good night's sleep in a nice Guesthouse with a view of the river, 25 of us crammed into a small boat towards the village of Nong Khiaw. A 5-hour boat trip!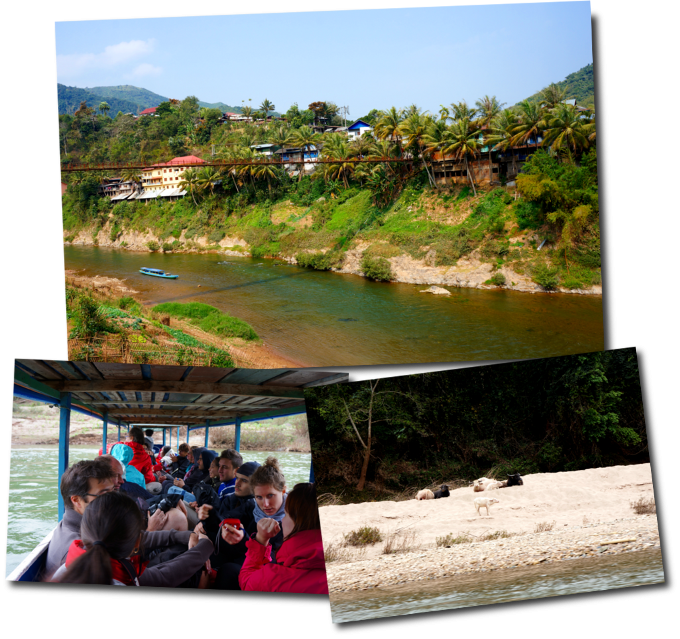 Note: If you do not want to take the boat, you can also continue by bus to the city of Udomxai. From there you can either go down to Luang Prabang or head northwest in Laos. (to Luang Nam Tha) And possibly northern Thailand (Chang Rai, Chang Mai).
The village of Nong Khiaw: a real haven of peace
After 5 beautiful but challenging hours on the Nam Ou River, we finally reach the village of Nong Khiaw (Note that you can also stop at the small village of Muang Ngoi Neua located a few kilometers upstream).
Nong Khiaw was a very pleasant surprise for us! There are just a few guesthouses, a few restaurants, infinite hiking possibilities, cycling options, as well as kayaking and climbing opportunities. All this in a splendid setting between the kharstic peaks and the Nam Ou River!
In short, it is easy to keep busy and relax for 4-5 days. Bonus? there are not that many tourists!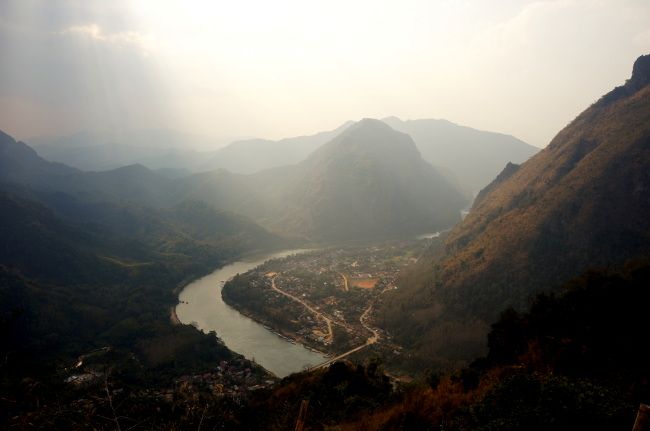 Bicycle rental and discovery of the surroundings of Nong Khiaw
On the first day, we rented two bicycles to explore the area. Don't do like us! Do not rent rotten bicycles without gears because the roads are not flat at all (despite what the seller told us 😉 ). So get some mountain bikes right away. It will save you from coming back exhausted after an hour of vain attempts climbing the roads around Nong Khiaw.
Once well equipped, it got much better right away! So we spent the day riding around the surrounding hills. However, even if the landscapes are well worth it, it is not necessarily within everyone's reach! The climbs are steep and numerous and will quickly break the legs of Sunday cyclists.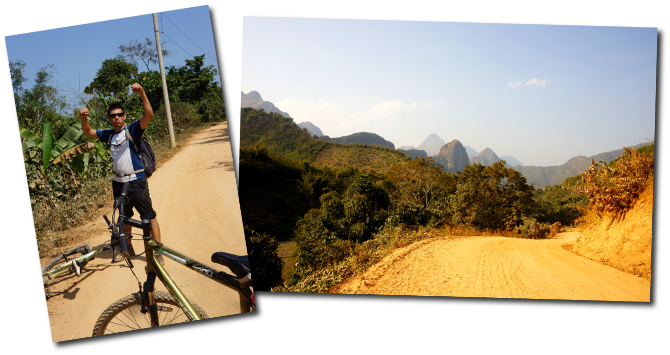 The Nong Khiaw Viewpoint – sunset point
After a repairing sleep in, we start the assault on the view point located at the exit of the village on the left. You can't miss it, it's written in large letters and will cost you 20,000 kips for access. Even if I hate to pay for a viewpoint, I will advise you to do it for this one! The view from the summit is simply breathtaking and reminded me a little of the kharstic landscapes of Xingping near Guilin. But once again, it is important to warn you that the climb, even if it is not very long (60-90 minutes), is very steep and should be reserved for highly motivated people.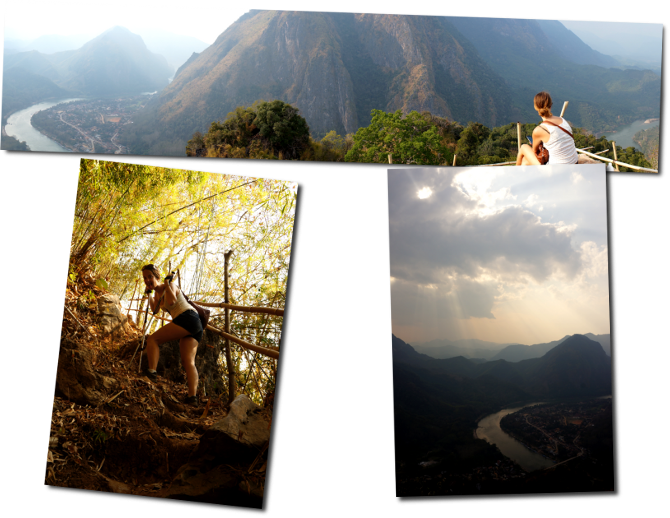 Nong khiaw – Luang Prabang in 3 days and by…. Kayak
Important Info!
July 2019: We received a message from Jeanne and Charles who are currently in Laos. Apparently new dams have been built and it is no longer possible to go down by kayak in this region! This is sad news because the construction of these dams has a disastrous impact on the villages along the river. Entire villages are swallowed up by the dams and villagers are forced to move. 🙁
We hadn't really planned to leave this little paradise after only 3 days but a discussion with a french couple changed the game. We saw that an agency was offering to reach the city of Luang Prabang by kayak following the Nam Ou River.
As being 4 significantly reduced the price of the adventure, we didn't think any more than that and we said "let's go"! That's how we met the next morning with our friends Ludo and Emilie (as well as Thea, an Australian girl who also decided to join us in the last minute) in two-seater kayaks heading towards Luang Prabang in 3 days.
Let me first tell you that in the group, I was the most experienced kayaker with my 3 outings of 2 hours each on a river near Geneva ;). We were a big group of perfect beginners! To be fair, most of our group even never sat in a kayak before.
Well, we were promised that the river wasn't difficult but we still had no idea what an 8-hour day of kayaking could mean for our arms.)
Kayaking is NOT a relaxing experience….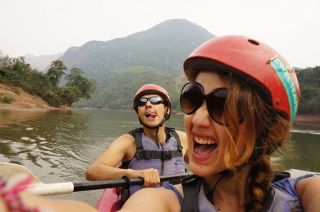 So I can promise you that we were already questioning our decision after not even an hour on the water. We were already looking at each other with Fabienne like, "My arms are already really sore right now…".
However, we were kayaking in the direction of the current and there was no difficulty to report. It's just that we weren't used to using our arms for an endurance effort (and also that we didn't have a great coordination Fabienne and I ;))!
However, as the hours went by, we felt more comfortable. The paddling became a little less difficult and above all we realized that it wasn't necessary to paddle super hard to move the boat forward! The secret is to have a regular rhythm and to be coordinated with your partner!
Sleeping in Laotian villages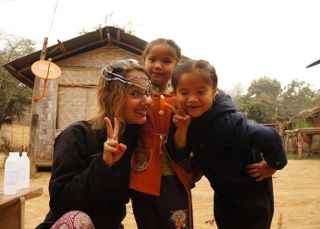 Well, it doesn't mean that after 6-7 hours of kayaking we weren't tired. It must be said that apart from the half-hour break to eat and the few cigarettes break on kayak, we didn't stop paddling at all! We were therefore very happy to stop in the evening in one of the villages along the Nam Ou River to eat and rest with locals.
Our evening in the villages were not very long though… we were soooo exhausted, that most nights we fell asleep before 8pm! At least we didn't spend too much money on beer during these 3 days of kayaking!
As for the landscape, we were simply amazed during these 3 days. The advantage of kayaking? Well, we had more than enough time to enjoy it! Children swimming in the water everywhere, buffalos standing in the water to cool down, the cliffs that fall steeply on the river or even seeing wild elephants crossing the river in frot of us…. We really had the impression that we were kayaking in some kind of postcard setting! And the best part is that we didn't meet any other tourists until Luang Prabang!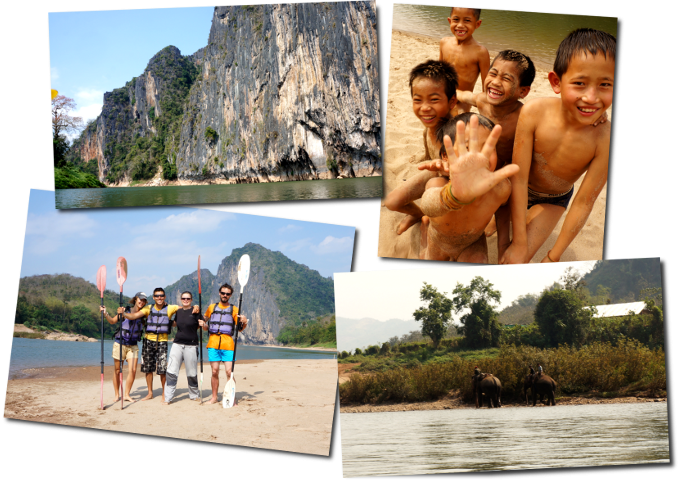 Some comments on this kayak trip in Laos
Because there is still a "but", we must admit despite the low price we paid ($92/pers), the food was not great. For three days, we ate sticky rice with vegetables. This is not necessarily ideal when you spend long hours on the kayak and you need lots of energy. Fortunately, there was plenty of sticky rice!
In addition, our main guide was far from being super competent. I mean, he was a great guy, but definitively not a good guide! The guide spent more messing around and joking than directing us on the river. I mean, remember that none of us had any experience! Some parts of the river are more "tricky" than others with rapids and small waterfalls. The guide never gave us any instructions and to be fair, if we had not been quite athletic, this might not have gone so well.
Finally, we also found that the agency was not very clear when explaining the program. In 3 days, we did between 15 and 18 hours of kayaking, which is simply HUGE for non experimented kayakers!
We don't consider ourselves to be the least sporty of the travellers and yet at the end of the 2nd day, after paddling for almost 8 hours a day, we were really exhausted!
So if you're interested in the adventure, you now know what to expect at least.)
We also advise you to put at least one person with strength per pair! Fabienne was telling me that she probably wouldn't have been able to manoeuvre the boat in the rapids if she had been with a girl of her size (and it's not the agency that will advise you to do that 😉 )!
Review of our adventure in northern Laos
Finally, the trip from Sapa to Luang Prabang took us a good week (stopping 3 days in Nong Khiaw). We could have taken a sleeping bus that would have brought us directly to our destination in about twenty hours (if everything goes well), but we are very happy not to have done it!
We have had proof that northern Laos is not just Luang Prabang. I would even say that it's not Luang Prabang… but we'll talk about it again in the next article! We will particularly remember the beauty of the landscapes along the Nam Ou River and the "Sabaidee" of the children during these 3 days of Kayaking!
Infos

Bus Sapa – Dien Bien Phu: 8 hours for 15$ per person
Bus Dien Bien Phu – Muang Khua: 6 hours for 115'000 dong per person
Bateau Muang Kua – Nong Khiaw: 5 hours for 120'000 kips per person
Kayak Nong Khiaw – Luang Prabang: 92$/person for 3 days with all meals (but take snacks if you can) and 2 homestays included.