If you have recently read our articles about Rinjani volcano or northern Bali, you will certainly have noticed that volcanoes in Indonesia are numerous and quite nice to visit.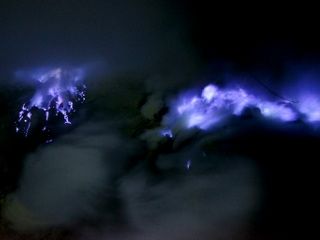 Anyway, we love volcanoes! Besides, we hadn't had enough yet! So we decided to do two in a row: I named the volcanoes Ijen and Bromo. Well, since there's a lot to tell, we're going to focus on the Kawah Ijen volcano today!
How to get from Ubud to Java?
To get to Java (Island where Mount Ijen and Bromo volcanoes are located) from Bali by public transport, you will need to go to the Ubung bus station located north of Denpasar. As we were in Ubud, we had no choice but to take a taxi which cost us about 150'000 rupees for barely half an hour…
Once in Ubung, simply jump on one of the many buses that go to Gilimanuk Harbour. There are many of them, especially in the morning. The official price was only 30'000 rupees per person (back in 2014) for about 5 hours but don't be surprised if you are asked for 40-50'000 rupees. We paid 40,000 per person.
Info:
Do not pay for a combined bus and boat ticket! The price of the boat trip to Java is ridiculous: only 6'500 rupees per person… so all the combined tickets you will be offered will be scams 😉
Discover the Mount Ijen with a former sulphur carrier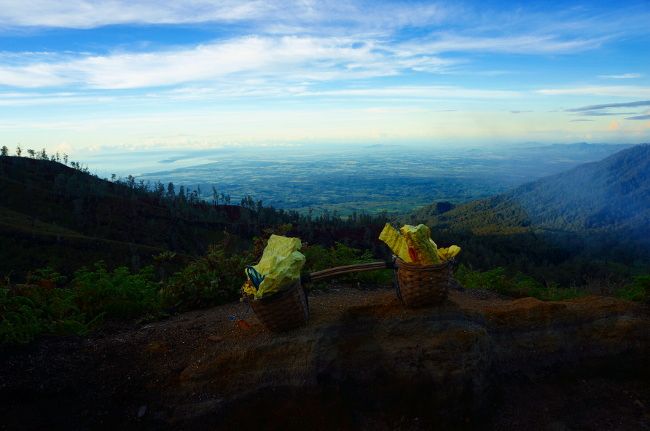 The most common way to visit the Ijen and Bromo volcanoes is to take a combined tour with transport, nights and all-inclusive visits… Either from Bali to Yogyakarta or vice versa.
However, while we were still preparing our trip, we had read a blog post that made us want to try something a bit different. They had stayed with a former sulphur carrier and discovered the volcano with him. Their experience breathed authenticity and thus we decided to do the same.
Getting to Java
As soon as we arrived at the port of Banyuwangi (at the eastern end of the island of Java), we were welcomed by Mr Paing (the former miner converted into a guide) and his brother Chunk. Actually, we didn't really understand if they were really brothers because they call everyone "my brother, my sister!!!". but it's not a big deal!)
We get on their scooters with all our gear and set off for Mr Paing's village.
Well, in the meantime we stop to let a torrential storm pass, so we don't soak all our stuff! It will have at least allowed us to get to know our two guides better.
Arrived in the village, we settle in Mr Paing's house. It's very simple, you can see that these people are not rich! But that's perfectly fine to us, because more than just comfort, we're looking for simplicity and authenticity.
Meeting with the family of our guide
We also meet Mr Ganda (Mr Paing's cousin who is an engineer, who is also the webmaster of their site and who is precisely in charge of finding customers 😉 ) but also Mr. Paing's wife and two daughters. We have a lot of fun talking to them and getting to know them. They happen to love music.
As the storm rumbles, we spend the late afternoon watching the children of the village play in the rain. Interesting because here, it seems that the rain is more likely to push the children out while in our country, it is more likely to be the opposite.
When the rain finally stops, we take advantage of the calm to discover the rice fields that surround the village with Chunk. Despite the rather cloudy sky, it is impossible to spoil such landscapes.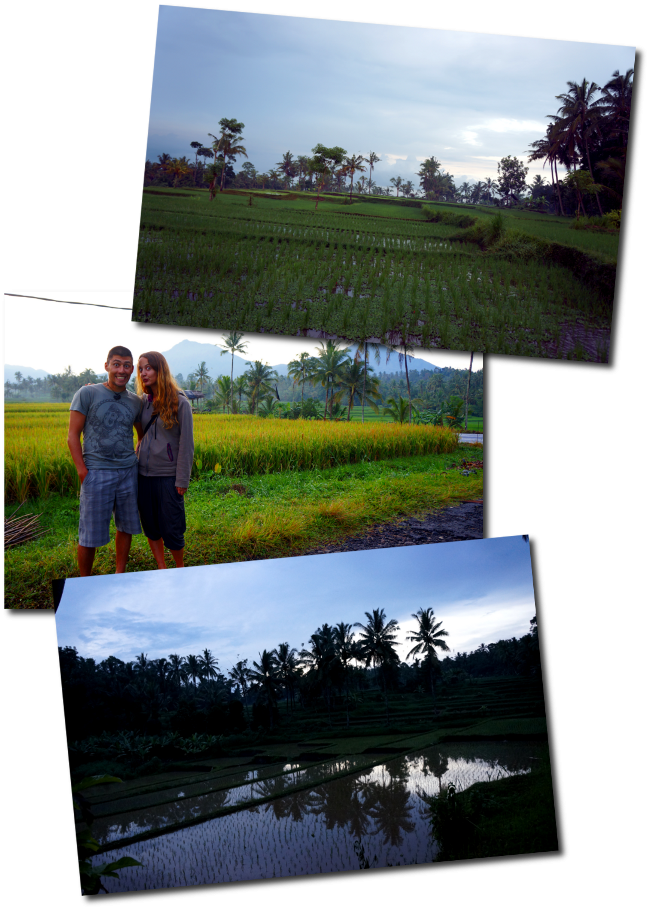 The next day, our three friends (Mr. Ganda also joined us) took us on a tour of the region.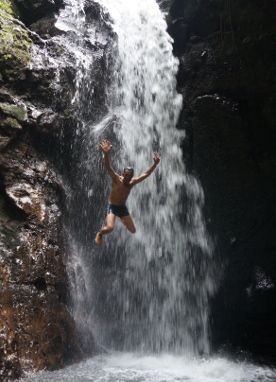 Things to see around Mount Ijen
Indeed, there is not only the Ijen volcano to see in the area ;)… There are also beautiful waterfalls, rice fields, coffee and fruit plantations… It would be a real shame to limit yourself to the volcano!
We spent an excellent day walking, swimming and enjoying coconuts, cocoa and other tasty fruits that grow in the area. We will then spend the evening around a guitar singing rock hits with Mr Paing's friends. But despite the great atmosphere, we don't stay up long. Because we have to get up at 1 a.m. to climb the Ijen volcano to admire its incredible blue flames.
Infos :
If you also want to do the Ijen volcano with our 3 friends, don't forget to take some food with you. Although we found them very friendly, we found the meals a little limited…. Especially in the morning before climbing the volcano where we didn't have breakfast… Good thing we had cookies!
The blue flames of the Ijen volcano
Contrary to what you can sometimes read on the web, the climb to the edge of the crater is not at all difficult. It takes about 1 hour and a half to climb the 3 km. So even if it has to be done at night with a headlamp and it sometimes goes up a little steep, the path is wide and does not represent any difficulty. However, to admire the famous blue flames (which can only be observed at night) at the bottom of the crater, it's another story.
Wait… blue flames???? What is this?????
In fact, sulfurized gas escapes from the crater at high temperature and ignites upon contact with air. Some of the condensed gas condenses into liquid sulphur, which continues to burn as it flows to the bottom of the crater. And as the color of the flames is blue, we have the impression to observe blue lava flows. a really unique and impressive show as this video (filmed by Mr Paing with our camera… sorry for the quality of the image) shows.
Video of the blue flames of Kawah Ijen
Descent into the Kawah Ijen crater
As I was saying, the path to reach the bottom of the crater is not easy. It's really steep and slippery. In addition, you will need to wear a gas mask because sulphur vapours make the air unbreathable. However, we have met groups of tourists who came down simply by covering their mouths with their clothes or a piece of damp cloth. If your guide suggests this solution, refuse to go down because these people simply could not breathe once at the bottom of the crater.
But well, since Mr. Paing worked 15 years as a sulphur carrier on the volcano, we didn't risk much with him. He took me to the best photo spots and filmed the video above himself, by getting close to the flames. . After having enjoyed it, we went up to the edge of the crater to admire the daybreak. I can assure you that we didn't regret getting up so early;)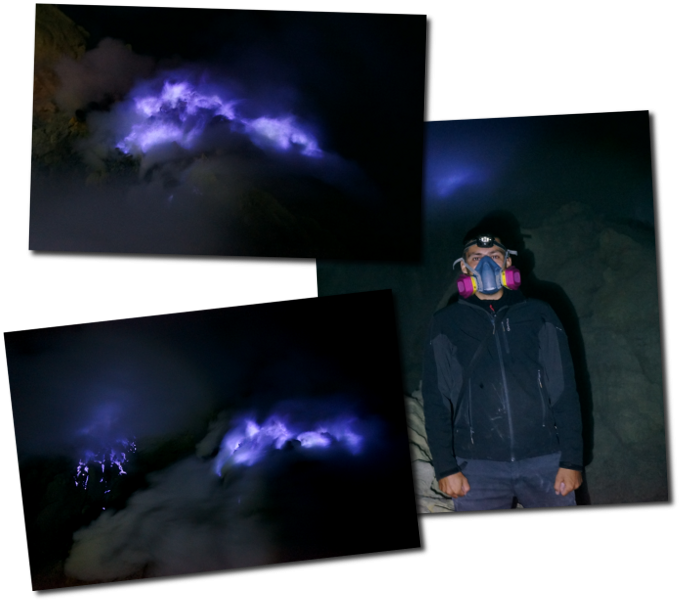 The sulphur carriers of Mount Ijen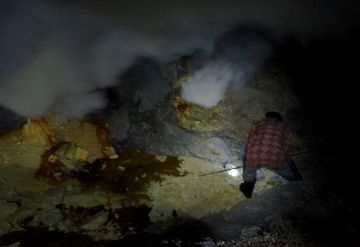 Even more impressive than the blue flames, if only one thing had to be remembered from the Ijen volcano, it would be its heroic sulpher carriers . Then, once the liquid sulphur cools, it solidifies and forms a kind of yellow rock. (Sulphur!) This rock is then used in cosmetics and other products. So as you can imagine, it takes streght and courage to descend to the bottom of the crater and collect the solid sulphur.
Already during the ascent, we had met some porters who were taking advantage of the cool night to make their first trip. On the way up, when they are not loaded, they run up the slopes of the Ijen…. We were overtaken several times ;-).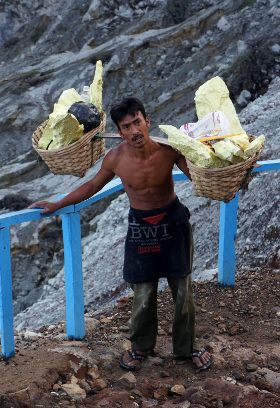 Sulphur carrier: a titanic job
Then, once at the bottom of the crater, they break the sulphur into blocks with metal picks and then load it into their baskets. These baskets are fixed on a wooden board. Where it gets impressive is that they charge between 70 and 100 Kgs of sulphur! They have to transport all this to the edge of the crater first. Then go down to the weighing hut, and continue to the parking lot! It's just crazy!
An inhuman job that brings them very little money since they earn less than 5 cents per kg!!!! As most carriers make 2 trips a day, they manage to earn between 7 and 10 € a day. Which is still more than most people in Indonesia.
A fair reward for this work? I don't think so. Especially since they ruin their health by breathing sulphur vapours every day! The majority of porters do not wear masks and carry inhuman loads!
Infos :
If you also visit the Ijen volcano, do your best not to disturb the work of the sulphur carriers. Their task is already difficult enough as it is, don't be on their way..
Review of our visit to Ijen
So here we are, as you will have noticed, we loved our visit to the Ijen volcano. It's quite exhilarating to be at the bottom of the crater of an active volcano! To be there and be able to admire these blue flame flows!
We never get tired of discovering Indonesian volcanoes because they always have new surprises in store for us. And if you also like volcanoes, stay tuned because in our next article, we take you to Bromo volcano, still with Mr Paing and his crew 😉
And have you ever descended into the crater of an active volcano?
Infos

If you also want to see the Ijen with Mr Paing, contact Mr Ganda via their website. (I put the link in the article). Count 1'800'000 rupees (for 2 people) for the visit of the surroundings, the Ijen volcano and 2 nights at Mr Paing's house with meals included. We paid 3'000'000'000 rupees for 4 days 3 nights with the Bromo volcano in addition. all included!
We advise you to have food with you because we have found the quantities served a little limited (and we are not big eaters).
Have warm clothes! It is still quite cold on the volcano and good shoes.
Update 2017: We received feedback that the rates for the combined visit of Ijen and Bromo had increased quite a bit. It costs 4.8 million rupees for 4 days and 3 nights. On the other hand, it seems that the 3 days and 2 nights formula has remained at the same rate.