While Benoit was climbing the Rinjani, I didn't stay there to mourn that my lover was coming back… Oh no! I preferred to opt for a little getaway in a beautiful little corner: the Gili Islands and Gili Air precisely! Thus, I could wait for him quietly while perfecting my tan and launching myself into a thorough study of the best fruit shakes and relaxation spots in the region! But I warn you, this is the last article of this kind, the rest of our Indonesian adventures will be much more sportive! You come to taste the Indonesian paradise?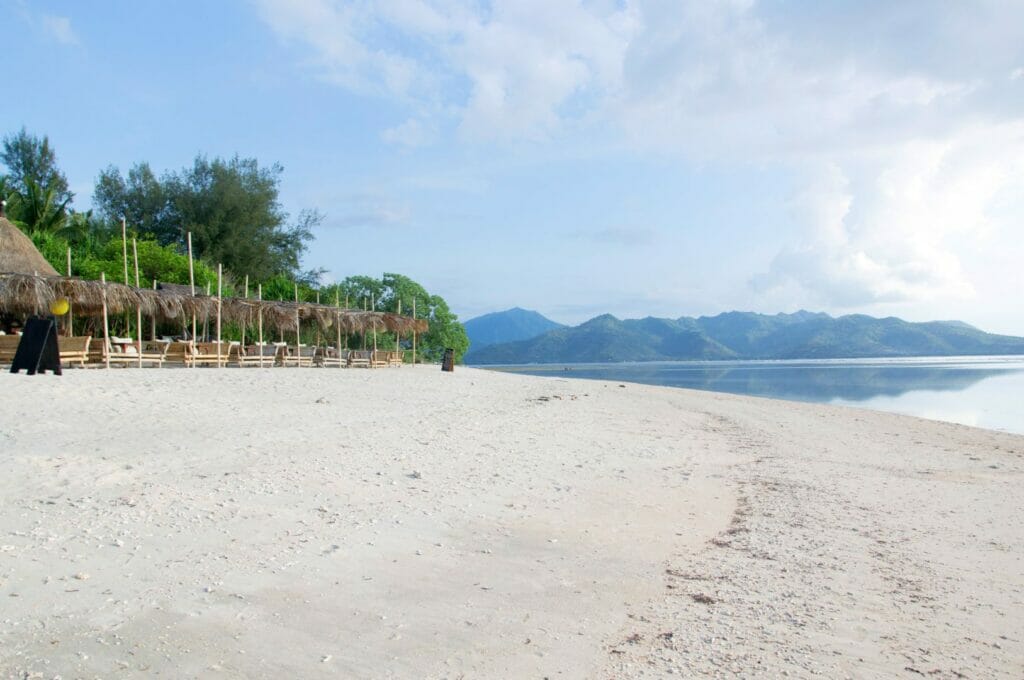 Update 2023
We took this trip in 2014, but the article was completely revised and updated in March 2023. If you see any price changes or have additional information that might be relevant, please feel free to leave us a comment!
The Gili Islands: which one to choose?
Located off the northwest coast of Lombok, the Gili Islands are an archipelago made up of 3 heavenly islands: Gili Trawangan, Gili Meno and Gili Air. Each one offers different services and we detail them to help you make your choice for your next trip to Indonesia!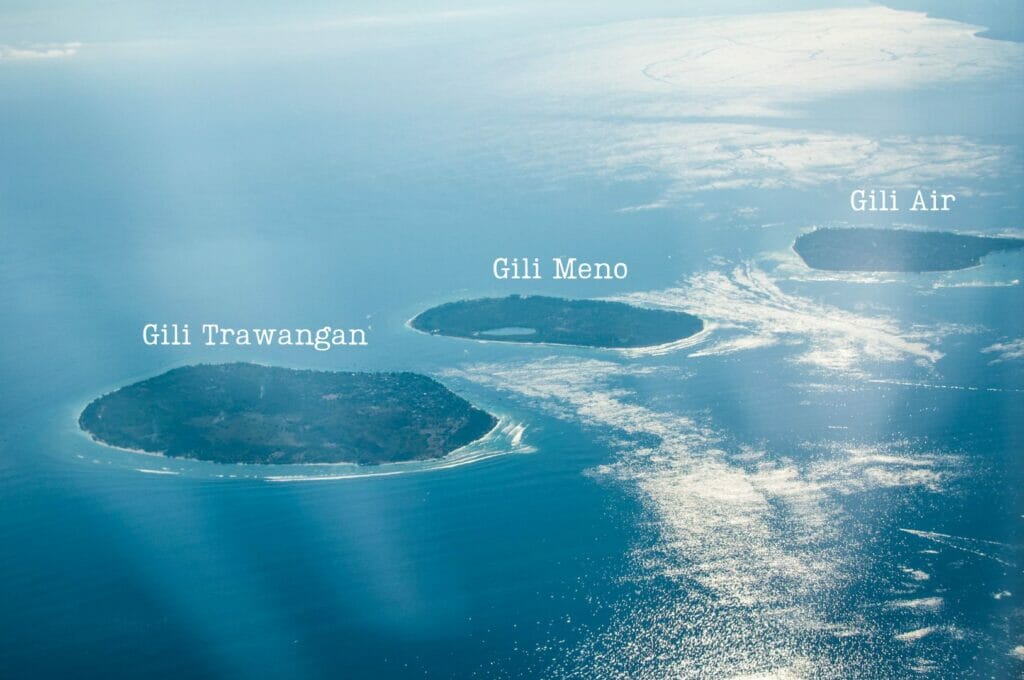 Gili Trawangan, the festive one
The biggest and also the most developed touristically speaking, Gili Trawangan (also called Gili T) is the meeting point of party folks from all over the world, especially during the Full Moon parties. It is the ideal option for young people who travel with friends or solo and who want to meet new people. According to what we heard, it is also on this island that you can find the cheapest accommodation! If water sports are not your thing, you should know that Gili Trawangan is the only island that offers horseback riding at sunrise or sunset.
Gili Meno, the romantic one
With 1,5 km2, Gili Meno is the smallest and quietest of the islands. The Indonesians we met often affectionately called it the Honeymoon island: hotels and restaurants but not too many!
Gili Air, the good compromise
Hotels, restaurants, and bars, but still a relaxed and no-fuss atmosphere, could be the definition of Gili Air. It is a little larger than its neighbor (1,9 km2) and has had a strong tourist development in recent years! It is on this last island that we threw our devotion and no doubt, we do not regret this choice!
From one to another
In the end, it doesn't matter what you choose! Indeed, you can discover all of them thanks to the shuttles which make the journey between the islands several times a day. It costs 35 000 rupiahs to go from one island to another with the public boats (they leave once full) and 85 000 rupiahs with the speed boats. (We still warn you against scams: port taxes do not exist… Always pay for your tickets at the ticket office.) By the way, you can apply all the activities below to Gili Meno and Gili Trawangan!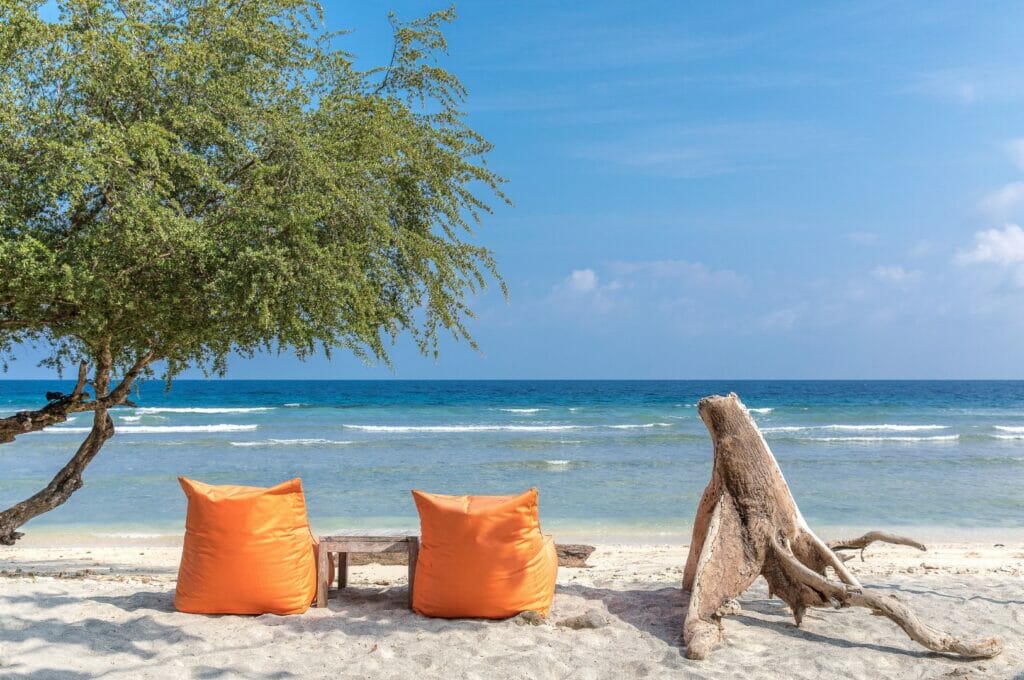 Things to do in Gili Air
Walking or biking
Let's make it clear from the start, the Gili Islands are not for the hyperactive in need of thrills and crazy escapades! Besides, I had been waiting for this moment for a long time: during these 5 days, I could leave my trekking shoes in the closet, well… in the backpack! In Gili Islands, we enjoy life, the calm, and we relax!
When we have tasted all the fruit shakes and tested the different hammocks, then the nice option is to go for a walk. Attention, I mean wandering and not trekking! Anyway, even if you go around Gili Air at the speed of a turtle, it will take you less than an hour and a half!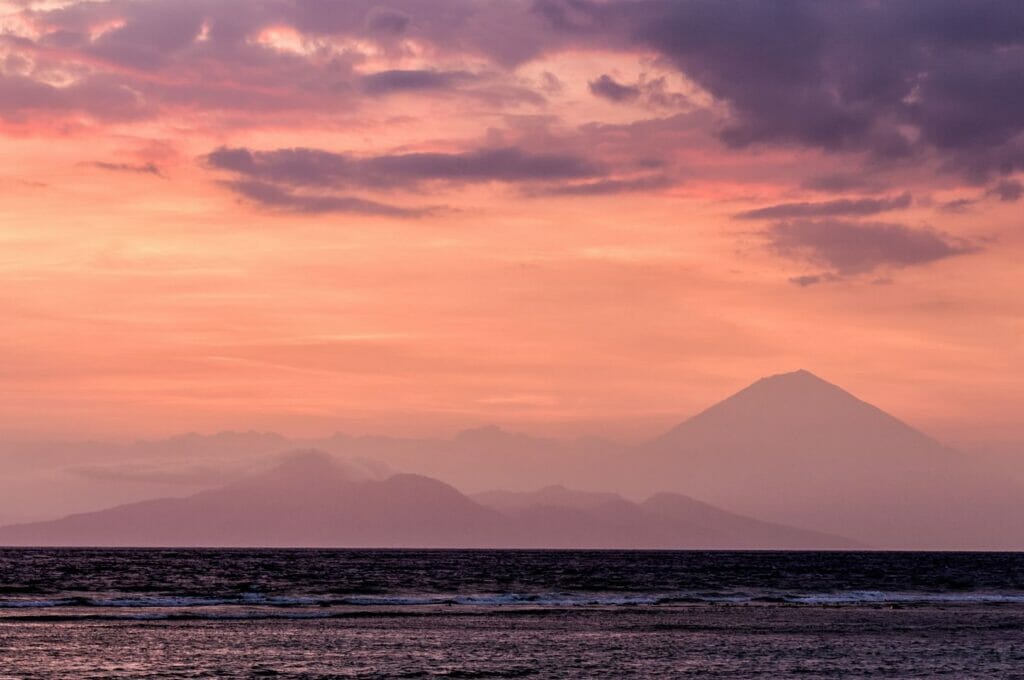 We strongly recommend you to do this walk at the end of the day, because first, it will be less hot and second, it is the opportunity to stop and contemplate the sublime sunset! On the other hand, bring a headlamp for the return trip, so you don't end up like us, trying in vain to light our way by the light of our cell phones…
You can also rent a bike and explore the island for a few rupiahs (sometimes the rental is included in the price of the hotel), just like on Gili Meno and Gili Trawangan.
Enjoying the beach?
Argh… If we had to name a small disappointment on Gili Air, it would be maybe the beaches. The stripes of white sand are very thin and therefore, there is very little space. In addition, on one side of the island, many beaches are privatized by cafes or hotels. So unless you pay for your deckchair, otherwise it's toast… On the other side of the island, it's less crowded because there are fewer hotels, but it's still not the ideal place. The white sand is generally covered with dead corals, not so great to settle comfortably. In short, Gili Air is not the best for sunbathing on a beach; to do that, we would rather recommend Gili Meno or Kuta, south of Lombok!
Try scuba diving
I can already see you in the comments… Yes, I plead guilty to having been almost a week in one of the most beautiful diving spots in the world and not to have been tempted. I'm sorry!
On the other hand, in my subtle observations as a girl left alone for a few days, I was forced to notice that divers in general (and the diving suit) are less sexy than the surfers of Lombok… But Benoit having returned safely from his ascent of Mount Rinjani, I had to leave aside this very thorough study on the sexy side of water sports!
Diving in the Gili
If you are interested in exploring the ocean floor and observing colorful fish, coral reefs and turtles, Civitatis offers a scuba diving baptism from Gili Trawangan. The program: an immersion of about 5 hours for absolute beginners to discover the underwater wonders in one of the most beautiful spots in the world!
Otherwise, if you are already used to the deep, there are more advanced scuba diving courses around the Gili Islands. Prices vary a little: 1 million rupiahs for beginners and 4 million for advanced divers with several dives… You will have a lot of choices depending on your objective!
This article contains affiliate links to partner sites. When you use our links to book accommodation, a car, or an activity, you don't pay anything extra, but we get a small commission. This helps us to offer you free, independent, and ad-free content. Thank you for your support!
Snorkeling
After having disappointed you by admitting that I didn't go diving, I reassure you that I want to try things that I wouldn't have done before leaving for this travel around the world… Snorkeling trips to meet sea turtles are part of it! Despite my fear, certainly completely irrational and stupid of fishes and oceans, I took on me (and grabbed Benoit's hand I grant you), to go for my first real snorkeling trip!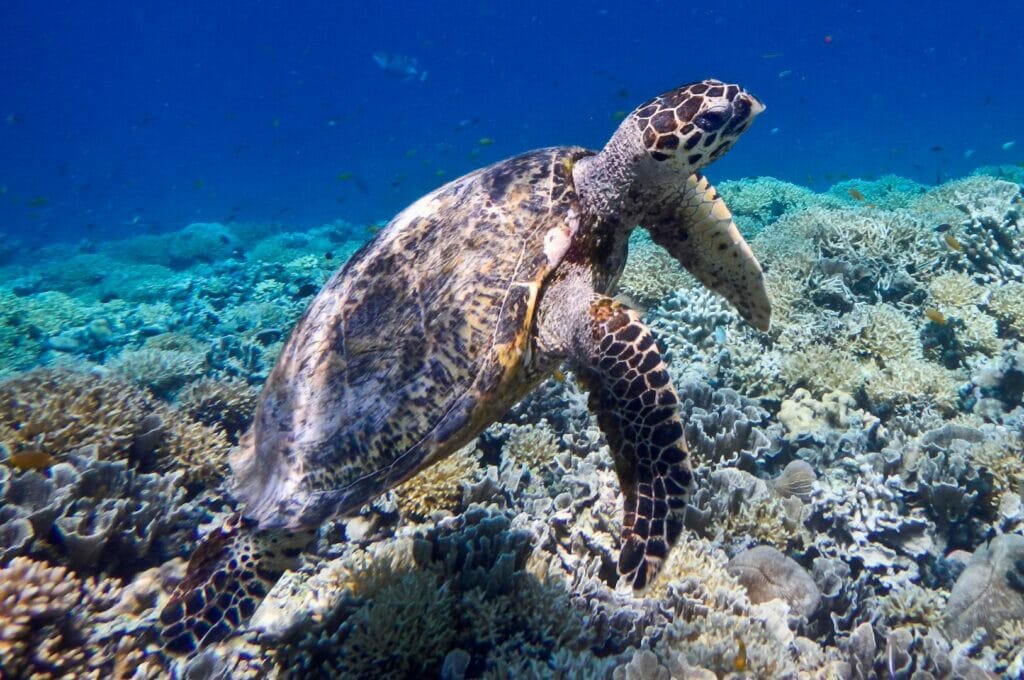 There is no doubt about it, for snorkeling, the Gili Islands are an ideal spot for the fearful like me! Less than 50 m from the beach, you can find yourself face to face with a sea turtle! Of course, I almost choked on my snorkel when I saw the beast… But after a few seconds, I quickly relaxed and simply enjoyed the moment while watching it having its snack! Warning: do not touch the turtles (or the corals), at the risk of preventing them from feeding or making them sick… Seeing her is already a real show 😉.
Snorkeling
The Gili Islands have several sites where you can admire the underwater beauty just with a mask and snorkel. You can of course rent equipment to go along the island's coast by yourself or go with an organization that will take you by boat to the most beautiful spots in the archipelago. Discover all the snorkeling activities to enjoy the turtles on the Gili Islands.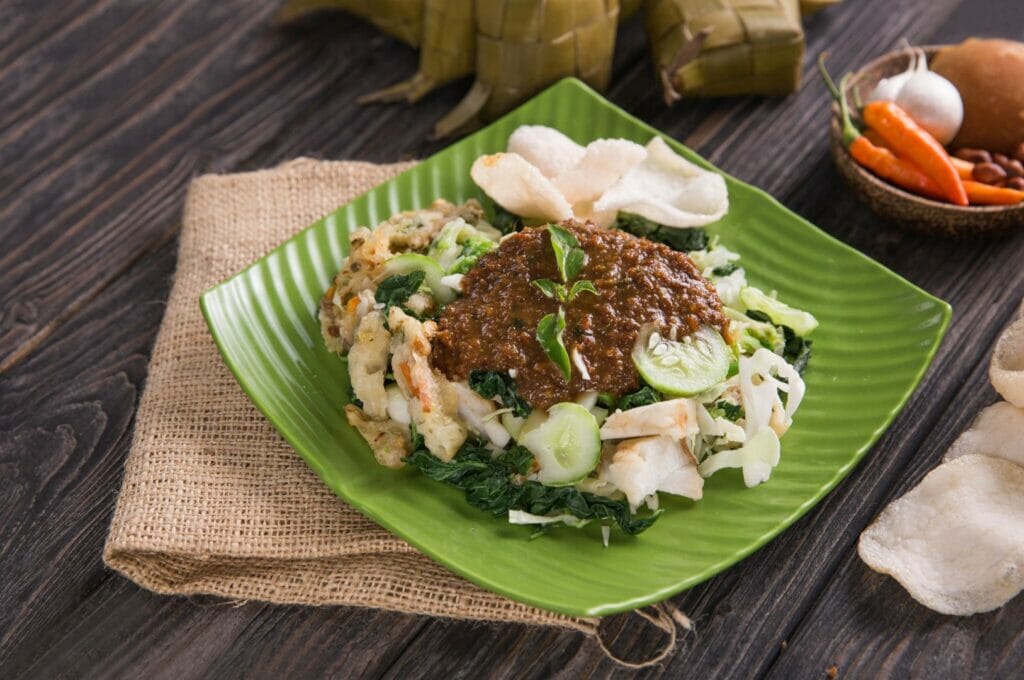 Take an Indonesian cooking class
OK, it's all well and good to spend so many calories in the water but you still have to feed the beast! What could be better than a cooking class to get your fill and learn all the secrets of Indonesia's gastronomic culture?
On Gili Air, there is only one school: Gili Cooking Classes. You have the choice between 3 formulas (3, 4, or 6 courses for respectively 290 000, 350 000 and 395 000 rupiahs) to learn from the chefs the basics of Indonesian cuisine, often neglected in favor of other Asian cuisines. On the menu: gado gado, chicken curry, Taliwang chicken… All with vegan or vegetarian options. At the time, there were no cooking classes in Gili Air, but after having taken one in Thailand, there is no doubt that we would have greatly appreciated the experience!
How to get to the Gili Islands?
From Lombok
If, like us, you come from the island of Lombok, then nothing could be easier to go to Gili! You will see offers everywhere. For our part, we found a combined bus + boat ticket for 150 000 rupiahs per person from Kuta. It is probably not the cheapest way but by far the most comfortable!
If you arrive on your own in Bangsal, the port in front of the Gili on Lombok, then the public boat ride will only cost you 20 000 rupiahs for about 15-20 minutes crossing to the three islands of the archipelago. Departure is as soon as the boat is full. Note that there are speed boats that also make the trip once an hour, between 9 a.m. and 5 p.m., to the Gili Islands and the competition is tough! Prices start at 85 000 rupiahs and go up to 300 000 rupiahs for a 10-minute crossing… It's up to you to see what makes the most sense 😉.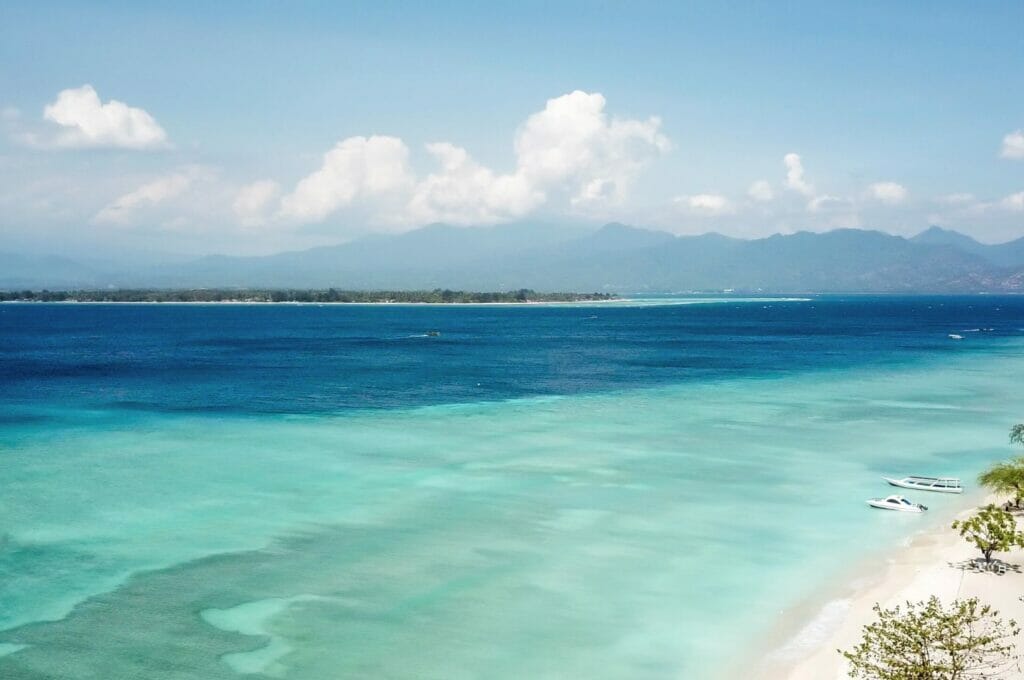 From Bali
But for many travelers, the Gili Islands are a nice excursion from Bali. And inevitably, when there is demand, prices are adjusted accordingly! Local agencies will usually try to sell you a super cheap combined round-trip ticket for 1 million rupiahs. From Ubud, prices for a one-way taxi/boat combination ticket start at 355 000 rupiahs. Feel free to compare the prices of agencies. Alternatively, you can take a cab (Blue Bird or Grab) to the port of Padang Bai and take a speed boat to the Gili. Travel time varies by boat, more or less 2 hours to Gili Air, for a minimum price of 200 000 rupiahs per person.
If you are brave, the local boat also makes the crossing: about 40 000 rupiahs per person for almost 9 hours. Small precision: beware if you are prone to seasickness, the portion between Bali and the Gili Islands tends to shake a lot!
Getting around Gili Air
As mentioned above, Gili Air is not very big and everything can be done very well on foot! Anyway, motorized vehicles are forbidden on the Gili Islands… So no motorcycle, tuk-tuk, car or bus! And I guarantee you that it feels great not to hear at every street corner: "Sir, motorcycle? Tuk-tuk, sir?".
At worst, you'll be asked if you want to take a ride in a cidomo, a small horse-drawn carriage, the only means of transportation that comes close to a cab on the island. Fortunately, the drivers are much less aggressive and insistent than their friends the motorcyclists…
Hotels in Gili Air
Are you dreaming of a small bungalow on the beach front with a swimming pool to cool off at the end of the day? In Gili, it is possible to have this kind of accommodation for about 200 000 rupiahs! In fact, you are spoiled for choice when it comes to choosing the hotel that suits you: private beach, pool… There is something for every budget! To give you an idea, we found a nice little bamboo bungalow in the center of the island for 150 000 rupiahs per night with breakfast.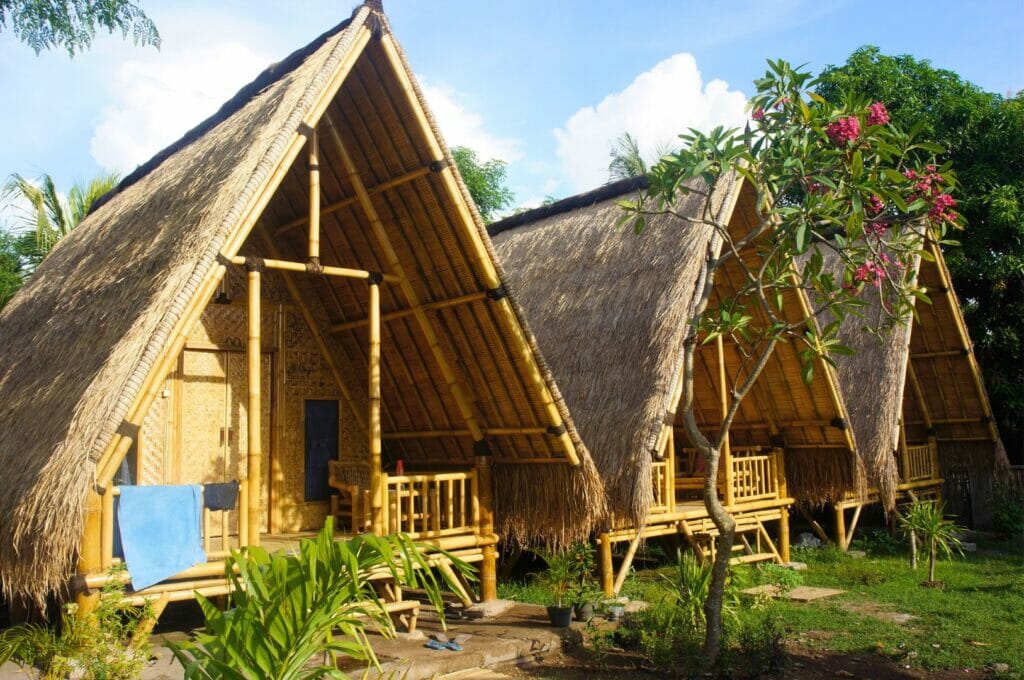 Prices on the Gili Islands are a bit higher than the rest of Indonesia, but it is possible to make good deals! Especially since, given the size of the island, you will always be less than 5 minute walk from the beach!
However, it is important to take into account the season! We were in Gili Air in April, which is the end of the rainy season, but also the low tourist season. We spoke with several guesthouse owners during our stay and they all told us that in high season, between July and September, the hotels are full. Therefore, it is not a problem for them to manage to rent their room at more than double the price in the low season…
Restaurants and bars on Gili Air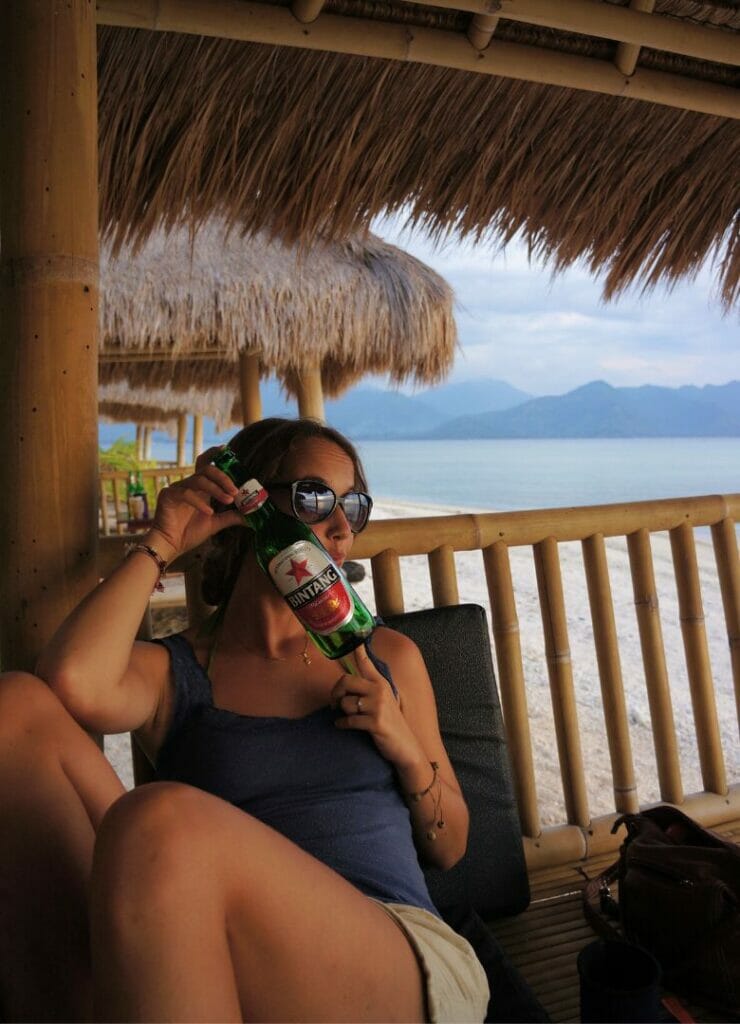 Food-wise, it's like everywhere: the tourist restaurants on the beach are all quite expensive compared to the cost of living in Indonesia. Here, count about 90 000 rupiahs per person for a meal with non-alcoholic drinks. But more in the center of Gili Air, it is also possible to find warungs, small local restaurants that serve delicious food for less than 40 000 rupiahs! We recommend Warung Backpacker and Rizqi Warung, both in the south of the island.
For the drinks in front of the sunset, you will have to pay a little more than usual! Indeed, Indonesia is a Muslim country and alcohol is "officially" prohibited. However, the government has decided to tolerate the sale of alcohol in some tourist places, but by taxing very strongly the alcoholic drinks. As a result, a beer costs easily 50 000 rupiahs in a beach bar… That's only 3 euros, but when you know that you can eat a dish with meat for 2,5 euros, it makes you ponder!
After having tanned well and enjoying this air of paradise on Gili Air, we give you an appointment in Bali! Do you continue the Indonesian adventure with us?
Pin it