As explained in our last article, we rented a car for 3 people (with my cousin) for the first time during our trip around the world, in order to visit the wine region of southern Salta more freely.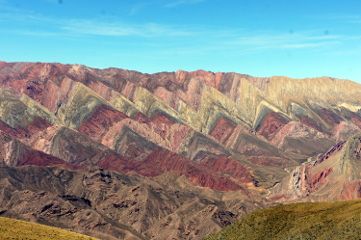 But while at it, we rented the car a little longer to discover the region further north of Salta, famous for its multicoloured mountains and landscapes… a decision that we did not regret the slightest 😉
Purmamarca and the 7-coloured hill
After an early morning awakening in Cafayate (we had planned to drive more than 350km to Purmamarca), we go up Route 68 through the magnificent Quebrada de las Conchas to Salta. Even if we had already visited this part with my cousin, we are not the type to be jaded and we were amazed a second time by this show offered by mother nature. In addition, the road is winding and in perfect condition! It was a real treat to drive around here! It reminded us a little of our mountain roads ;).
Rent a car
To rent a car in the region, the easiest (and cheapest) way is usually to do it in Salta. It's a big city and there's a wide choice, we made the choice to go at a lower price and didn't take a 4×4. So, we're not going to lie to each other, a 4×4 is not a luxury for some of the roads, but it also kind of works without 😉
See prices on Rentalcars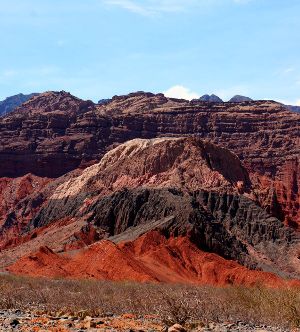 Once in Salta, we took Route 9 towards Jujuy (Note: you can also take Route 68 which is much larger but not very interesting). So no worries about the state of the road, but to be honest, we had never driven on such a tortuous road before in our lives….
It seemed as if the road workers had deliberately added curves in completely useless places. But since Fabienne loves to drive, she was delighted to play "Colin mcrae" for a bit. (or Sebastien Loeb if you prefer ;-)))
She had a great time ;). From Jujuy to Purmamarca, nothing special to report. Route 9 widens again and you will have made the journey in 1 hour!
Purmamarca, starting point for the colourful mountains
So why were we stopping in Purmamarca? Well, because the village is located at the foot of the "Cerro de Siete Colores" (hill with seven colours) which is well worth a visit. The village is also known for its handicrafts but if you want our opinion, they are the same shit that can be found in all tourist places with "Purmamarca" written on them ;). Finally, there's a nice little one-hour walk around the hill and not much else. But as I told you, the view is worth a visit.

The Quebrada of Humahuaca and hornocal viewpoint
The next day, we decided to stay based in Purmamarca to go up the Quebrada de Humahuaca (which is a UNESCO World Heritage Site) on Route 9, to the village of… Humahuaca (no kidding 😉 ). So frankly the scenery on the road is spectacular! The colours of the mountains range from ochre to purple to yellow.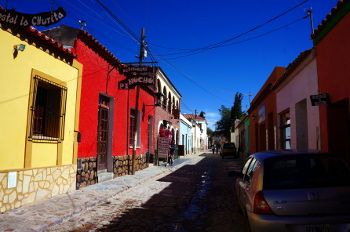 Once in Humahuaca village, we hadn't planned much. So we stop for a coffee on a terrace (the village is really pretty by the way). When the waiter gets to our table, he asks us if we are here to see the "Mirador de Hornocal".
"Hmmm??? Not really… but telle us more about it"
According to this guy, this is THE thing we should not miss in the area.
He gives us some vague explanations of how to reach it. (We will give you the best ones below;)). Before leaving, he warns us that it is a good hour's drive from the village.
Test the limits of the car: done!
Bahhh… dirt tracks don't scare us too much, so we start the adventure with our Corsa chevrolet. After half an hour, we realize that we almost no fuel left and that the information our friend gave us is not very clear. For some weird reasons we decided to just follow our instinct for directions and kept going further….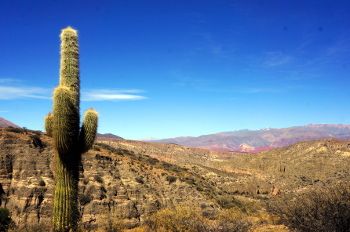 Of course, you will have guessed it, we we took the wrong road at some point! But as we were super lucky, we happened to come accross a guy and his pickup. We're stopping him to ask for information! Result? We took the wrong road more than 15 minutes ago… He tells us that we were very lucky to meet him because we could have gotten lost if we had continued like this… oups 😉
The Mirador of Hornocal
Now that we know where we have to go, we start wondering if we will have enough fuel left to complete the round trip! After a few clever calculations, we think that it should be enough until the viewpoint and back to the village. Thus, we start off again and, by following the instructions of our friend from the pickup truck, we arrive there about 40 minutes later.
And then my friends, it's like baaammmm!!!!!
I let you judge for yourself. It looks like the mountain was painted by an artist! It was clearly worth the trip ;). We take advantage of the place to take a small privileged picnic break, all alone on this viewpoint… Life is hard! 🙂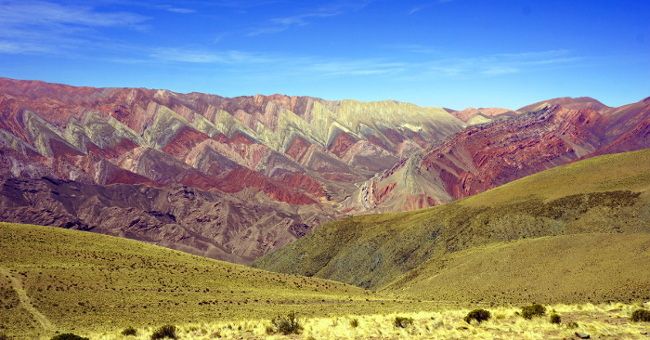 Infos
To get to the hornocal viewpoint, cross the only bridge in Humahuaca and turn left just after to take a track that will exit the village. Whatever comes your way, continue on this track without turning off at any point. After a good half an hour, the road will start to climb. You will have to go to the pass and then turn right towrds the top (there is a "hornocal watchtower" sign). Frankly, don't be afraid to go, it's not complicated but just a little long (1 hour). We just had some bad information ;).
Bonus: Install the Maps.Me app. There, look for "Mirador del Hornocal 14 colores" and put it as a destination in the app's navigation tool
Tilcara and the garganta del diablo
Once back in Humahuaca village and after refuelling (we just made it back in time… we literally had no fuel left at all when arriving at the gas station!), we return to Purmamarca, to go to Tilcara.
On the way, we stop to pick up a couple of French hitchhikers (well, yeah, we also plan to do a lot of hitchhiking in Argentina, so it's good for karma to pick up a lot of people as long as we have a rental car ;-)). They happen to be on a round the world trip as well. We get along really well and as they also stay in Purmamarca, we decide to spend the rest of the afternoon together.
Garganta del Diablo
In addition to all the photo breaks on the road, we stop in Tilcara (between Humahuaca and Purmamarca) for the magnificent view and to take a walk to the "Garganta del diablo" (Devil's Canyon…ouhhhhh). Our two friends Jess and Gog had heard that it was nice and that we could swim under a waterfall. Well, frankly as we were 4 we had a good time, but the waterfalls are very small and the gorges are not very impressive. Bahh it was a nice walk but if you are a little short in time, don't stop there. ;-).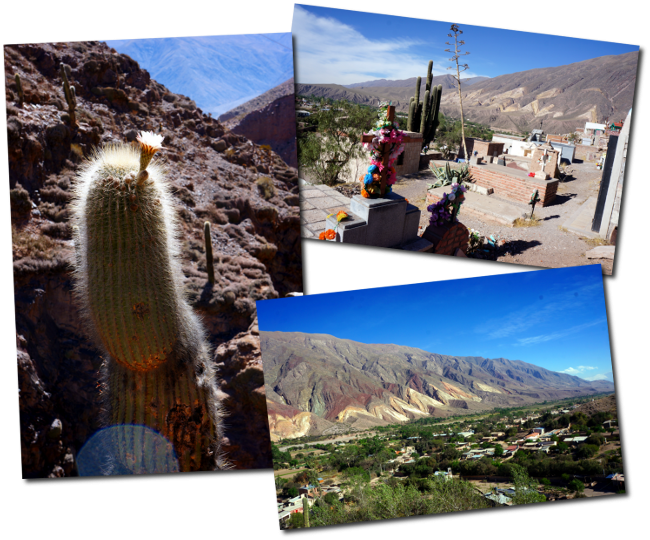 infos
If you arrived in Tilcara without your own car, you will have to walk 2 hours from the village to reach the entrance of the gorges. (We don't think it's worth it). But there is also a road that arrives at the entrance of the garganta del diablo so if you are by car, why not.
Great salinas and misadventures on the "road" 40
After having made an appointment with our 2 new friends in Salta for a bottle of red wine, we set off the next day for the "Salinas grandes". (a salt desert) With the objective of reaching the village of San Antonio de Los Cobres by the famous "ruta 40". (This is the road that crosses Argentina from north to south and that we had already taken further south to go from Cachi to Cafayate). On a pure kms-level it is not huge, (150-200 km) but we already know that "route 40" is a dirt track the whole time and we do not know too much about the state it is in…. hmmm
French hitchhikers are everywhere 😉
Just out of the village of Purmamarca, we meet again 2 French hitchhikers… We obviously take them on board on the way (if with that we don't have any luck hitchhiking ;-)). They are heading towards San Pedro de Atacama by foloowing Route 52, which we had taken by bus in the other direction a few days earlier.
We first drive over a pass located at more than 4000m (still with a breathtaking view) then we land in a line of cars stopped there, in the middle of nowhere! "But what the hell is going on?" A demonstration of course! Residents of a surrounding village block traffic to get better access to their village and electricity.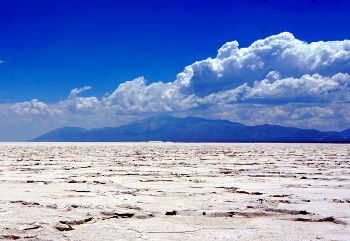 Surprisingly, everyone remains calm (although this would have been the scandal in our country) and awaits the arrival of the police who should solve the problem. We waited for a solid 2 hours there, but as the atmosphere was pretty chilled, it went pretty fast!
Then continue in the direction of the "Salinas Grandes" until you reach the crossroads with the "old road 40″… As you can imagine, on our map, this road was still marked "route 40" (and not ex-road 40)…
Ex-Route 40: not the idea of the century
So we leave our hitchhiker buddies at the crossroads and take this road! However, we find that the track is in rather poor condition and we wonder if we really did well. I'm checking google maps to see if we're in the right place. We then realize that Route 40 is about 80 km further along Route 52. We are indeed on the "ex-road 40". I don't know what you would have done in our place, but since we had the impression that the road conditions were getting worse, we turned back to take the official Route 40.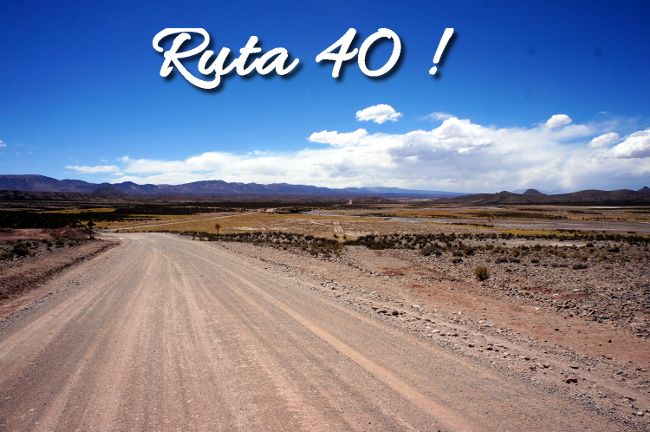 We cross the Salines Grandes by car to the village of Susques. From there, we still have about 100km of track (finally on Route 40) to the village of San Antonio de los Cobres. We haven't won the war yet… But we are rather optimistic because this road seems to be in better shape than the one we had taken an hour earlier.
Everything is deteriorating… when a corsa thinks she's an SUV.
The first 70 km of track between Susques and San Antonio were very beautiful! We may talk about it a little too much, but the north of Argentina is really spectacular in terms of landscapes. So we thought we'd arrive in San Antonio in the middle of the afternoon. But that wasn't to mention a sudden drop in road conditions. The track has even deteriorated so much that we have asked ourselves several times whether we shouldn't turn back.
It must be said that our little Corsa chevrolet was not really designed for this kind of conditions. The holes became so big that we even touched the underside of the car once or twice! And we even managed to get silted up…
I let you imagine the scene where I had to go out to push while Fabienne was pushing the gaz pedal. All this in the middle of nowhere! Anyway, it took us a good two hours to do the last 30 km. We will arrive at the village of San Antonio de los Cobres at nightfall and completely exhausted. (But the landscapes were still worth it… judge for yourself;))

Infos
Maybe it was finally a better idea to take the "ex route 40". In terms of km it is still less and I doubt that the condition of this road is as bad as the last 20 – 30 km of Route 40.
We came across a great hotel in San Antonio de los Cobres: the Andino Amanecer. The double room costs 300 pesos but at this price it's breakfast included, superb room with private bathroom, TV/dvd player with films at disposal, heating… See hotels in San Antonio
Back to Salta by Quebrada del toro
We're not going to lie to you, this last day we did it a little fast because we were a little tired of driving on rough roads. We were waiting only for one thing: to return the car and hope we hadn't broken anything the day before! We still stopped on the way to take a few photo breaks (the quebrada del toro is really nice) and visit the ruins of Tastil. But in the early afternoon, we were already eating ice cream in the main square of Salta. We had to celebrate the fact that we didn't finally get any damage on the car ;-).

So that's it, that's it for this week-long road trip in northern Argentina. As you will have understood, we do not regret for a second that we changed our plans again at the last minute. For the moment it's just pure happiness! Crazy landscapes, great wine (and probably the best quality/price ratio on the planet). We are not going to get tired of Argentina any time soon. To tell you the truth, we love this area so much that we decided to rent an apartment in Mendoza for a few weeks, just to settle down and work a little. So if you are in the area and you want to share a drink, let us know. 😉
NB: Please note that this article contains affiliate links to partner sites. If you buy a product on one of their sites you will not pay more but we will receive a small commission. This will help us to keep this site alive. Thank you! 🙂