As you were told in our last article, we ended up staying in Mendoza much longer than planned.
At the beginning we thought we would stay a few days, then we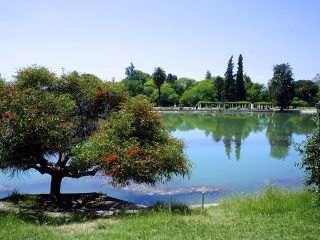 decided to rent an apartment for 1 week and then 2, and in the end: well… we actually stayed there a full month!
We needed a little break, a little routine, a normal life in short! And the least we can say is that Mendoza is a city that lends itself very well to getting back to "normal"

A brief overview of what to see and do in and around Mendoza:
A walk in the city of Mendoza:
When we arrived in Mendoza, one of the first things that marked us was the calm that reigned in the city. Compared to Salta where the streets are crowded, where everyone is running, we had the impression that Mendoza was running more slowly…
Less traffic, less stress, but also and above all many green spaces!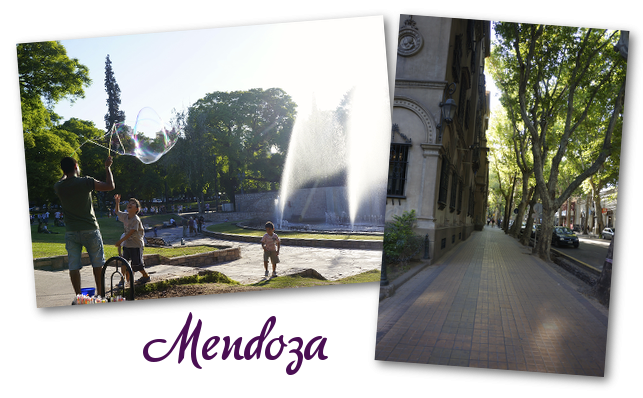 The city centre is built around the Independance square, an oasis of freshness with a magnificent fountain. And 2 blocks from the central square are 4 smaller squares that surround the centre.
In short, in Mendoza we felt good right away, and I promise I'm not just saying that because on the first day we tasted one of the best ice cream in our lives… well… well ok it helps!;)
Cerro de la gloria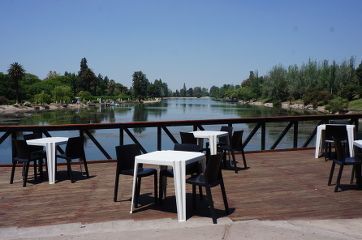 A very nice walk in the centre of Mendoza is to discover San Martin Park. Located less than one kilometre from the main square, it is easy to reach it on foot and discover the lake, the different paths, but also simply enjoy strolling in the shade of the large trees.
Moreover on Sundays this park is the favorite meeting point of mendocinos for a good asado (understand BBQ), in short good smell of grilled meat is guaranteed!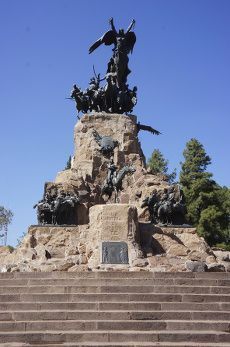 A little further in the park we reach the Mendoza zoo and the cerro de la Gloria.
Just next to the former entrance of the zoo is a small path that will take you to the top of the Cerro de la Gloria. A nice walk to get a nice view of the city.
Mendoza, capital of good Argentinan wine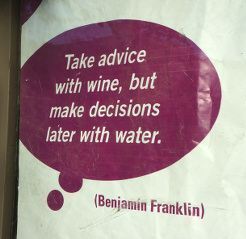 Well, we admit it, if we decided to settle in the area it's not just for the pretty streets and the visit of the zoo, we're not crazy, are we? Mendoza was also an excellent stop to taste some more of the great Argentine wines!
After our first contact with the Salta region and the delicious wines of Cafayate we thought we could make a stop in the Argentine wine capital…
Mendoza is best known for its ability to explore the vineyards by bike…
Hmm… so 1 month on the spot and we didn't do it. The reason for this is simple, the bodegas are getting closer and closer to the city centre and the bike ride is not like a nice ride between the vines. Instead, it is rather a race on a big concrete road while avoiding big trucks. In short, no Bodega for us, but on the other hand we probably tasted a good part of the best nectars that the region has to offer.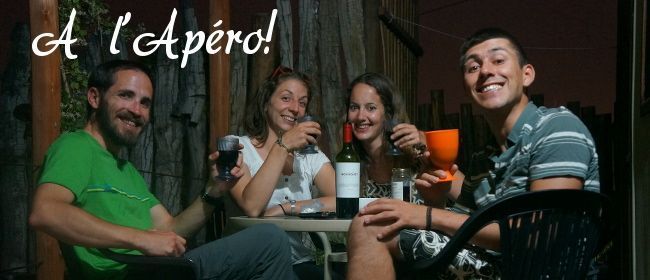 Our favorites? Undoubtedly the Malbecs, which are absolutely divine in the area! And thanks to the blue dollar, it cost us an average of 3-5€ for a good bottle in the supermarket (to give you an idea, these are bottles that are sold in Europe between 10€ and 25€…). We might as well tell you that the aperitifs on our terraces were very nice, especially since we had the pleasure of welcoming some travellers passing by….
Getting around Mendoza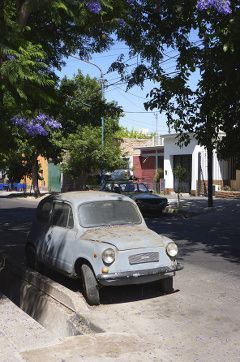 If you stay in the centre there is a good chance that you can do everything on foot, because the centre is not huge, and above all it is very safe!
But for the information there are also many buses and of course taxis.
For a taxi trip it is 12 pesos flat, then about 5-6 pesos per kilometer.
For buses, the easiest way is to go to the city's website (here) where you can enter your departure address and destination.
It will tell you which bus to take, because don't expect to find any information at the stops, because it's easy to see there isn't any!
For buses, the fare costs 3.5 pesos, and is paid directly on the bus thanks to a prepaid "Red bus" card that can be purchased at most kiosks.
Where to stay in Mendoza?
Before finding our little apartment we stayed 5 nights in an inn, and honestly it is without a doubt one of the best hostels in this world tour.
Name of the hostal: Empredado, Price per night in dormitory: 85 pesos/person. The price includes: washing machine at your disposal for free, the best breakfast in the world, a good wifi, a kitchen with free access, wine offered every evening between 7pm and 8pm, cake offered at 4pm! paradise what…
Update 2019: Unfortunately it seems this place no longer available 🙁 Find another hostel or hotel in Mendoza on Hotelscombined.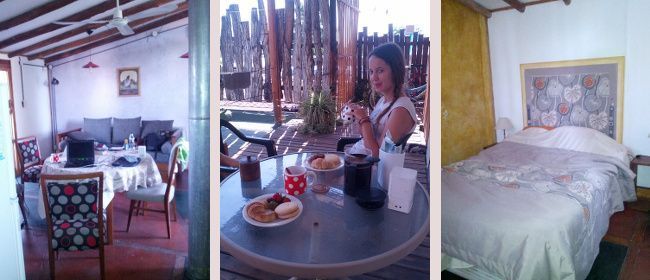 For our apartment we did some research in Spanish on the net and then contacted the owner directly by email. By doing so we paid 190 pesos per night, or if you prefer, thanks to the exchange rate of the blue dollar it was 80€ per week for both of us!
Update:
at the time of our trip (2014), apartment rentals online was not yet really a big thing yet and we had done our research of apartments "the old-fashioned way" by looking through the newspaper ads. (we sound like old people haha). Now the situation is quite different and there are many apartments available in Mendoza. The monthly prices are more advantageous than those for a single night (if this is not the case, do not hesitate to write to the owner if it is possible to have a small discount for the month… it is very common to do this).
To compare prices and availabilities you can take a look at the map below:
Learn spanish Mendoza
We did not take Spanish courses in Mendoza because we had opted for courses in Quito when we arrived on the South American continent, but we will admit that taking courses here must be an excellent option. We spent 3 weeks in Mendoza and simply loved the atmosphere of the city!
Taking Spanish courses is an excellent way to refresh your Spanish skills or to acquire knowledge just like us. We were really starting from scratch, but in only 2 months we had a Spanish that was amply good enough to communicate with the locals and for example to contact the owner of our apartment;)
Alternative:
A great wy to learn spanish is to practice online. A great app we've been using a lot in the last years is Mosalingua. Take a look and get a free trial!
Some good addresses….
We had a good time with good bottles on our terraces and cooking ourselves good dishes in our kitchen, but we reassure you, the hermits are still out of their cave from time to time to test some good addresses….
Here comes our list:
Eat a good ice cream in Mendoza: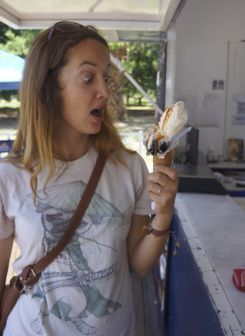 Oh, my God, artisanal ice cream is a real institution in Argentina! You can find them on every street corner, and they're delicious! There are some big chains like Grido that are a safe bet and present throughout the country, but in Mendoza there are also some smaller artesanal shops that are worth discovering!
For us, the pleasant surprise of the stay was the ice cream from Ferruccio Soppelsa. A delight. Several shops in town, including on Independence Square and Bellgrano Avenue.
Have a drink/eat a little something:
Anna Bistro: great restaurant with a magnificent terrace in the heart of Mendoza. The cuisine is well cared for, and the aperitif platters (sausages, cheese, olives) are an excellent way to start an evening with a good glass. The prices are a little higher than elsewhere but remain reasonable. Count about 300 pesos for 2 people (1 bottle of good wine and aperitif-dinner, water)
A little something sweet for the road:
When you've been travelling for a while, you sometimes have moments when you fall for rather banal things… a chocolate bread makes you dream? So look no further, the Brillat Savarin bakery/pastry shop will be heaven. It's more expensive than the average bakery, but frankly their macaroons, pies, and pastries are so divine that you can only go back there over… and over… 😉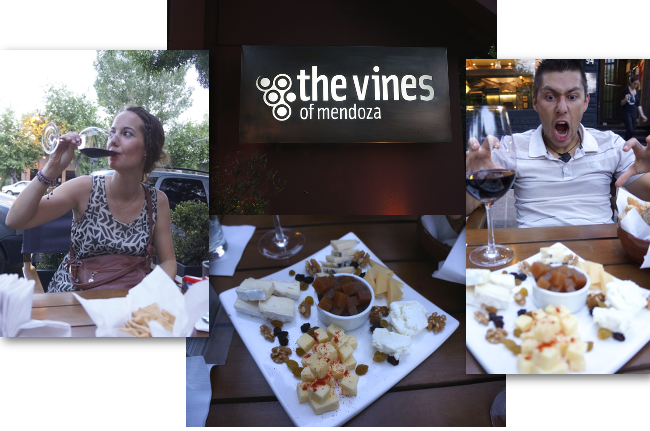 Where to taste the best Argentine wines in Mendoza?
Undoubtedly at the bar-restaurant: Vines of Mendoza, on Belgrano Avenue.
It was our little splurge on the last night…. The specialty? All the best Argentine wines are available on the menu in bottles, but also by the glass, so you can taste the best Argentine wines without necessarily having to buy the full bottle.
A word of advice: On Tuesdays and Saturdays, there is a 50% discount all night long on a wide selection of wines by the glass. Count between 20 and 350 pesos per glass depending on the quality of the grape variety. But believe us, even the "cheap" wines on the menu are already excellent wines! And, no real menu for meals, but great cheese platters (now you now know why we left conquered by the place…) 😉
Faire un tour des vignobles:
We didn't do it during our stay, but the vineyard tours are really an activity that many travellers decide to test. On Getyourguide you can find tours for about 18€ with 2 tastings.
There you go, you know all our good little addresses for Mendoza! And we'll make an appointment for the next article…. In this one we will have crossed the Andes, and we will meet you in the incredible city of Valparaiso!
NB: Please note that this article contains affiliate links to partner sites. If you buy a product on one of their sites you will not pay more but we will receive a small commission. This will help us to keep this site alive. Thank you! 🙂