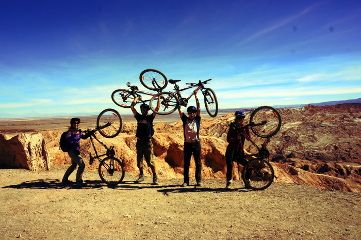 After a wonderful transition between Bolivia and Chile by visiting the incredible national parks of Sajama and Lauca, we head towards one of Chile's most popular tourist destinations: I have named San Pedro de Atacama. Here we had an appointment with my cousin and a friend we met in Cusco.
So San Pedro is a village lost in the middle of the desert! But this has the advantage of being located near incredible natural landscapes…. See for yourself! From San Pedro you can visit one of the largest geyser fields in the world, access the incredible region of South Lipez and Salar d'Uyuni, marvel in the valley of the moon, cycle in the salt desert of Atacama, climb volcanoes, float in a lagoon as salty as the dead sea and so on.
Not bad for one place, is it? Of course, since nothing is perfect, there is just one little problem!
San Pedro Atacama Desert Map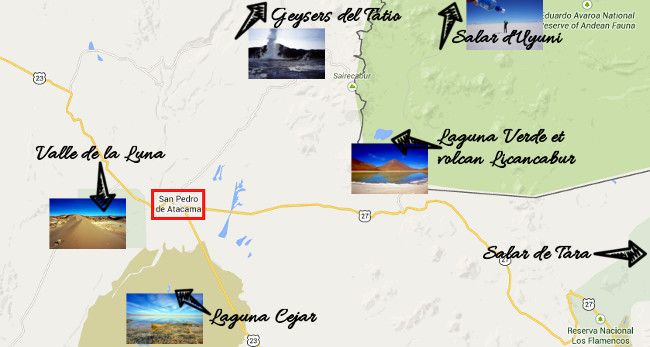 After Bolivia, San Pedro (and Chile) hurt our budget
Aïïïïïïïïïeeeeeeeeee…. Chile and in particular San Pedro de Atacama is EXPENSIVE when you arrive from Peru and Bolivia.
A Bed in a dormitory? 10-15€
Adouble room? 30-40€
restaurant menu? 5-10€. (it's almost French prices, right?)
And I'm not talking about excursions yet! If you want to visit the flamenco nature reserve (one of the highlights around San Pedro) by 4×4, count at least 40000-5000000 pesos (60-70€) per person!
So, with our backpacker budget, it was a little bit like being two broke kids in a toy store. A little frustrating, we might say.
San Pedro on a budget… camping and cycling are your best options!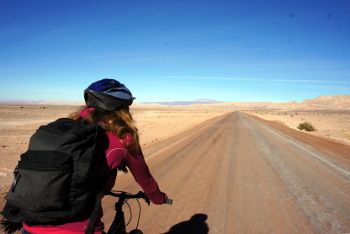 But it is always possible to visit a place for a low price if you are not afraid to give up a little bit of comfort and sweat a little. On our side, we don't travel very light, mainly because we carry all our camping equipment… So, when we get to places like San Pedro, we don't hesitate for a second and look for a place to camp.
And in terms of activity, the village is very close to the moon valley (10-15 km) or the Cejar lagoon (20-30 km) to the north of the salt desert. So if you are not afraid of the idea of pedaling and sweating in the desert (or even interested), you can already visit these 2 essential places in San Pedro on a very small budget!
Infos
The cheapest place in the village to camp (4000 pesos/pers, 4-5€) is called "la casa del sol naciento. You will find pitches on a sandy area (which is not ideal we agree but we are in a desert) and even old mattresses to put under the tent for more comfort ;-). They also have dormitory beds (7000 pesos/pers) and double rooms (10000 pesos/pers). The internet works well and there is a kitchen available (not very clean but good…). But we guarantee you that this is the cheapest thing you can do in San Pedro.
To rent bicycles, we recommend the travel agency "Pachamama". They rented us decent mountain bikes for 5000 pesos/day after negotiation. In the other agencies we have done, we found nothing for less than 7000 pesos/day.
The Moon valley by bie
Located about ten kms west of San Pedro, the "Valle de la Luna" will amaze you. You can see caves, dunes that mingle with bizarre rock formations and finally end up in the valley of death (pure desert). Once you arrive at the entrance to the valley, you will be asked to pay a small entrance fee of 2000 pesos/pers and you will be given a few brief explanations about the things to see. The valley of the moon must be about ten kilometers long and a track crosses it from end to end. Instead of going back and forth on the same track, we tried to reach the Calama road by making a loop.
After having don it, we advise you not to do that because we found ourselves in the valley of death, silted up, pushing our bicycles to the paved road. Even if, of course, we were still rewarded for our efforts with a magnificent view of the entire valley!
This point of view can also be reached by following the asphalt road from San Pedro (this is what we advise you to do ;-)).
In total we rode our bikes almost 60kms that day… with all these sandy roads, this was definitively not an easy one! 😉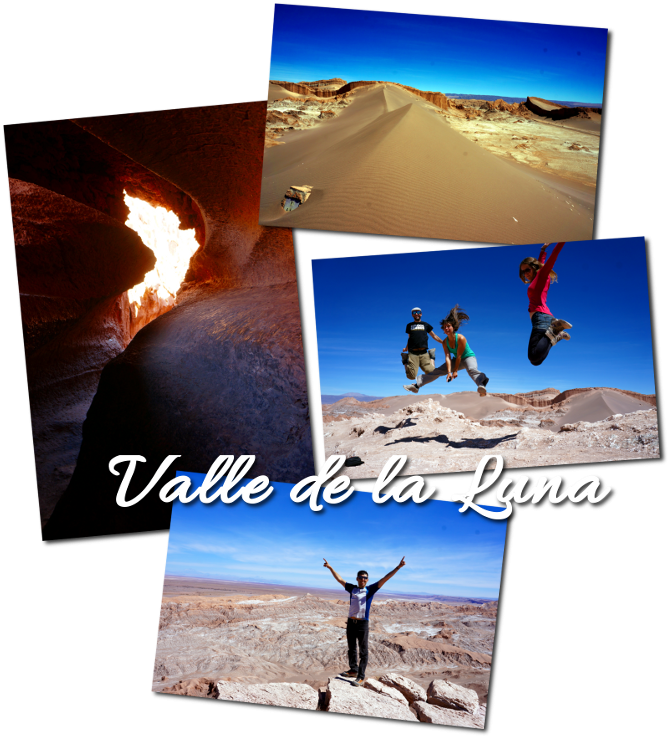 The lagoons of the Atacama desert… still by bike
So the next day we continued on our momentum to drive south towards Cejar Lagoon and other lagoons in the northern part of the Atacama Salt Desert. It takes between 15 and 20 km on a good track to reach the lagoon. Once there, you will be asked to pay a small entrance fee but nothing excessive (2000 pesos/pers).
There are actually 2 lagoons: the one on the left is not open for swimming and is absolutely splendid. Only the salar in the distance and a few mountains separate the sky from its reflection in the water. Simply Beautiful! You can then head to the other lagoon to swim effortlessly!
There is indeed as much salt here as in the Dead Sea! As a result, we simply float. A little warning, though, the water is freezing. So, it's an express swim on the program (and we're going to be honest, only my cousin went swimming. ). Oh yes, there are even showers available with fresh water for the brave ones who would have thrown themselves into the water 😉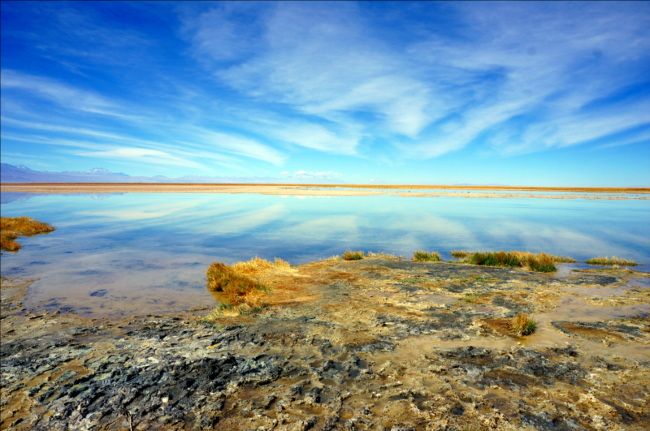 Los Ojos del salar
As we had not yet rode enough, we continued about 10 km south towards "los ojos del salar" and another lagoon. So unfortunately for us, the track that continues in this direction is seriously deteriorating and it is much more difficult to drive. It's practically nothing more than "jail" as the cyclists say. Understand the kinds of ripples that form on the track…very unpleasant.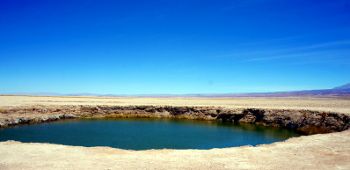 But after an hour, we arrive at the level of 2 small freshwater pools coming out of nowhere (los ojos del salar). Tired, we decide to stop there to eat. And since we didn't want to continue to the next lagoon on this road either, we finally turned back towards San Pedro.
But to make things even more complicated, we had a strong headwind that covered us with sand for the 30 km that separated us from the village. In other words, we arrived in San Pedro 3h30 later, full of sand and completely exhausted. 😉
Infos

Beware of the sun in the moon valley and the Atacama desert! It's very strong!!! Thus, we recommend long sleeves. With an extra cap and a maximum of sunscreen to avoid getting burned. Don't forget any part of your body because with the reflection in the Salar, you will burn yourself even under your armpits 😉 and of course bring a lot of water!
Be careful of the wind that rises in the afternoon. It can blow very hard. As a result, we really advise you to drive a lot in the morning.
Excursion to the Tatio geysers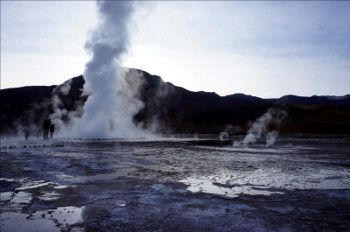 Well, after visiting what er could on two wheels, we didn't have much choice but to take a tour to see the other attractions around San Pedro. But since we didn't have the budget to do everything, we had to choose!
Since we had seen already a lot of lagoons, pink flamingos and volcanoes in the Salar d'Uyuni and in southern Lipez, we decided to go see the Geysers del Tatio. Located about 100km north of the village, they are the most famous ones. We have abandoned the idea of visiting the Salar de Tara and the "los flamencos" reserve. After negotiation, we paid our excursion 16000 pesos/pers for half a day, leaving at 4h30 in the morning and breakfast included.
As expected, we were awake and ready at 4:30 am in front of the hotel to go to the geysers. But as is often the case with these buses that go around a place to "pick up" tourists, we got picked up almost last, at 5:15 am. Grrrrrr!
So first surprise, we were expecting a kind of mixture between buses and 4x4s to reach the geysers but it's a big 30 seat bus that stops to pick us up.
Then, a tall man who happens to be our guide takes the microphone to tell us that we will have about 1h30 of travel and that we can go back to sleep… We do it immediately 😉
Get up early to see the geysers, why?
So why get up so early to go see geysers? It seems that these guys are more active if the outside temperature is cooler. As a result, the best time to observe them is at sunrise.
But with the delay we had taken, we were still wondering if we would not miss the show! Fortunately for us, although we were closer to being the last to arrive at the Geysers field (but anyway this site is very touristic so forget the tranquility ;-)), we were able to enjoy the geyser in full activity ;-). We shouldn't have waited another half an hour though…
So don't expect any 20m high water eruptions either, but the number of geysers and the smoke that escapes from them make the overall view still damn impressive! In addition to that, our guide of the day had lots of interesting information to tell us, which made the visit even more enjoyable.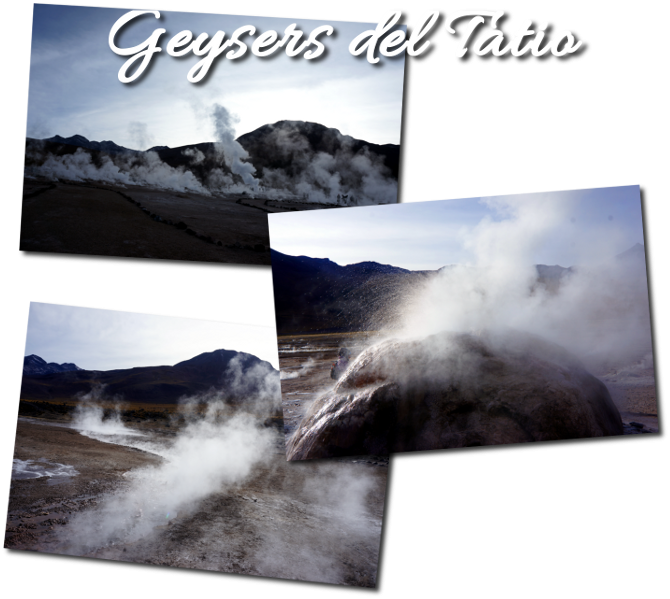 On the way back, we stopped at a village but to be honest, this stop did not add anything more to this tour.
Infos
We got a great breakfast in the middle of the geysers. For once, there was plenty to eat for everyone with tea, coffee, chocolate, bread, jam, cakes, cookies… Perfect!
Don't forget to bring your bathing suit if you want to swim in the springs next to the geysers. We decided not to go for a swim in order to have more time in the middle of the geysers but it seemed fun.
Take warm clothes with you! It was -10 degrees celcius when we arrived at the geysers at 7:00 am.
We booked this tour diretly in San Pedro, but if you'd like to book it online in advance, you'll find it here.
Other things to see around San Pedro
Salar de Tara :
Tara's salar is located in the farthest part of the "los flamencos" reserve. From what we have been told, the landscapes are splendid and few people go there. But beware of the altitude and the cold, this excursion can go up to 4900m.
The "lagunas altiplanicas" :
As I told you, we had already done a lot of pink lagoons and flamingos in Uyuni. But if you are interested in this kind of dream landscape in the "los flamencos" reserve, this excursion is for you (30000-4000000 pesos/persons for the day).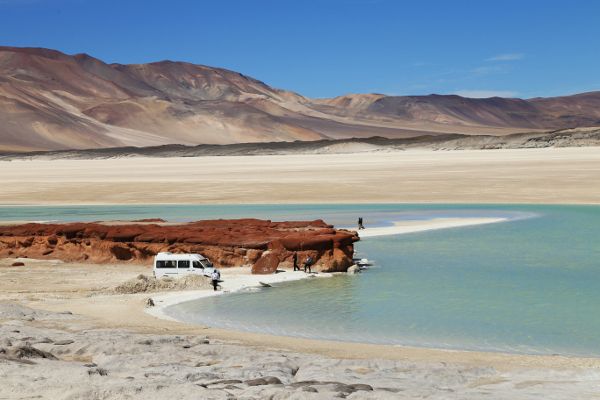 The southern region of Lipez and the Uyuni salt flats:
If you are coming from Chile and want to go to Bolivia, it is very popular to take a tour directly from San Pedro de Atacama through the southern Lipez and Salar de Uyuni regions. You can admire these fantastic landscapes over 3 or 4 days and arrive directly at the village of Uyuni in Bolivia. On the other hand, prices are a little more expensive than in Bolivia. Count about 100€ per person!
Several agencies offer these tours directly in San Pedro. In our opinion, there is no need to book anything before you get there.
Climb a volcano

You may have noticed when you read us, there are many volcanoes in the region. Several agencies offer the ascent of volcanoes such as Lascar volcano, Licancabur (located next to San Pedro), Pili (6064). I even saw an agency that offered to climb Aconcagua, the highest mountain in South America. But then, no idea how serious these agencies are….
If you want to climb on top of a volcano you might want to have a look at our article about climbing the Parinacota volcano, a volcano located on the chilean border to Bolivia.
That's it, it's over for those few nice days in San Pedro de Atacama…. Next time, we'll tell you why we decided to change our plans at the last minute (again) to go to northern Argentina instead of along the Chilean coast… 😉
NB: This article contains affiliate links. You will not pay more by using our link but it will help us to keep this site alive. We had not used this site during this trip but it is the site we always use when we book hostels. Thank you very much:)
Enregistrer
Enregistrer