We have been living in Vienna, Austria for 14 months now, and one thing is certain: the city is worth a visit. Since we arrived here, many of our friends have already come to visit us, and others are still planning their trip. A question that often comes up is: "When is the best time to come to Vienna?"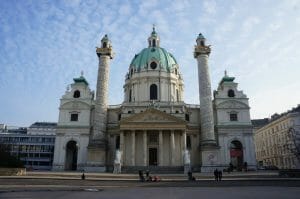 This question is often difficult to answer because now that we have spent a year here, we still have difficulty saying which season is the best… Vienna is beautiful in all seasons! And the activities are very different depending on the weather and the seasons. We offer you a brief overview of the 4 seasons with the advantages, disadvantages, and events not to be missed…
You can also find our other articles on Vienna all year round:
Edit 2019: we lived in Vienna from June 2011 to August 2013. All the articles on the blog were written at the time. But as we still love this city so much and return there almost every year, all the articles have been kept up to date.

Weather in Vienna during the autumn (September – October)
Autumn is a season I really appreciate! Especially since in Vienna you can really feel the change of season…
The beginning of autumn is generally marked by the traditional Indian summer. In September or even at the beginning of October it is not uncommon to easily cross the 20° mark. From mid-October Vienna tends to cover itself with a slight fog, the trees all turn golden and the temperature begins to drop.
From mid-November we can say that winter is well established. But temperatures rarely drop below 0° at this time of the year. In theory it rains about 14 days a month in autumn in Vienna, in practice (well we've only been here for 2 years) I'd rather tell you that it really rains 2-3 days a month, and that the rest of the time it's certainly covered, but rarely raining like crazy.
And you can believe me, I have a dog, and I can promise you that neither he nor I like the rain, so Vienna is not bad for that!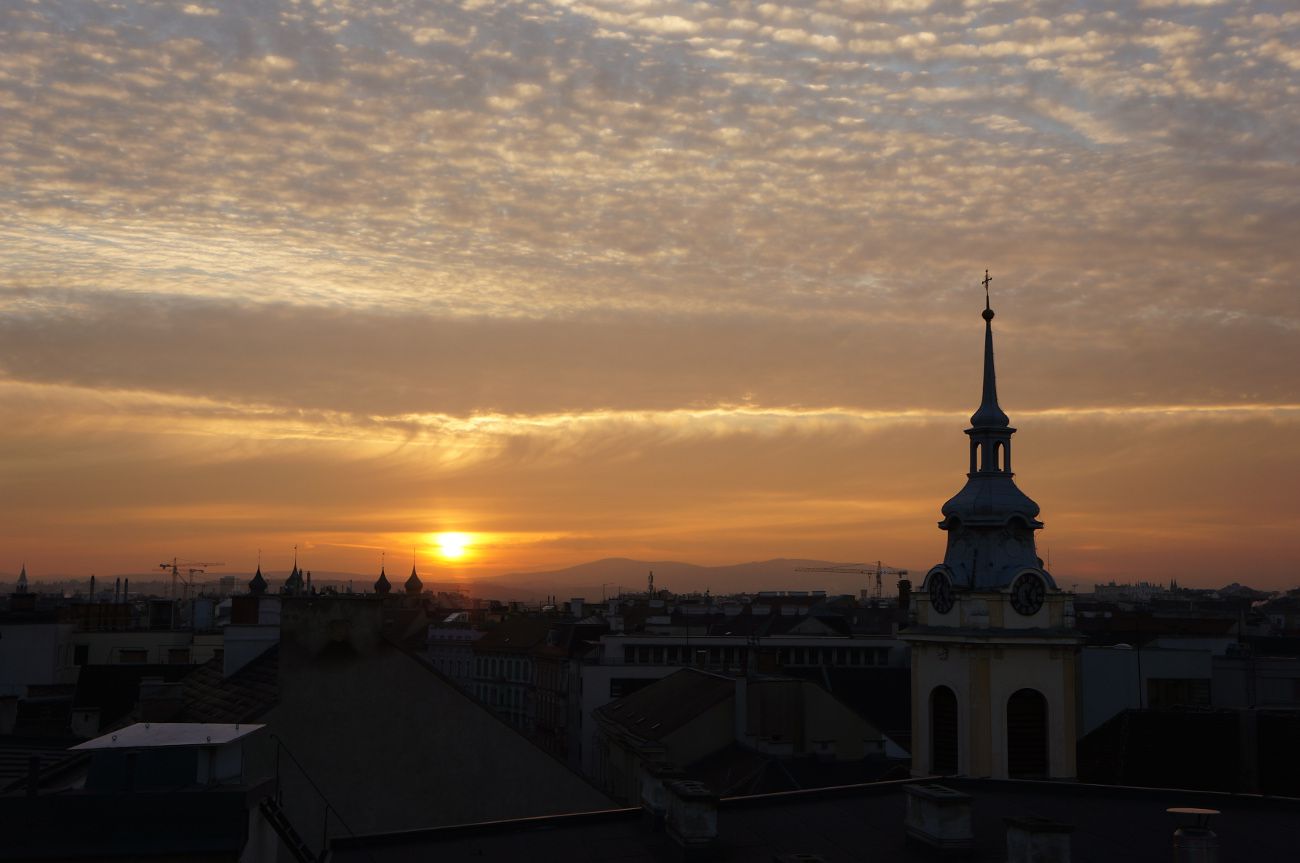 Where to stay in Vienna

Accommodation in Vienna is unfortunately relatively expensive… But don't worry, there are still some good alternatives, especially in terms of youth hostels.
If you prefer to choose a hotel or hostel, we recommend that you visit the website of Hotelscombined. It is a search engine that allows you to compare several major booking sites such as Booking, Agoda, Expedia and many others. In short, the guarantee of the best price!
Youth hostel does not necessarily mean dormitory… In Vienna many hostels offer double rooms with private bathrooms, in short it is like in a hotel but cheaper! Our advice: Have a look on Hostelworld and look for accommodation thanks to the map option, everything that is close to the centre and Mariahilf will be an ideal location to discover the city on foot! My little favorites? Wombats city hostel, Wombats city Lounge, Ruthensteiner
The alternative? An apartment. In Vienna there are hundreds of holiday homes. The prices are clearly not cheap, but it can still be advantageous to have an apartment compared to a hotel room because you can save a lot on restaurants.
If you'd rather choose your accomodation based on location you can take a look on the map below. You'll see all available apartments and hotels for your desired dates / price range:
the grape harvest around Vienna
For the amateurs that we are September / October obviously means the grape harvesting season. And as you might know, Austria is also a wine producing country. You will thus understand that the Vienna region is no exception to the rule.
There are many possibilities for wine lovers in the Vienna region. Here we offer you 3 fun little excursions to do at less than an hour from the Austrian capital…
Kahlenberg (Grinzing):
Viennese people will tend to call it the Vienna mountain… From our Swiss point of view, used to the Alps, we would say the Viennese hill… Located just a short distance from the city, this "mountain" offers a perfect opportunity for a getaway in the heart of nature less than half an hour by transport from the heart of Vienna.
Our favorite ride is to take a bus to reach the top of the Kahlenberg. From there you can admire the view of the city and then walk down to Heiligenstadt. The walk will lead to the very pretty village of Grinzing, where you will find plenty of different "Heuringer" (typical Austrian taverns) where you can enjoy a good glass of wine from the vineyards you will have crossed during your walk!
Pillichsdorf:
We discovered this small village north of Vienna this year during the "KellergasseFest". Understand by this Keller which means cellars, Gasse which means street and Fest = celebration.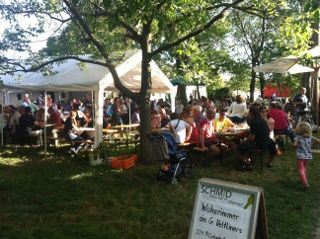 As you will have understood, this small village of barely 1000 inhabitants has as its main street: the "cellars street". And this street is well named, since nearly a dozen wine-makers hold their cellars there.
During this annual celebration held in September, the whole street is celebrating! Each winemaker installs tables and chairs in front of his cellar, and at the entrance of the village there is a hut where you can buy the "entrance". For 9€ you will receive a small bracelet and a glass of wine (empty). Then it is time to visit the village. With a glass in hand, you move from cellar to cellar with the opportunity to taste many wines each time.
On the other hand, forget immediately the notions of tasting that you may have read in oenology journals! In Pillichsdorf there is no spitting, and the glasses served are not tasting samples but 1/8 ("Achtel"). In Austria, wine is not served by dl, but by 1/8, so 1.25dl… This celebration takes place over an entire weekend, and offers a really nice atmosphere: musicians, people in traditional clothes also called Dirndl and of course the wine which flows in abundance.
Wineyards walk between Baden and Gumpoldskirchen:
In the same spirit as the Pillichsdorf festival, a very nice activity to do in the surroundings of Vienna on the wine topic is the walk between Baden and Gumpoldskirchen.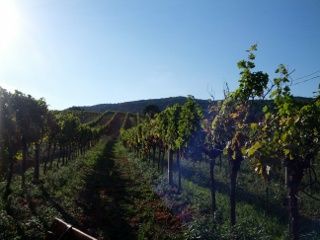 This walk will take you along the vineyards with a very beautiful view of the surrounding plain.
We opted for this walk during one of the weekends of the "Genussmile". Understand by this the mile of flavors. Every year, for two weeks, the winegrowers set up stands in their vineyards to allow visitors to taste their wines. For information on this beautiful region, check wienerwald website.
Once you arrive in Gumpoldskirchen you will also find many "Heuringer" to enjoy a snack after the walk…
Getting to Vienna

There are also many flights arriving in Vienna from most European cities. In order to find the best price, we recommend that you compare rates from your city on Skyscanner.
But as you certainly know, flying is not very environmentally friendly, so if you can, using the train or the bus could be an option
If you are looking for information about Flixbus or the interflix pass, check out this article.
Oktoberfest in Vienna
I know what you think… Okoberfest, the real one is in Munich, and you're not wrong. But the Viennese people are still very proud of their edition, which takes place every year in the Prater Park. Besides, it's funny, because at this time of year it's common to meet hundreds of people in Dirndl (traditional Austrian clothes) in the streets of Vienna.
The Viennese event is based on the same concept as its Munich model; its tents, large wooden tables, music, and of course beer! Admission is charged. The rate depends on the time of day and the programme of the day. If you are interested in this event then I invite you to visit the website of the city of Vienna.
Every year, nearly 200,000 beer lovers gather in the Prater's tents, so if you plan to visit Vienna next year in October, don't forget your suede pants and Dirndl!
Visit Vienna

If you wish to do
activities in Vienna such as museum visits or tours
, we recommend that you book your tickets via the internet in order to benefit from the best prices (and also avoid queues) 😉 To find activities, we recommend that you take a look at the site
GetyourGuide
. In total, they have more than 200 activities and visits in and around the city of Vienna
See the activities on GetyourGuide
Final thoughts
Autumn in Vienna offers wonderful opportunities. And both the pre-holiday period and early fall are filled with great "seasonal" activities. For me the only disadvantage would perhaps be the weather… I told you, the temperatures are mild, the rain is not heavy, but on the other hand you should know that in autumn it is rarely "sunny". The city is covered with a light veil of fog, the sky is often overcast, so few are the beautiful cool sunny days where we could fully enjoy the last terraces… But to compensate the lack of a small beer in the sun, I can only recommend a good mulled wine at the corner of a street to give you back some heart comfort.
NB: Please note that this article contains affiliate links to partner sites. If you buy a product on one of their sites you will not pay more but we will receive a small commission; this will help us to keep this site alive.