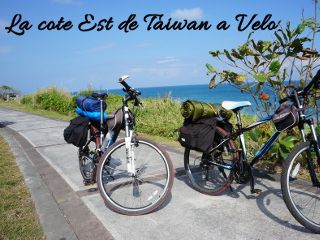 After a few nice days spent with our friend Yann and his wife Christine in the capital Taipei we made a spontaneous decision! We opted at the last minute for an exploration of Taiwan's east coast and its famous Taroko gorges by bike while camping on our way. I can already some of you say:
"Benoit!!!!! How dare you force Fabienne to go on a bike trip like that…"
Well, you should know that Fabienne actually took me completely by surprise when she offered me this crazy adventure herself! (She didn't have to insist much to convince me)…
For those who don't know Fabienne well, it's important to know that she doesn't have a very great love affair with cycling. She had to do it 4 times in her life 😉 Hence my surprise!
It seems that this beginning of a journey around the world has increased her confidence level.
Perhaps also our meeting with this couple of cyclists in China who were riding from France inspired her? Who knows… Anyway, we took advantage of our last afternoon in Taipei to buy a tent, since we already had a burner and pots on us. Ehh yeah, we travel light… lol.
Travel Video: A week of cycling in Taiwan
But before the details of the article, some pictures of this bike trip that will remain forever engraved in our memories! It probably won't be the last time we travel on two wheels!
Note: we're sorry but the video is in french… but you should still be able to enjoy the images even if you don't get everything we're saying 😉
Taiwan's east coast: an ideal playground for cycling
Well, it must also be said that the east coast of Taiwan is well suited to cycling (Fabienne is not totally unconscious 😉 ). On this side of the island, there are very few large cities and most of the coastal roada are equipped for cyclists! That means there's a bike lane on both sides of the road. You can fill your water bottles with drinking water at all police stations! And not making anything worse, the road is relatively flat. In short, it's an ideal playground for Fabienne to tame her new bike. A bike with saddlebags please 🙂
Accommodation prices in Taiwan
Another argument that also tipped the balance in favour of this bike tour was the price of hotels in Taiwan. It should be noted that it is very difficult to find dormitories for less than 10€ per person or a room for less than 20-25€. This is a large sum compared to our budget in China or simply to the prices of food and transport in Taiwan. By staying in hotels, the accomodation budget can easily represent 50% of the daily budget.
So if you are planning a trip to Taiwan, don't underestimate the price of hotels!
And to find hotels at attractive prices we recommend the excellent site of Hotelscombined. This site is in fact a comparator of comparators. Basically it compares in real time the offers at Agoda, Booking, Expedia and many other suppliers. So it's a way to get the price the expensive anointing in the end!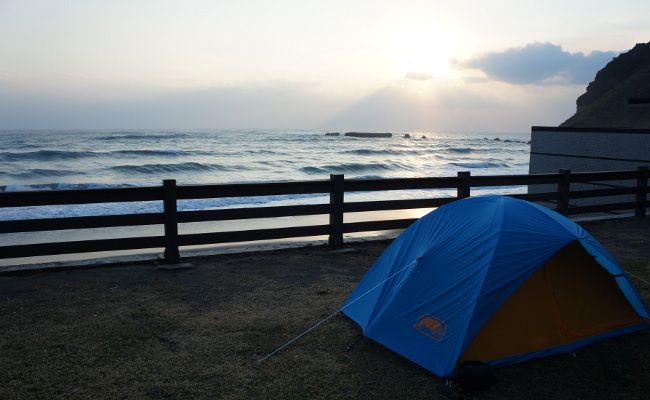 The city of Hualien: an ideal base camp
The city of Hualien, located a little south of Taipei on the coast, has nothing special to offer except its ideal geographical location. It is located at the entrance to the Taroko Gorge and the magnificent "highway 11" that runs along the east coast towards Taitung.
It is therefore the perfect place to set down your backpack, discover the gorges or start a bike trip on highway 11.
To rent a bike, you can go through the firm Giant (which has a shop in all the cities on the coast, next to the stations) which will allow you to rent a bike at a place to make it further if you wish. But we advise you to book in advance…. We couldn't rent a bike from them.
But there are other people who rent quality bicycles with large bags for camping equipment in the city of Hualien. (for our part, it was a goldfish seller. Yep… a guy selling goldfishes as pets…)
However, you will have to bring the bicycles back to the starting point. Which was not a problem for us. 😉
Highway 11, a dream road for cyclists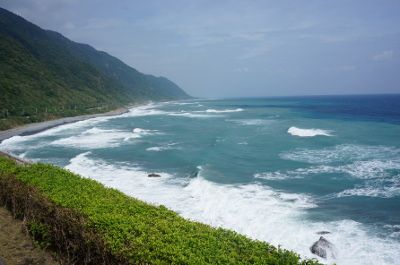 Higway 11″ is the splendid 180km coastal road that connects Hualien and Taitung. Between these two small towns, it's just fun! And to be honest, we didn't expect to be so caught up in the East Coast scenery.
During the whole trip, you have on one side the Pacific which extends to infinity and on the other a succession of mountains and green forests…. It's hard to look where you're going with such a panorama ;). It may be stupid, but how many times have I found myself smiling stupidly on my bike, admiring the landscapes that followed one another and saying to myself:
"It's amazing how lucky I am to be here riding my bike freely with Fabienne on my side."
Cycling: the best feeling of freedom
And then there is also the fact that cycling provides that wonderful feeling of freedom that you don't necessarily get when you travel by public transport. We move at our own pace, we go exactly where we want. We were even encouraged by people! When you are tired or want to admire the scenery, you take a break and that's just happiness!
The ritual? At the end of the afternoon, we start looking for a nice place to camp and make our little meal. If you need a shower, you can check if there is not a paid camping or a small inn in the area! In short, it is pure freedom. To tell you the truth, we loved the experience so much that we're already planning to do it again. Fabienne even told me that she would visit a European country in this way. And I'm already excited about the idea ;-).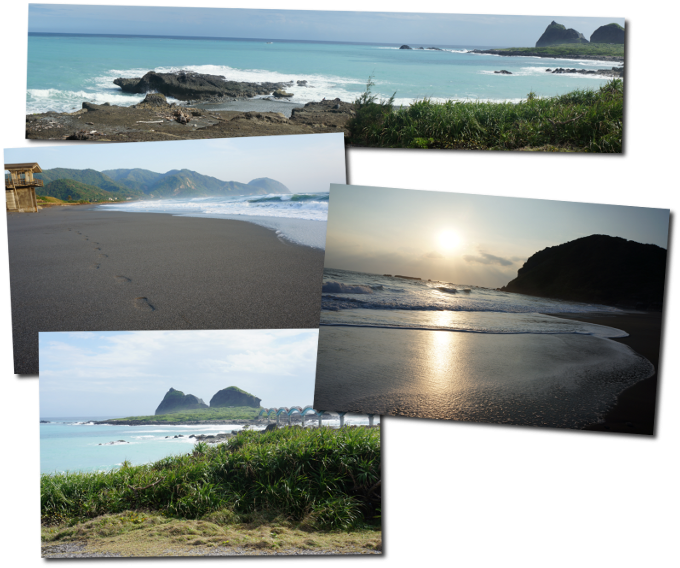 Now, let's get back to our business…. We had planned to go down to Taitung along the coast on Highway 11 and then up to Hualien via the "rift valley" on the 197 and 193 roads, which are considered magnificent. A nice little route (350 km) for the first bike tour over several days of "Fabienne Cancellara"… We had more or less planned to go wild camping and take a paid pitch 1 day out of 3 to take a shower.)
Earthquake in Taiwan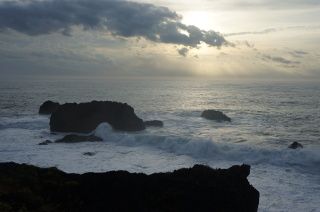 The first three days were magical! We had a great day despite some big storms in the evening, but our tent proved to be perfectly waterproof. Phew! We found two great spots to camp with a view;-). Since we never sleep very late while camping, we enjoyed splendid sunrises over the Pacific by drinking our little coffee with some cookies. And honestly, this kind of moment is priceless.
For the record, we even experienced our first earthquake! We found ourselves 30km from the epicenter of a 6.7 Richter scale tremor! A small flashback of our discussion at that time in the tent:
Fabienne: "Benoit! Wake up…. I feel like we're moving here! It's really weird…."
Benoit: "Go back to sleep, man… you probably have a blood pressure drop!"
You will have understood, I didn't feel my first earthquake. Yet it was a big one anyway. It was only the next day that we understood! When we turned on our smartphones and received several messages asking us if everything was okay ;-)! Bahhh, in Switzerland, it takes more than a little jolt to scare us ;-).
How we spent the night at the police station!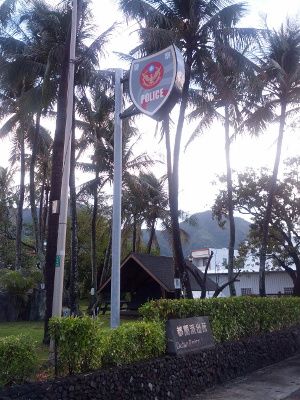 The 3rd day, we stopped in Dulan; a small surfers' village located a few kilometers north of Taitung. This is where we spent our first night at the police station.
However, nothing has been done wrong, but in Dulan the police allow travellers passing through to camp free of charge in shelters set up within the station's own walls. Just awesome! And I can tell you that we were happy to have shelter because it started pouring all evening and the next day. This small forced stop allowed us to appreciate the nice atmosphere that reigns in Dulan…. If you pass by there, stop for a day! It's clearly worth it.
Unfortunately for us, the weather wasn't going to get much better for the next day. We took advantage of a short break to reach the town of Taitung and it was reluctantly that we had to take the train back to Hualien.
But we have only heard good things about the 197 and 193 routes that go up to Hualien. If you have more luck than us with the weather you will certainly have a lot of fun driving on these roads. Especially since there are some hot springs scattered along the way as well as the magnificent views of rice crops in the "rift valley". But well, we're not yet master of the elements so we'll have to deal with it!
Explore the Taroko Gorge by bike
It was a little disappointed but not down that we found ourselves at our starting point having driven half of the planned route. The weather for the following days looked a little better and we still wanted to pedal.
So we thought to ourselves:
"Why not explore the Taroko Gorge by bike and camp in the park? It's probably possible…"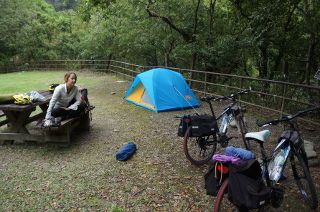 Although most people generally sleep in Hualien and make daily scooter trips to the gorges. However, it is quite possible to camp in the park and even free of charge!
Well, it's just an area with no showers or toilets near the information centre. But for me, it's the nicest way to explore this wonder of nature (and there's a toilet in a nearby bar).
It climbs steeply to the Taroko Gorge
However, to get to the information centre located in the heart of the gorges, you will have to climb a little ;). From the park entrance about 30km from Hualien, there are still 15-20km to go to reach the campsite and some sections are rising quite a bit.
I was very impressed by Fabienne who swallowed these portions without flinching! I can tell you that the beer after setting up our tent had a completely different flavor that night. 😉
Obviously, we realize that we didn't achieve an incredible sporting performance. The experienced athletes would probably have completed the course in just 2 days. But if you had told Fabienne before the trip that she was going to do a week of cycling and wilderness camping. And that on top of that she was going to love it! She would probably have laughed at you ;-). So I say: "Hats off, ma'am!". She pushed her limits during these few days and thanks to her, we discovered a new way of travelling that gave us a real feeling of freedom. Congratulations to her!
Taroko Gorge
Returning to the Taroko Gorge: by sleeping at the campsite you will have very easy access to most of the park's treks and attractions. I would therefore advise you to camp out there to explore all the possibilities available to you. And there are many of them: waterfalls in abundance, emerald waters, silvery reflections on the cliffs, hot springs, an incredible diversity of rocks, monkeys, multicoloured birds and many more…
We spent 3 days inside the park and it was by no means enough! Moreover, if you plan to spend several days in the park, we advise you to buy the detailed trekking guide that you will find in the information centre for about 5€. This is enough to keep an experienced hiker busy for more than a week ;-).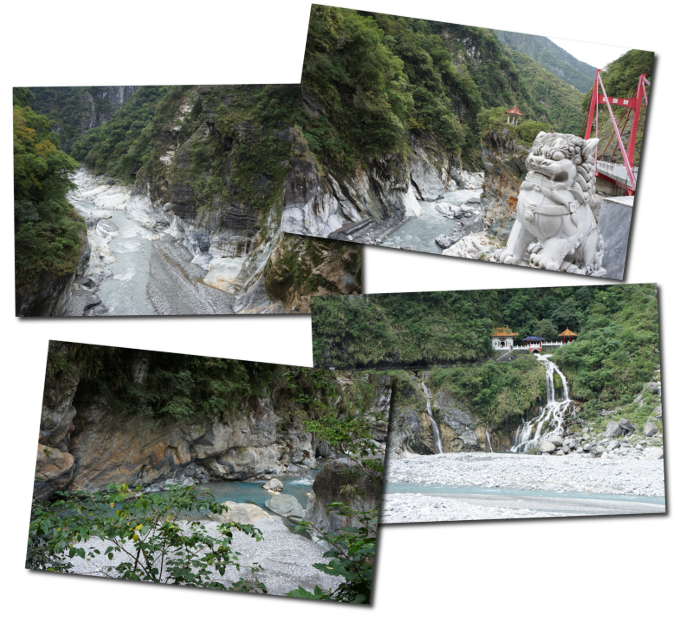 As you will have understood, we were completely won over by the bike trip. We liked the feeling of freedom, the people who encourage us, the physical effort that makes the landscapes even more beautiful! And wilderness camping has become our new best friend…
Of course, we realize that in one week, we just had a taste of what a bike trip can be like. For better but also for worse…. But we are motivated to discover more during our current trip and after our return. We can imagine going to discover a European country in this way! Because cycling is a fantastic way to travel cheaply in our more expensive countries ;-).
And you, have already taken a bike trip over several days (or weeks)????
P.S. : Update from Ben and Lucy (July 2017)
A couple of nice readers posted a very complete commentary on their 9-day trip on the east coast of Taiwan by bike…. There was so much information that we decided to include their comments in the article. Thank you so much to them for taking the time to share their experience:). This will surely be useful to many other travellers!
cycling trip preparation
In Taipei, there is a Decathlon (even 2), very convenient to buy quality camping equipment at low prices. In Hualien, several bike rental companies. As you leave the station, the Giant store on the left offers higher prices than the others but for top-of-the-range bicycles with the possibility of dropping them off in another city. They were closed when we passed so we found a rental company in the street parallel to the station (6€/day with bags, repair kit, tensioners, lights and helmet). Still in Hualien, the youth hostel "Big Bear Hostel" is at the top and allows you to keep the big bags for free, make a machine for 1.50€ and are responsive to emails for the return date!
To frame our remarks, we left in mid-July 2017, with a bike and a tent but without the cooking equipment (we ate in the small restaurants of the villages and in the 7/11 or family mart). Don't worry, the food is really very, very cheap! It was hot as hell (28° at night and 35-40° during the day) and we had a rainy afternoon and a few nights.
Step 1: Hualien – Yuli (110km)
Route 9 then passage to lake "liyu" before turning onto route 193 at Gwangfu.
Route 9 is very busy, it is a 2×2 with a bicycle path on the edge. Many police stations and roadside shops for supplies. Route 193 is in the middle of the rice fields, very little used, and magnificent!
In Yuli, you can sleep at the Catholic church where Father Yves (the first foreigner to have Taiwanese nationality) welcomes you for the night. This Frenchman is very well known in Taiwan, he welcomed the president last year and works for the most disadvantaged. Yuli is a lively little town, perfect for an evening with very nice police officers.
Stage 2: Yuli – Dulan (85km)
Departure from Yuli on Route 9 and then just after the bridge marking the exit of the city, in parallel with Route 9, there is a bicycle path at the edge of the rice field which is sublime. It has small shelters where you can pitch your tent (in case the church is full on your date)! This road takes us to Dongli then we take road 9 to Fuli and we turn off on road 23 which joins the coast.
Feel free to take food and drink in Fuli, Route 23 is beautiful but for about 50km it goes up more than it goes down and there are no shops or water points. At the end of this road, there is the famous monkey bridge just before arriving in Donghe.
In Donghe, there are a few restaurants, fruit sellers and a 7/11 to get your strength back.
From there, it was off on Route 11 along the coast.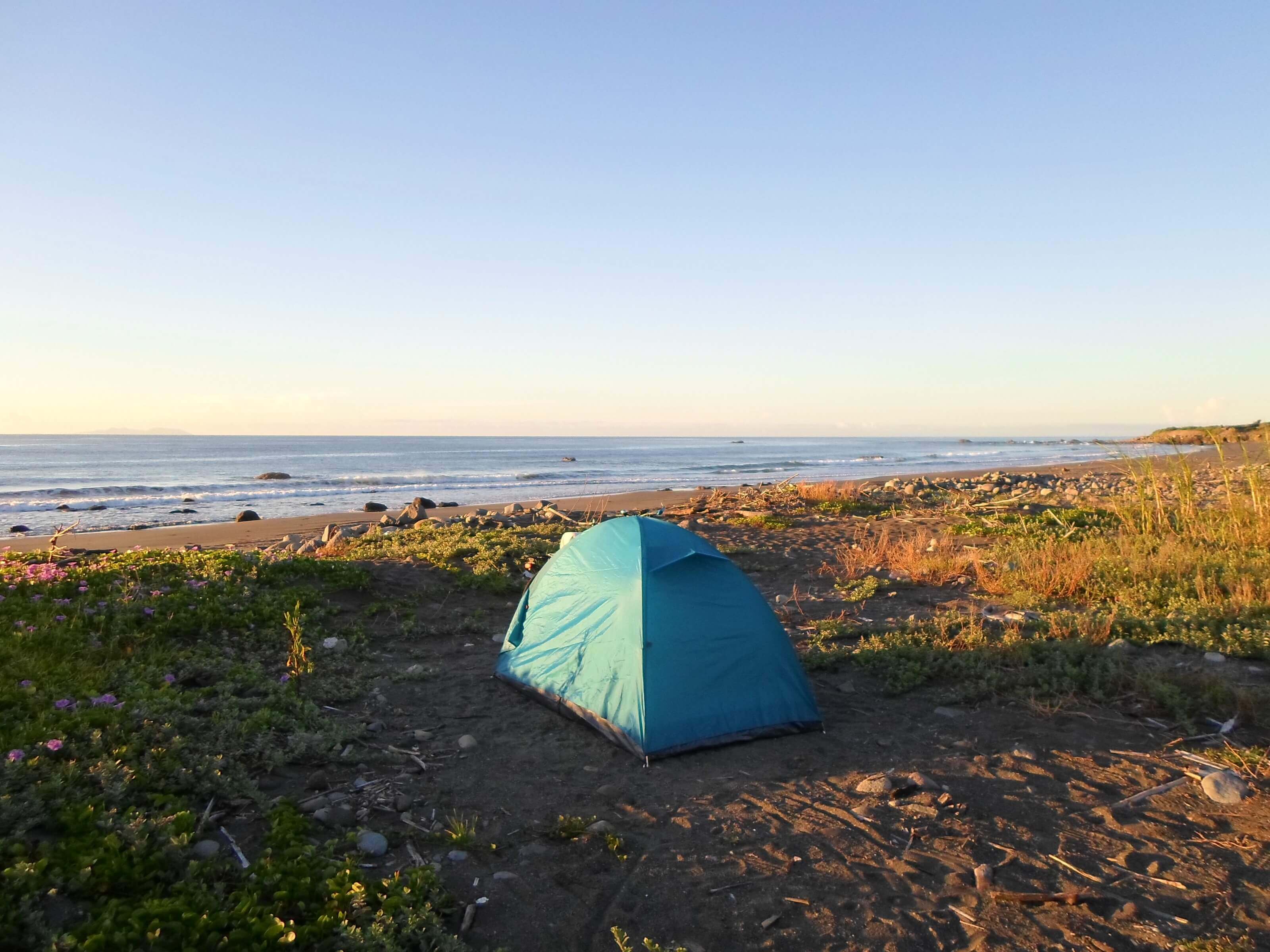 In Dulan, if the police station camp is full (there are only 3 shelters and they are taken very early in the high season) you can still take a shower and camp on the beach. Dulan is a nice surfing village with a lot of animation on the we.
Step 3: Dulan – Kenting (65km)
20km after Dulan, pass through the big city of Taitung.
Possibility to take a bus from the bus station (coupled with a visitor center) next to Taitung University. You can reach the Fengang crossing on the west coast with bicycles in the bus (only three buses/day: around 7am, 12pm and 3pm).
The trip takes about 1h45 and costs about 10€/persons with bike. This trip is also possible by train but bicycles are not always accepted, it is necessary to get information.
From Fenggang take route 26 to reach Hengchun 25km later. Very nice city where you have to take the time to stop and have a bite to eat there 🙂 ! Then there are only 10km left to reach Kenting and its campsite (leaving the city on the right, to be sure not to miss it better ask the police station of Kenting). The campsite has covered shelters, toilets with crazy pressure and costs 300$NT/2 (about 9€).
+ 1 day of rest in Kenting! There are many things to do in the surroundings: beaches, forests…
Step 4: Kenting – Dawu (105km)
Route 26 in the national park is beautiful and then we turn off onto Route 200 for Manzhou and finally reach Gangzi (where there is a mini restaurant) before going back on Route 26 to Xuhai (a police station in this mini village allows you to fill the water bottles).
From here, take Route 199, which climbs steeply for the first 8 km and then slowly climbs for the next 12 km. After these 20km of suffering, we arrive at the junction (a small bicycle kiosk with water is available) with route 9. There is only 20km of downhill to Daren where the 7/11 is full of cyclists 😉
Possibility to sleep on the edge of Lake Dawu, about 10km further (a 7/11 and small restaurants in front of it are located on leaving the city after the bridge) in shelters! A place advised by the Dawu police officers who escorted us there!
Step 5: Dawu – Dulan (82km)
ALL CLEAR. Just before arriving on Taitung on Route 11, a small police station offers us food and a cool rest!
Stage 6: Dulan – Sanxiantai (40km)
From the city of Chenggong, a bicycle path takes you to the Sanxiantai Peninsula. You have to look at maps to find it 😉 It is possible to sleep in the Sanxiantai reserve under shelters. Also enjoy the pebble beach, the tourist centre shower, water and battery charging at the info point! It is even possible to eat in the small tourist hall during opening hours (9am-5pm). A really ideal place to sleep and enjoy nature.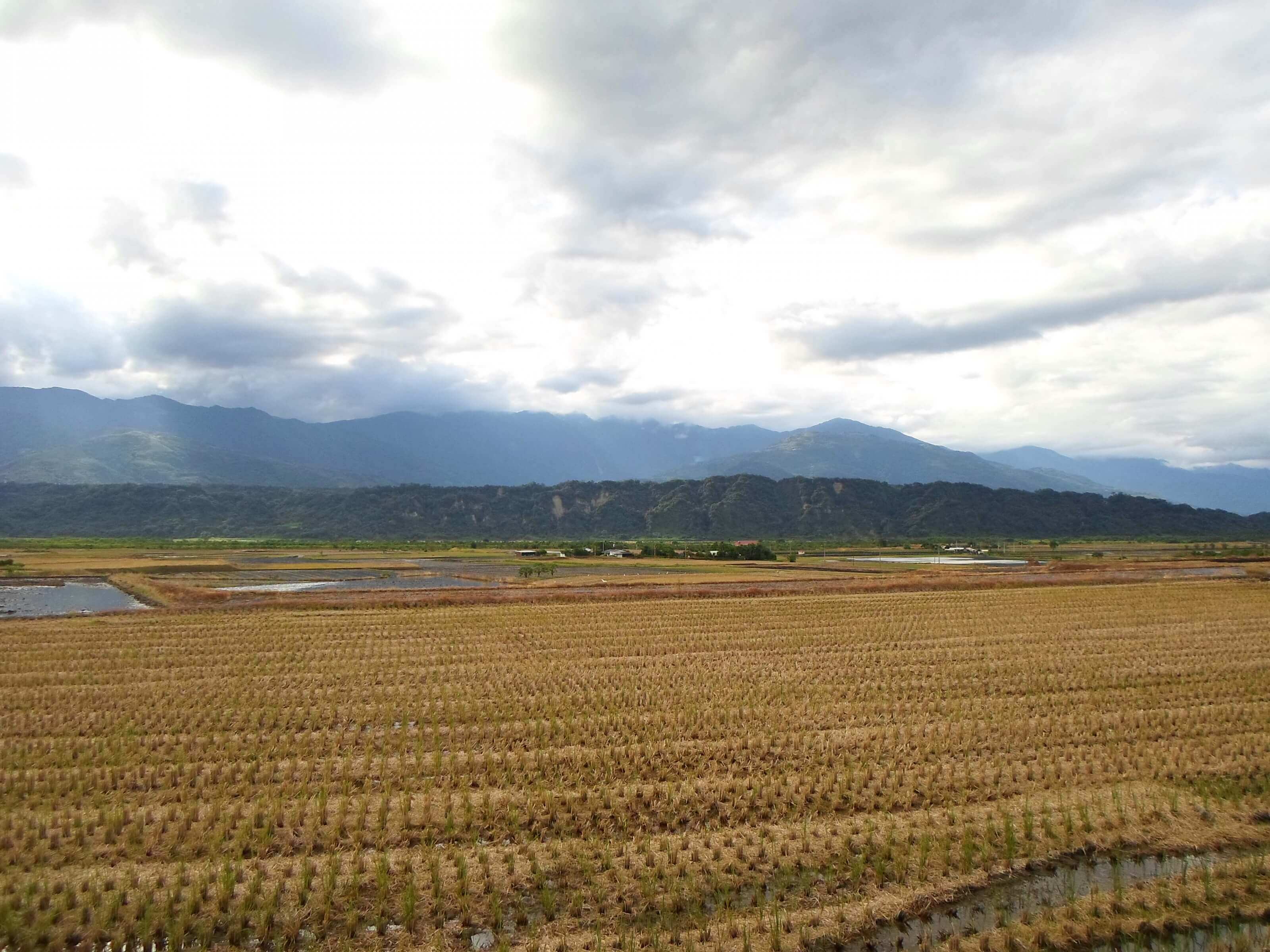 Stage 7: Sanxiantai – Jici (Jiqi) Beach (74km)
Be careful this stretch of road does not have many shops to eat but many points of interest so drinking water: Baxian cellar, cancer tropics… ! Plan your meals carefully: there is a 7/11 in Fengbin and from time to time small fruit merchants at points of interest.
Just before Jiqi Beach, there is a small peninsula with a mountain where shelters are perched: if you are motivated to bivouac at the top, the view is splendid. Otherwise, just after this mountain there is a shelter next to the ramp of the mini fishing port of Jiqi and another shelter/mirador at the other end of the beach (visible from the road).
Step 8: Jiqi Beach – Hualien
After Jiqi beach it goes up to the Baci viewpoint (Baqi), which seems to be a good place to camp too! With a superb view of Jiqi Beach and sanitary facilities at your disposal. Then return to Hualien with the possibility of extending the road to the lighthouse and the beach!
If you need more information, we would be happy to help cyclists: lucycbent@gmail.com