That's it, it's over! We crossed our first country of our round the world trip and it is time to make a small assessment after a little more than 2 months of travel in China.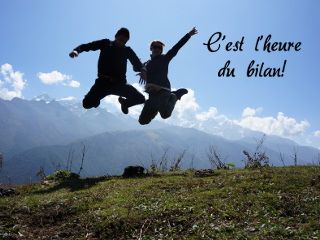 Honestly I think we couldn't have dreamt of a better start to this trip, China is really an extraordinary destination, full of surprises, beautiful landscapes, welcoming people and a total change of scenery compared to Switzerland!
Since the beginning of the trip, every day that passes we thank ourselves a little more for having made the decision to leave!
And to think that this is only the beginning! 😉
China: A guaranteed change of scenery
China tends to be often neglected by backpackers when they decide to go to Asia, and to be honest we can't tell you what made us decide to spend 2 months in this country…. Probably the impressive size that intrigued us, but also the desire to discover an incredible variety of landscapes! And the least we can say is that we were not disappointed! Backpacking in China is actually not that complicated and well… it's stunning!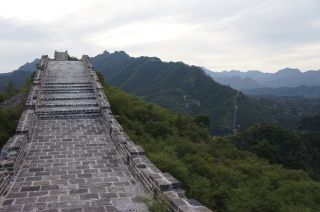 We have heard a few times that China is a difficult country to travel to because of the language barrier.
The language barrier in China
So we won't lie to you, the language barrier is there, much more than in the rest of Asia! In China, it is not uncommon to be in a station or restaurant and find yourself confronted only with Chinese… Not a single word of English is spoken or understood, so it is sometimes a little complicated to make yourself understood with words, but that doesn't matter: in these cases we use gestures! The lack of English should not be a barrier to discovering the country!
Beyond the more than striking change of scenery with the evolution of the landscapes over the kilometers, the shock can sometimes also be caused by the Chinese… The Chinese are golden people, with a smile on their faces, but it is true that they have a certain number of rather particular habits… We told you more about it in detail in this article for those who would be interested….
Security and Hospitality in China
When we decided to embark on our world tour, one of our family's greatest fears was mainly our safety…
It was clear to us that all the countries we picked for our round the world trip were not "dangerous" ones, but honestly we didn't really know what to expect in China…
So after 2 months there, from our point of view, China is much safer than many European countries!
Scam and tourist prices
At no time have we been confronted with a scene of violence or any form of aggression. People have always been adorable to us, and above all, with an honesty that exceeds all our expectations! Yes, in China there is no such thing as "tourist price" as you might find them in other Asian countries…
Everyone here pays the same price! Some very tourist places of course are overpriced, but they are not overpriced only for us white tourists, they are overpriced for all tourists, including the Chinese! And on buses and trains there is always a fixed price, no need to negotiate!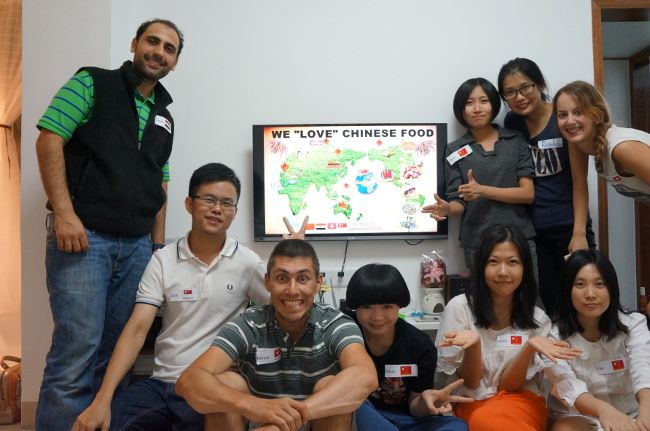 In China if someone drops something on the street, even a worthless coin, there will always be someone to rush to pick it up and return it to its owner; in the train we have never feared for our things and have always slept soundly! In short, China is definitely a "relaxing" country! Another characteristic of the Chinese that we have found everywhere, whether in the north or in the south, is their incredible sense of welcoming!
Info China
If you are travelling in China and want to access your social network accounts such as Facebook, Instagram or Pinterest, be aware that these sites are blocked. You will therefore need to use a VPN. For those who don't know what it is, here's a little article about VPNs
On our side we have had a subscription with ExpressVPN for several years and are delighted with it.

NB: If you subscribe to ExpressVPN through our link we will receive a small commission. ExpressVPN is a service that we have been using for a long time (and for which we pay our subscription) and that we recommend to you.
Detailed travel budget for China
Let's move on to the numbers now! As promised, we will keep detailed accounts in each country crossed in order to give you an idea of the cost of living per country for a trip in "backpacker" mode but still in a certain comfort.
Total expenditure in China in 67 days for both of us: 2938.8€ (about 3300 US$)
and thus an average of 22€ per day and per person. (24.8$)
This average includes absolutely all our expenses, including food, accommodation, transportation (excluding airfare to China), visits and small extras….
If you like small diagrams then here are the figures in more detail below: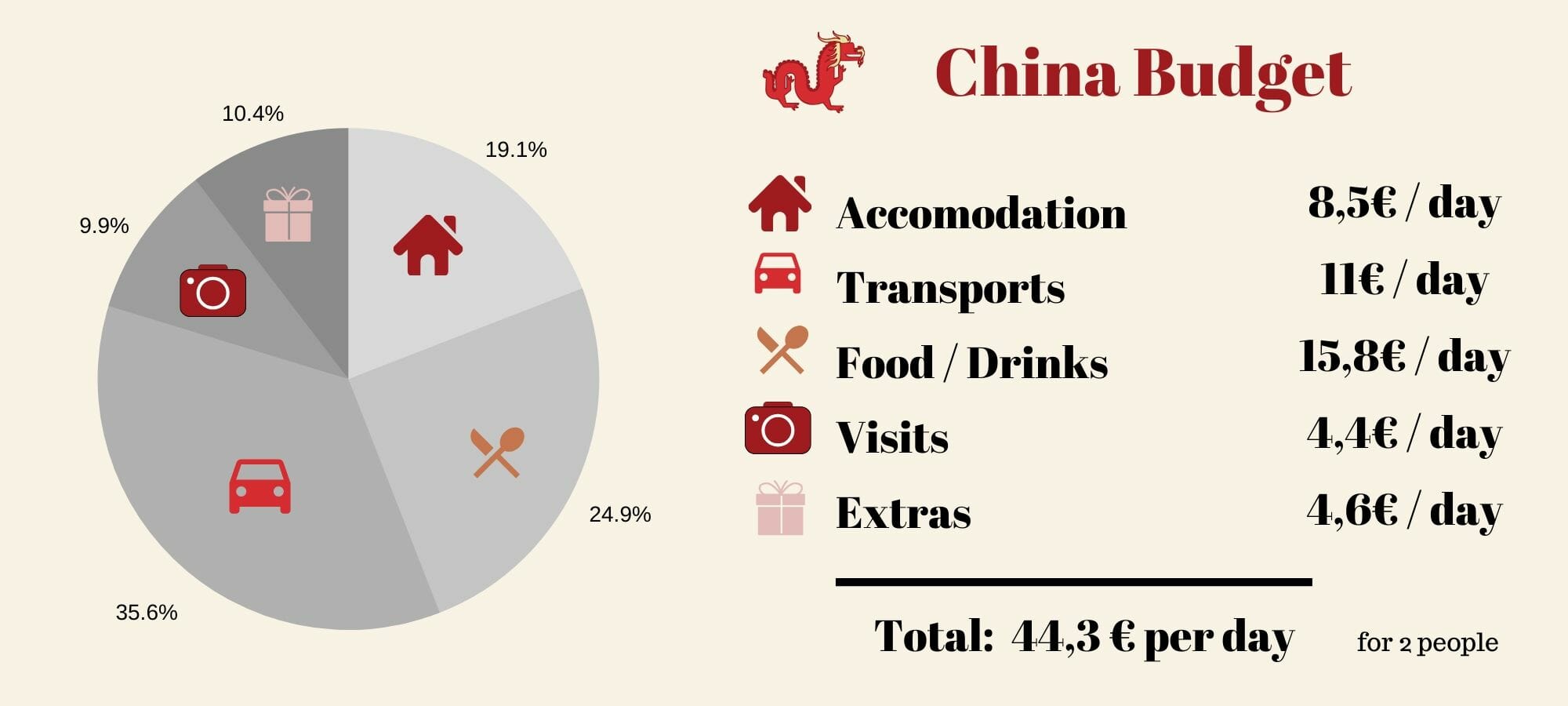 Daily budget by item of expenditure % depending on the regions crossed
In China the budget can vary quite a bit depending on the region in which you are located… For our part we aimed to stay below the 25€ per day per person threshold, and frankly in some regions it was very simple, while in big cities it is sometimes a little harder….
It is also important not to underestimate the cost of transport in China, if you make a calculation per kilometre then trains and buses are not expensive, but the distances are so huge that in the end the transport budget is not negligible.
Moreover, a point that should not be neglected in China, it is the entries into national parks or access to tourist attractions; the amounts are rarely huge, but this is quickly added… especially since in China, the slightest piece of mountain is a pretext to ask you for an entry… We give you examples entry prices below….
China budget: Details by region
But first let's look at the expenses according to the regions crossed (price for 2 people):
Again, we're sorry this in french… but here is a short summary:
Beijing – 9 days : 60.4€ per day for 2 people (68$)
Central China (Chengdu, Xi'an, Emeishan) – 16 days: 44.5€ per day for 2 people (50$)
western Sichuan – 10 days: 39.3€ per day for 2 people (44.3$)
Yunnan – 19 days: 38.5€ per day for 2 people (44$)
Guilin – 9 days: 45.4€ per day for 2 people (50.5$)
Guanghzou – 4 days: 44.1€ per day for 2 people (50$)
Notes:
1) 3 nights of couchsurfing in Beijing as well as 1 night on the train to Xi'an, so the correct accommodation budget would be rather 16€ per night for 2 people. Included in the transport is the train ticket purchased for Xi'an (which cost 135€).
2) In Chengdu we did 5 days of couchsurfing, the average "paid" accommodation would therefore be 15€ and not 10.4€
3) Guangzhou will have been a rather special city in terms of budget…. we did some couchsurfing 2 nights (out of 3) and above all we spent almost nothing because we were shopping to eat at our host's house… But the last day arriving, we treated ourselves a great restaurant, and we slammed our last yuans "in extras" at the airport… thus, the Guangzhou budget is probably a bit off…

China budget: expenditure items
We realize when we take a look at the results that the food item is the one that costs us the most….
Well at the same time we didn't deprive ourselves, we took a wicked pleasure in tasting as many dishes as possible! And well the food budget also includes drinks…. We will not reveal the % of the budget that went for beer, but it is clear that on this position we are well aware that there is a way to do less.
What we have called "Extras" is a bit of a catch-all category for everything that is not really a mandatory fee or just the unexpected. For example a birthday gift for our couchsurfing host, some medicines, a tripod for the camera, postcards, razor blades for Ben, etc….
Some examples of the cost of living in China
Price of a night in a dormitory in a youth hostel (per person): Between 25 and 60 yuan (between 3€ and 8€)
Price of a private double room in a small guesthouse: Between 80 and 120 yuans (about 10-13€) per room
Price of a coffee to take away at the starbucks: 27 yuans (3.2€)
Price of a coffee (excluding Starbucks): about 15 yuan (or 1.5€)
Price of a meal taken in the street: between 14 yuan and 50 yuan for 2 (between 2€ and 7€ approximately)
Price of a meal in a mid-range restaurant: 80 yuan for 2 (10€)
Price of a local beer at the supermarket: 6 yuan (less than 1€)Price of a local beer in a bar: 20 yuan (2.4€)
Price of a laundry in an inn: generally 10 yuan per kilo (sometimes 10 yuan per machine) or 1.2€
Admission fees to the main Chinese tourist sites (price per person):
Great wall Jinshaling Section: 60 yuans (7.3€)
Forbidden city: 60 yuans (7.3€)
Summer palace: 35 yuans (4.3€)
Terracotta warriors (Xi'an): 150 yuan (18.3€)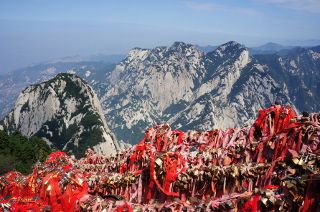 Mount Hua (excluding cable car): 200 yuan (24€)
Mount Emei (entry valid for 3 days, cable car not included): 185 yuans (22.5€)
Leshan's great Buddha: 90 yuans (11€)
The Chengdu pandas: 58 yuans (7€)
The Tiger Leaping Gorge: 100 yuan (entrance + crossing of the bridges in the gorges) (12€)
The rice terraces of Yuanyang: 180 yuan (22€), but we managed not to pay them…;)
Longii's rice terraces: 80 yuans (9.8€)
The price of transport in China
In China we decided to travel only by road and rail, so we didn't take a plane!
In all and for all our transport budget for China amounted to more than 950€ for both!
It may seem like a lot, but in the end we guarantee you that it's not that much given the number of kilometres covered! 🙂
Here is the detail of what we have paid for in "long distance" transport in China back in 2013
Train from Beijing to Xi'an in soft sleepers: 440 yuans (54€) for 1200km
Xi'an to Chengdu train by Hard Sleepers: 208 yuans (25€) for 842km
Bus from Chengdu to Kangding: 122 yuans (15€) for about 400km
Bus from Kangding to Tagong (return by private minibus): 120 yuan (15€) per person for 220km
Bus from Kangding to Xiangcheng: 160 yuan (19€) for 490km
Bus from Xiangcheng to Shangri-la: 90 yuans (11€) for 200km
Bus from Lijiang to Kunming: 160 yuans (19.5€) for 590km
Bus from Kunming to Yuanyang (round trip): 300 yuans (36€) for 540km
Train from Kunming to Guilin: 318 yuan (37€) for 1434km (22h by train!)
Bus from Guilin to Xingping (round trip): 37 yuan for 130km
Bus from Guilin to the rice terraces of Longii (round trip): 100 yuans (12€) for 150km
Train from Guilin to Canton: 206 yuans (25€) for 980km
Go to 12goasia to find tickets for travelling in China
In the end we will have covered nearly 4500 kilometres by train, and nearly 3000 kilometres by bus, and a fairly certain number of kilometres on foot, but these do not count towards the budget….
Apart from the fact that walking in the cities has always allowed us to avoid taking a taxi… The calorie balance will not be for this time we reassure you! 😉
In short, these 2 months in China will have been more than 8000km covered by train, bus, metro and on foot….
Our accommodation in China
When we arrived in China we didn't know exactly what to expect from inns or small hotels, but one thing is certain, China has a lot to offer Backpackers!
We only had one bad hotel experience and it was in Beijing at the very beginning of our trip where we had to look for accommodation at the last minute…
Infos

In South Asia it is often much more advantageous not to book your hotel in advance, because the prices charged "on the spot" are often lower than those found on the net…. For China we have made the opposite observation!Hostels are rarer and also more easily full (especially in more remote areas), so we preferred to book our accommodation in advance. For more flexibility, and also because we didn't want to set up an itinerary, we used to book our night the day before we arrived. We have used several online booking sites, but the one we have used the most is
Hostelworld
.
For hotels, the one we use the most is Hotelscombined because it allows you to compare several booking paltforms.
Our Guesthouses in China
Note: all prices are the ones we payed back in 2013… obviously this might have changed a bit in the meantime…



Dongpo Inn at the Great Wall

More than the hostel itself (basically containers placed on the ground), it is the exceptional location of the place that makes it a must! See our article on our stay at the Great Wall for more information.
Price private room (shared bathroom): 150 yuan per room.
note: this price was the one we paid back in 2013. Since then it got more expensive, but it seems there were quite some improvements made as well… The rooms now have their own bathrooms.

Leo Courtyard in Beijing:

Simple but clean and very well located 2 steps from Tiananmen Square.
Price in dormitory at 4: 55 yuan per person back in 2013 (apparently it's closer to 100 now) 🙁
See Leo Courtyard on Hostelworld

Zhilam Hostel in Kangding

A super hostel run by an American expatriate in China for more than 10 years with his wife. The staff is really nice and has given us lots of good advice for the rest of our trip in Sichuan, and they serve a yak meat burger that is to fall!
Oh and the private bathroom in the dormitory at 6 in the annex is not bad…;)
Price in dormitory at 10: 35 yuan per person

HanTang House in Xi'an

Ideally located near the Muslim quarter, a charming little hotel. A little extra: when they saw that our budget was not unlimited they spontaneously proposed to us to take a single room instead of a double room because all their beds are 140cm wide by default, which is more than enough for a couple…
Price triple room (private bathroom): 240 yuan (Benoit's sister was visiting us)
Single room price: 140 yuan
See Han Tang House

Angela's Guesthouse in Tagong

Also run by an American woman married to a Tibetan nomad, this small inn has a crazy charm! In addition to serving yak burgers to fall for, Angela is a real gem who organized our 3-day trek with a local guide in less time than it takes to say… You know, "my husband has a cousin who has a boyfriend who… and hop, the guide was already there!"
Price guesthouse (double room, shared bathroom): 100 yuan per room.
Price trek 3 days (guide, accommodation with nomads, and meals): 350 yuan per person

Teddy Bear Hostel in Emeishan:

Nice atmosphere and super clean room. A small bonus for their cuisine, which we found excellent, and for once at a very reasonable price! Not more expensive than in the small restaurants in the area.
Price double room (private bathroom): 100 yuan per room
See Teddy Bear Hostel

Hump Hostel in Kunming:

A nice place with good food. A good starting point when you arrive in Yunnan…. The dormitories are super spacious, and the view from the terrace of the hostel is not too bad…;)
Price in dormitory at 10: 35 yuan per person.
Price in double room (common bathroom): 100 yuan (after 5 nights in dormitories at 10 we wanted to change, but honestly it is not worth it. The rooms are tiny, with no windows to the outside and less comfortable beds than in the dormitories…)
See Hump Hostel on Hostelworld

This old place in Xingping:

A hostel that really has a lot of charm! The private rooms in the new building are modern and ultra well equipped! Oh and how could I forget their absolutely divine wood-fired pizza! Might as well explain that after almost 2 months of noodles and rice, it's a pleasure! And they also have a hostel in Guilin (with the same name) which is really great too.
Price in double room (private bathroom): 120 yuan
View This Old Place in Xingping
Information: Our links on hostelworld and Hotelscombined are affiliate links. This means that if you click on these links to make your reservation it will not cost you more, but it will give us a little help. All the hotels mentioned in this article are those in which we stayed and we always paid our stay.

Some random numbers about our trip in China
31: The number of different beds in which we slept
6: The total number of kilos lost for the 2
50: price in yuan of our cheapest night in an inn for both (6.2€), our most expensive night having been 160 yuans (20€ for 2 people).
5: Number of nights spent on buses or trains
2: Number of chicken feets eaten
4: Total number of sick days for both
0: Number of disputes (let's hope it lasts…);)
184: Number of instant coffees
4780: The highest altitude reached in China
5: Number of varieties of Chinese beers tested (the total number of beers is unfortunately not estimable… or at least we prefer not to disclose the figures in the hope of maintaining a good reputation)
4: Number of Chinese wines tested, 3 of which were closer to vinegar than wine…
Travel anecdotes
Fabienne's worst memory: Probably the bath in the manure pit… For those who missed the episode, it's this way….
Worst memory of Benoit: A night in Sichuan Tibet where the digestion of Yak cheese proved more difficult than expected… And necessarily it is these nights that we decide to sleep in the inhabitant's house and that the only toilets are a common grave 200m away from the house…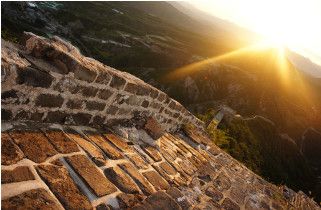 Fabienne's best memory: A magnificent proposal at sunset on the great wall…
Best memory of Benoit: When Fabienne said "Yes" on this same wall…;)
20: Number of articles published about China
To find all our blog post about China, take a look at our page specially dedicated to Backpacking China.