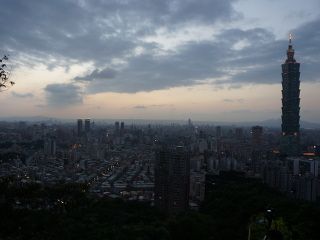 After our 10 weeks in China we were certainly happy, but also a bit washed-out!
China is beautiful, it's impressive, it's exotic, but it's also a huge country and wanting to pretend to visit it in a little over 2 months is an impossible mission.
From Guanghzou we took a flight to Taiwan. We will not hide it from you, we were certainly a little sad to leave China but we were also looking forward to this new destination! In Taipei we met a friend who settled there 3 years ago, and after a little over 2 months of travel we were already looking forward to seeing a familiar face…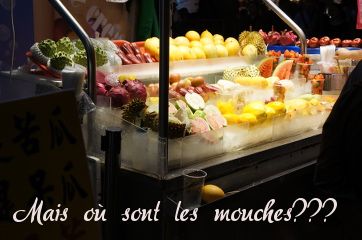 So it was with undisguised pleasure that we found, for a few days, a very clean apartment, friends to talk to in French, bakeries on every street corner (Haaaaleluia!!!!), Carrefour supermarkets, street food cooked in "clean" dishes, a general impression of clean in the streets, polite people who let you out of the subway, no more spitting or throat scrapings! In short, Taiwan is definitely no longer China…
Formosa: former name of Taiwan
For the sake of history Taiwan was formerly called Formosa. This name comes from Portuguese sailors who arrived on the island in 1554 and who quite naturally named it that way. The name that comes from "Ilha Formosa" which means "beautiful island".
Currently the official name of Taiwan is "Republic of China". Moreover, it will not be uncommon to hear in China that Taiwan is considered the 23rd province of China. But let us not get into the political-economic debate. Taiwan is currently an independent state, and the Taiwanese will not fail to remind you of this…
China versus Taiwan
For many people (including us) Taiwan is often associated with China. It is mistakenly believed that Taiwan is nothing more than a part of China detached from the continent that gained political independence a few years ago…
So certainly, the majority of Taiwan's inhabitants are from mainland China, but don't think that the culture is the same! To be honest, Taiwan is much easier to tame than its big sister for us, little Westerners…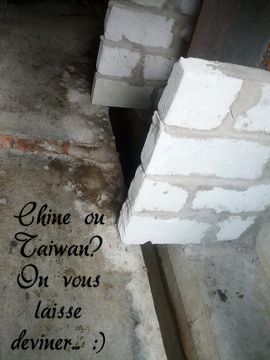 We noticed the difference when we had just set foot on Taiwanese soil. We went to the toilet!
Sounds silly, doesn't it? But anyone who has travelled to China will understand.
In China we got used to being confronted with sanitary facilities in a state that I honestly didn't even think possible before seeing it with my own eyes! And I'll pass you the chapter on smells….
In Taiwan it's the complete opposite!

Hygiene in Taiwan, a pleasant return to cleanliness
Public toilets are like in Europe. There are super super clean, very clean and moderately clean! But that's all!
Nothing that could make you risk sepsis just by entering the room!
After being very emotional to find toilets worthy mentioning, we set off for the metro. And there, I give it to you in the bull's-eye, a new surprise awaited us! Strict lines on the ground and Taiwanese waiting for their train IN SILENCE! In the Taipei metro, it is forbidden to drink, eat or even chew gum. It was totally weird after the Beijing subway!
The day we got busted by security…
Benoit got caught by a security guard because he was chewing a gum in the subway! Haha, it almost felt like we were back in primary school. You know, that moment when the teacher comes to scold you because you chew and all embarrassed you're going to put your gum in the next bin?
Yep, well, in Taipei it's the same! Except that this time we are almost 30 years old and the teacher is an official of the metro station who ran to us with his walkie-talkie in his hand. I can imagine the message he must have received from his colleagues who are watching the screens of the surveillance cameras posted everywhere:
"MD, MD, MD, we have a chewer! Line 2, on the escalator…. A tourist with a big backpack, chewing gum in his mouth… Agent Y, go for it! Before he gets on the train! "Quiiiiiick!!!!!!!!"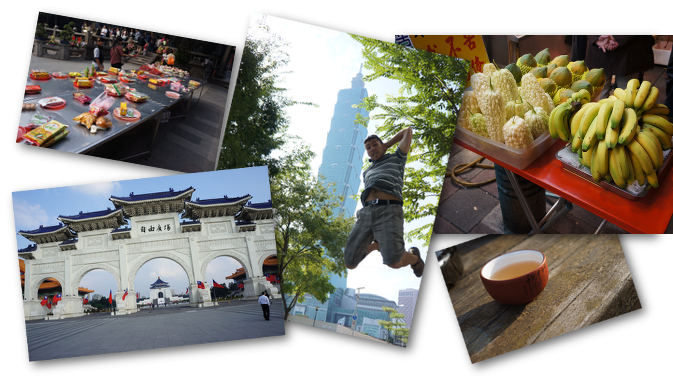 For the record, the scene became even more funny afterwards. When the guard caught up with us, he asked Benoit to spit out his gum and held out his hand. Benoit was looking for a bin where he could throw it in… In vain! no garbage can be found in the subway in Taiwan since it is forbidden to drink or eat there. It is resolved that Benoit deposited his used chewing gum in the poor guard's hand. 🙂
Things to do in Taipei
Well it's all very nice, but we reassure you Taipei ,they're not just chewing gum chewers, clean toilets and polite Chinese, Taipei is also a beautiful city that's well worth a visit!
Things to do in 3 days in Taipei:
Chiang Kai Shek Memorial
The Longshan Temple
Visit the Shilin Market
See the 101 tower
Get up to Elephant Mountain
Discover the tea culture in Muzha
Tip
As in many cities, Taipei has several Free tours on offer. The idea of free tours is always the same: the visit is made at a given time, the registration is 100% free. The idea is then to tip the guide according to what you thought of the visit. We love the free walking tours and have already done some in many cities around the world. It is often an excellent way to get a first glimpse of a city and also an opportunity to ask questions to a local guide.The Free tours in Taipei:
The Chiang Kai Shek Memorial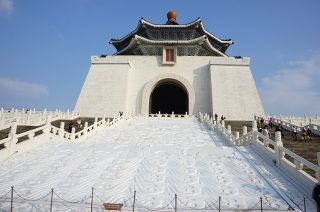 One of our first visits to the Taiwanese capital took us to the Chiang Kai Shek Memorial. An impressive white building overlooking a gigantic square. We had seen Tiananmen in Beijing. Certainly this place has nothing comparable in size, but still! What makes this memorial even more interesting is probably the exhibition dedicated to the life of Chiang Kai Shek in the basement. Through the different rooms, we learn a little more about Taiwan's history and its independence from China.
The temple of Longshan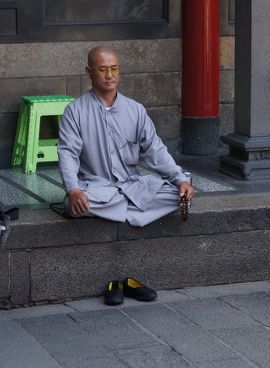 To be completely honest, neither Benoit nor I are really great spiritual minds. But despite this since we have been in Asia we have probably seen more temples than we have seen churches in our lives… I don't know about you, but for me the visit of a temple is always a moment I appreciate. Discover its architecture, discreetly observe believers making offerings, or simply enjoy a little peace and quiet! The Longshan Temple in Taipei is an excellent example of a superb downtown temple. It is in the middle of the city's ambient chaos, but within its walls reigns a 100% relaxing atmosphere….
Shilin's market
A little less relaxing than a temple certainly, but so colorful and full of good things to eat you have night markets in Asia! A real institution in some cities, night markets are always a place where thousands of people flock. Often it is a beautiful and colourful mixture of tourists, locals but also people from many cultures who offer their specialities in their shops!
The night market is definitely the best place for the foodies with a low budget.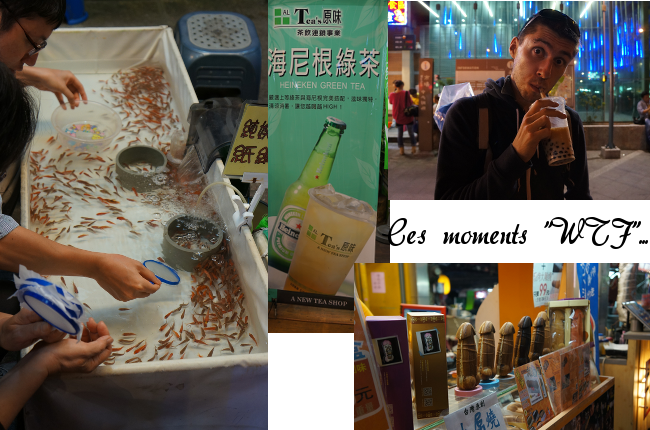 But the Shilin market was also the first place where we tasted the famous "Bubble Tea". I thought it was just a tea that was a little special, I didn't think it would be so nourishing! But because of the Bubble Tea (or thanks we will never know), we were able to resist tasting Heineken green tea… 🙂
the 101 Tower
Taipei is also the city in which you can admire the 2nd highest tower in the world! the famous 101 tower…. As its name suggests, it has 101 floors (just that!)
Personally, I'm not a big fan of its architecture, but I have to admit that it looks great! The tower can be visited. But to go on top, you obivously have to pay en entrance fee.
To climb to the top you have to count 18€ (600 TWD), so now that I write this number in the article it doesn't seem that much to me. But the same day when you are told the price in local currency and you compare it to the price of a night's accommodation or a meal in a restaurant, it seems astronomical! Well… guess what? we didn't go up…. 🙂
If you want to go on the 101 Tower, you can buy your ticket in advance here
Note: this is convenient, as the ticket can be cancelled free of charge up to 24 hours before. We strongly recommend that you keep an eye on the weather forecast and plan the climb only if the weather is relatively clear…. It would be a shame to pay 18€ to have your head in the clouds;)
Alternative to Tower 101: Elephant Mountain
But we still wanted to enjoy the view, and especially to see a sunset over the city. So what could be better than to climb a small hill in the area? As a bonus, the tower can be in one's field of vision, which seems more compromised if you are on it…;)

So it was full of motivation that we embarked on the climb to Elephant Mountain, which from what we had heard promised to be a pain in the ass. We were already psychologically ready to sweat like crazy and arrive at the top breathless. But that was not the case! In fact I think that once you got up to Mount Emei in China then no more stair climbing that will scare you…
Once we were up there, all we had to do was enjoy the show!
Muzha's tea cultures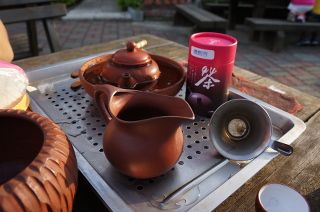 For tea lovers, Taipei also has something to seduce you! In the Maokong hills overlooking the city, you can admire beautiful terraced crops and taste (according to what we have read) exceptional teas.
To get there, take the metro to the zoo and then take the small cable car to the top of the hill. At 50$NT (just over 1 euro) the trip is well worth it!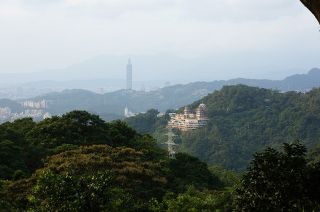 But since Benoit and I had just learned to tell the difference between a "real tea" and the good old Lipton, we thought we weren't going to invest a month's round-the-world budget for a teapot, and we settled for a classic green tea.
But where it gets fun is that there they explain the tea ceremony to you. We show you once, and then: "go start, "do it yourself"!
So we're certainly not yet ready for tea time with the Queen of England but we've learned the basics…. And the view, once again, is very nice.
If you would like to take a guided tour of the city or an excursion, take a look at the activities offered by Getyourguide.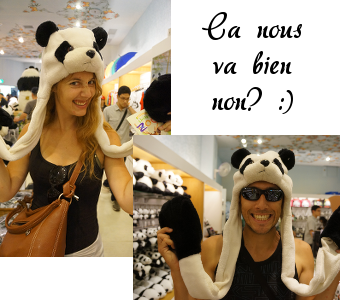 Review of our stay in Taipei
That's about all we saw in Taipei, I think.
I mean, no, Taipei is also about wild student evenings, great restaurants, walks along the beautifully landscaped rivers, and also a zoo! We're grown-ups, aren't we, but we couldn't resist the idea of spending a day there! We were even able to see 2 pandas from Chengdu (we had visited the breeding and research center remember it was this way)
Taiwan is a small island with "only" 23 million inhabitants. (Promise when you come from China it looks like it's ALL small). But of these 23 million, more than 9 million live in the city of Taipei and its surroundings! More generally, the Taiwanese population is mainly concentrated in the big cities of the west coast, so it is quite naturally that we decided to go a little further to discover the east coast, and the famous Taroko gorges. But we'll save that for our next article!
See you soon!
Note: This article contains affiliate links to partner sites. By making a reservation through our links, you pay nothing more, but we will receive a small commission. Thank you! 🙂