Not really charmed by the overly festive atmosphere that prevailed in Vang Vieng, we didn't linger in the area and preferred to go further south in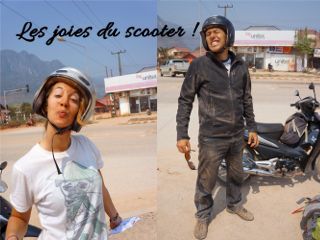 Laos towards the small town of Thakheak.
Then why Thakheak? In fact, there is not much to see in the city itself but it is the ideal starting point to make a loop on a motorbike; the so-called "Thakheak Loop!"
A 3 to 5 day tour in the region, with Highlight (with a big H) the 7.5 km long KongLor cave, which can be visited by boat and a headtorch!
Bus from Vang Vieng to Thakheak
So this time we did a pretty bad job of getting to Thakheak by bus. We thought it would be better to take a night bus in order to save one night in a hotel (which is quite logical). What we didn't see was that the bus arrived at 2am in Thakheak. (We admit, we took this ticket a little quickly)).
As a result, we found ourselves wandering in the middle of the night trying not to be bitten by dogs while waiting for the sunrise. (I don't know why dogs are always more aggressive at night… maybe because it's cooler).
Anyway, if you don't want to sleep on the street or end up like us playing cards under a bus shelter, we will advise you to sleep in Vientiane and take a bus to Thakheak in the morning (about 6 hours drive from the capital).
Accommodation and scooter / motorcycle rental in Thakheak
So on the web, it seems that the best place to stay in Thakheak is the "travel lodge". It is located 300m south of the roundabout at the entrance to the city. Hmm… We would rather say that this is the best place to find fresh information on the famous " Thakheak loop". It must be said that the vast majority of aspiring bikers stays here and that the terrace lends itself well to the exchange of tips 😉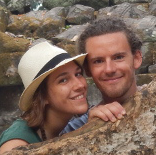 We also met Marion and Mikael, a very nice couple from Brittany who also travels around the world. It was Marion who recognized us because she is a regular reader of our travel blog.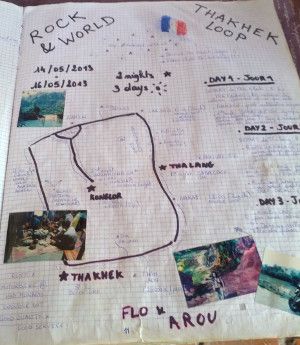 At the travel lodge, you will also find a large notebook full of tips from all the old loopers (meaning the people who made the loop). And believe us, this notebook alone justifies a small visit to this hostel….
For the rest, the travel lodge is not very good. The rooms are very basic, the food is not very good. And as it's quite out of town, meaning you won't have much choice to eat there… and the scooters they rent are twice as expensive as elsewhere… So we would advise you to come and have a drink here and find a nicer place to stay in the city.
Renting a motorbike or a scooter in Thakheak
To rent a scooter, we advise you to go to Wang Wang's house in the city centre, on the square. He rents the cheapest scooters in the area (60,000 kips/day for a semi automatic) and will even do your laundry if you have any during your scooter ride ;).
However, we really advise you not to rent a new and expensive motorbike! You may be less likely to have a mechanical problem but believe us, the majority of repairs in Laos cost a maximum of 20,000 kips. And above all, as you will see later, it is not the fact of having a new scooter that will help you drive better on the bumpy tracks… You will be omre afraid of damaging your beautiful engine 😉
" The Thakeak Loop ! " – Itinerary
To help you find your way around, we put a picture of the best map we found during our stay…. (because no! No one will give you a map of the area…. Except us;-)))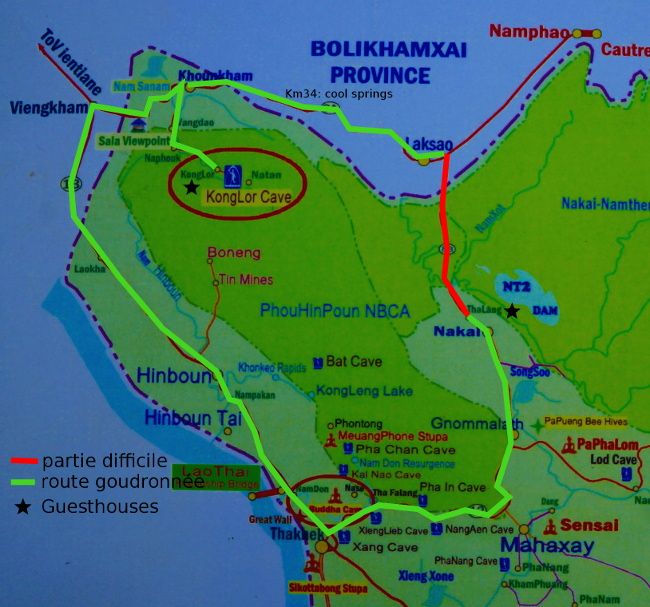 Note: The green line is the road which is "fine". The red part was really damaged when we were there.
Update 2019: We did this loop back in 2014. The road was quite bad in some parts but it seems they have done a lot of work on it! It is apparently fully paved now and thus much safer to drive.
Day 1 : Thakheak – Thalang :
So this first day was a perfect warm-up and will allow those who have not driven a scooter for some time to get used to it again. The road is paved almost to Thalang and the landscapes are very nice.
We are again in a kharstic region with all these characteristic small hills.
There are some pretty little caves and water points on the first part of the road not far from Thakheak. We let you make your choice by leafing through the notebook at the travel lodge but we decided to stop first at the Tha Fallang springs and then at the Pha in cave.
The springs were pretty (it's worth stopping for a half an hour) but I particularly liked the cave because it's submerged and large openings bring pretty reflections in the water. Too bad we can't swim in it. (It is a cave with a Buddha so people come there to pray).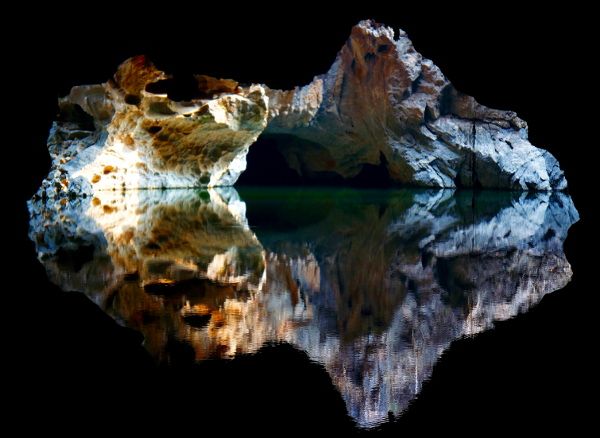 When we passed, the road was good almost until Thalang. It's after this point that things started to get worse… the road is under construction at the Laotian rhythm. To sleep in Thalang, there are 2 options: the Phosy Thalang guesthouse (very nice bungalows with a small terrace and sunset oriented hammocks) and the Sabaidee guesthouse (a super welcoming owner and chocolate bread for breakfast).
As a result, we slept at the first one for sunset and took our breakfast at the second one for the chocolate bread. Quite a winning combo if you ask me! 😉
Day 2 : Thalang – KongLor :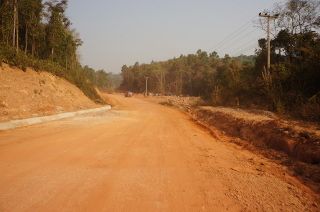 Be careful, it's now that it gets complicated… The passage from Thalang to Laksao (40km) is extremely bad! The road (if you can really call it a road) is under construction and looks more like a cross country track. It's really not easy to master on a scooter, especially if you are 2 on the same machine!
To be honest, if we had known in advance, we wouldn't have made the full loop. We would simply have gone to KongLor from the other side and visited the small caves from Thakheak!
Well, if you want to get the adrenaline pumping, this section is for you, but be aware that there is a high risk of falls. I would say that 50% of the travellers we met on the loop fell at least once on this section….
Let's just say we weren't born on a scooter like the Laos. 😉 (I would say that they first ride a scooter when they are about 8 years old).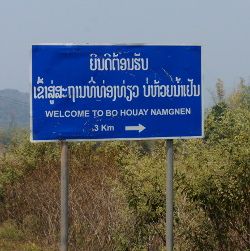 The rest of the way to KongLor is a lot of fun compared to the previous section.
On the way, 34 kms after Laksao, there are apparently some pretty springs to find to cool off: "the cool springs"… You will have to turn right after the blue sign (see picture) and continue straight on for a few kms on the track!
We can't tell you more about the route because unfortunately we didn't find the cool springs… But they do exist. Other travellers have found them and they look beautiful… Sniff!!!!!
Edit 2017: We have received several feedback from travellers about this loop. Know that the road is apparently finished! This means that everything is paved and therefore easily accessible by scooter.
Day 3 : Visit of the KongLor Caves and the park
Might as well tell you right away, we loved it here. The famous notebook said that it was worth staying a full day in KongLor. Finally, we could easily have stayed there for 3-4 days! Allow at least a day to visit the KongLor cave. The cave can be visited by boat and with a headtorch. The cave is 7.5 km long and you can swim at the entrance of the cave.
But know that there are several other caves to visit and that there are great trekking opportunities. Looking back, this is clearly the most beautiful place on this loop! If we had to do it all over again, we'd stay there for a few days. But that's just our opinion 😉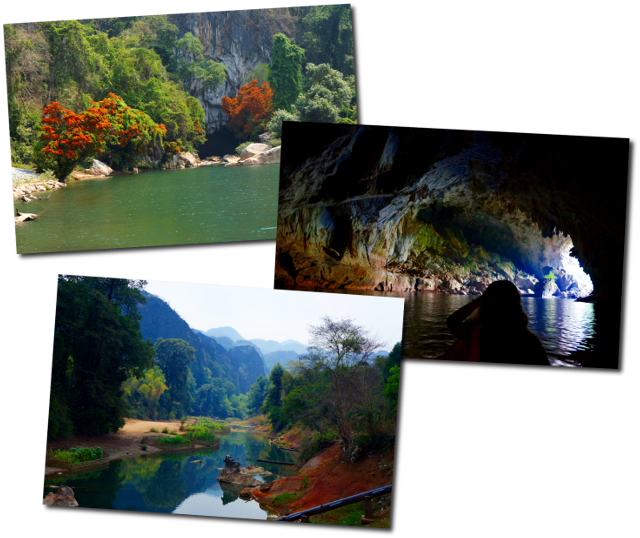 Day 4 : KongLor – Thakheak :
Nothing incredible to report on this section. It's a paved road all along (190 kms) and there's not much to see! There is still KongLeng Lake about 40 km before Thakheak. We were told not to miss this lake. But like most travellers who make the loop in this direction, we no longer had the courage to do 36 km of round trip on a dirt track to reach it (yes, the lake is 18 km from the paved road…).
So if you want to go there, we advise you to do it on a daytrip from Thakheak instead. It's not worth falling down just because you're tired after 4 days on a scooter.
Infos
If you do the entire loop, take long clothes. It will protect you in case of a fall (unfortunately it happens often) but also from the sun that hits hard in the area. Also take sunscreen for the face.
Carry a bottle of emergency gasoline with you. In some places, there are very few gas stations and it could get you out of a bad situation. (we needed it once…). We also met a couple who had their gas pumped by children while they were visiting a cave… They would have liked to have a spare bottle on this one 😉
A small medicine kit can always be useful…
Don't forget your bathing suit for springs and caves 😉 Ladies, think about getting a sarouel, bikinis are not really welcome….Be very careful with big pick-ups driving like crazy on the roads. Since they're bigger, they don't care about scooters at all… (it almost got us into an accident!!!!!).
If you can, rent a semi-automatic scooter because you will have more control over difficult road sections.
So that's it, we've come full circle as we say. It wasn't easy and we had a fright or two but overall it went well and we came home with beautiful pictures in our head ;-). Nevertheless, we really advise you to avoid the difficult part until the road is finished…

Note: this article contains affiliate links. By using our links for your bookings, you obviously do not pay anything extra but we'll be earning a small commission. Thanks for your support.