7 months have passed since the beginning of our world tour… Laos is the 7th country we visited and it was a real favorite! Before our departure, we had already heard a lot of good things about it and now we understand why. We leave this country of Southeast Asia completely under the charm of its landscapes, its inhabitants, and the peacefulness of life that reigns there! It is time to review and give you all the information about the budget to travel to Laos!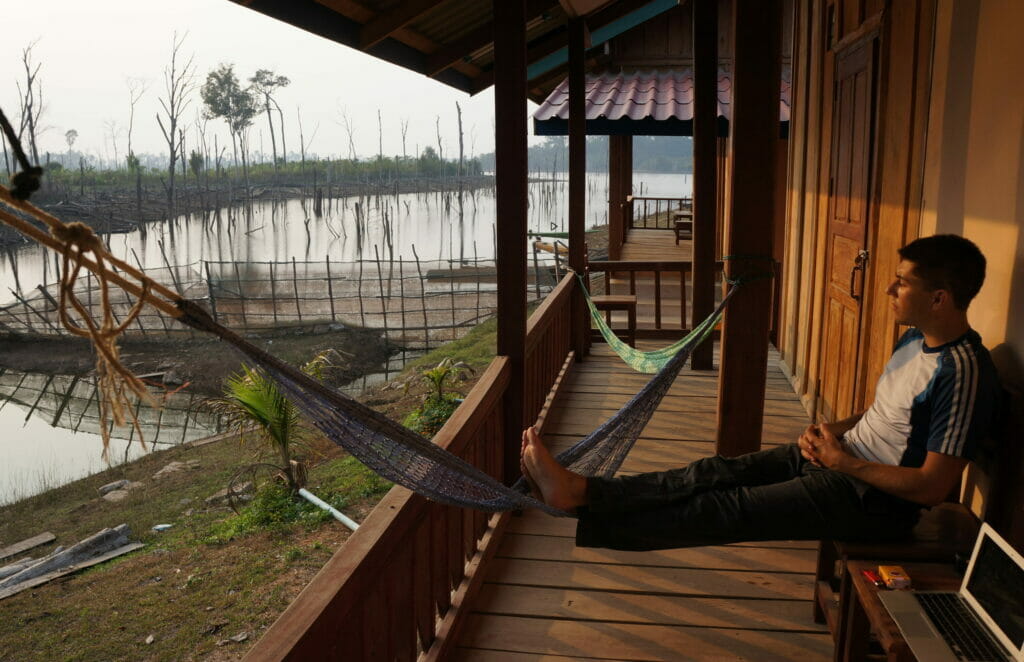 Update 2023
We took this trip in 2014, but the article was completely revised and updated in February 2023. We have updated the prices, which have since increased a bit. As a result, our travel budget in Laos would be a bit higher today (+ 5-10 % or so). If you see any price changes or have additional information that might be relevant, please feel free to leave us a comment!
Back on our trip to Laos
It's well known, pictures are worth more than words… For a little introduction in this conclusion of our trip to Laos (are you following?), let's go to the video that summarizes everything we did in 5 weeks!
Budget to travel to Laos
Here comes the big moment to talk about the budget to travel to Laos! It remains a highly cheap country, even if the prices have increased a bit these last few years! We had set ourselves a daily budget of 18,5 euros per person. In the end, we spent 16,7 euros per day and person on average during our stay.
Here is our average budget in detail: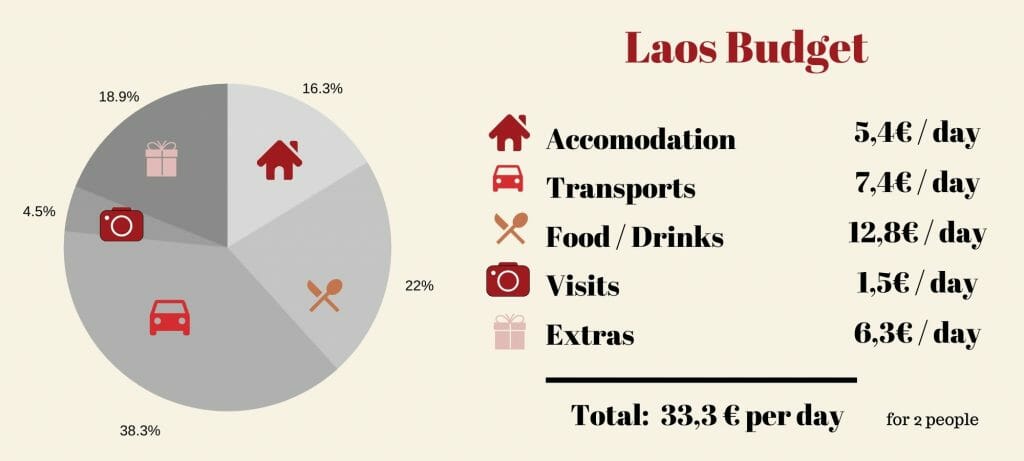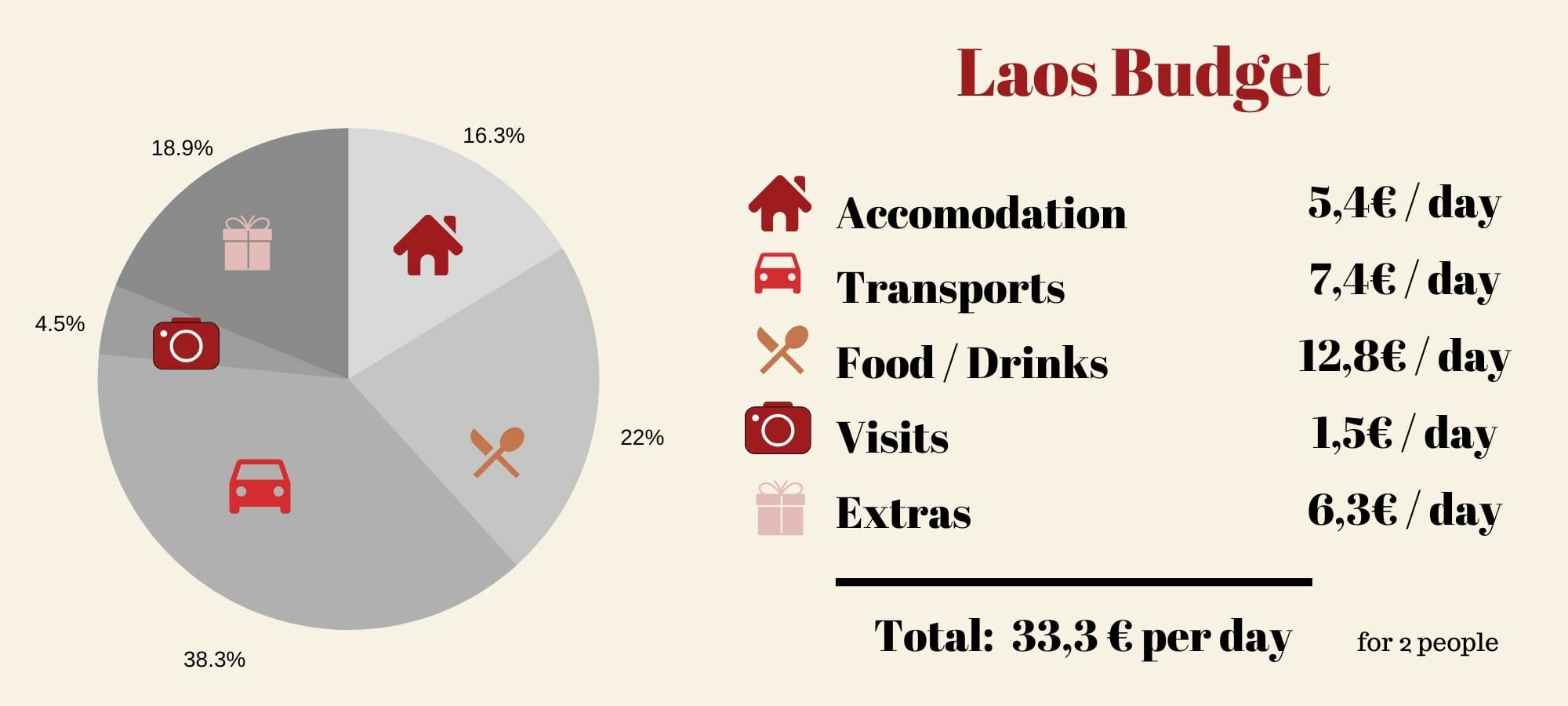 Please note that the 3 days of kayaking were counted in the budget dedicated to extras and also include all the meals and accommodation during this trip on the water. As a result, the average for our accommodations is closer to 6 euros and the average for meals is 13 euros per day, all this for 2 people.
Transportation
We already talked about it in our article about Vietnam but we have to distinguish the local buses from the "open tour" buses. The latter is generally reserved for tourists and makes the connection to most of the tourist attractions. The open tour buses are usually a bit more expensive, but believe us this is not always the case! Local buses have the annoying tendency to drop you off in the middle of nowhere or to carry a lot of goods (which greatly increases the probability of losing your backpack as was the case during the Thakhek – 4000 Islands trip…).
Average price for a motorbike rental: around 100 000 kips per day.
Price of a liter of gasoline: around 23 000 kips.
Minibus ticket from Luang Prabang to Vang Vieng: 120 000 kips per person.
Bus from Vang Vieng to Thakhek: 420 000 kips per person.
Bus from Vang Vieng to Vientiane: 168 000 kips per person.
Local night bus from Thakhek to 4000 Islands: 100 000 kips per person.
Bus 4000 Islands to Pakse: 220 000 kips per person (including boat)
Price of a bus ticket from Pakse to Bangkok: around 600 000 kips per person.
Buses in Laos
If you want to book buses in Vietnam in advance, you can have a look at 12go. This website is very convenient to book long-distance bus or train trips in Laos (and in Asia in general). For minibusses and short trips, it is often much easier and cheaper to buy your ticket directly at the bus station of the city.
Hotels in Laos
The price per night varies quite a bit between the city and the countryside… There are many guesthouses in the less touristic areas and you will always find a hotel room at the last minute and a reasonable price!
Average price for a double room: 74 000 kips.
Our cheapest night: 50 000 kips (standard price outside the main tourist areas).
Our most expensive night: 120 000 kips in Pakse. Benoit was sick, we invested in a room version of luxury with air conditioning before starting the Bolaven Plateau Loop.
Number of night buses borrowed in Laos: 3.
Number of nights disturbed by bed bugs: 1.
Hotels in Laos
In Laos, we found almost all our accommodations directly on the spot, without prior reservation. Moreover, the prices are often cheaper on the spot and this is thanks to your fabulous talent for negotiation! If you want to book in advance or simply have an overview of the best prices online, we recommend the Booking website.
This article contains affiliate links to partner sites. When you use our links to book accommodation, a car, or an activity, you don't pay anything extra, but we get a small commission. This helps us to offer you free, independent, and ad-free content. Thank you for your support!
Laotian food
Like the rest of Southeast Asia, street food in Laos is excellent and cheap! Here are some food prices: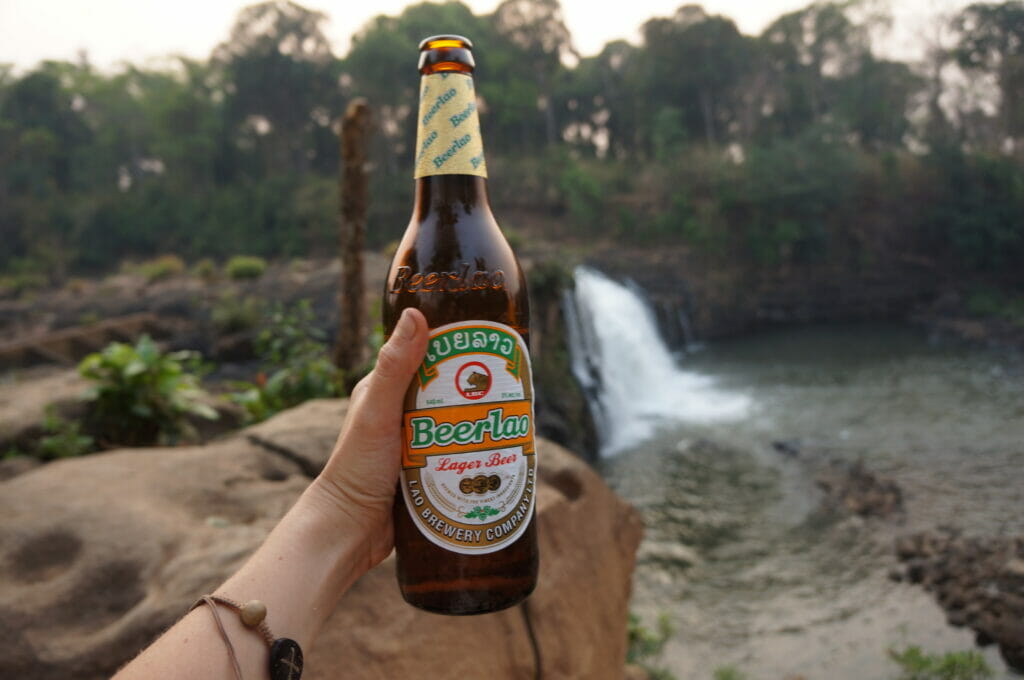 One Beerlao, 640 ml: 10 000 kips.
A can of Coke, 330 ml: 8 000 kips (I'll let you do the math to determine which is cheaper between beer and Coke 😉).
Noodle soup on the street: 10 000 kips.
Average price of a dish in a restaurant: 15 000 kips.
Visits and activities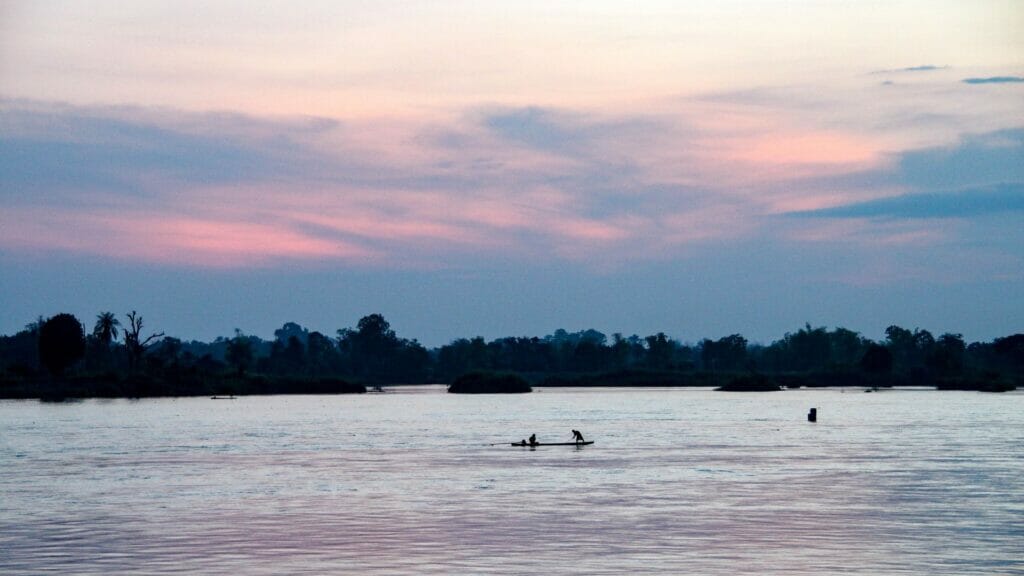 Diverse costs
A Lao visa costs 50 dollars.
The price of laundry is 10 000 kips per kilo.
ATM fees range from 10 000 to 30 000 kips per withdrawal (1 million kips maximum).
Price of a pack of painkillers bought in a pharmacy: 3000 kips for 10 tablets!
Average price of a trip to the public toilet: 1000-2000 kips.
Estimation of the number of radiant smiles crossed on our road: 2884.
Number of kilometers covered by motorbike: 982.
Number of minutes we waited to get our credit card back from an ATM in Luang Prabang: 80. This was enough time to realize that ATMs run on Windows and that restarting an ATM takes time, lots of time…
Number of days Ben was sick: 4.
Price in euros to replace 2 mirrors on a motorbike: 0,8. No way to ask the same price to your garage owner 😉.
Number of different beds we slept in: 19.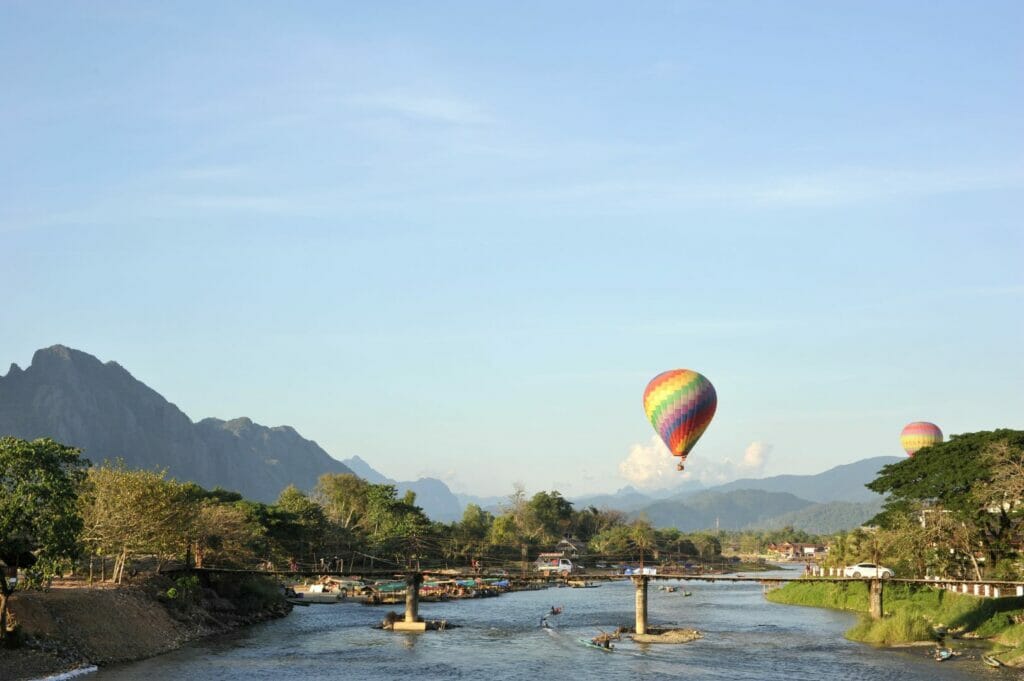 Our review of our trip to Laos
Our favorites
The Laotians
If you followed us during our round-the-world trip, you will have noticed that we loved the landscapes of Vietnam. However, we regretted a little the coldness and the very commercial side of the Vietnamese!
On this side, our trip to Laos was a breath of fresh air! People are smiling, we are systematically welcomed with a big "Sabaideeeeeee" (hello in Laotian) whether it is by children or adults. Rare are the times when we had the feeling to be tricked, Laotians love tourists and really don't have this tendency to see us as a wallet on legs!
Konglor Cave on the Thakhek Loop
Imagine doing 7 km in a boat to cross a cave with the only light of your headlamp before coming out on the other side in a small oasis of greenery and calm. Indescribable!
The Kuang Si Falls in Luang Prabang
The visit of Kuang Si Falls is a great classic of tourism in Laos, it is nevertheless an enchanting and peaceful place! Go there early to enjoy it without the crowds and we guarantee that you will leave enchanted!
The village of Nong Khiaw
We loved this small village in the north of Laos, nestled in the middle of the karsts and by the water! Although developed to welcome tourists with its guesthouses and restaurants along the river, the village has kept a real authentic charm. Moreover, the possibilities of activities in the surroundings are endless: mountain biking, climbing, kayaking, hiking… Special mention for the view from Pha Daeng which overlooks all of Nong Khiaw!
The sweetness of life in the 4000 Islands
If we had to define the 4000 Islands, it would be: do nothing, enjoy the hammocks, the waterfalls, a small bike ride, and the beautiful sunsets. No need to draw you a picture, we really loved this area!
The Bolaven Plateau Loop
This loop was epic… Sometimes, the road was just a track in a terrible state. Well, now the road is clean! But it was worth braving the dirt roads to see all the waterfalls of the loop with a special mention for Tad Champee.
Once again the smile of the Laotians
Without its inhabitants with a heart as big as this, Laos would not be what it is!
What we did not like so much in Laos
Even if Laos enchanted us, we are not going to lie to you, it was not all rosy either… In 32 days on the spot, we still found some small things that we did not like.
Vang Vieng and its drunken tourists
We won't repeat the story but Vang Vieng will always have a more or less questionable reputation. In short, we can dispense with a visit to this city with a tumultuous past…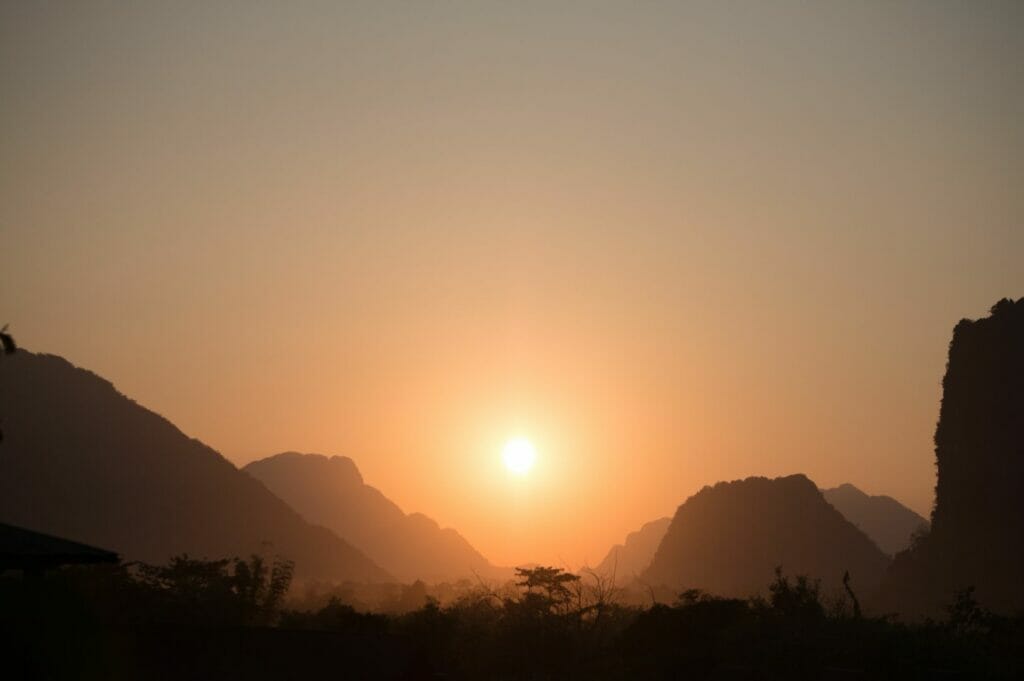 The local night buses
Seats not fixed and super tight, a suffocating heat, and Laotians have the annoying tendency to have motion sickness… In short, probably not our best night on the road. Now, there are quite a few VIP night buses to cross Laos and we strongly encourage you to use them!
But as you can imagine, these little details did not affect our general impression of the country!
Now, you know everything about the necessary budget to travel to Laos and the highlights for an unforgettable trip! After these 5 weeks, we leave this country truly conquered! For the continuation of our journey, we always stay in Southeast Asia: direction Indonesia for paradisiacal landscapes (but not only!).
Pin it