We just returned from 6 days and 5 nights on the roads of northern Thailand, and the least we can say is that we came back completely obsessed with the region.
So, it is still with a slight residual buttock pain that we write this 100 % practical guide. With all this information and our article about the must-sees of this road trip, you will have all you need to organize and do the Mae Hong Son Loop on a motorbike from Chiang Mai!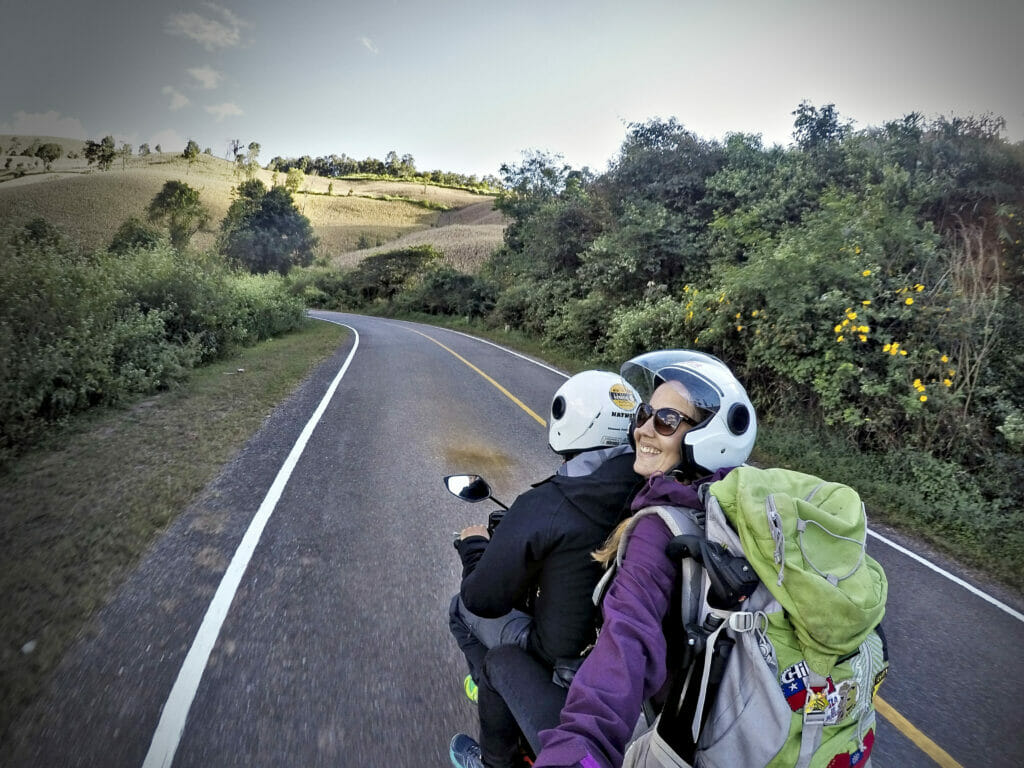 Renting a motorbike in Thailand
There are many scooter rental companies in and around Chiang Mai. Prices are generally quite similar and depend on the rental period as well as the power of your small motorbike. You can find motorbikes from 130 bahts per day, but at this price, it will probably be 110 cm3 (or less).
The Mae Hong Son Loop is also known because it will take you on mountain roads with 1864 turns just between Mae Hong Son and Pai! The total ascent of the road? Well, not far from 12 000 m of positive elevation gain and just as much negative!
In short, you will have understood it, a 50 cm3 motorbike will really not do it!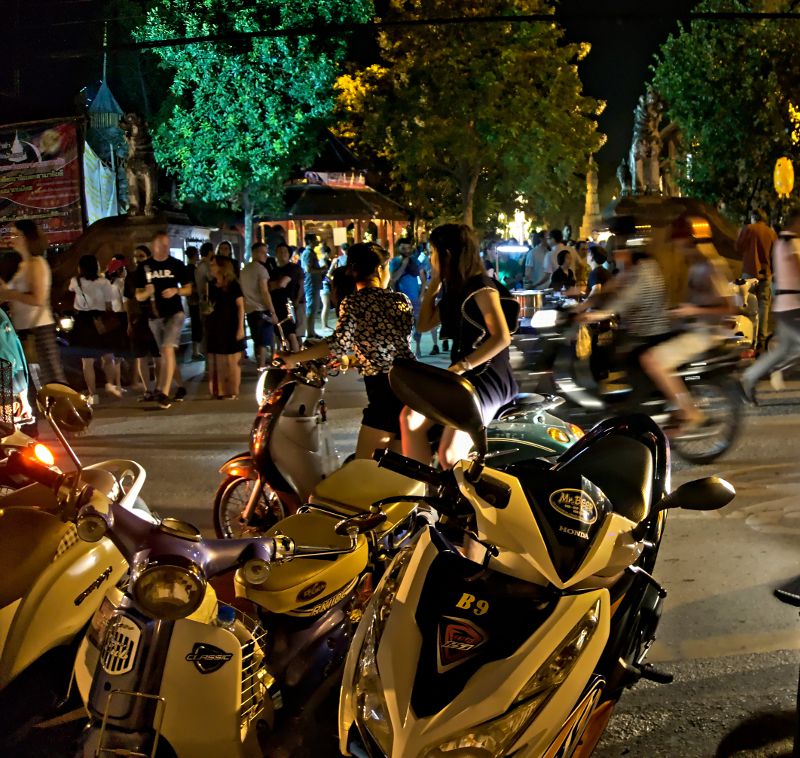 If you travel alone, then a 110 cm3 should be enough, but if you travel with someone else on a single scooter with an extra backpack, then we strongly recommend you to take a 125 cm3!
A rental of a 125 cm3 motorbike can be between 150 et 250 bahts per day for weekly rental.
Ours was 125 cm3 and almost new (only 800 km on the counter when we took it) and we paid 200 bahts a day. We rented it from a landlord in our neighborhood that belongs to a hotel, The Core on Huay Kaew Road.
Our advice to rent a scooter in Thailand
Try to get a motorbike that's not too old. The newer the scooter is, the better the brakes and the overall comfort will be.
Ask to have good helmets. In the city, rental companies tend to give away small walnut shells as a helmet. Frankly, to do 800 km we recommend that you have a good helmet. It is rather unlikely that you will be offered a full helmet (understand totally closed), but the minimum would be a helmet that covers the whole head well and comes back a little on the face.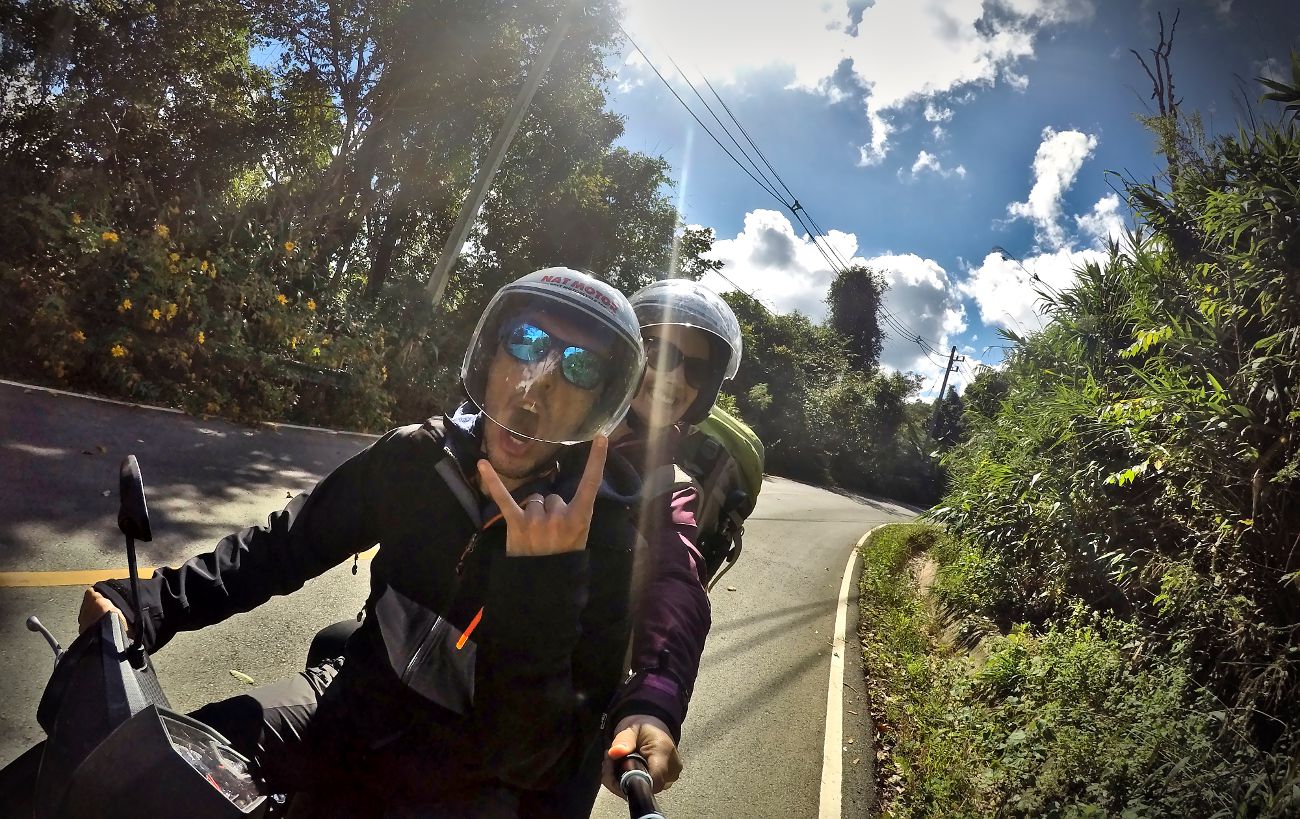 NEVER leave your passport as a guarantee! It's a practice that's quite common around here and it's totally illegal. With your passport in their hands as a guarantee, the rental companies have almost unlimited power. Take a photocopy with you, let him take a picture if he wants, or deposit a deposit in cash, but do not give your passport!
Before leaving, check that everything works: tire pressure, brakes, headlights, horn, steering system, the registration card in the box… Also, have the rental company check for little marks on the bodywork.
The right driving license to drive a motorbike in Thailand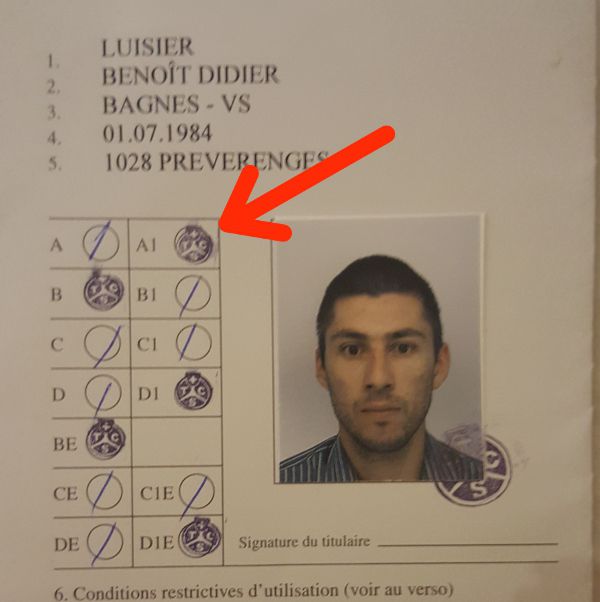 Check that you are allowed to ride a motorbike in Thailand. On your international driving permit, you must have the mention A1 ticked. The B endorsement (car driving license) is not recognized.
You will likely be amended in the event of an inspection. Well, the fine is 500 bahts and comes with a receipt allowing you to drive for 7 days without being amendable again. But still!
And in any case, before you take the road, make sure that your travel insurance covers you for driving 2 wheels before driving! Be careful, if you don't have a motorcycle license (see above), your insurance may refuse to cover you!
The right scooter equipment
For the scooter, I know that we are going to look like good big has-beens by saying that, but we really recommend you to have an adequate outfit to drive on the road.
Of course, living with your hair blowing in the wind, in Marcel Chang, shorts and flip-flops, it's very coooool, but it's also very risky in case of an accident. Of course, accidents always happen to others, but believe us, it is better to be careful. And when you see the bunch of cripples with burns on their legs and arms walking around Pai, I swear you don't want it to happen to you!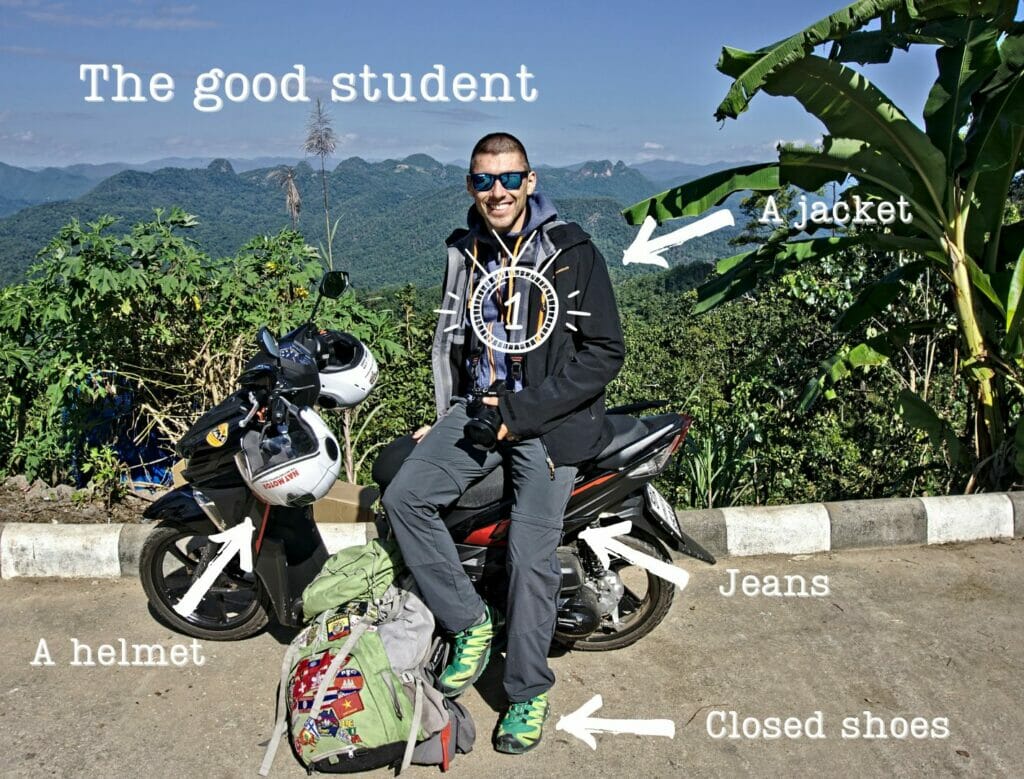 So, for scooter trips: get rid of the beach clothes and put on jeans, closed shoes, a jacket, and a helmet!
Don't do in Thailand what you wouldn't do on the European roads with soft riders!
Anyway, end of the section we-are-killjoys-but-promise-it's-for-the-good-cause!
Last recommendations for a road trip in Thailand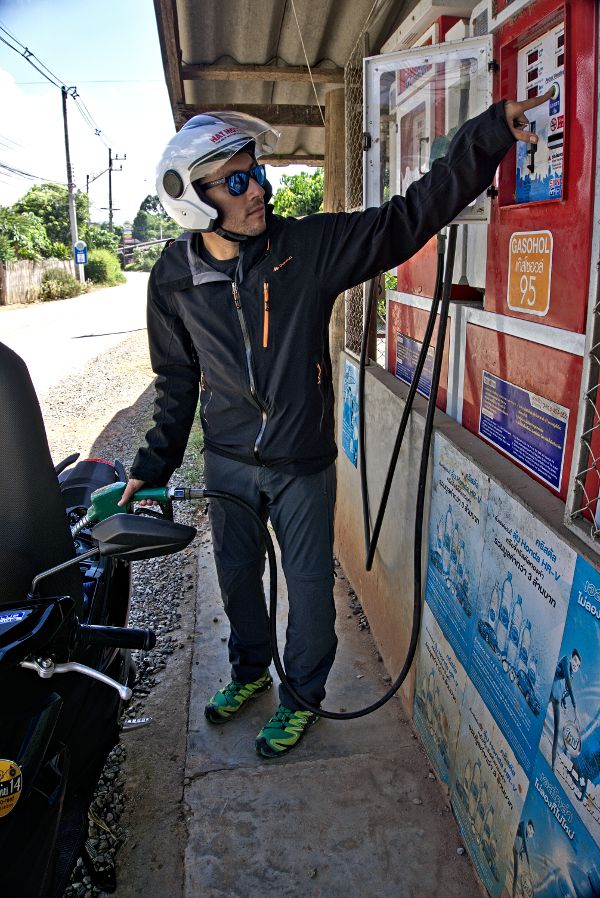 Once on the road, it is relatively easy to find petrol in large stations near major cities/villages or otherwise in small villages.
On the other hand, in small villages, they are generally small pumps and the price per liter is almost double that of large stations.
To give you an idea, the price of a liter of petrol in large stations is roughly 25 to 27 bahts. In small stations, it is around 35 to 40 bahts per liter…
So a tip would be to remember to fill up every morning when you leave and use the small stations only to complete a little during the day.
One last tip: don't forget to drive on the left, incidentally 😉.
Are you ready to rent a motorbike in Thailand?
Alternative to the motorbike to discover Mae Hong Son
If you don't feel like doing so many kilometers, it is possible to do the loop by public transport! The idea here would be to use the buses to connect to the villages where you sleep, then rent a scooter to ride around for a few km. After, we don't hide from you that this alternative will probably be a bit more expensive and that you won't be able to stop where you want on the way. If you don't feel it, don't insist and take the bus!
We had feedback from readers (mainly families), who told us they did it by car and loved the experience. Budget-wise, a car rental is a bit more expensive, but if you are several and don't feel like driving a two-wheeler (or you don't have a license), this is a great option!
This article contains affiliate links to partner sites. When you use our links to book accommodation, a car, or an activity, you don't pay anything extra, but we get a small commission. This helps us to offer you free, independent, and ad-free content. Thank you for your support!
Driving in Thailand
Personally, it was my big haunting before I left for that scooter loop! In Chiang Mai, being a pedestrian is sometimes borderline, so driving here… Fortunately, I didn't have to take the wheel, and I was able to rely on my dear little husband who mastered it like a pro!
So the observation is clear: driving in Thailand is dangerous, but despite all this, it probably remains one of the safest countries in Southeast Asia!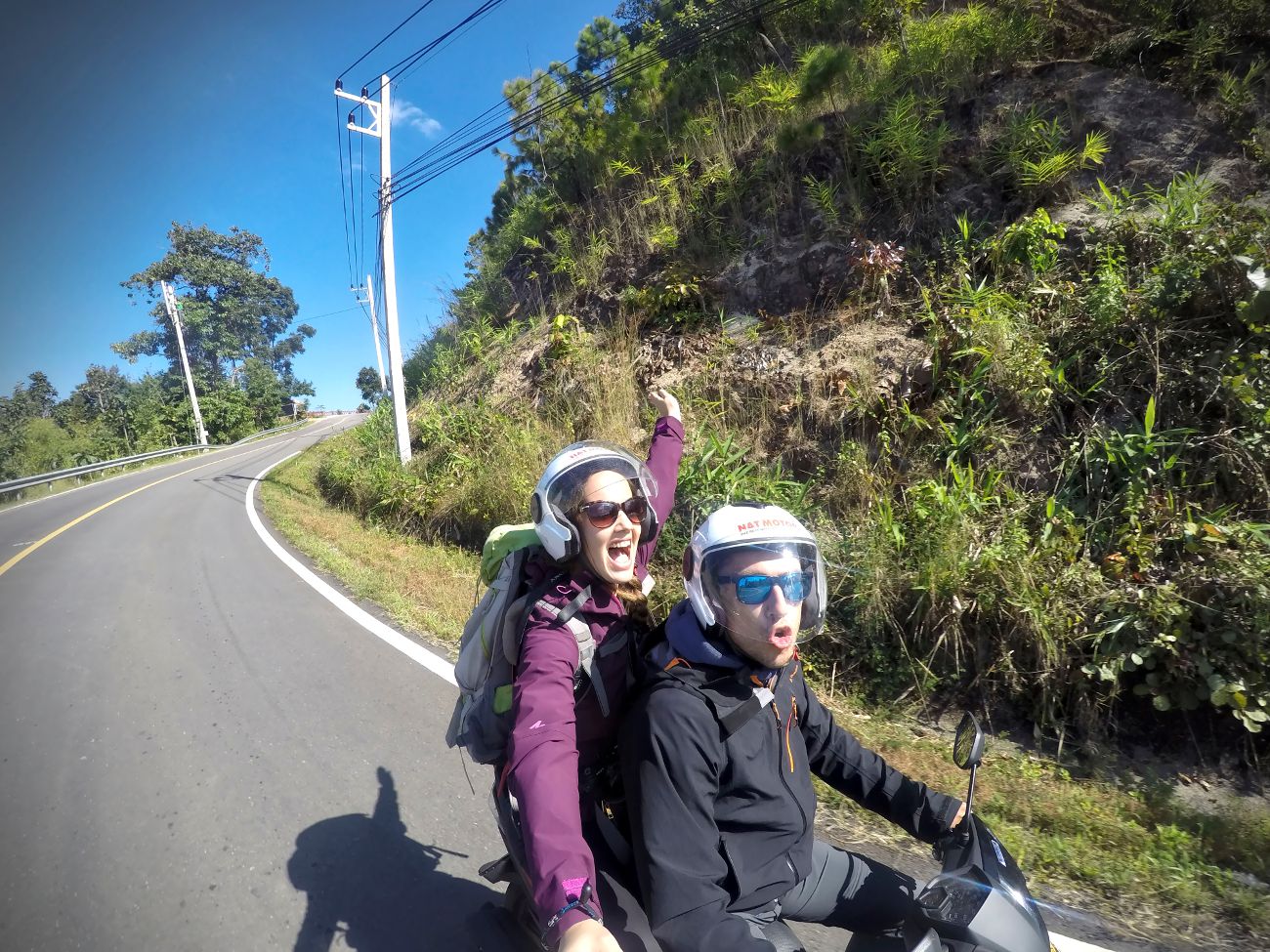 Let me explain:
The roads are fine! The main roads linking the towns and villages of the loop are all paved (we remember in particular our scooter loop around Thakeak in Laos where this was by far not the case at the time).
Thai people drive fast and often give the impression that driving is a joyful mess. But in the end, they're pretty chill… Or let's just say that they know how to avoid the obstacle well enough (even if sometimes it's at the last second)
Mountain roads are relatively unused.
In fact, in my opinion, the biggest danger is the surroundings of Chiang Mai. At the time of leaving the city as well as to return, we must pass by the highway, which with a hell of traffic is a real challenge for the nerves (I almost left mine there on the way back…), especially on a motorbike with a hell of traffic!
My advice would be to avoid peak hours. To leave Chiang Mai, get up early and depart around 7:30-8 a.m. Like most shops only open around 9 am, the traffic is quieter at 8 am.
For the return, we arrived in the middle of rush hour… Honestly, if I had to do it all over again, I think I'd rather go home in the evening!
Prepare the Mae Hong Son Loop from Chiang Mai
How many days to do the Mae Hong Son Loop?
In itself, many options are possible… We will tell you more about it below in the itinerary section. But roughly speaking, the loop itself is about 600 km long, but we easily tend to do 800 if we wander around a little around the villages on the way.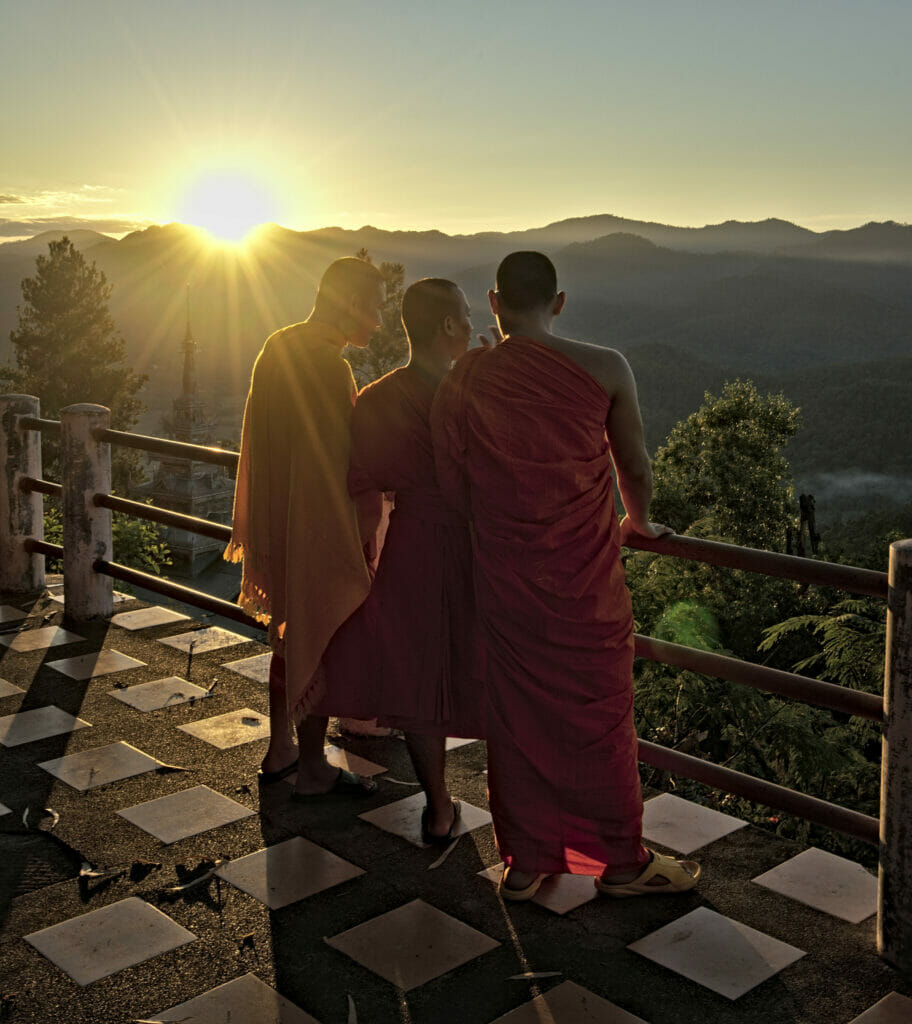 In short, 600 km is doable in 2 or 3 days, but honestly, we don't see much point in starting this loop if it's not to enjoy the landscapes a little 😉.
For our part, we did 6 days and 5 nights and we thought it was great! As much as we could probably have done a few more days of visits, as much we admit that we clearly had spent enough time on this scooter. My ass will still remember a hell of a time from that trip!
In which season should we embark on the adventure?
From now on! Understand this, from the end of November until about the end of February!
Of course, it is possible to do the loop all year round, but the winter months are the ones that will optimize your chances of good weather, no rain, and no fog due to crop burns. From March to May, you are unlikely to encounter rain, but temperatures are soaring, which can make having your buttocks screwed on a scooter and a helmet on your head a little less pleasant.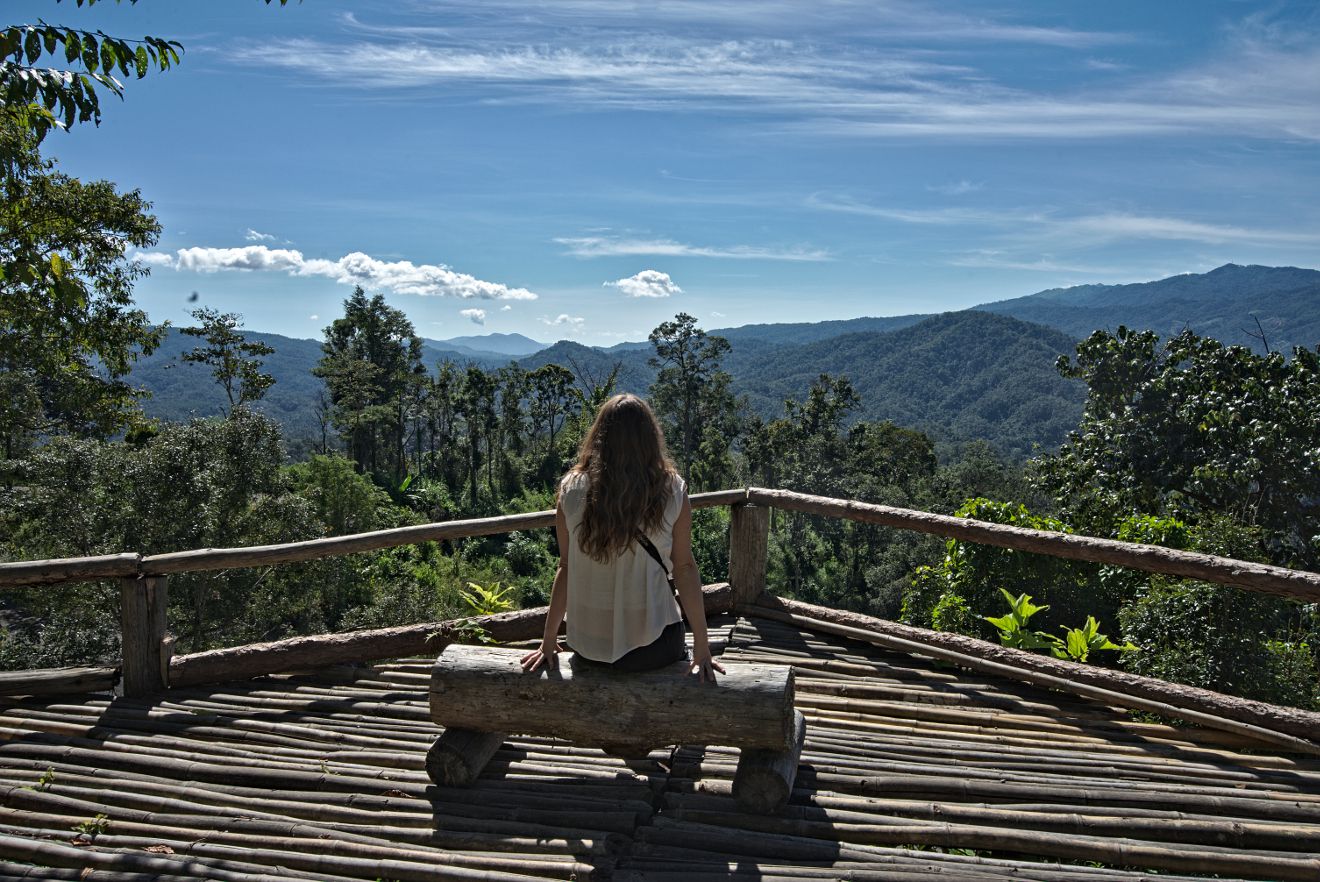 Between May and October, it is the rainy season… So it doesn't rain every day, and sometimes the rain is limited to a small half hour during the day. But statistically, you have a much better chance of getting rinsed off.
Mae Hong Son loop itinerary
As its name suggests, this route is a loop, and can therefore be done from any direction. For our part, we decided to opt for an anti-clockwise turn, but frankly, it doesn't make any difference!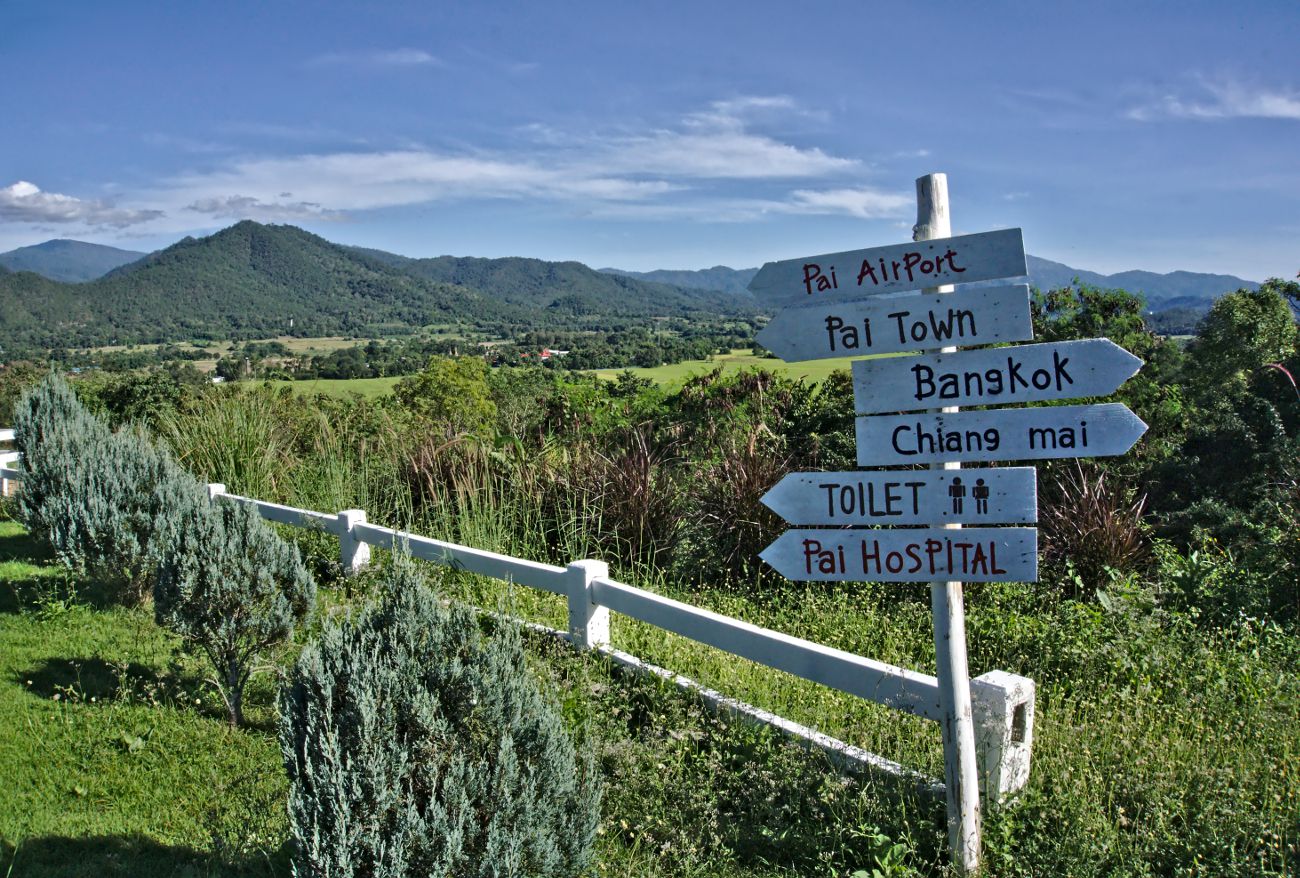 There are, of course, alternatives! For example, for the last stop, we decided to go through Mae Chaem, but note that it is also possible to return to Chiang Mai via Mae Sariang.
Here is a small map where you can get a better idea of the loop. We have also placed the accommodation, visits, and the little detours we have made. To be sure you don't miss any of the must-sees, check out our second article dedicated to the loop itinerary!
Clothes for a road trip in northern Thailand
Then our only advice would be to plan layers!
When the weather is fine, the temperature rises easily above 30 °C, even in winter… On the other hand, as soon as the sun goes away, or worse if the rain gets involved, it can be quite chilly, especially on the scooter! The evenings are generally cool, but we can handle it very well just with a sweater and possibly a rain jacket depending on the weather…
In short, plan a good fleece and a rain jacket just in case!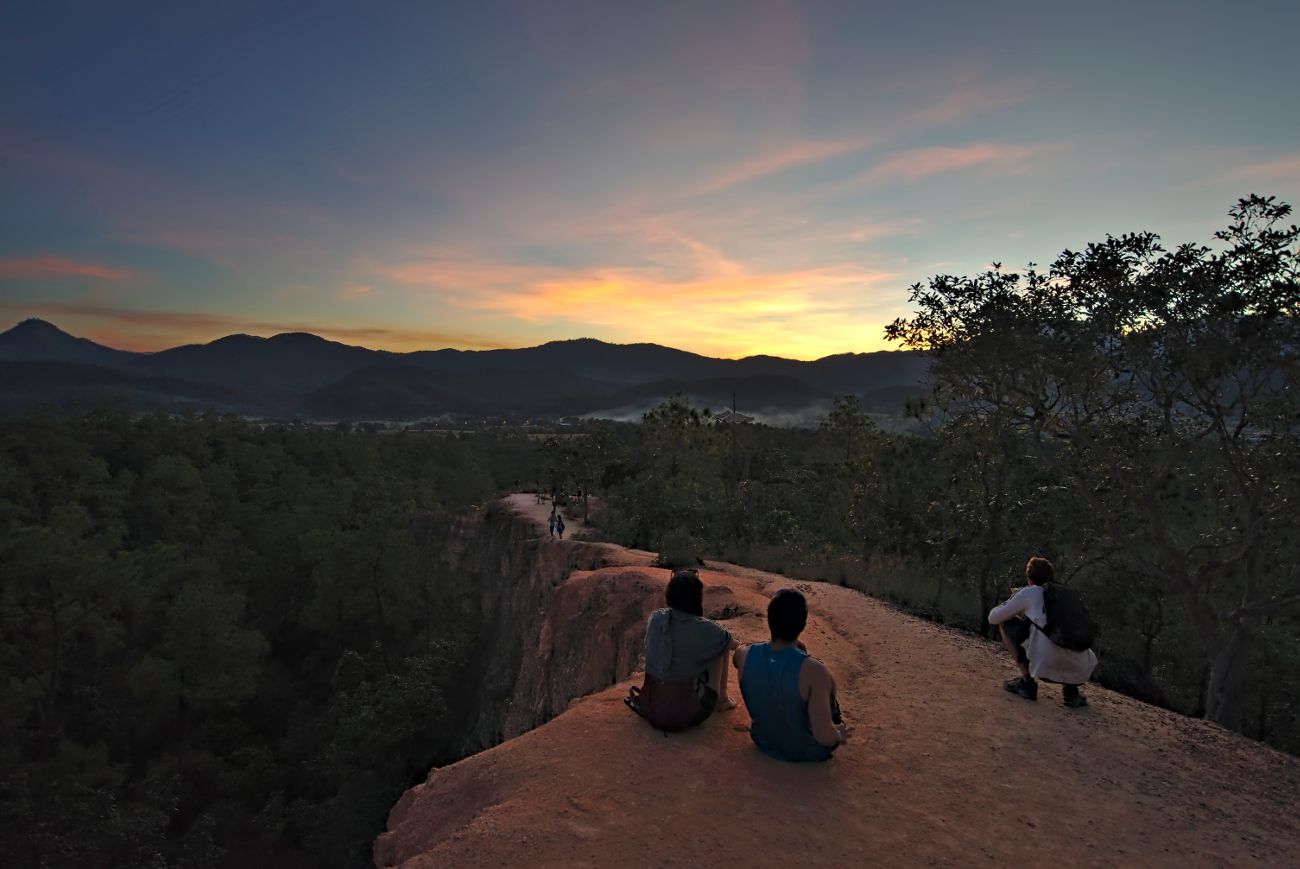 Budget for the Mae Hong Son loop by motorbike
Mae Hong Son's Loop is affordable for almost everyone! To give you an idea we will open our accounts for you.
Here is what we spent in 6 days and 5 nights on the Mae Hong Son loop (for a reminder 10 bahts = 0,27 euro):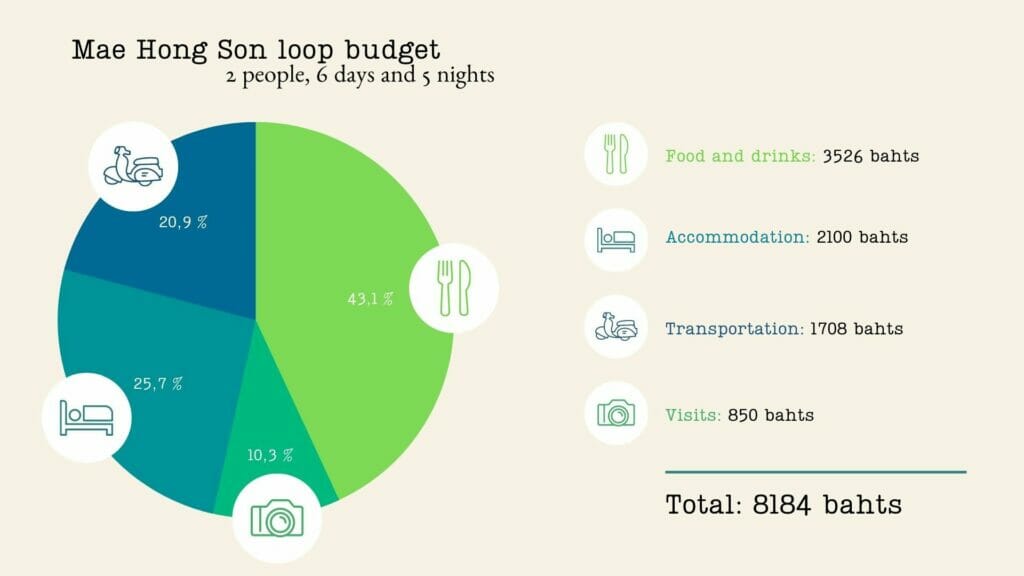 This amounts to a total of 8184 bahts (or 221 euros) for 2 people, which corresponds roughly to 216 euros, or 18 euros per day and person.
The budget is divided into 4 categories:
Visits: the different entry fees we have to pay;
Transport: scooter rental for 7 days and fuel (scooter: 1400 bahts, fuel: 308 bahts);
Food and drinks: absolutely all costs of food, coffee, water, etc.;
Accommodation: 5 nights of hotel accommodation. We made the choice not to book anything in advance, and had no problems finding rooms at our prices. We traveled comfortably in guesthouses with a private bathroom and hot water (between 400 and 500 bahts per night). If these last two points are not essential, you can easily find accommodation from 200 bahts, especially in Pai and Mae Hong Son. However, if you wish to book in advance we advise you to compare prices on Hotelscombined to get a hotel at the best price.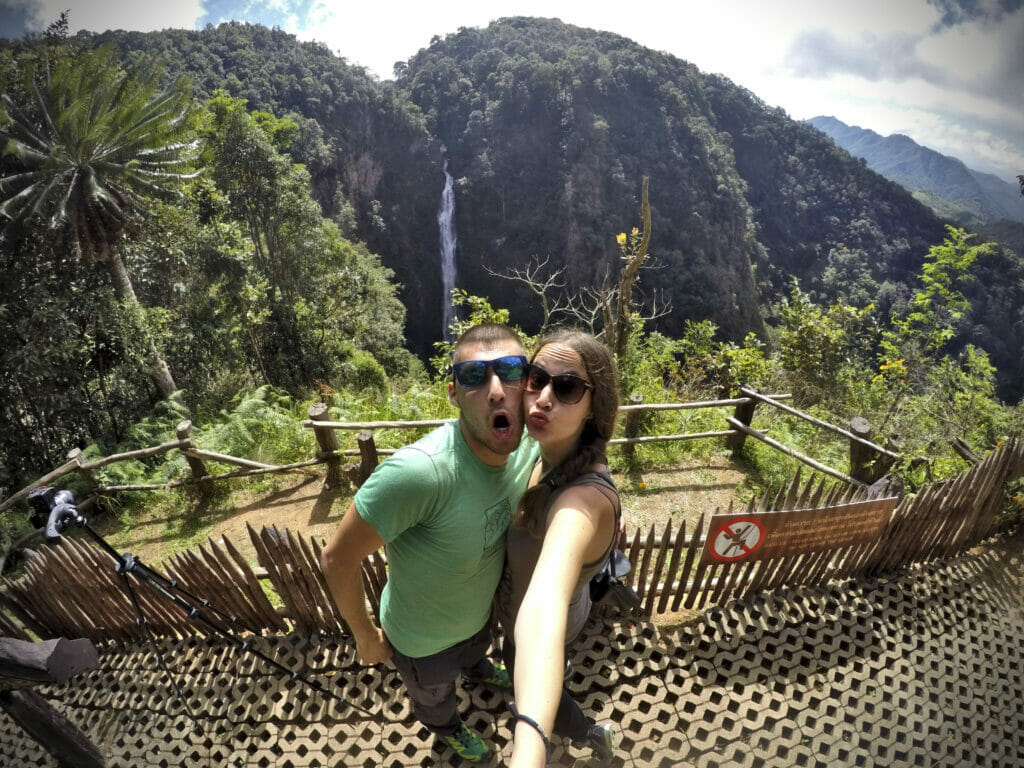 That's it: you know everything if you want to prepare for your little road trip in northwest Thailand! Ready to try this adventure from Chiang Mai 😉?
Take care, and see you soon on the roads!