If you have read the different articles we have written about Tenerife so far, you may have the impression that we are just hiking;)… So we reassure you right away, it's not quite true! After 4 months spent on the island at Nine Coliving, we had a lot of favorites for activities or things to do in Tenerife and we will be happy to share all this with you!
You'll see, if you decide to come and visit Tenerife, you will not be.
Note: if you are looking for more information about Tenerife, when to leave, accommodation etc…, we let you take a look at our general page dedicated to Tenerife.
Table of Contents
The best things to do in Tenerife:
The Santa Cruz Carnival
You certainly know the Rio carnival…. Well, the Santa Cruz de Tenerife carnival is the second most popular in the world after Rio. And you know what? We had never heard of it before we came to Tenerife. So as we really wanted to live this experience, we fixed our departure from Tenerife just after the day of the big parade and I can promise you that we didn't regret it.
The carnival in Tenerife is 1 month of total madness throughout the island with a climax in the 5 days preceding the mardi gras which see hundreds of thousands of people in the streets of Santa Cruz de Tenerife. Frankly, we loved the atmosphere! The big parade was superb, there are lots of stages with live music all over the city, absolutely everyone is dressed up and dancing in the streets… to live once in a lifetime!
How to get to Tenerife?
The easiest and best option is to get here by flight. There are several options of airlines coming to Tenerife from various places in Europe. To find the best deals we recommend you take a look on skyscanner.
Note: If you are coming from Spain or if your hometown offers great deals to the main spanish airports, then it's clearly worth taking a look at Vueling as well. They have great deals from the mainland to the islands!
Go eat in a Guachinche
You may not know it, but Tenerife is a wine-producing island (there are even some very good ones in our opinion;)). And so a Guachinche was originally a place close to the vines that was used by winegrowers to sell their own wine. Over the years the Guachinches have evolved into small restaurants that serve a simple and typical Tenerife cuisine while selling the wine produced on the spot.
In general there is no menu and the waiter will give you the daily specials live (good time guaranteed if your Spanish is not quite perfect yet ;)). You will find dishes like Queso asado (goat cheese grilled on the stove with Mojo), Ropa Vieja (meat simmered with potatoes), papas arrugadas (potatoes in salt with Mojo), lots of meat… all served with the house wine and for a very small price. However, if you are a vegetarian, Guanchinche might not become your all time favorite… there are clearly not many "meat-less" options there.
Our favourite Guachinches (you will find them in yellow on the map at the end of the article):
Guachinche El Cubano: Our favorite! Located in the middle of the vineyards 10 minutes from La Orotava, we advise you to come in the late afternoon to enjoy the sunset. And don't forget to test their Ropa Vieja!
Guachinche La Casona: A sure value also found in the heights of La Orotava in the middle of the vineyards.
The historical center of La Orotava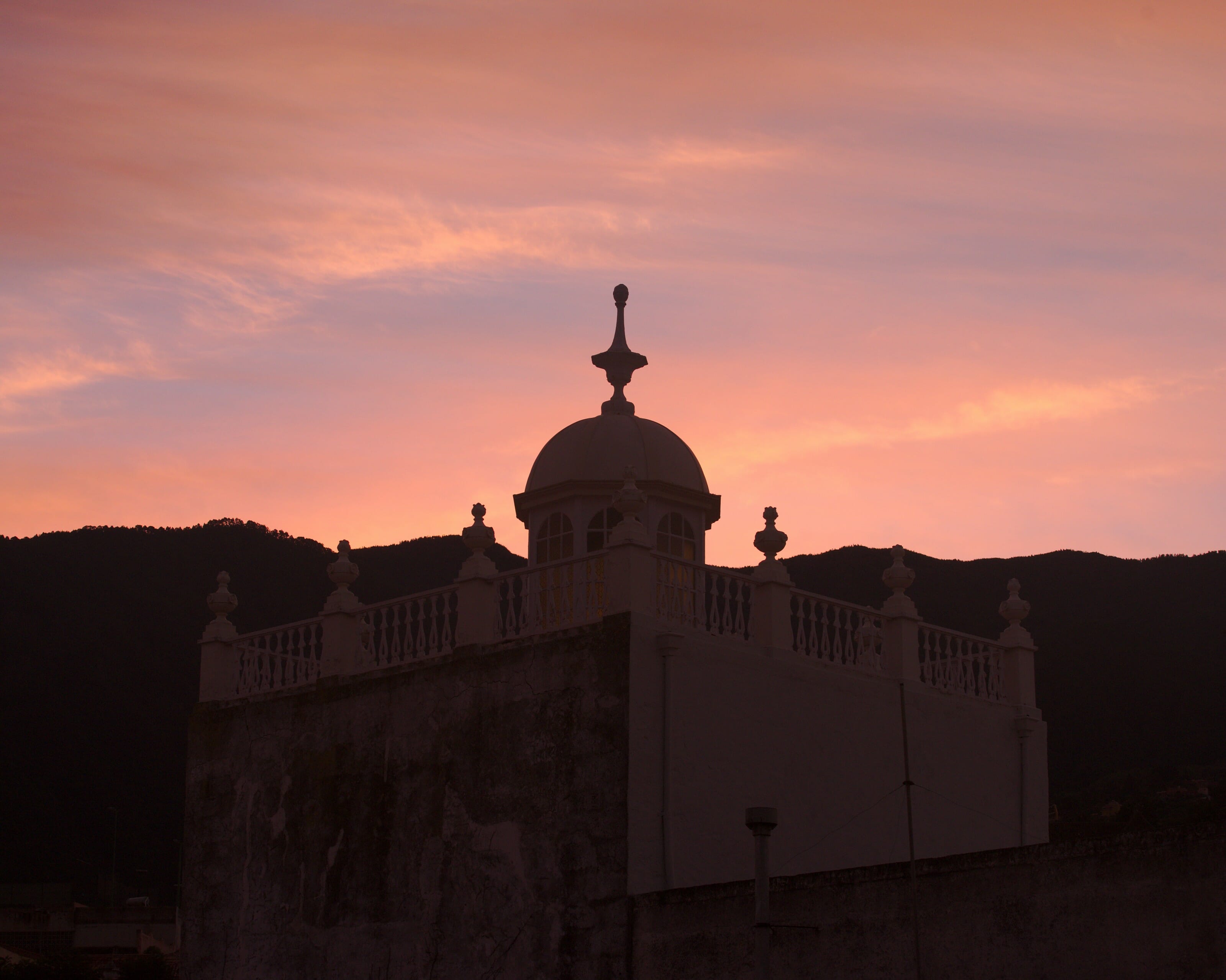 La Orotava… our favorite little town where we lived for 4 months. This was no coincidence, of course! The first time we passed through it, we immediately loved the old historic centre with its beautiful wooden balconies and colourful facades. As the small town is not by the sea, there are very few tourists staying there (they only pass during the day) and the atmosphere is very pleasant and local. There are also lots of nice little restaurants and bars (we'll talk about it a little bit further down)… in short, a real crush for us and we immediately decided to stay longer.
If you pass by La Orotava, don't miss the central square with its breathtaking view, the Victoria gardens, the casa de los balcones, perhaps visit a museum and end your day with a small tasting of local wines and tapas at De Pata Negra restaurant…. guaranteed fun!
Campervan or Motorhome rental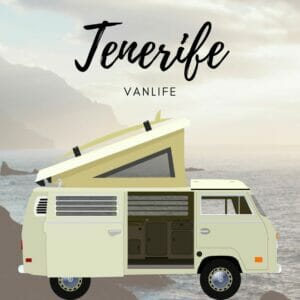 We didn't do it in Tenerife, but since we bought our van the Dahu, we really want to come back to Tenerife and discover the area with our campervan. The island lends itself really well if you want our opinion. 🙂 If you want to rent one directly on the island (probably the easiest solution), then you can go to the website Yescapa. They offer camper vans rented directly by van owners (with all required insurances). Otherwise you can also check the camper van rental company Campstar.
If you want more details about how to rent a van or a motorhome, you can also check our complete guide below
Read our RV rental guide
Teide volcano and the national park
The Teide Volcano Park and its 3718m of happiness… I think we can say that we have explored it in length, in width and across! It must be said that the landscapes that can be admired on and around the Teide are simply exceptional… you really have the impression of being on another planet up there and the possibilities of hiking are numerous.
Enough chatter, to help you visit this little wonder of Tenerife, we have concocted 2 articles for you:
A detailed post on the ascent of the Teide (by night and during the day)
If you would like to do some activities at Teide, you can also have a look here. On GetYourGuide you can find a lot of activities like night tours, paragliding flights or tickets for the cable car.
Black sand beaches on Tenerife
You will most likely have noticed it already, but Tenerife is a volcanic island (Teide is an active volcano) and therefore most of its beaches are black! So you may know that Fabienne is not a big fan of swimming and Ben can't keep still on a beach for more than 15 minutes… but despite that, after 4 months spent on Tenerife, we have some beautiful beaches to advise you in our order of preference (they are also on the map at the end of the article):
Tamadite Beach: a beautiful beach that is only accessible by foot in Anaga with a fresh water basin (very rare things in Tenerife) in the river next door.
Ancon an Los Patos Beaches: 2 beaches not far from Puerto de la Cruz which are magnificent but above all very quiet
Almaciga Beach: A very nice beach in Anaga just next to the villages of Benijo and Almaciga in Anaga
Bollullo Beach: One of our favorite little walks that we did with Lara (the topo is in this article)… a very nice beach with a view of the Teide. To do rather during the week because on weekends there are a lot of people.
The Gordejuela water elevator
This now abandoned building was in fact an old water elevator that operated a flour mill at the beginning of the 20th century. Located on the way of a beautiful hike from the San Pedro viewpoint (the gpx trace is in this article), this place will delight fans of photos and urbex.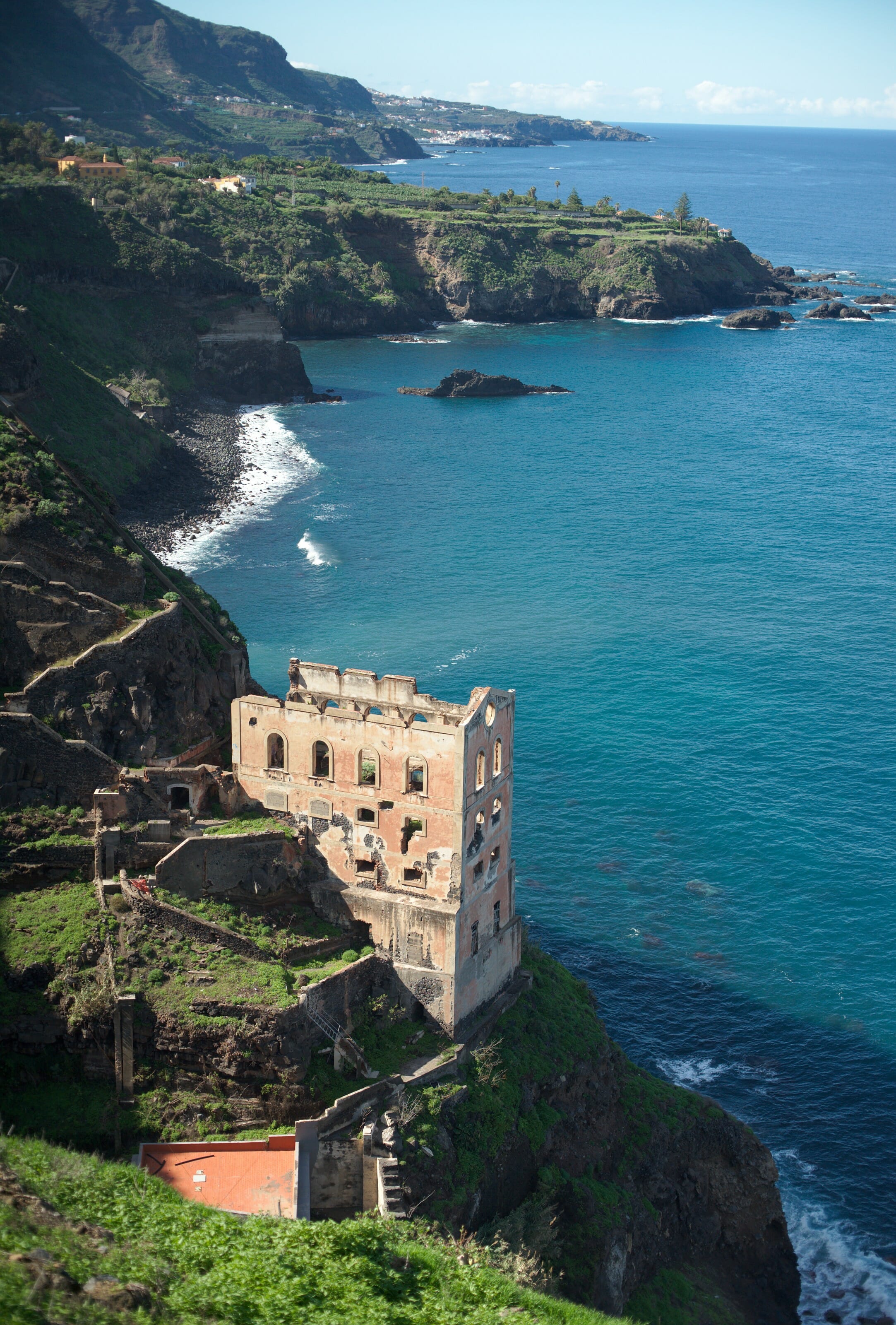 The historical center of La Laguna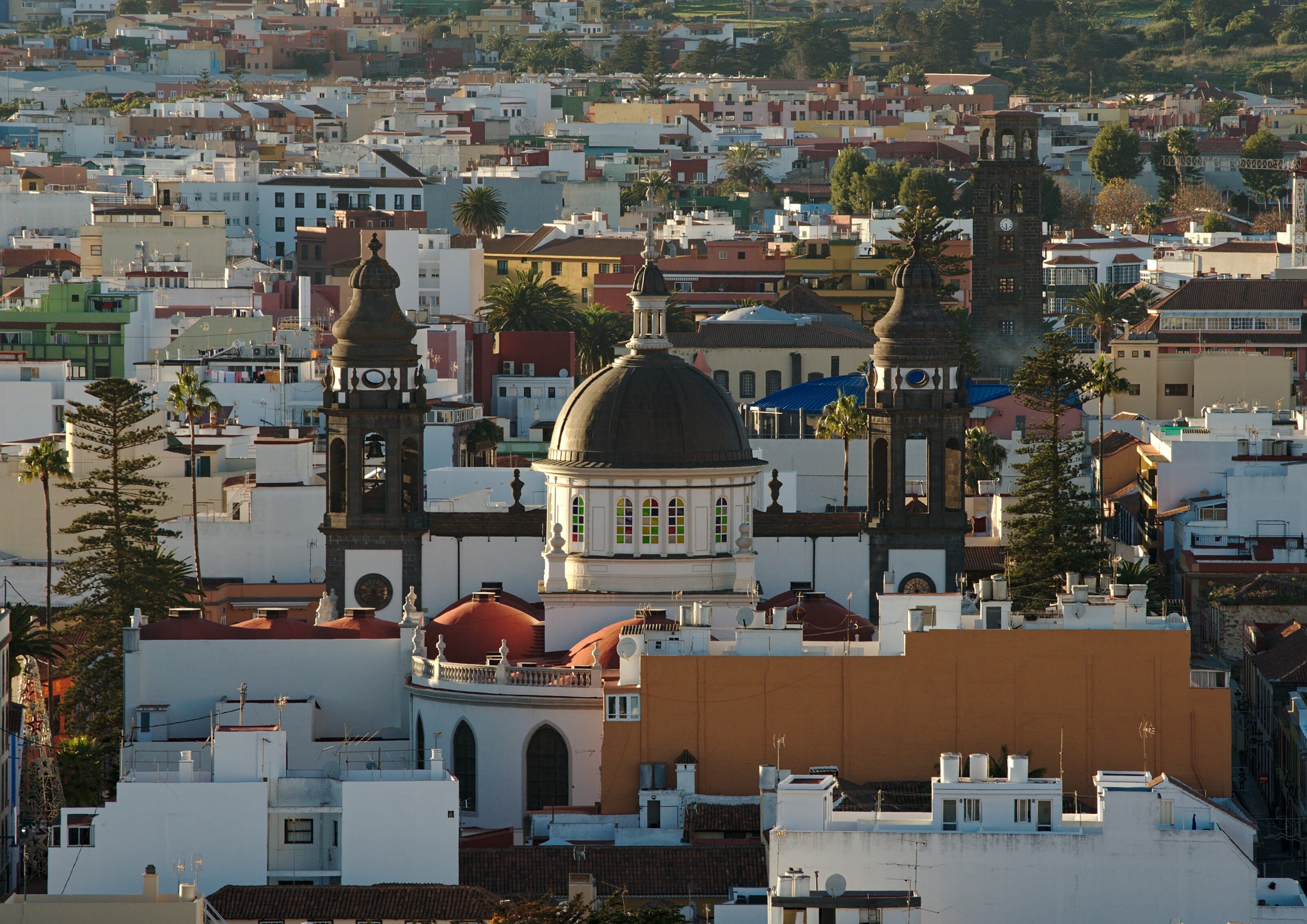 San Cristobal de la Laguna was in fact the first capital of Tenerife and is in my opinion the most beautiful city on the island with La Orotava. Its historic centre, which dates back to the 15th century, is protected as a UNESCO World Heritage Site. As the historic centre is only pedestrian, it is nice to stroll around and have a drink on a terrace and enjoy the pretty coloured facades of the buildings.
We recommend a short visit to the history museum, which is located in a beautiful old house and is free of charge. And if you have the courage to climb to the viewpoint of San Roque, you will be rewarded with a beautiful view of the whole city.
Note: if you come by during the holiday season, you will see that in La Laguna they don't laugh with Christmas decorations;) (we like it or we don't like it)
The Anaga Mountains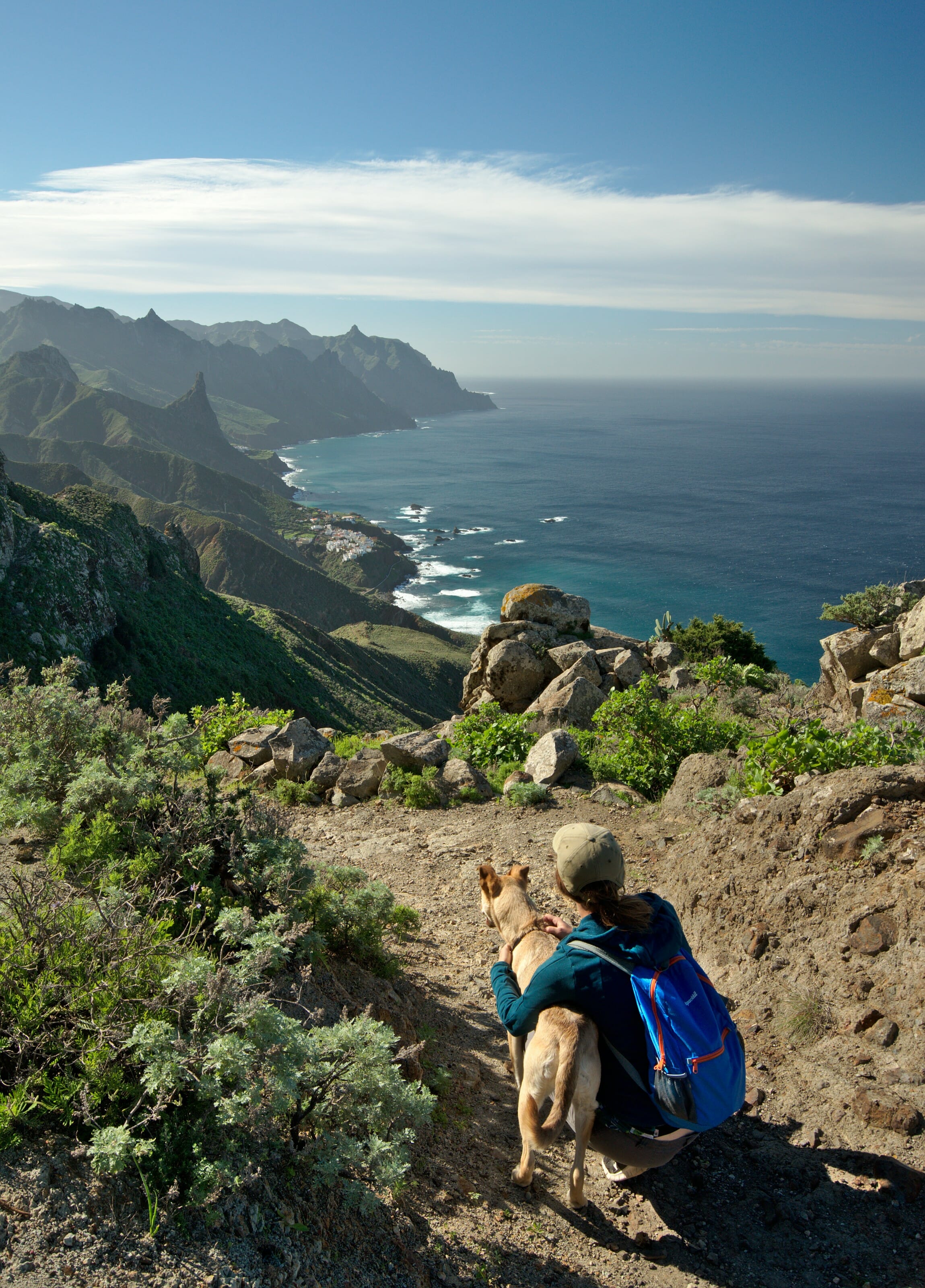 Ahhhhh the Anaga massif is also one of our favorite places in Tenerife! Located on the northeast point of the island, it is a small pearl for nature and hiking lovers, where you will find steep but also very green landscapes (it is the wettest region on the island), small hamlets here and there, and also the most impressive roads on the island (with the one that goes to Masca).
As with the Teide, we explored this massif in every nook and cranny. We did a lot of day hikes but also a 4-day hike with our tent and we enjoyed every minute of it. You will find all the detailed information about our hikes in Anaga here:
Whale and dolphin watching in Tenerife
The waters south of Tenerife are home to many species of whales, killer whales and dolphins. We did not personally go to observe them but several friends of the coliving were there and came back absolutely delighted with their discoveries of cetaceans. On the other hand, it is better to use the services of an ethical and responsible company that respects these animals. The best way to avoid disturbing the wildlife is of course to go for a sailboat tour and not a motorboat!
The nicest villages on Tenerife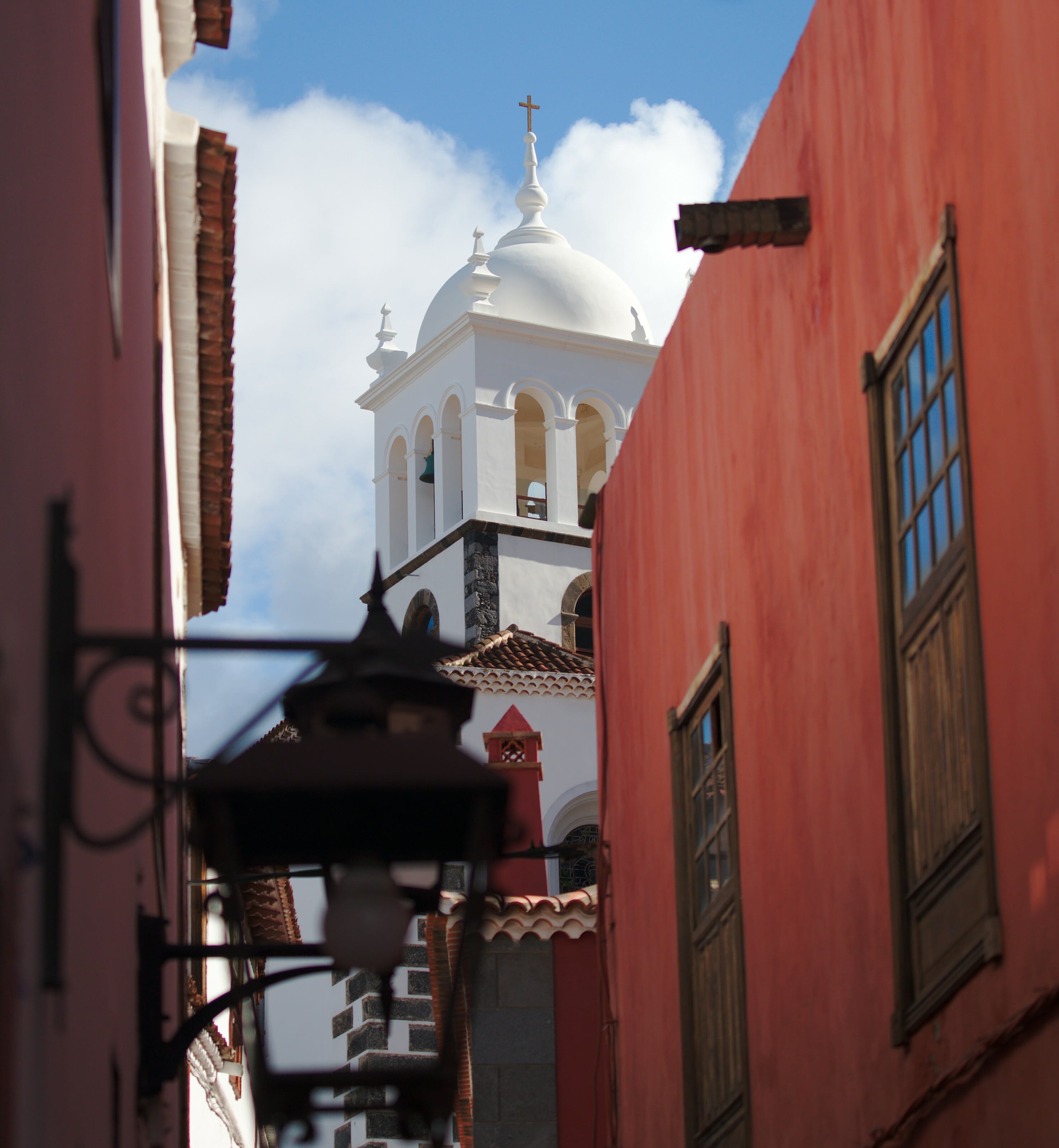 There are a lot of small villages worth a stop during a road trip in Tenerife. One thinks in particular of Garachico, a small seaside village well known for its Charcos (natural swimming pools where you can swim). There is also Icod de los vinos and its famous thousand-year-old dragon tree, Masca and its breathtaking route over the cliffs or the small villages of Anaga such as Taganana and Chamorga. In short if you pass by one of these villages, take the time to stop to stroll through the alleys and have a drink. 😉
Explore Masca (on foot and by car)
Masca is a small village perched in the heart of the Teno massif overlooking 600m cliffs. The road to reach the village is really impressive and if you can, you are advised to stop at the differentviewpoints along the road. However, the road is narrow and it is sometimes difficult to cross… especially since there are quite a few tourist buses that pass through Masca. So a word of advice, come in the morning instead, this will allow you to avoid the crowd.
Otherwise there are also beautiful hikes to do in the surroundings of Masca. You may have already heard about the "barranco de Masca" which goes down to the seaside (the path was closed because of a landslide during our time on the island)…. We went up to the Masca viewpoint, a 4-5 km walk along a cliff that is really worth a visit (more details and GPX map here)
If you are looking for a tour in the area you can have a look at this one. This tour combines a hike with a baot tour.
Stop at the Corona Forestal
The Corona Forestal (or forest crown) is actually a large protected pine forest that surrounds more or less the Teide volcano to an altitude of about 2000m. I really like this area which offers many possibilities for walks and where few people stop. I am thinking in particular of the spot along the road that leads to the Teide from La Laguna or the forgotten corner on the other side of the volcano called Samara. Look at how beautiful it is with the dancing clouds.
surf and kitesurf in Tenerife
If you like water sports, you won't be disappointed in Tenerife. El Medano is a very famous spot for kitesurfing. There are several rental companies that also offer introdction courses to this sport. It will most likely take you at least 3-4 days to do an introduction. For surfing there are many good spots all around the island (Bajamar, Puerto de la Cruz, Almaciga…) and you can do a 2-hour initiation for 30-40€. Book your lesson here
Try a barraquito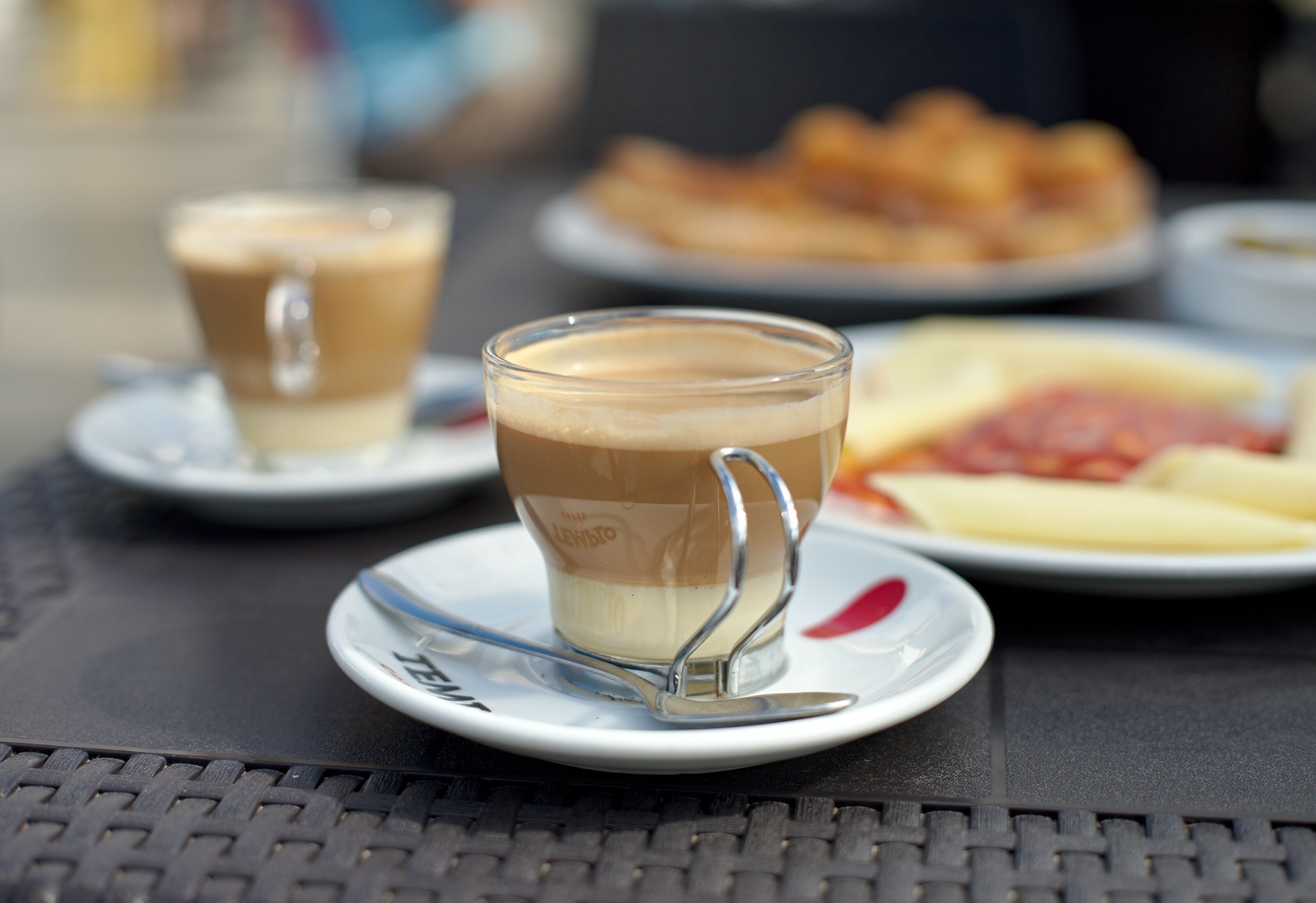 Barraquito is a typical Canary Islands coffee recipe. The classic to prepare with a good dose of condensed milk, a little (a lot) liqueur 43, an espresso, milk foam sprinkled with cinnamon. We tasted this version of the barraquito on the evening of the 3rd rainy day of our 4-day trek in Anaga… and I can promise you that it warmed us up right away. But if not, you can drink a barraquito at any time of the day because its alcohol-free version is also very popular.
Star watching on Mount Teide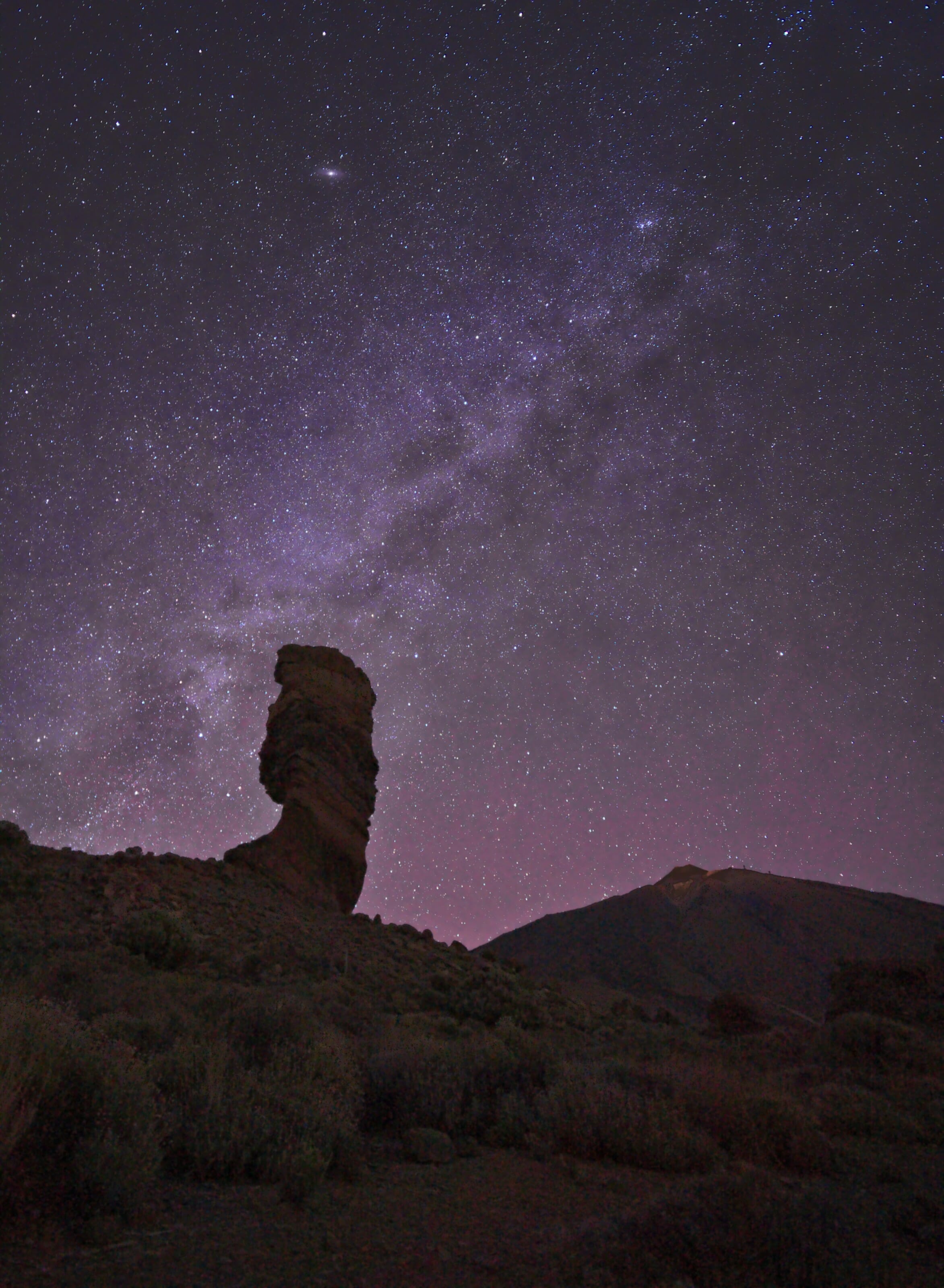 The island of Tenerife is known to have the clearest sky in Europe with very little light pollution… It is the ideal place to admire a starry sky like you have never seen before and observe the Milky Way. To do this nothing simpler… just wait for a new moon evening (there must be as little moonlight as possible to observe the stars) and drive up to the Teide. Then find a quiet place (for example at the Roques de Garcia car park or along the road that leads up to the Teide from La Laguna to the observatory) and simply enjoy the show.
And if you want to take beautiful pictures of the starry sky, don't forget to have a tripod (I use this one which is ultra light), a wide angle lens with a beautiful aperture (I have a Laowa 15mm that opens at f2) and a body with a fairly large sensor (full frame or aps-c).
If you want to know more about the stars, it is also possible to make a guided night hike. More info and booking here.
Street Art in Puerto de la Cruz
Puerto de la Cruz is not necessarily the most interesting city in the north of Tenerife in our opinion (many seaside resorts, large hotels etc…). But there is one thing that should not be missed in Puerto: the huge graffiti that adorn the walls of the city's historic centre. See for yourself because it's worth a look! (the graffiti map is here)
Swim in Charcos
Charcos are actually natural pools dug into the island's volcanic rock and filled with tides. You can swim there at medium tide and enjoy their often crystal clear water.
Watch Sunrise over the clouds – Teide by Night
In Tenerife there is often a sea of clouds that forms around the Teide volcano between 1000m and 2000m above sea level. One thing that is really worth it is simply to get in the car and get up the volcano for sunrise or sunset over the sea of cloud. The lights are just crazy at these moments and the landscapes take on a whole new dimension.
Our Tenerife Map
You will find on this map all the things I told you about above and much more.

Car rental
As we told you in our other articles, the best way to get around Tenerife is to rent a car. Outside the Christmas and New Year period when prices are soaring, it is possible to have a car for 10-20€ per day on the rentalcars site (on our side we paid about 300€/month).See on RentalCars
Where to stayTo find a place to stay, we recommend you take a look at the map below. There are many different apartments and hotel options on Tenerife and by using the filters (date, price range) you should be able to easily find your perfect place to stay. You can also check on Hotelscombined which compares some of the main hotel booking website
Check out Hotelscombined
I think with all this you should have something to do during your holiday in Tenerife. And if you have any other suggestions for things to do in Tenerife, don't hesitate to leave us a little comment just below;)
P.S. This article contains affiliate links for RentalCars and HotelsCombined. These are the sites we always use to find the best prices to rent a car or to stay. If you use our links to rent a car or book a stay, you will not pay a penny more but we will receive a small commission. This is a good way to support us if you like the content we create independently.