After having told you about the Teide National Park in our last article and the hikes we can do there, we decided to unveil our second favourite region of Tenerife: Anaga!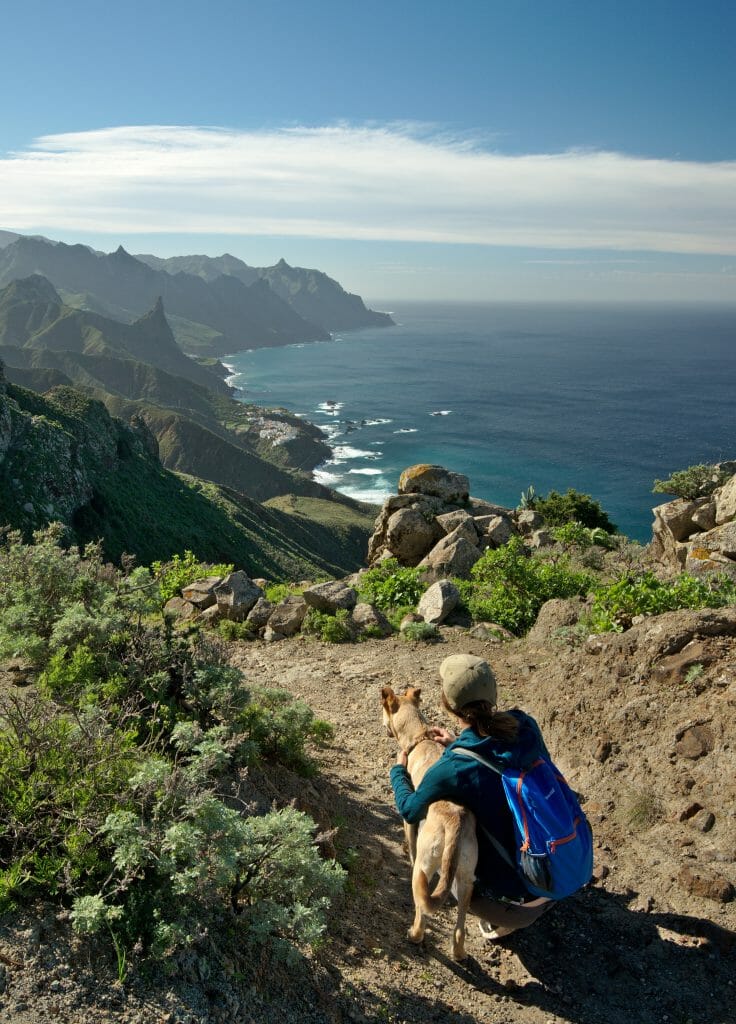 We are getting to know this region well because we come here regularly to hike and so we thought that a little article to tell you about some of our favourite itineraries might please you…
In this article we will talk exclusively about loops that can be done easily in a day or in an afternoon but also about viewpoints that are easily accessible by car.
If you prefer larger scale hikes, you should be served in a short time!) We plan to leave at the end of this month for 4-5 days of autonomous hiking with our tent on our back in the park of Anaga… #StayTuned
Edit: The article of our trek in Anaga is online! 🙂 Read the article
Anaga: Little paradies on Tenerife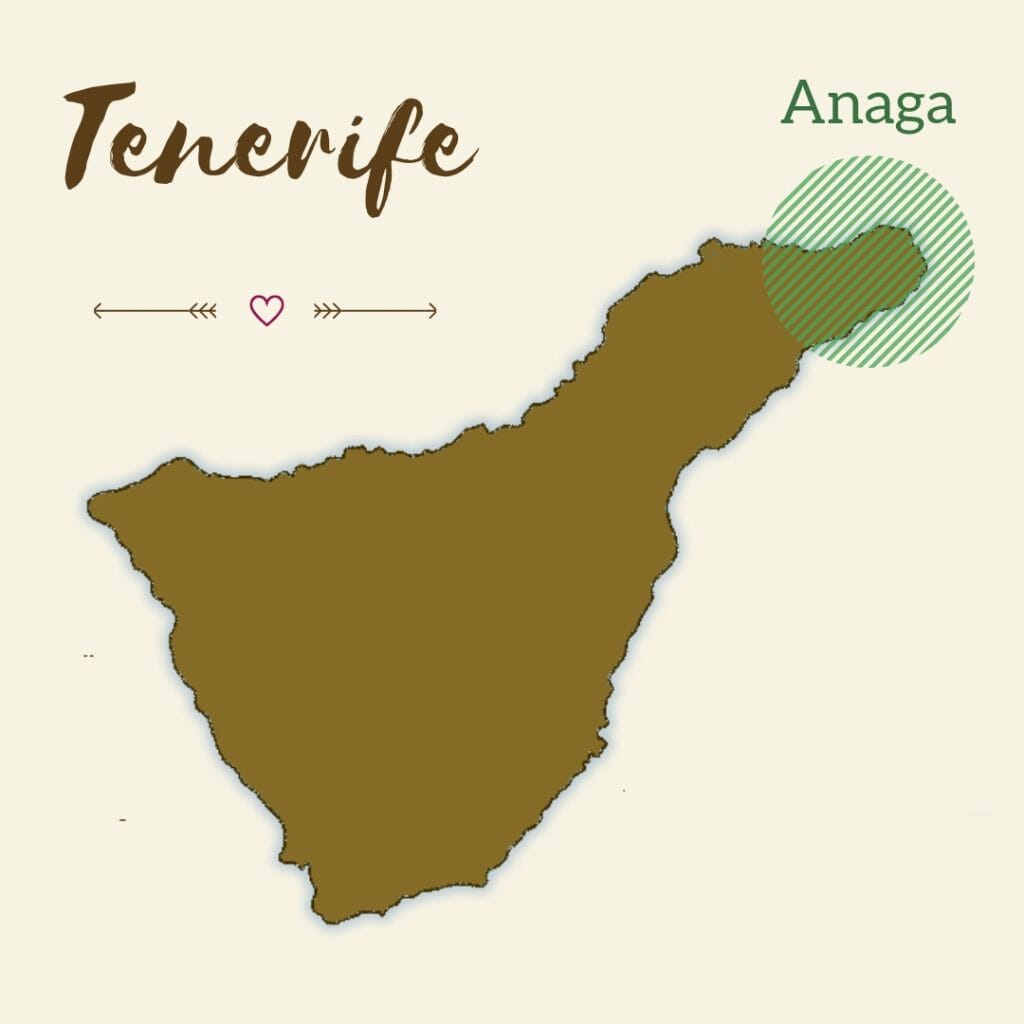 Geographically, the Anaga of the northeastern tip of the island which is located above Santa Cruz de Tenerife (the capital) and access to the park is through the pretty little town of San Cristobal de la Laguna (or simply the Laguna for those who are intimate) ;).
For me, it is most probably one of the most beautiful areas of the island and oddly enough it is by far not the most visited. (which is pretty cool if you ask me;)
The park has the particularity of having been classified as a biosphere reserve in 2015. This UNESCO recognition is attributed to regions that are fully conserving biodiversity and sustainable development. In terms of population density it is a very quiet area! Indeed, out of the nearly 15,000 hectares of the reserve, only 2,500 people still live within the park (spread over 26 small towns). In other words, it is the ideal playground for lovers of nature and wild landscapes.
Weather in Tenerife: beware of micro-climates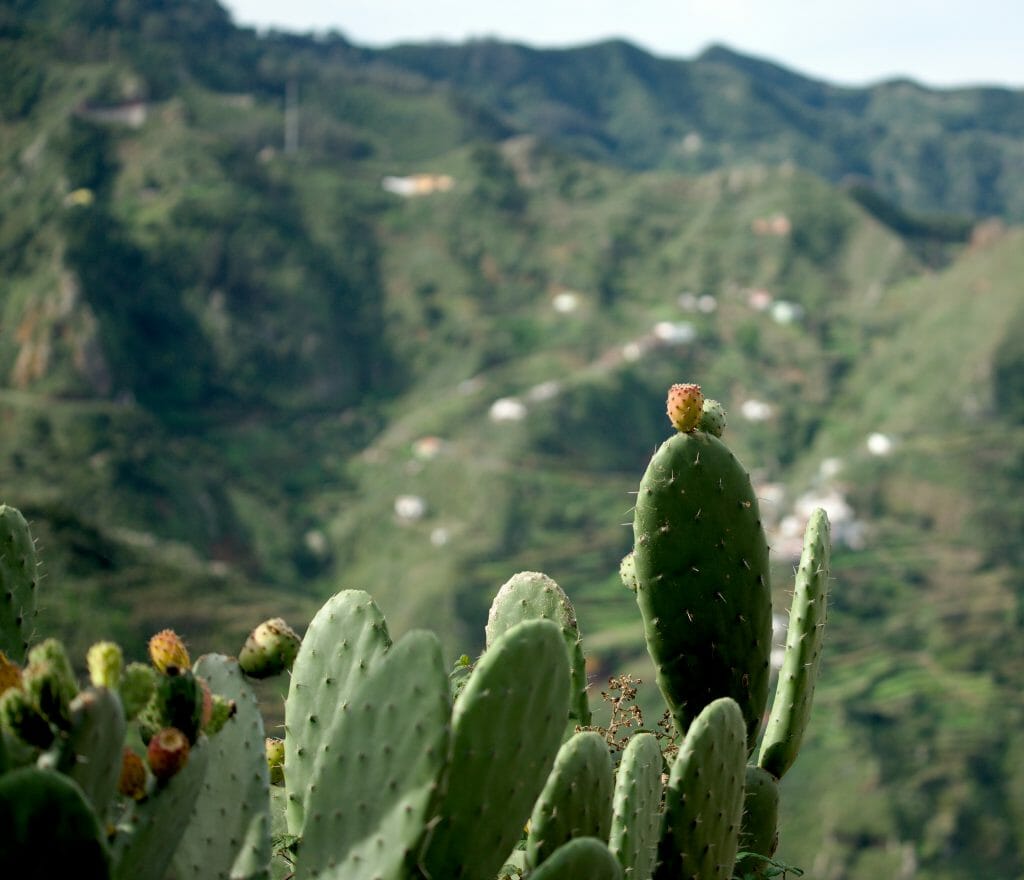 Tenerife is an island that is not very large but it has the particularity of having an impressive number of micro-climates! The locals often laugh when they say that if the weather is not good, just take the car and drive 20km…
After 3 months here we can confirm that this is true! The sun is always somewhere on the island… sometimes in the south, sometimes at the top and sometimes in the north…
If we had to define a rule then it would be the following:
The south is the area where the weather is most often good…. It is not for nothing that the vast majority of hotels are located there! The counterpart? The landscapes are VERY dry! An almost desert feeling with sand, rocks and some cactus running after each other…
In the Teide park it is almost always sunny! How many times have we woken up in the Orotava, being in the rain or in the clouds and going up to the Teide we were in full sun? Often! In fact, clouds tend to accumulate around the volcano but at relatively low altitudes (about 1500-1800m). So if you go up to park level above the tree line (at about 2200m) there is a good chance you will be above the sea of clouds. The landscapes? It's like being on the moon!
The north of the island is an oasis of greenery! It is here that most of the locals originally settled because in the south it was impossible to grow anything… So without being experienced meteorologists, we quickly understood why the north is greener: it rains more often!
Anaga being probably the greenest area of Tenerife it implies that it is also the rainiest! 🙂 So don't rely too much on the weather above your head if you're in the south and planning a trip to the north!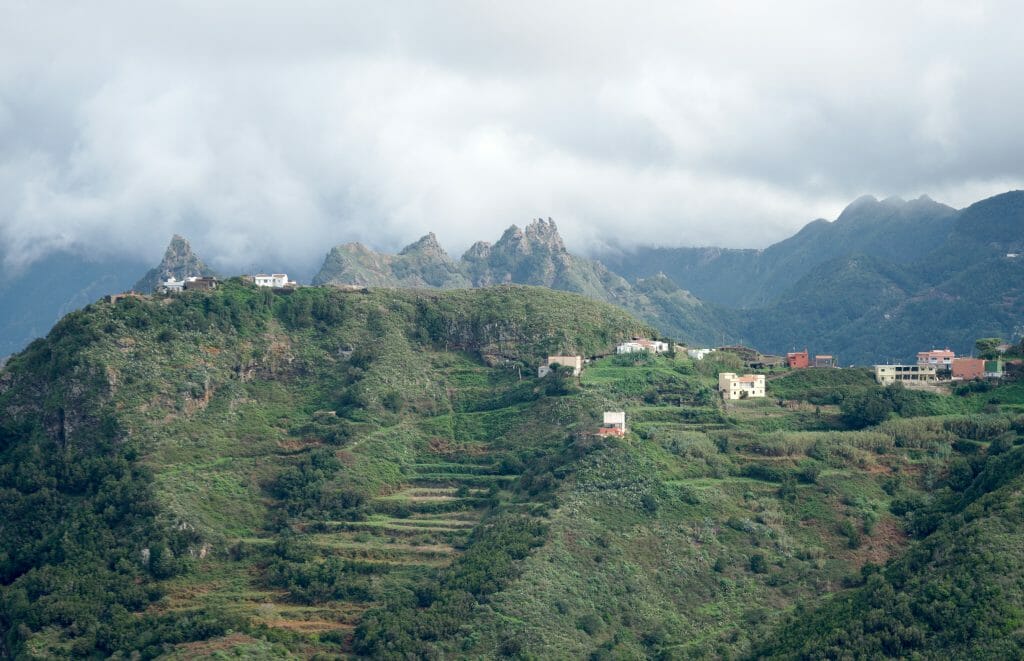 Our best advice for the weather is to take a look at the free Windy application in the morning of your trip. It is the one that rangers use in Anaga Park and since we have been here we have to say that it is relatively reliable.
How to get to Tenerife?
The easiest and best option is to get here by flight. There are several options of airlines coming to Tenerife from various places in Europe. To find the best deals we recommend you take a look on skyscanner.
Note: If you are coming from Spain or if your hometown offers great deals to the main spanish airports, then it's clearly worth taking a look at Vueling as well. They have great deals from the mainland to the islands!
Viewpoints not to be missed by car in Anaga
Before taking out the walking shoes, we will briefly focus on the essential stops to be made by car. The road that crosses the park is not easy to drive; it's narrow, there are a lot (really a lot) of bends, but believe us, it's probably one of the most scenic roads you'll ever see! In short, if you come here there are definitely some stops you can't miss!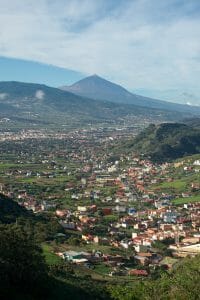 Zapata's viewpoint: the first viewpoint you see on your way up to the park. It is often very crowded and it can be difficult to park there, but if by chance you see a free parking spot when you pass by it is worth stopping there for the view of La Laguna and the Teide in the background.
Cruz del Carmen Information Centre: this stop is not so much for the view as for the tourist information centre. I believe that the rangers who work there are the most adorable and patient people on the planet. It is worth stopping there to ask for the park map (it is not self-service but the rangers give it for free with the hiking explanations that go with it).
Camino Viejo: a photo stop to see a huge natural tunnel in the trees!
Pico de los Inglès: Our favorite viewpoint in Anaga (considering only those that are accessible by car of course) 😉
Roque del Pilon: Okay…. technically this is a hike, but it's so short that we're not going to count it as such:) To access it you have to go to the place where the road ends in the park, in Chamorga. Then just follow the path that starts behind the only small café in the direction of the big rock overlooking the village. (In purple on the map below). It takes 20 minutes on foot to reach the viewpoint from the car park. Note: it is possible to arrive in Chamoraga by bus… The 947 line comes 3 times a day from Santa Cruz 😉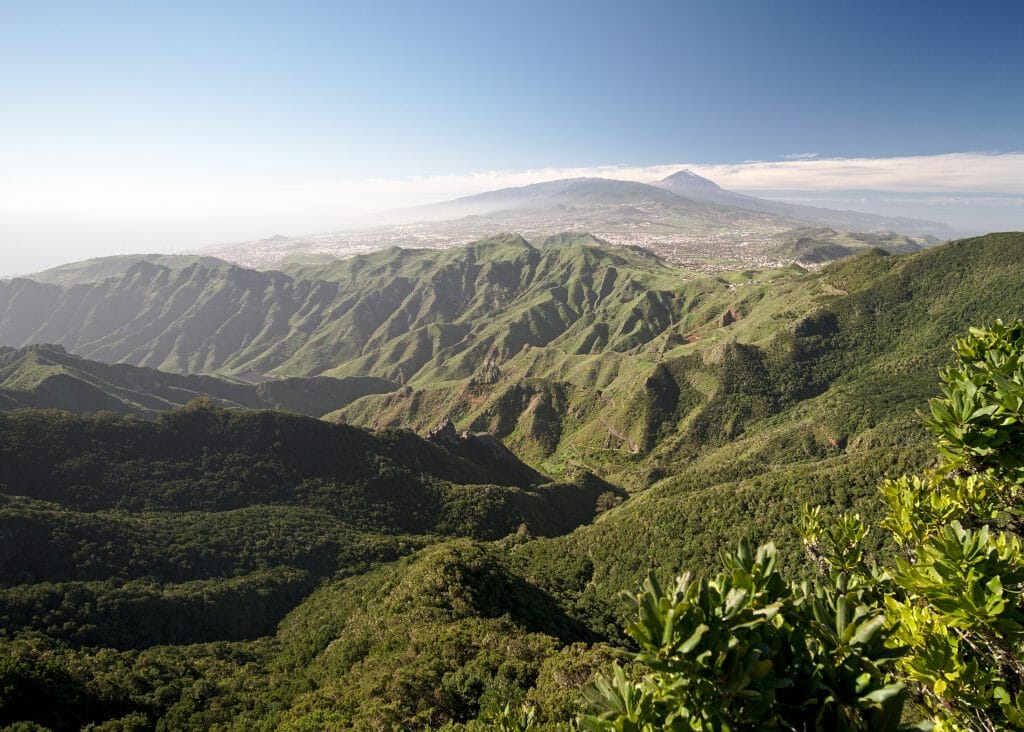 Rent a car on Tenerife
If you are in Tenerife the best way to get around is undoubtedly by car! We will talk about it again, but for our part we have rented a car since we arrived (we just stayed out during the week between Christmas and New Year because price level they totally crack at this time of year). Cars are available from 10€ per day excluding insurance. (at Christmas it was not far from 80€/day). To find a car, we recommend that you use
Rentalcars
. This site allows you to compare the different rental sites on the island and find the best price.
See Rentalcars
Anaga Map
So that you can easily find your way around, we have prepared a small map with all the points of interest and hikes.
Note: the hikes are placed in a very rough way, it is only so that you can imagine where they are. Below you will find a much more precise hiking map for each of the walks!
Hiking Map Info: On the blog, you'll find all the maps in interactive format via the AllTrails app (the one we use daily). If you want to download the trail of a hike to have it with you (on maps.me, your connected watch, another hiking app) –> you will find a download link above each map.
To download, simply go to AllTrails and if you don't have an account yet, create one (it's free). You will then have access to more than 30 formats to download our tracks and import them into the application of your choice.
If you want to access the maps offline from AllTrails, then you will need to upgrade to an AllTrails+ account (which we also have). By going through this link, you get a 30% discount (1.75€/month for one year instead of 2.5€/month).
To see all our Anaga hikes at a glance –> Click here
Our favorite hike in Tenerife: Benijo Loop in Anaga (blue itinerary on the map)
We will start this small series of hikes with the one we keep recommending to all our friends at the coliving: the loop around Benijo!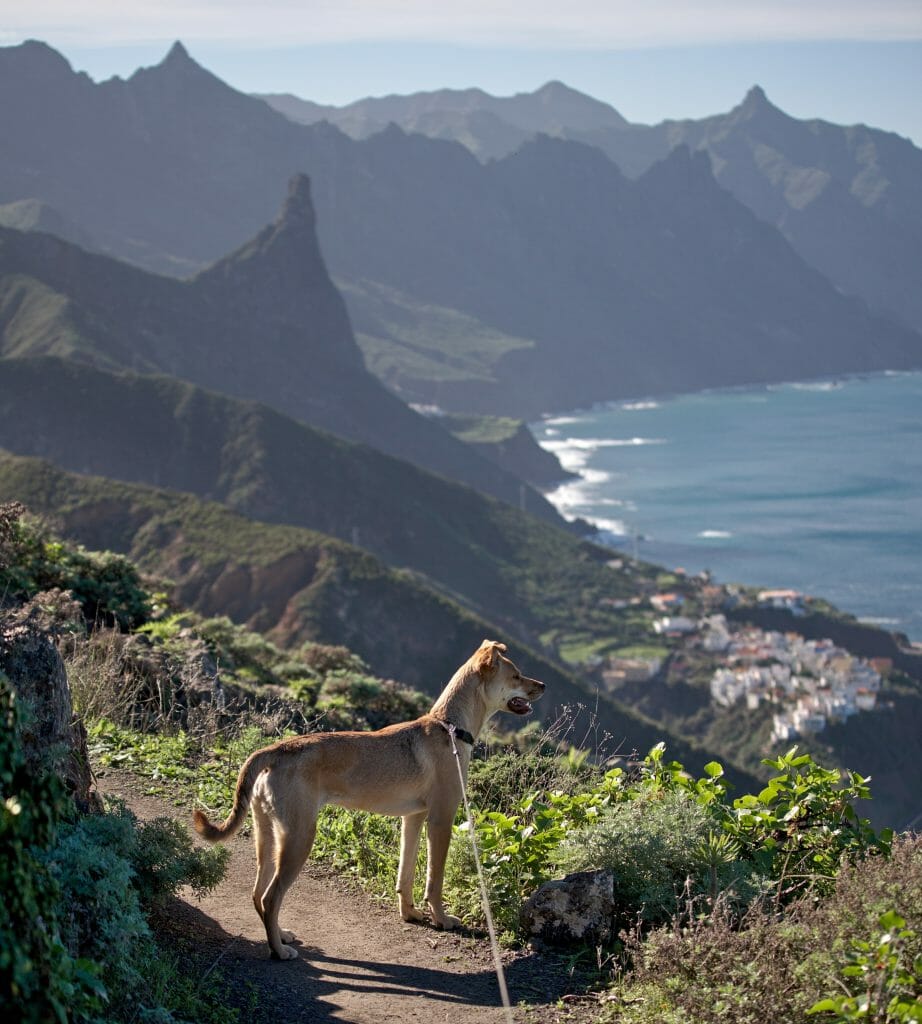 This hike is not very long (less than 7km) but believe me, you'll not be disappointed by the landscapes. When we did this hike we were with Benoit's parents who had joined us for a vacation as well as with Lara, the little fur ball from our Co-living.
The initial idea was to park in the village of Benijo, where the road stops… But in the end, our attempts to find a place proved to be unsuccessfuland we went back down to the beach where it is very easy to park along the road. This first little "error" in our program was ultimately a very good thing because the path along the beach and then back to the village by wooden stairs is beautiful!
Once in the village we opted for the hike, starting by following the trail that goes behind the restaurant and joins the hamlet of "El Draguillo". It was a very good choice because this first part of the hike is not the most exciting. The views are nice but we are all along on a large dirt track….
Arrived at the small hamlet we did not stay long and attacked the good winding climb towards the Cruz del Draguillo. Lara (the dog) was quietly wandering around while we humans were struggeling in the back and pulled out our tongues a lot too…;) Just before arriving at the Cruz del Draguillo we reached a crossroads and decided to head towards the big rock that offers a breathtaking view of the coast for our picnic break: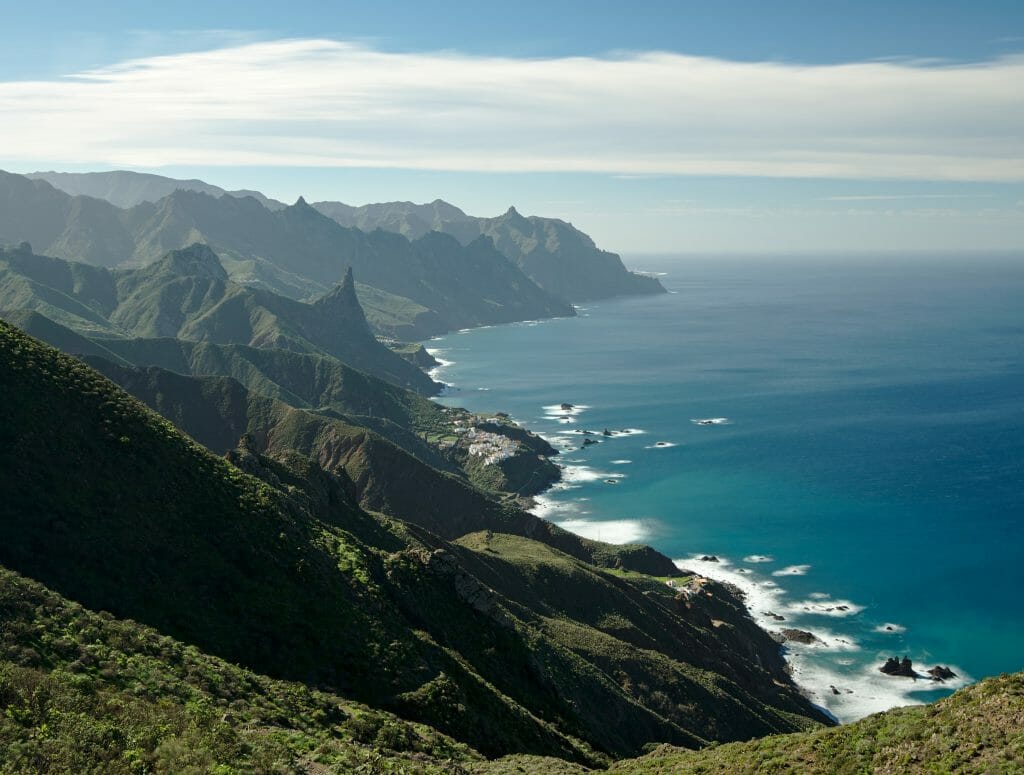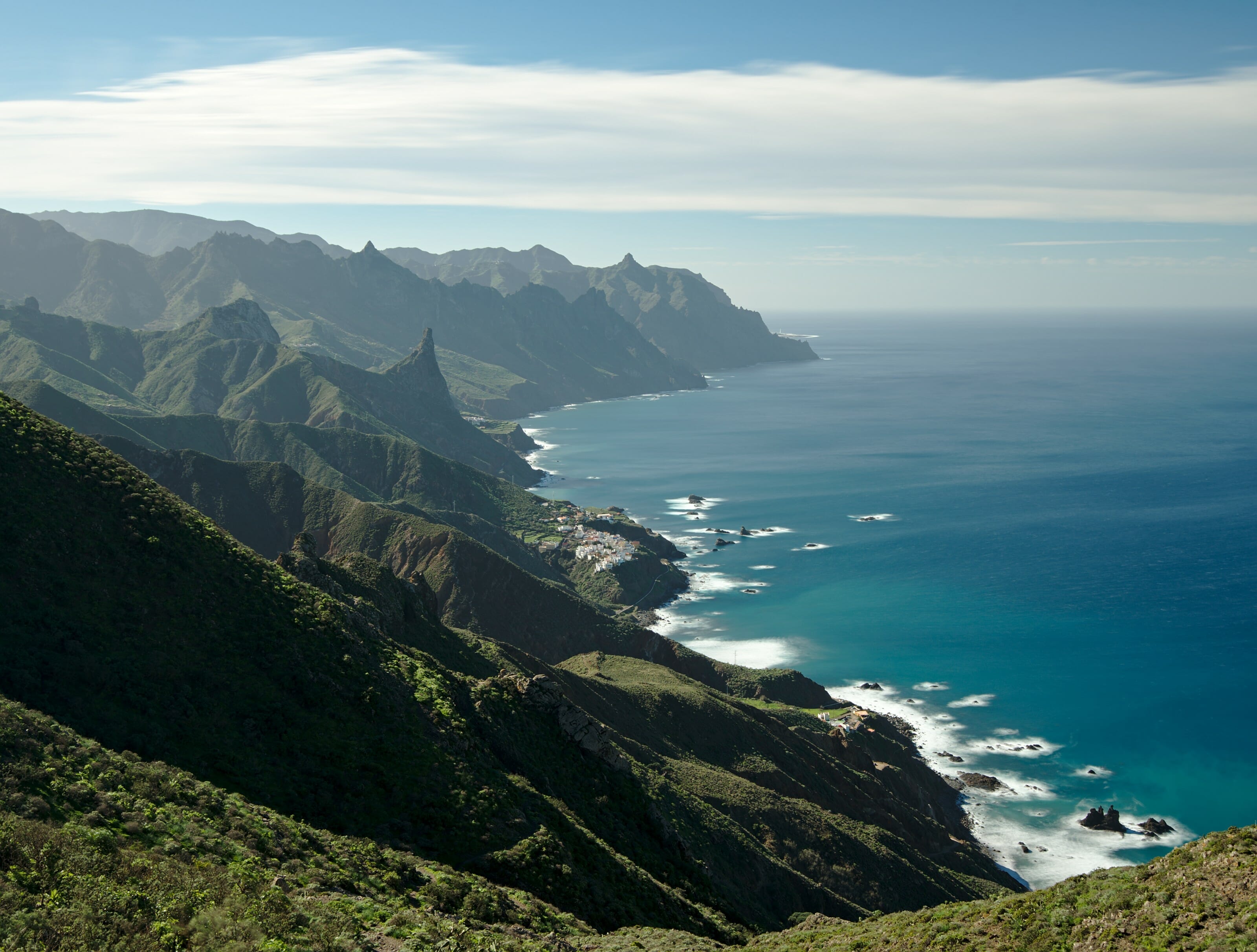 From there on, the descent back to Benijo is simply amazing! The slope is much less steep on this side and we walk all along with a crazy view in front of us. By the way: if you go to see the rangers in Cruz del Carmen they will surely recommend this walk, but will tell you to do it the other way around. Why? They prefer to send people on a smoother climb and keep the steep slope for the descent. But if you want our opinion it is really better to do it in the opposite direction! Why?
We start with the track (the least interesting part) and finish in style! If we do it in the direction of the rangers we end up with the not glamorous part and it would probably leave a little bitter taste.
The climb isn't that steep… and your knees will probably be delighted;)
By making the itinerary in the sense that you have been described you have the beautiful view in FRONT of you during the descent. In the other direction the view is on the back… and believe us, that would be a shame!
Infos
Start: Benijo Beach
Loop: Yes
Lenght: 6,5km (4 miles)
Elevation change: 500m (positiv and négativ)
Duration: about 2h30-3h
Adive:Start by going to El Draguillo then make the steep climb and enjoy the view in front of you all the way down!
Hiking Map for the Benijo Loop
More pictures from the Benijo hike
Are you in a more athletic mood?
When we made the tour of Anaga on foot we partly followed the itinerary described above but this time we continued further towards the place called "El Faro". This part was simply stunning as well! For the return we followed the ridge to Cruz del Carmen and so we thought it might actually make a sublime loop to add to this article! See our 4 days hike
But be careful, this itinerary with nearly 15km and 1000m of D+ and 1000m of D- is not to be taken lightly and is clearly recommended for hikers who are used to long and hard hikes. 🙂
In short, I promise: with this hike you may lose a little bit of your legs, but you won't believe your eyes either!
For thos who might be interested in this longer version, here is the map of this longer loop:
Hikes from Cruz del Carmen, Anaga
Cruz del Carmen is the place to come if:
a) you want to take a toilet break
b) you want to buy something to drink or eat quickly
c) you want to ask questions to the Rangers or simply pick up a free park card
But… Beyond that it is also a very good starting point for hiking! We haven't done them all by far, but we'l show you 2 hikes that can be done starting from Cruz del Carmen.
El Sendero de los Sentidos (yellow trail on the map)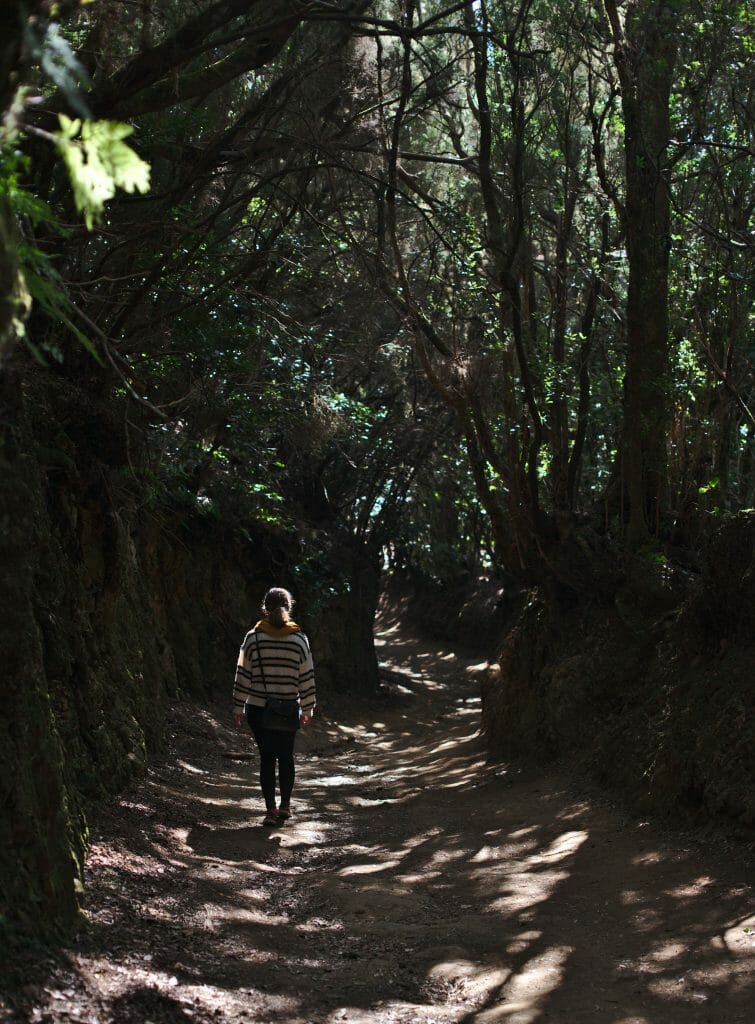 For this itinerary we can forget about aching legs ; this hike is more like a little nice walk that is great for a family tour or as a complement to another hike in the park. In fact, this trail is divided into 3 sections (one of which is adapted for people with reduced mobility).
For our part, we have opted for the "longest" version that goes down to the Mirador del Llano des Loros. Well, don't get fooled, even this "long" version only takes 45 minutes (and we've even dragged our feet and taken lots of pictures). But as the Spanish name suggests, this itinerary has been designed to stimulate the senses. Educational panels are installed throughout the route and invite hikers to look, feel, touch and listen to the different facets of this forest that seems enchanted!
Infos
Start: Cruz del Carmen
Loop: Yes
Length: 1,3km
Altitude change: 85m (positiv et négativ)
Duration: about 45 minutes if walking slowly
Hinking Map for the "Sendero de los Sentidos":
More pictures from the Sendero de los Sentidos:
Fell like doing a guided hike?

We didn't do it, but we did get some good feedback on
this tour
. During 3 hours you will walk through the Anaga in the company of an English-speaking guide. This tour costs 15€ and gives you lots of anecdotes and information about endemic plants.
More information
See more activities to do in Tenerife
Camper Van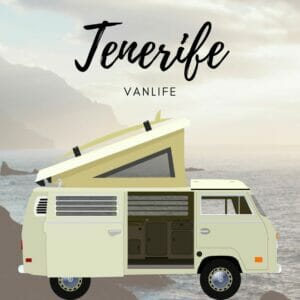 We didn't do it in Tenerife, but since we bought our van the Dahu, we really want to come back to Tenerife and discover the area by van. The island lends itself really well if you want our opinion. 🙂 If you want to rent one directly on the island (probably the easiest solution), then you could try Yescapa. They offer camper vans rented directly by van owners (with all required insurances). Otherwise you could also try Campstar wich compares offers from the main van / RVs rental companies
See the camper vans on Yescapa
See vans or RVs on Campstar
Hiking to the Mirador Aguaide via Chinamada and las Carboneras (in red on the map)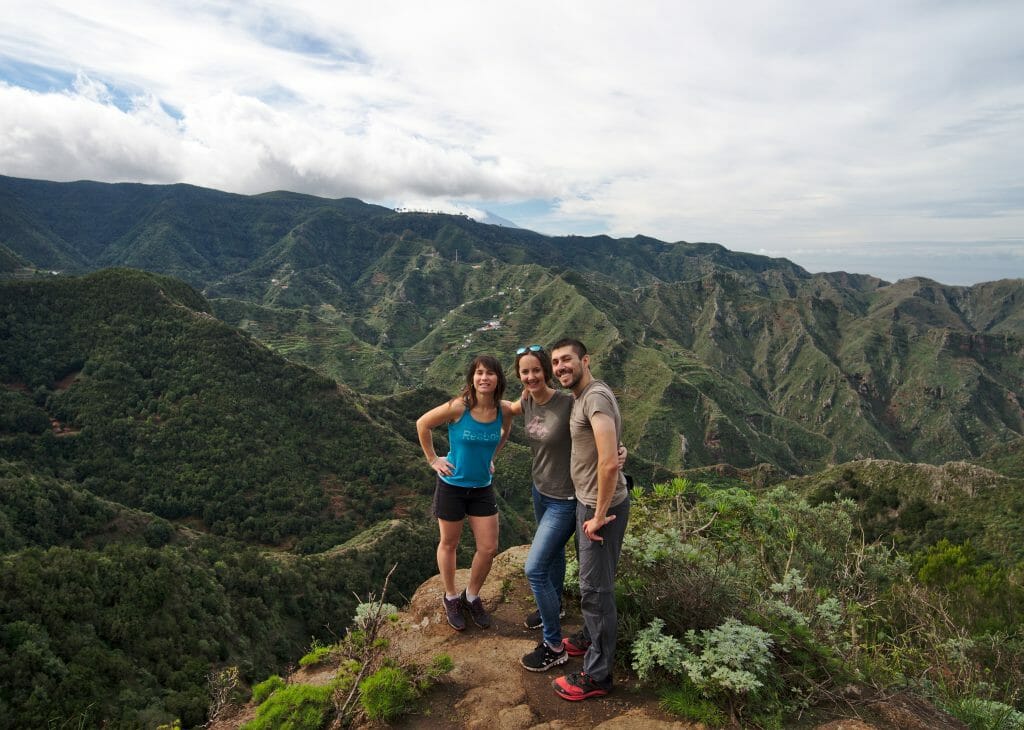 This second itinerary was done in November when our friend Faustine visited us. It was our very first trip to Anaga and the least we can say is that it made us want to see more and come back to the area…
The hike starts in Cruz del Carmen and just after leaving the car park you immediately enter the beautiful forest. Faustine told us that she didn't like this section so much (she lives in Chamonix, so she necessarily likes mountainous landscapes more than forests) but personally I really enjoyed this first part. The forest in Anaga is like "enchanted" with moss everywhere and tons of trees and plants that we, botanically speaking, would be unable to name you but that we found really beautiful! After the forest we arrive on a ridge path with a good view on all these small mountains that make up Anaga with sometimes, as a bonus, the Teide that showed its peak between the clouds.
Once in the tiny little village of Chinamada, we start by taking a walk to observe the few houses that have been built on the cliff and then head towards the viewpoint a few hundred metres away. Here the change of scenery is radical, all of a sudden we feel like we are in Peru!!!!! I swear I felt like we were walking in the Inca terraces:)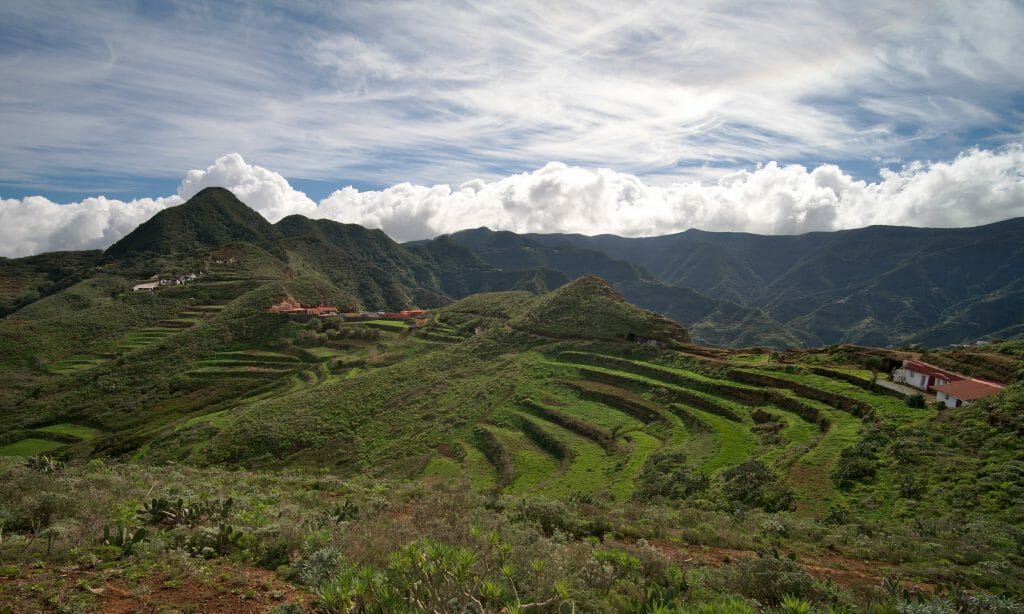 The sun was pretty stron at the beginning of the hike, but once we got to the viewpoint we quickly noticed that we shouldn't hang around too long if we didn't want to get rinsed… our weather app warned us, we had 1 hour left before the shower!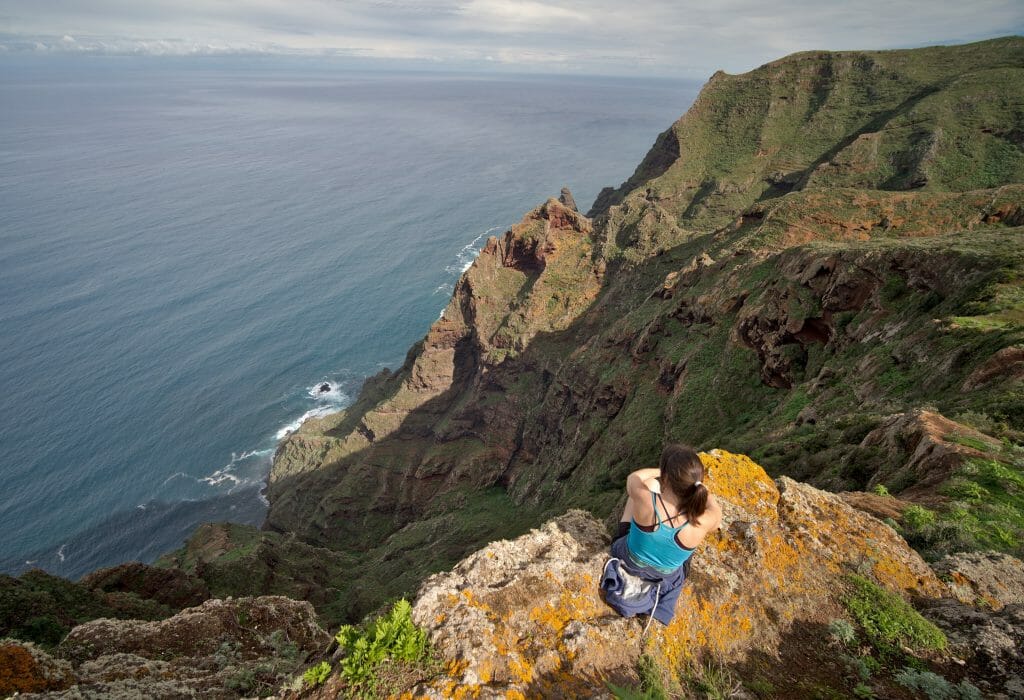 Without hesitating, we set off again towards the car. But rather than take exactly the same route as on the way there, we opted for another path that passes through the charming little village of Las Carboneras. Our timing that day was almost perfect! When we were again in the forest the clouds literally invaded us, then, at about 300 meters from the car park the rain shower started. 300m is short, but unfortunately it remains largely long enough to finish totally soaked…. 🙂 This is what you would call an "almost" perfect timing 😉
Infos
Start: Cruz del Carmen
Loop: Oui
Length: 13,8km
Elevation change: 600m (positif et négatif)
Duration: about 3h30-4h
Map:
More pictures from this hike:
All that remains is to wish you lots of wonderful hikes in the north of Tenerife. We hope you enjoyed this article and the itinerary ideas and of course if so, feel free to share it with others. 🙂
Where to stay in Tenerife?
The Anaga is not the region where there are the most accommodations… However, on Booking you can find some inns or apartments. After that, it is a region that can be visited by car and on foot! We advise you to base yourself somewhere in the north of the island (towards Orotava for example) and then come to the park for the day.
Note: This article contains Affiliate links. By booking your car/activity in Tenerife orvia our link you will of course not pay anything more, but we will receive a small commission. Rentalcars is the platform we systematically use when we book a car, including here in Tenerife where we have decided to rent a car for the duration of our stay.
Pin It