As you may have noticed, travelling with a Campervan (the famous Vanlife) or a Motorhome is very popular! These types of vehicles represent freedom, autonomy, travelling close to nature and a lot of people have been inspired by this type of travel in the last few years. By the way, we too have decided to go for a van after long months of Covid restrictions in 2020 😉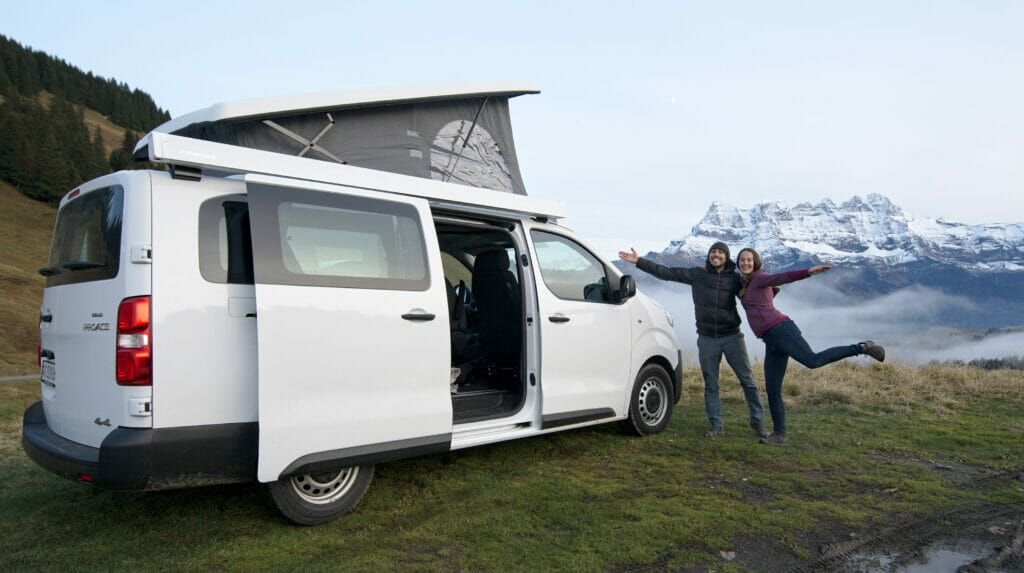 But let's face it, an RV is clearly not a cheap vehicle and not everyone has either the desire or the means to have one. This is where renting a motorhome or a campervan becomes interesting. With the growing popularity of this type of travel, many companies offering professional or private rental have emerged.
In this post, we will give you a complete overview of the different options available if you want to rent an RV or a campervan for your next trip. Let's get started!
Why rent an RV, motorhome or campervan in the first place?
There is plenty of reasons for this if you want our opinion 😉 . But the main ones would be for us: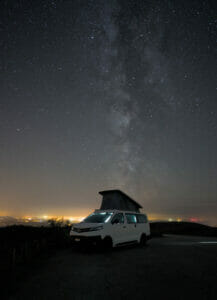 For the freedom, flexibility and autonomy that this mode of travel provides: When you travel with a van or a motorhome, you literally have a small house on wheels ready to take you almost anywhere. This gives you complete freedom and flexibility! No need to plan everything in advance, to book your accommodations and so on. Let yourself be guided by your desires and enjoy having everything you need with you in your vehicle! Wake up in the middle of nature, take your time, explore regions in depth… with an RV, you will only be limited by your desires!
To try Vanlife out: Even if this way of travelling is very popular, it is certainly not for everyone. Limited space, sometimes basic comfort, not necessarily toilets, always search for places to sleep etc… Vanlife does not have only positive sides! If you have never travelled in a campervan and you are curious to know if it could be suitable for you, renting is a good way to test it.
You are an occasional user: Owning a motorhome or campervan is not cheap! Between the maintenance of the vehicle and the equipment, the insurance, the parking space… it adds up to a certain budget per year. If you don't expect to use your vehicle more than 2-3 weeks a year, it's not necessarily worth buying one (unless you also rent it when you're not using it to cover these costs).
Because it is rather cheap: By renting, you can find nice vehicles starting from 120-200$ per day (insurance included). So it's a budget, but with a van or a motorhome, you'll have a means of transport, an accommodation, a kitchen, possibly a bathroom… What I mean is that apart from the price of the vehicle rental, you will have to pay for gas, food, possibly 1-2 nights at a campsite and that's it!
To test different RVs before a purchase: If you intend to buy an RV and you hesitate between different types of vehicles (for example between a campervan less than 2m high or a taller van, a motorhome or a campervan, 4×4 or not, with or without a roof tent…), renting is a good solution to have a concrete experience and to make an informed choice. Especially the private rental will allow you to choose and test specific vehicles with a home-made fitting, while with professionals you will find rather standard vehicles.
What type of RV should you choose for your rental?
So we believe that there is no better type RV than another and that small and big campervans or motorhomes have their advantages and disadvantages. Your final choice will depend on a lot of things like for example the number of people, your travel destination (cold, hot, mountainous country…), on which type of road, the level of comfort you would like to have, the needed autonomy, your desires etc… Here are the advantages and disadvantages of each type of vehicle to help you rent the one that will suit you best:
Small campervan rental
The van is the smallest vehicle that you can usually rent. Its dimensions vary between 4,9m (for a classic VW T6 for example) and 5,3m long and about 2m high. These dimensions mean that they generally pass under the parking lots height barriers (very common in Europe) and that you will remain in car category for the tolls. These vehicles can be driven almost like cars and are easy to handle.
On the other hand, small dimensions also mean less space and comfort inside (after all, everyone has a different tolerance for this kind of thing). In a small campervan, it is impossible to stand if the roof tent is not open. You will also usually not have a fixed bed and will have to unmake and remake your bed every day. Despite the limited space, vans can be very well equipped (stove, fridge, heating, electrical install, small toilet) but do not expect to have a bathroom and a bedroom.
Here are some pictures of our campervan to give you an idea. It's not a small van since it's 5,3m long and has a roof tent: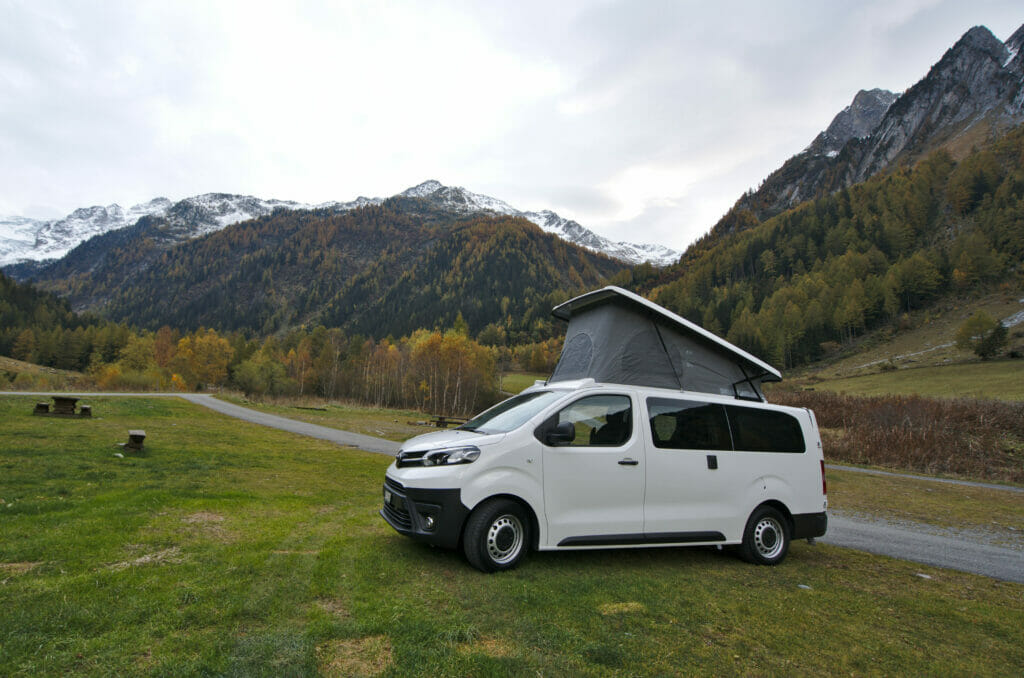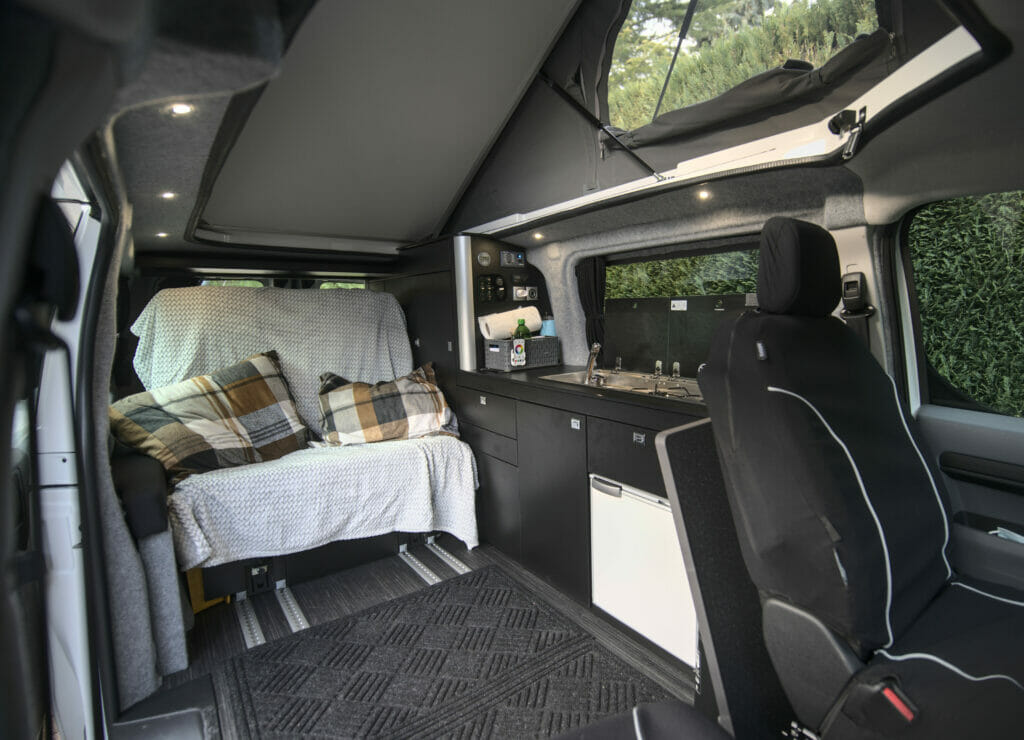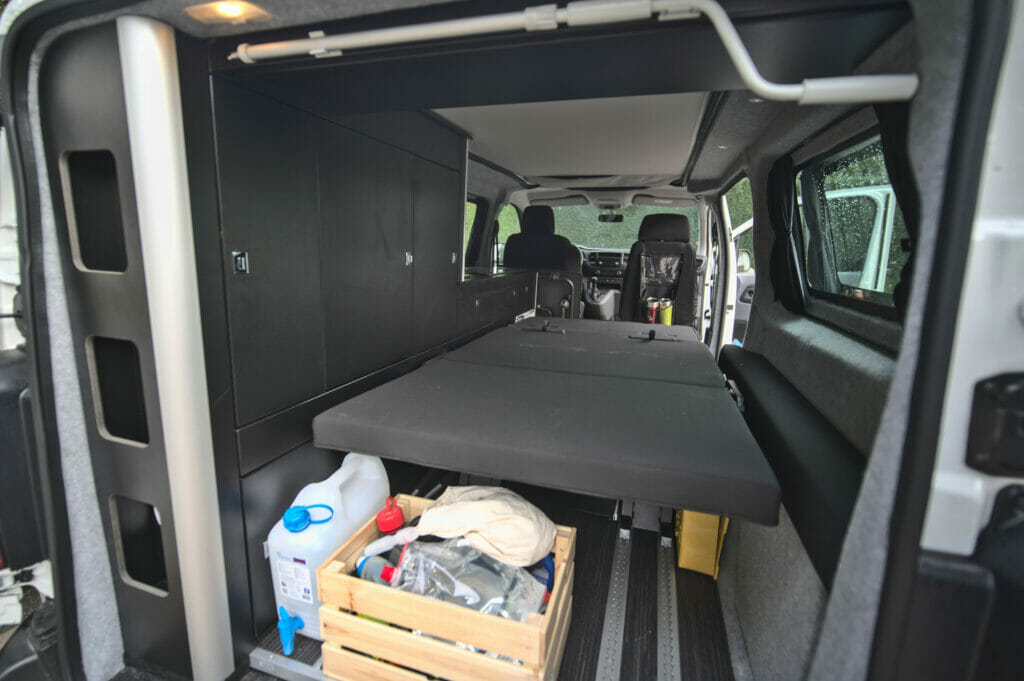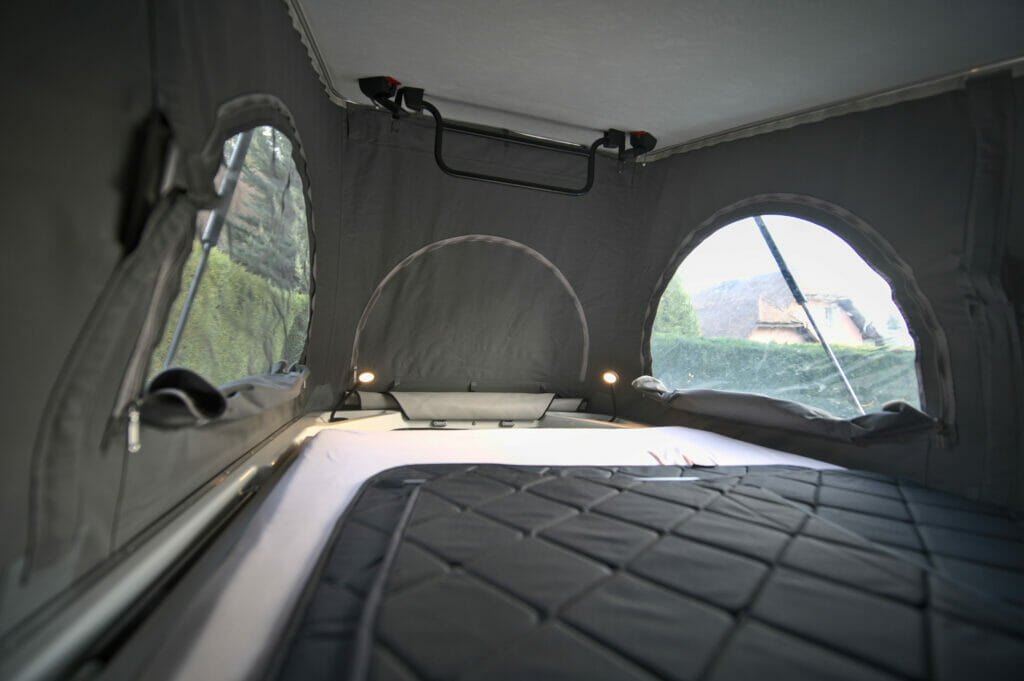 Concretely I would say that a small campervan is best suited for solo travelers, couples or at most a family with one child, provided that the van has a roof tent.
Examples of vehicles: VW California, Mercedes Vito, Toyota ProAce, Ford Nugget…
To summarize, the advantages and disadvantages of small campervans are:
Advantages of small campervans

Disadvantages of small campervans

– compact and easy to use
– rather discreet
– if 4×4, can go almost anywhere
– driving experience
– low fuel consumption if recent model
– easy to park anywhere
– passes under the height bars
– car category for tolls
– ideal for 1-2 people
– standing only if roof tent is up
– no bathroom usually
– no fixed bed usually
– less storage space
– a bit small from 3 people onwards
– less suitable when the weather is cold and rainy
– a rather expensive price/comfort ratio
Big Campervan rental
Big campervans are already much bigger than the classic vw vans. Their dimensions vary between 5.4m and 6.4m long and 2.6 to 3m high (they are also generally a little wider). With such dimensions, you will not be able to pass under the height barriers anymore and you will pay more at the tolls. On the other hand, these vehicles are quite easy to handle and some 4×4 models can also get you everywhere.
Thanks to its generous dimensions, you will always be able to stand up in the van and you will have a fixed bed as well as a bathroom (toilet, shower). So you don't have to move everything around if you want to sleep, cook or drive. You will gain in comfort and quality of life inside the van which is a real plus, especially when the weather is not good. This type of vehicle can be suitable for families up to 4-5 people if it is equipped with a roof tent. Here are some pictures of a big campervan to give you an idea: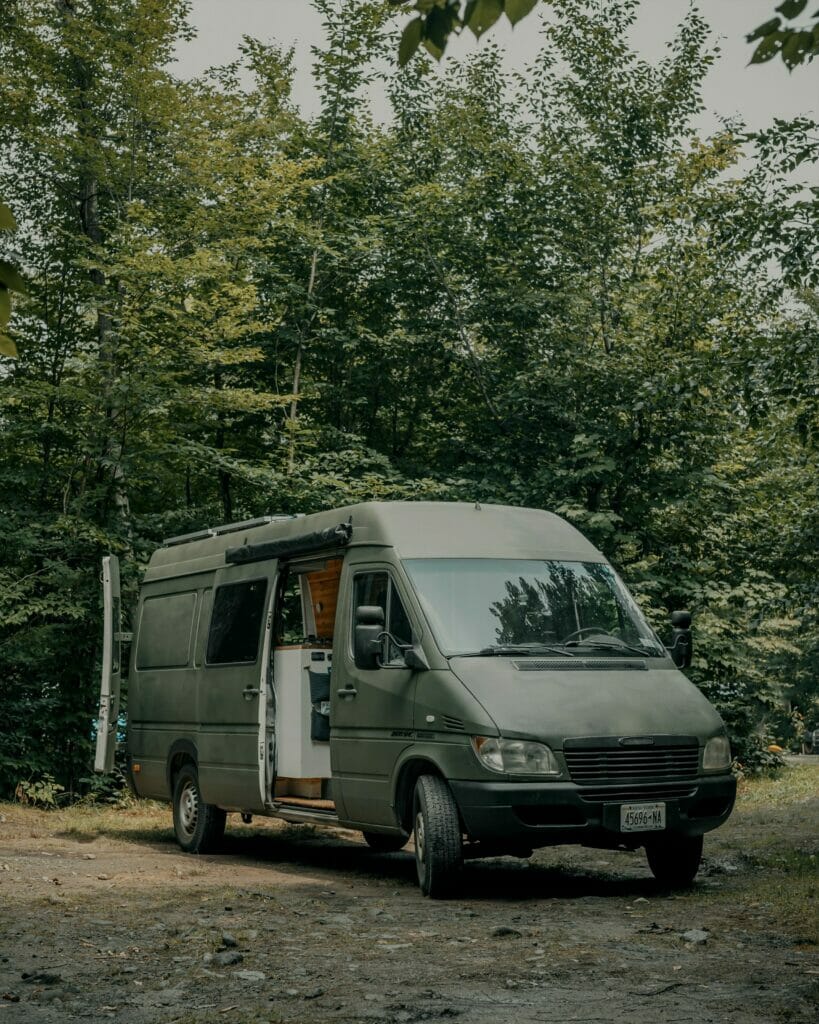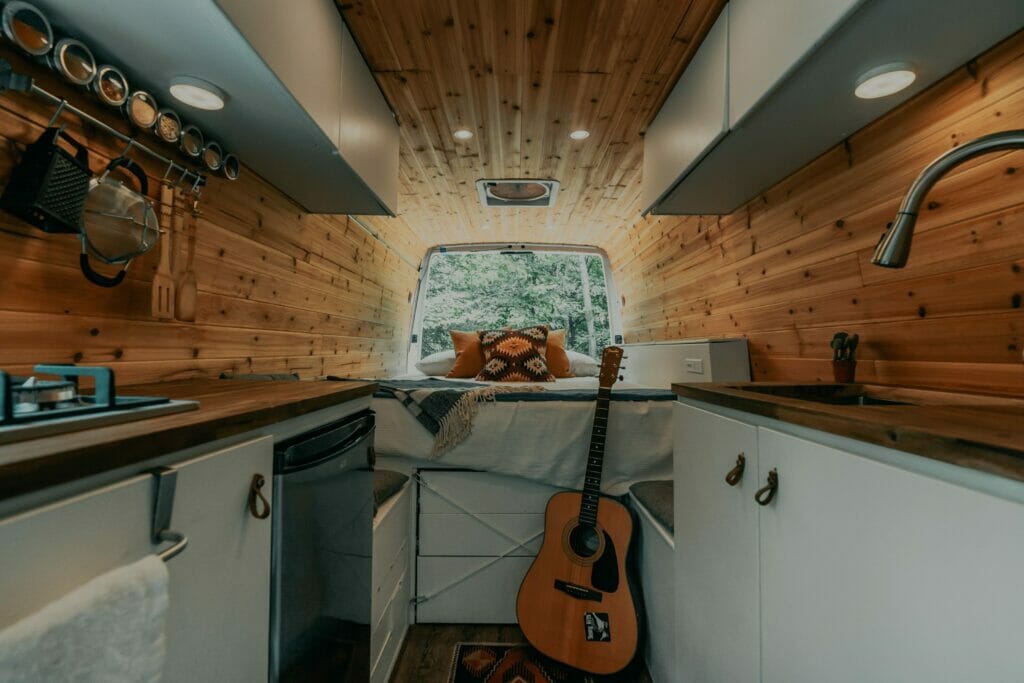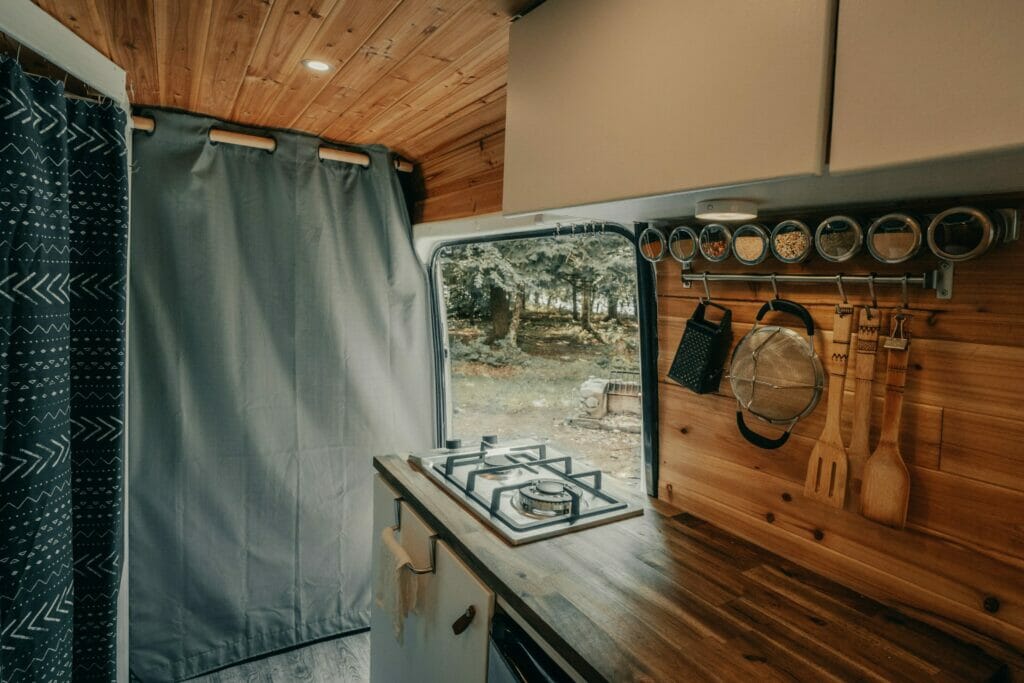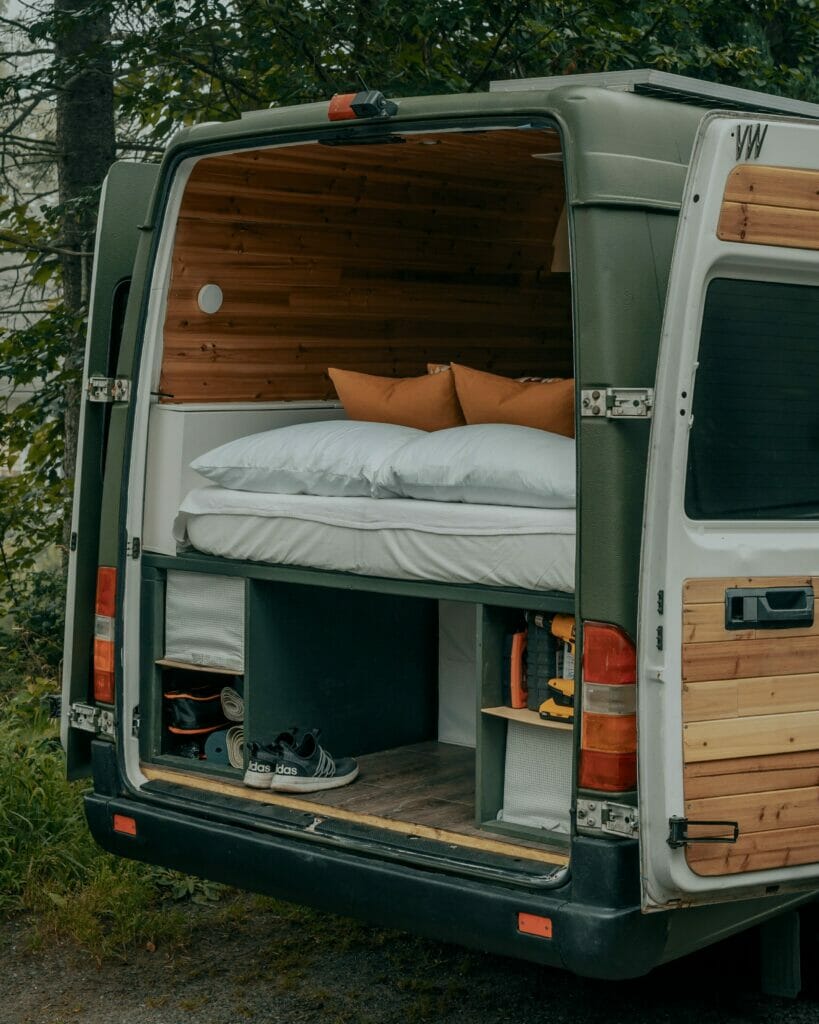 Photo credit: Clay Banks
Examples of vehicles: Fiat Ducato, Citroën Jumper, Mercedes Sprinter, VW Crafter…
Advantages of big campervans

Disadvantages of big campervans

– driving experience
– rather discreet
– able to stand up all the time
– if 4×4, can go almost anywhere
– fix bed
– bathroom
– no need to always move everything
– suitable for traveling all year round
– ideal for up to 4 people
– harder to park everywhere
– uses more gasoline
– more expensive at tolls
– For custom built, you must pay attention to the payload so as not to exceed 3.5 tons (in Europe)
Motorhome rental
Motorhomes can have very variable sizes, from the small motorhome with a canopy (5,4m long) to giant motorhomes which can be much more than 7m long (Integral motorhomes). They are also generally a little wider than vans and can measure more than 3m high. So it's already another thing to drive and you probably won't be able to go everywhere (maneuvering in villages, parking, tracks…). Note also that for large motorhomes over 3.5 tons, you will need a license adapted to heavier vehicles in Europe.
Obviously if you give up driving ease, accessibility and discretion, you gain a lot in comfort. Motorhomes are real little apartments on wheels! You will have all the necessary equipment, space inside, comfortable beds, a shower, a big fridge and so on. Perfect for a family vacation! Some examples of vehicles below: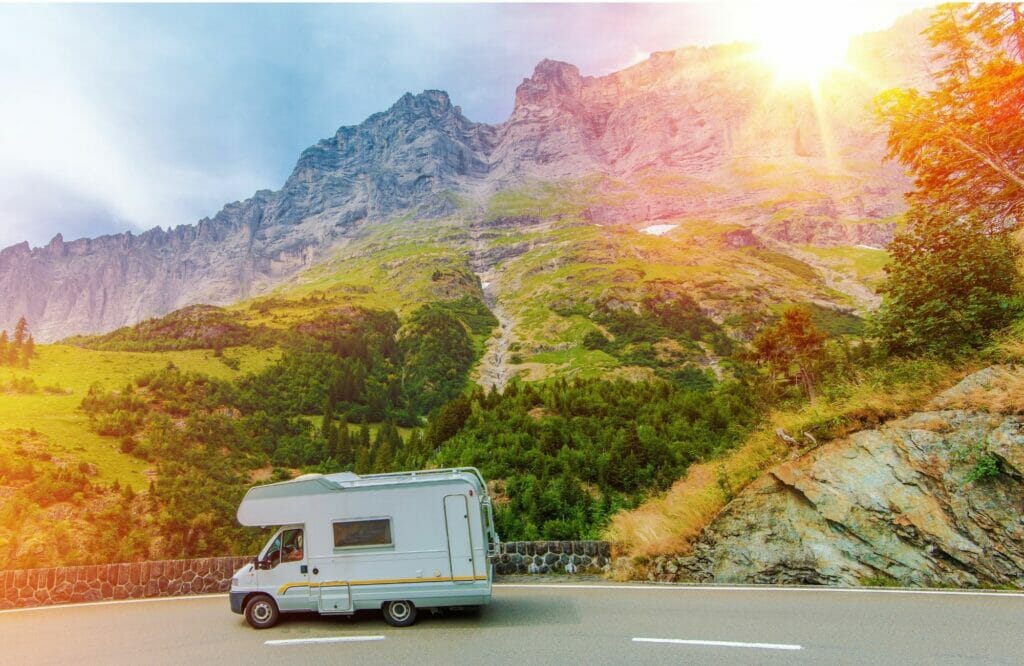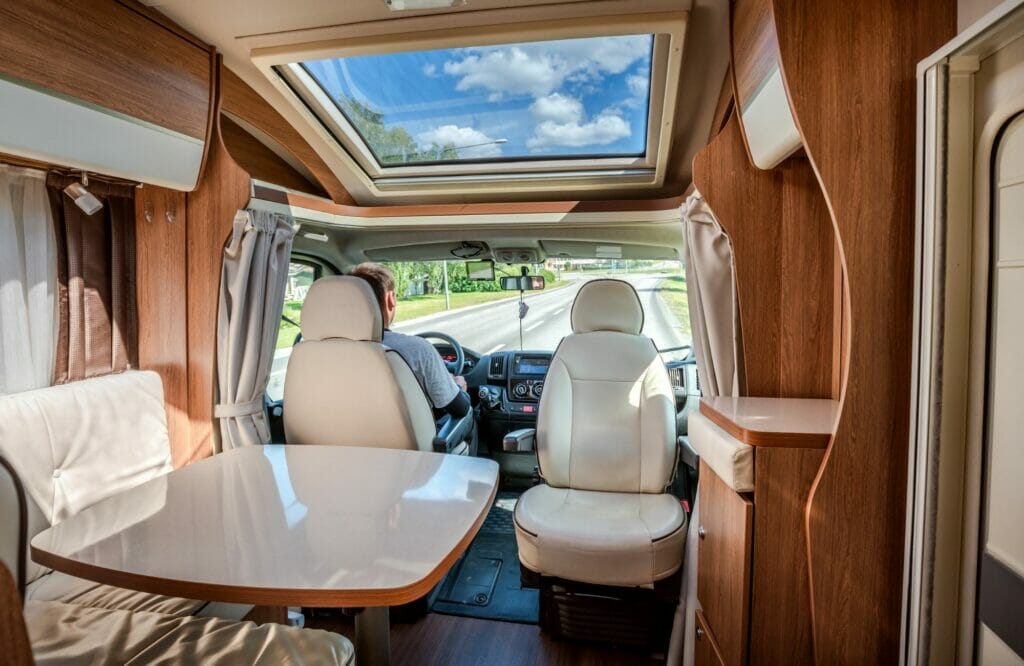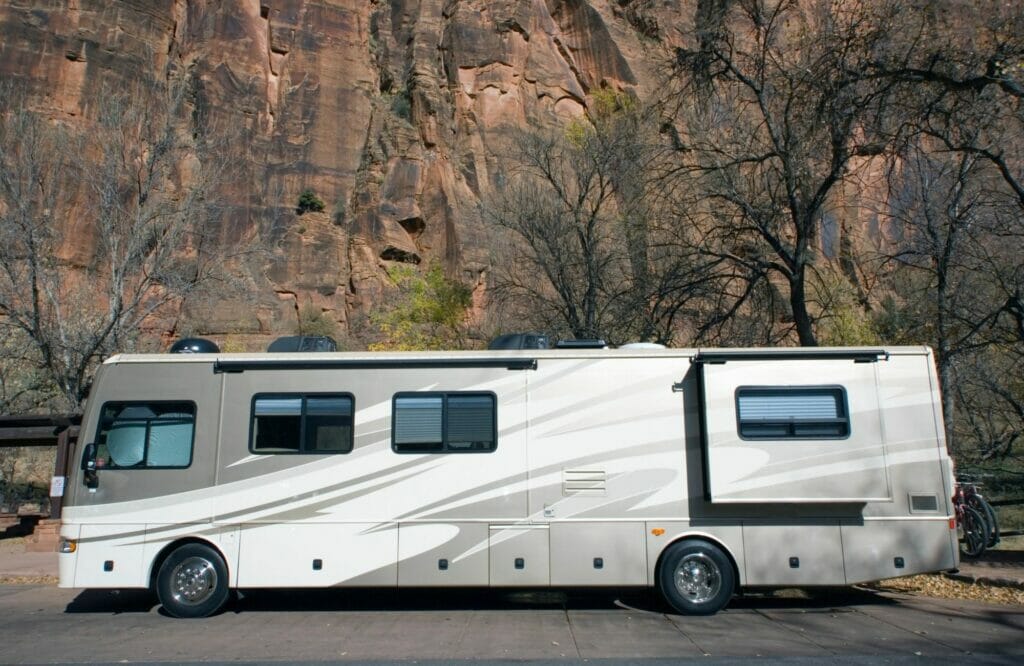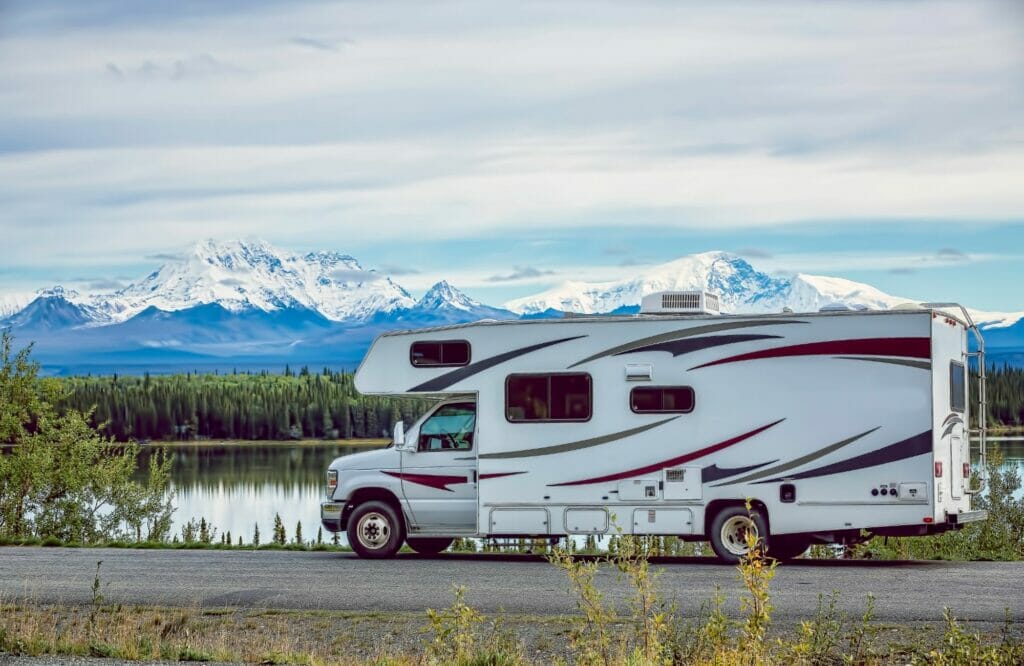 Examples of vehicles: the most common frames for this type of vehicles are Fiat, Citroen, Ford or Mercedes.
Advantages of motorhomes

Disadvantages of motorhomes

– Comfort
– perfect for families
– large storage spaces with bunker
– possibility of having several comfortable beds
– bathroom
– no need to always move everything
– suitable for traveling all year round
– not very compact and easy to use
– uses more gasoline
– more expensive at tolls
– not very discreet
– limited payload capacity not to exceed 3,5t (in Europe)
Other types of RVs
Obviously, we have outlined the advantages and disadvantages of the 3 most popular types of RVs, but there are other less common ones that you may also see on private rental platforms: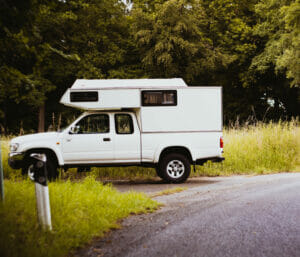 Very small campervans: they are small vehicles like Citroën Berlingo or Peugeot Partner (in Europe) which have been converted to sleep in. They are therefore very minimalist vehicles that can be used by solo travelers or couples.
Pick-ups / 4×4 jeeps campers: A not so common solution but nevertheless interesting, especially for the adventurers. The camper part is generally quite comfortable and the vehicles are really easy to drive. The possibility to remove the sleeping unit to use the vehicle only is rather attractive. Moreover, you can easily rent one on RVshare.
Trucks / skoolies: Well there we enter another size category lol and we rarely find them on the rental sites.
Private rental VS company rental: advantages and disadvantages
For the RV rentals there are 2 main options: Private rental marketplaces or professional rental in an agency and each one has its advantages and disadvantages as you will see.
Why rent a motorhome or campervan from a private owner?
Private campervans or motorhomes rentals have exploded in recent years. The concept is quite simple, owners trying to get the most out of their vehicle when it is not in use are connected via a platform with people looking to rent an RV. The platform generally takes care of the vehicles' listing, the financial transactions (payment, deposit), the vehicle's insurance, the management of the reviews etc… and keeps a small commission on the rental amount in exchange of these services.
In practical terms, all these platforms work in the same way. You search on the site for a vehicle that fits your needs and that is available on the dates of your trip. You then make a rental request. This is usually followed by a few exchanges with the owner to agree on a meeting place and time. The payment is then made directly on the platform and includes the insurance (with or without deposit depending on whether it is managed by the platform or the owner). On the first day, you will meet the owner who will explain you everything you need to know about his motorhome / campervan. You will also make a quick inspection before signing the rental contract and arranging an appointment for the return.
Advantages

Disadvantages

– a large choice of RVs of all kinds
– a lot of nice custom converted vehicles
– ideal if you want to test a specific vehicle
– There is one for every budget
– not necessarily cheaper than an agency
– Deposit collection and management depending on the owner
– finding the right van near your place or vacation destination can be complicated (you have to go to the owner's place)
Why rent a motorhome or campervan from a professional dealer?
You can also choose to rent your motorhome or campervan through professional RV rental companies. In this case nothing very complicated since everything will be done like a classic car rental.
Advantages

Disadvantages

– RVs are almost brand new
– prices are rather cheap depending on the agency
– pick up of the vehicle in a big city, close to public transport
– a more limited choice of RVs
– The vehicles to choose from are very standard, with little customization
The best motorhomes or campervans private rental marketplaces / sites
Now that we explained you the advantages and disadvantages of each type of rental, let's go to the main private rental platforms:
Yescapa: the No 1 in Europe
Yescapa a is a French company, founded in Bordeaux in 2012, that leads the European motorhome / campervan private rental market with more than 10'000 vehicles on its platform. Their website is honestly very well done (user experience, online payment, reviews, interactive map) and you will have no problem to easily search for an RV you like.
The main advantage of Yescapa is that they are already very popular in France, Spain, Italy, Portugal, Germany, Belgium, England… So if you want to travel in Europe, wherever you go, you should be able to find an RV easily.
Other marketplaces for private rentals in Europe
If you can't find what you're looking for on Yescapa, you could also try: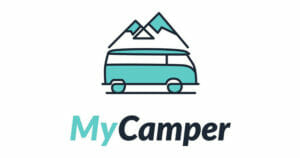 MyCamper.ch: In Switzerland, there are still few RV owners on Yescapa so we recommend that you take a look at MyCamper which is the market leader in our swiss mountains
Wikicampers.fr: So if you don't find what you're looking for on Yescapa in France (frankly we doubt it but you never know), you can always check Wikicampers which also has a lot of RVs (like 2-3000) to choose from in France.
Outdoorsy and RVShare: The leaders in the USA

If you rather plan to travel to the United States, there are mainly 2 platforms where you can rent RVs to private owners: Outdoorsy and RVShare.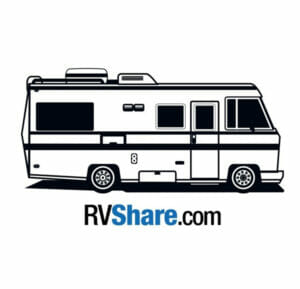 So please do not be intimidated when you see the size of the motorhomes and campervans on these platforms… It's normal! In the USA everything is MUCH bigger ;)!
On Outdoorsy, you will find campervans like Mercedes Sprinter vans (even if they have everything) which are very popular in the USA. While on RVShare, you will be able to choose among a huge choice of motorhomes of all sizes. Just take a look:
The main motorhome or campervan rental professionals
When it comes to campervans or motorhomes rental professionals, there are many options to choose from, depending on your travel destination:
Rv rental professionals in Europe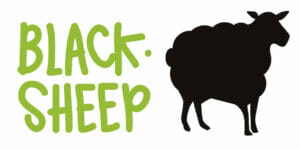 There are obviously a lot of campervans rental companies in Europe and it's difficult to make a comprehensive list. But since we have a van, I will say that the main rental RVs we met in Spain and France were either from Blacksheep van or Indiecampers. Both of these companies have over 40 agencies in Europe. The main difference is that Blacksheep Van specializes in small to medium campervans while Indiecampers specializes in bigger campervans and motorhomes.
Rv rental agencies comparison tools
As there are many different RV rental agencies, there are also useful platforms that compare these offers in different countries. Two of the best platforms are Campstar and Motorhome Republic. Thanks to these sites, you can compare prices from several rental agencies around the world, which is quite convenient.
What is the price of a weekly/monthly rental for a van or a motor home?
Obviously, the prices will vary a lot depending on the type of vehicle you wish to rent as well as the duration of the rental (sometimes prices decrease according to the length of the rental period). But the first prices start at 60-80€ per day for a van or a small motorhome. But it can of course be much more expensive than that.
I sincerely hope that this post was useful for you. And as usual, if you have any experience in renting an RV (with private owners or a professional) that you want to share with other travelers, feel free to leave a comment below. All feedback, tips and advice are welcome.
Pin it on Pinterest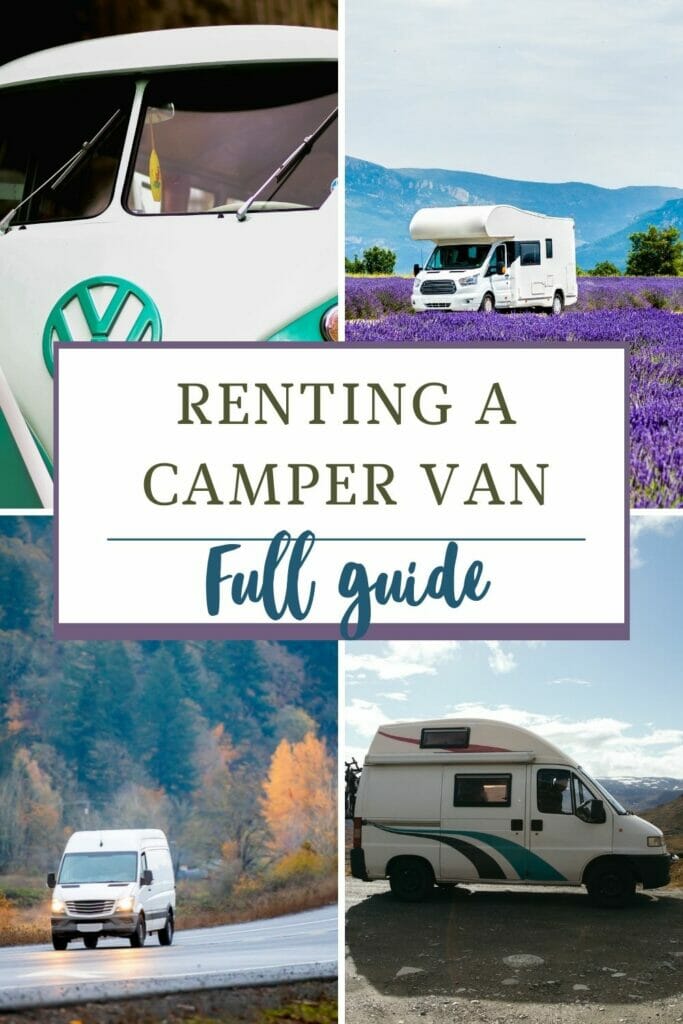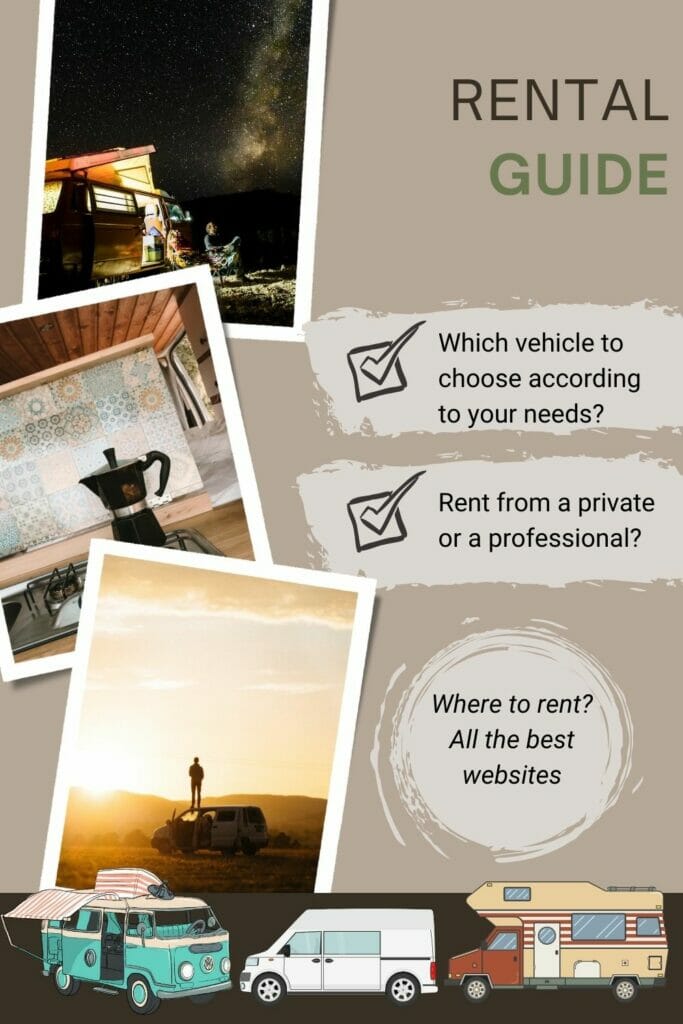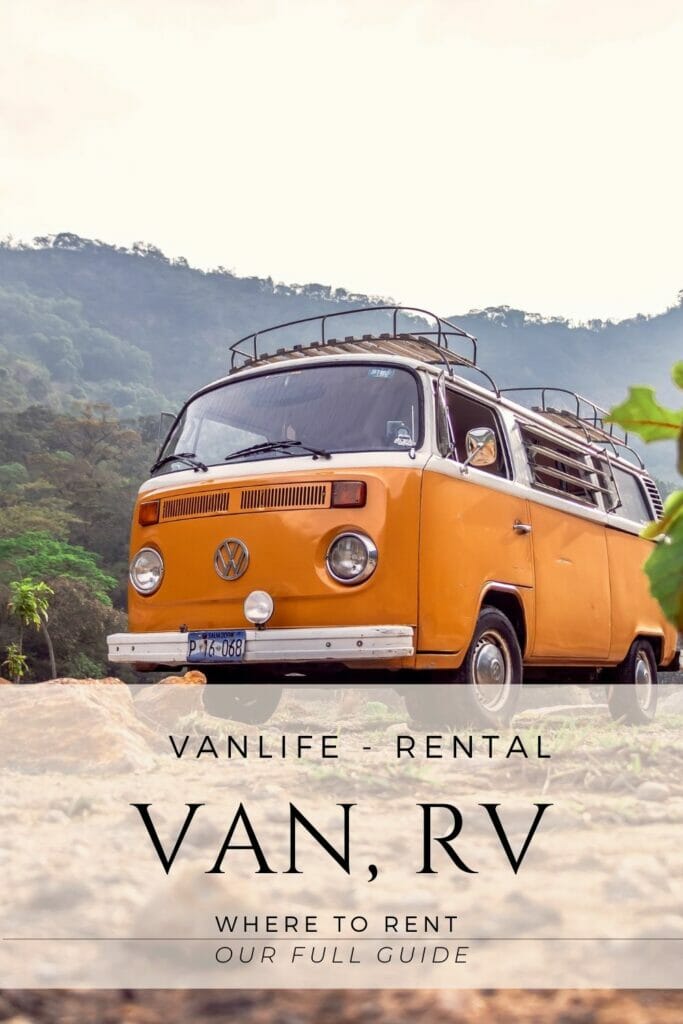 Note: This article contains affiliate links to some rental services. If you click on some links to rent a van or motorhome, we will get a small commission and you will not pay anything extra for your rental. This is a way to support us if you appreciate the quality of this kind of free and independent article (we are not supported in any way by the platforms we mention)