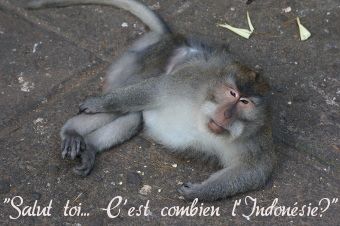 After a month spent in Indonesia, it is already time for a review. In this article we tell you everything about our first stay in this country of a thousand colours and flavours and we review the state of our finances.
Indonesia was our last Asian country on our trip around the world, and it is undoubtedly a big favorite for us! We enjoyed the heavenly beaches, discovered a little more about Muslim and Hindu culture, climbed many volcanoes and probably had the chance to attend our most beautiful sunrises of the trip!
1 month in Indonesia: our itinerary
When we were preparing our round-the-world trip, we both agreed that we wanted to discover Indonesia. But to be honest, neither of us really knew what was going to happen.
Certainly we had seen some articles on the blogosphere that had made us dream, but no plans!
Our initial idea was to reach Indonesia by land from Thailand via Malaysia. But here we are, we are far behind in our itinerary, and to be completely honest we wanted to change continents. Our flight to Australia was from Jakarta and we thought it would be wise to arrive directly in Lombok and thus have 1 month to return quietly to Jakarta.
And honestly, this choice was a great idea! Because Indonesia is just huge, and if we had started our journey in Jakarta we probably would never have made it to Lombok!
Map of Indonesia: Our itinerary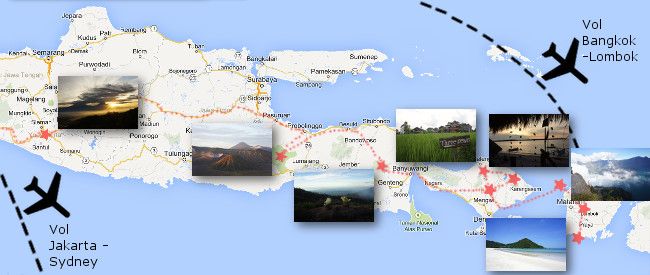 So it was on March 21, 2014 that we first set foot in Lombok! Well, as you were told in our article on Kuta, it was not without stress since the airline had decided to leave my bag in Bangkok.
So our journey began very smoothly with a few days of beach and surfing as well as a few scooter rides between some of the most beautiful beaches in the world!
Volcano climbing and idleness
Afterwards Benoit needed a bit of a sporting challenge. While I felt really ready for my beach-hammock-fruit-shake-beach-sleeping routine! So for the first time of the trip we decided to split up for a few days!
Benoit went to conquer Rinjiani, while I left to test the water temperature on the Gili Islands!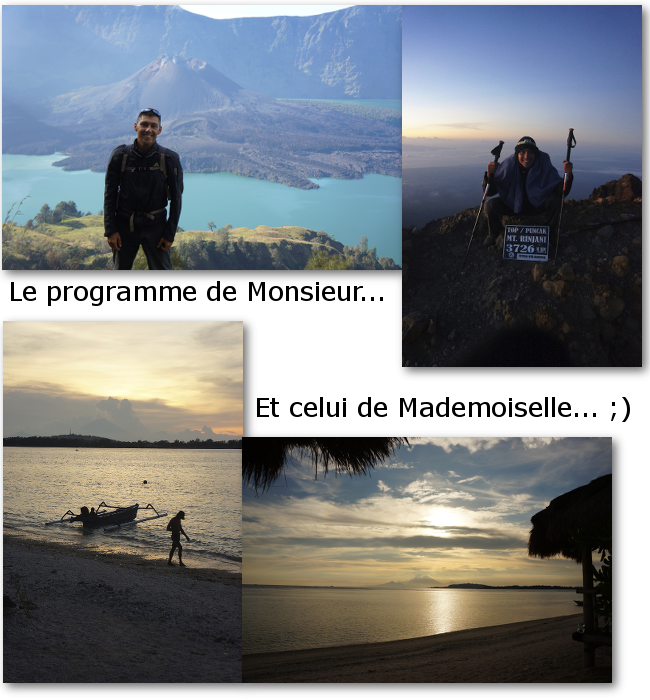 Once Benoit was pumped up with endorphin and I was tanned, we set off to discover Bali! After a few days in Ubud, the cultural and artistic capital of Bali, we took the roads again with a scooter. 5 days to discover the north of Bali, with as icing on the cake: a sunrise from Mount Batur!
Moreover, this first ascent of a volcano at night was to mark the beginning of a series! Departure for the island of Java and ascent of the kawah Ijen and Bromo!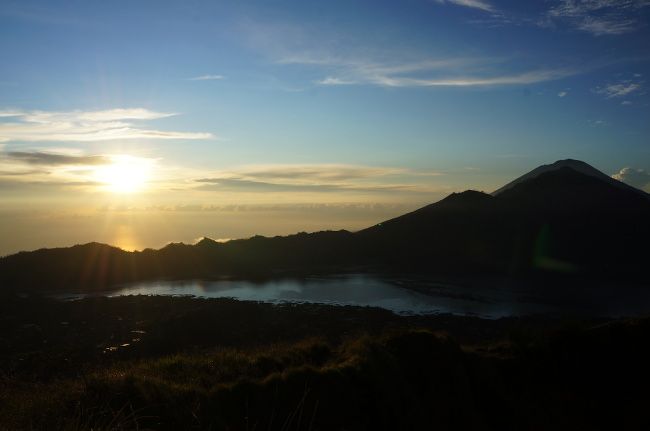 Then after a brief stopover in the beautiful little town of Yogyakarta and a visit to its temples, we spent 23 hours in what we amicably nicknamed "the horror bus". To find out more, we invite you to read our latest article on Yojia.
1 month in Indonesia in Video
I'm sure you've always dreamed of seeing yourself surfing, climbing a coconut tree or being soaked in an Indonesian storm?
No??? Well, even if you hadn't dreamt about it, we decided to do it anyway. The proof in pictures! Enjoy!
And if you like our little videos, don't hesitate to follow our youtube channel 😉
Budget for 1 month in Indonesia
As usual, we will reveal all our figures to you! This will give you an idea of the budget needed to travel to Indonesia.
In all we spent 29 days in Indonesia in april 2014 and spent €1298.5 for two people. (excluding airline tickets and travel insurance). This corresponds to an average of €22.4 per day per person.
Here is our detailed budget by item of expenditure: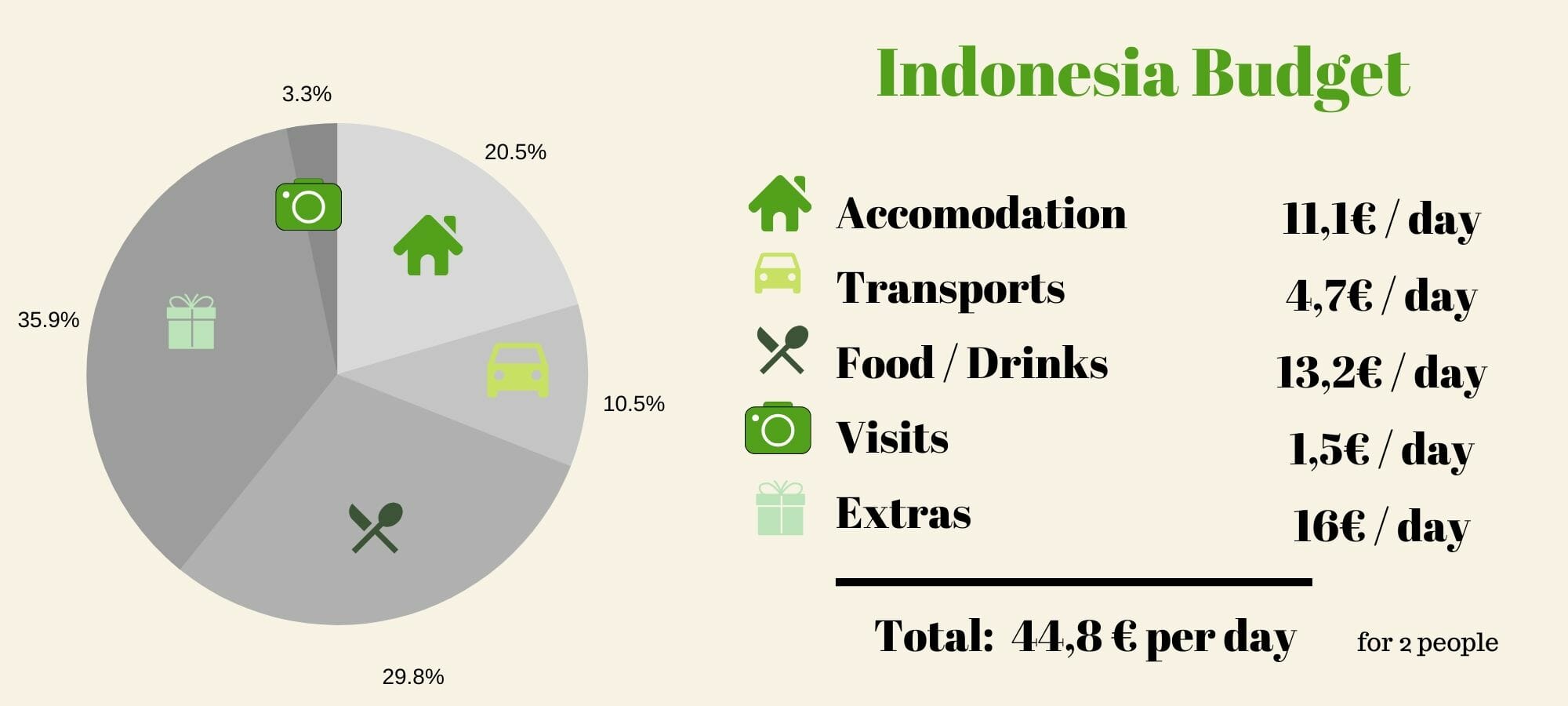 In general, Indonesia is an extremely cheap country, especially in terms of housing and food.
On average I would even say that it is cheaper than Laos or Cambodia!
But Indonesia is also a country that has a lot to offer in terms of activities, and it is the activities that can impact the budget. In our budget we spent 41.8€ on the visits item. This corresponds to the sum of the different entries to temples or museums made along the way. You will find examples of prices below in the article.
Indonesia: a country favourable to Extras
On the other hand, you will have noticed that the "extras" note is rather important. 463€ is what we spent on our various treks on Indonesian volcanoes (Rinjiani, Batur, Ijen and Bromo), as well as a surf course in Kuta Lombok, and a little snorkeling among others!
So if we remove these extras, Indonesia has come back to us at less than €14.5 per person per day for accommodation, food, transport and entrance to temples and museums!
So Indonesia can be an extremely cheap country! But it can of course become more expensive if you decide to go trekking, diving or do other extreme sports!
Cost of living in Indonesia
In order to help you prepare your trip to Indonesia, here are some price indicators. For information, at the time of our trip the exchange rate was 1€ = 15800 Indonesian rupees (April 2014)

Accomodation
Average price of a double room: 175'000 rupees per night (private bathroom, without air conditioning, breakfast included)
Our most expensive night: 300,000 rupees in Munduk. But for this price we had a beautiful room with a swimming pool and breakfast and dinner included
Our cheapest night: 130'000 rupees on Gili Air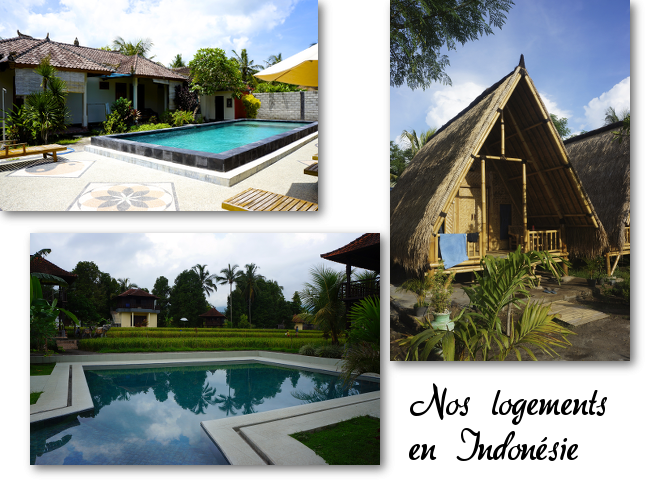 Info Accomodation
During our trip to Indonesia we never booked our hotels and guesthouses in advance, we always found something when we arrived there. However, if you travel in high season or if you simply prefer not to have to look for accommodation when you arrive, we recommend the following sites for your reservation:
Hotelscombined: Not a booking platform strictly speaking but a platform comparator. Basically you enter the destination and date and this will compare the rates at the most popular sites such as Booking, Agoda Trivago etc. In short, it is the cheapest price on the Internet and we use this platform when we are looking for a hotel or a guest room.
Hostelworld: Less complete for hotels, however, it is THE reference for youth hostels. They have a guarantee of the lowest price, so if you find cheaper on another booking site they will refund the difference. Really at the top!

Apartment rentals

: A great alternative for people who wish to have more private space (adnd not necessarily more expensive than hotels).
To find a place to stay in Indonesia you can take a look at the map below. Use the zoom as well as the filters to refine your search:
Cost of Food in Indonesia

In Indonesia breakfast is usually included in the room price, so this has reduced our "food" item by about 1-2€ per day
Average price of a Nasi Goreng or Mi Goreng in the street: 10'000 rupees
A complete meal for 2 people in a small local restaurant: 65'000 rupees (2 dishes and a large bottle of water)
Meals for 2 in a more touristic restaurant: from 120'000 rupees
Cost of Drinks in Indonesia

Bottle of water in supermarket: 5000 rupees for 1.5 liter
A bottle of coca soda in supermarkets: 10'000 rupees.
Average price of a beer in a bar: 35'000 rupees!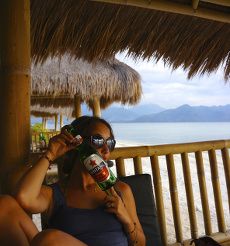 As you will have noticed, alcohol is very expensive (more expensive than an average meal in a small street stand!)
This is mainly due to the fact that Indonesia is a Muslim country, and that alcohol is not part of the culture. In addition, all alcoholic beverages are heavily taxed by the government.
As a result, it is also an expense item that can quickly increase the cost. For our part, we were very reasonable (yes!) and drank only 2-3 beers over the whole stay (and no strong alcohol).
Transports
Taxi from Lombok airport to Kuta Lombok: 84'000 rupees
Average price for a scooter rental: 50'000 rupees (for 24 hours)
Average price of a litre of petrol: 14'000 rupees
Transport from Kuta Lombok to Gili Air: 150'000 rupees per person (bus + boat)
Price of a public ferry crossing between Lombok and Gili Air: 10'000 rupees
Transport from Gili Air to Ubud (Bali): 250'000 rupees per person (Speed Boat + bus)
Taxi from Ubud to Ubung: 180'000 rupees (30 minutes by taxi)
Bus from Ubung to Gilimanuk port: 40'000 rupees per person (4 hours by bus)
Ferry from Gilimanuk to Ketapang: 6500 rupees per person (30 minutes crossing)
Train from Probolingo to Yogyakarta: 50'000 rupees per person
Night bus from Yogyakarta to Jakarta: 175'000 rupees per person (23 hours by bus)
​Book trips online in Indonesia
At the time of our round the world trip, we could not yet book bus / ferry / train tickets online. But since then, there are several very convenient platforms like
Bookaway
or
12Go
which makes it easier to buy tickets than before.
See trips in Indonesia on Bookaway
Visits
Admission to the Monkey forest of Ubud: 60'000 rupees per person
Balinese Art Museum in Ubud: 75'000 rupees per person

Average entrance price for a temple: 20'000 rupees
Combined ticket for Borobudur and Prambanan: 330'000 rupees instead of 420'000 rupees if purchased separately.
Looking for more activities? Take a look at Getyourguide; they have lots of offers in Indonesia.
Extras
Price of the 30-day tourist visa, payable on arrival: 25$ US
3-day and 2-night trek on Mount Rinjiani (Lombok): 1'200'000 rupees per person (admission, camping equipment, guide and food included)
Surfing lessons (Kuta Lombok): 280'000 rupees per person for 4 hours of lessons (board rental, teacher, transport and snacks included)
Average price for a load of laundry: 15'000 roupees per kilogram
Trek on Mount Batur: 350'000 rupees for 2 people (guide only, no meals)
4 days and 3 nights stay with minors for the visit of Ijen and Bromo: 3'500'000 rupees for 2 people (entrances, guide, transport, visits, accommodation, transport from Ijen to Bromo, food and drinks included)
Some figures in bulk
3 Number of volcano climbs by night for Fabienne (4 for Benoit because he did the Rinjiani alone)
1 Number of nights on the buses. It's not much, but this route counts at least twice as much in view of everything that's happened to us! For those who missed the episode of the horror bus go take a look at the video!
4 Number of days it took the airline to deliver Fabienne's "lost" backpack to us
43 The approximate number of falls during our first surf lesson
75 The price in euros charged by a doctor for an auscultation and antibiotics for Fabienne's skin infection. I might as well tell you that this was a proper scam! But our travel insurance covered the costs. As a result, this amount is not included in the budget presented above.
128 The minimum number of frights on Indonesian roads with our scooter or seated on a local's motorbike
0 The number of fears that led to an accident (pfiou…)
Our ideas for our next trip to Indonesia
As you may have guessed, Indonesia was a real favorite for us! After China, it is definitely the second country on our world tour to which we intend to return!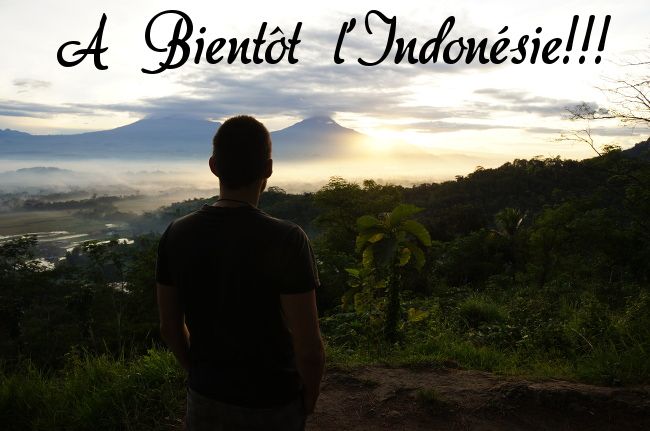 The island of Lombok really charmed us! It is certain that we will come back! But for our next Indonesian adventure we also dream of going a little further!
Flores, Sumbawa, Sulawesi, Borneo and much more! We have so many ideas! Well at the same time, with more than 17'000 islands in Indonesia we still have work to do to explore everything!)
Do you have a crush on any specific island in Indonesia?
Which island would you recommend to future travellers?
NB: This article contains affiliate links to the Hotelscombined and Hostelworld websites. You will not pay more by using our links, but we will receive a small comission that will help us to keep this site alive. Thank you:)
Enregistrer